'RHOP' RECAP: Gizelle Tries To Convince Robyn That Juan's a NO GOOD CHEATER But She Doesn't Care!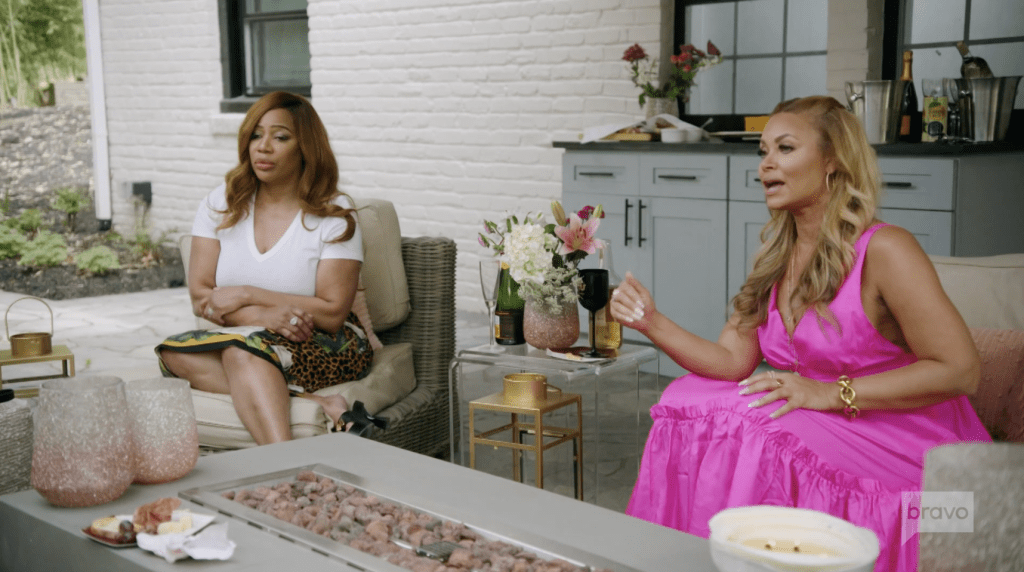 'RHOP' RECAP: Gizelle Tries To Convince Robyn That Juan's a NO GOOD CHEATER But She Doesn't Care!
Welcome to the much anticipated season eight of The Real Housewives of Potomac. Before the season officially kicks off, we get a sneak peak of what's to come with Gizelle Bryant dancing in the kitchen, Ashley Darby showing off her new breast, and the newbie attempting to become the new Grand Dame of Potomac. The ladies look like they're ready for the drama and so am I, so lets get this party started! We begin last year with Robyn and Juan Dixon discussing their prenup and upcoming nuptials.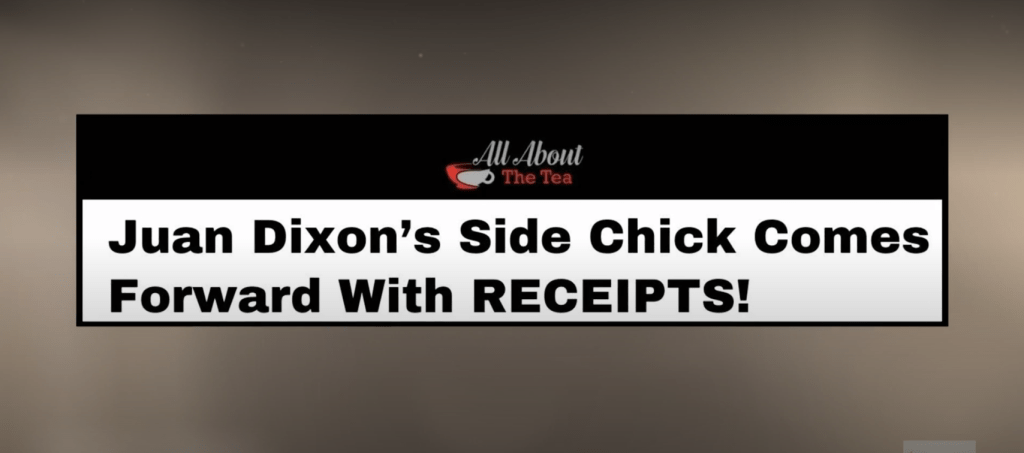 In the present day, Gizelle's first words are about Juan and the girl in Canada. Gizelle knows Robyn's frustration with the ladies poking holes in her story and Karen Huger's glad the truth is finally out. On their podcast, Gizelle and Robyn Dixon briefly discuss the "other" woman, while lying to Andy Cohen on Watch What Happens Live.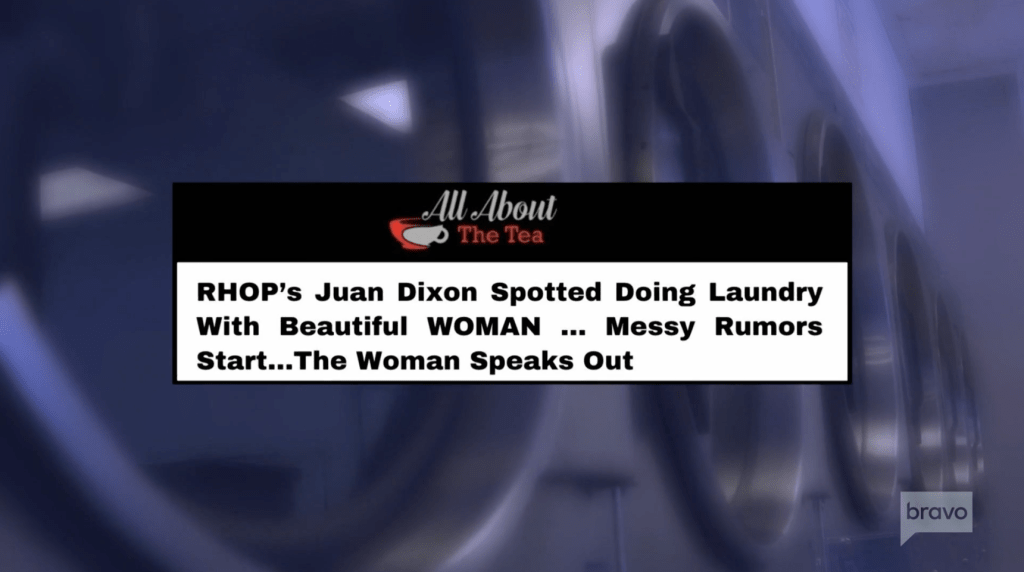 Karen Huger and Gizelle aren't letting Robyn's delusion stop them from finding answers and now Ashley's opinion is in the mix. Karen thinks Robyn is on another planet and says the truth will set you free. Lets hope so. At Robyn's, she's framing wedding photos as Juan Dixon arrives for wherever. After a quick kiss, Juan sits down to chat with his beautiful wife. Robyn's feeling settled since returning from the Bahamas but seems like she wants to get something off her chest. The two share an awkward silence before Robyn dives into Juan's indiscretions. Robyn's not trying to listen to the noise and Juan admits he was stupid; but Robyn wasn't expecting the firestorm that came afterward. Robyn's upset the fans took what she said and ran with it; while Juan claims he was doing a "good deed" for another woman. 
Juan understands it sounds weird but promises that's what happened. Robyn ask Juan since he was at the hotel, why he didn't go all the way with the other woman. Juan ask if Robyn saw the woman, insinuating that she wasn't that good looking but doesn't offer a straight answer. Juan continues saying he's too friendly while Robyn forgives him yet again. Although the two moved past this, Robyn doesn't like the ladies coming at her for not bringing the issues up last year. A flashback shows Karen on WWHL commenting that she thinks Robyn panicked and wanted Karen to out Juan for her.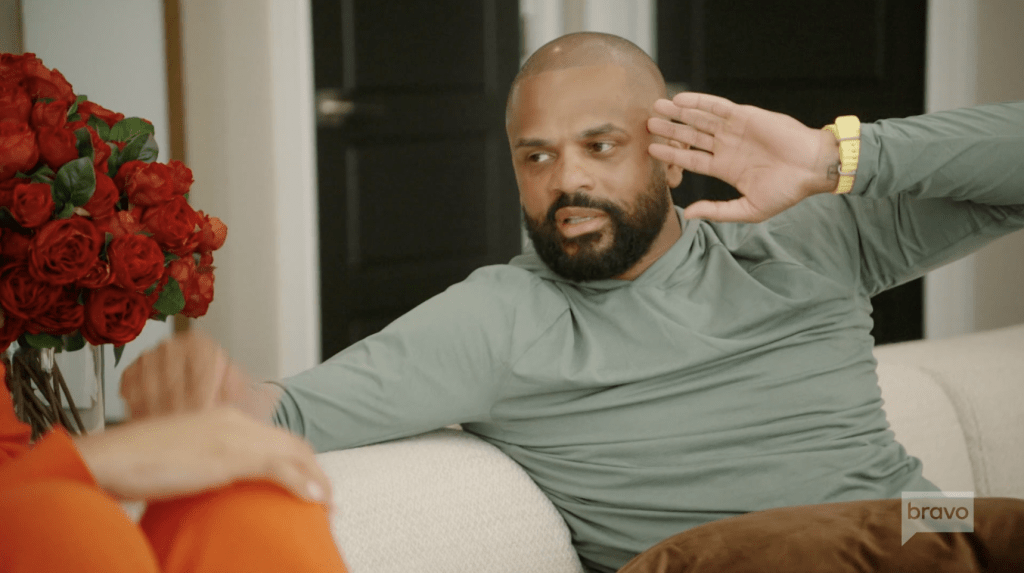 Candiace Dillard Bassett's tweets rubbed Robyn the wrong way and Robyn doesn't understand why Candiace is so upset with her. Robyn knows the ladies think her relationship is fake but continues saying otherwise. Robyn discuss Juan "working" at the laundromat with Coach Bree and claims the two are just co-workers. Juan even admits Bree to be a beautiful and attractive woman, but Robyn plays it off by saying "Oh yea, and some people say we look alike." On top of everything Juan also lost his job and now people think Juan's associated with this case. Juan's not worried about anything and encourages Robyn to focus on raising their boys. Later, Karen is looking gorgeous as she orders champagne as Candiace arrives as they wait for Wendy Osefo.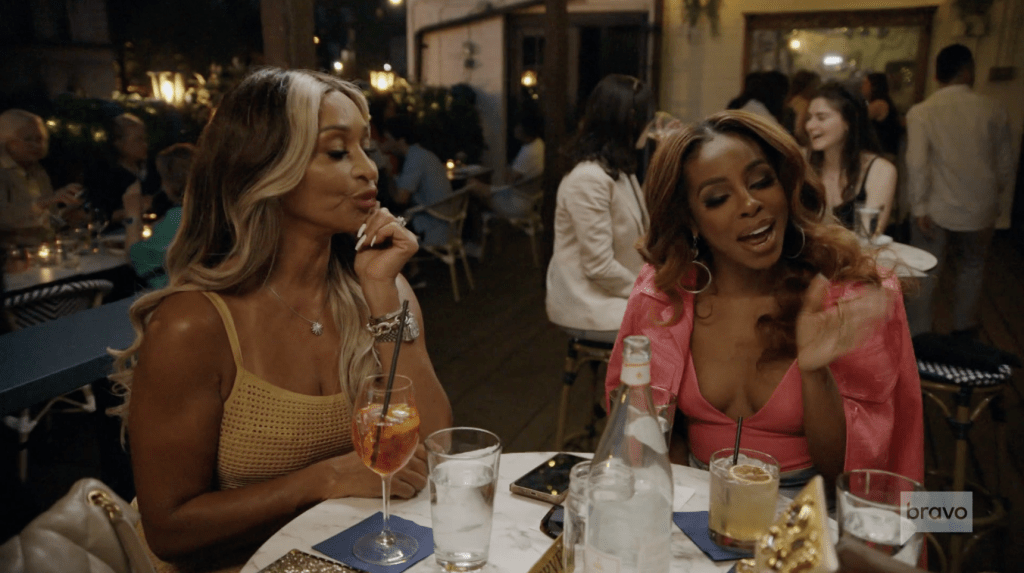 After ordering drinks, Wendy announces that she gave up alcohol for Lent and she now carries a rosery with her. Karen wanted to see how the ladies were after New York, especially since the reunion was wild! Wendy ask how Karen feels about everyone and Karen's good with almost everyone but Robyn. Karen calls Robyn a liar and points out how Robyn attacked her, Candiace, and Wendy in order to avoid telling her own dirt. Candiace's wig was blew back after Robyn wanted Karen to bring it up. Karen laughs as we get a flashback of Karen's accusations last year. Wendy knows Robyn is deflecting and Karen wants Robyn to be honest with everyone. Candiace questions if they're even married, as Wendy ask to see the marriage certificate. Karen calls Robyn delusional and it looks like we got our first clique of the season!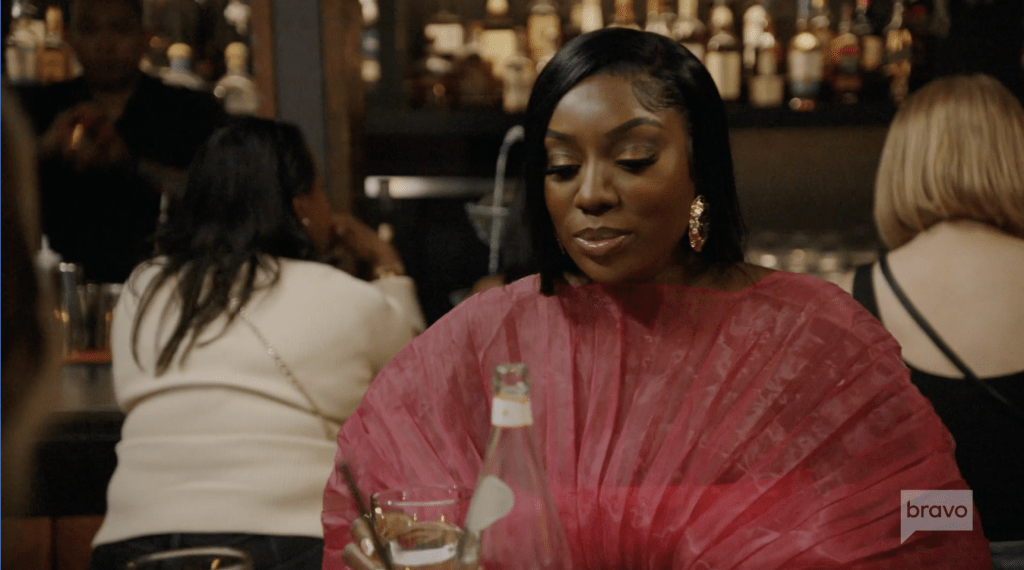 The next day, Ashley and the boys are taking out the trash as we get a peak of Ashley's new house. Ashley's house is called Seaside in the City and loves the natural tones throughout her house. Ashley's teaching Dean how to cut fruit as baby Dylan climbs on a glass table. Ashley's cooking as her boys run wild and we see how Ashley's single life is. Ashley ask Dean and Dylan how they like their new house as Ashley explains her financial situation with Michael Darby. Michael may not have a room in the house, but his name is still on that mortgage. Ashley FaceTime's Gizelle to chat and we find out Ashley took a family vacation, with Michael and the kids to the Bahamas. Ashley says they only went as co-parents, but we all know what that means.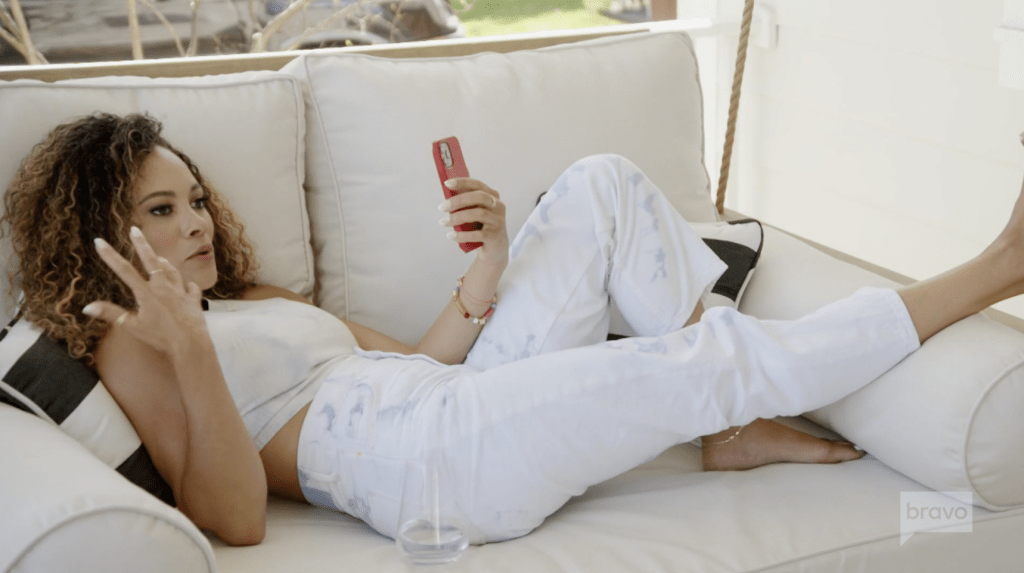 Micheal and Ashley have cleared up most of their divorce issues, but Ashley admits to dragging her feet because she's not ready to be financially independent. Gizelle invites Ashley over so that she, Ashley, and Charrisse Jackson-Jordan can talk some sense into Robyn. Gizelle doesn't want to call her bestie "delusional" but Robyn's pretty damn close. Gizelle's worried about Robyn's mental health, while Ashley's worried if Robyn will accept her advice at all. Ashley wonders what Juan said regarding the allegations and Gizelle fills Ashley in that Juan's just a friendly guy who constantly feels bad for others. Ashley laughs at the thought and hopes they can get some answers out of Robyn eventually. 
At Gizelle's, we see her new boo Jason as he fumbles with food in the kitchen. Jason wants to feed Gizelle something good and we learn that Jason is sixteen years younger than Gizelle. Whose counting? Gizelle certainly isn't as she explains how Ashley set them up and how the west wing is seeing some thangs. Jason and Gizelle discuss seeing each more often and Gizelle lets us know that although Jason lives in New York, nothing stops them from spending time together. Gizelle tells Jason about her and the girls trip to Dubai, as Gizelle explains that Grace is about to graduate high school and head to college.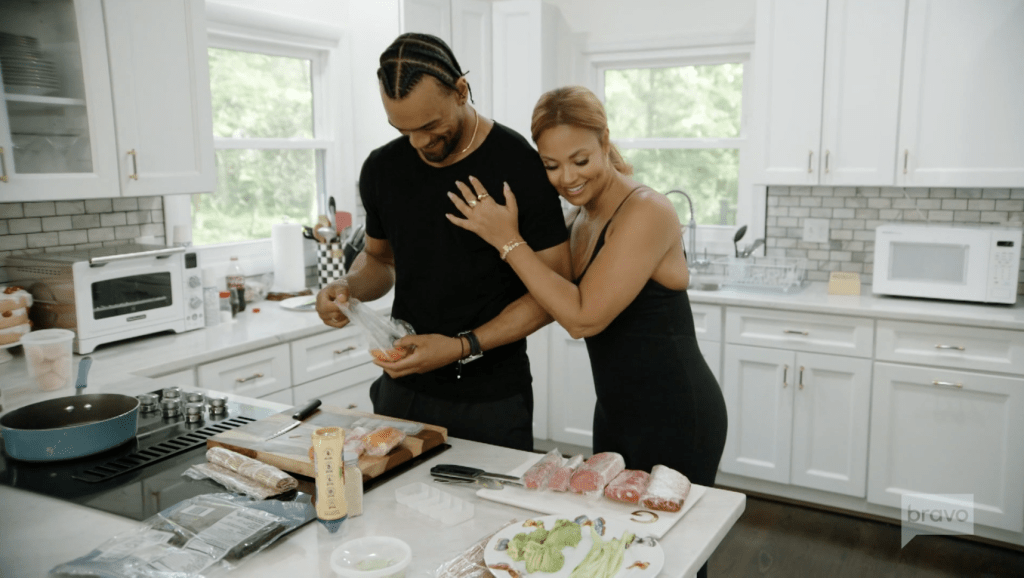 Gizelle's proud but also sad that Grace is leaving the nest as Jason prepares his "Welcome back from Dubai" dinner. As Gizelle calls Angel down for dinner, Gizelle explains how Grace caught Jason checking Gizelle out and that Gizelle had to let the cat out of the bag. Grace was confused because she didn't know who the random dude is but seems to be giving Jason a chance. Meanwhile, Gizelle and Jason are grossing Angel out by showing too much PDA as she looks away in horror. Angle gives Jason tips on how to cook Gizelle a bomb breakfast as they enjoy their food with laughter.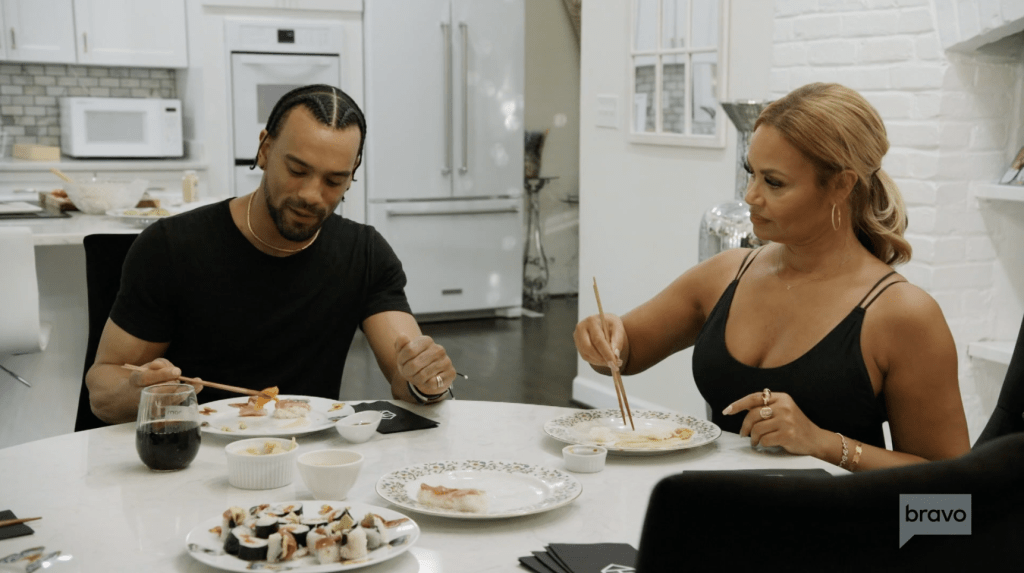 At Mia Thornton's, she's returning home from carpool as Gordon Thornton doesn't work at their kitchen island. Mia's getting adjusted to downsizing their home and admits they can no longer afford a ten-thousand-dollar a month mortgage. Mia checks in on Gordon and he feels a lot better now that the case is moving closer to trail. As we know, Mia and Gordon had a joint chiropractic company and recently Gordon was voted out by his own family! So now, neither Mia nor Gordon work for the company but Gordon's seeking 1.5 million dollars that he says the company owes him. Mia ask Gordon why is his family treating him this way and he has no idea. Gordon mentions revenue dropping and that he doesn't listen but can't understand why they voted him out. Gordon thinks they bounced back quickly but Mia had to remind Gordon of his recent depression.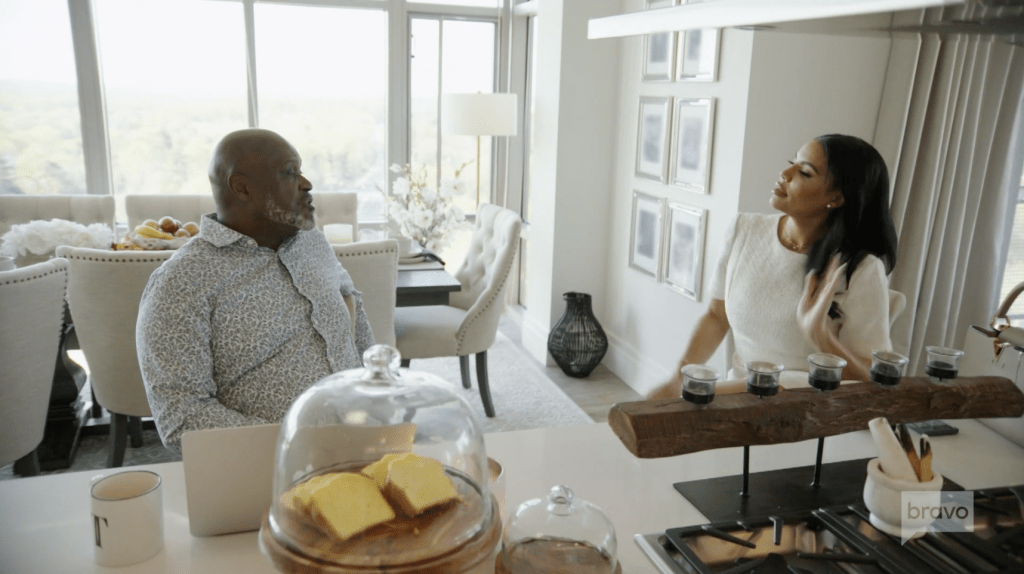 Mia says Gordon was on the couch for two months and although Mia cursed Gordon out, she never thought Gordon did anything wrong but that she didn't know the whole truth. Mia wants to continue her lifestyle change and ask Gordon how he feels about her giving up alcohol. Gordon had no idea Mia gave up drinking and it's clear these two are not on the same page. Mia likes who she is better without a drink and want to avoid more rocky interactions with her friends. Mia ask Gordon if she should call and apologize to Karen for last years issue. Last year at the finale, Mia accused Karen of sleeping with some business owner and apparently the two haven't talked since. Let's see if Karen's in a forgiving mood. 
Later, Candiace and Chris Bassett go out for a sweet picnic under a tree. Candiace is already complaining about the bugs but is determined to enjoy time with her husband. Candiace no doubt had a hard time last year but seems determined to keep things moving. Candiace is happy to be home but is beginning to stress out about the budget for her upcoming tour. Candiace has spent almost six-figures on tour last year and wants to go bigger this year. Chris wonders if Candiace needs dancers as Candiace calls Chris old and suggest he get back in the gym. Chris ask about Candiace's dinner with Karen and Wendy; and Candiace doesn't hold back on how she feels about Robyn. Candiace acknowledges Robyn was supportive last year, but things got muddy when Robyn's hiding her own marital problems.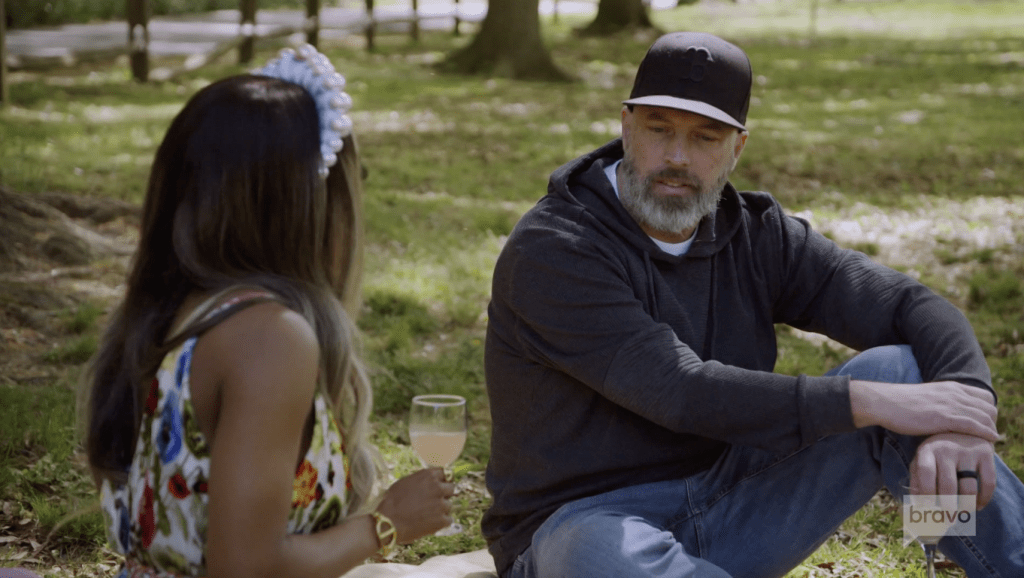 Candiace questions Robyn's support and now wonders if Robyn threw Chris under the bus to avoid discussing her own issues. Chris encourages Candiace to reach out to Robyn and Robyn seems interested in reconciling. Gizelle's setting food and champagne out as Charrisse arrives with her pet wig in tow. As Charrisse opens the bottle, she admits to being afraid of talking with Robyn and doesn't know how she'll react.
Meanwhile, Ashley's backsliding down Gizelle's driveway as she shades Gizelle's construction site in her confessional. The three sit to discuss Robyn and how this discussion is going to go. The ladies want to address Robyn as her girlfriends and give her their honest opinions. 
Gizelle knows they've all been in similar situations but feels Robyn is experiencing delusion and needs to be set free! Gizelle screamed and yelled when she saw that picture of Juan in the nail salon and when she brought it up to Robyn; Robyn said she doesn't care! Ashley's clearly flabbergasted as Charrisse wonders why doesn't Robyn care? Robyn told Gizelle she's numb to it and Charrisse thinks Robyn's used to. Ashley believes this is Robyn's normal now and Gizelle thinks they're too old for that. As Gizelle's talking, Robyn's slowly making her way to the main event.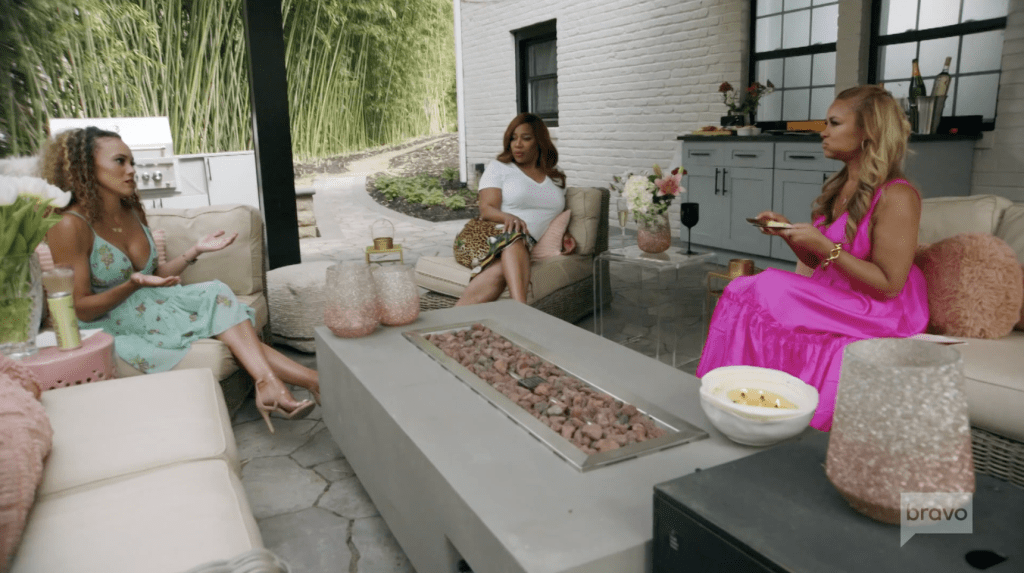 After greeting and getting Robyn a drink, the ladies sit to get down to the nitty gritty. Gizelle starts the tough-love session off and lets Robyn know they're there to support her in regards to Juan. Charrisse doesn't have anything to say but Ashley chimes in and wonders if Robyn is being honest with  herself and the group. Robyn explains that Breanna has worked for Juan for over three years and says the laundromat story was a lie. Robyn doesn't think Juan is dumb enough to be out in public with another woman, but Ashley wonders why Juan isn't more aware of the optics. Gizelle wants Juan to care about Robyn's feelings and Robyn gets defensive and says "What do yall want me to do? Get mad at him and cry and throw a shoe at him?" as Ashley looks on in disbelief.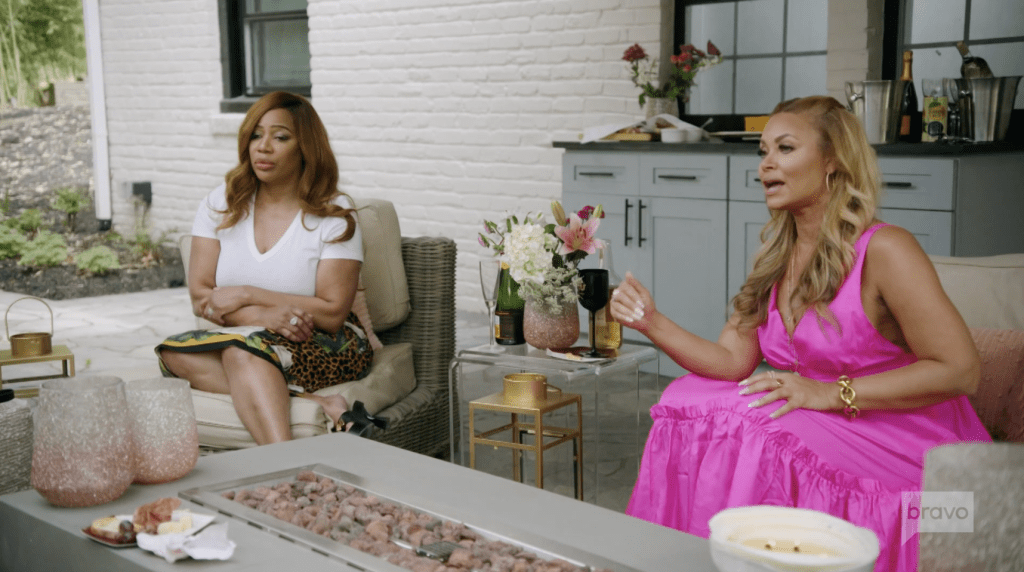 Gizelle wants Robyn to know that Juan isn't thinking about her or the optics of their relationship. Robyn finishes her champagne and says she isn't going to tell Juan to end his friendship, as Gizelle throws her head back. Charrisse tells Robyn she's only worried about her joy and ask if she's good. Robyn admits her joy has been stolen but only because of the headlines. Gizelle points out that Juan's in the center of it all and as Robyn gets frustrated, Gizelle tells her bestie she just wants her to be happy and live her best life. 
Robyn thinks the world is trying to tear them apart and doesn't think it's Juan's fault. Robyn yells "Just bring it on" and that she doesn't care anymore. Gizelle tells Robyn she has her back, but Robyn only sees this as a pile on and claims it's "cruel." Taking the world out of the equation, Charrisse doesn't think Juan should be out with other women, period. Robyn wonders if they'll care if Breanna was fat and ugly, but Robyn's missing the point.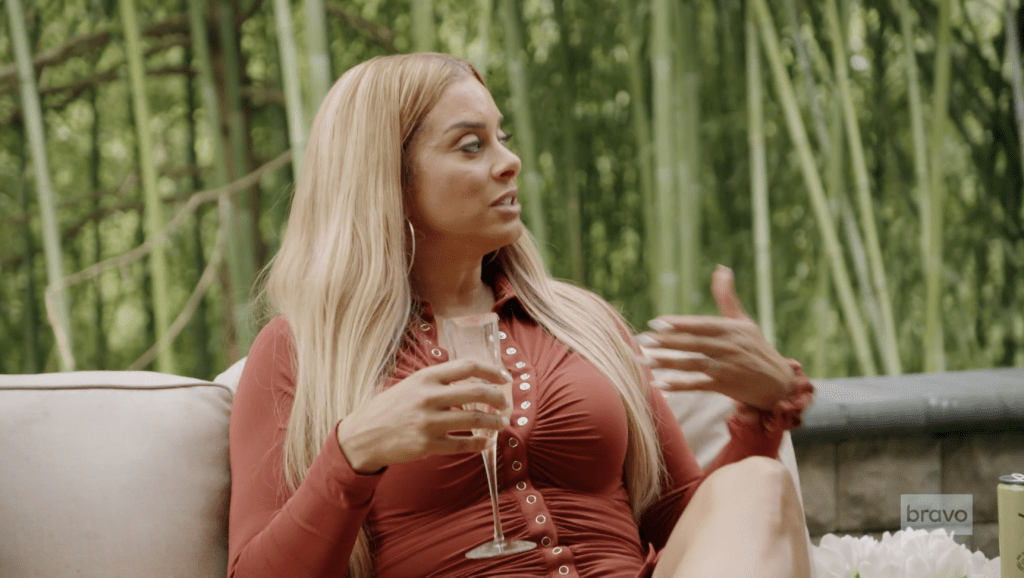 Charrisse admits her ex was in various relationships while they were married, and Charrisse begins crying as she tells Robyn she hurts for her. Charrisse gave Eddie a ton of chances but deep down she knew their marriage was over. Robyn ask if Charrisse thinks she's in denial and Charrisse replies "I don't know." After watching Robyn on WWHL, Charrisse knew something was wrong. Ashley brought up how she made excuses for Michael in the past and that Robyn's on a "Save Juan Campaign." Robyn denies it and says Juan could've came up with a better lie than that.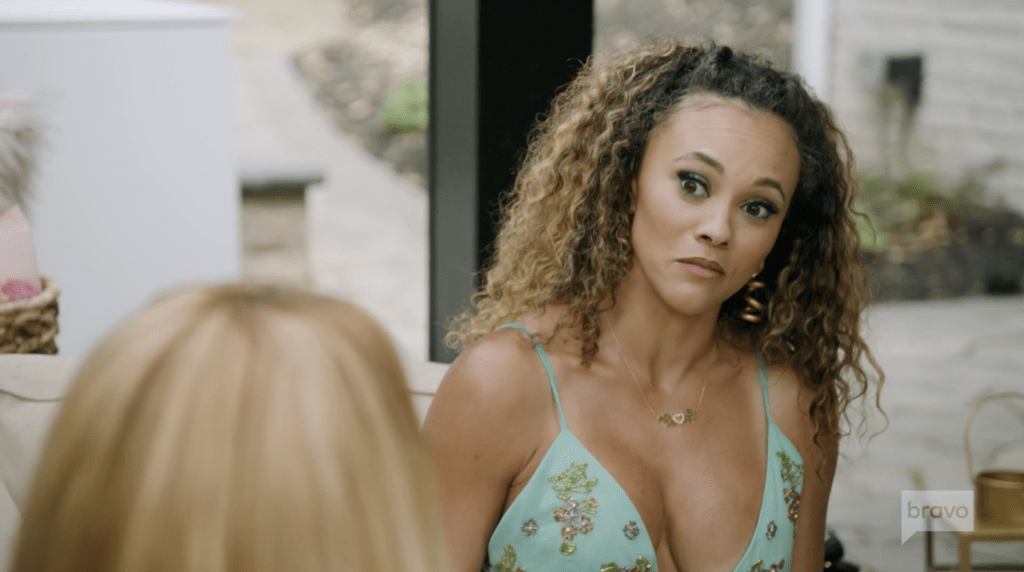 Robyn says they moved past it and Gizelle wonders if Robyn will kick Juan out if this happens again. Gizelle feels like there's nothing Juan could do that would make Robyn fed up and doesn't want Robyn losing herself. We all know Gizelle's story and Gizelle explained she'll never put another man above her again. Gizelle sees a different Robyn than the one Juan married the first time around and doesn't want Robyn to get beat down.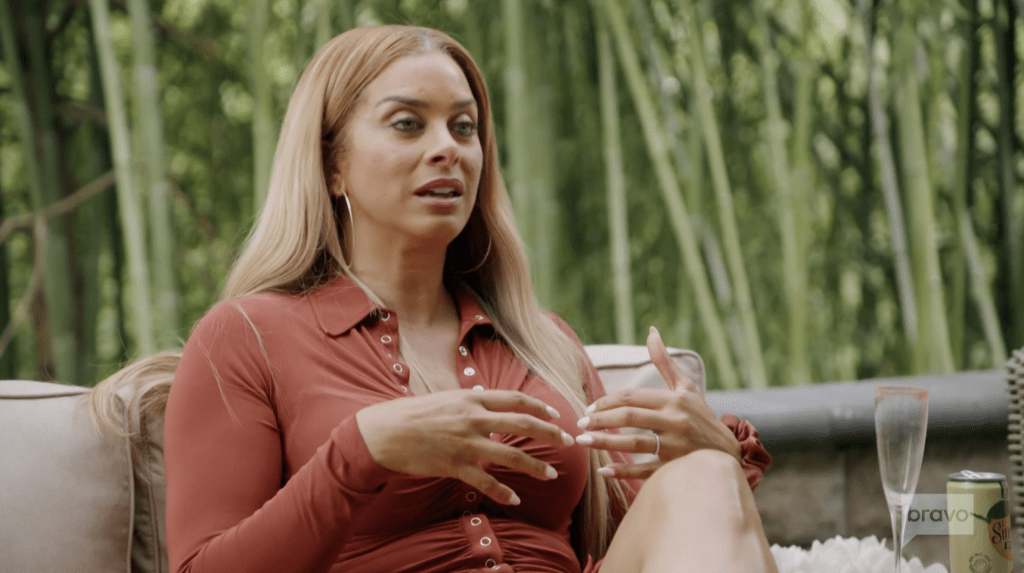 Gizelle, Ashley, and Charrisse know Robyn's in denial but continuing letting her know they'll be there for her no matter what. Robyn appreciates their hard truths but claims she's okay. Yall know this ain't the end, be sure to come back next week for the next episode of The Real Housewives of Potomac.
Stay Connected With All About The Tea: Twitter Ι Instagram Ι YouTube Ι Facebook Ι Send Us Tips
LeAndra Williams is a content contributor at All About The Tea. She's a social worker and (super) mom by day, and a reality T.V. junkie by night.