'RHOSLC' RECAP: Monica Garcia's Scandalous Affair With Her Brother-in-Law Left Her Broke and Shunned!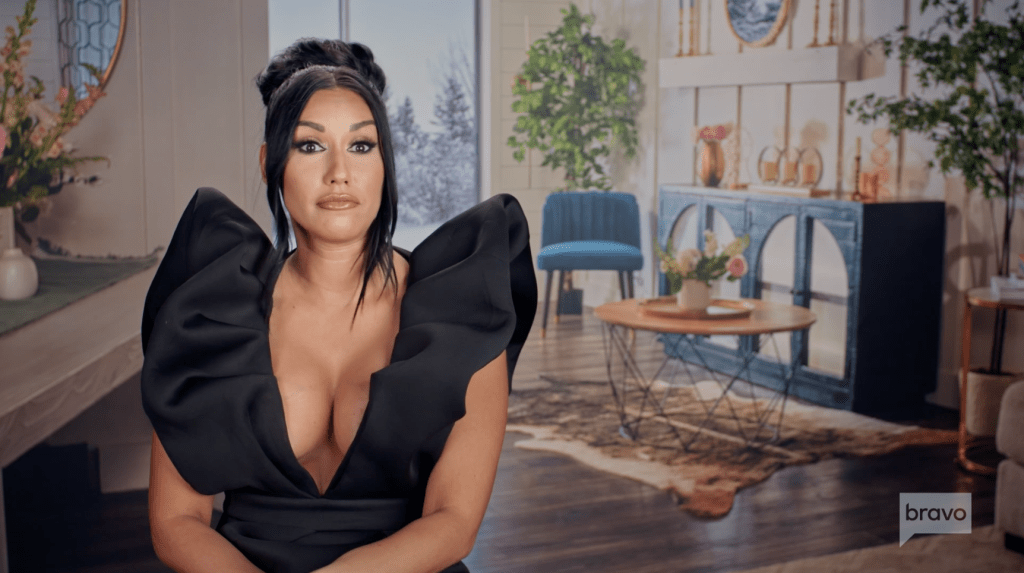 'RHOSLC' RECAP: Monica Garcia's Scandalous Affair With Her Brother-in-Law Left Her Broke and Shunned!
The September 12 episode of The Real Housewives of Salt Lake City opens with a reunion between Lisa Barlow and Meredith Marks. The two met for a walk to reconnect and update each other on the happenings in their lives, albeit with a hint of apprehension lingering from last season's drama. It was then that Lisa had hurled harsh insults at Meredith, calling her a "whore," who sleeps around.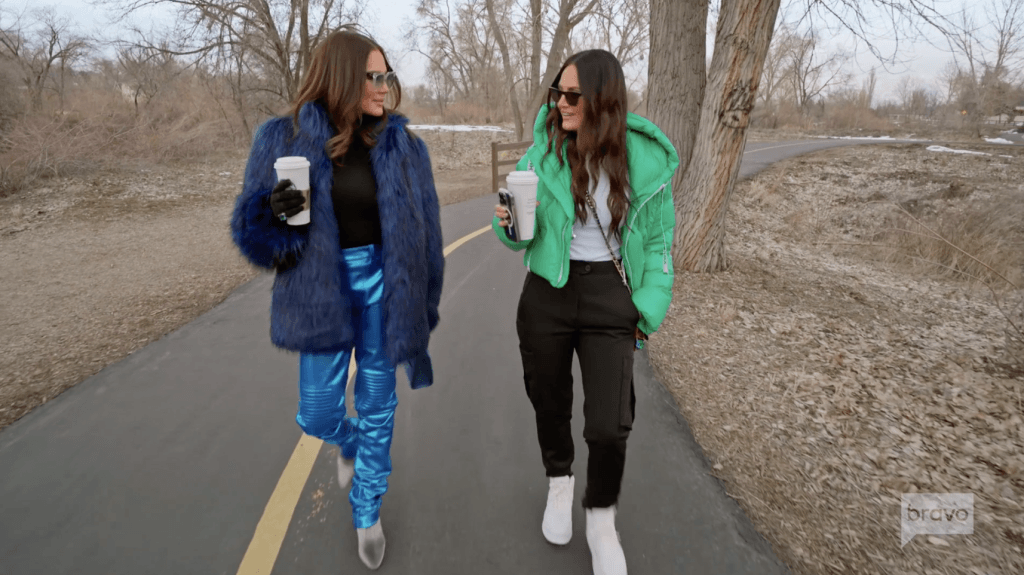 As they stroll, the duo delved deep into the painful memories of that dark period, acknowledging the breach of trust that had occurred. Despite the heavy history, it was evident that both stars harbored a desire to move past the notorious "hot mic" moment that captured the derogatory remark. A sense of hope emerged as Lisa extended an apology, exhibiting a clear intent to mend the fractured relationship. Meanwhile, Meredith reciprocated, expressing a sense of loss for the camaraderie they once cherished. Each took a moment to apologize sincerely for their past missteps, displaying a mature understanding and a willingness to forge a fresh path in their friendship.
"I'm very sorry about my hot-mic moment [in Zion]," Lisa finally says. "My words hurt you, and it made me feel horrible. I don't want to hurt you or your family ever."
Meredith agrees saying, "I'm sorry I made reference to rumors being out there about you … I apologize."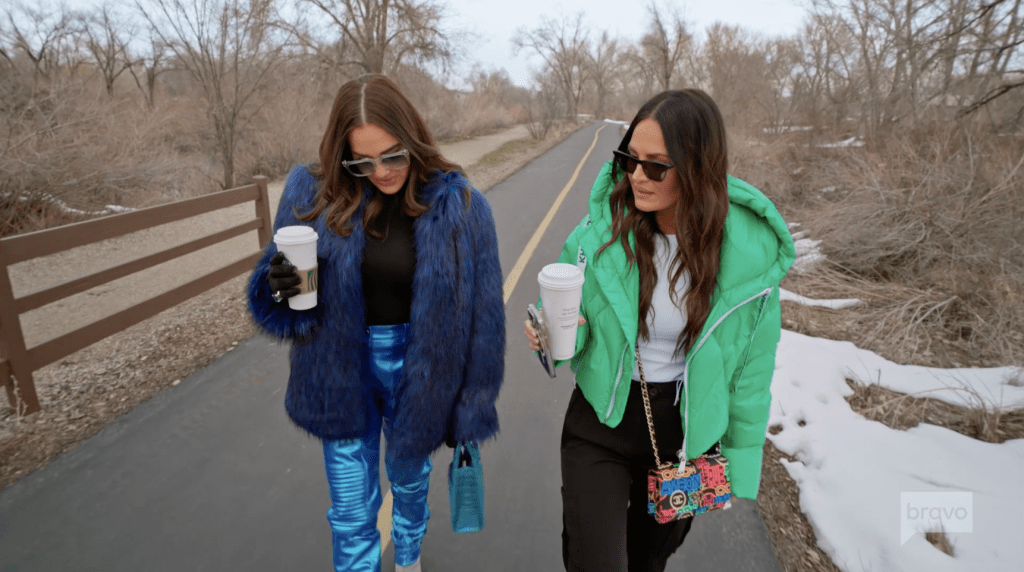 Heather Gay  and Whitney Rose reconvene at a hot spring to unpack the events of Heather's recent fresh-start party. They touch upon Heather's past friendship with Angie Katsanevas during high school, delineating the distinct groups they belonged to: Heather was in the Mormon clique while Angie. was associated with the Greeks, drawing a playful parallel to the Jets and Sharks rivalry. Heather brings up a high school award Angie won for "best sense of humor," commenting on how she believes Angie peaked in high school, a notion found somewhat ironic given Angie's current perceived lack of humor. Meanwhile, a different high school-related topic comes up, centered on a conversation Heather overheard involving Lisa discussing Jack's post-graduation mission.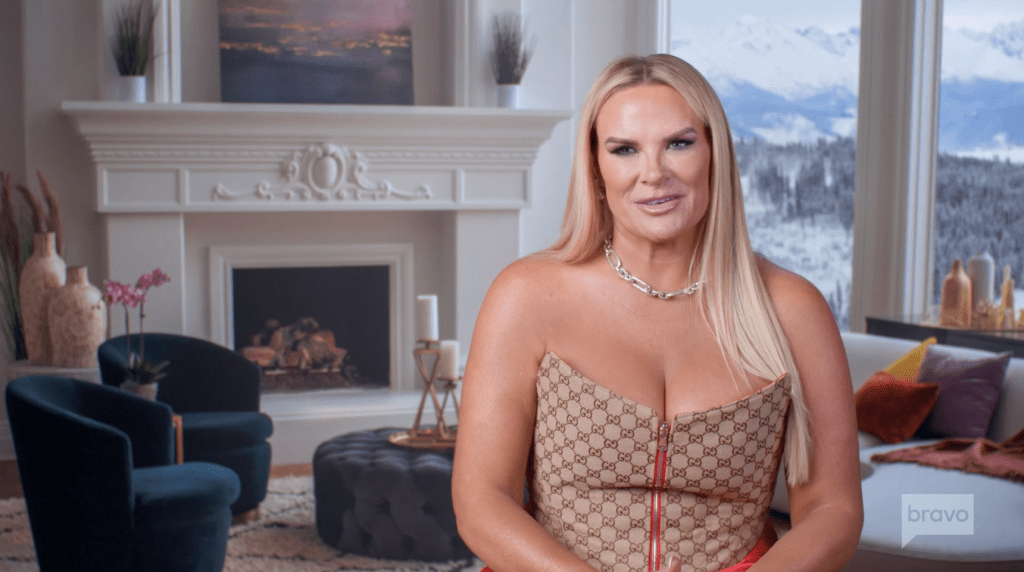 Heather is notably curious about Jack's motivations, particularly since she views Lisa as not being a "true Mormon," igniting concerns about the potential transformation awaiting Jack post-mission.
"Lisa Barlow loves to tell people she's Mormon, but I don't see any Mormon coming from Lisa Barlow," Heather says. "All the Mormons I know wear their garments, go to the temple, pay their tithing and abstain from coffee, tea, alcohol and cigarettes. She owns a tequila company!" 
"Jack is going to be teaching that brand of Mormonism," she continues. "What I don't think she's prepared for is who he might be when he comes home."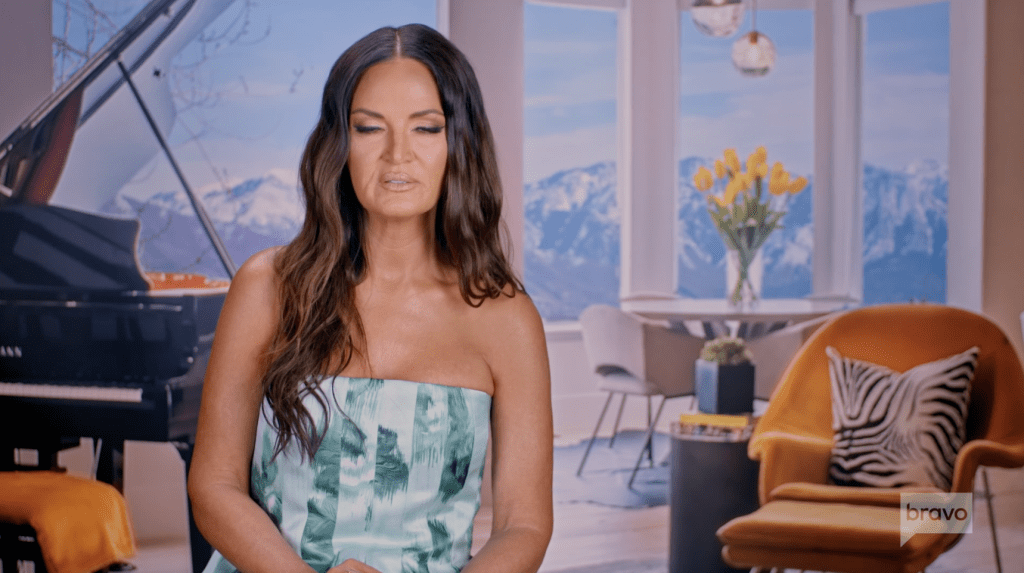 Despite her past conflicts with Lisa, Heather expresses genuine concern about Lisa's potential "rude awakening" concerning Jack's return, showcasing a deep, empathic understanding of the possibly changed dynamics upon Jack's homecoming.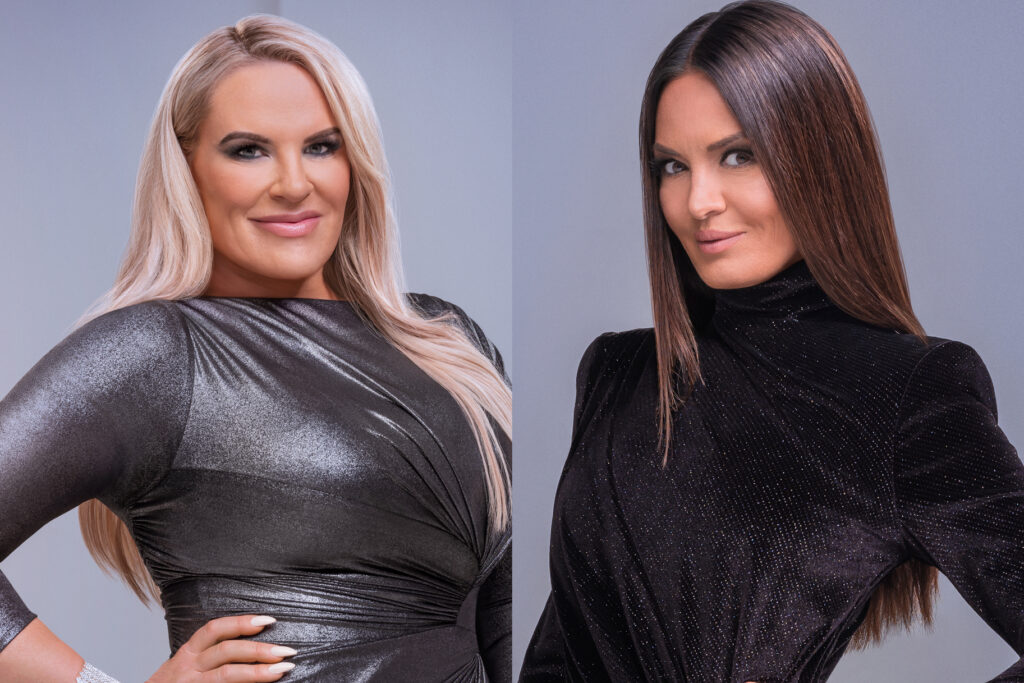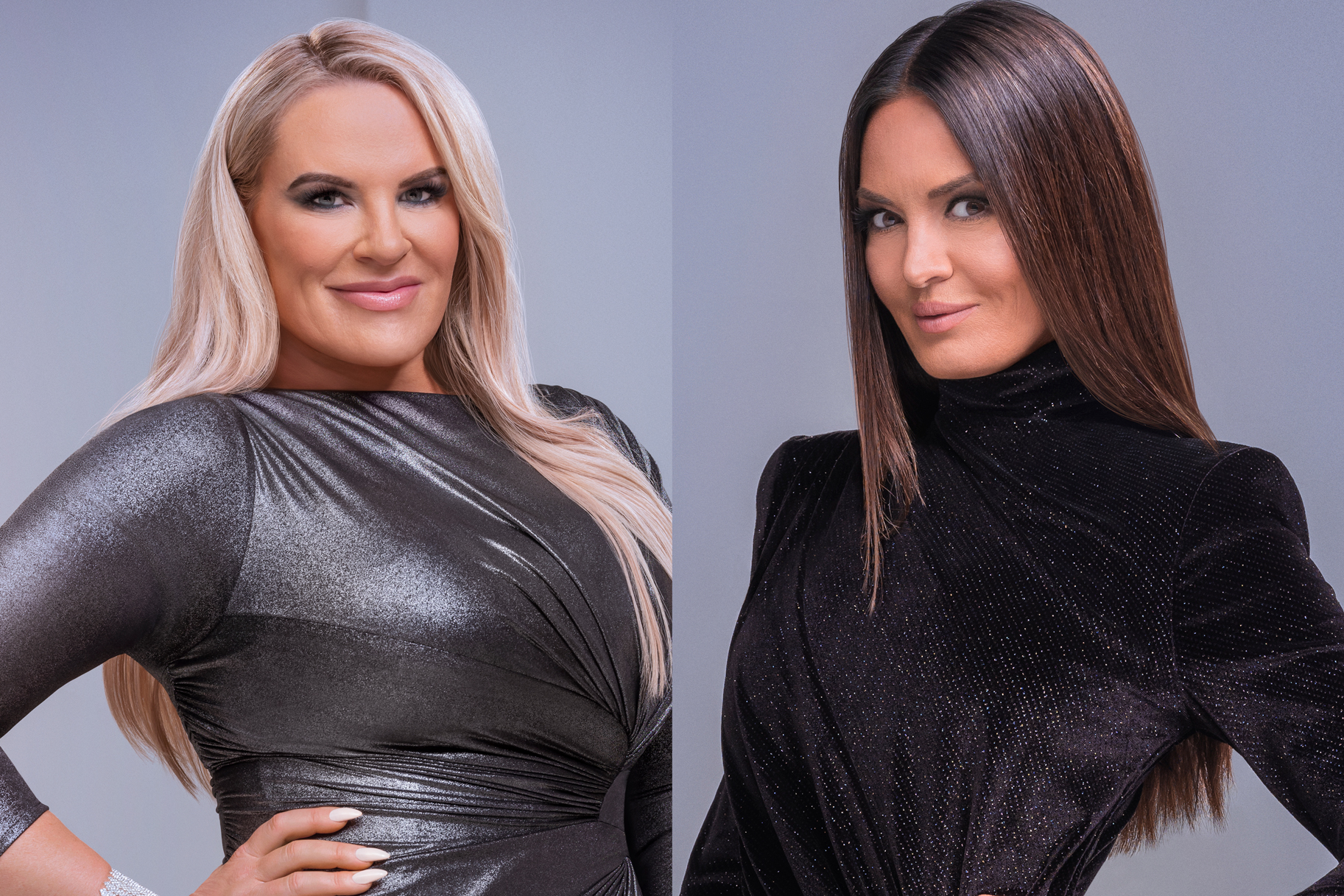 Meredith and her main squeeze Seth are no strangers to the roller coaster of love, navigating through three decades of marital bliss, challenges, and everything in between. Currently basking in a sunny patch, the duo claims to be "happier than ever," a joy they are keen on spreading far and wide through their upcoming podcast aptly named "Hanging by a Thread." Tune in for a dose of love advice from the couple who believes they've gathered enough wisdom to guide others in the romance department. Adorable, isn't it?
Meredith is chummy with the fabulous Trixie Mattel, a drag superstar and crowned champ of RuPaul's Drag Race All Stars. Trixie has rolled out the pink carpet, inviting Meredith for a fabulous stay at the Trixie Motel in the ever-sunny Palm Springs. A girls' trip in the offing! And who doesn't adore the vibrant vibes of Palm Springs? 
"Who are you going to invite?" Seth asks.
She says Heather, Mary, Lisa, Whitney and Monica Garcia.
"I feel like this could be a really good place for everyone to … reconnect," she adds. "Hopefully, we have fun … and I don't have to lock everyone in their room for bad behavior."
Finally, the curtains pull back to reveal the colorful home life of Angie and her delightful Greek squad — featuring her husband for 30 years, Shawn, and the twinkle of their eyes, 12-year-old, Elektra. In the backdrop of their picture-perfect family stands a veritable empire of 10 salons and a cosmetology school.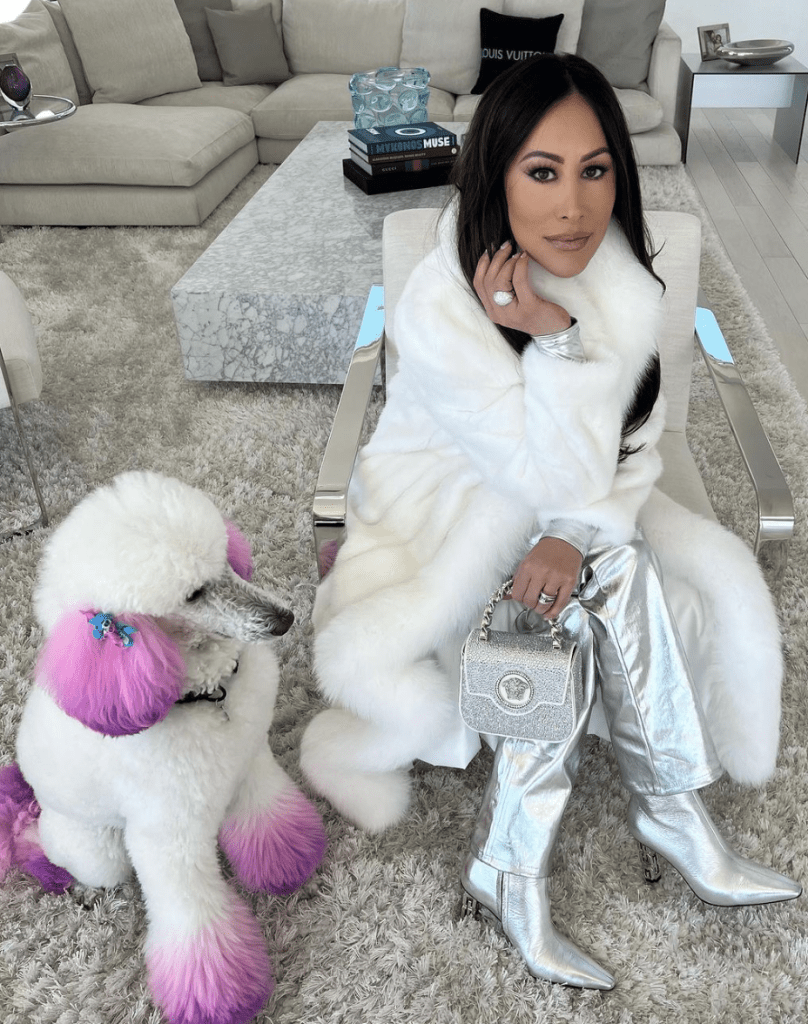 In the midst of it all, Lisa Barlow calls, catalyzing a brief nostalgic moment for Shawn as he remarks on the dialled-down chit-chats that once practically ran on a loop between the ladies. The spotlight swiftly turns to Heather, Angie's high school buddy, with whom conversations have been as sparse as rain in a desert since Heather's "new beginnings" brunch.
As they traverse down the memory lane of high school hijinks, it's clear the camaraderie has seen better days, trading innocent giggles for champagne showers and rumor mills running wild. Remember the not-so-classy San Diego champagne drizzle courtesy of Jen Shah? Oh, and not to overlook the eye-punch saga post some scissor sisters gossip spun by Angie herself. Despite the dramatic unraveling of events, a part of Angie clings to the golden memories, harboring a little wish in her heart to thaw the icy distance that has wedged between her and Heather. 
Monica Garcia proudly wears her half Colombian and half Portuguese heritage on her sleeve, attributing her "feisty," nature to her vibrant background. A Boston native, she traded the cobblestone streets for SLC's mountain vistas a decade ago, a magnetic move that even drew her mom, Linda, to follow suit. Nowadays, they're practically neighbors, with a mere three-minute drive separating her from both her mom and grandmother. It's a family affair in the Salt Lake Valley.
"It's actually turned out to be the best blessing," Monica admits. "My four girls are able to know their Portuguese great-grandmother … We're all just one big, crazy, dysfunctional Portagee family."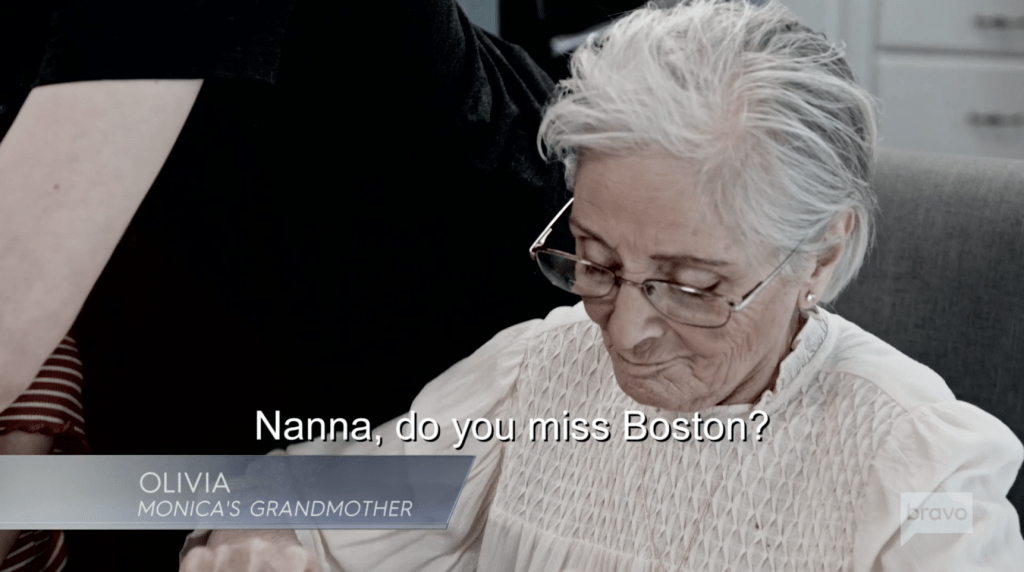 Back in her married days, financial worries were a non-issue. However, singlehood brought with it a renewed sense of responsibility and hustle. Tapping into her entrepreneurial spirit, she founded Brea Baby, a haven where the softest baby swaddles and blankets await to envelop little ones in cozy embraces. It's her very own venture, blending business acumen with a nurturing touch.
"At first it started as kind of a hobby," she says, but now "it's turned into a lifeline … I'm starting from scratch all over again."
Monica is giving her mother the heads up on a forthcoming ladies' getaway to Palm Springs, which would mean she would be banking on her support to keep an eye on the little ones. Ditching the colder weather of Salt Lake for Palm Springs' milder winter temperatures seems like a delightful plan.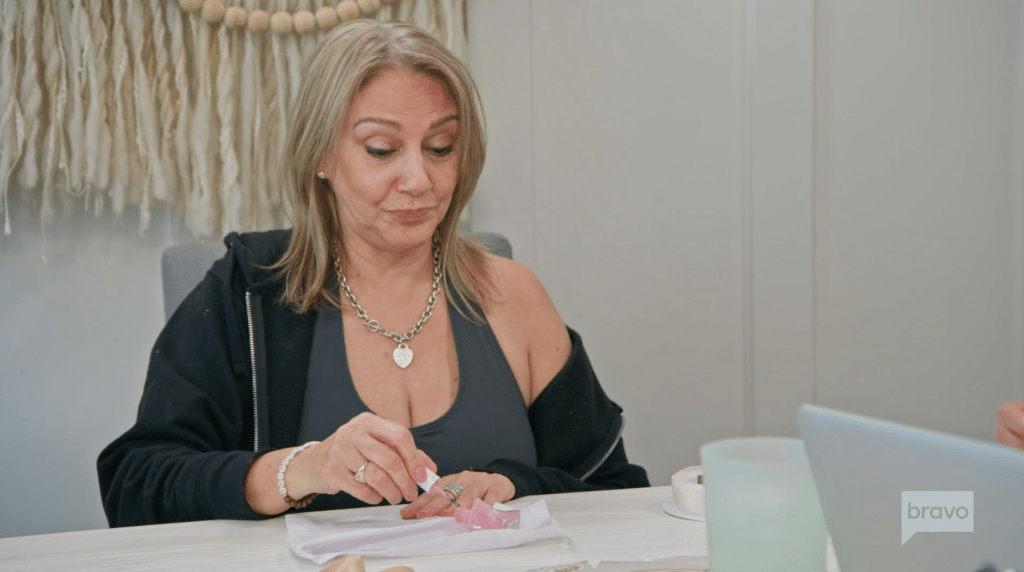 While she is thrilled for her inaugural all-girls getaway, Monica carries a knot of anxiety within her – feeling somewhat out of depth in this new social scenario, she even bought a Louis Vuitton purse in a bid to elevate her style game and feel accepted among the women. The iconic LV monogram now represents both an attempt at fitting in and a treat to herself, a kind of armor she is arming herself with as she steps into this new adventure. "I just want to have something nice around them. I just don't want to, like, show up with nothing – I hate that I feel like that."
"It's normal to feel like that," Monica's 17-year-old daughter reassures her, "but you shouldn't … You shouldn't be basing your worth off of how much money you have."
Her mother adds, "You be you. Funny, smart and gorgeous."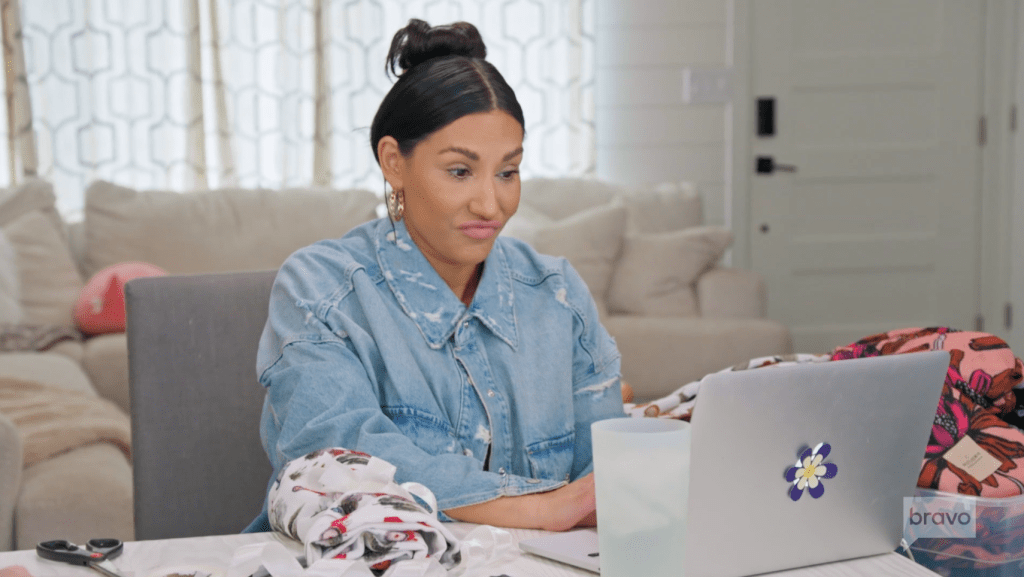 The bond between Whitney's clan and Angie's crew has grown quite strong over time. Their youngsters, who are of similar age brackets, have intertwined their social lives, too.
Whitney leans in to share something with Angie, setting the stage for a heart-to-heart, "I'm so excited for the girls' trip. Are you going?"
"Wait a minute," she says. "I haven't heard anything about it."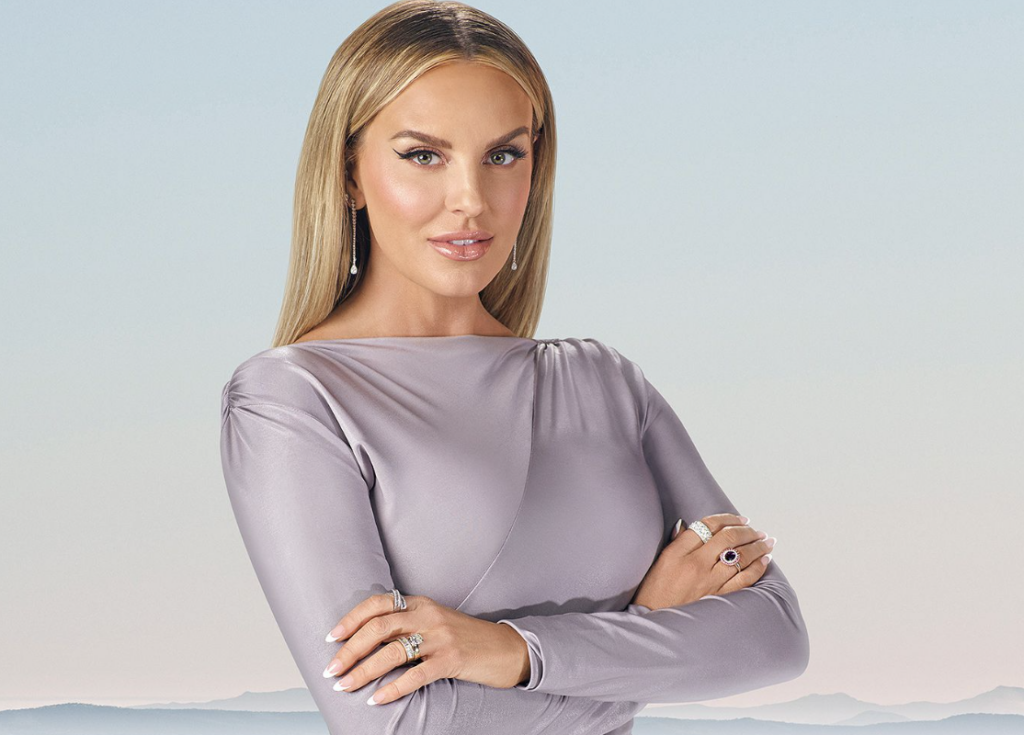 Whitney brings up the forthcoming Palm Springs getaway planned by Meredith, detailing the plans to a keenly listening Angie. However, as the discussion progresses, it becomes apparent that an invitation hasn't extended Angie's way. Whitney poses a genuine question, stemming from confusion and concern, "Why wouldn't you be included in the invite list?" The atmosphere subtly shifts as they ponder over the potential reasons behind this oversight.
"That's a good question," Angie responds. "I have been nice to Meredith … I've gone out of my way to say hello. I supported her fashion show."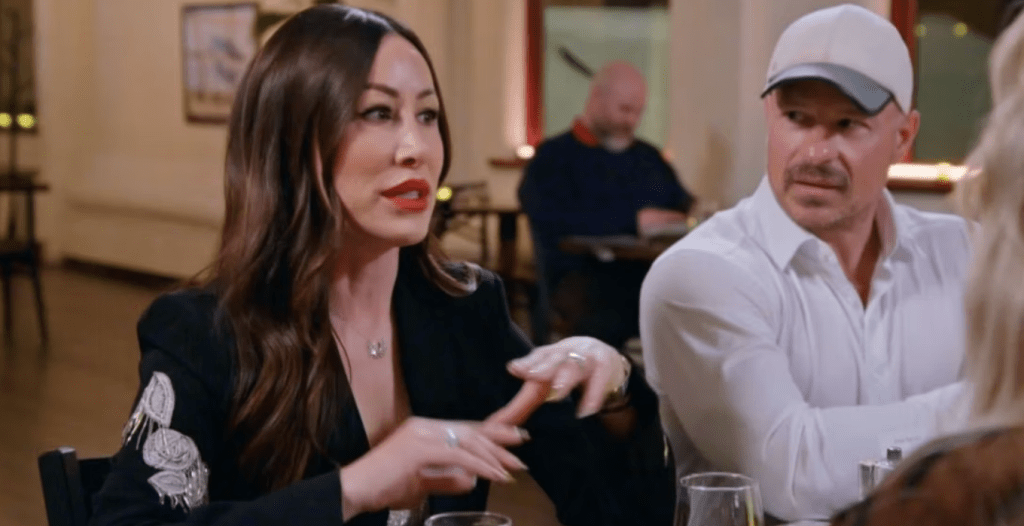 Angie mentions how she and Shawn generously dispatched personnel from their salon to manage all the hairstyling needs, a gesture that naturally resulted in forgone earnings at their establishment. The absence of an invitation, considering their kind-hearted gesture, translates to a painful snub, an unexpected repayment for their goodwill that stings and disappoints. It's not just a missed outing; it feels like a disregarded contribution and a missed acknowledgment of their friendship.
"I can't say things have been great with Meredith," Angie adds. "Heather didn't invite me to her event either. I had to get invited through Lisa … It feels like those two are trying to ice me out."
"I'm inviting you officially. Will you come as my plus-one?" Taking initiative, Whitney asks.
"I do love Palm Springs, I'm not gonna lie," Angie says. "I would love to go as your guest." 
"Hold onto your asses, bitches," Angie jokes. "It's gonna be a turbulent ride."
Monica and Heather go shopping, keen on snagging the perfect outfits for the Palm Springs. Heather, fashion's self-appointed oracle, throws in her two cents with a knowing smile, proclaiming, "I know these women, and I know the dress code." Yet, as she navigates the racks with assured expertise, one can't help but find a splash of irony considering Heather's own… let's say, unique take on style choices.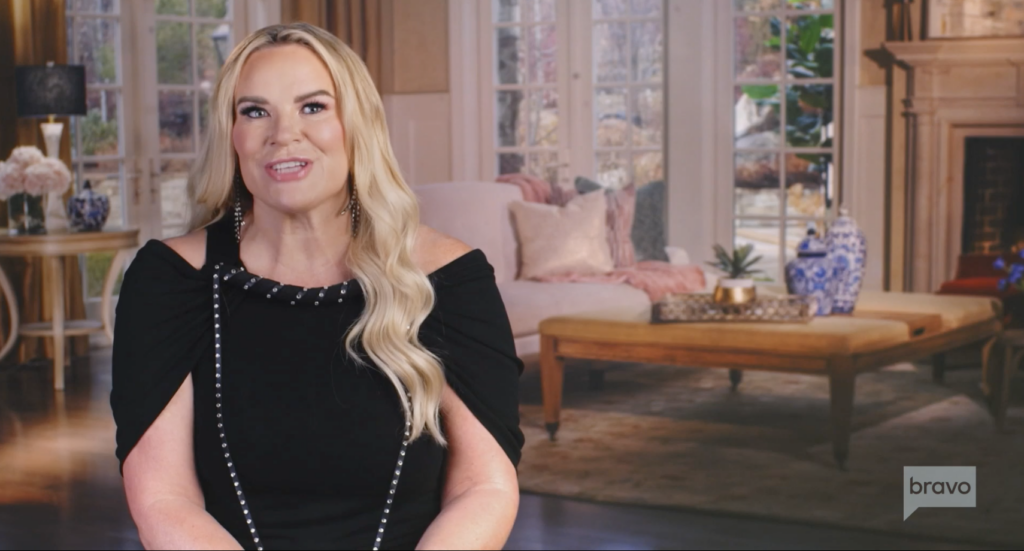 As she navigates the forest of hangers with a discerning eye, Heather tosses over her shoulder, "How are you friends with Lisa?"
"I actually met Lisa through Angie K.," Monica responds, while Heather's gaze sharpens, casting a chill that seemingly drops the room's temperature a notch. The casual chit-chat abruptly pivots, with a tense undercurrent.
"I met Angie K. a long time ago through Jen," Monica conveys, oblivious to the fact that Heather's facial expression has suddenly transformed. "And we've just been friends ever since."
"I went to high school with Angie, so I've known her forever," Heather shares.
"Wait, what?" Monica says. "So even though you guys went to high school together, you guys aren't really, like, close then?"
"No, we're not close at all," Heather responds. "I don't want really anything to do with her. I hope she's not coming to Palm Springs. Meredith said she wasn't inviting her, so I'm hoping … I don't like her."
"I think she seems just catty and jealous," Heather explains. "[She's] not anyone I want to invest any time with — not interested."
Heather and Monica delve into Monica's scandalous history with the Mormon church. Initially unsure about Monica's background, Heather finds herself in deeper waters as Monica details her excommunication from the church following a messy affair with her brother-in-law, a disclosure that lays bare a gender disparity in the church's punitive measures. The serious nature of Monica's story lightens a bit when she talks about how she started to change her life after the event, symbolized by buying a lot of new underwear at Victoria's Secret. This shopping spree was Monica's way of taking control of her life again and moving on from her past. Monica believes strongly in being completely honest, a view that Heather agrees with. This shared belief brings them closer, helping them understand each other better and starting a hopeful friendship.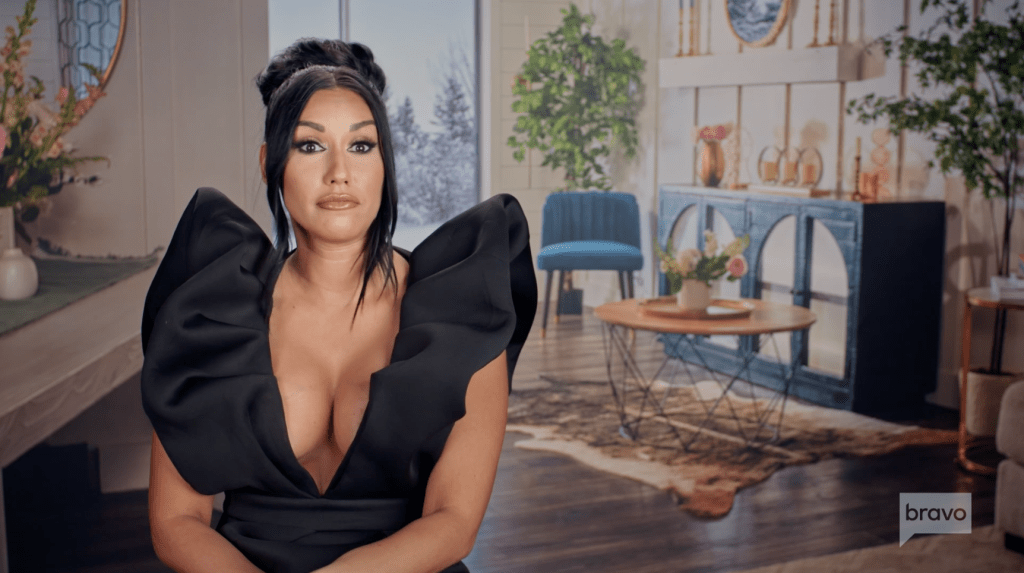 All the women are at the SLC airport, ready to fly to Palm Springs. Monica is scared of flying and has brought some anxiety medication with her in her new LV bag. Heather plans to sit next to her to share the medication, taking advantage of the airline's open seating policy. Everyone realizes Whitney is missing, and they learn from Meredith that she's taking a different flight, which annoys Meredith because the trip was meant to rebuild trust and reconnect.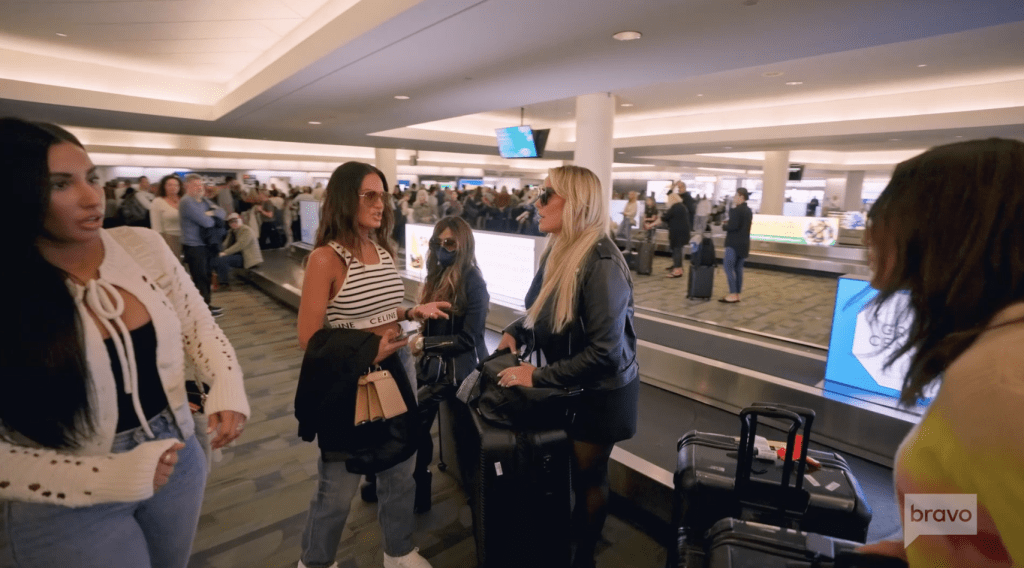 At the Palm Springs airport, the trip starts off rocky with Lisa frantically looking for her lost ring, which is worth $60,000. This situation is causing drama and stressing everyone out, including Heather who hides in the bathroom to avoid the chaos.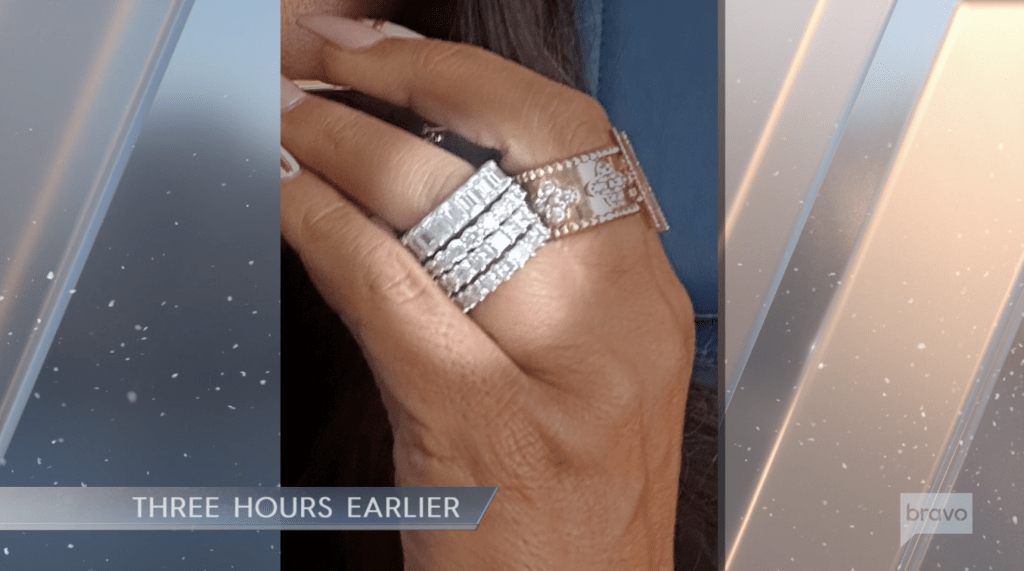 Lisa is very upset and fears the reaction of her husband, John, while the others try to inject some humor into the situation with various comments on the high value of the ring. Monica even suggests that the ring might already be at a pawn shop.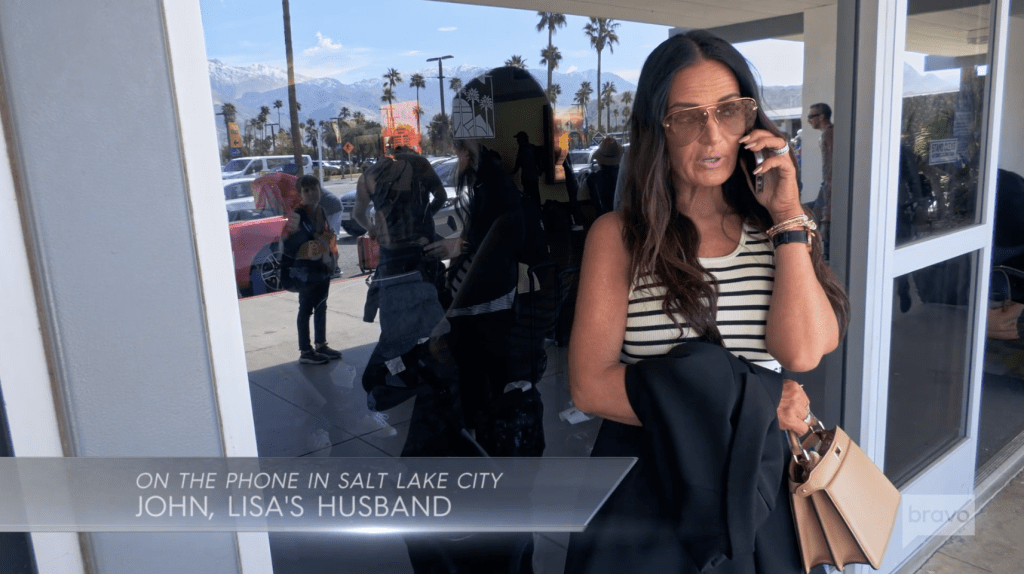 As Lisa continues to lament her loss, Mary advises her to let it go at some point. The situation leads to a discussion on the most expensive things they have lost, with Heather humorously claiming she lost her "dignity." 
As the rest of the group heads to the motel pondering Whitney's whereabouts, she and Angie are having a good time by the pool, excited and somewhat apprehensive about the others' reactions upon seeing them together, especially given the history of disagreements and hard feelings from the past, particularly involving Heather. Whitney, despite understanding the potential for conflict, optimistically hopes for a "fun surprise," seemingly underestimating the complicated dynamics and tensions that her surprise might unearth. The scene sets the stage for a dramatic encounter as the rest of the group arrives at the motel, slowly realizing the unexpected presence awaiting them.
The rest of the group are surprised to find Whitney and Angie already there, having planned to surprise them, which promises to stir up some drama. Whitney knows the owner, Trixie, and feels arriving first is a playful way of "marking her territory."
The Real Housewives of Salt Lake City airs Tuesday nights, at 9:00pm EDT, on Bravo.
Stay Connected With All About The Tea: TwitterΙ InstagramΙ YouTube Ι Facebook Ι Send Us Tips
Nancy Zhāng is an Entertainment Blogger for All About The Tea. Nancy covers hot topics, recaps and celeb news. She loves to multi-task as a writer and a private chef. She received a B.S. in Mass Communications from LSU. Nancy's married and the proud mom of 2 German Shepherds.