'RHOA' RECAP: Shereé Whitfield's Ex-Husband Bob Whitfield Drops a Bombshell Secret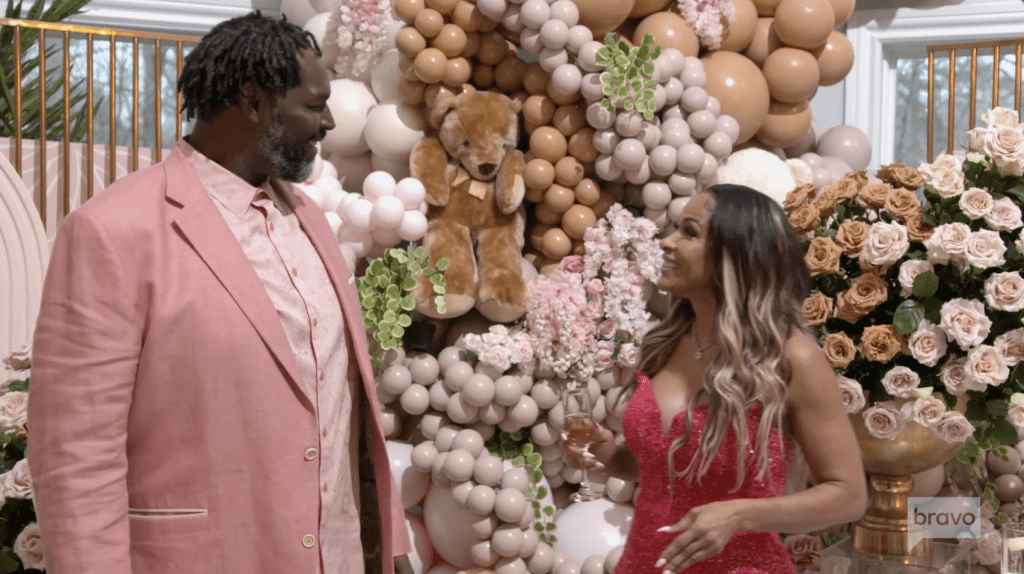 'RHOA' RECAP: Shereé Whitfield's Ex-Husband Bob Whitfield Drops a Bombshell Secret 
Welcome back for another episode of The Real Housewives of Atlanta. This week we begin with Cynthia Bailey and Kenya Moore as Cynthia celebrates her divorce.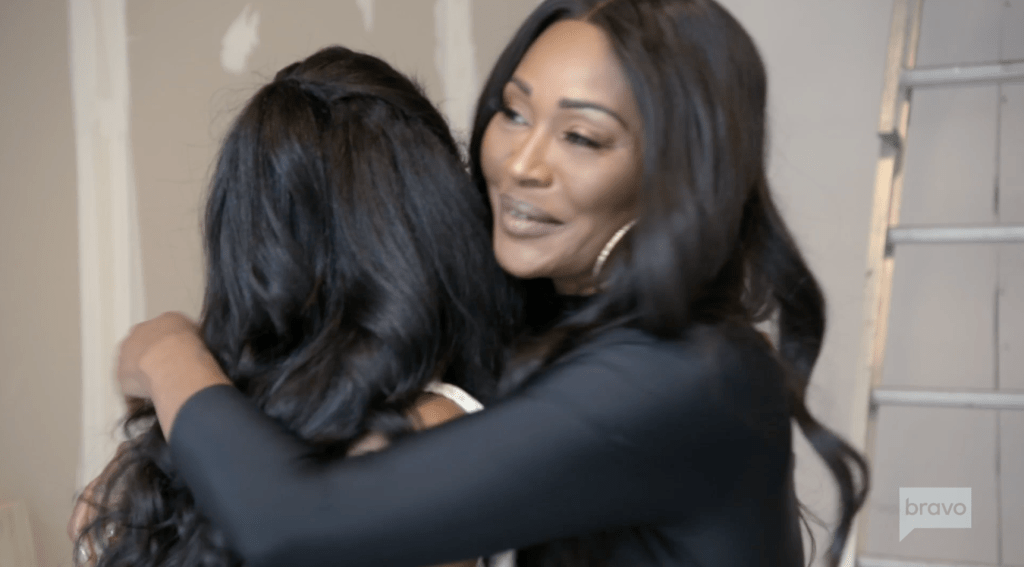 Sheree Whitefield is planning a Sip and See with Mecca's mother, as Marlo Hampton has a therapy session with Ms. Sharon.
It's shoot day for Kandi Burruss and Drew Sidora and Todd Tucker's explaining Drew's scenes as he prepares to shoot this movie in ten days. Todd's explaining how Drew's supposed to react in the scene and Drew's all in for her sexy debut. Later, Sanya Richards-Ross, Aaron Ross, and Deuce head to Dr. Jackie Walters office to confirm Sanya's pregnancy.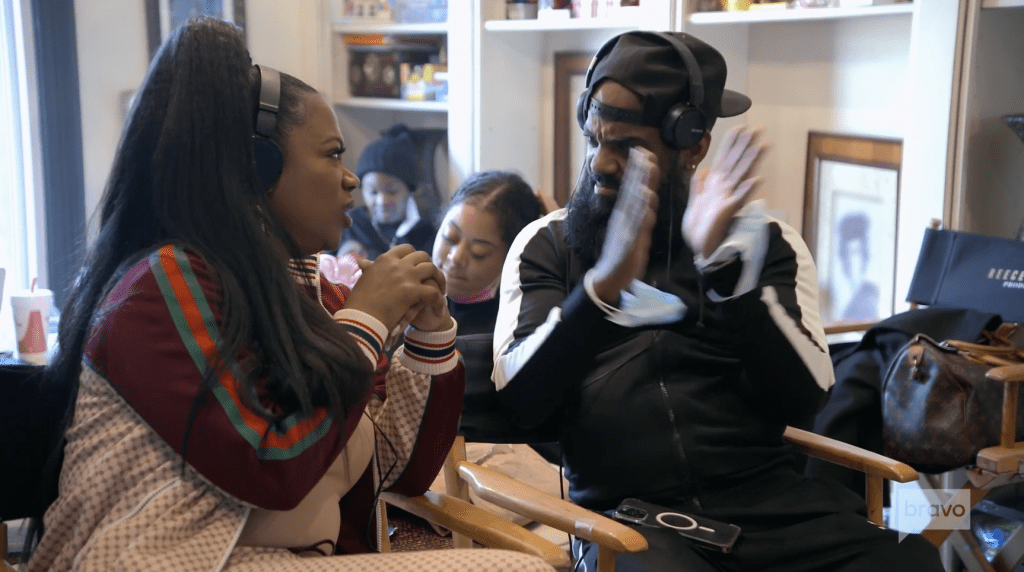 Sanya questions whether to share so much information with Deuce but makes it clear that Deuce included himself in their business. Dr. Jackie comes in with her assistant in tow and confirms Sanya's pregnancy! The room celebrates as Dr. Jackie explains what a Geriatric pregnancy is and Sanya's excited to expand their family.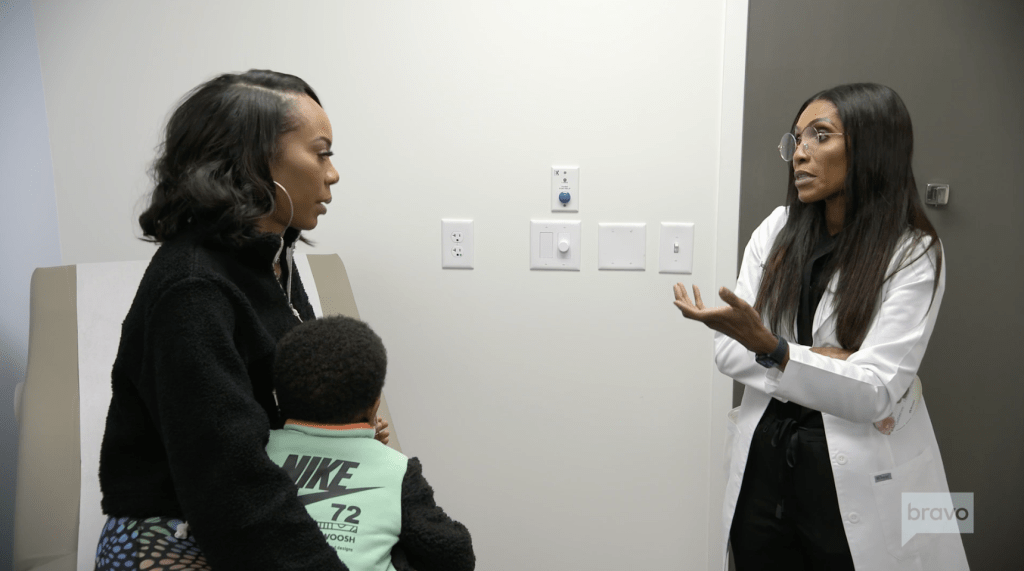 It's day four of the movie shoot and Drew's on set looking comfortable and in her element. Todd and Kandi watch backstage and compliment Drew's work ethic in their confessional as Monyetta Carter-Shaw stops by. Kandi steps away to chat with Drew and Monyetta as they all discuss making the movie. Drew's nervous about her upcoming sex scenes but Kandi reassures Drew that there's an intimacy coach on set; to help the girls out.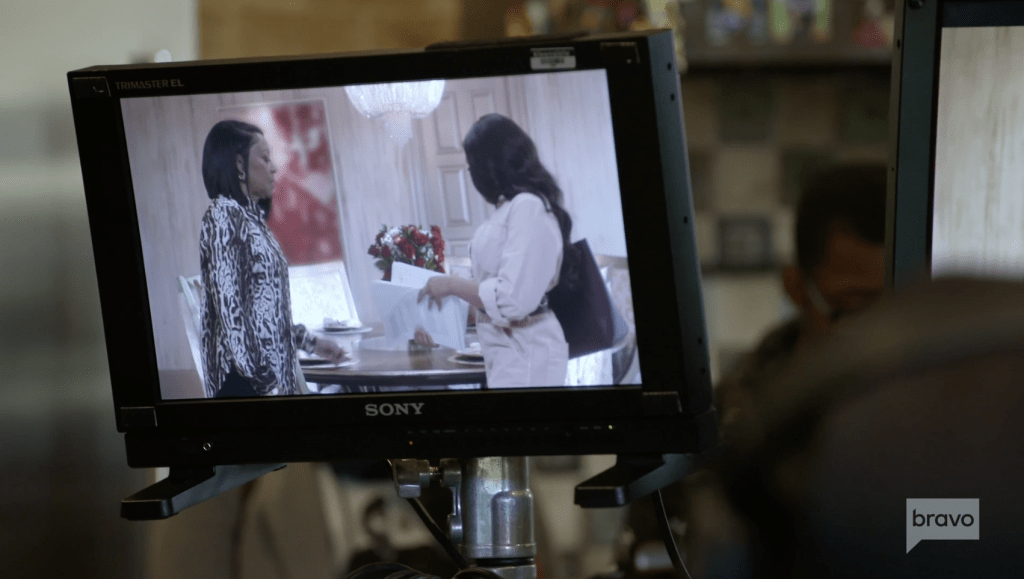 Not only is this Drew's first sex scene, but it's also her first sex scene with a woman. Drew's worried that she won't be able to pull out the inspiration for this scene but Kandi doubts Drew's hesitancy. A flashback shows LaToya Forever saying she and Drew kissed but who knows the truth at this point? Kandi asks about Ralph Pittman and Drew gave Ralph an overview of the script but not each detail. Kandi and Monyetta laugh as Drew runs and gets dressed and the conversation switches to Courtney Rhodes.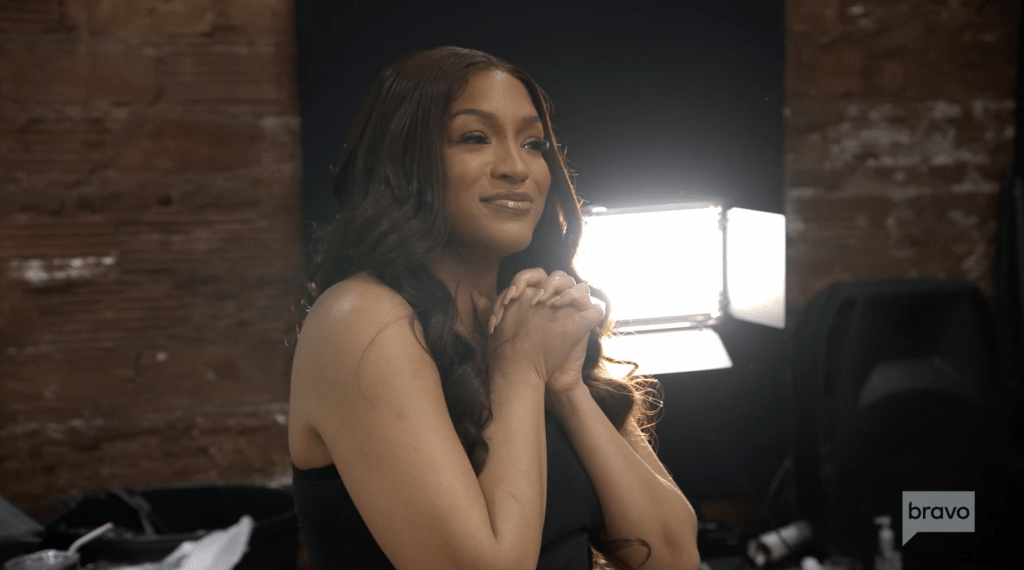 Kandi lets Todd know about Monyetta overhearing Courtney call Drew a b*** at Drew's mindfulness retreat. Drew walks up just in time as Kandi and Monyetta fill Drew in on the conversation. Drew has dropped "cousin" from Courtney's name and will no longer refer to Courtney as Cousin Courtney.  Drew didn't believe it at first but lucky for Drew, Monyetta has the footage to prove it! After watching the tape, Kandi questioned if Courtney was referring to Sanya, but Monyetta quickly shut that down. Drew wants to talk with Courtney to straighten things out but doesn't know where this leaves their friendship moving forward.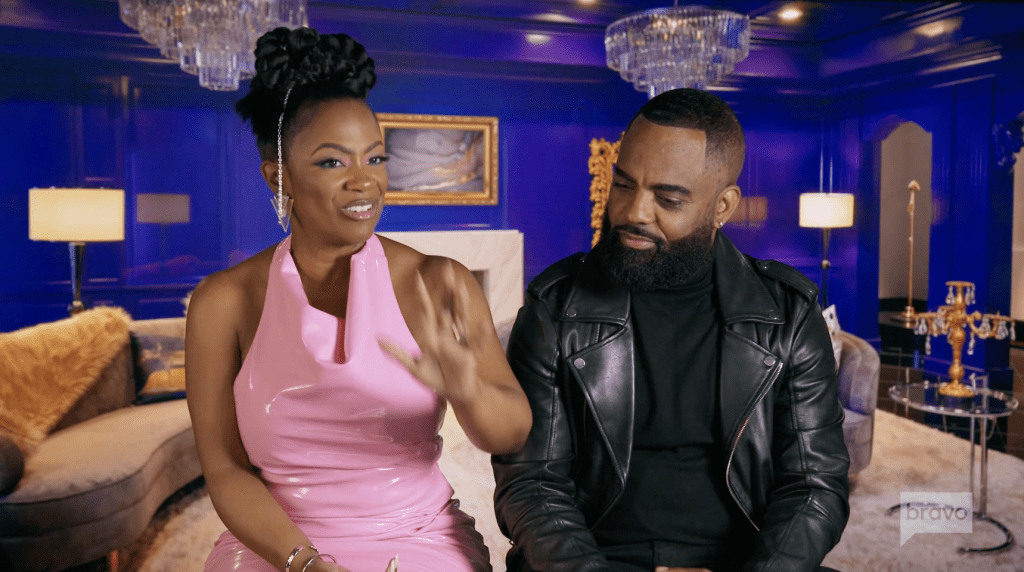 The next day, Sheree's preparing for Mecca's Sip and See and has her party planner Lance available to make Sheree's dreams come true. After explaining the décor, she wants, Sheree explains in her confessional how proud she is to be a Glam-ma. Sheree wants to party to be BoHo glam with lots of balloons and fabulousness, without a budget.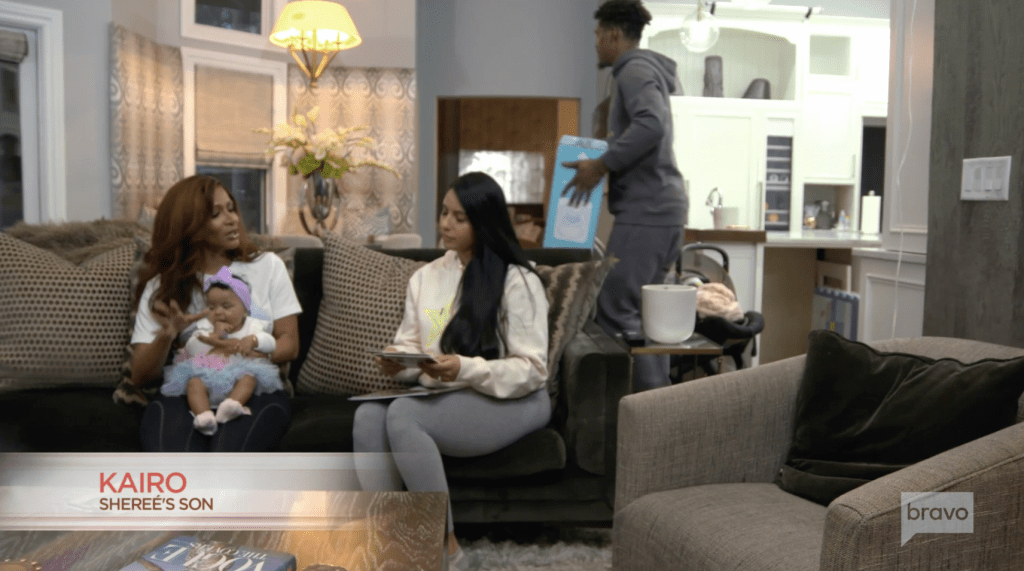 It's day five of Todd's movie shoot and Drew's in the middle of her sex scene. Kandi, Todd, and Monyetta watch backstage as they give Drew props for such a great scene. Drew claimed she relied on her senses and that she wasn't expecting to be so good. Todd's happy with Drew's work and Kandi thinks Drew was perfecting casting for the movie.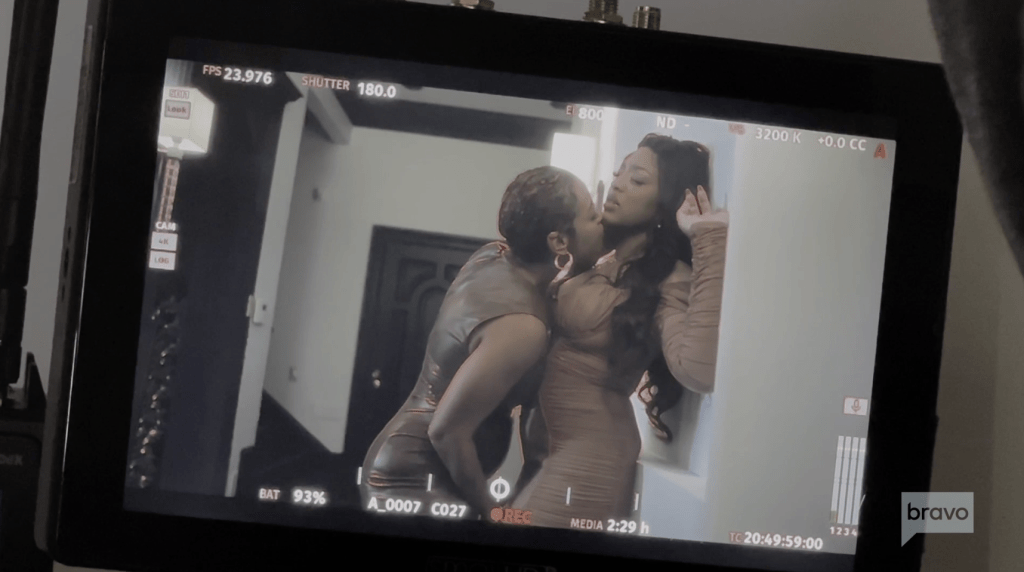 That evening is Marlo's Foster Care Friday's Event where she celebrates all her girls in her mentorship program. Tonight, Marlo wants to highlight successful businessmen and women who have made it out the foster care system. Sanya arrives with flowers as she greets Tye and Courtney shows up shortly after. The ladies get drinks as Marlo wonders where Sheree is. Sheree may have plans and Marlo gets a little emotional as she tries to play it off. Marlo thanks her guest for coming and we get a sneak peek of her highlighted guest. Scotley surprises Marlo and Sanya's ecstatic he's supporting Marlo. Sheree arrives and everyone begins screaming as they greet Sheree. The ladies end up taking pictures and wrapping up the night with zero drama. Boo!
The next day, Kenya's getting her makeup done while she asks Kandi what she's wearing to Sheree's event. Sheree has food, flowers, and drinks everywhere as Sanya sneaks in to check on her girl. Sheree's getting her makeup done as Sanya as how Sheree's feeling. Sheree's a tad overwhelmed with the party but doesn't regret a thing. Marlo can't make it due to having a funeral to attend but Sheree understands. It's 4:35 PM and Sheree's still getting ready as the party planner gives Sheree some updates. The harpist has arrived and Sheree's providing plates to a tune of two-hundred dollars a head. Sheree's excited for Mecca's grand reveal and Sanya steps out to allow Sheree to finish getting ready. 
It's now day six of Todd and Kandi's movie shoot and everyone is tired! Drew sits in her trailer with her on-set assistant but continues to side-eye the entire situation. Drew's feeling uncomfortable being in Kandi's house but will continue to collect this pretty check. Ralph surprises Drew and the assistant steps out to give them privacy. Drew tells Ralph when she woke up he had left and without answering, Ralph jokes about nothing being out at 3 AM but street walkers SMH. Drew claps back with "and the people making movies" and goes into her role while Ralph squints his eyes at Drew. Drew's really beginning to connect to her character and Ralph jokes that Drew's a lesbian. The two begin discussing Drew's sex scene and Ralph asks Drew if she kissed the woman. Without answering, Drew asks how Ralph would feel if she did kiss the woman and the two begin discussing the scene. 
Ralph wants to watch the sex scenes, but Drew wants Ralph to respect her craft. Ralph asks if Drew had an orgasm, and I don't think he knows what actually happens on set.  Kandi arrives to Sheree's Sip and See and Sanya immediately gives Kandi crap for not returning her call. Cynthia arrives looking beautiful as Sanya inquires about Kandi's movie locations. Kandi's not happy about the crew using her bed but gives Drew props for her acting chops. The ladies greet Bob Whitfield as he says his hellos and jets off to get a drink to watch football. Cynthia checks out Sanya's growing belly as Sanya swears she feels a knot growing at night.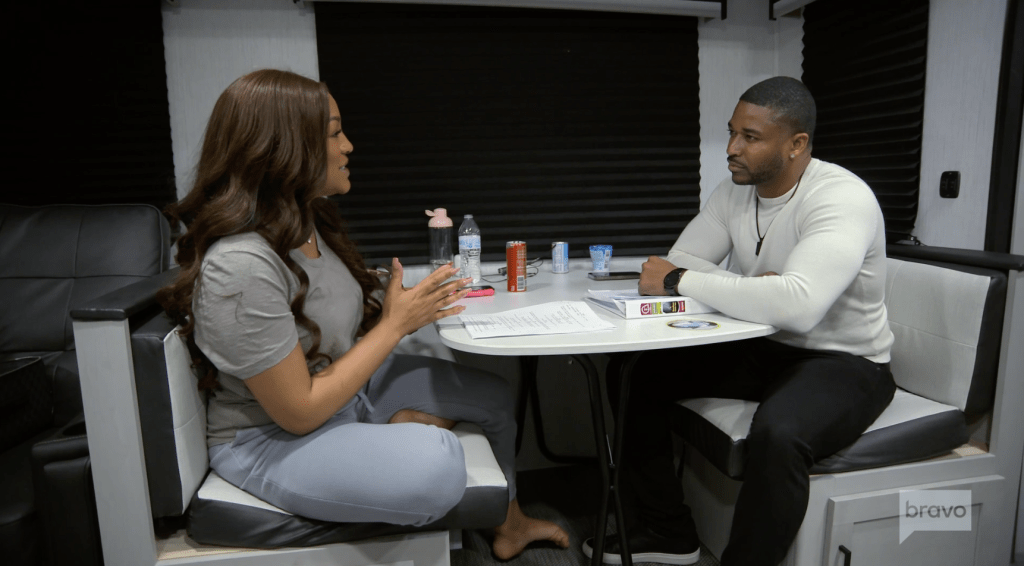 Courtney walks up and the ladies give her a half-a**ed greeting while Kandi points out Courtney's not wearing a hat. Courtney shakes her hair as the ladies wonder where Sheree is. Sanya tells them how she saw Sheree earlier and that she's getting ready for her grand reveal. Kandi questions if the party's for Sheree or Mecca as the girls question what time the party is starting. More guest begin to arrive, and we see Shamea Morton join the party. Monyetta and Kenya arrive as the ladies chat to the side and Kandi's surprised Shamea knows Courtney. Shamea questions how Courtney's time has been in the group and when Courtney responds "interesting", Shamea puts it out there that she heard Courtney's been playing the fool. 
Courtney denies it as Kenya checks out Sheree's décor. Upstairs, Sheree's preparing for their grand entrance as she sneaks some pictures in. Bob takes a picture with Sheree as well and tries to put his arm around her wasted. Martel Holt stops by just in time to step in and take some pics with his "woman". The party's jumping as Kairo tells Sheree how much he loves her and how thankful he is for her. Outside, Drew calls Kandi and tells Kandi she's not coming in because there's a man inside who insulted her. Kandi says "Oh sh**" and begins looking around to find the culprit. Apparently, as Drew pulled up to Sheree's; she see's Anthony the messy assistant walking in the door! 
If you remember the drama from last year, Anthony is messy boots and Drew wants nothing to do with him. Drew tells Kandi that Anthony threw a shoe at her and soon Kandi grabs Monyetta so they can check on Drew. Once outside, Kandi asks if Drew's alright, but Drew's hurt that Sheree continues inviting Anthony around Drew. Drew explains one night last year, she was out at a lounge and Anthony took her shoes and threw them at her! The police was called and now Drew's surprised Sheree would do this to her. Drew doesn't feel safe, and Kandi decides to let Sheree know what happened as Drew leaves. 
Mecca's ready for her grand-entrance as the ladies sit down to cool off. Sheree finally shows herself and ushers everyone upstairs for the grand review. Producers ask Sheree why she invited Anthony and low and behold, Anthony's the reason Sheree and Martel got together. Kandi tells Sheree about Drew leaving and Sheree gets agitated as Anthony throws in his two cents. Anthony tells Kandi that Drew's marriage is unsuccessful and that her acting career is down the drain! Kandi confronts Anthony about the physical altercation and Anthony claims Drew threw her purse at him first. Sheree shuts the mess down and takes the ladies to another part of the house. Kenya surprisingly greets Martel and asks if the two can have a quick conversation.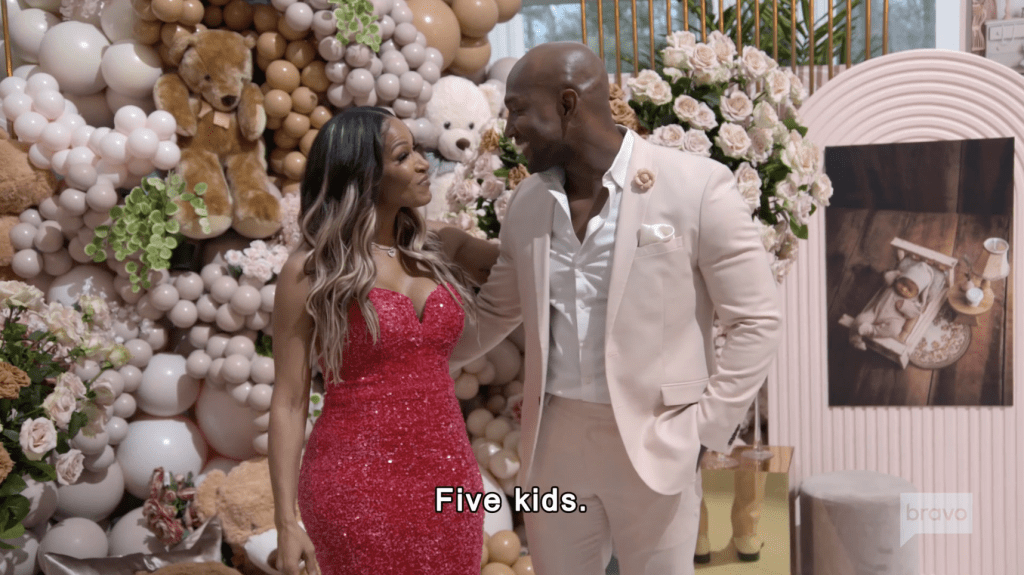 Martel's rightfully hesitant as Shamea and the rest of the ladies excuse themselves. Kenya apologizes to Martel and says she was only trying to protect Sheree and felt insulted by Martel's comments. Martel also apologizes as Sheree ensures Kenya apologizes for offending Martel. Martel thought Kenya was gonna punch him and Sheree forces a group hug. Everyone's ready and Mecca finally makes her appearance in a beautifully decorated stroller. The ladies love the reveal and Mecca's giving Kenya baby-fever. The party's clearly for Sheree but Mecca's being a great sport as everyone takes pictures. Sheree meets someone names Candiace and the ladies are trying to figure out who this woman is. Sheree doesn't know who the girl is and claims the ladies are being shady. Sheree calls Candiace over and we find out it's Bob's daughter and of course Sheree's just finding out as well.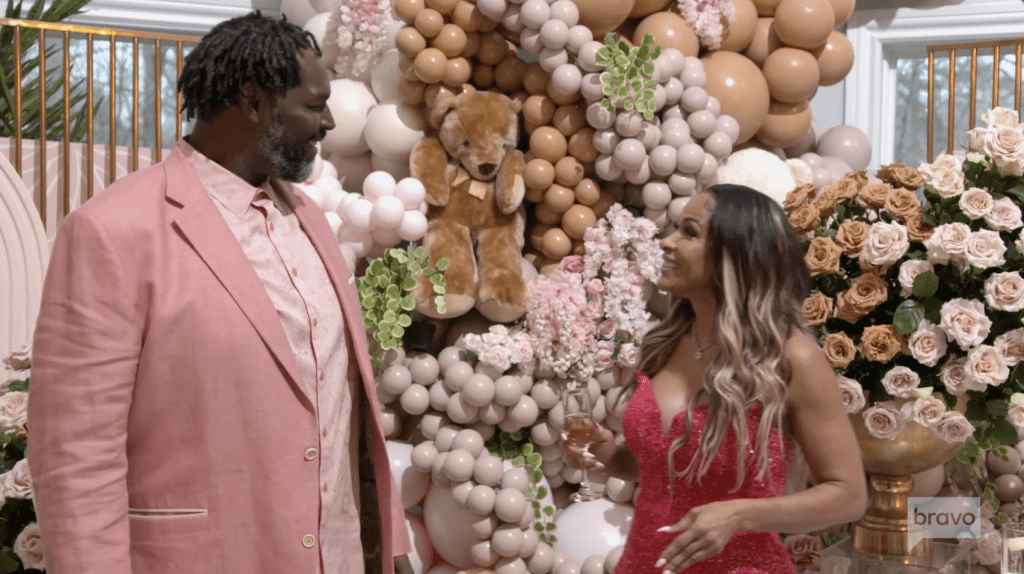 Of course, Bob isn't elaborating on anything as Apollo makes a surprise appearance. The ladies continue talking about Bob and soon Bob catches wind and the ladies begin grilling him about Candiace. Kenya wonders why Sheree didn't know and Bob claims Sheree was on a "needs to know" basis. Bob still ain't sh-t. Bob begins walking away and jokes that he's going to bring the twins. Sheree joins the ladies for a picture and although Bob continues dropping surprises on them; Sheree just chalks it up to Bob still being a piece of sh-t. Be sure to come back next week for the season finale of The Real Housewives of Atlanta.
Stay Connected With All About The Tea: Twitter Ι Instagram Ι YouTube Ι Facebook Ι Send Us Tips
LeAndra Williams is a content contributor at All About The Tea. She's a social worker and (super) mom by day, and a reality T.V. junkie by night.