'RHOA' RECAP: Drew ACCUSES Kandi Of Spreading Lesbian Kiss Rumor For Movie Promo, Claims Kandi LIED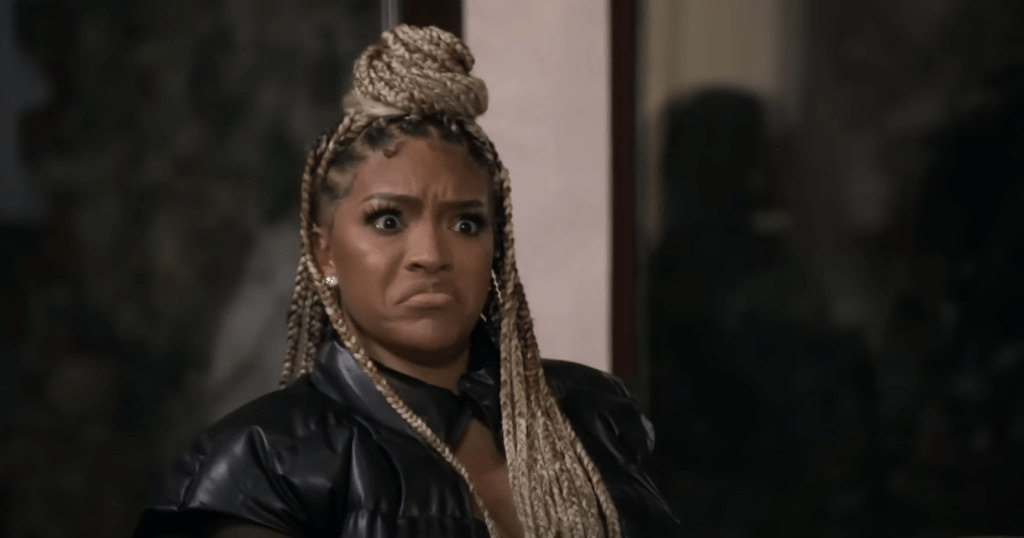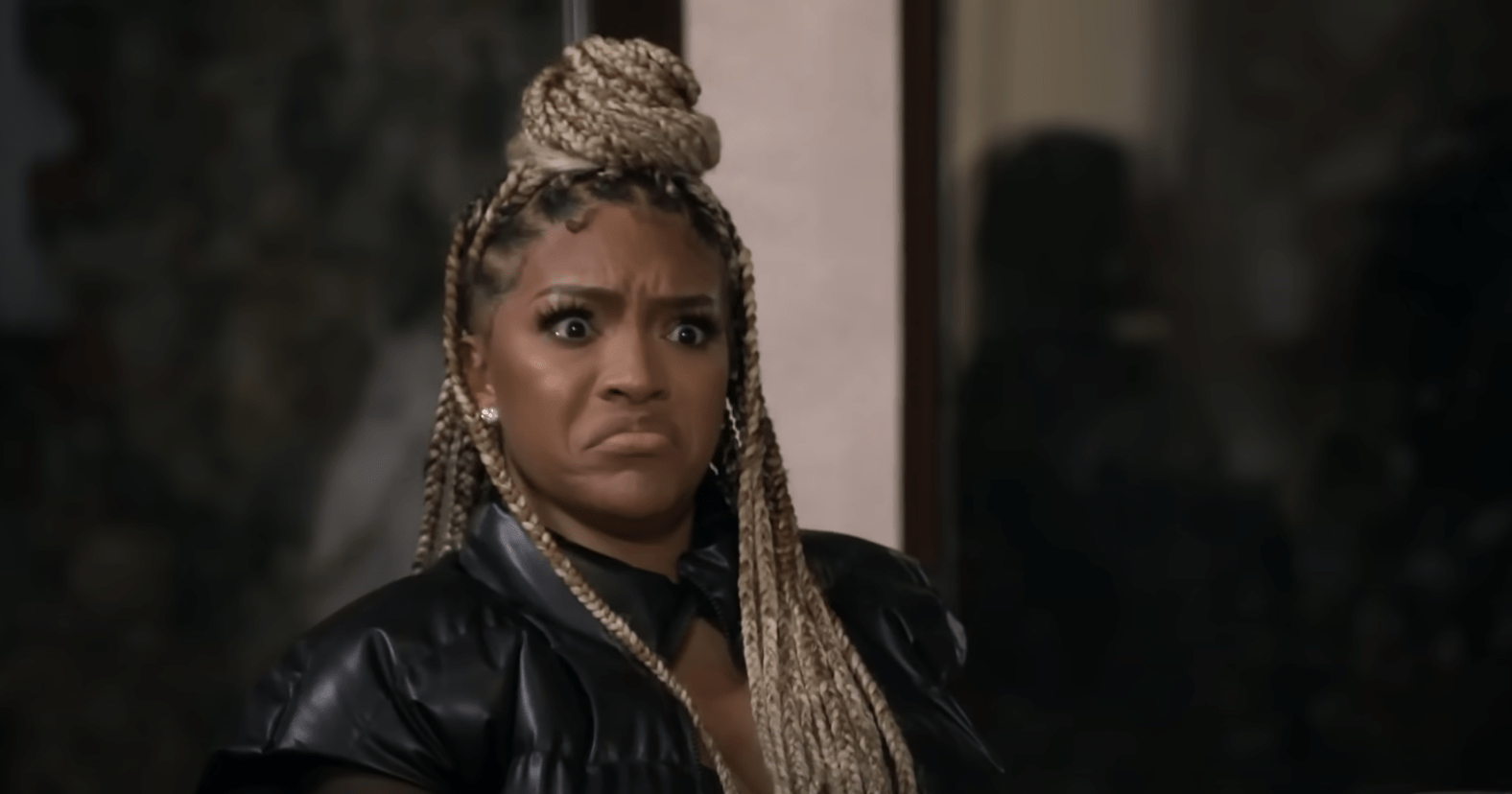 'RHOA' RECAP: Drew ACCUSES Kandi Of Spreading Lesbian Kiss Rumor For Movie Promo, Claims Kandi LIED
Welcome back to another episode of The Real Housewives of Atlanta! The ladies are back in the states after an eventful trip to Portugal, as we begin with the ladies celebrating the Holiday season with their families.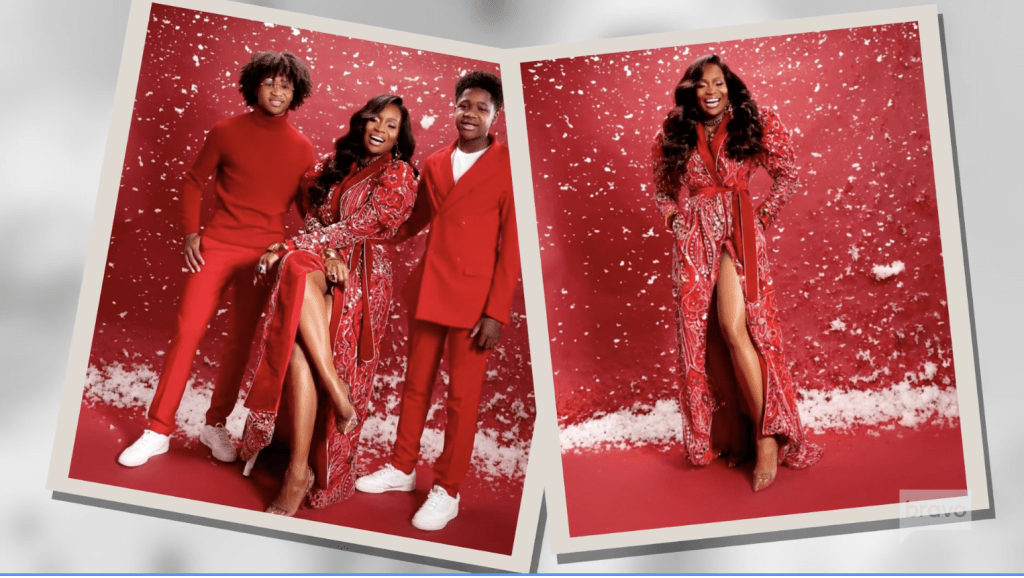 Kandi Burruss' discussing their movie with Todd Tucker as Marlo Hampton takes Christmas photos with her nephews, Michael, and William. Michael suggest Marlo invite Chef Scotley over and Marlo shuts that down immediately.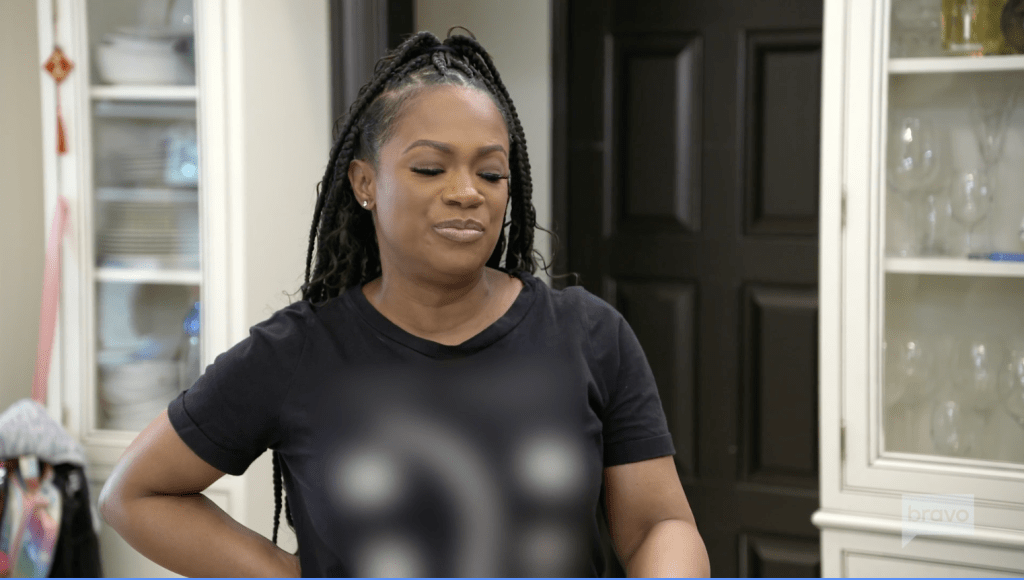 Sanya Richards-Ross just finished playing outside with Aaron Ross and Deuce and helps her sister Shari as she wraps presents. Sanya tells Shari about Portugal and how much fun she had. Sanya inquires about Shari's day and Shari gives Sanya a basic answer. Sanya hopes to get back to normalcy in the house but still feels sad about the situation.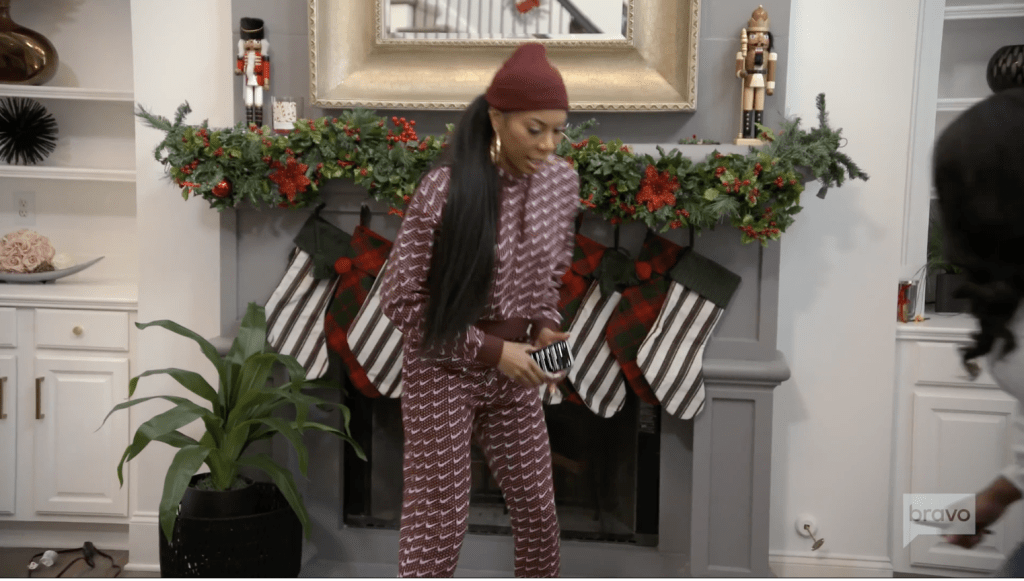 Sanya gets emotional as she explains to Shari that she feels that Shari isn't available for the most important moments in Sanya's life. Shari explains she's not Sanya's little sister anymore and she has other obligations that deserve her attention. Sanya understands and promises to do better as the two hug it out.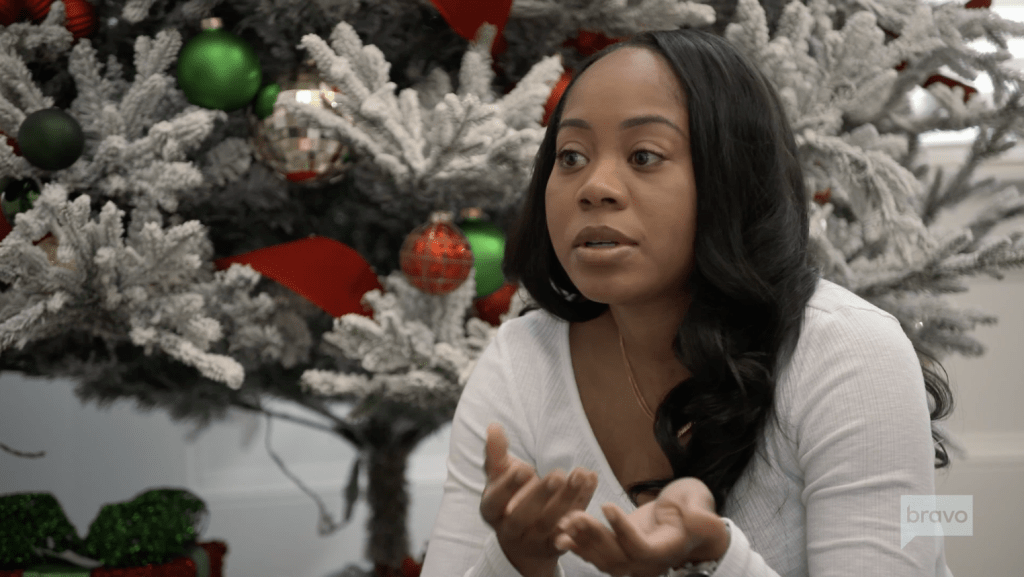 Later at Blaze, Kandi meets up with Cynthia Bailey to discuss the Drew Sidora and LaToya Forever drama. After small talk and ordering drinks, Cynthia avoids talking about divorcing Mike Hill and admits she doesn't want to be with someone who doesn't make her happy but realizes that this will be her second divorce. Cynthia thanks Kandi for her invitation to Kandi's Peach Social in honor of Bedroom Kandi's tenth anniversary.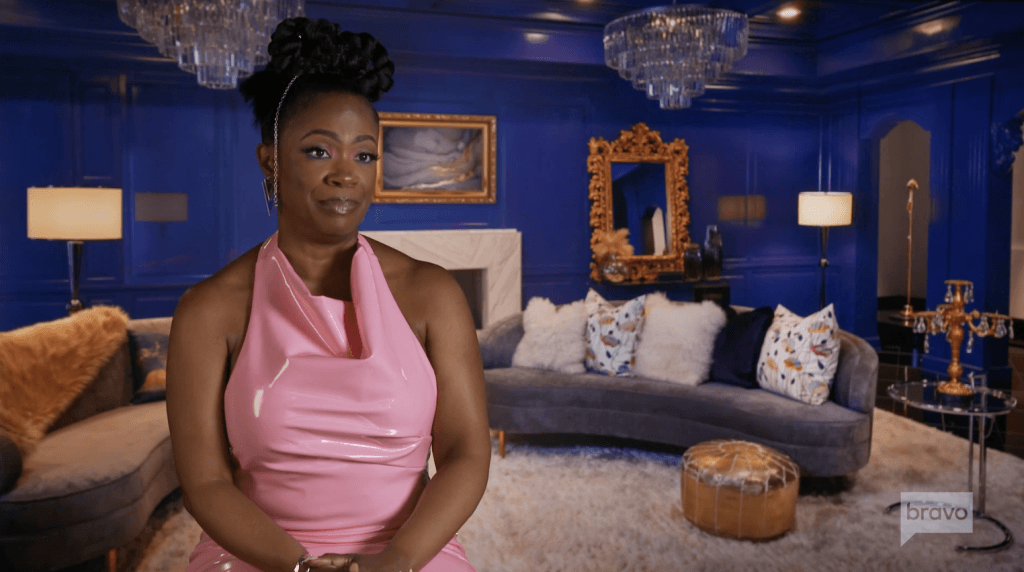 Kandi's also releasing a new toy called, "The Peach Fuzz" and Cynthia gives Kandi props for her successful businesses. Kandi tells Cynthia she misses her and how she's gotten into it with all the ladies, except Kenya Moore. Cynthia's surprised at the drama that unfolded in Portugal and wants Kandi to spill the tea. Kandi explains the movie she wants Drew to star in and rehashes the conversation regarding Drew kissing LaToya at Cynthia's bachelorette party. Kandi's mostly offended by Drew calling her a liar and doesn't understand why Drew's going so hard denying these claims. Kandi brings up LaToya verifying the kiss at their reunion and Cynthia's surprised she didn't kiss someone in North Carolina.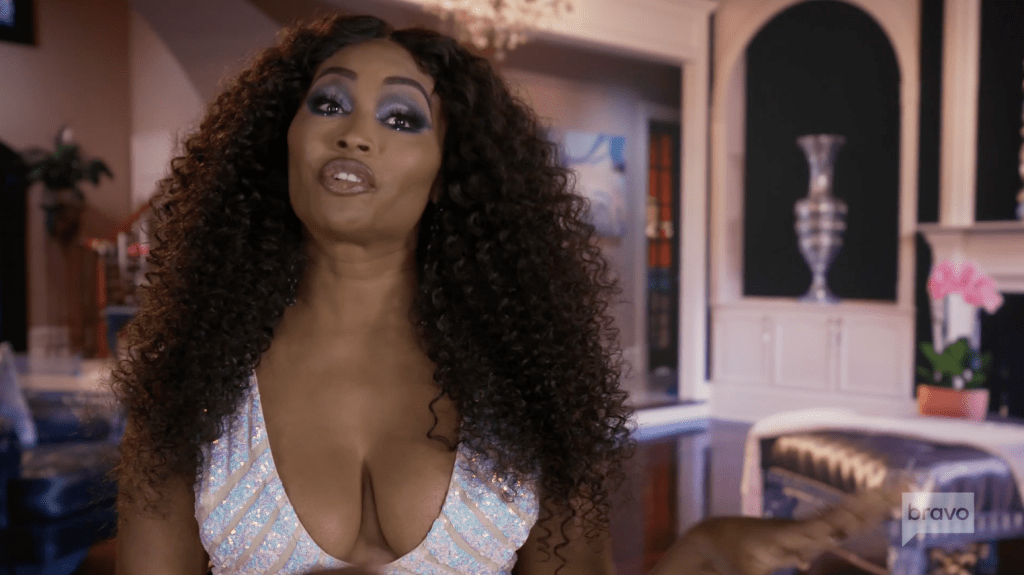 Cynthia pitches herself to get back on the show and Kandi doesn't think a Cynthia Bailey return is a bad idea. The next day, Kenya's playing with Brooklyn and her cousin Khari. Kenya's babysitting and shows home videos of Brooklyn acting jealous, while wondering how Brooklyn would feel if she had more kids. Brooklyn wants a younger sibling and tells producers she wants a baby brother and a baby sister. The two are having a lot of fun with the baby and now Kenya's getting serious about the potential of being a mother again. Brooklyn tells Kenya she would help with the baby and Kenya thinks Brooklyn would be a great big sister.
At Drew's house, her assistants are helping Drew organize her closet as producers ask Drew what's the update of Ralph Pittman's trip in Vegas. Ralph told Drew all he did was work but it's clear the two aren't on a solid foundation. Ralph's working as the assistant's question Ralph about his closet space. Ralph's not changing his mind and as the assistants leave, Drew tells Ralph about her trip to Portugal. Drew throws Kandi under the bus while claiming she never kissed LaToya at the Bolo night. Drew goes over the text message with LaToya and Ralph doesn't understand what the big deal is. Drew claims her role in the movie and these new allegations seem suspicious, while telling Ralph about Marlo's comment about him. Drew doesn't know what she wants to do and Ralph questions Courtney Rhodes role on the trip. Drew agrees she felt Courtney should've stood up for her and is now questioning Courtney's loyalty.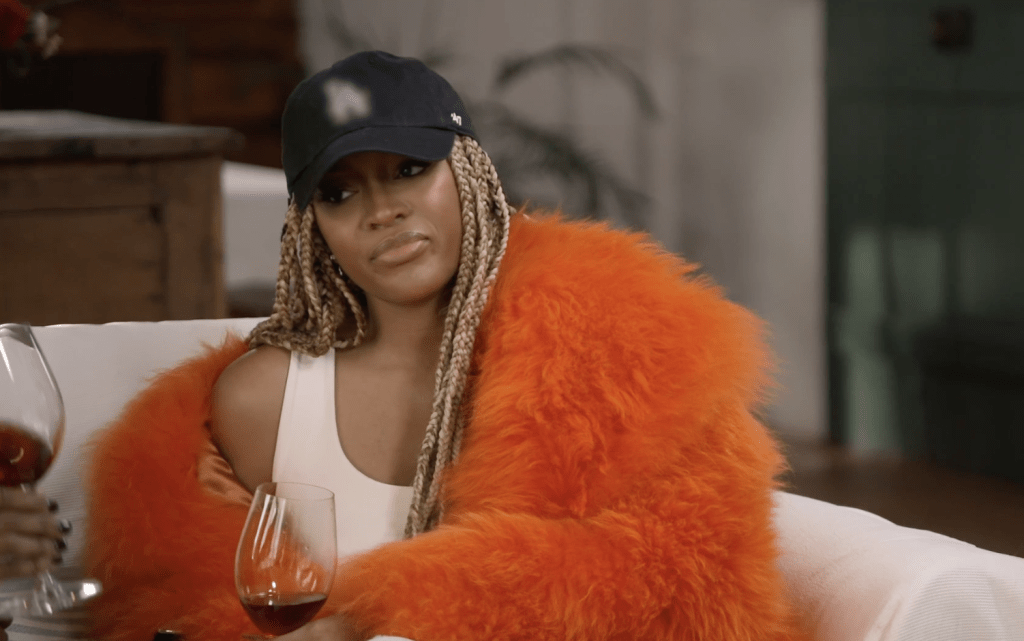 Later, Marlo and Tye are going over Marlo's busy schedule as Marlo eats sushi at the table. Marlo complains of Scotley's partying and accidentally refers to Scotley as her husband. Tye questions Marlo's seriousness but Marlo claims she's only talking. In her confessional, Marlo states she wants to see Scotley around kids before taking their relationship seriously.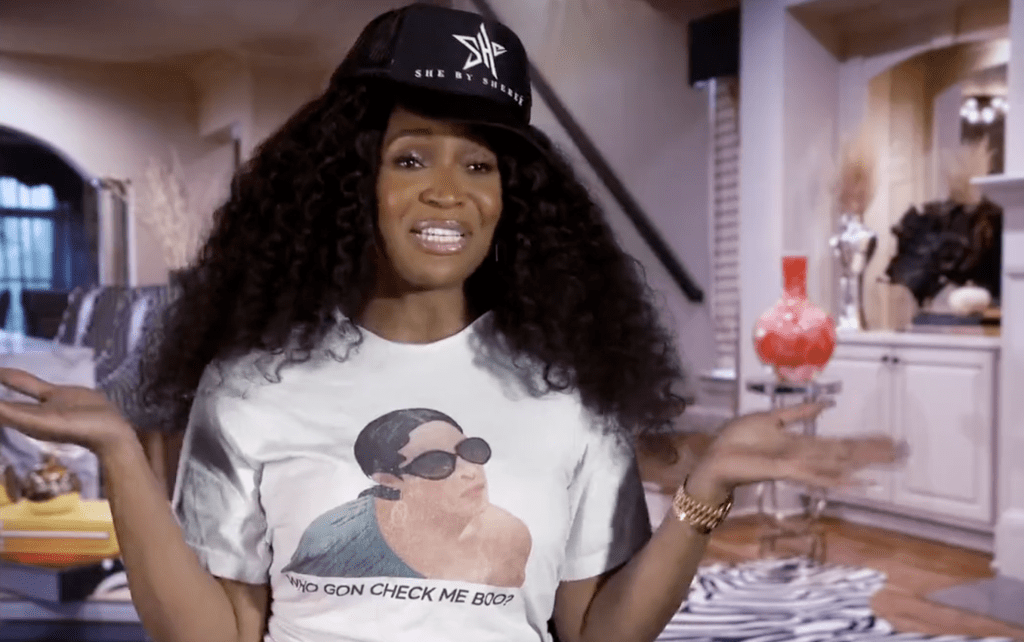 At Kandi's office, her crew is helping set up as Sheree Whitfield stops by. After hugs and small talk, Kandi feels like she and Sheree are in a better space and feels good about their relationship. Sheree admits she recently visited Kenya and Kandi's doctors to get her breast tweaked. Sheree brings up the issues in Portugal and Kandi explains what happened at Cynthia's bachelorette party. Kandi explains the people she called to verify her story and tells Sheree she doesn't like Drew calling her a liar.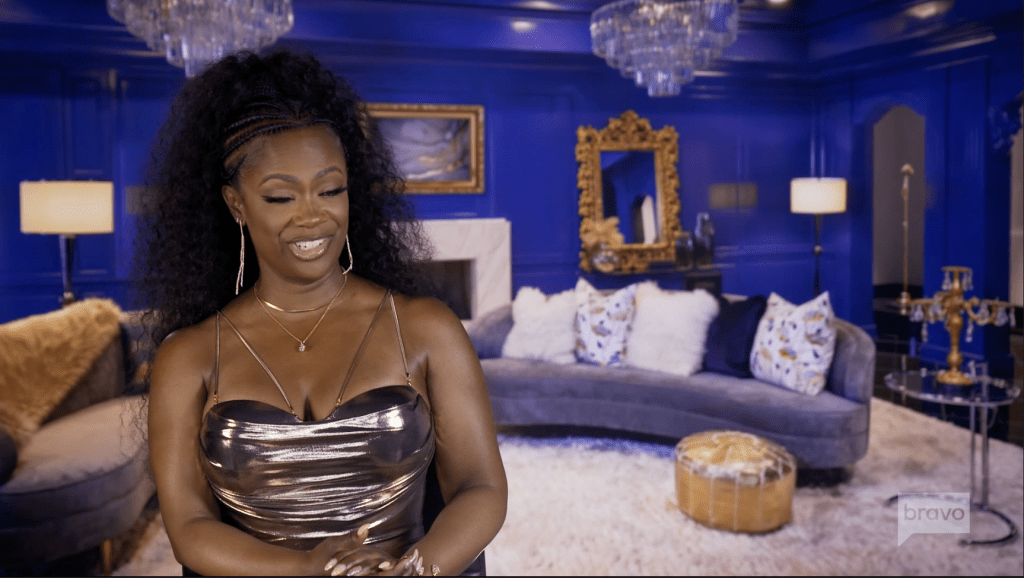 Sheree tells Kandi that Drew's commented that Kandi is "producing" Drew, in order to get Drew comfortable with starring in the movie. Kandi doesn't need Drew for the role and is getting more upset as Sheree explains Drew's POV. Kandi references the other friends in the group that can act and hopes the ladies don't bring drama to The Peach Social. Kandi admits she invited LaToya to the event and hopes things get better before they get worse. The next day, Kenya's choosing her dress with Brooklyn for Kandi's event, while Sanya questions Shari about her apartment search. Kandi's getting ready for her event as her MUA joke about Bolo making an appearance. Don Juan is making sure everything's ready as guest begin to arrive at The Peach Social.
Sanya shows Ross around as they cut up with Don Juan. There's peach and sex everywhere and this is the type of party Sanya can get down with. Kandi and Todd arrive in style and begin mingling with their guest. TS Madison is there, and Sanya congratulates Kandi while telling Kandi she missed her in Portugal. Monyetta Shaw-Carter  and Heath Shaw arrive as the girls begin taking pictures. Courtney slithers in as Sheree reminisce about Kandi and Sheree visiting a sex store twelves years ago. Kandi thinks of herself as a pioneer of positive sex and is proud to supply the world with the sex toys they deserve. Marlo comes in with a peach bedazzled purse as Sheree brings up the shady comment from Drew.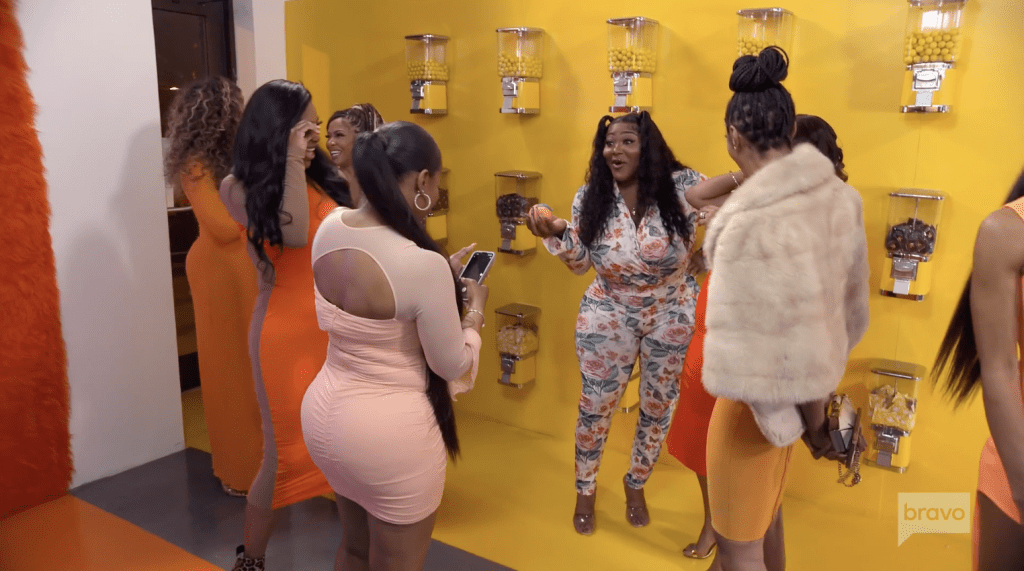 Sheree tells the ladies about Drew's "producer" comment as Todd questions whether Drew's still playing in their movie. Kandi gives Marlo props on her bag as Marlo compliments Kandi on turning her freak into a bag. Kandi's still not feeling Marlo but has learn the art of being cordial. Kandi explains The Peach Fuzz to the ladies as they wonder who uses the most Bedroom Kandi in the bedroom. Sanya's taking notes and plans to show Ross a thing or two as Marlo claims she hasn't had sex with Scotley yet, while shading Kandi simultaneously.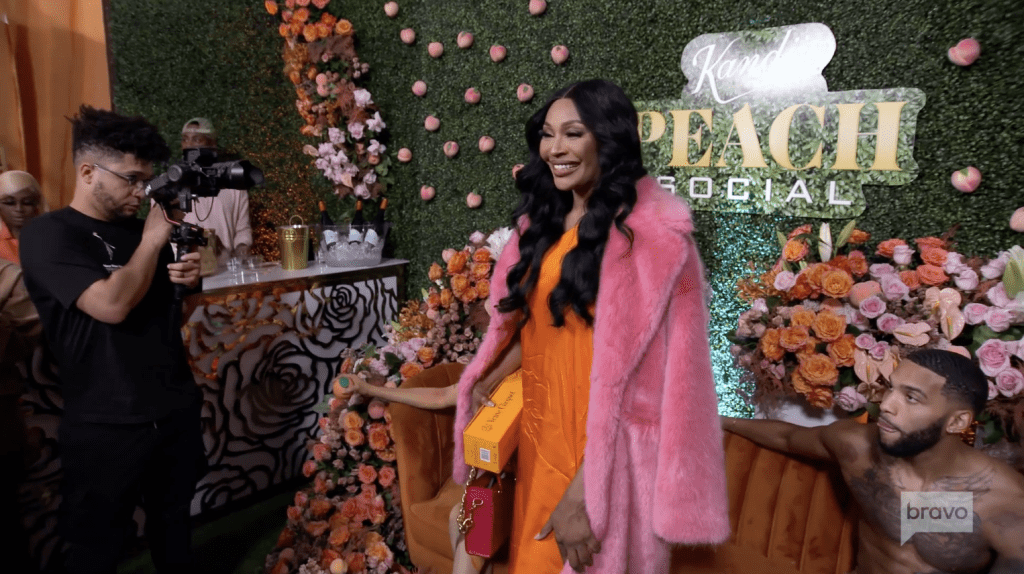 As the ladies take pictures, Kenya shows up while Kandi shows the ladies a demonstration of how the strap is used. Everyone's having a great time as Cynthia arrives in style and the ladies are excited to see her.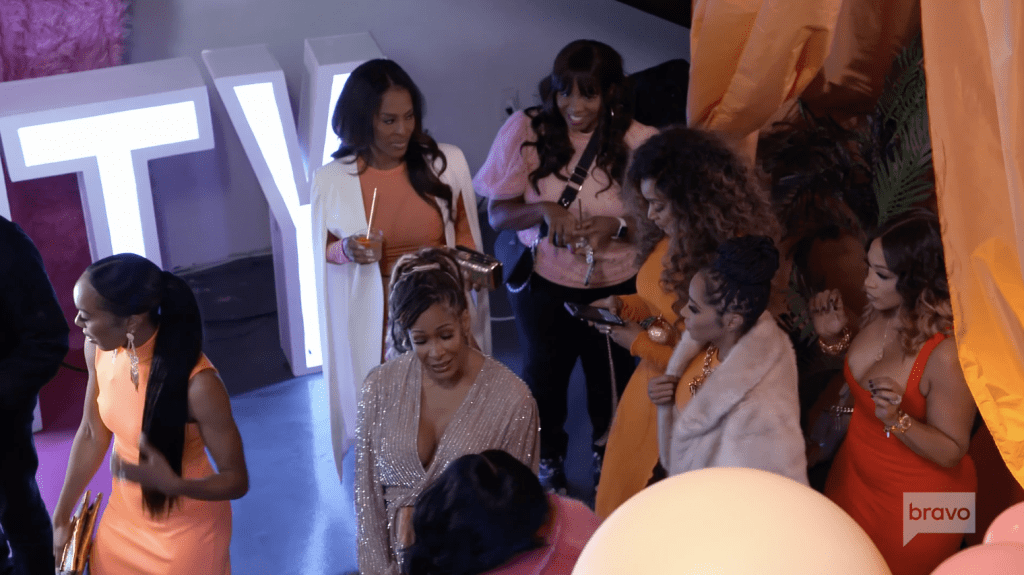 The party continues as Cynthia and Kenya reminisce on their issues from The Real Housewives Ultimate Girl's Trip. Kenya reveals the two didn't make up until Teresa Giudice's wedding and the two are happy to have their friendship back. Kenya didn't know about Cynthia's marital issues and is glad to have her sister again. The ladies question where Drew is, and Kenya just wants Drew to be honest about everything. Kandi admits to being hurt by Drew's "producing" comment as Drew and Ralph walk in. Cynthia admits the crew was discussing Drew as Drew tries to laugh it off. Drew blames Kandi and her horny events for the misconduct the ladies experience, but it's clear Drew doesn't believe that. 
Ralph and Marlo get a drink at the bar and Marlo claims Scotley saved a woman from a car accident and won't be able to make it to the event. Marlo shows Ralph the pictures of Scotley's scratches as Kenya compares Drew's peach dress, to when she wore it. Kenya doesn't see a comparison as Ralph and Marlo cheers. Ralph tells Marlo he has nothing but love for her but feels Marlo was being disrespectful. Marlo tells Ralph that Drew was being disrespectful, and that Drew lies a lot! Marlo promises to respect Ralph and the two promise to leave the past alone.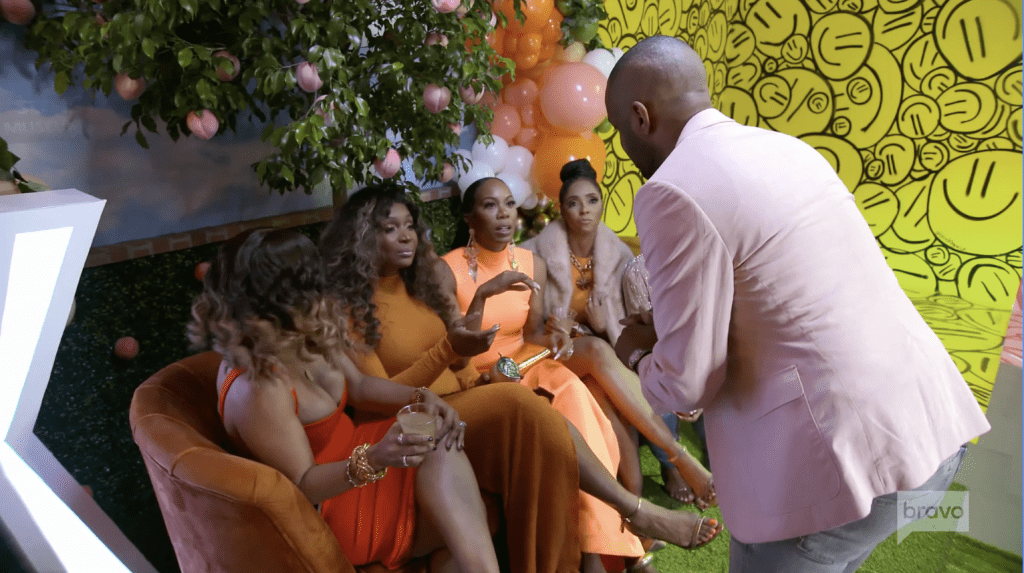 Cynthia talks to Kenya about her dating life as LaToya arrives and tells Kandi she's upset with her. The two briefly talk before Kandi takes LaToya to the side to have the conversation. Of course, Drew follows them, and LaToya wants to know what's going on. Kandi gets Marlo since she sent the video as LaToya claims her and Drew's relationship is Bipolar. Kandi agrees as LaToya claims she and Drew squashed their beef. LaToya doesn't understand why the past is being brought up as Marlo comes in and bends over in front of Drew. Kandi asks Marlo why she sent the video and Marlo wanted LaToya to know Drew was talking sh** about her. LaToya admits she called Drew fake for those comments in Portugal, but Drew claims Marlo edited the videos!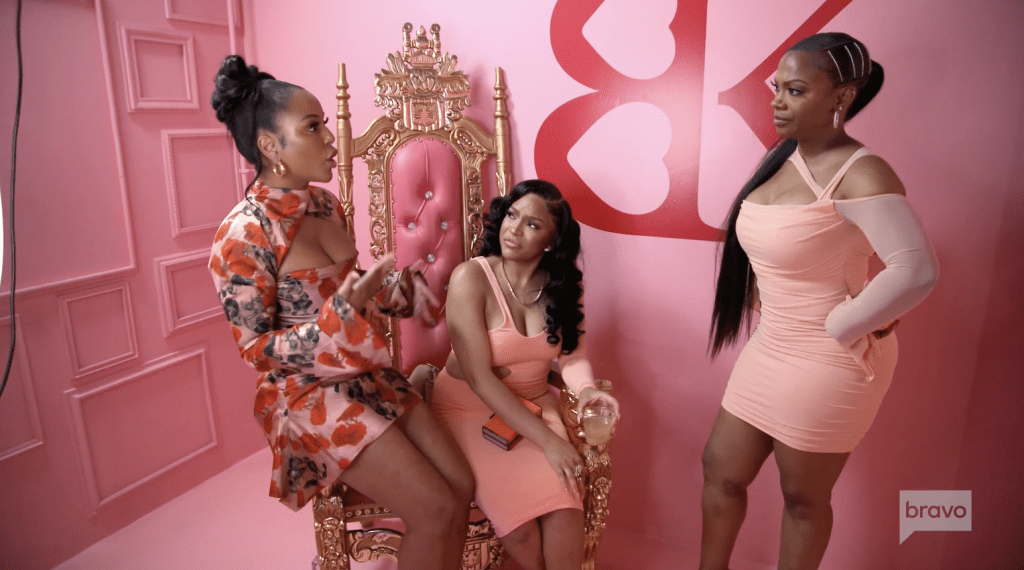 Marlo begins getting upset as Drew continues stating the video was edited, while Marlo claims she didn't have to edit anything. Marlo walks away before saying "And scene" while Drew and LaToya continue yelling at Marlo. Marlo clowns Drew's body in her confessional while cementing the opinion that Drew's a liar. Kandi doesn't care who kisses who but stands firm that calling her a liar is crossing the line. Drew says she's defending her truth, but Kandi tells Drew about Sheree's visit and that Drew claimed Kandi is "producing" Drew. Drew claims when Kandi speaks the narrative moves forward and LaToya asks Drew if she thinks Kandi is a genuine person. Drew does but thinks Kandi was fantasizing about Drew and LaToya kissing. Kandi agrees to disagree as she ushers the ladies downstairs.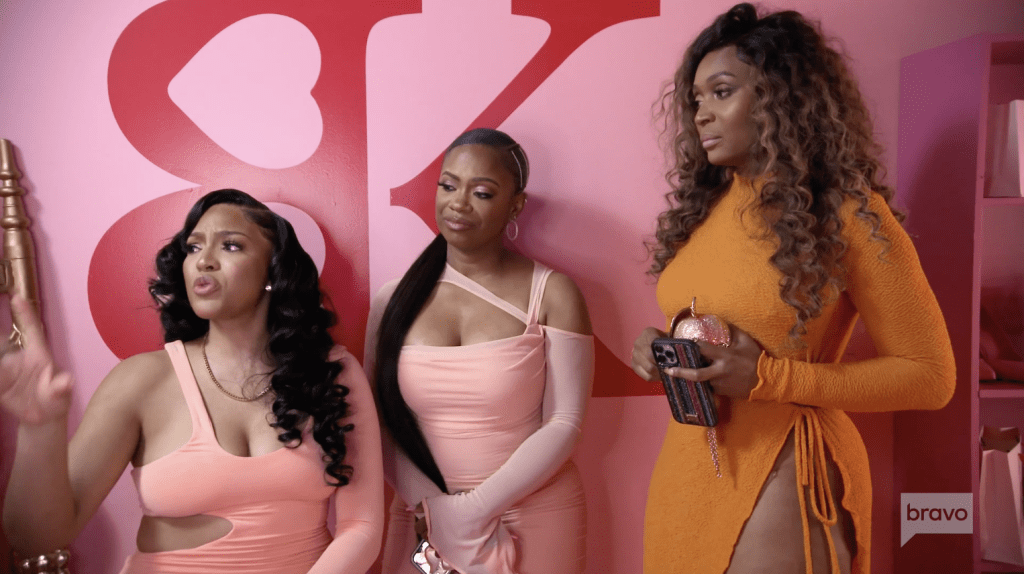 Marlo and the rest of the ladies laugh downstairs as Marlo text Drew, asking "Did you kiss her?" Kandi returns to the group and tells the ladies she's done talking about the issue. Producers ask Drew in her confessional why Kandi and Latoya would witness the kiss if it didn't occur, and Drew is back to playing her jedi mind tricks. Drew brings up conflicting stories and interviews from LaToya and continues standing in her truth, that no kiss happened. Kandi admits in the interview that if she's wrong then she'll admit it as Drew continues standing in her truth. Be sure to come back next week to see how this all plays out on The Real Housewives of Atlanta. 
Stay Connected With All About The Tea: Twitter Ι Instagram Ι YouTube Ι Facebook Ι Send Us Tips 
LeAndra Williams is a content contributor at All About The Tea. She's a social worker and (super) mom by day, and a reality T.V. junkie by night.