'RHOA' RECAP: Drew Sidora Breaks Down Amid Cheating Rumors and Separation from Husband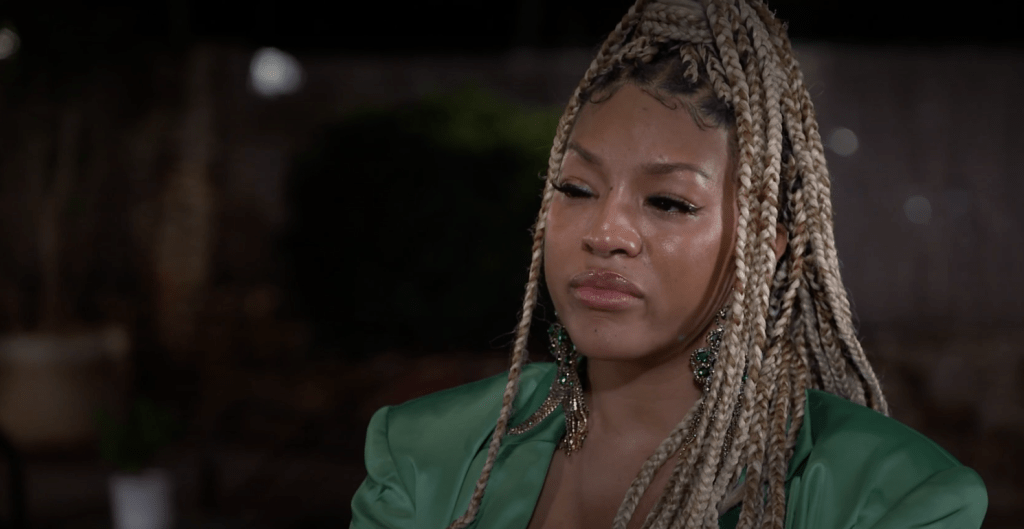 'RHOA' RECAP: Drew Sidora Breaks Down Amid Cheating Rumors and Separation from Husband
Welcome back to another episode of The Real Housewives of Atlanta! The ladies are wrapping up day one of their Portugal trip, with Sheree Whitfield chasing down an emotionally charged Drew Sidora. Drew's upset Sheree brought up her pending lawsuit and feels disrespected by Sheree's lack of empathy. As Sheree, Sanya Richards-Ross and Kenya Moore run after Drew, Kandi Burruss says "and scene," as the commotion happens. Marlo Hampton caught the shade but is staying quiet, for now. Once outside, Sanya consoles Drew as she explains how draining this lawsuit has been for her. Sheree and Kenya join Sanya as Drew continues her rant, while letting Sheree know her antics aren't funny, and neither is Drew's legal situation.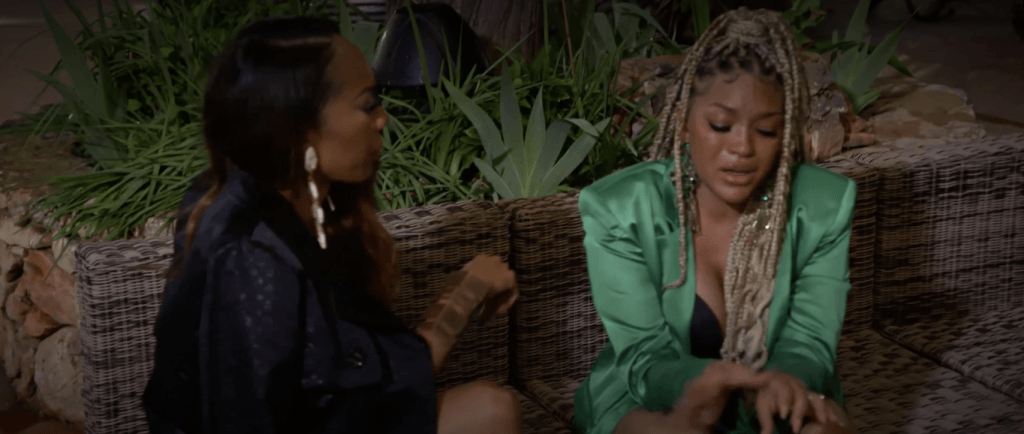 Sheree tries to talk to Drew alone but before Kenya and Sanya can go inside, Drew slips and almost calls Sheree a b****! Sheree doubles back and the two go back and forth while Kenya and Sanya watch from the side. Sheree's over Drew's dramatics and flashes back to last year when Drew discussed Sheree's messy assistant. Sheree continues trying calm Drew down while the ladies continue eating inside. Marlo wants to pray for everyone as Kandi heads to the bathroom instead of checking on Drew. Kandi felt that Drew was acting and doesn't understand why Drew's so turnt up. Drew tells Sheree she was at the courthouse before flying to Portugal and that hearing Sheree talk about it, was hurtful to Drew. Drew explains it's not about the money for her but that the alleged chef contacted members of her family and the media to disrespect her.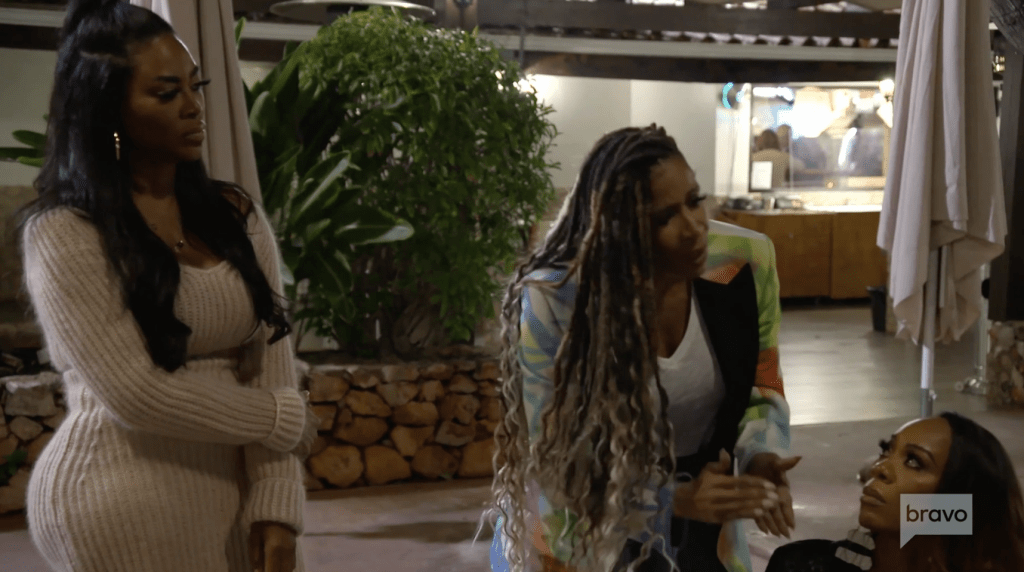 Sheree apologizes and tells Drew she had no idea what she was going through, while simultaneously shading Drew in her confessional. Sanya's surprised at Drew's reaction, whereas Kenya believes theirs issues brewing between Drew and Ralph. Sheree apologizes and promises not to bring it up again, while Kenya tries to divide one-thousand dollars by eight. LOL. Drew tries to shush Kenya, but Kenya wants the lady to go away but Drew's exhausted at this point. At the table, Marlo questions Drew's true actions as Kenya asks Sheree and Drew to squash their beef. Sanya and Kenya go back inside to give them privacy and Marlo immediately wants to know what happened.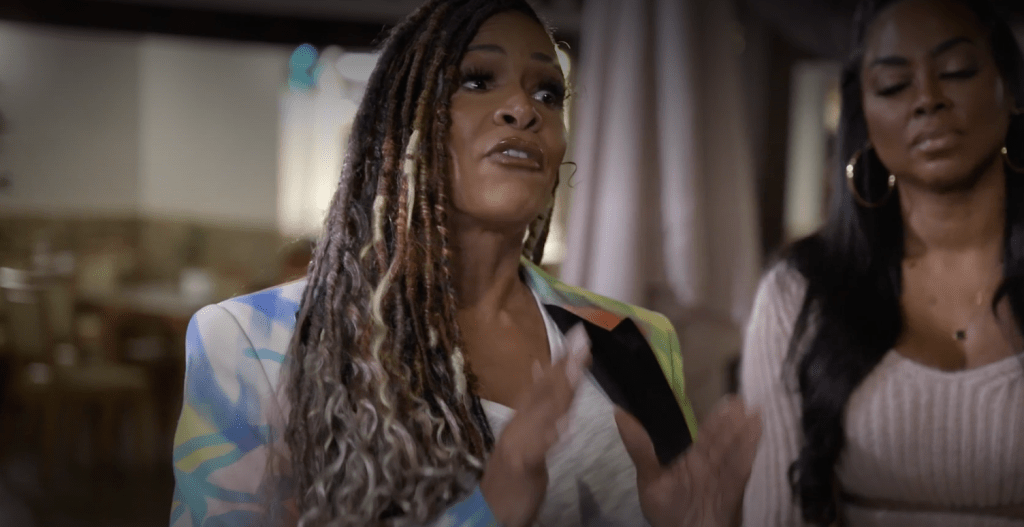 Kenya asks where Kandi went and gives Marlo the greenlight to snitch on Kandi and the "and scene" comment. Sanya admits this is the most vulnerable that she's seen Drew, as Marlo asks if she can go ahead and pay Drew's debt. SMH. Sanya peeped there's more to Drew's story and producers ask Drew point blank if there's anything she's hiding from the ladies. Drew admits the woman who offered Ralph a massage, was at her video shoot rubbing oil on Ralph! Not only that, but this same woman also referred Ralph to audition in Vegas and Drew doesn't trust that man! Oh, hell no! Sheree and Drew hug and make up while getting tangled before heading back inside. Sanya preaches that Drew wants support and the ladies clap for Drew and Sheree as they rejoin the group.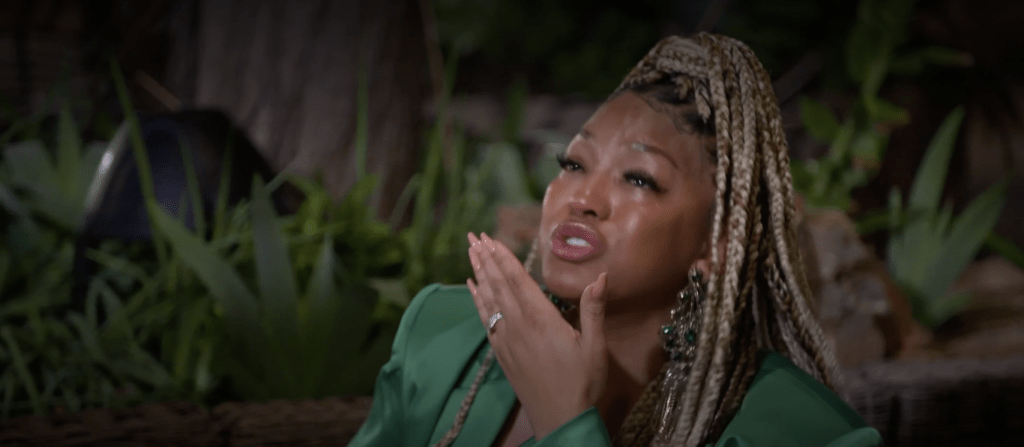 Sanya chimes in that she'd like the ladies to respect each other while talking and Kenya tells Sanya she has a jar she can put those two cents in. Kenya says she's playing as Sheree brings up her conversation with Kenya earlier, regarding Kandi being MIA. Kandi has other responsibilities, but Sheree wants Kandi to be available for them. Kandi feels like she can't turn down certain opportunities and the ladies urge Kandi to relax.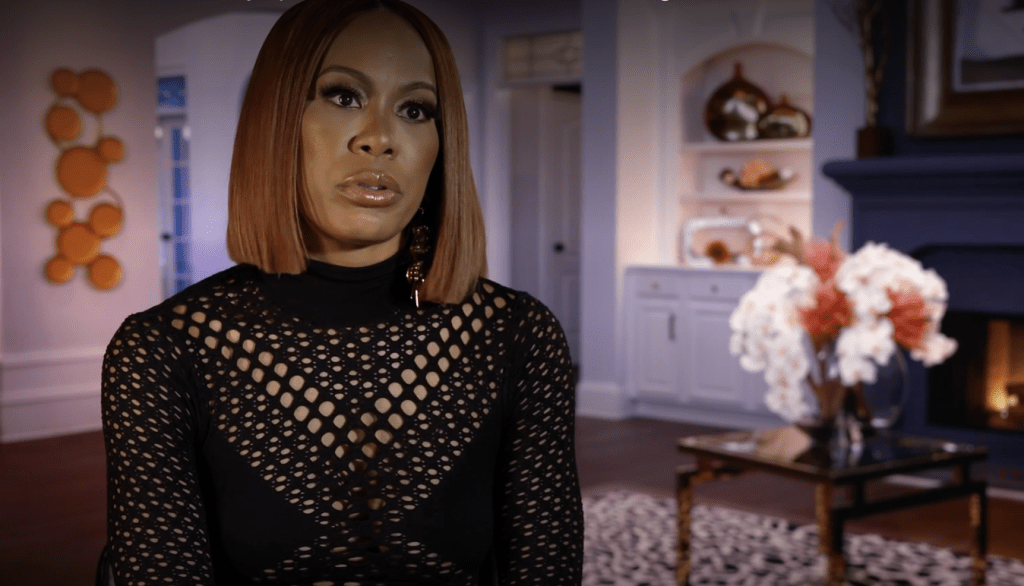 Sheree wonders how Kandi balances it out and states it's not hard for her. Kandi doesn't get "me" time and doesn't have any excuse other than work. Marlo tells Kandi to take care of herself and compliments the work she does, as Kandi brushes off the idea of self-care.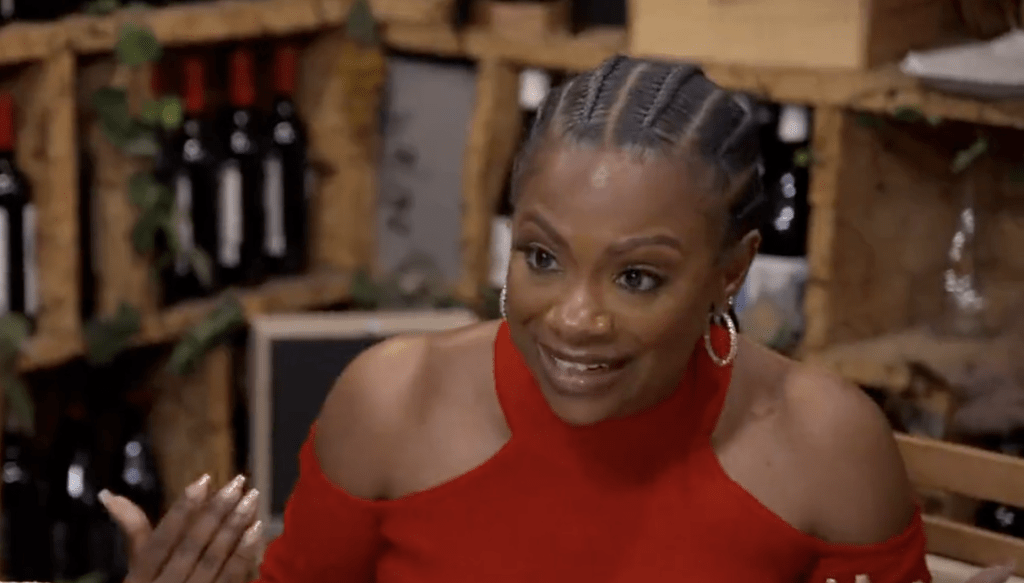 The next day, the ladies wake up to a rainy day as everyone gets dressed for the day's festivities. Poor Sanya got her weave burned while Drew and Monyetta meet up downstairs. Monyetta asks Drew if she's straight and Drew starts to discuss Sheree but is interrupted by Kandi. After some medication, Kandi feels a lot better as Courtney, Sheree, Marlo, and Sanya join them in the lobby. As Sanya sits, Sheree explains their itinerary for the day and the ladies seem excited for what's to come. Sheree wants the ladies to have fun like they used to, and a flashback shows the fun times from last year. 
Sheree wonders where Kenya is and Kenya's running behind per usual. Since Kenya isn't answering the phone, Sheree ushers the ladies to the sprinter van as Kenya comes down and falls on her butt outside! Everyone's in shock and production rushes over to assist Kenya as she begins crying. Sheree rushes off the van first as everyone surrounds Kenya before production takes Kenya to the hospital. Kandi rides with Kenya to the hospital as the rest of the ladies work out their next move. As Marlo and Sanya change, Drew and Courtney sit at the bar to chat. Courtney thinks the Universe has a funny way of making sure things happen but won't explicitly say Kenya's karma was falling on her a**.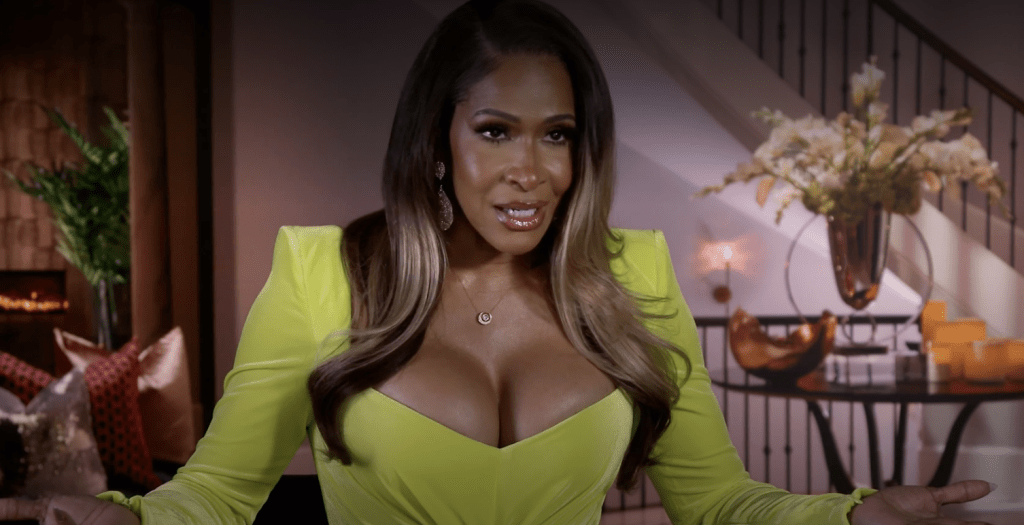 Courtney's says the negative energy needs to be cleared out and Courtney's comment doesn't sit well with Drew. In her confessional, Courtney calls Kenya a "mean-girl" but Drew thinks Courtney should watch what she says, as they watch Kenya board the ambulance. The ladies head to their first destination as they discuss their dinner plans. Sanya checks in on her son as Courtney brings up her house in South Carolina and the ladies revisit their time with Bolo. Courtney lives six miles from where Bolo is and Sanya jokes about the ladies being able to find Bolo. They arrive at the market and see a variety of fish, with the help of a chef. The ladies try figs while choosing the items for dinner. 
The ladies come across a rabbit that looks like it had a BBL and Marlo uses this moment to shade Kenya. Monyetta and Sheree call Kandi to check on Kenya but there's little movement at the hospital. Marlo thinks Kandi and Kenya need to know someone to get help and mentions this is the time to be worldwide. Marlo claims Kandi blends in everywhere she goes as the ladies briefly discuss whether Kandi's worldwide or not. The ladies wrap up shopping and head to lunch through the storm. Once drinks are ordered, Marlo compliments the chef's accent while bragging about Scotley's voice.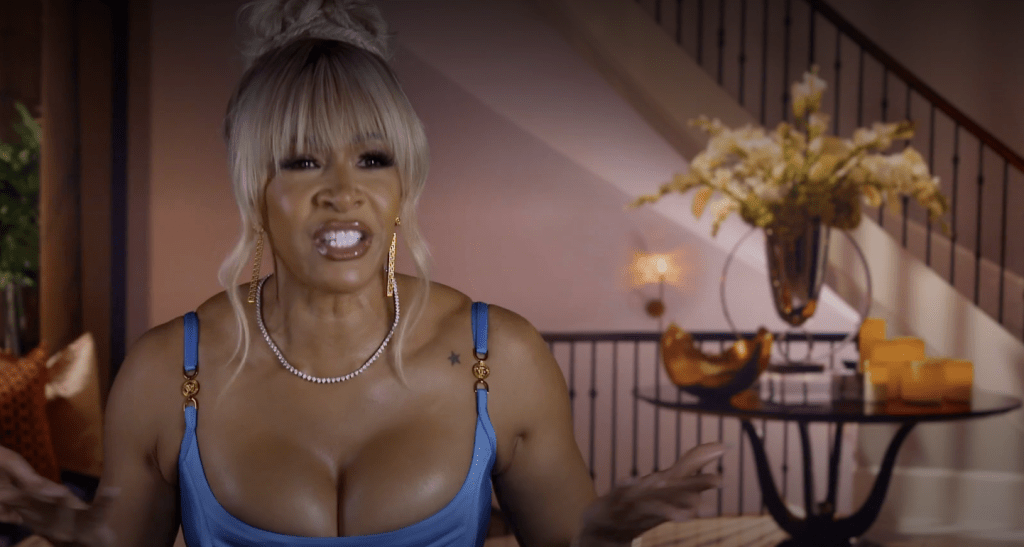 As the ladies try wine, Marlo shows the ladies pictures of her date with Scotley. Sheree blurts out that Kenya doesn't think their date is real as a flashback shows Kenya calling Scotley a "Tinder" date LOL. Monyetta sticks up for Kenya and even tells Marlo she didn't appreciate her taking Kenya's shine. Marlo acts dumb as Monyetta admits Marlo's statement made no sense at the time. Monyetta didn't like Marlo pulling up the DM and soon Marlo's comparing Martel Holt's DM to Kenya. Sheree thinks Monyetta has her head up Kenya and Kandi's a** while Martel calls Sheree to check in. Martel wants Sheree to think about him at night as the ladies overhear. The food comes out as Sheree tells the table about Kandi's comment towards Drew.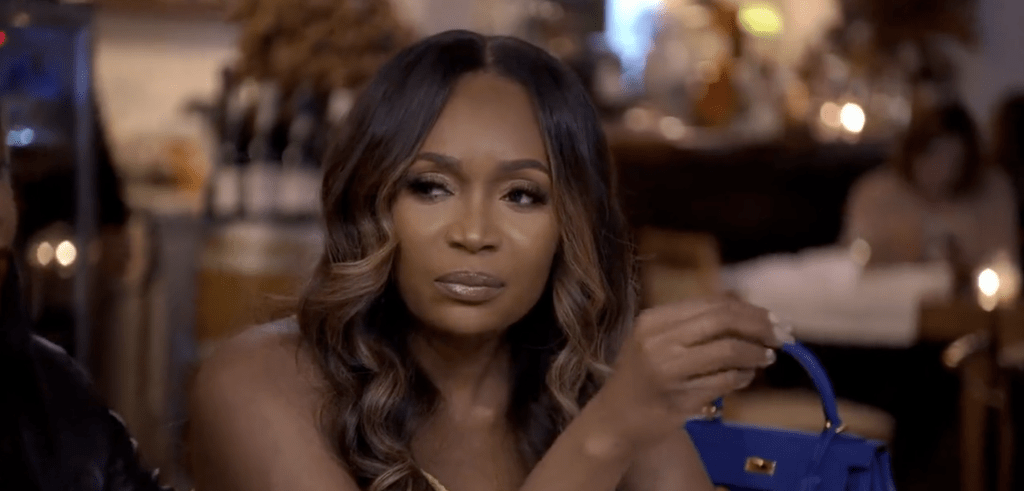 Drew wants friends to support her, and Sheree tries to put the mess back on Kandi, but Drew's not done being mad at Sheree. Drew believes Kandi misinterpreted what she meant as Sheree, Marlo, and Sanya question whether Drew's afraid of Kandi. Sheree calls the fakeness out and asks Drew how she feels about Marlo. Drew's not over Marlo yelling in her face and Marlo apologizes again but Drew wants to see Marlo's consistency. The ladies eat as the sun pops out for a quick second as they head to make pottery. Kenya leaves the hospital after spending seven and a half hours there; and grabs food with Kandi before retiring for the night.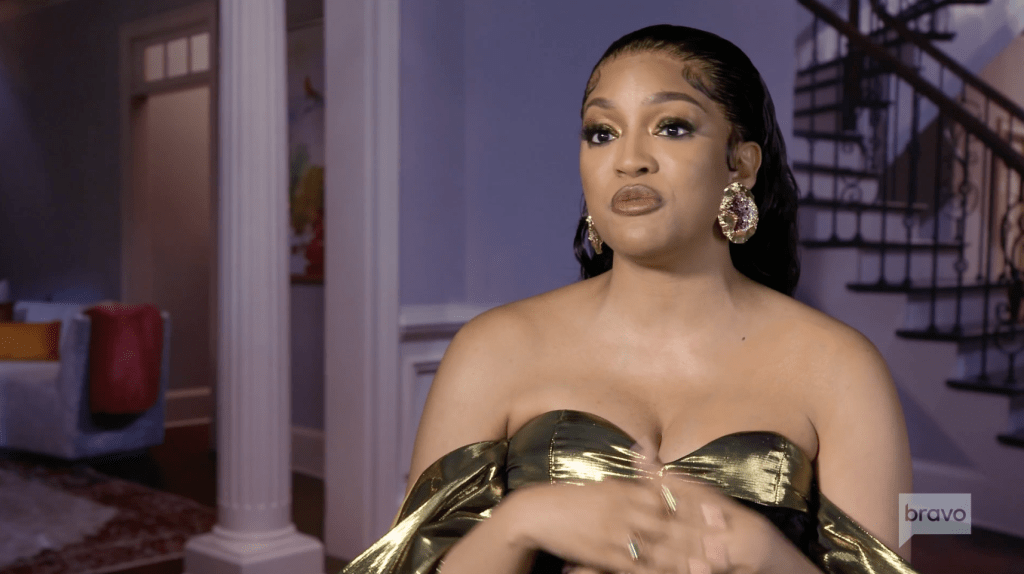 At pottery, the ladies get settled as the owner explains the history of their shop. Everyone's enjoying themselves and Marlo thinks the ladies get along when Kandi and Kenya are out of the mix. Drew thanks Sheree for an amazing trip as we see a flashback of all the drama this season. Monyetta and Sanya joke and pretend to argue as they make a cute moment before ending with "and scene." Drew doesn't find it funny and shades Sheree's art in her confessional as the ladies head back to the hotel for a slumber party. 
The ladies get ready as Kandi calls Todd and Sheree chats with Martel about their plans. Kenya's checking The People's Choice Awards and is taken aback by being beaten by Khloe Kardashian. Marlo calls Scotley as Sheree orders room service for the party as the ladies begin to trickle into Sheree's room. Sheree shades Kandi's wardrobe as the food arrives and the party begins! Marlo and Sanya show up just in time to eat and Marlo graciously fixes Kandi a plate. Kandi explains their trip to the hospital and lucky for Kenya she has no broken bones and has medication for the pain. Kandi has to leave in the morning, so Drew takes this time to address the "and scene" comment. 
Kandi admits to what she said but Drew's upset that Kandi assumed she was acting. Kandi didn't take the argument seriously and thinks everyone's too uptight. Courtney chimes in that Kandi thought it was fun shade but Drew thinks there's a time and a place for everything; and laughing at her expense isn't one of them LOL. Kandi brings up Drew's many altercations with the ladies and Drew admits she's going through something. Kandi apologized to Drew for hurting her feelings and tells Drew she wasn't trying to drag her. Marlo gives Drew a drink as Sheree checks in with Sanya. Sanya gets emotional as she explains the issues with her sister, Shari but continues pushing on while hoping for the best. Sanya knows she has to grow up as the ladies encourage Sanya to make it work.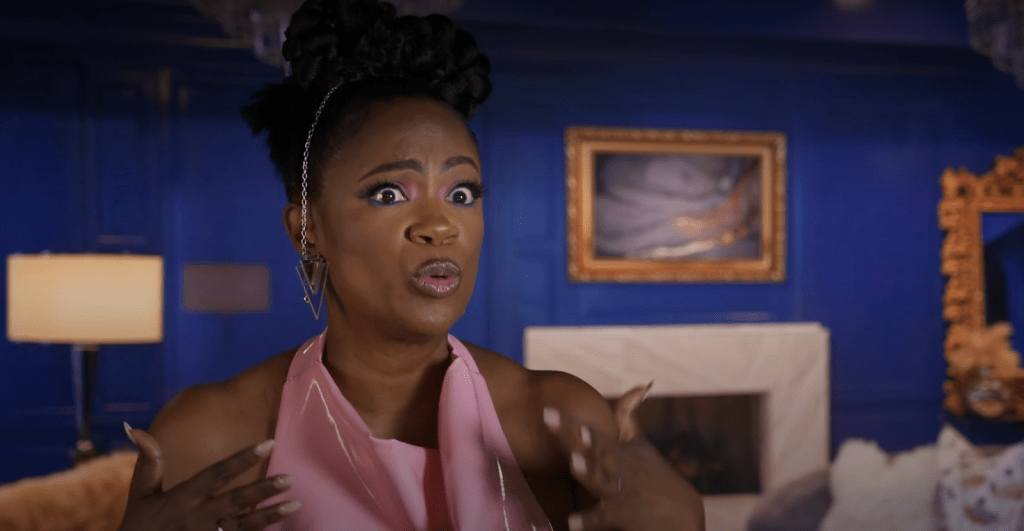 Kandi inquires about Drop it with Drew and Drew admits the business is doing well. Sheree admits she hasn't seen any of the ladies on her customer list yet and the room falls silent. Monyetta brings up not seeing them buy her book and Marlo chimes in that she hasn't seen anyone in Le'Archive. Sanya pulls up Sheree's website and tries to add items to her cart with zero luck. Sheree's frustrated the ladies can't navigate her website but she's madder at herself than anyone else. 
Sanya tells Sheree she's excited to buy her merchandise but that she forgot. Sheree brings up supporting Sanya during Mommy Nation and coughing up five-thousand dollars for Sanya's charity. Sanya appreciates Sheree's support and explains it's always been their intention to support Sheree but Sheree's website stays crashing! Marlo blurts out that the ladies said the items were overpriced and from Alibaba Kandi retracts Marlo's statement as Sanya assures Sheree that she's ordering now. Sanya explains a group chat where they discussed waiting for the drop and doubles down that Sheree needs to get her website fixed. The ladies begin having a great time dancing but after production wraps, there's extra drama that occurs one hour later. Marlo records as the ladies discuss Cynthia Bailey's bachelorette party and that Drew made out with Latoya Forever. 
Kandi saw Drew kiss LaToya but Drew's not admitting to nothing! Kandi begins getting upset at Drew calling her a liar and Drew's lying so good, even Marlo's starting to believe her. When producers confront Drew and reveals LaToya mentioned the kiss during S13 reunion, but Drew says Kandi told LaToya to say that! This is too much! Drew claims LaToya apologized to her and Ralph for the many lies she told and Kandi's over it! Even Marlo admits Kandi doesn't lie but Drew's not backing down! Drew says she doesn't have a problem admitting to something she did but won't admit to kissing LaToya. Producers ask Drew if she's ever kissed a woman and Drew firmly denies it. However, three months later, Marlo tells Sheree that Drew and Ralph are getting divorced! Not only that, but rumors are also swirling that Drew's been cheating on Ralph with basketball player Tamera Young, AKA Ty. It's about to go down, next time on The Real Housewives of Atlanta! 
Stay Connected With All About The Tea: Twitter Ι Instagram Ι YouTube Ι Facebook Ι Send Us Tips
LeAndra Williams is a content contributor at All About The Tea. She's a social worker and (super) mom by day, and a reality T.V. junkie by night.