'RHOA' RECAP: Marlo Hampton Claims Kenya Moore's New Man Slid Into Her DMs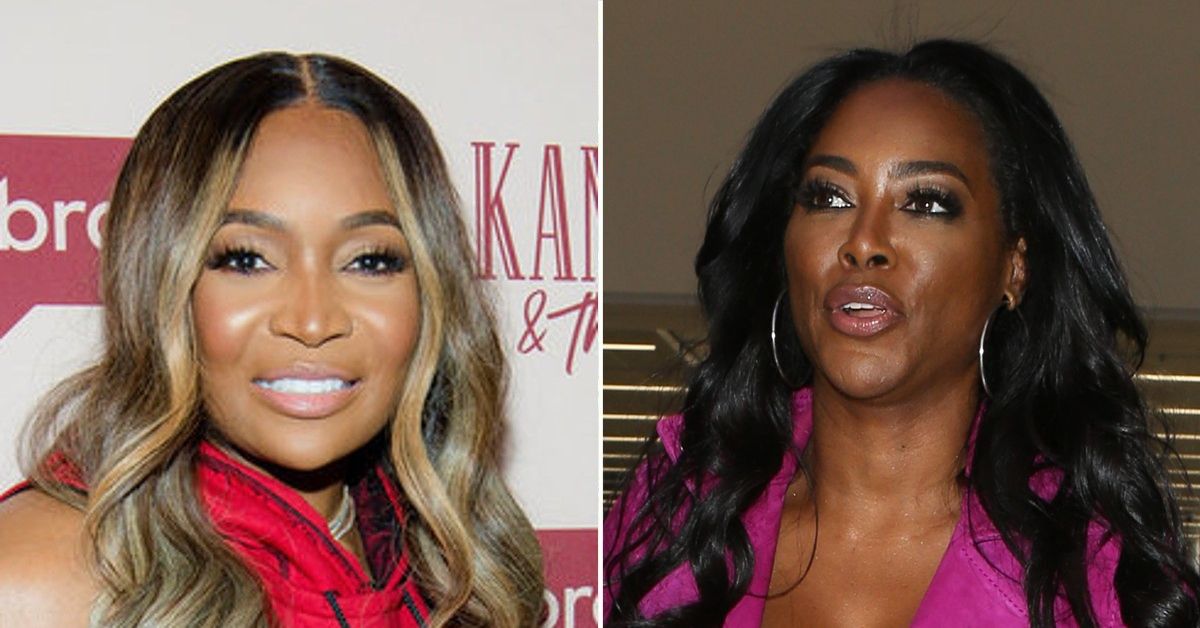 'RHOA' RECAP: Marlo Hampton Claims Kenya Moore's New Man Slid Into Her DMs
Welcome back to another episode of The Real Housewives of Atlanta. We begin with Kandi Burruss as she gives away Thanksgiving meals to those in need. Marlo Hampton's eating her sister's lamb chops, while Sanya Richards-Ross and Aaron enjoy their Thanksgiving.
Meanwhile, Kenya Moore's celebrating, and we see Brooklyn meet her grandfather for the first time. Kenya's overjoyed by their interaction and is thankful to witness it.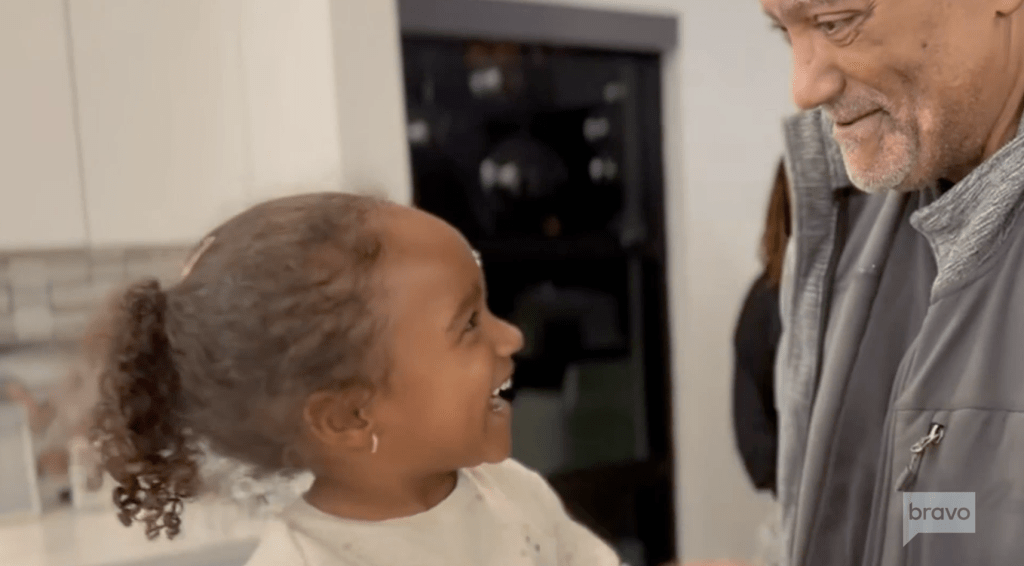 The next day, Drew Sidora and Ralph Pittman are hosting a brunch for the group before they head to Portugal. Drew thought Ralph was cooking, but instead he hired caters to handle the dirty work. Ralph tells Drew that since the ladies have so much drama, Ralph wanted the men to show them out to co-exist. 
Drew compliments Ralph's work but in her confessional, Drew wonders where all this effort is coming from. Although it's a nice gesture, Drew doesn't think a brunch will convince the ladies that he's a gracious husband. Drew instructs Ralph to create a seating chart as Todd Tucker and Kandi arrive first. Sanya and Ross show up and surprisingly, Courtney Rhodes brought her baby-daddy Bryce Wilson. Kandi hasn't seen Bryce in twenty-years and is shocked Bryce ever put up with Courtney, Sanya ask Drew about her performance on Thanksgiving as Allison greets the ladies. Kandi mentioned that this is the first time meeting Allison and Drew responds with "Yeah, but she was at the video shoot." Sanya inquires whether Drew's video has been edited and Drew lets Sanya know it's in the process. Sheree Whitfield arrives with Kenya coming shortly after.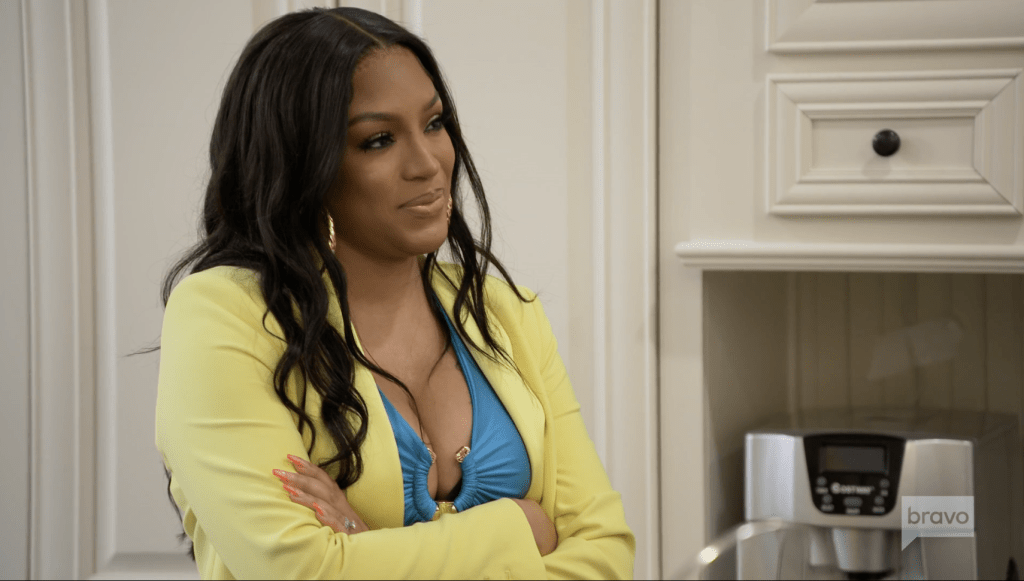 Kenya compliments Kandi's hair as the men bring them mimosas from the kitchen. Bryce brings Courtney and Kenya a glass and Kenya hugs him in disbelief. Kandi rolls her eyes on the side, as Monyetta Carter-Shaw and Heath Shaw arrive. The men prepare the food as the ladies chat in the dining room.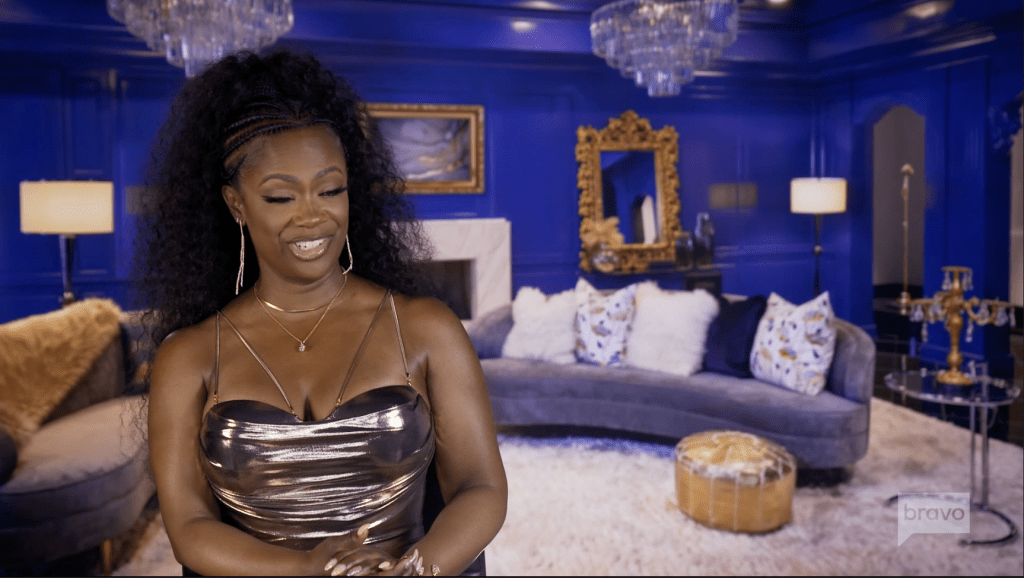 Sanya questions Sheree about her Thanksgiving, as Sheree discusses cooking before asking Kenya about the whereabouts of Roi. Kenya answers that Roi had to work but in Sheree's confessional, she notices no one has met Roi yet (except Monyetta). Drew asks Sheree where Martel Holt is and Sheree claims he's sick. Marlo walks in with her date, Scotley and Kenya immediately shades Scotley's clothes. Sanya and Sheree ask Marlo about her man and Marlo tells the table about her love interest. Scotley's thirty-eight years old and Kandi jumps in to tell the ladies that Scotley's also an owner of a restaurant.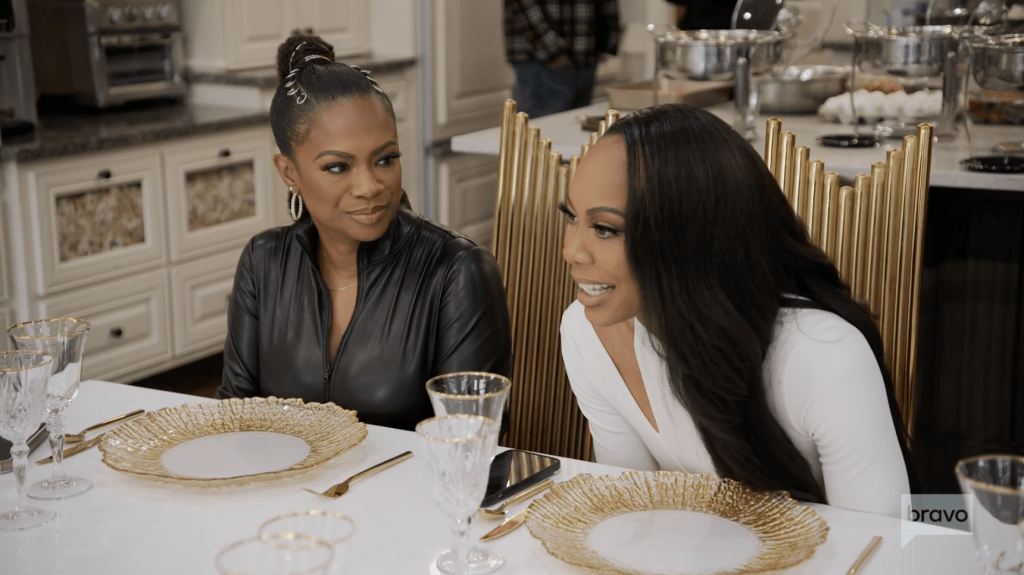 Sheree's surprised Kandi knows Scotley, but Kandi clears it up that she only knows of Scotley, and not personally. Sanya thinks Scotley's a keeper as Kenya ask Kandi about her upcoming movie. Kandi tells Kenya that they're in the process of casting and Kenya jokes about not receiving an offer. Kenya's way past auditioning as the table laughs, and Kandi reveals that Drew is the lead in the movie and the ladies give Drew her props. A flashback shows Kandi offering Drew the part and Drew happily accepts. Kandi explains the role is centered around this young naïve woman, who gets turned out. Although Kandi doesn't think Drew's naïve, she does believe Drew knows how to pretend. Kenya believes she put threesomes on the map and Sheree jokes that Kandi can bring Kenya on for a threesome scene.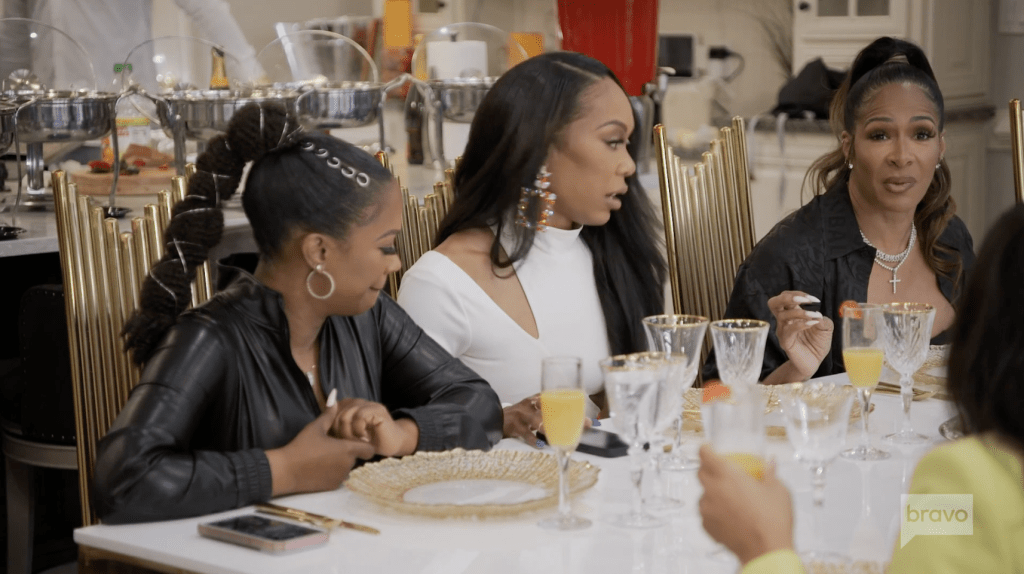 Drew shades Kenya's movie "Trois," that came out twenty-two years ago and believes it's time Kenya lets the acting career go. The ladies toast as the men prepare the food and Roi calls Kenya at the table. Kenya shows the table Roi and Marlo blurts out she went on a date with Roi before. The ladies almost fall out as Kenya steps away to talk to her man in peace. Marlo explains she and Roi only went on one date and tells the ladies Roi slid in her DM's. Sheree wants Marlo to show the messages and mentions that Kandi knows how to show them. Flashback to Kandi and Monyetta helping Kenya figure out her DM's from Martel. Marlo explains that in 2018 Roi commented on her IG as the men finally serve the ladies their food. The ladies chow down as Sanya brings up Marlo dating Roi.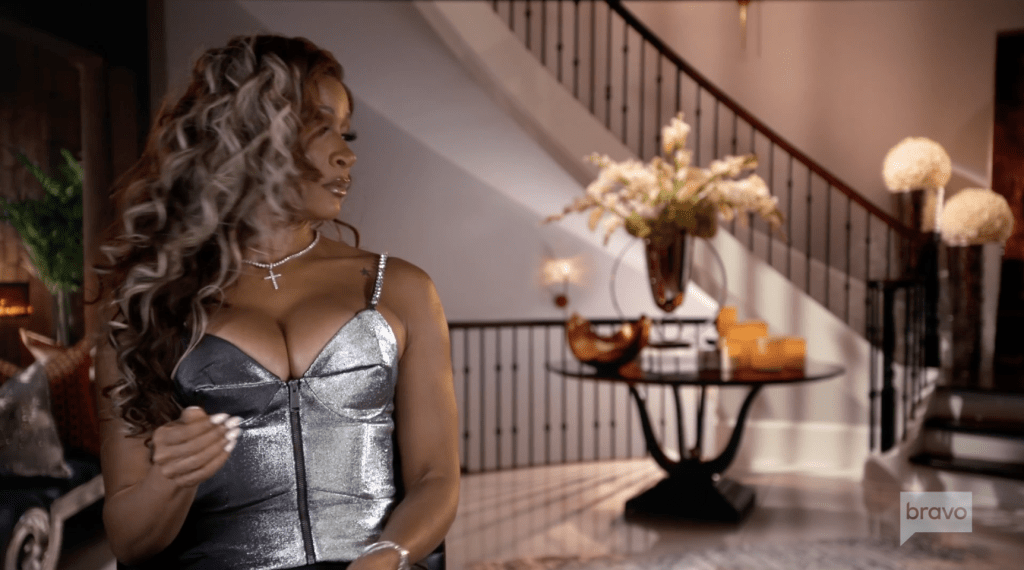 Marlo corrects Sanya, as Kenya jokes about Roi knowing Marlo wasn't the one so he can date Kenya. The table laughs Sanya, Sheree, and Drew voice their opinions in their confessional and Marlo boast about Kenya having her sloppy seconds. Kandi laughing and grateful that it's not her this time as the men chat outside. Heath and Scotley meet as the men begin asking him questions. Scotley tells the men that he and Marlo are doing good as Kenya tells Monyetta she should get Roi to cook for them. Out of nowhere, Sheree ask Drew if the chef's getting paid and blogs on the internet claiming Drew didn't pay someone. Drew explains there's a pending lawsuit and the chef cooked for Drew but there was food in it! Drew says the woman didn't get the cooking job and instead of going about her way, went to the media to spread lies.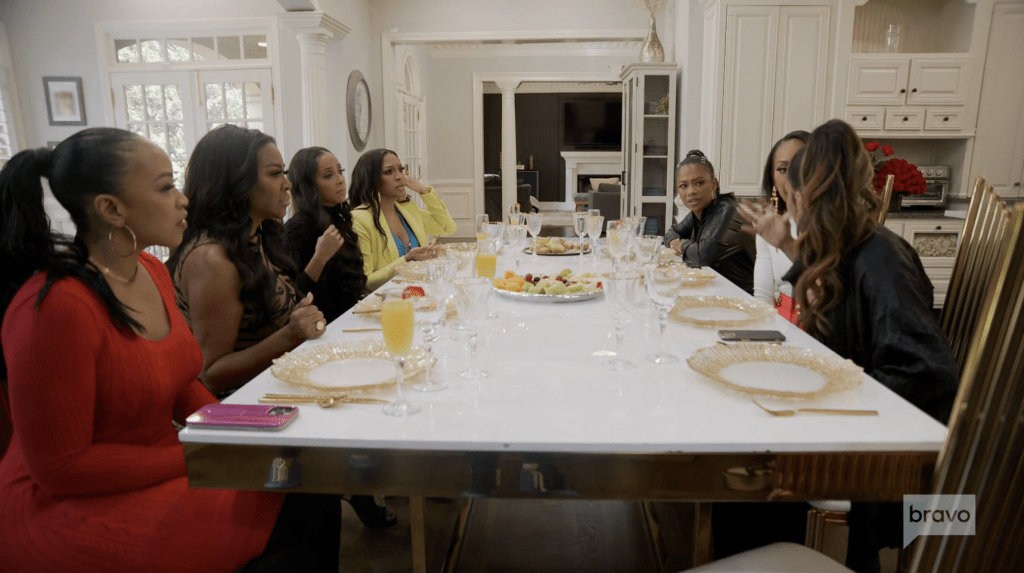 The lady is suing Drew for $1,000 and the ladies laugh as Sheree comments on Drew's chef getting paid. Drew questions why Sheree's messing with her and the two do a fake toast to solidify how "good" they are. Sheree's excited for their trip and wants everyone to be open to healing. Sanya wants to know if everyone's open to mending the broken friendships, but Sheree wants the ladies to focus on healing themselves. Sheree tells Courtney she'll need her crisis management skills but Kenya questions Courtney's skill set. Kenya admits Courtney's crisis techniques didn't work with her and Kandi. Courtney says "Of course you wouldn't" as the two have a fake laugh and Courtney begins touching Kenya too much. Kenya ask Courtney to stop, and Courtney acts dumb before Drew explained respecting people's boundaries.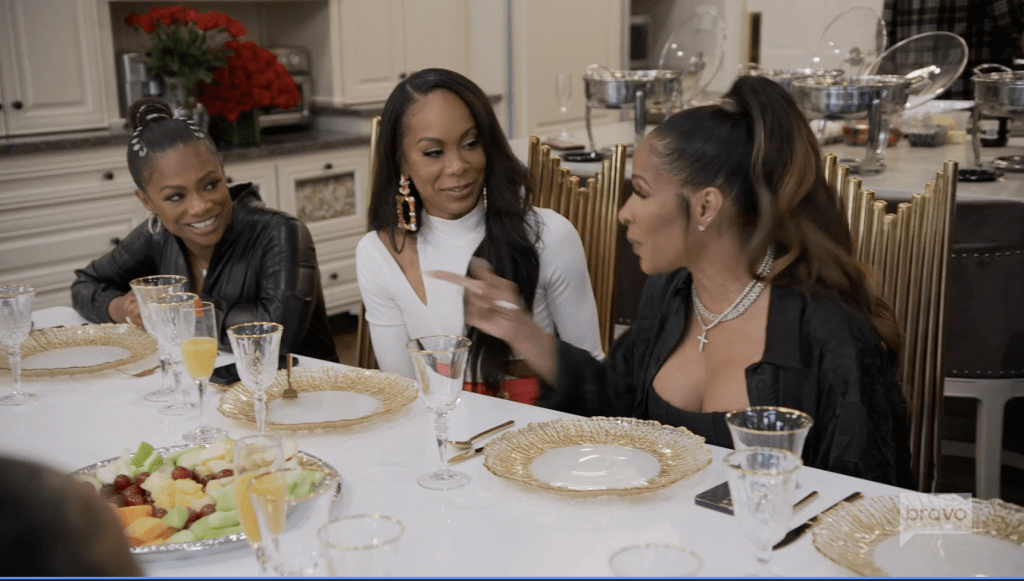 Kandi heads out and collects Todd as Drew thanks the catering crew for their services. The next day the ladies are packing for Portugal as Sheree and Sanya chat about how excited they are and that they're in charge of the fun. Drew chats about Portugal's food to Ralph and Allison as Drew ask Ralph if she looks like a can of busted biscuits. SMH. That morning the ladies arrive at the airport and Kandi's not feeling well due to food poisoning. The ladies ride first class and arrive in Portugal eight hours later. Kandi's ready to get to the hotel as the ladies board the sprinter van. As they take in the sights, Sheree explains where they're at as Sanya cheers that they all made it. Kenya cheers for Kandi as Sanya mentions Kandi was in the bathroom for three to four hours. 
Sheree wants the ladies to take in the country and enjoy each other and reminds them it's a healing trip. Sheree wants the ladies to be in a better place, but Kenya turns her head while rolling her eyes. Sheree calls Kenya out but Kenya plays it off like she was looking out the window. Kenya gives her undivided attention to Sheree, as Sheree begins to complain in her confessional.
At the hotel, the ladies are greeted with drinks as they admire the beauty of Portugal. In her confessional, Kandi explains things were coming out of both ends of her but she's grateful to be there. The ladies cheers as Marlo compliments Sheree on a job well done, while shading Kenya's trip to Birmingham. Kandi calls Todd to check in as Kenya checks in with her Au Pair about Brooklyn. The ladies eat a variety of food as Monyetta checks in on Heath as Drew admits Ralph's in Vegas. 
Kenya inquires if Drew's worried about Ralph in Vegas and Drew explains Ralph is auditioning for Chocolate City, which is the black "Magic Mike." The ladies are confused and wonders what Drew's thinking letting her husband strip. Sanya has to remove that image of Ralph from her mind as the rest of the ladies ask for clarity. Marlo thinks Heath has a better shot at the job as Drew tells the ladies she'll keep them posted. The ladies head out as Sanya mentions finding out whose really world-wide in these Portugal streets. Everyone checks out their room and loves what they see so far. Kenya visits Kandi as Sanya brings Marlo her clothes rack. Monyetta and Drew chat on the balcony as Drew gets Africa and South Africa confused. Monyetta tells Drew about her orphanage in Africa and invites Drew to visit one day.
Marlo and Sanya toast to a great time and admits the energy feels amazing with the ladies. Kenya and Kandi feel the same and doesn't sense any negativity. Drew thinks everyone's trying to get along but is bothered that Sheree brought up her lawsuit in front of the group. Drew thought Sheree was concerned until she began throwing shade at the chef getting paid. Drew thinks Sheree should know about the help not getting paid since Sheree has multiple claims of not paying people. Kenya tells Kandi about her upcoming court date with Marc Daly and Kandi's over Kenya's three-year long divorce. Kenya admits she's been trying to get a divorce longer than she's been married and feels weird discussing her dating life.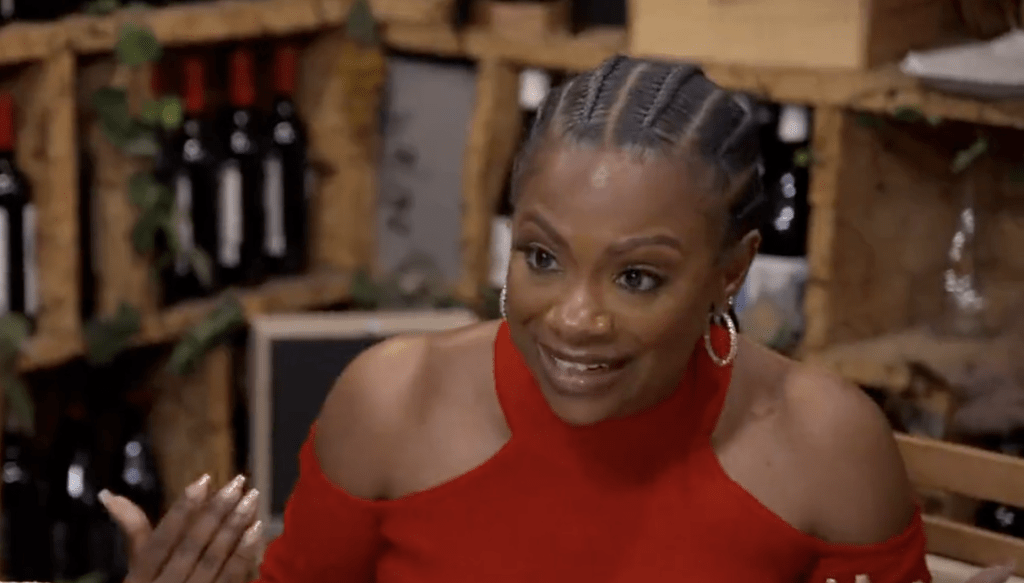 Kenya's excited and Kandi ask if Kenya was weirded out by Marlo mentioning she dated Roi also. Kenya reveals Roi already told her about going on a date with Marlo and Kenya's not worried about it. In her confessional, Kenya claims Roi doesn't have to pay for pu**y as Sanya wonders why it isn't a big deal that Marlo dated Roi. Sanya thinks Kenya's brushing past the issue, but Kenya was ready to throw Martel under the bus. A flashback shows the blowup between Kenya and Martel as Marlo claims Roi was corny to her. Marlo wonders what Kenya said when she came back to their table and after Sanya tells her; Marlo shades Kenya for the many men she's dated. Marlo claims nothing last with Kenya as Sanya leaves to get ready for dinner.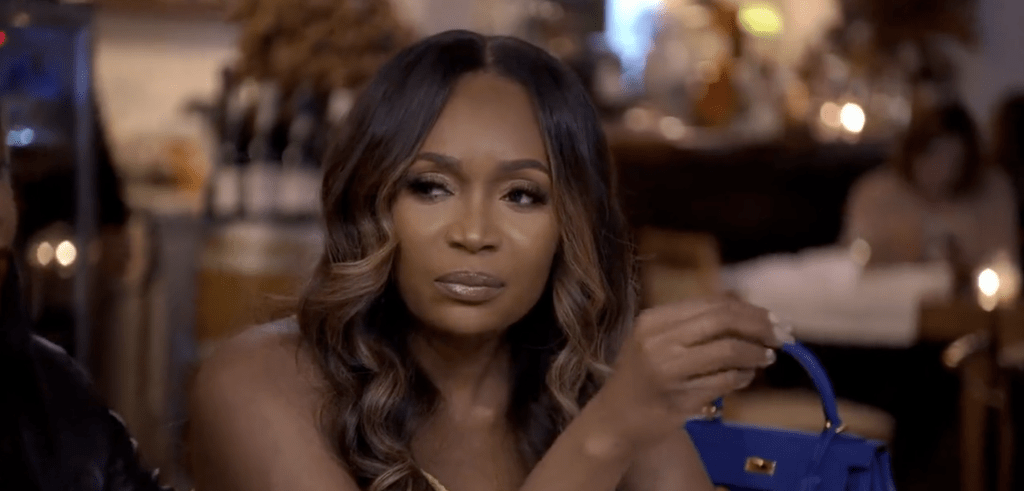 The ladies are ready for dinner and look beautiful as Sheree tells the ladies about authentic Portuguese food. Marlo tells the ladies about eating sardines as a child and no one cares but her. Once at the restaurant, the ladies get seated and try to order shots but it's clear the waiter doesn't understand. After placing their food orders, Kenya ask the ladies if they can blink their eyes one at a time. Monyetta can but Drew tries while looking silly. The drinks come out (not shots) and the ladies roll with the mistake as the food comes out. Sheree once again brings up this is a healing trip and suggest the ladies put everything on the table. Courtney stumbles and addresses the issue she had with Kenya at the brunch. Kenya's looking at her reflection in a knife as Courtney explains her issue. 
Kenya told Sheree earlier that Courtney doesn't open up and of course Sheree went back to tell Courtney. To be transparent, Kenya tells Courtney that her touches started to become condescending. Courtney thinks Kenya's giving "mean-girl" energy but Kenya thanks Drew for speaking up and explaining Kenya's maintaining her boundaries. Drew wants Courtney to listen to people more and even brings up Kandi's many faces. Kenya and Drew high-five to the resting b**** face as Drew brings up Sheree mentioning her lawsuit. Besides the brunch, Drew found out from Courtney that Sheree was talking about Drew behind her back. Sheree doesn't admit to doing anything as she mocks Drew while she's talking. The two go back and forth while Sheree brings up Drew lying on the radio.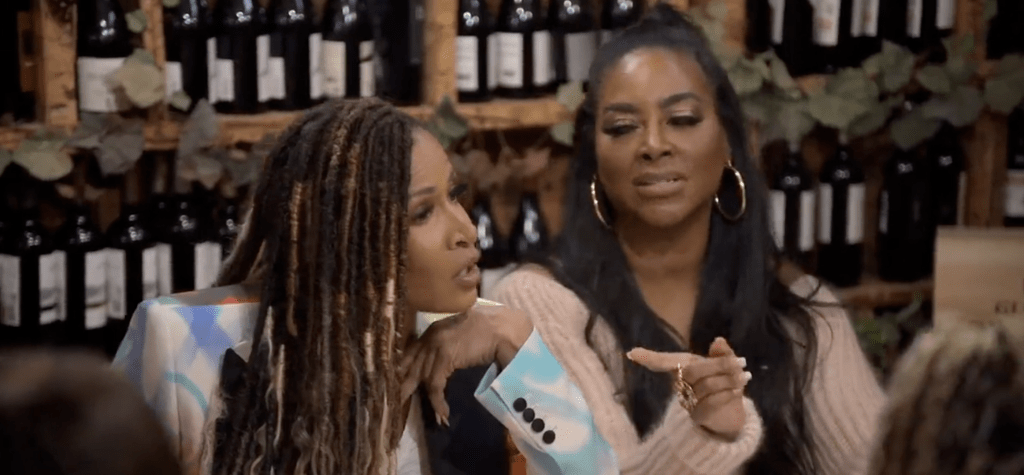 Sheree's still hurt that Drew talked about her on the radio, but Drew thought the two moved past that. Drew wants to focus on what happened now as Sheree deflects from what Drew said. Kandi jumps in but Sheree thinks they're making it up. Kenya also heard they couldn't keep the merchandise as Sheree claims Marlo got a bunch of She by Sheree.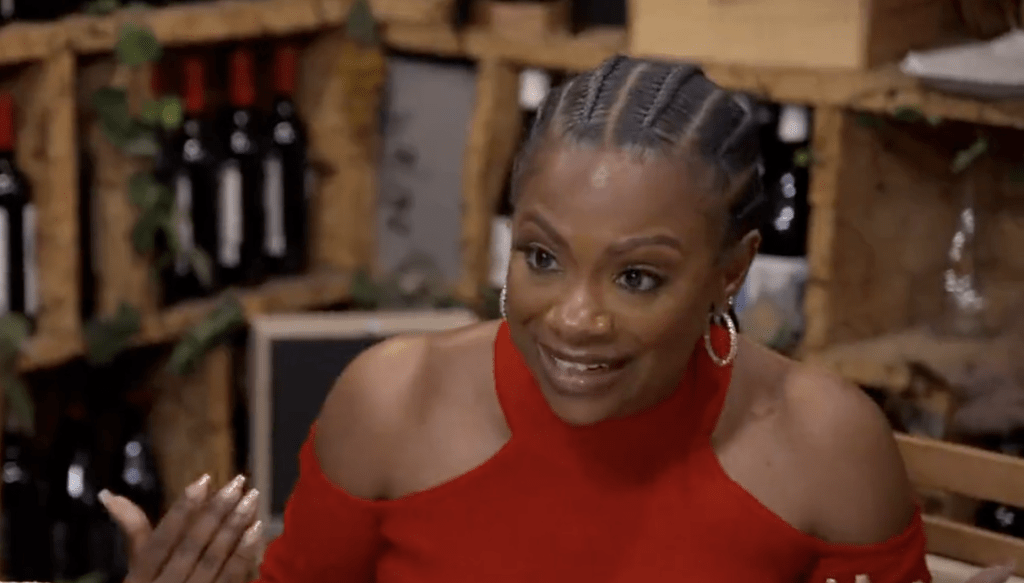 Everyone admits someone removed the items as Marlo where's a bunch of She by Sheree in her confessional. Drew wonders if she and Sheree are moving forward and doesn't think it's cool for Sheree to talk about her. Sheree tells Drew "it doesn't feel good does it?" as Drew wonders if Sheree's trying to teach her a lesson. Sheree denies it as Drew wonders how Sheree is hosting a trip about healing, when she can't heal her damn self?!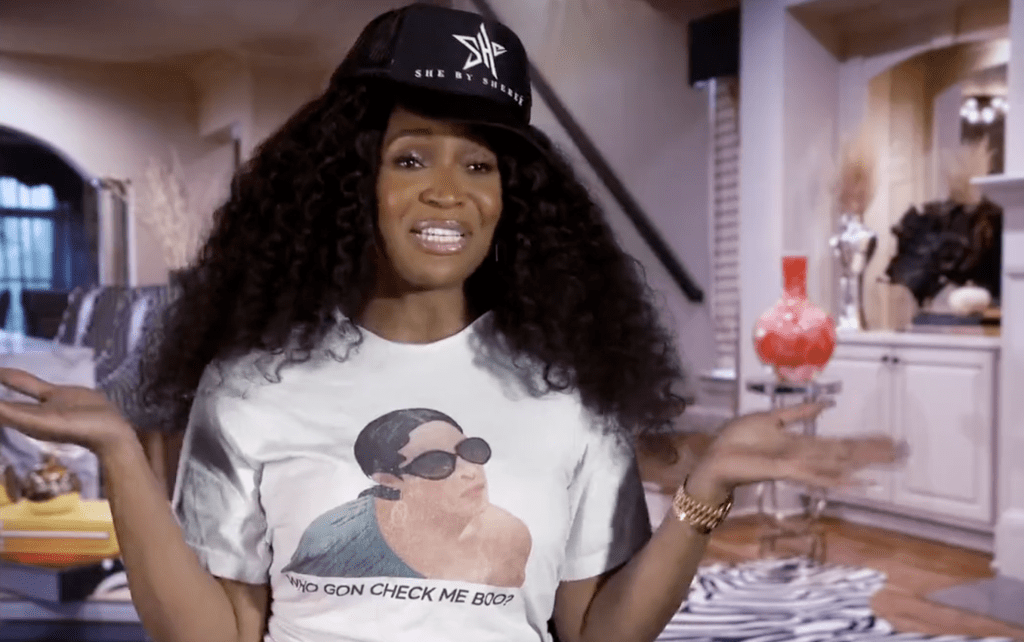 Sheree and Drew get nowhere, as Drew calls Sheree incapable and, Sheree labels Drew a liar. Kenya thinks the two are like sisters and Marlo disagrees. Kenya sees the respect Drew has for Sheree as Drew as Sheree to be real with her. Drew would like Sheree to apologize, and Sheree wants Drew to change her tone. Drew explains that Sheree hurt her feelings and Sheree's still hung up on the merchandise.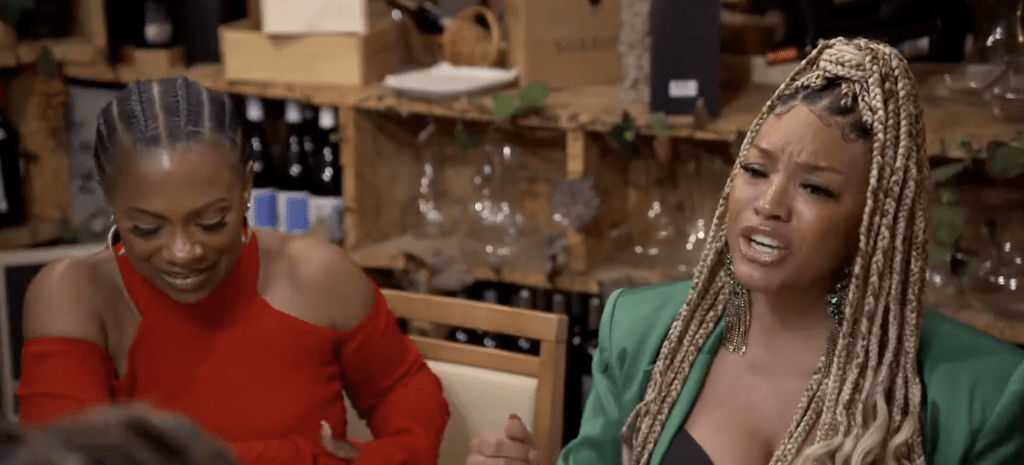 Kenya ask Sheree what she needs to forgive Drew and the ladies leave it there as they finish their food. Drew leaves the table crying as Marlo tells Sheree to fix it. Sheree heads outside to check on Drew as we're hit with the "To Be Continued." Be sure to come back next week to see what else goes down in Portugal, on The Real Housewives of Atlanta.
Stay Connected With All About The Tea: Twitter Ι Instagram Ι YouTube Ι Facebook Ι Send Us Tips
LeAndra Williams is a content contributor at All About The Tea. She's a social worker and (super) mom by day, and a reality T.V. junkie by night.