'RHOA' RECAP: Kandi Says 'F-ck' Marlo 'And Those Flowers That She Was Expecting To Get," As Their Feud Continues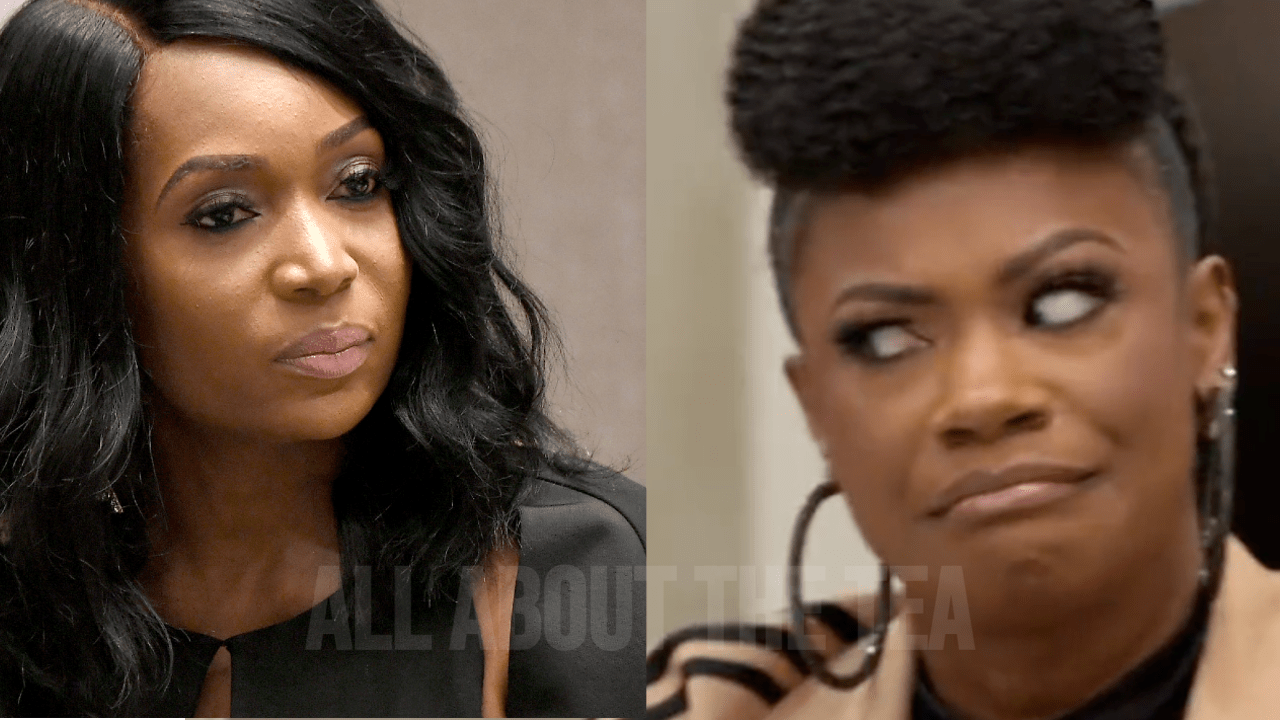 'RHOA' RECAP: Kandi Says 'F-ck' Marlo 'And Those Flowers That She Was Expecting To Get," As Their Feud Continues
Welcome to a new episode of The Real Housewives of Atlanta. This week, we begin with Drew Sidora as she meets Rage (a music video director) for brunch. Rage met Drew in 2008 and compliments Drew as a young starlet, who was perfect for the Yung Berg video.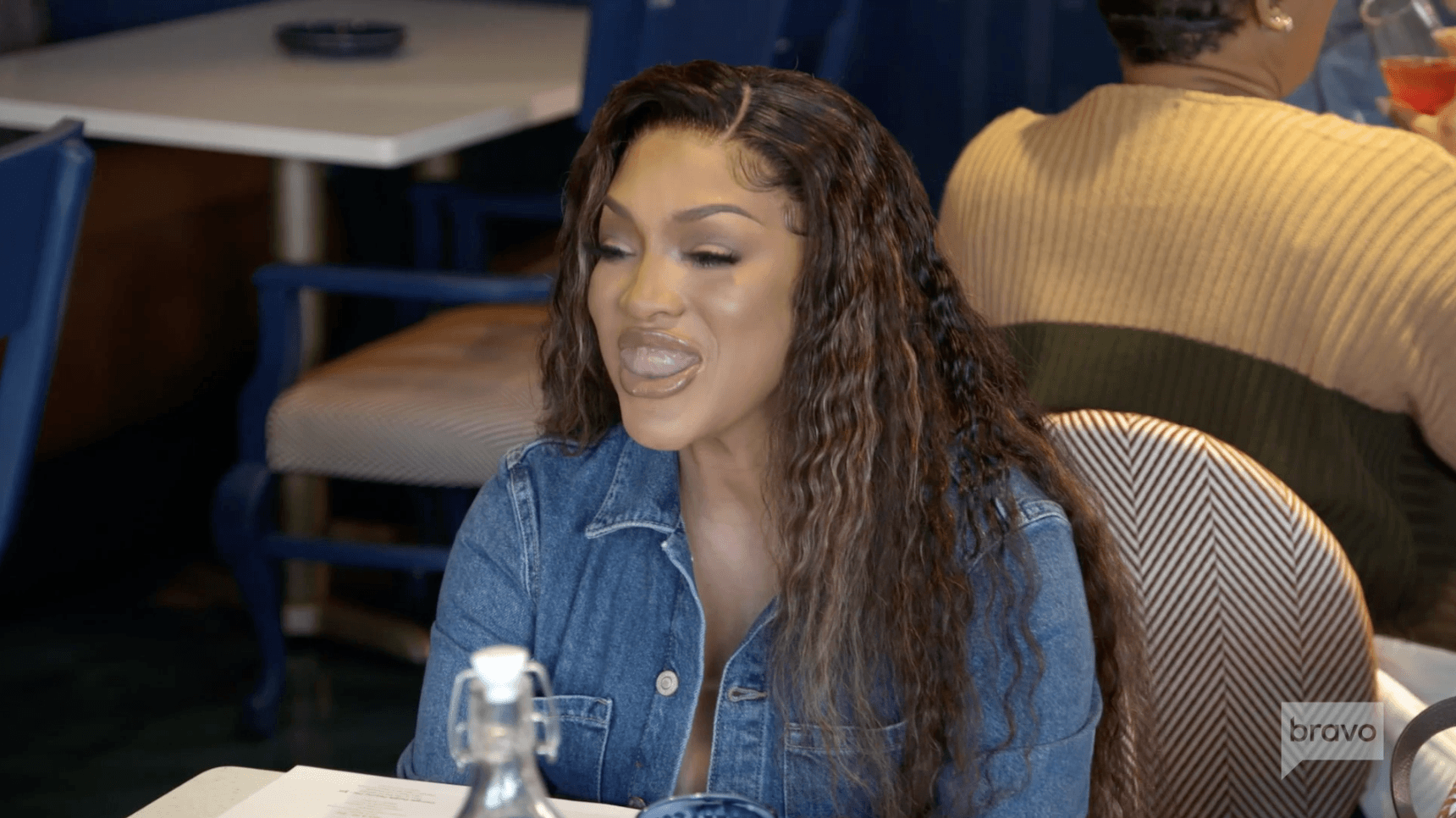 The two discuss Drew's earlier work but poor Rage didn't know Drew was in the Step Up movie. SMH. Drew's hiring Rage for her upcoming project and wants Rage to put his touch on Drew's creativity. Rage is scouting for extras for the video and Drew's inviting the ladies to be in the project, too. Drew doesn't want to be afraid to be sexy and wants to explore her marital issues. Rage tells Drew if they make it past year eight, then their good but Drew has a look of doubt on her face.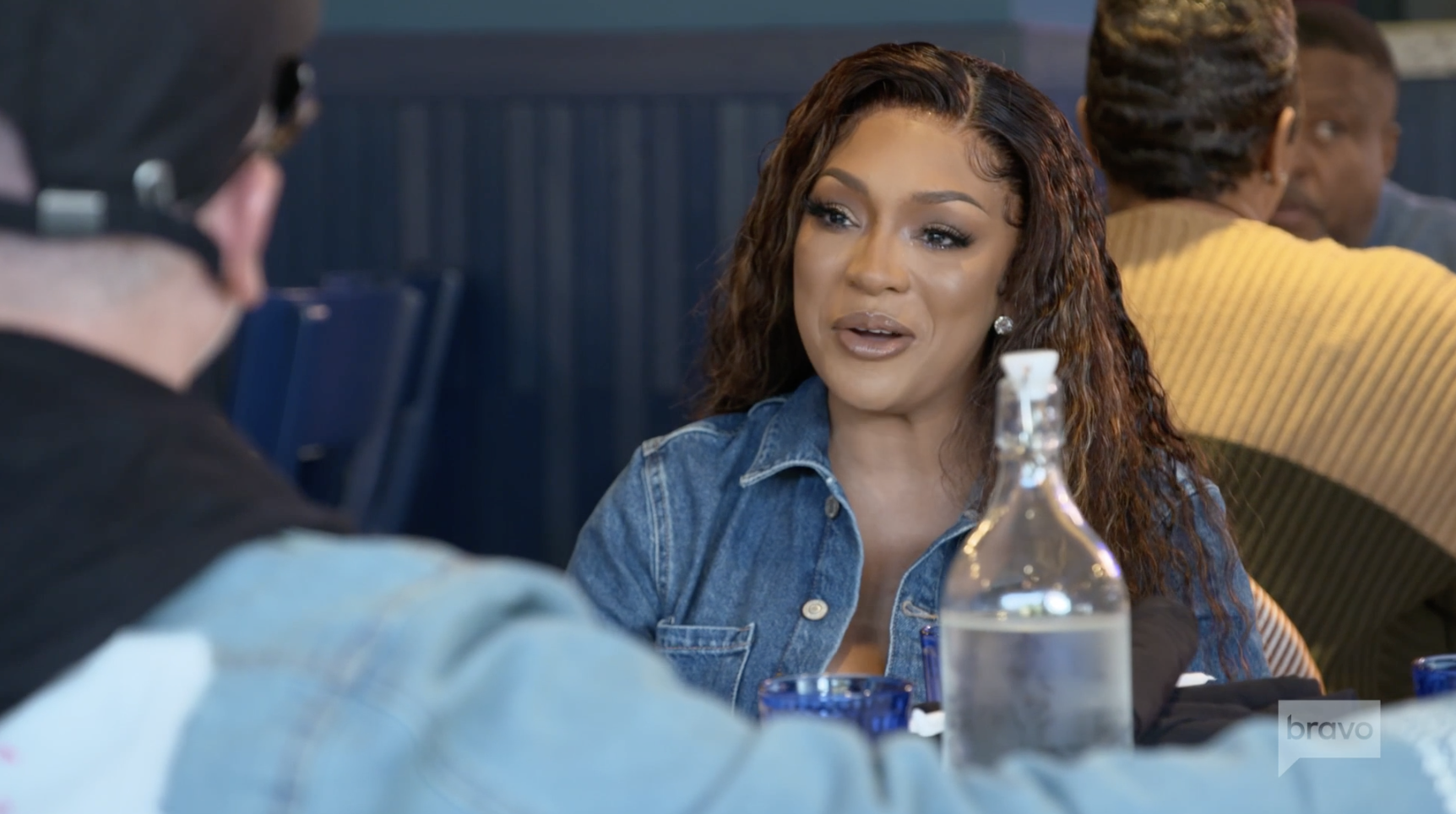 Rage wants to make sure Ralph's in shape for the video, but Drew knows Ralph Pittman's in shape. If Ralph's not in the best shape, Rage may recast Ralph but Drew trust Rage to get the job done.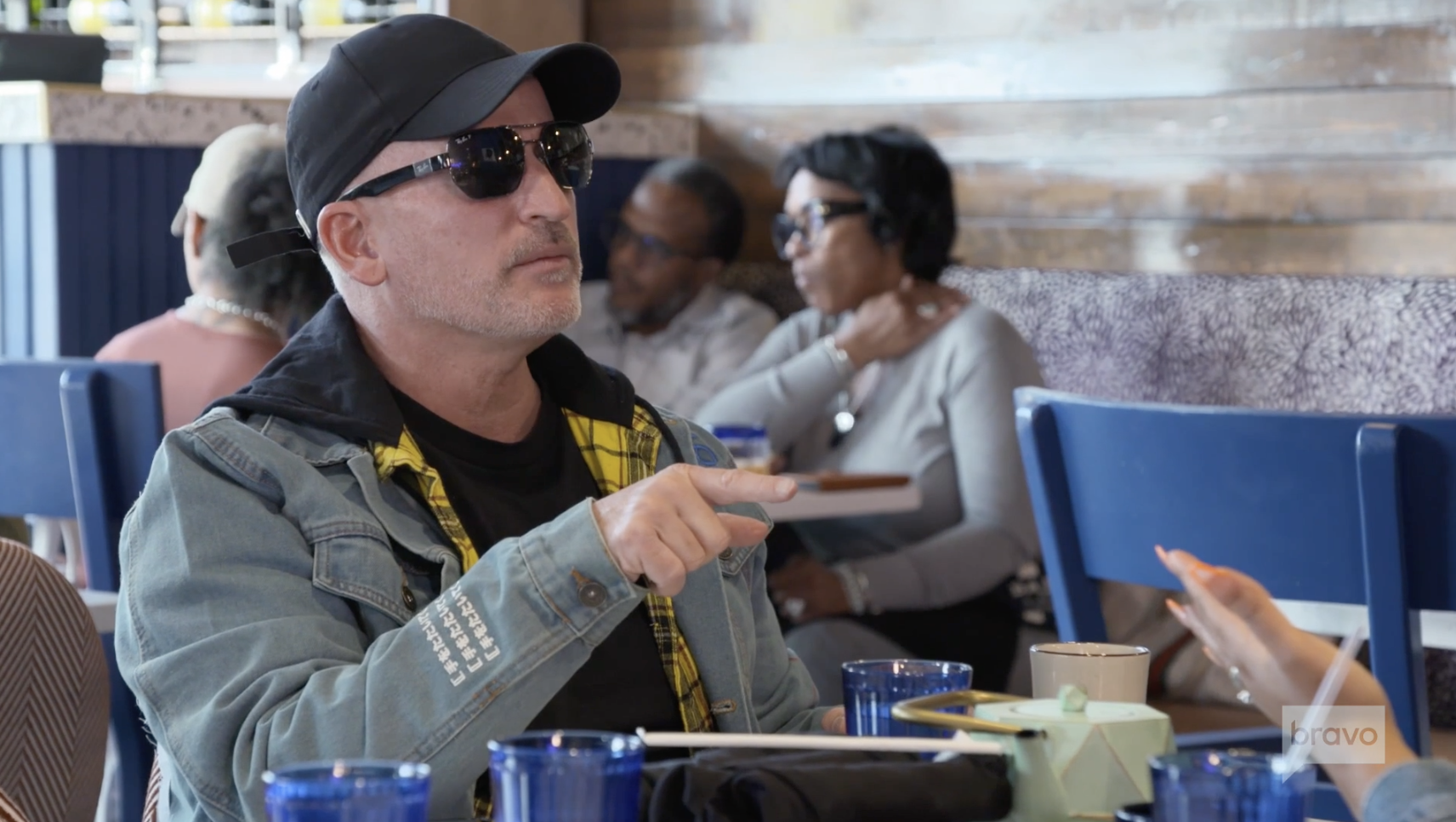 Later, Sanya Richards-Ross meets Sheree Whitfield at Restore for cryotherapy. Cryotherapy is good for inflammation, mental clarity, and gives a metabolism boast. As the two head to the back, Sanya and Sheree scream over Rihanna commenting on She by Sheree! Sheree's happy for the love and calls Kandi Burruss a hater in her confessional. Once in their robes, Sanya steps in first for two and a half minutes. Sanya loves cryotherapy and says it'll be good for trying to conceive.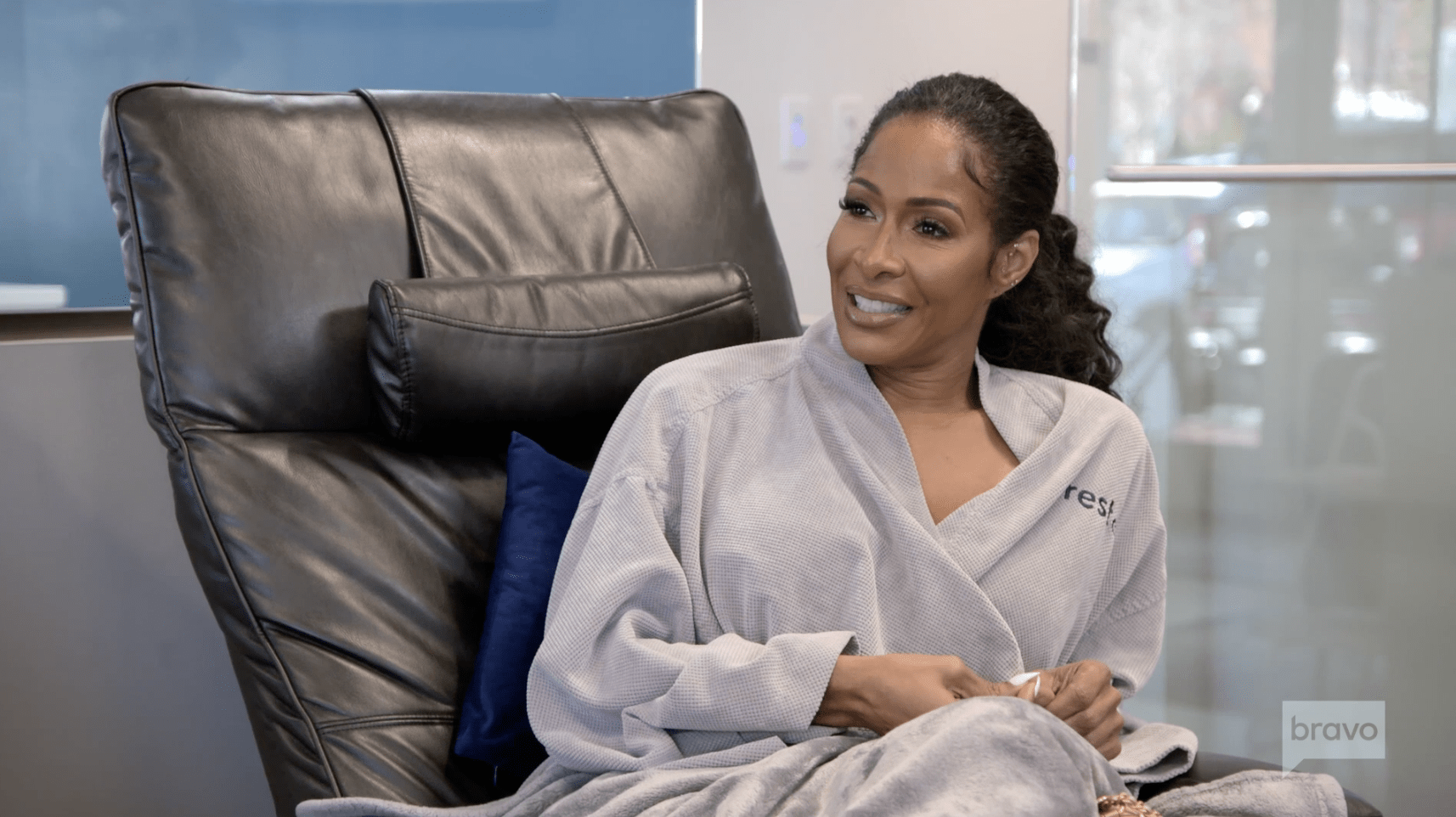 Sheree hopes in after and twerks inside while Sanya dances on the outside. The ladies go to the next room and relax, and Sanya tells Sheree that Ross's business is popping and that's why he's back in Austin. Sheree asks Sanya how are they trying to conceive with Ross being out of town so much and Sanya agrees without elaborating. Sheree and Sanya discuss Courtney's event and are still upset the rest of the ladies left with Kandi.  Sanya feels the group is divided but thankfully Sheree plans to do something about it. Sheree wants to throw a brunch for the ladies to put it all on the table and will be calling it the "Make sure we're Gucci" brunch. Sanya tells Sheree she plans to meet with Kandi before brunch and Sanya wants to know how Marlo Hampton's message got delivered to Kandi.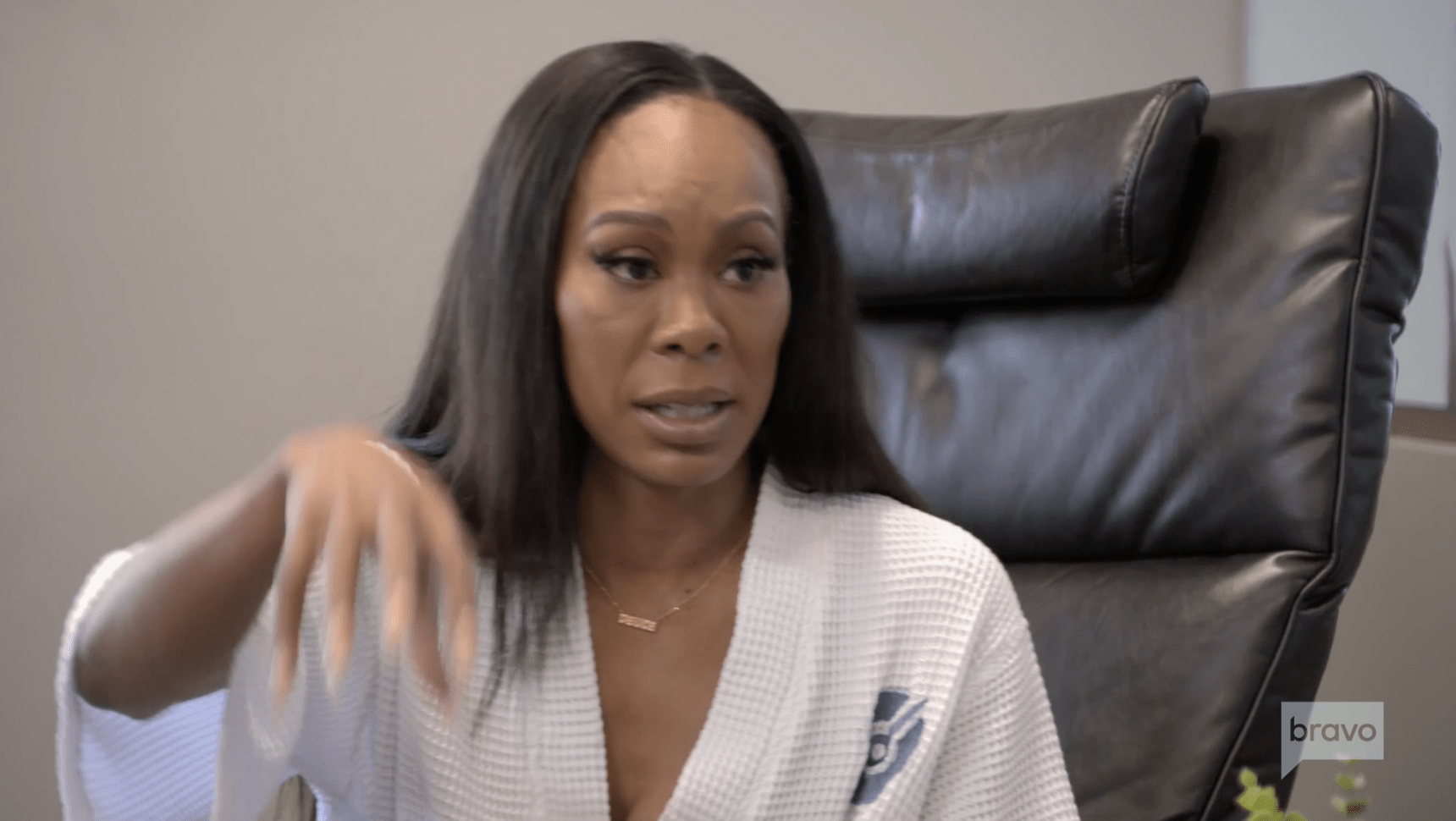 Sanya blames Drew and Kenya Moore for putting hot sauce on Marlo's message but hopes they can make up. Later, Marlo meets Courtney Rhodes for dinner and after ordering get down to the mess. Marlo tells Courtney about her upcoming blind date while Courtney's love life is complicated. Marlo thanks Courtney for introducing her to someone that can help with her legal issues and really appreciate Courtney's thoughtfulness. Marlo claims the other ladies don't have her back like Courtney and Marlo even apologizes to Courtney for ruining the Beat the Bomb event. Courtney admits it was a lot and then we cut to the next day at The Old Lady Gang. Sanya meets Kandi to chat and thinks Kandi looks like Blaze with her updo.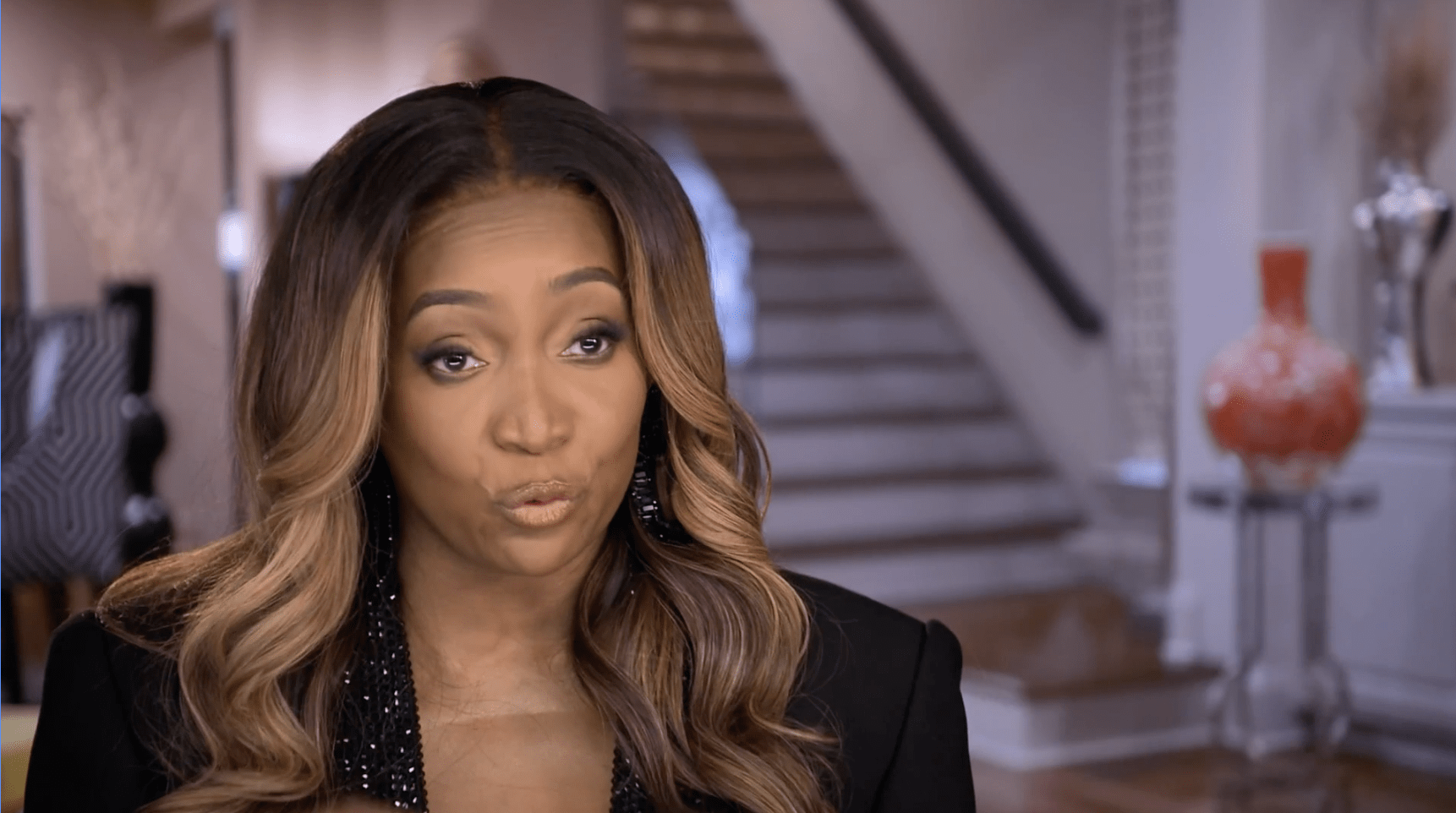 After ordering appetizers, Sanya asks about Todd and Kandi tells her that Todd's in town putting his movie together. Kandi tells Sanya that Todd wrote the movie before changing topics to her walking the red carpet at the premiere of The Piano Lesson. Kandi met a lot of people, including Tina Knowles and tells Sanya she had such an amazing time. However, Kandi fell back to earth after coming back and dealing with these ladies. Kandi brings up the "ghetto" comment Courtney made and are interrupted by the food arriving. Kandi tells Sanya she's about to not f*** with her or Sanya's homegirls as Sanya acts dumb. Kandi feels like Sanya rides the fence, but Sanya doesn't want to get burned by Marlo's fire. Kandi brings up that Drew got burnt by Marlo's fire, but nobody said anything.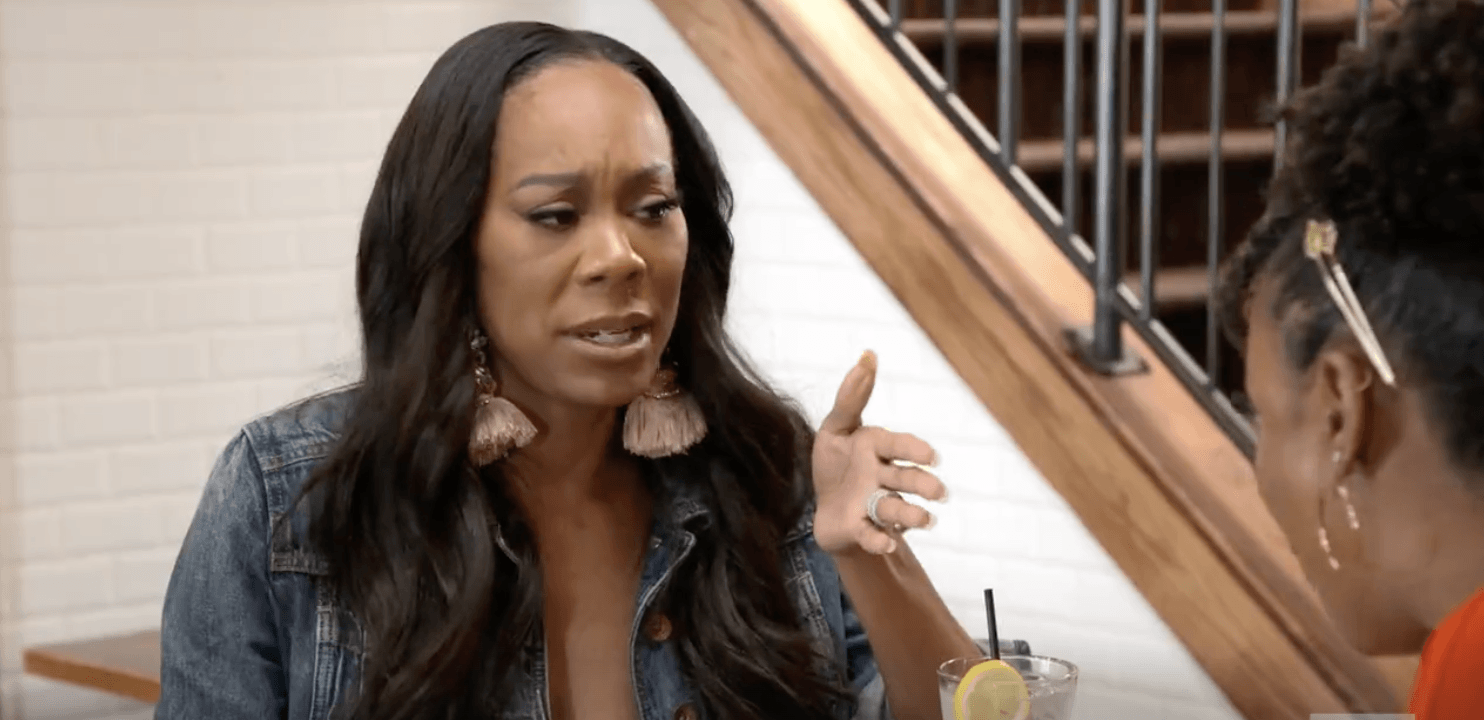 Sanya thinks the group should stop burning each other, and Kandi admits to being annoyed with Sanya when she downplays Marlo's antics. Kandi wonders if Sanya see's Marlo's pattern but Sanya doesn't answer. Instead, Sanya says the information brought to Kandi wasn't the information given to Sanya by Marlo. Kandi rolls her eyes as producers take us back to Marlo and Courtney's dinner from the previous night. Marlo claims her issue with Kandi is she wanted to explain why she was hurt. Courtney asks Marlo why she didn't discuss this with Kandi before, and Marlo claims she hadn't seen Kandi since her nephew was killed. In her confessional, Marlo thought Quentin's passing would've brought them closer and Marlo tells Courtney she wished Kandi would've asked for her sister's number.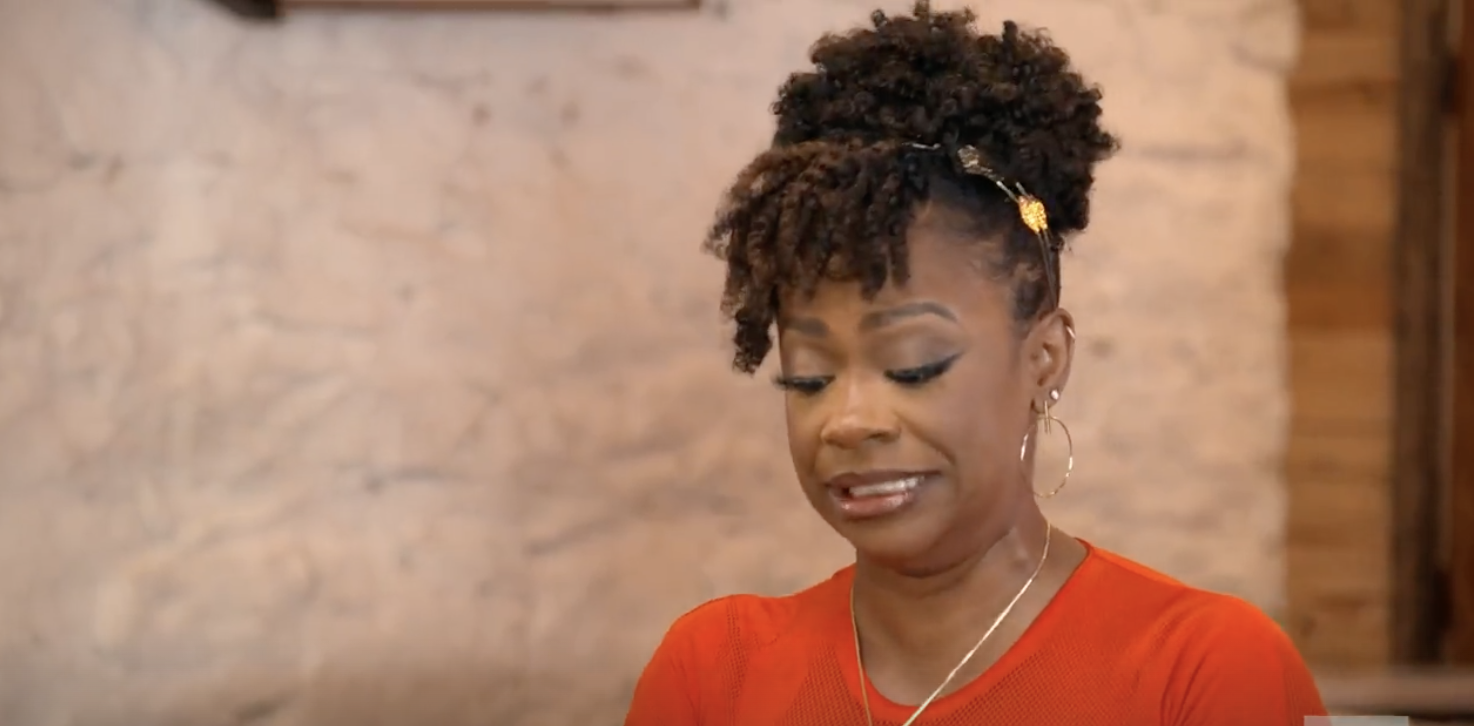 Kandi tells Sanya that she's not the most sentimental friend after her brother died when she was fifteen years old. Kandi becomes emotional as she explains to Sanya she had to push past that because life goes on. Marlo knows about Kandi's brother and still tries to tear Kandi down for her own selfish reasons. Sanya gets emotional as she tells Kandi she's trying to figure it out. Kandi replies "Cause everyone see's she's a fool but yall keep running around, playing with her." Marlo's done kissing a** and calls Kandi ignorant before asking Courtney if she got Sheree's invite. The two discuss their Gucci outfits as Kandi and Sanya laugh at Sanya's strange invite. Kandi tells Sanya about Sheree's rap song as Sanya wishes the best for Kandi and Marlo's reconciliation.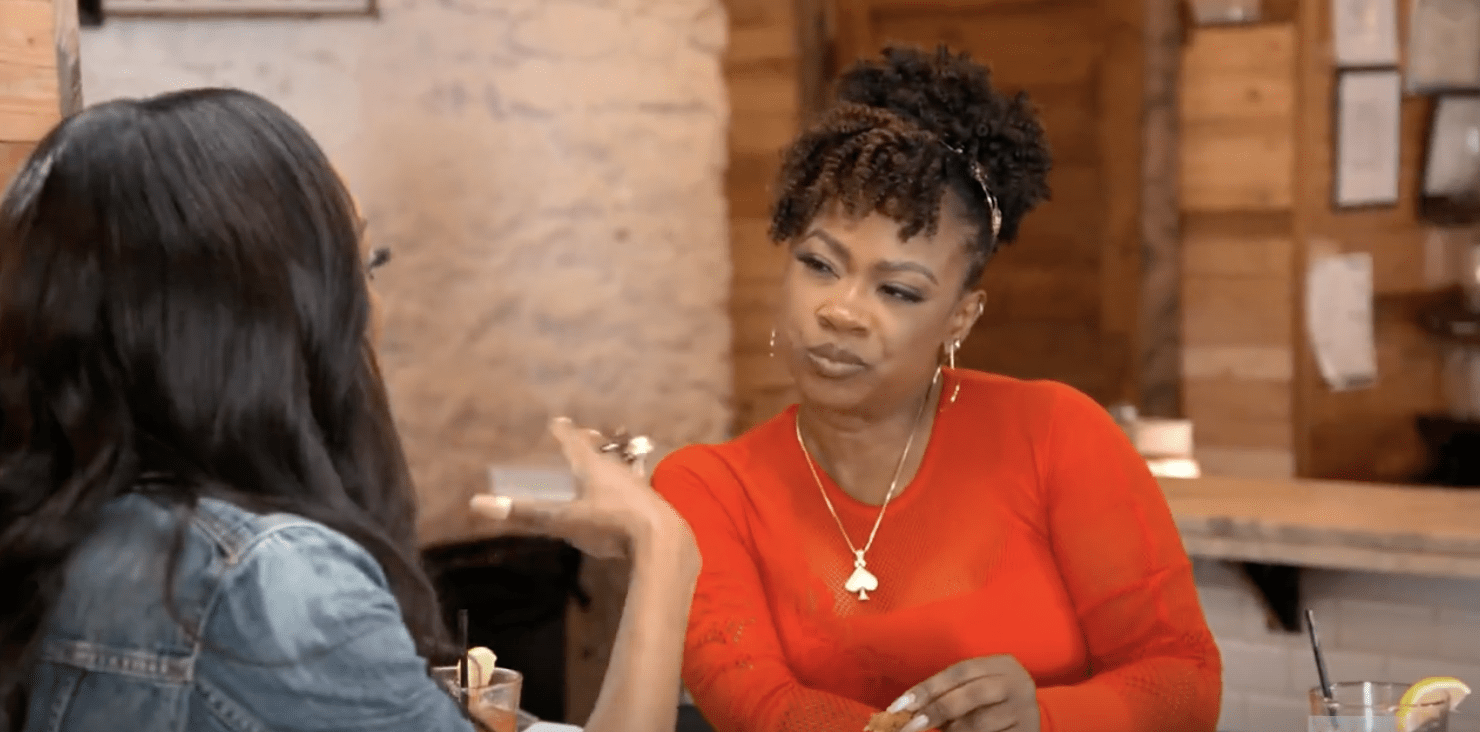 Later, Drew's rehearsing for the music video as Ralph comes to support his wife. Drew preps Ralph to show us what he's working with as Drew and Ralph create a sexy show for the camera. Drew's grinding all up on her husband and it almost looks like they like each other. Later, Kenya heads to the doctor to discuss her hormone changes. Dr. Thrasher inquires about Kenya's sex drive and lucky for Kenya her drive is way up there! Kenya's main concern is whether she can have another baby. Kenya wants Brooklyn to have a playmate and even considered adoption. However, Kenya and Marc Daly still have one embryo left and wants to discuss the prospect of having another child with Marc.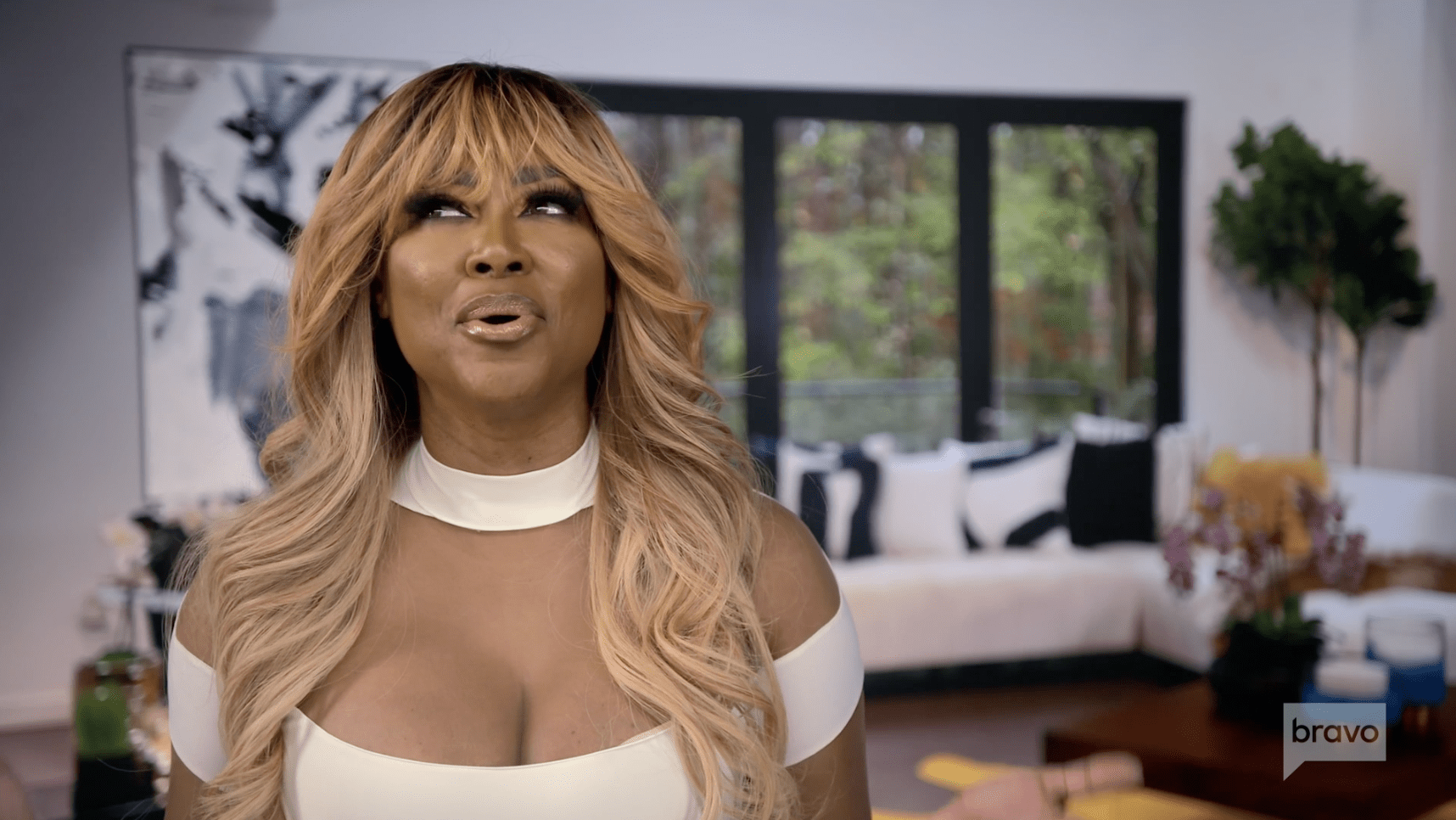 A producer asks Kenya why she wants to have another baby with Marc, especially since going through her drawn out divorce. Kenya doesn't think women want to have multiple children by multiple men. Kenya admits to being depressed during her pregnancy but wants to continue researching her options. Dr. Thrasher educates Kenya on the possibilities of a geriatric pregnancy and wants Kenya to be sure of the potential risks. Dr. Thrasher admits in her thirty-two years practicing that Kenya's delivery was the scariest. In her confessional, Kenya reveals her C-section took an additional two hours and Kenya lost a lot of blood. After hearing the risk, Kenya's conflicted and doesn't want to leave Brooklyn and possibly another baby alone. Dr. Thrasher discuss options as Kenya contemplates using a surrogate. Good luck, girl.
It's the day of Sheree's brunch and after ensuring the table is set, Sheree struggles with the seating arrangement. As Sheree works on the seats, Sanya arrives looking gorgeous! Sheree doesn't want the ladies talking for Kandi, so Sheree intends to separate them to make them stand on their own. Courtney, Kandi, and Drew arrive, and Sheree tells the ladies she wants the group to get back to having fun.
Drew can't talk for Kandi but thinks Marlo needs a hug and attention. As Marlo walks up, Kandi notices Marlo's too close for comfort and switches Marlo and Kenya's seat. Marlo arrives greeting everyone but Drew and Kandi, but they could care less. Kenya arrives in Chanel and doesn't care about the dress code. Marlo thinks Kenya's look is thrifted, while Drew looks like the Gucci handyman. Sheree and Sanya look good but overall, Marlo thinks they look like a ghetto girl-group.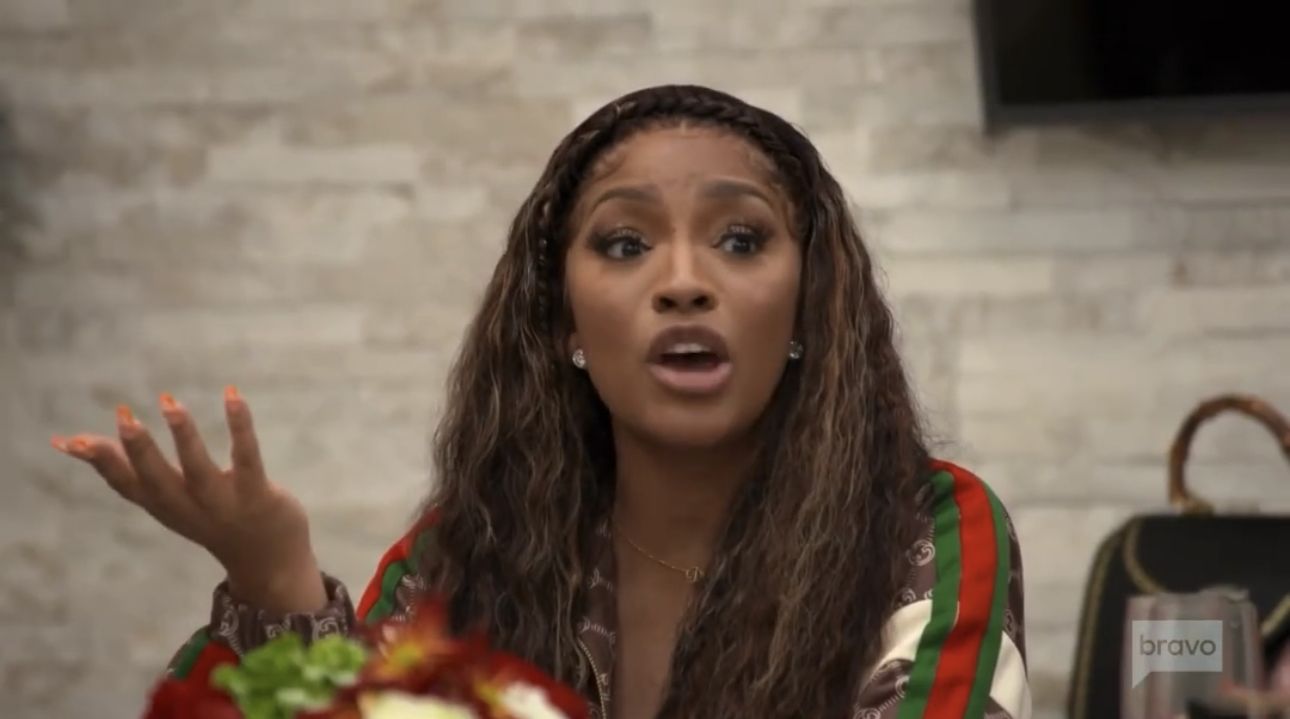 Kenya thought she was dreaming when she read the text and the girls laugh before diving into the mess. Sheree has love everyone and becomes emotional as she pleads for the ladies to let things go so the group can have fun. Sheree's open to suggestions and Kenya takes the floor. Kenya has Jesus on speed dial and the ladies laugh before getting back on topic. Sheree tells the ladies to be a good listener as the food comes out. Sheree starts with Kandi and Courtney and believes they had a miscommunication. Courtney admits a lot was said but appreciates Kandi coming to her event and ultimately apologizes. Kandi appreciates Courtney checking on her after her blow up with Kandi and the two agree to move on. 
Sanya goes next and tells Kenya she doesn't feel like her friendship is being reciprocated. Sanya tells Kenya her feelings were hurt when Kenya told her to leave Birmingham, but Kenya reveals she doesn't trust Sanya! Kenya thought they were cool until Sanya appeared on Watch What Happens Live and suggested Kenya's butt is fake! Kenya was offended and doesn't think Sanya's loyal; while pointing out Sanya's loyalty to Marlo, even when she's dead wrong. Sanya gets loud and wonders "How am I supposed to know if your butt is real or not?" while Sheree tells Sanya she should've said "I don't know." In Drew's confessional, she claims Kenya's butt doesn't change when she loses weight as producers compare Kenya's backside.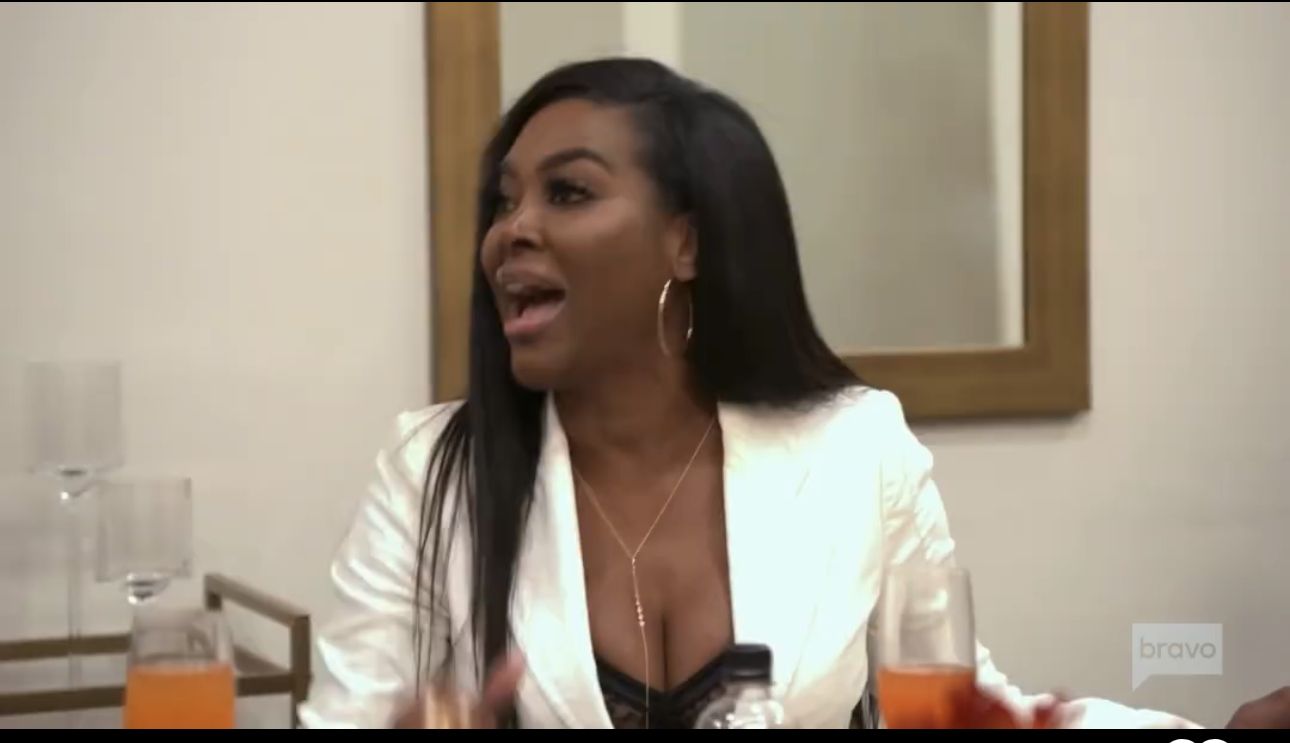 Sanya wants to genuinely build a friendship with Kenya, but Kenya needs to see how Sanya moves from now on. The two agree to see what happens as Sanya calls Kenya "hot and cold" in her confessional. Back at the table, Sanya questions if they'll be any resolve between Kandi and Marlo as the ladies wait for an answer. Kandi doesn't answer as Marlo says she's in a good space and is able to be cordial around the ladies. Then Marlo says she told Drew she expected a different reaction from Kandi and no longer wants to force someone to like her. Kenya jumps in and comments about Marlo attacking others and being evil. Sheree focuses back on Kandi and tries to slice their issues up as a misunderstanding. Kandi's smiling as Marlo claims she can be respectful, as Kenya pretends to choke.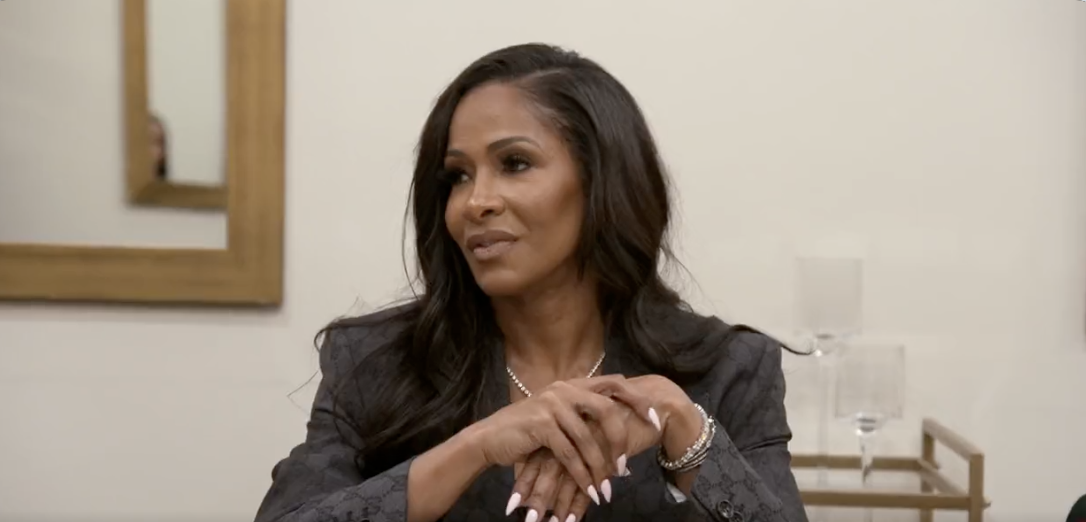 Kandi tells Marlo she's not genuine because no one would appreciate their name being attached to a murder. Marlo blames Drew for bringing up the shooting at Blaze and claims Drew's comment triggered something in her. Kandi's over Marlo's lies as Drew wonders how she got wrapped up in Marlo's trigger. SMH. Marlo can't get a word in as Kenya plays an invisible violin as Drew comes at Marlo from the side. Marlo doesn't know what happened as Kenya screams "The lies, the lies, the lies!" Marlo tries to get Kandi to talk on the side but no ones allowing that as Marlo ask tries to revisit her initial issue. Sheree admits Marlo wanted Kandi's help during the funeral, but Kandi thinks Marlo's exploiting her sisters tragic loss. Kenya thinks Marlo's gaslighting the table as Marlo claims her issue is what type of friend Kandi is.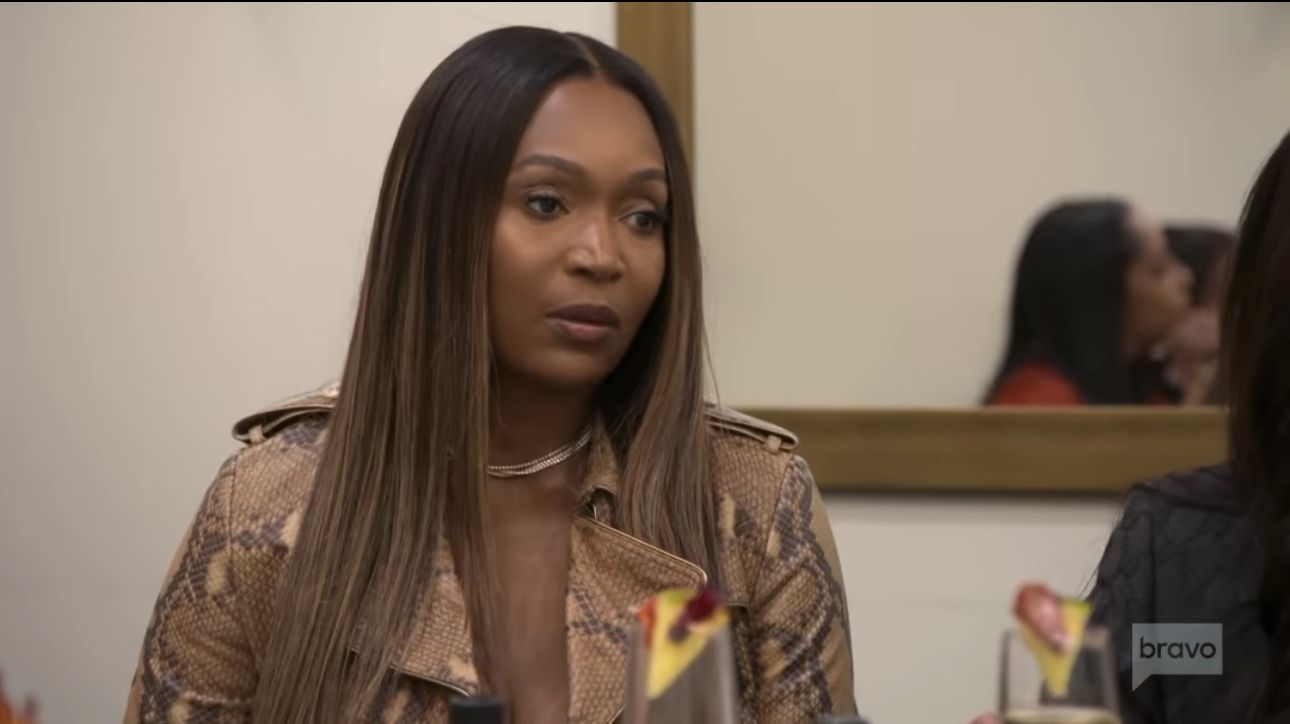 Marlo pretends to go to the bathroom as she mentions respect, and Kenya calls Marlo a b-tch, and says Marlo's the last person she needs respect from. Kenya calls Marlo a "bottom rung b-tch," as Marlo storms off the table. Sheree runs after Marlo and forces her back, as Kandi tells the table that Marlo likes to act out and blame her trauma for everything. Kenya thinks Marlo's a b*** as Marlo shakes it off outside. Kenya says Marlo has no loyalty and sold her p*ssy for a bag! Sheree ask Kenya to let Marlo speak as Marlo admits Quentin's murder had nothing to do with Kandi, but Marlo's family pointed out that Kandi hadn't checked on Marlo. 
Kandi rolls her eyes as Courtney and Drew head to the bathroom. Marlo wanted Kandi's condolences, but Kandi thinks Marlo's full of it. Marlo tells Kandi that if Melvin died when he was shot, that she would be by her side. Sanya jumps in and tries to speak for Marlo but Kandi's not having it! Kandi tells Sanya she doesn't need her being Marlo's mouthpiece.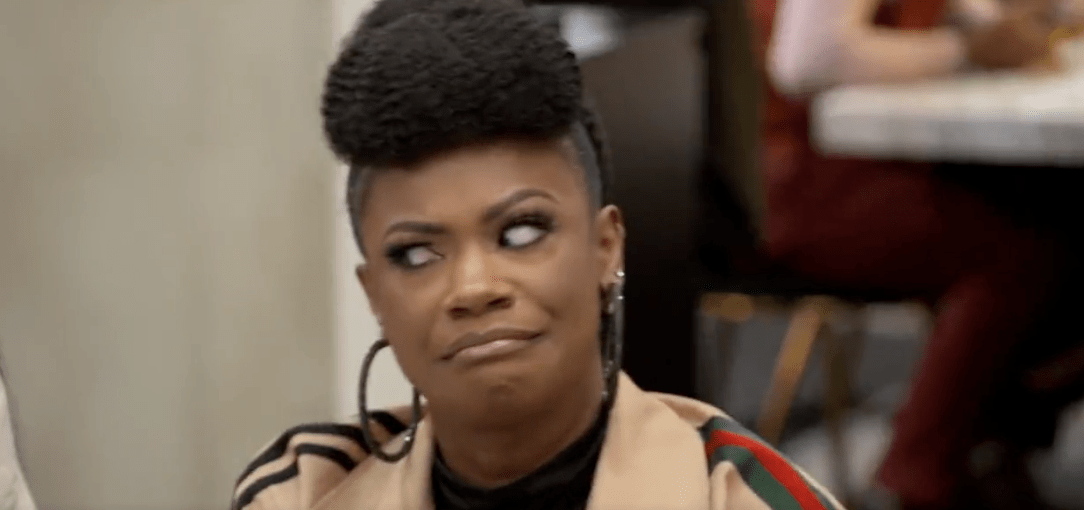 Sanya tells Kandi that she's upset over something that's not the issue and Kandi says f***  her and them flowers! Kandi's over Marlo and soon they're arguing! Marlo claims she's telling Kandi about herself, while Kandi says the focus should be on Quentin's family. Marlo claims she buys Kandi gifts all the time and calls Kandi selfish. Kandi doesn't have time as Sheree thanks the ladies for coming and head out before they get kicked out! Let's see how this mess plays out next week on a brand new episode of The Real Housewives of Atlanta.
Stay Connected With All About The Tea: Twitter Ι Instagram Ι YouTube Ι Facebook Ι Send Us Tips
LeAndra Williams is a content contributor at All About The Tea. She's a social worker and (super) mom by day, and a reality T.V. junkie by night.