RECAP: Joe Gorga Exposed As A Liar During 'RHONJ' Reunion Part 3
RECAP: Joe Gorga Exposed As A Liar During 'RHONJ' Reunion Part 3
Welcome to The Real Housewives of New Jersey finale. With the husbands joining the couch, Andy Cohen begins with a light-hearted comment, by asking if he should consider Botox. After a few laughs and being counted in, Andy begins by asking how Frank Catania's doing. All is well and Frank got some new teeth that he's happy to show off. Joe Benigno's happy Margaret Josephs wrist is healed and ask how Nate Cabral felt about his first season. Paulie loves the set and Andy congratulates Louie on his new marriage as he continues to check in on Joe Gorga. Joe's heart is beating out of his chest and Andy lets Joe know that Teresa Giudice just said the same thing.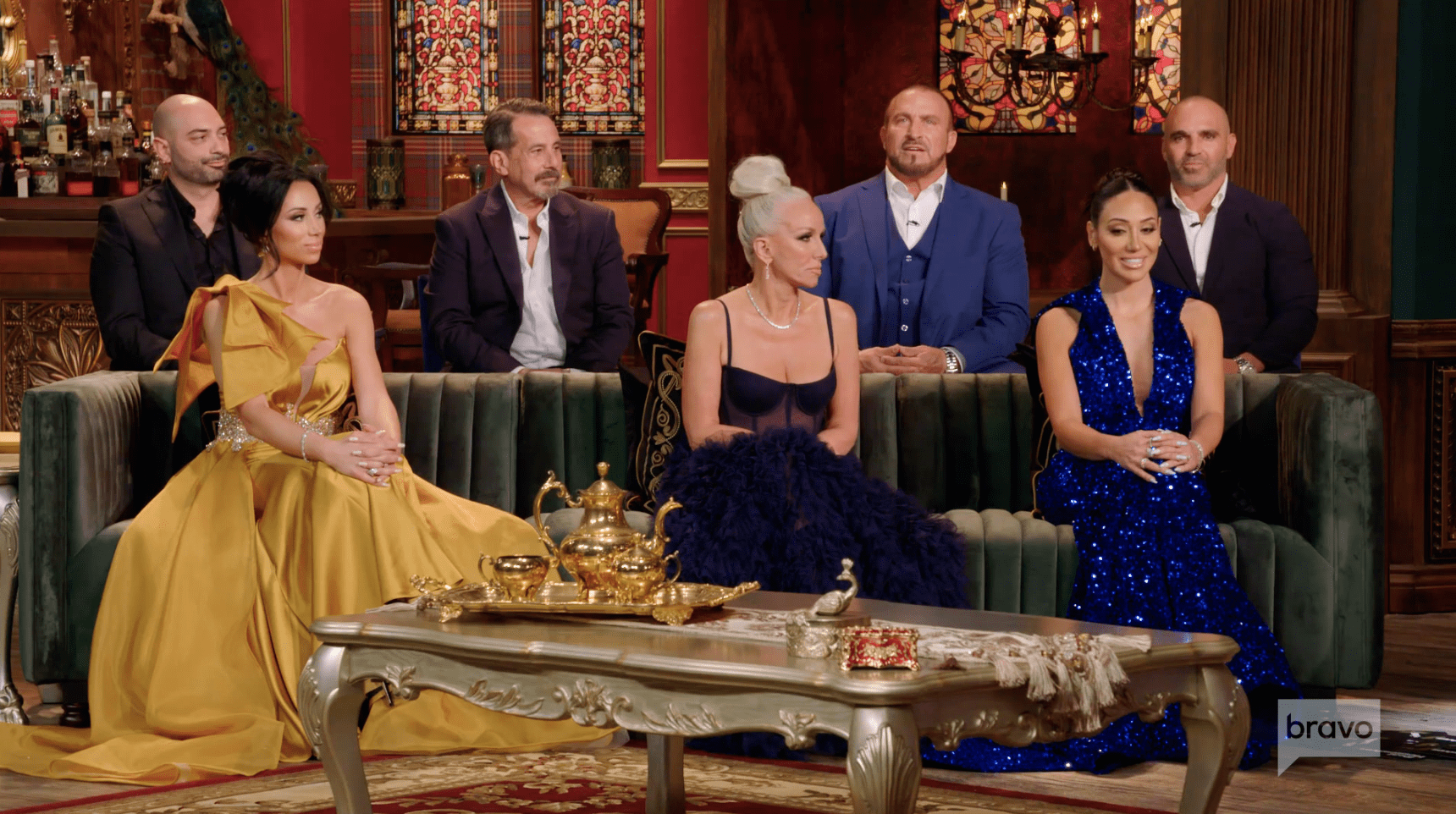 Continuing the conversation, Andy informs the crew that he has their calendar ready. Joe then shares how seeing Frank in the bunny costume brought joy to his life. Melissa expresses her opinion that Frank's picture is the best, and Andy asks if Frankie saw Paulie's mom's comment in Ireland. A flashback shows Paulie's mom stating that Frank is not attractive, and Frank admits that the comment hurt him deeply.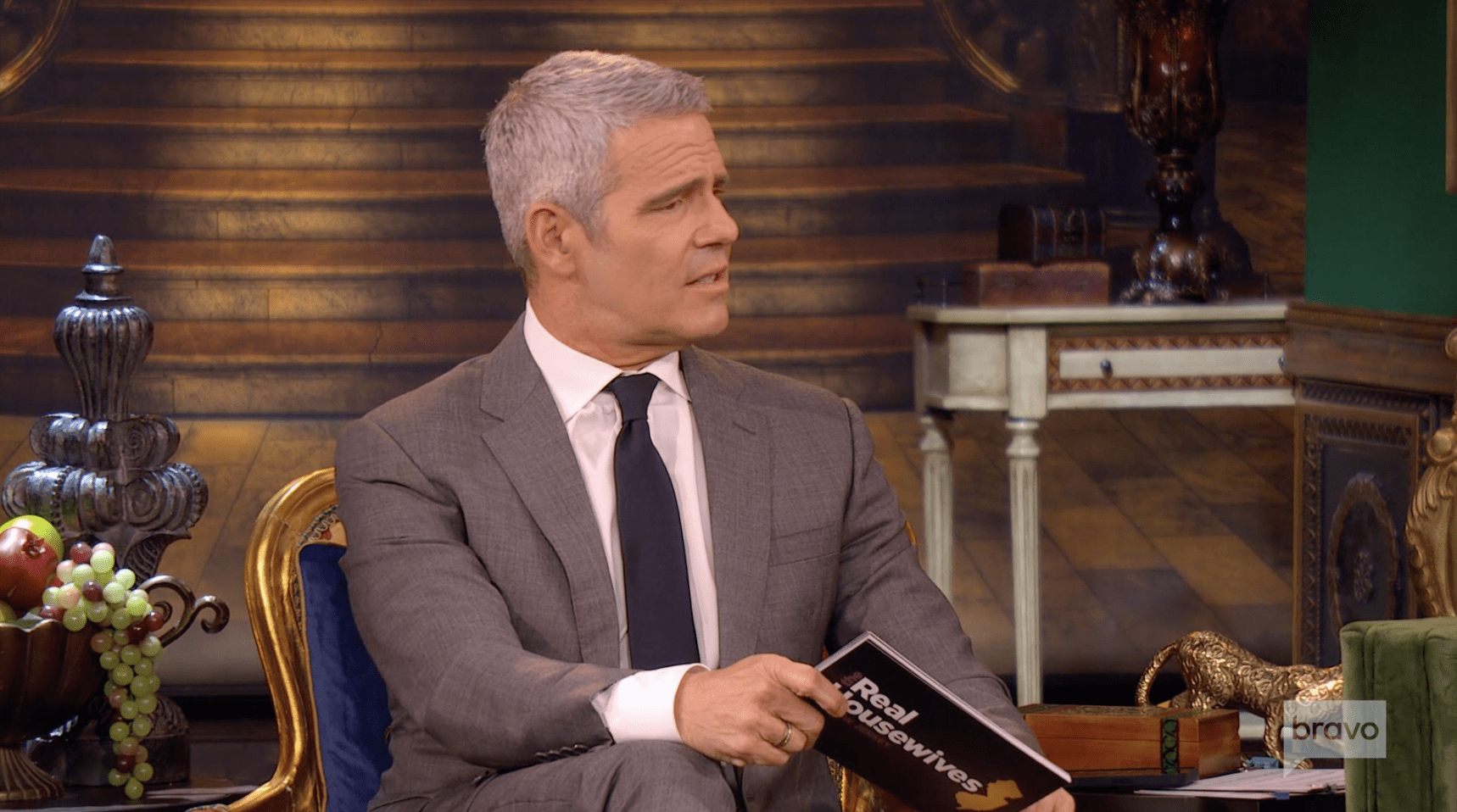 Shifting gears, Andy moves on to the topic of pajamas. A flashback reveals Louie telling Joe that he slept in his late father's pajamas. However, Louie now clarifies that the actual scenario was different. He explains that there was a bag of clothes that never reached Joe's father, and he ended up wearing one of the sweats in a sentimental manner. Louie acknowledges the strangeness of his initial comment and sincerely apologizes to Joe.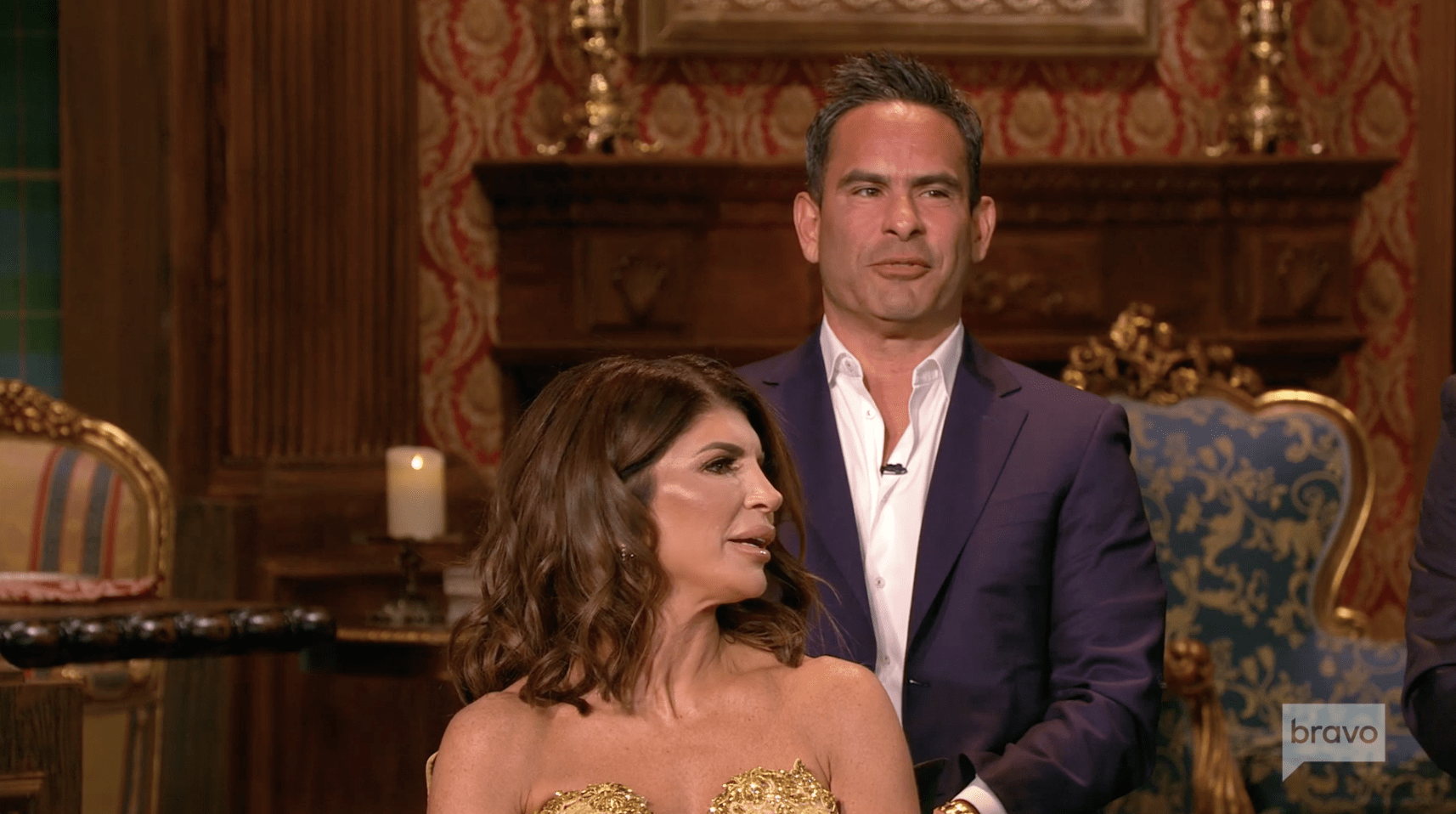 Louie persists in expressing his desire for a relationship with Joe, stating that he made efforts to connect with him. Joe, while wanting to believe Louie, acknowledges that every time he has trusted him in the past, he has been let down. Joe candidly tells Louie that he no longer desires anything from him and that all he ever wanted was a united family.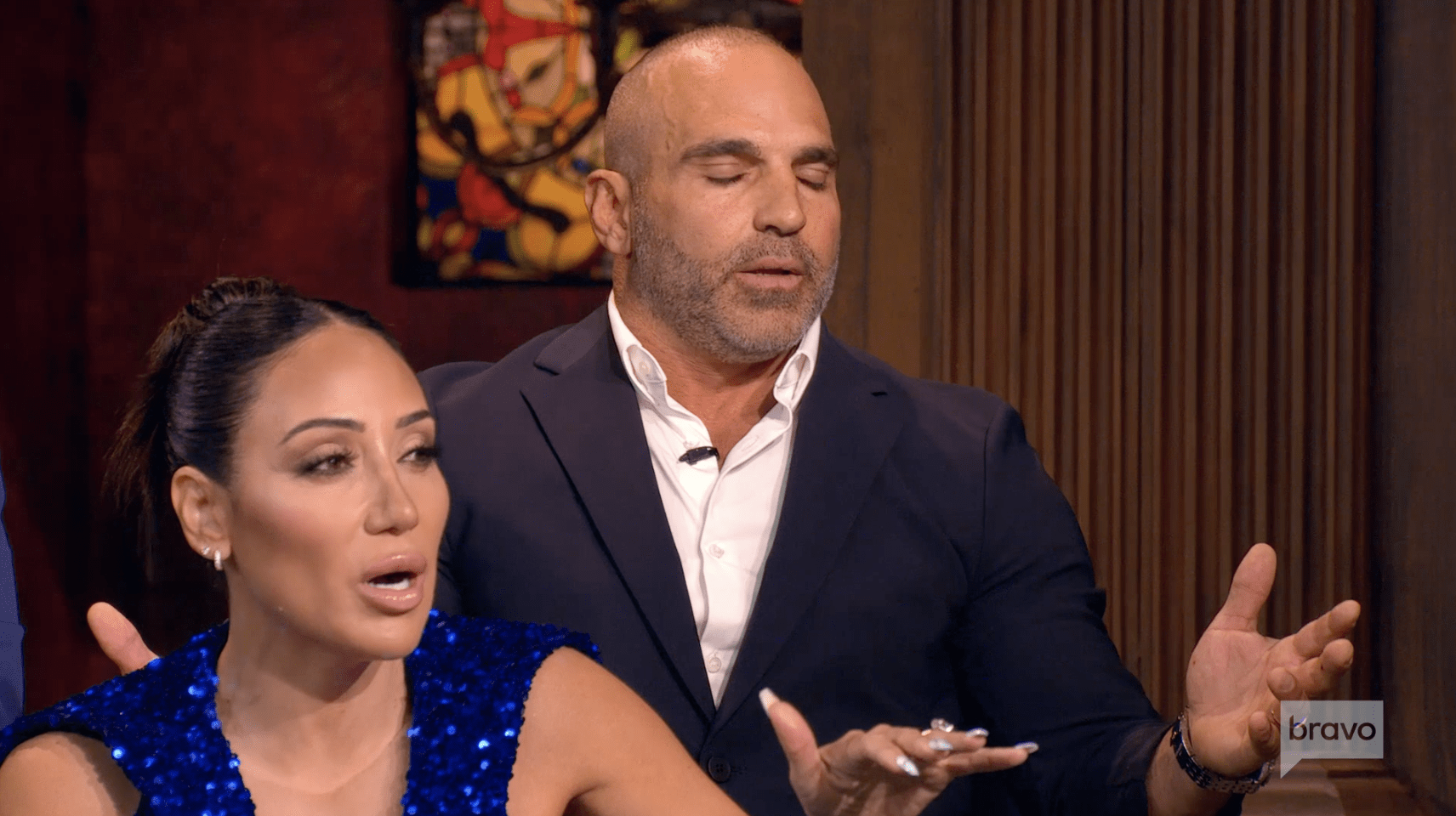 Joe says Teresa displayed humility upon her release from prison and reveals that he spoke with her daily during that period. Teresa interjects, suggesting that Joe only reached out because they were being filmed. Joe and Melissa disagree, questioning why Teresa holds such negative perceptions of them. Teresa argues that Joe and Melissa never invited her to go out, while they counter that she only socialized with individuals much younger than them.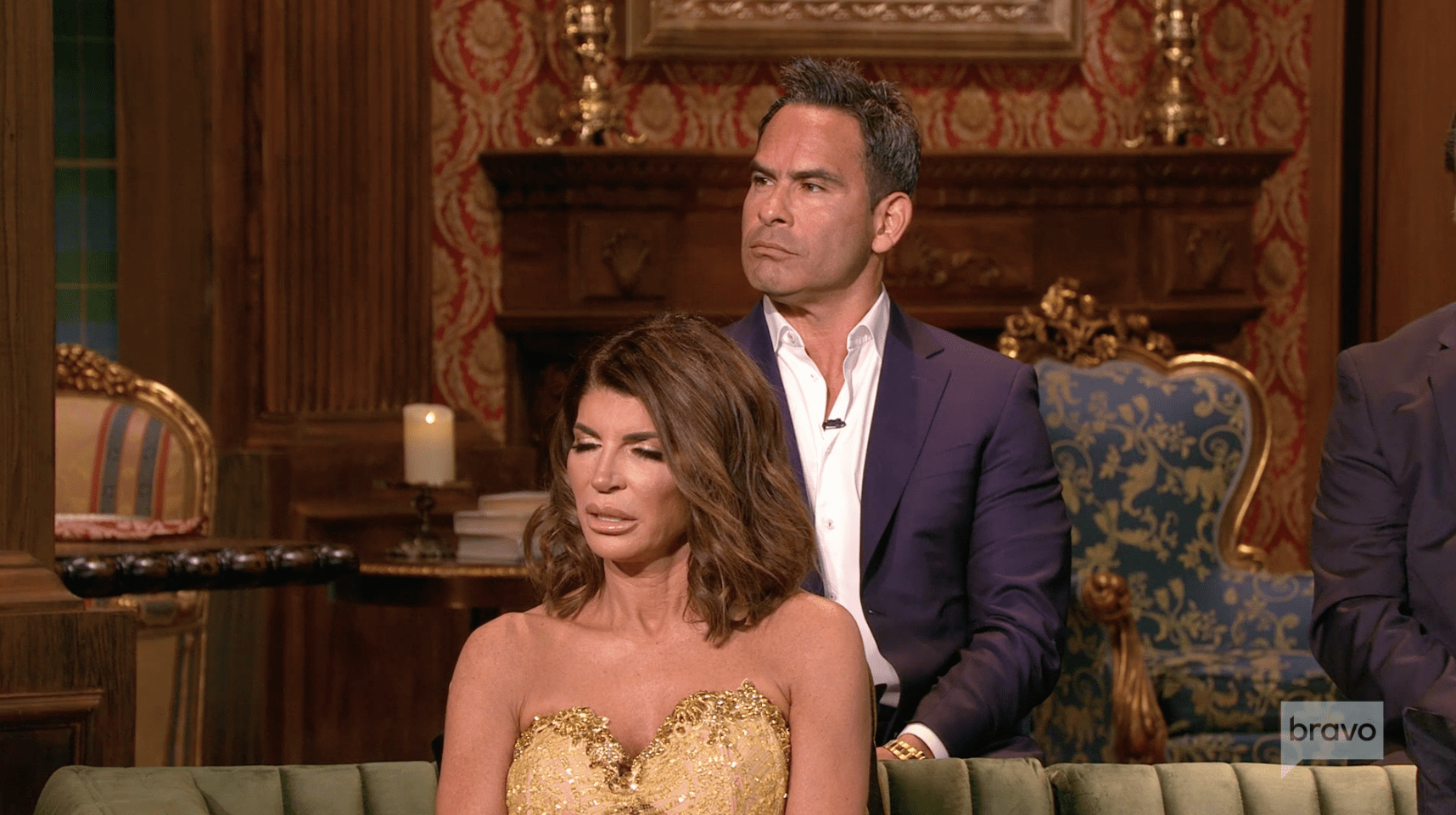 As tensions escalate, Teresa points out that Jennifer Aydin frequently takes her single sister out. Amid Joe and Melissa's attempts to defend themselves, Teresa abruptly tells Melissa to "shut the f-ck up," and insists that she only wants to converse with Joe. The exchange between Teresa and Melissa continues, with Teresa proclaiming that it will be the last time she speaks to Joe. He expresses his disbelief at this statement, while Melissa sarcastically remarks, "Oh, this is the last time? Let me shut up!"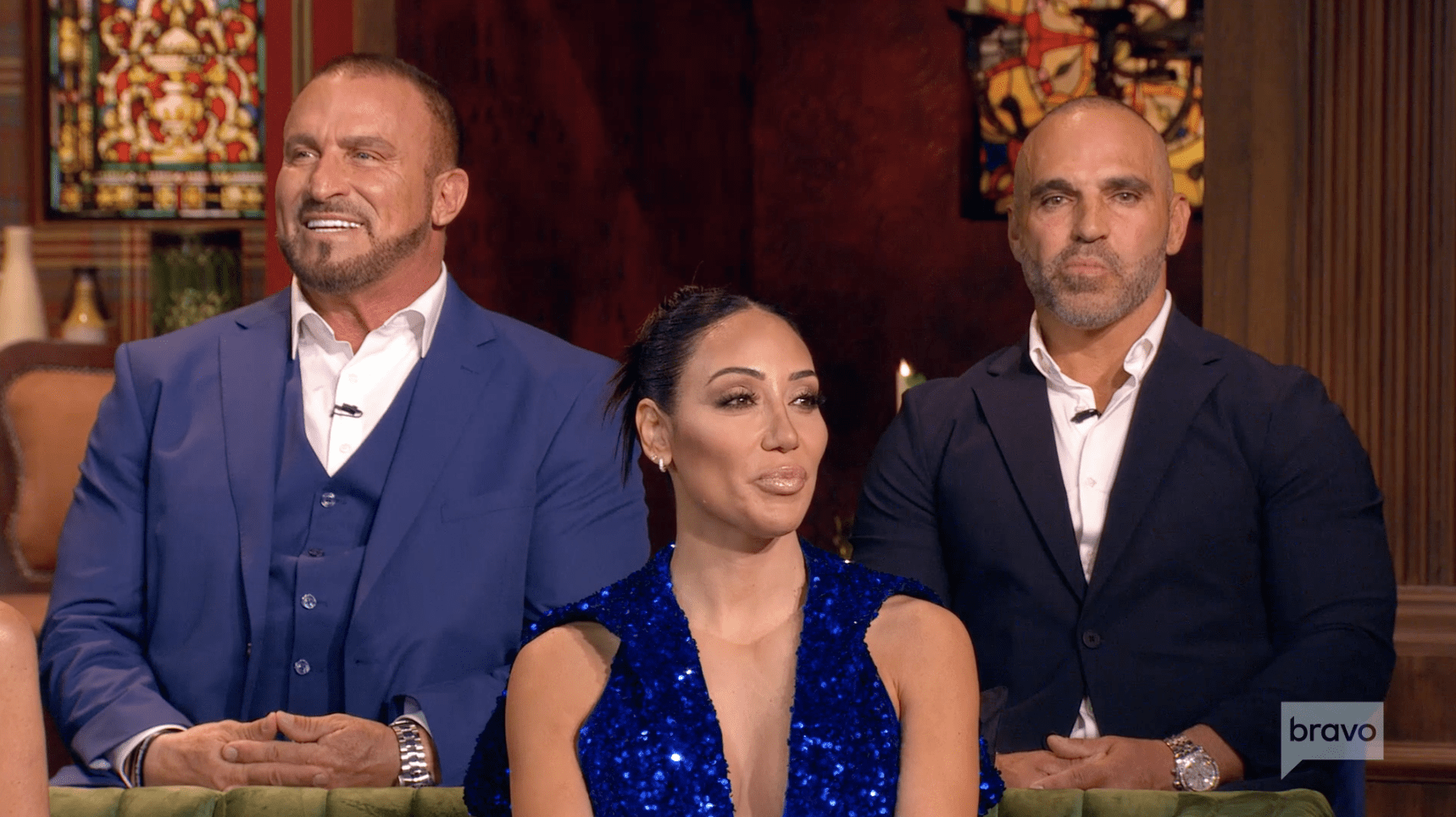 In the same breath, Melissa requests Joe to allow her to express herself, while Teresa claims that both Joe and Melissa have dragged her through the mud for a decade. Louie tries to intervene, but Andy's efforts to calm the situation prove futile. Teresa further lashes out, calling Melissa a "gaslighting b-tch," before the intensity gradually subsides.
A curious fan raises the question of why John Fuda received hazing instead of Nate Cabral, to which Nate expresses his belief that John can handle himself while he takes a more passive role. Andy then shifts the focus to "The Real Husbands of New Jersey," providing a recap of the husbands' experiences throughout the season. From Danielle Cabral expressing her admiration for her husband to Joe Gorga showcasing his skills with hotdogs during the calendar shoot, the husbands had their moments. They enjoyed shots and even shared some moments smoking weed during their guys' night out. John endured a chest waxing, and Andy initiates a discussion on who can handle alcohol the best. Paulie, Joe, and John all think they are the best, while Andy reads a fan question for Frank. The fan suggests that Frank struggles to let go of Dolores Catania, and Frank admits that Dolores is his best friend, requiring some adjustments along the way.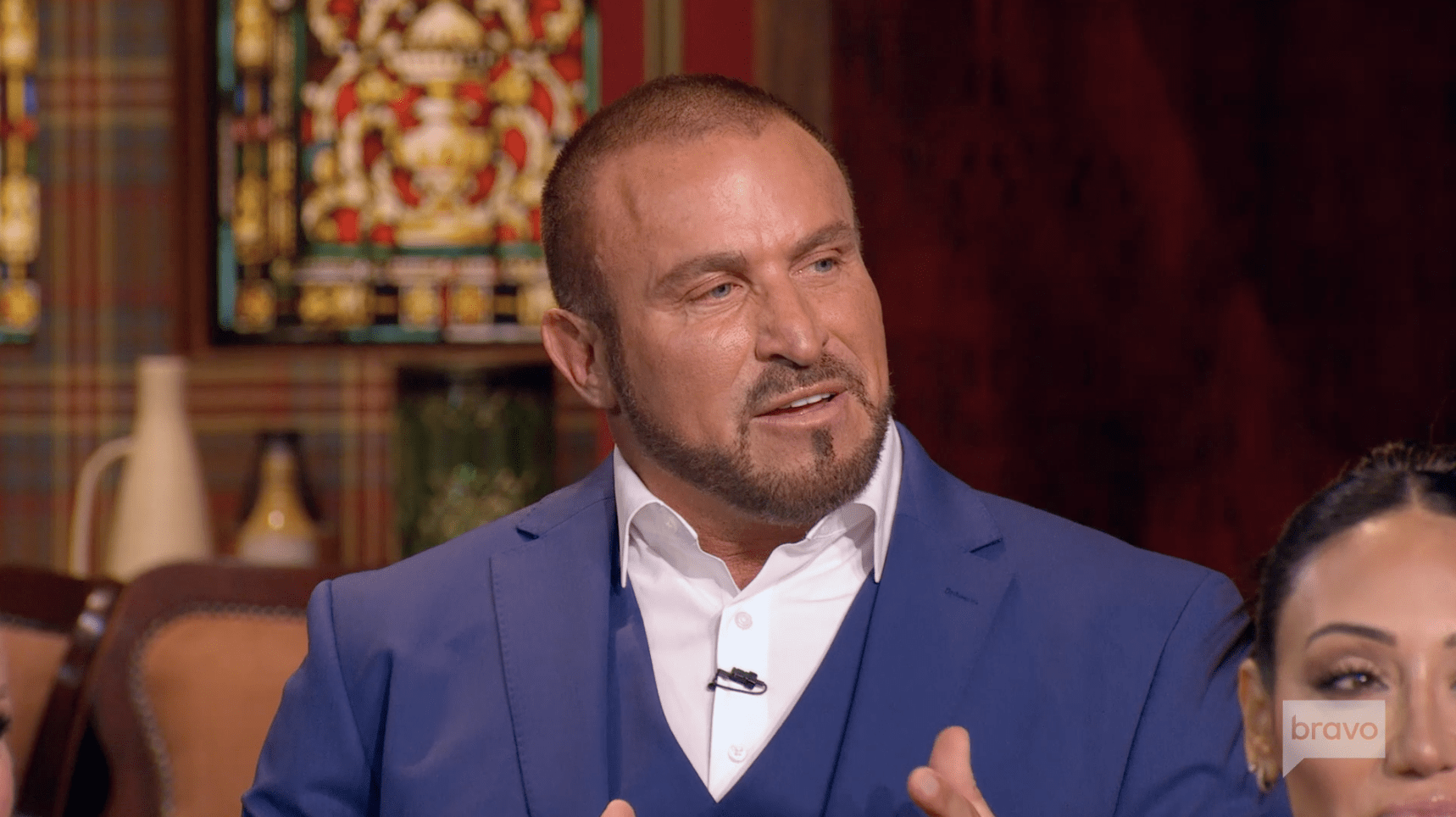 Speaking of unorthodox, Andy wonders why Frank's still living in David's (Dolores's ex-boyfriend) house. Andy asks if Frank's paying rent and luckily Frank reveals he and Brittany just closed on a house. Frank lets us know that he and Paulie are good now and Paulie agrees.
Andy moves onto Bill Aydin and his time in the pool house. A fan questions if Bill ever feels bad for ignoring his family and although the crew thinks the comment is harsh, Bill continues without a sweat. Bill understands he picked a profession that's not suitable for the perfect family life. Bill clarifies that he's in the pool house for thirty-minutes to an hour, as Andy comments on Bill looking miserable in therapy. Contrary to being miserable, Bill was feeling exhausted due to the constant need to cater to Jennifer's emotions, and he felt that the stress related to their children was being overlooked. However, Bill has actively implemented changes and is committed to resolving issues with Jennifer, actively working on their relationship.
Andy inquires with Paulie about when he plans to make Dolores an honest woman, and Paulie responds by stating that Dolores has no interest in getting married. Paulie explains that Dolores wants to take her time, but Andy makes it clear he has to get divorced first. Paulie says it's in the works and admits he has a good relationship with his ex-wife. Dolores shifts a bit and Paulie almost changes his answer before Andy interrupts. Paulie's ex-wife is good with Dolores and trust that Paulie wouldn't bring anyone around his kids that he didn't respect. Dolores is the first and only woman to meet Paulie's kids and everything is good in their hood.
Andy reads a tweet directed at Frank regarding Frankie Jr's job with Louie. Frank begins to speak but Dolores jumps in to say Frankie got another job. Joe asks what happened, as unaired footage shows Frank telling Joe that Louie closed his company without notifying his employees.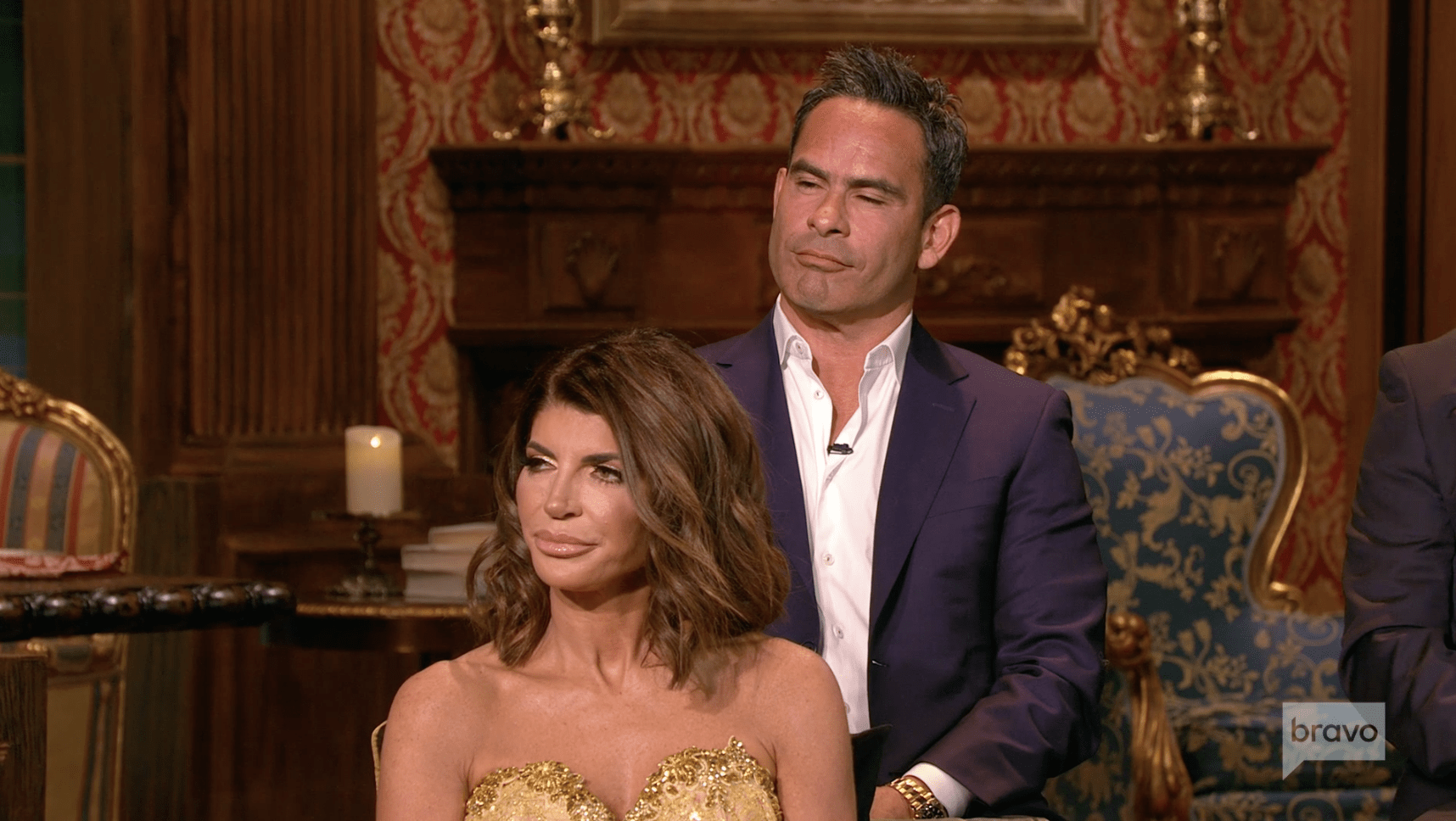 While Louie prompts Frank to share the information, Dolores interjects by revealing that Louie offered Frankie a job and that Frankie is genuinely content working for him. Andy asks Dolores why she's upset, and Dolores doesn't want her kids talked about in this "cesspit." While Joe asserts that Frankie Jr. disclosed certain information to him, Teresa vehemently accuses Joe of lying through his teeth. In response, Dolores firmly tells Joe that they never had any issues in the past and expresses her desire to avoid any conflicts. Dolores is done talking about this and thanks Louie for hiring Frankie Jr.
Amid the kerfuffle, John Fuda interjects by accusing Louie of investigating his son Jaiden's mother, who is currently incarcerated. Louie denies any involvement in such an investigation, but John suggests that he has proof otherwise. John warns Louie to keep his kid out of it, as chaos erupts.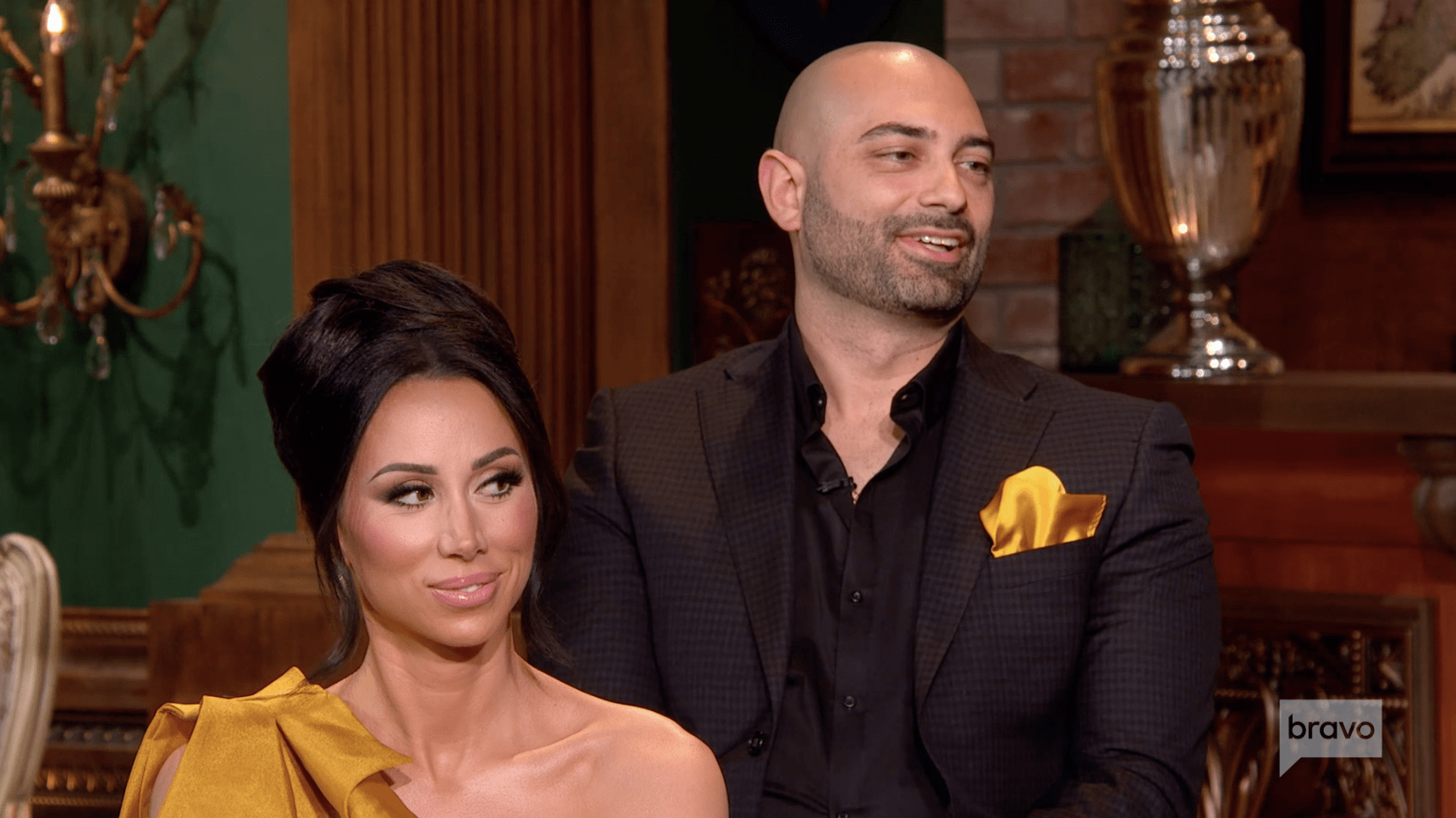 Andy's trying to get answers, but he can't get a word in edgewise. Louie continues to deny the accusation, while John claims a phone number was traced and leads back to Bo Dietl. Teresa claims they have no interest in investigating anyone but Andy wonders what Louie meant when he mentioned Bo Dietl's name during the finale. Louie claims he was misstated and that he said those things out of anger. However, Andy checks Louie on the fact he said the same thing the very next day. A flashback shows Louie telling the ladies that Bo Dietl is his best friend and that he has files on everyone. Rachel tells the group that she and Melissa were out to lunch and Bo Dietl sat right next to them. John calls Louie a liar.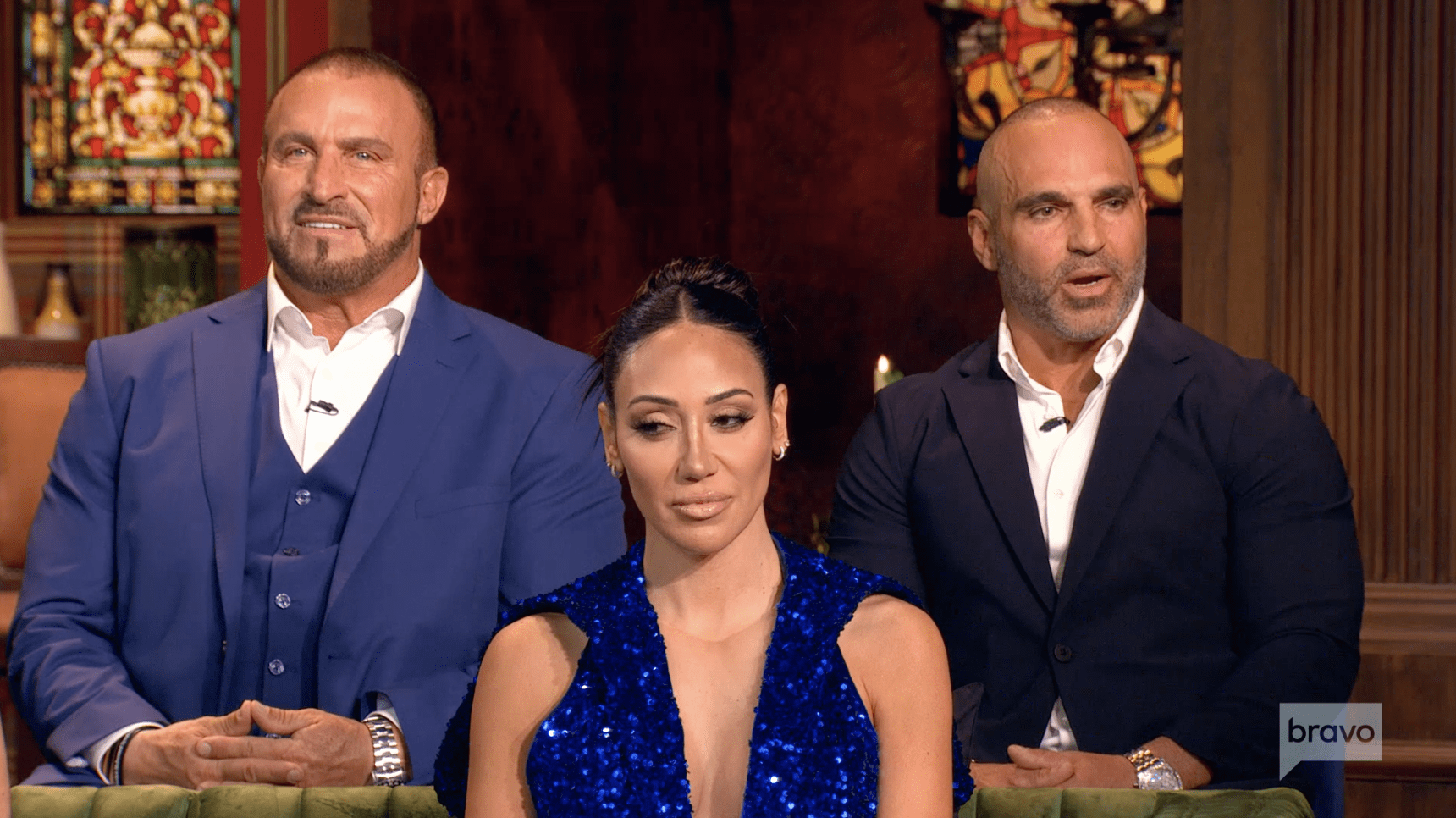 Teresa demands proof, seeking validation for the claims being made. The atmosphere grows tense with everyone raising their voices, and in the midst of the chaos, Margaret pulls out an envelope. However, Andy intervenes, requesting them to wait, and Margaret puts the envelope behind her.
Suddenly, Andy shares that he received a call from production, informing him that Louie had hired security for himself. Louie asserts that security was arranged on his behalf by Bo Dietl. Louie explains that both he and Teresa have received death threats, but the accusation is met with laughter from the others. Louie expresses that he is being harassed — leading Teresa to suspect Margaret as the culprit. The focus shifts towards Margaret, with Jennifer chiming in that Margaret is spreading abusive claims about Louie. However, Melissa contends that it is Louie's exes who are spreading his personal information.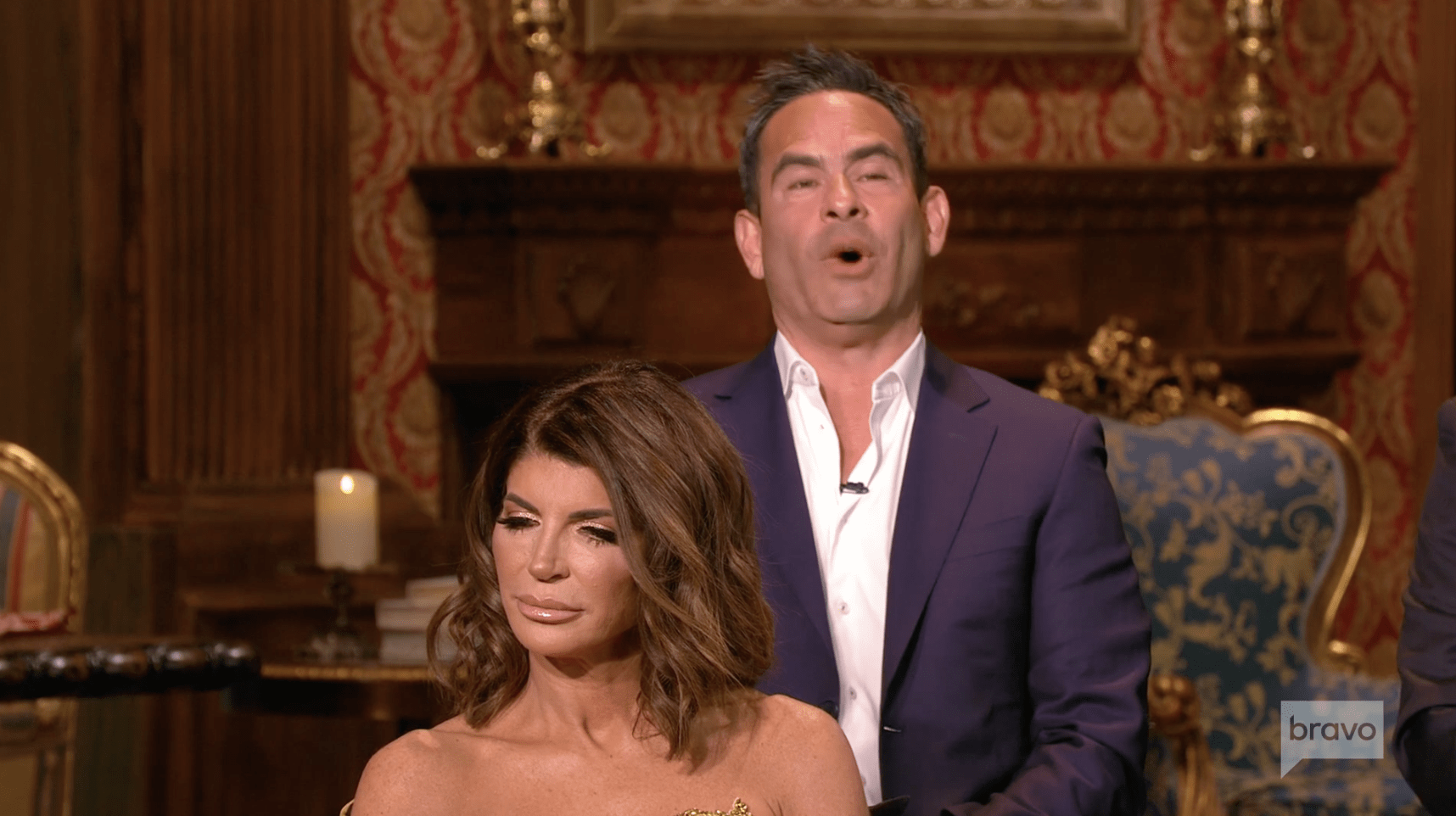 Margaret firmly denies the allegations, asserting that the situation is not as described. Margaret reveals that there is an ongoing criminal investigation, prompting Louie to call her a liar. In response, Margaret presents phone records to support her claims, demonstrating that Louie's number appears in the records. While Louie acknowledges that the number is indeed his cell number, he remains uncertain as to why it is reflected in the records.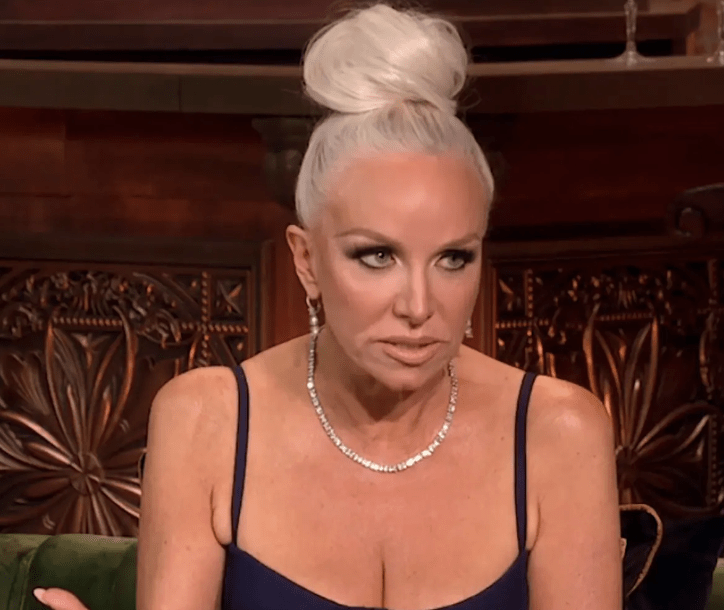 Frank questions Louie about his alleged involvement in hiring Bo Dietl for a smear campaign, but Louie vehemently denies such accusations. Frank, Joe B, and John collectively label Louie as a liar, leaving Danielle perplexed about the definition of a smear campaign. Melissa fills Danielle in on the details, while Margaret contends that Louie is attempting to intimidate them. Louie warns Margaret to be careful, prompting Joe Gorga to inquire about Louie's business ventures. Louie mentions that Joe faced a million-dollar fine on his property, leading Joe to claim that they possess inside information due to the women Louie hires sharing information with them. Louie asserts that he knows everything, while Andy reads another question regarding the failed pizza venture involving Louie and Joe.
Louie takes the opportunity to explain his perspective, stating that Joe approached him with the idea for the pizza oven and he wrote the check, assuming they were moving forward with the plan. Melissa tries to interject, but Teresa interrupts her, prompting Andy to intervene and regain control of the situation. Melissa and Teresa engage in a back-and-forth argument until Andy calls them out for their embarrassing behavior. Louie concludes his statement.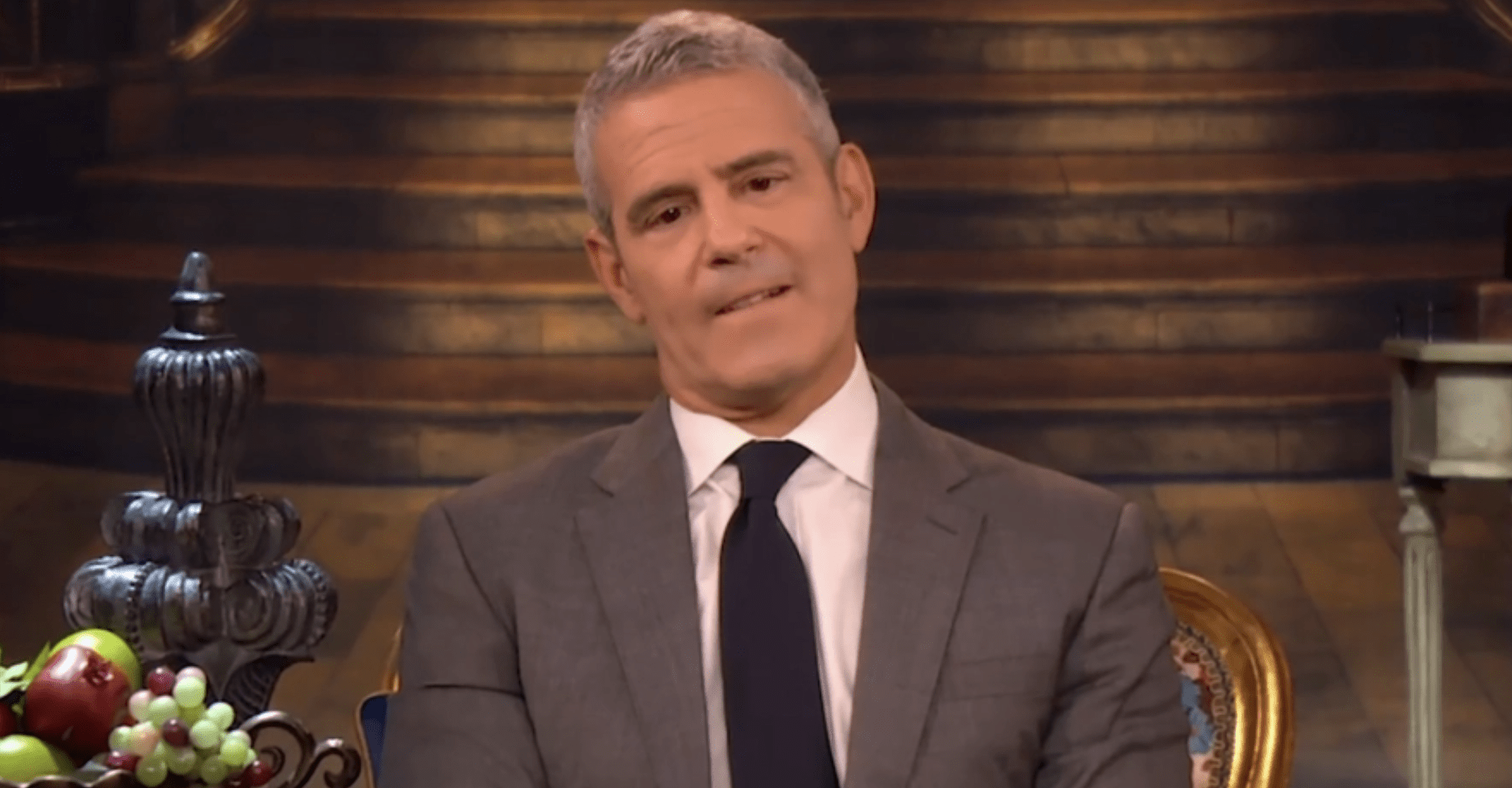 Joe acknowledges that he was upset but claims that he and Louie never discussed the financial aspect. Joe accuses Louie of stealing the idea from him. Andy turns to John for his opinion on the matter, and John expresses the belief that there should have been a documented agreement in place. However, before he can finish, Teresa and Melissa resume their argument once again. Andy raises his voice, instructing Teresa to let him speak, leaving the room in stunned silence. John manages to finish his point, while Rachel opines that their business was set up for failure. Andy then brings up the issues with Dina Manzo, but Louie claims that Joe is lying, reigniting their heated exchange.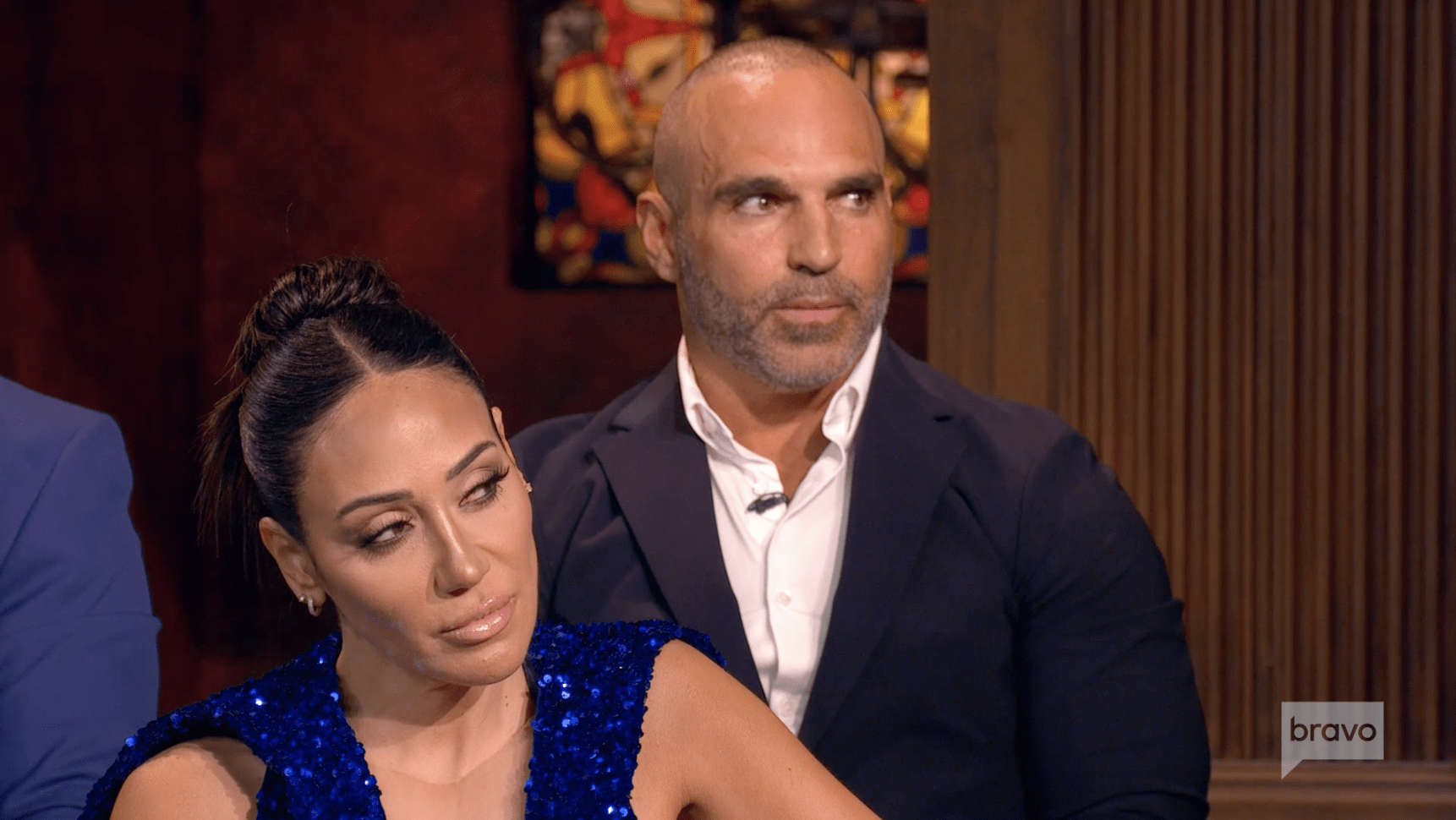 Louie says Joe has a big mouth as Joe accuses Louie of being a woman abuser. Joe's  done being nice as Teresa says Louie treats her great as Joe and Louie have a war of words. Joe says Louie switches in a second and Louie says Joe will regret his actions in due time. Andy dives into Teresa's accusation that Joe and Melissa are responsible for her prison term. Frank ask Joe to release him from the attorney-client privilege and we find out Frank was Joe's attorney. Frank says they were contacted by the FBI and, but that Joe never went or said a word. Teresa doesn't believe him as Joe offers to take a lie detector. Melissa tries to talk Joe out of it and Teresa tells Joe he's breaking her heart in Italian. Joe replies Teresa broke his heart a long time ago and Danielle tells Melissa to let them talk when she tries jump in.
Teresa continues saying Joe spoke to their ex business partners, as Joe asserts his innocence. Teresa doesn't think Jacqueline has a reason to lie. Teresa doesn't care and says she didn't talk sh-t about Jacqueline for ten years, but Andy rolls the tape. Teresa says it's disgraceful and Joe says if Teresa would've met a regular guy with Louie's videos then it would be a different story. Joe calls Louie a disaster, as Teresa stands up and tells Joe he also has past secrets. Joe tells Teresa to tell it all as the crew gets Teresa to sit back down. Teresa blames Margaret for ruining her family and even Andy's over Teresa's antics. Andy wonders if Joe regrets not going to the wedding but Joe doesn't regret it at all. Joe was upset about pizza gate thing, but the final straw was accusing Melissa of cheating on him.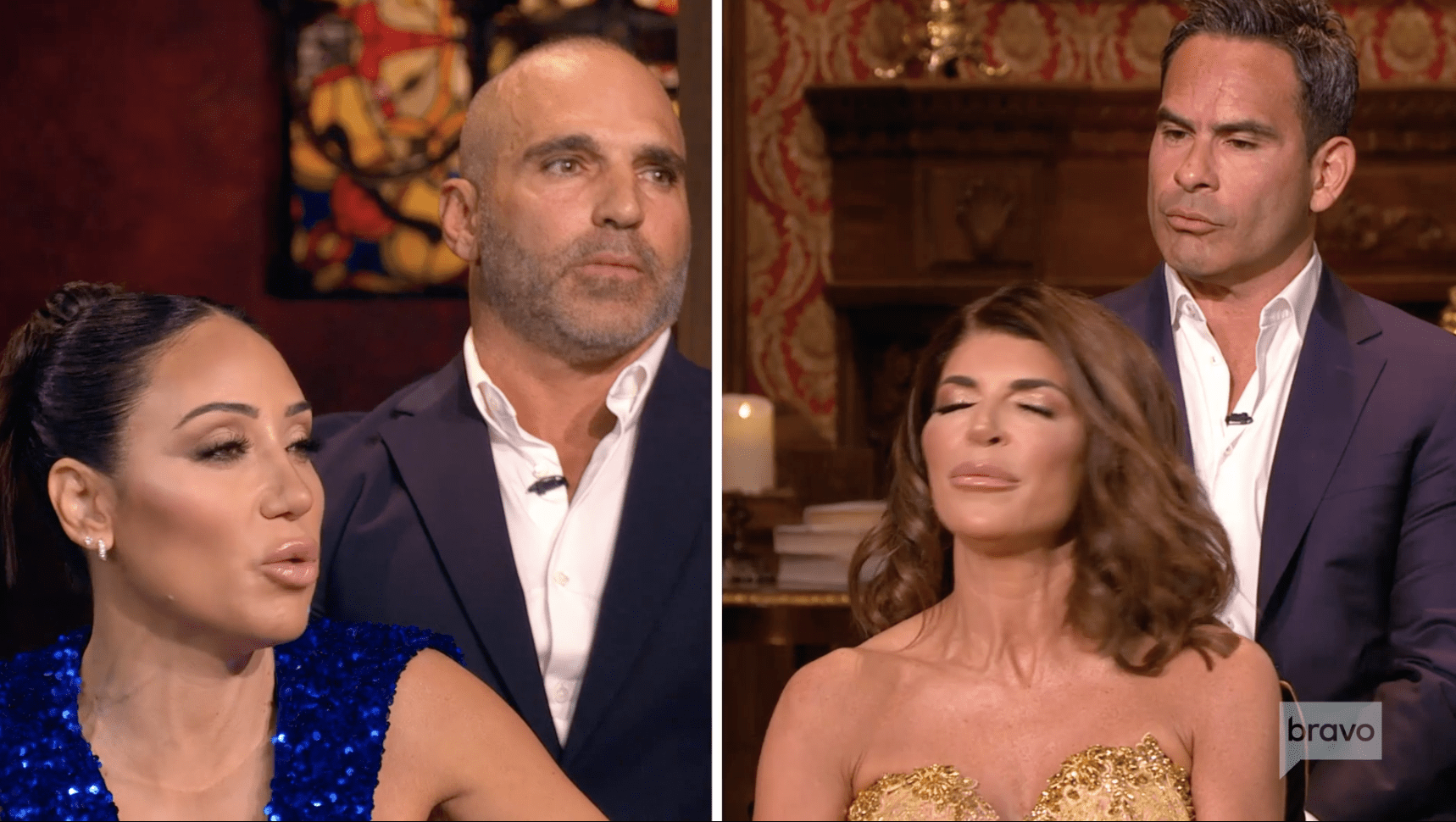 Louie calls Joe a liar and says he called Joe so he could get in front of it and handle it secretly. Andy ask why not invite Melissa, but Louie blows it off that he just called Joe and that he's sorry. Joe says Louie accused Melissa of cheating with multiple men as Teresa and Louie deny it. Andy wonders if Teresa told Joe he could do better than Melissa and Teresa denies she said that. Joe clarifies Gia Giudice said it and Teresa calls Gia to get answers. However, Gia says she called Joe about the wedding and never said anything about her aunt Melissa. Andy hangs up with Gia as Melissa wonders why Joe would make something up like that. Teresa replies it's because Joe's married to her and they're back to arguing. Teresa tells Joe she was always good to Joe and becomes emotional as she says Joe was her best-friend. Teresa cries and runs off-stage while calling them disgraceful. Teresa doesn't want anyone following her and luckily no one moves but Louie. 
Melissa thinks Teresa's embarrassed as Teresa cries backstage and calls Gia for emotional support. Danielle tries to get Joe and Teresa to make up, but Joe knows Teresa's never going to let things go. Melissa believes Gia's lying for Teresa, but Jennifer gives Gia the benefit of doubt. Teresa tells Gia she wants Joe out of her life as Frank admits he never seen their relationship so bad, even with Joe Giudice. Melissa's done with the PI and smear campaign, but Jennifer believes Louie didn't do anything. Andy wonders what Louie's goal is in investigating the group, but John can't answer that. Melissa thinks since there's so much on Louie out there that Louie wants something on everyone.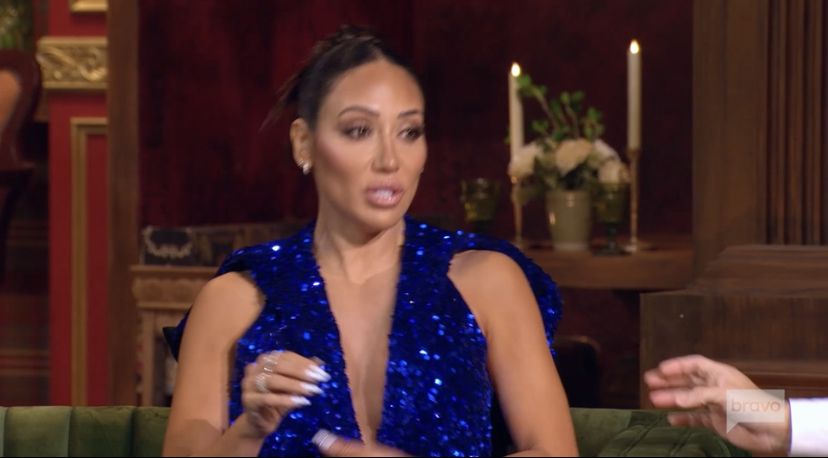 Andy checks on Teresa and she gets emotional while explaining what Gia said. Louie tries to straighten things up as Andy brings them both back onstage. Louie thinks the crew is building a false narrative and Andy apologizes to Teresa for yelling at her. Dolores wants everyone to let Joe and Teresa talk, and Andy gives the siblings the floor. Teresa's heartbroken as Joe pours his heart out and says he'll always love her. Teresa wants honor while she's alive and Joe tells them to forget about him and he'll forget about them. Louie tells Joe goodbye as Frank gets Louie's word that he'll stop with the PI. Louie shakes on it as Andy dismisses the fellas. As the guys go to take shots in Joe's room, Louie tells Rachel Fuda that she's a good mother and says he never hired a PI. John tells Louie to admit it like a man because he know he did it.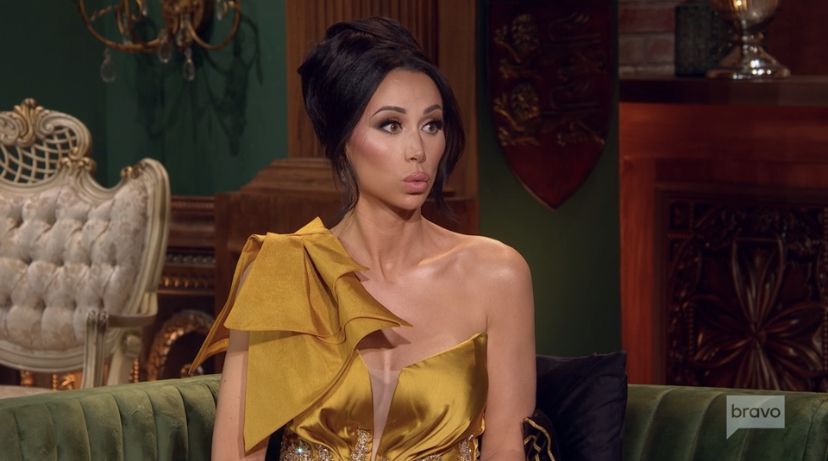 Despite John's persistent badgering, Louie remains resolute and maintains his innocence, standing his ground without wavering. Joe intervenes, stepping in to separate the two and allowing the situation to calm down and settle.
As the reunion nears its end, Andy acknowledges the somber atmosphere and turns to Dolores to gather her thoughts. Dolores expresses her belief that nothing has been truly resolved and suggests that it may be time for Teresa and Joe to go their separate ways. Danielle shares her uncertainty about how she will handle her relationship with her brother moving forward, but she emphasizes her desire to avoid toxic conflicts. Jennifer admits that she is willing to let go of the arsenal of grievances and wants to return to a point where they can have fun together. Margaret considers herself a forgiving person and envisions the possibility of repairing her relationship with Jennifer.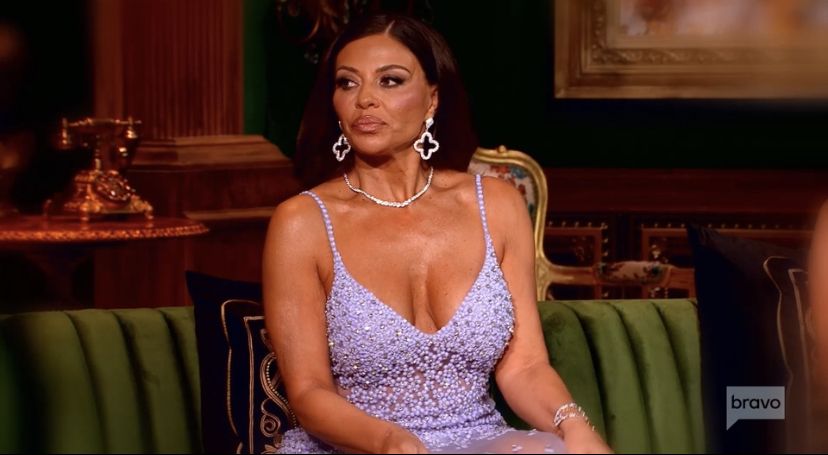 Margaret holds no grudges against Danielle, while Rachel is eager to move forward with her. Andy acknowledges Teresa and Melissa for their improved openness and ability to coexist this season. Teresa insists she has exhausted all efforts, closing the door on further attempts. Melissa acknowledges Teresa's continued dislike towards her but remains willing to follow the family's chosen path. Andy expresses his appreciation to the ladies for an amazing season as they toast with Irish whiskey and pizza. Dolores proposes a final toast, marking the end of The Real Housewives of New Jersey.
Stay Connected With All About The Tea: Twitter Ι Instagram Ι YouTube Ι Facebook Ι Send Us Tips   
LeAndra Williams is a content contributor at All About The Tea. She's a social worker and (super) mom by day, and a reality T.V. junkie by night.