'RHOA' RECAP: Kandi Flies Into A Rage After Marlo Calls Out Her Heartless Behavior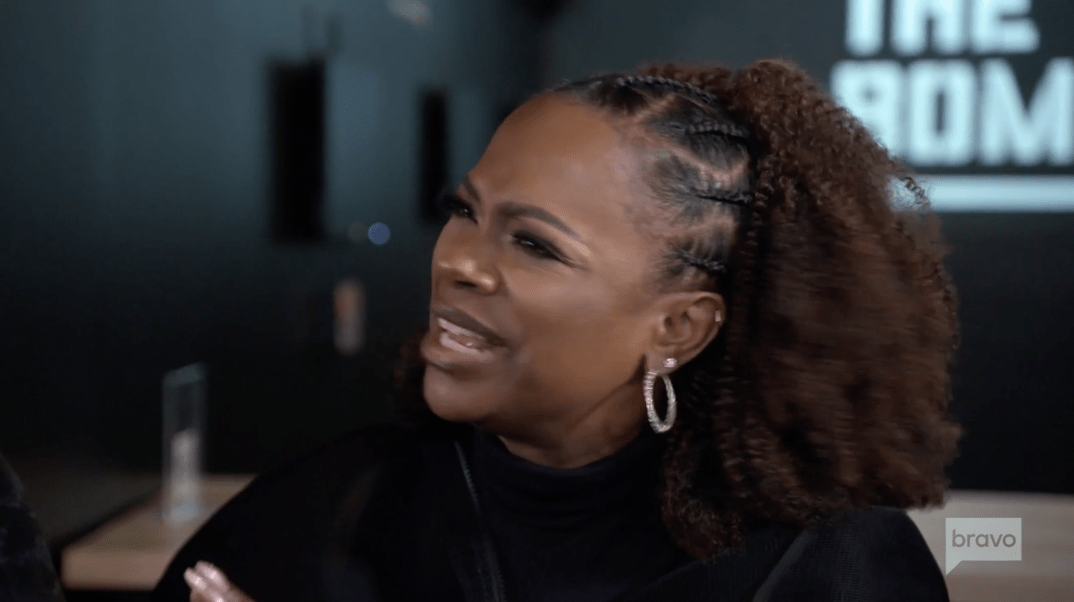 'RHOA' RECAP: Kandi Flies Into A Rage After Marlo Calls Out Her Heartless Behavior
Welcome to a new episode of The Real Housewives of Atlanta. Before we get to the present, producers take us back to 2011 to review Marlo Hampton and Kandi Burruss history. Over the years Kandi questioned where Marlo gets her money from to Marlo asking if Kandi's a lesbian in 2016. In 2018, Kandi and Marlo laughed about fashions and even met Marlo's nephews, William, and Michael in 2019. In 2020, unseen footage shows the text exchange between Marlo and Kandi on August 13th, 2020; with Marlo explaining what happened to Quentin. The next day, Marlo visits Kandi at home and in her confessional, Kandi calls Marlo kind-hearted, thoughtful and a sweet person. Marlo hugs Riley and tells Kandi she doesn't want to rain on their positive day but proceeds to bring up Quentin.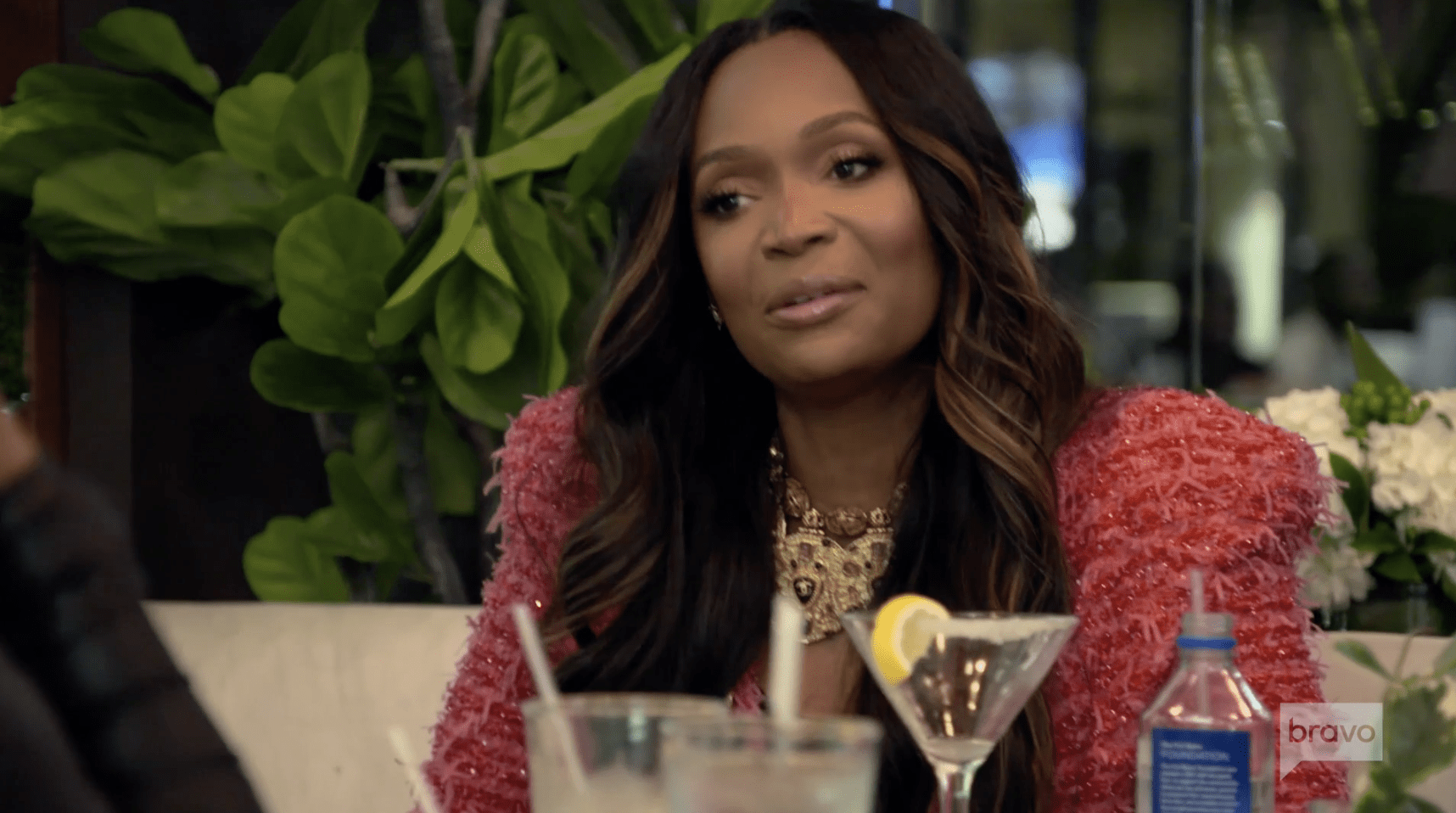 Marlo explains that Quentin's roommate murdered him and as Marlo gets emotional, Kandi stands up to console her. In her confessional, Kandi understands where Marlo's coming from and connects with Marlo by describing how she felt after her brother died. After his death, Kandi became numb and can relate to how Marlo feels. The timeline continues to 2021 when Marlo supported Kandi during her Halloween photoshoot. Marlo appreciates Kandi sending cards for her nephews graduation but pivots to say she'd like Kandi to be more hands on. Then we get to Marlo's first season as a peach holder, where she calls Kandi a h*e to Sheree Whitfield. At the present, Marlo meets her managers Justin and Tye for drinks. After ordering, Marlo tells her employees how much she needed this while explaining their business/friendship.
As drinks come out, Tye and Marlo joke about Marlo's future man as Marlo list her criteria for men. Marlo's nervous to date but Tye wants Marlo to have adult time without Michael and William. Marlo explains Courtney Rhoades invited the ladies out, but Marlo's upset with Drew Sidora for running her mouth to Kenya Moore. Marlo claims the story got twisted and says when Drew brought up the incident, Kandi scolded Drew into silence. Footage shows the opposite as Marlo's complains of Drew using synonyms. Marlo thinks Kandi picks and choose what to discuss and only uses their platform to promote her businesses. Tye agrees with everything Marlo says as Marlo continues painting Kandi as a bad person. Marlo wanted Drew to hold Kandi accountable as Marlo lies about how the situation escalated.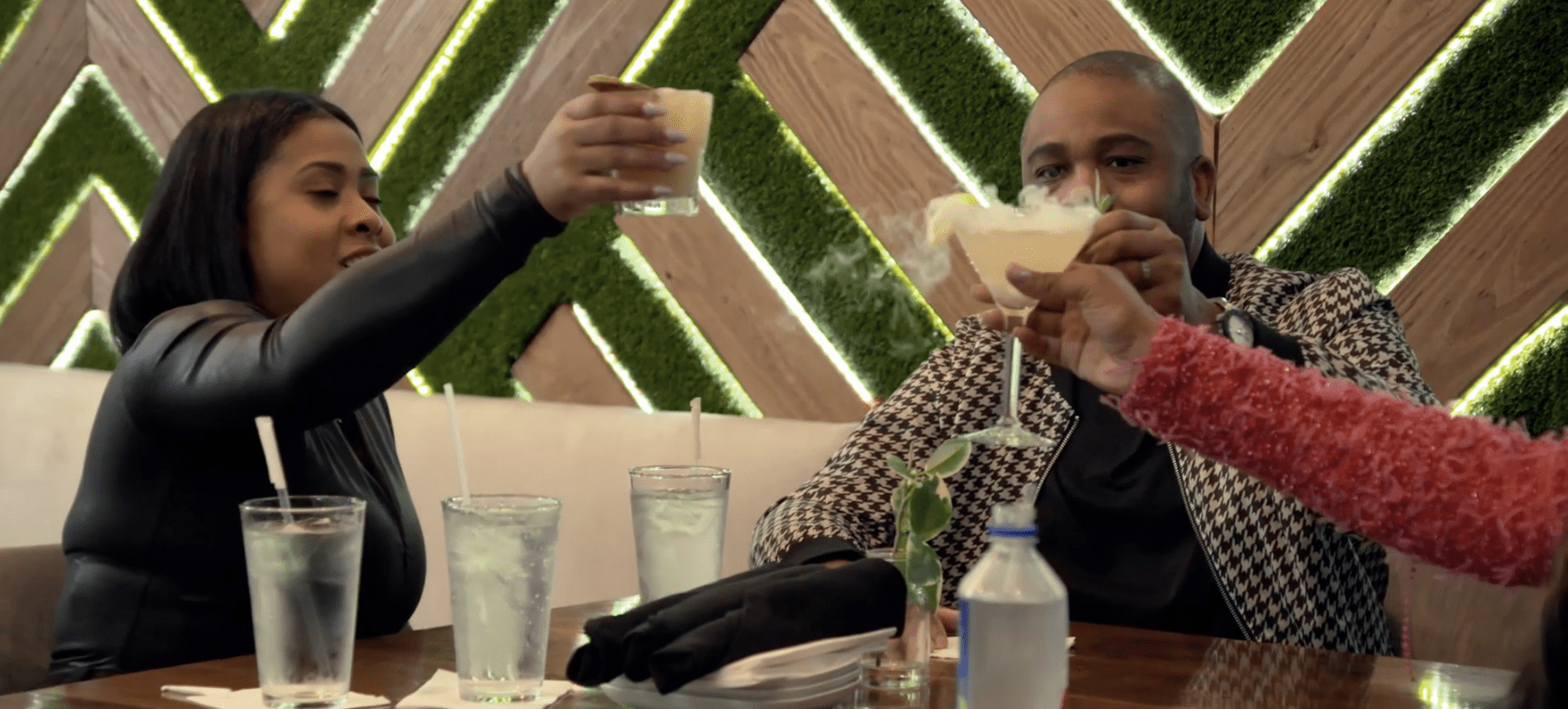 Marlo doesn't know what happened and claims she doesn't know what made her say those things as Tye gives Marlo excuses to hate Kandi. Tye thinks Kandi sidestepped the situation as Justine wonders what Marlo's sister thinks. Marlo says her family brought Kandi up to her and while Tye's talking; Marlo thought Kandi should've sent flowers and catered with OLG. Tye thinks Marlo is extra but believes Kandi should've sent condolences to their family. Tye pretends to understand Marlo as she claims Kandi didn't acknowledge Quentin.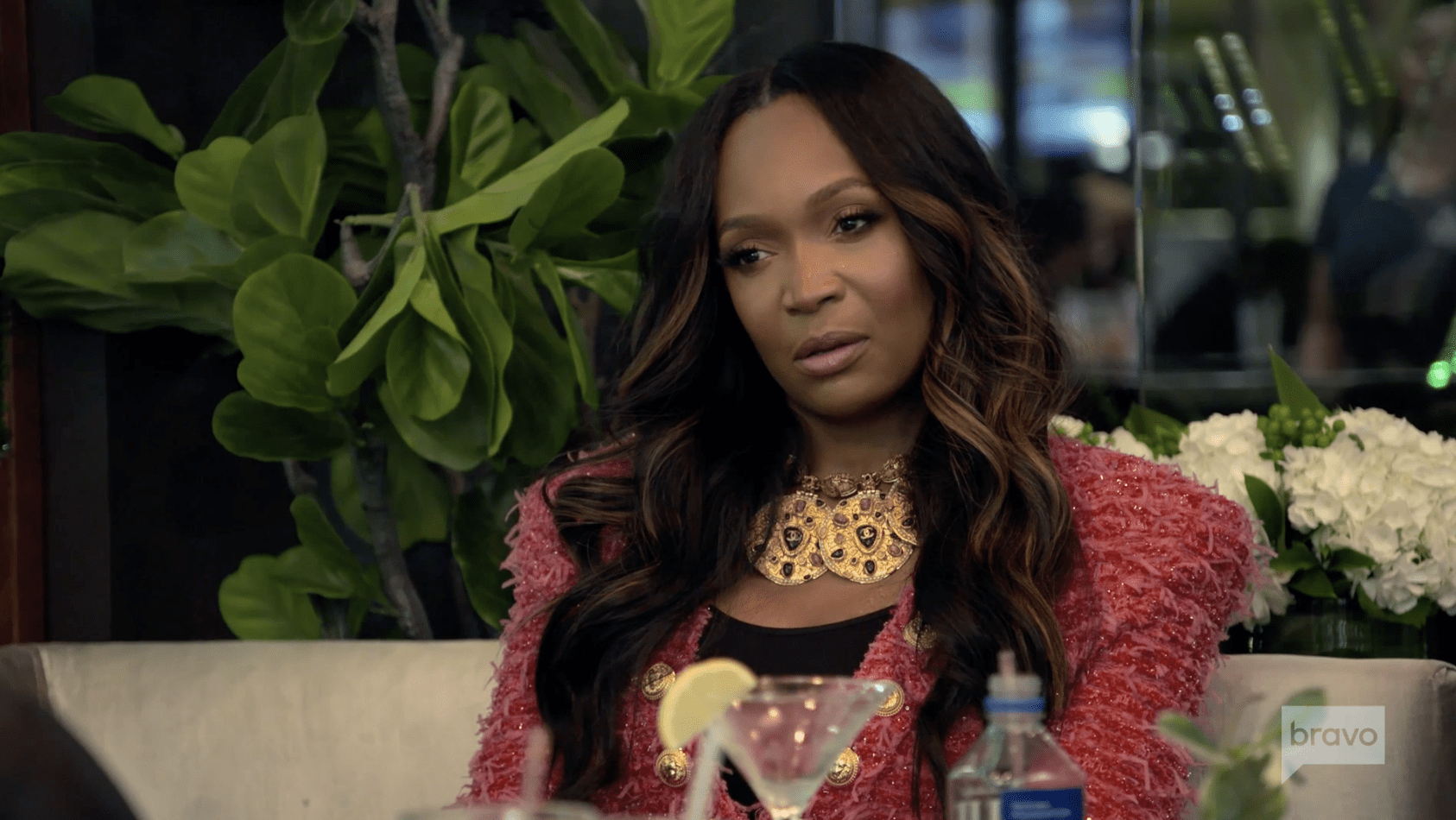 Tye thinks Marlo should put it away and go out and have a good time with the girls.
We'll see. Later, Sanya Richards-Ross is working on "Mommy Nation," with Mama Sharon and her sister, Shari. Sanya's excited for her new adventures as she shades Shari for her husband quitting on Sanya. Mama Sharon tells Sanya she can depend on some of them, as Sanya tries to talk with Shari. Sanya understands she may have offended Shari and Shari laughs while admitting she was shocked. Shari and Sanya  agree they have live in help, but the bottom line is Ross wants them out. Sanya doesn't think Ross considers the logistics but thinks Sanya's relatives will figure it out.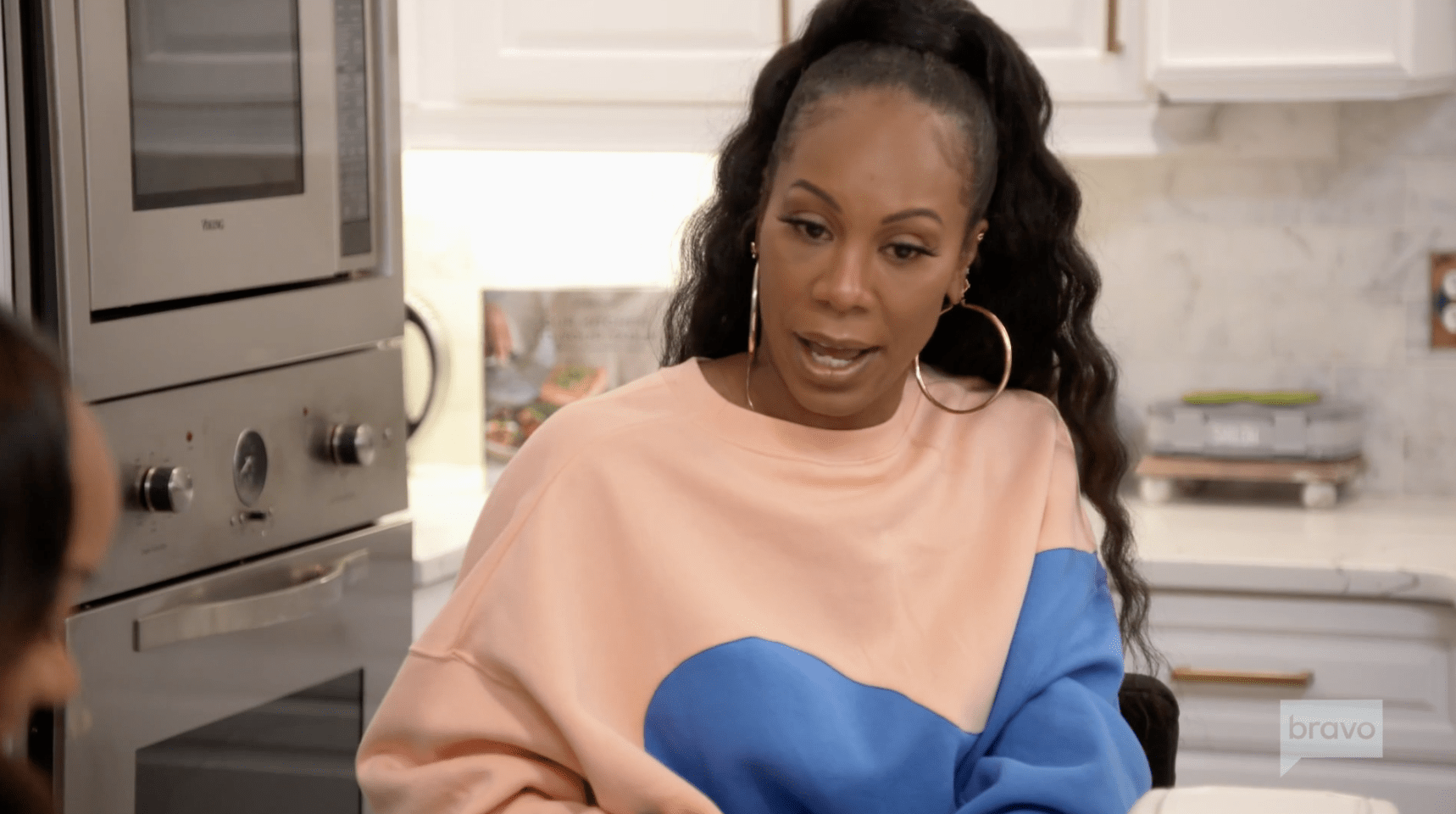 Sanya wants to have a conversation with Ross, but Shari and Mama Sharon say their leaving regardless. Although Sanya's Dad wants to stay, I think it's time they go their separate ways. Sanya says, "I don't think I have to work that hard for yall to stay" as Shari takes offense and replies with "It's funny you say that." Shari states that Sanya will feel the gaping hole when their gone and Sanya wonders what she's fighting for if they already decided to leave. Deuce tells Sanya that he's tired and as she takes him to lay down; Shari ask Sanya to look for something, but Sanya says no, "Since you don't like living here, you look for your own mac and cheese, chile." Yikes!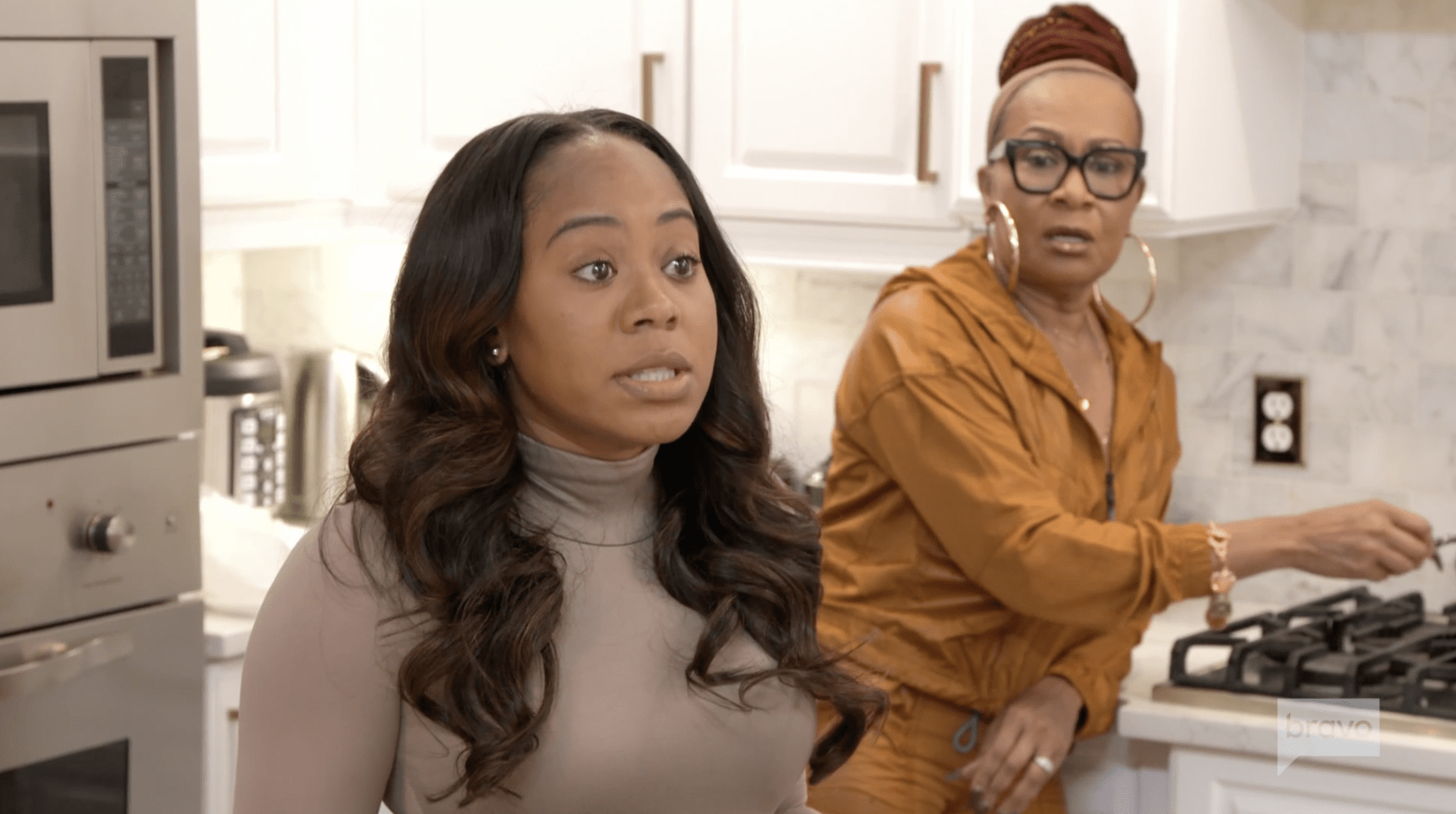 The next day, Kenya brings Akilah to her newest business adventure, a Kenya Moore Hair Care Spa. Kenya wants to leave a legacy for Brooklyn and is excited for what's to come. Kenya explains the amenities to Akilah and Kenya wants the works! Valet Parking, a white bar, six stations, with beautiful light fixtures. Kenya wants it all but Akilah wonders how Kenya's going to fit dating into her busy schedule. Kenya admits she doesn't know how to date but wants to continue dating Roi. Kenya thinks she's an awkward dater as Akilah promises to be Kenya's Zen friend. Kenya invites Akilah to meet the girls as she tells Akilah about Marlo's actions in Birmingham. Akilah's shocked to learn Marlo kicked Kenya's door and that Brooklyn woke up scared. Kenya's over Marlo and tells Akilah about Marlo slicing women in the face.
Kenya wanted to be cordial to Marlo, but Kenya's fed up as Akilah ask for a break from all the tea Kenya's serving. Later, Sheree's home with her daughter as she waits for her granddaughter Mecca to stop by. Sheree's son Kairo had a baby and she's beautiful! Just three months old, Mecca comes in with Kairo and his girlfriend Alina. Sheree gives Kairo props for being such a great father and wishes she had that support from the men in her life. Sheree explains she had to take care of her kids by herself as Sheree and Kairo prep to capture Mecca's handprint. Kairo admits he's tired and Sheree suggest they add cereal to Mecca's bottle to help her sleep through the night. 
Kaleigh has to finish her work and says goodbye as Mecca falls asleep. Kairo wets Mecca's hand as they complete the hand molding. Sheree gets emotional as she explains how amazing Kario is doing and we really saw this man grow up! Later, Ralph Pittman's playing basketball with their sons as Drew brings their daughter home from the hospital. Drew checks in on Ralph as the two discuss Ralph's many surgeries; and we find out Ralph had a penis operation. As the boys continue playing, Drew explains in her confessional how supportive her parents were of her career and how much she wants to give that support to her kids. Drew tells Ralph about the event Courtney invited the ladies to but is skeptical of being around Marlo after their argument.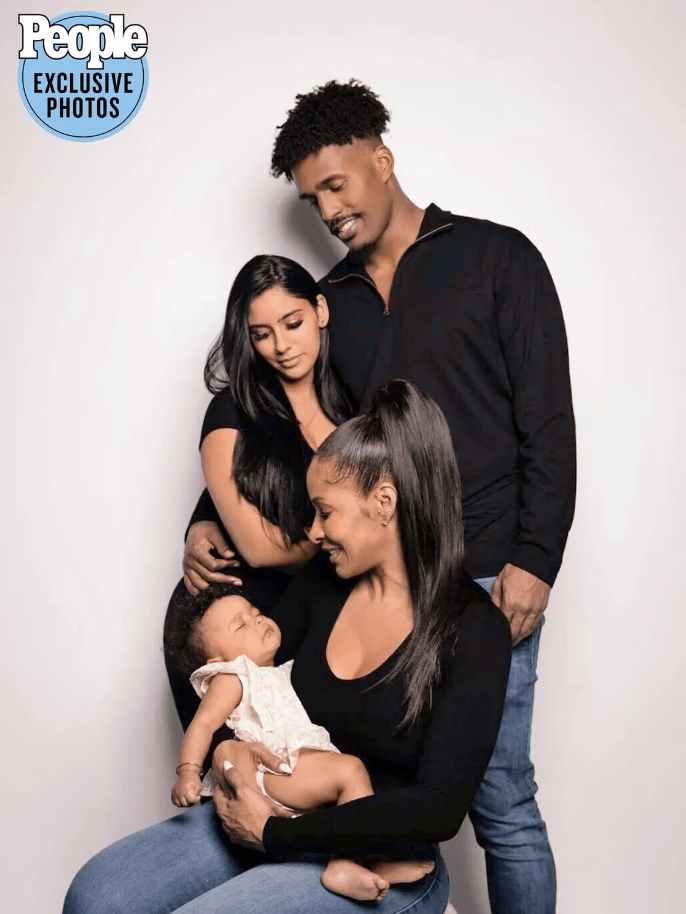 Ralph saw Marlo turn up at the winery, as Drew explains what happened between she and Marlo. Drew doesn't use the word "shooting" and claims she doesn't want to perpetuate the violence in any way. Drew wanted to check in with Kandi, but Marlo felt Drew was too easy on Kandi. Ralph's surprised at what transpired as Drew thinks Marlo's unreasonable. Drew doesn't know who Marlo is and admits she'll have to exhibit some self-control, to be around that demon. Drew's ready to fight but Ralph's hesitant Drew will win due to Marlo's big size. Drew ain't worried and proclaims she's from Chicago! I know that's right! The next day, Kenya meets with her architect as Sheree talks all things Martel Holt. Marlo's pretending to do Miss Sharon's homework with William and Michael as they list their gratitude's. 
At Kandi's, she checks in with Todd and his movie as she explains Todd's been working on his movies for over a year. Kandi and Todd go over character ideas as Kandi lets Todd know about Courtney's invitation. Kandi didn't want to go at first but admits after Monyetta Shaw-Carter said she was going, decided to tag along. Kandi explains the event as wants to find an outfit that can get messed up. Kandi calls Kenya to see what she's wearing and catches Kenya at a party for Brooklyn. Kandi ask if Kenya's going and although Courtney left Kandi and Kenya off the message; Kenya agreed to come but notices the shade. Kenya then tells Kandi about meeting up with Drew and Sheree and the issue between Marlo and Drew. Kenya explains Marlo wanted Drew to go hard on Kandi and now Kandi's officially pissed.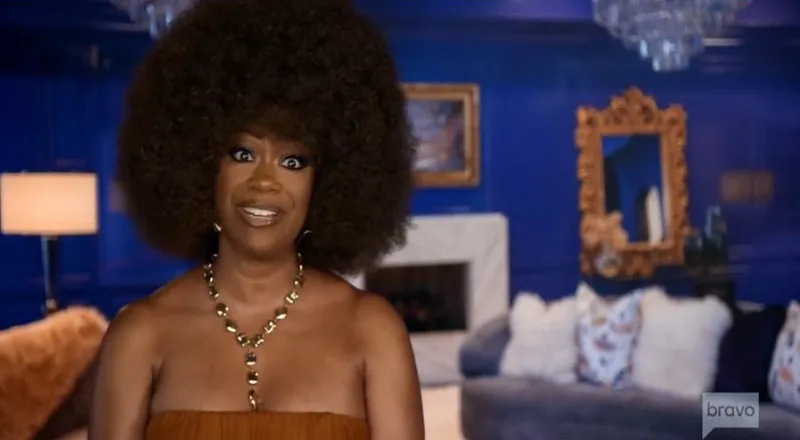 Kenya tells Kandi that Marlo's upset that Kandi didn't send flowers and Kandi thinks Marlo's trying to amp up a negative situation to tear Kandi down. Kenya tells Kandi she'll have her back as Kandi curses Marlo out in her confessional. Kandi wonders what Marlo's on as Todd tells Kandi that Marlo just wants attention and to go shut it down. The night of Courtney's event, Drew arrives first as she chats with "cousin" Courtney as Drew thanks Courtney for inviting them. Drew and Courtney order pregame drinks as Marlo arrives and tries to speak to Drew. Marlo says hi to Drew twice and Drew gives a nod while Marlo goes to the bathroom. Drew tells Courtney that Marlo attacked her and hasn't talked to Marlo since. Monyetta arrives as Sheree follows behind. Sanya arrives as the ladies ask Sheree about Martel as Kenya and Kandi show up.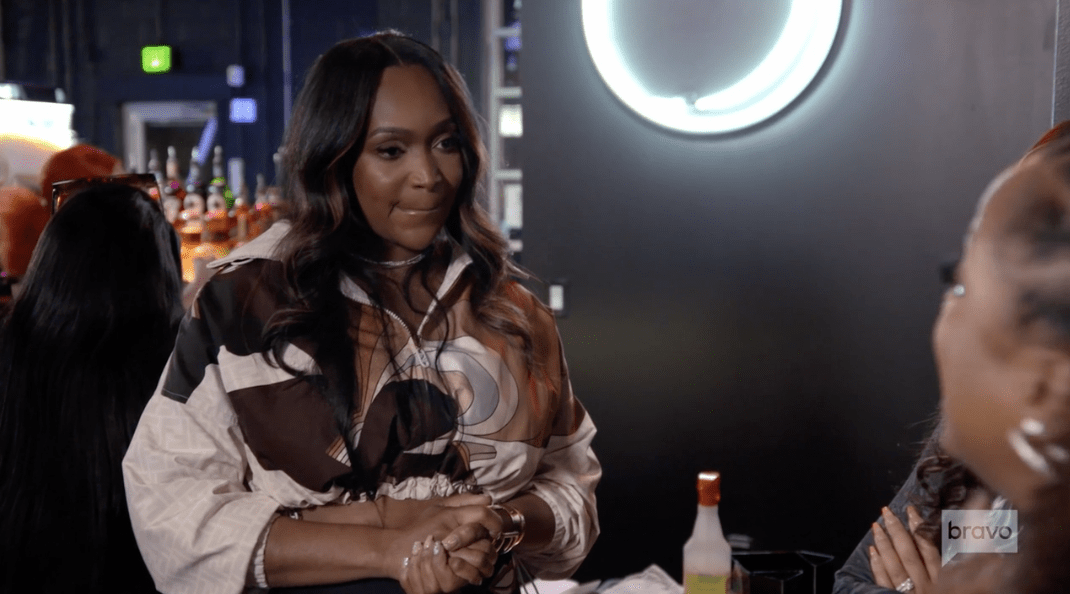 The ladies can immediately feel Kandi's energy as Sanya asks if Kandi's ok. Kandi says, "not really" as Courtney cheers to a great time. Marlo says she feels a lot of positivity as Kandi turns to Kenya and says, "not today, satan." Kandi asks Marlo what she was saying as Marlo shuts it down and request Drew and Kandi to join her off to the side. Kandi's pissed and admits that she can't suppress her feelings.
Marlo questions Kandi about what was brought to her, and as Kandi explains, Marlo asserts her frustration with the persistent rehashing of her turbulent past. A tense moment ensues as Drew locks eyes with Marlo while she tries to clarify her perspective. Perplexed, Kandi questions the relevance of Marlo's nephew's situation to the ongoing conflict, triggering a fiery confrontation between Marlo and Kandi — escalating into a heated screaming match.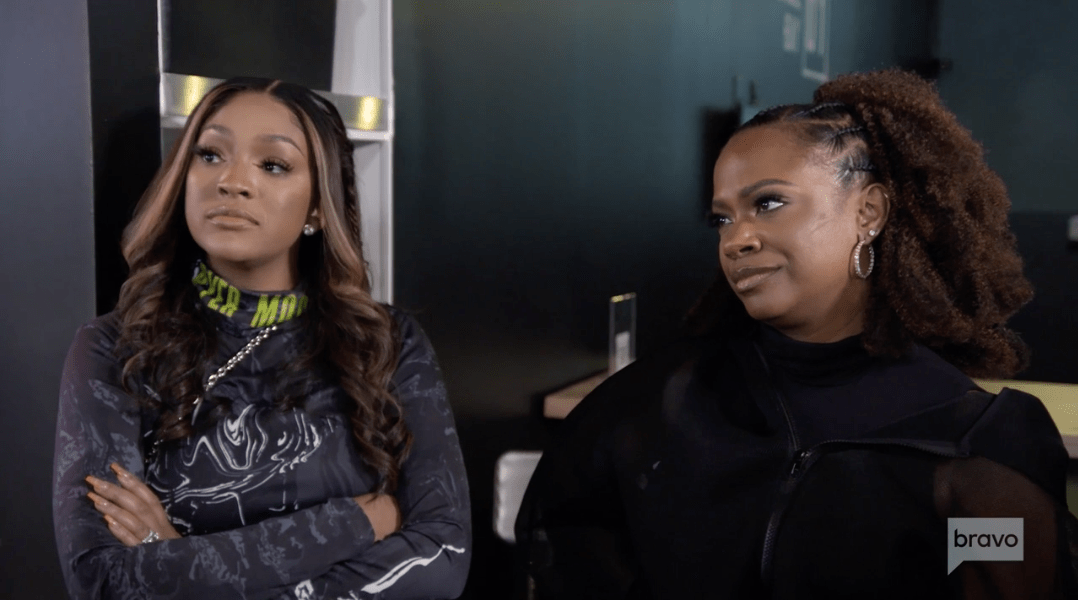 After Marlo brings up that Kandi didn't want to discuss Quentin at her house, Kandi wonders why anyone would want to deal with something so terrible and wonders why Marlo's trying to attach her nephew's murder to her restaurant. Marlo claims Kandi's fast talking. Monyetta walks up to check on Kandi. Kandi tells Monyetta to back up as Kandi tells Marlo she had nothing to do with Quentin's death. Drew tries to talk as Marlo speaks over her and Marlo asks Drew to give them some breathing room. Sheree wants the ladies to handle it on their own, as Kandi tells Marlo that  Quentin didn't work for her in months when the crime occurred. Marlo questions Kandi's character and soon the two are screaming at each other. Sanya can't concentrate with all the yelling and soon Kandi gets real animated, causing the ladies to separate them. Kandi tears up and says she wishes that she could "choke," Marlo.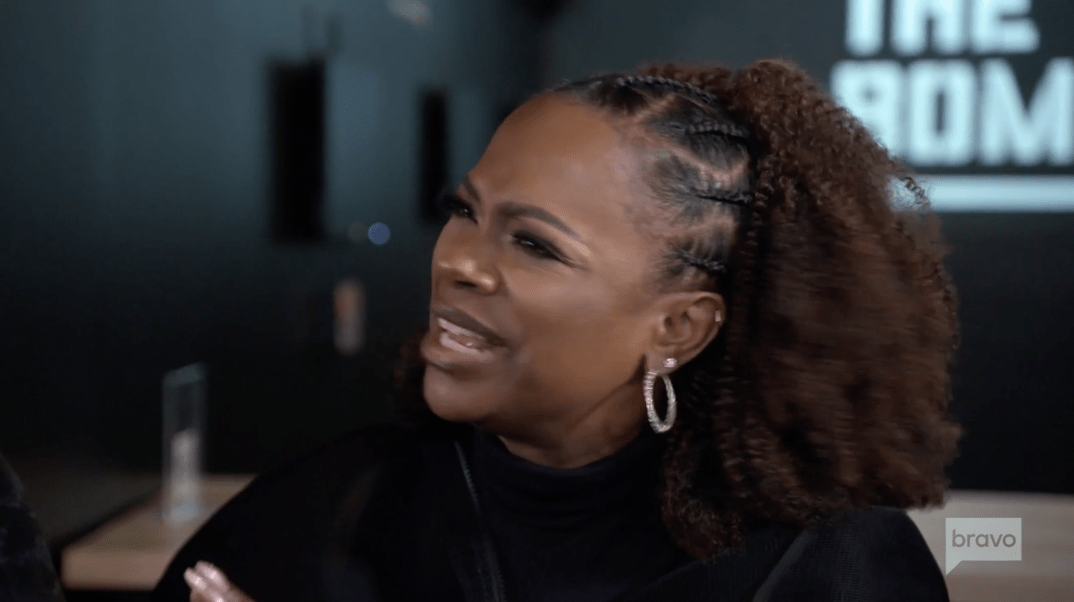 Kandi tells Kenya not to grab her as Marlo carries on. Kandi tells Marlo she should've said something as Marlo screams "f*** you," at Kandi. Drew orders Sanya to take Marlo outside because she's "aggressive," but Sanya disagrees. Kenya, Kandi, Drew, and Monyetta leave the venue as Marlo points out the fact that no one can confront Kandi. Marlo says the situation has built up inside of her. Kandi brings up Marlo's past of cutting someone in the face. Drew doesn't think the situation is for real as Kandi reads the text between her and Marlo. Kenya feels that Marlo wasn't really concerned, as Sanya asks Marlo why the situation got so heated.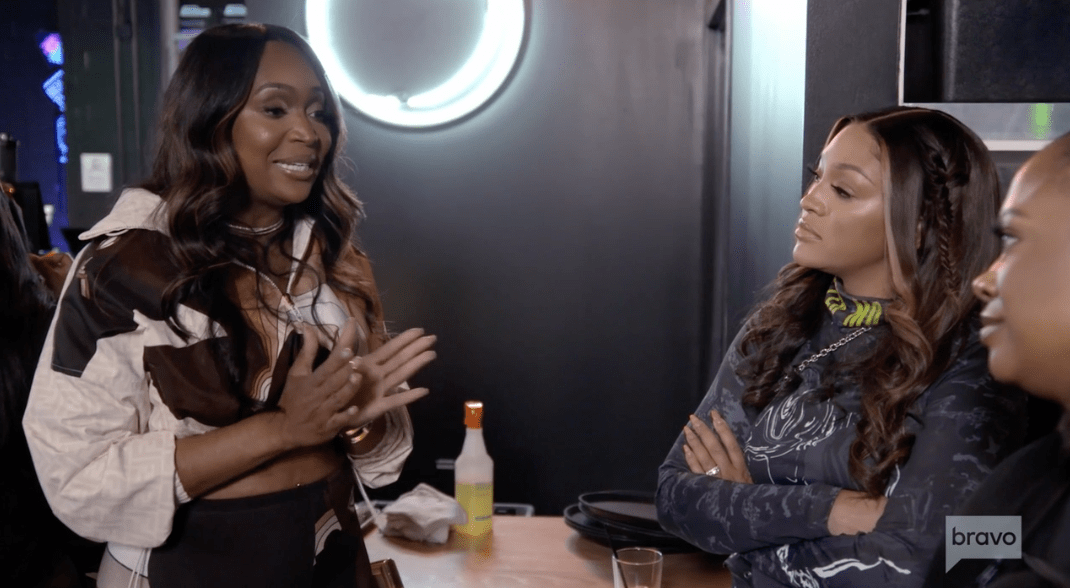 Kandi acknowledges that she did not feel threatened by Marlo. Marlo's upset that the ladies keep bringing up her criminal past. Sheree believes it is unjust to weaponize Marlo's past against her. Back outside, Courtney surprisingly apologizes to Kandi. Kandi replies with "well thanks, I guess," as Kenya tells Kandi she held her own. Monyetta tells Kandi she loves her. Drew continues saying that she doesn't use the word "shooting," and the ladies are all bewildered. Drew calls Marlo a "trick," and Sanya stands up for Marlo.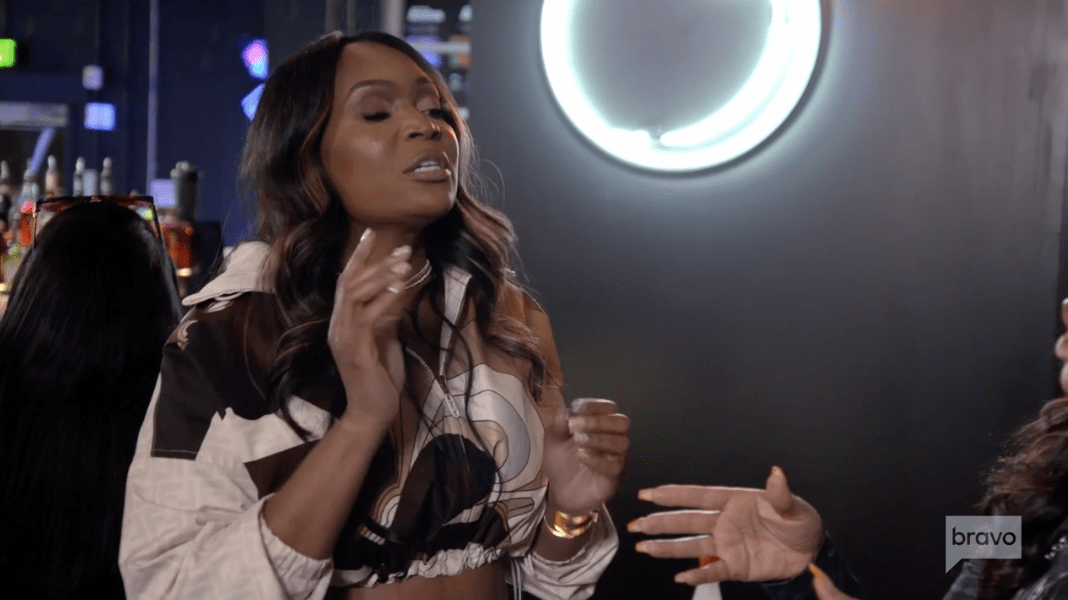 Inside, Courtney, Sheree, Sanya, and Marlo continue to dissect the argument, as Monyetta, Drew, and Kenya begin to head home. Marlo questions if the ladies are afraid of her, as Kenya and Drew talk about chopping Marlo in the neck. Sanya's upset that Drew labeled Marlo "aggressive," as Marlo begins to tear up. See y'all next week for a brand new episode of The Real Housewives of Atlanta. 
Stay Connected With All About The Tea: Twitter Ι Instagram Ι YouTube Ι Facebook Ι Send Us Tips
LeAndra Williams is a content contributor at All About The Tea. She's a social worker and (super) mom by day, and a reality T.V. junkie by night.