'RHOA' RECAP: Kenya Moore Calls The Cops On Marlo For Banging On Her Door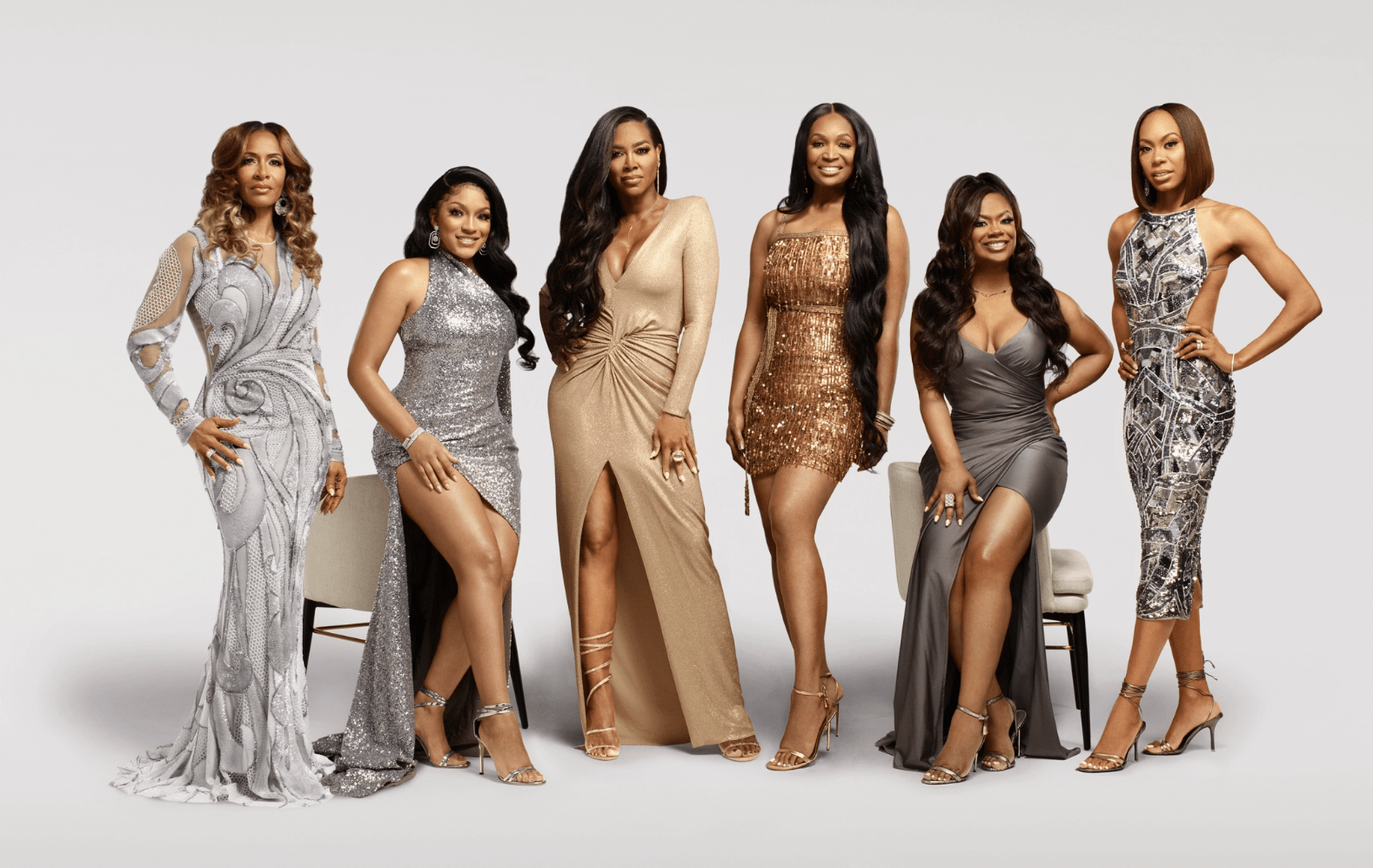 'RHOA' RECAP: Kenya Moore Calls The Cops On Marlo For Banging On Her Door
Welcome to a new episode of The Real Housewives of Atlanta. First up, Kenya Moore and Monyetta Shaw-Carter are rehearsing for Kenya's performance at the Magic City Classic. Kenya wants to practice with the band in order to get into the groove to push her hit song over the edge. Kenya definitely wants to make up for falling at BravoCon and admits she didn't nail the performance.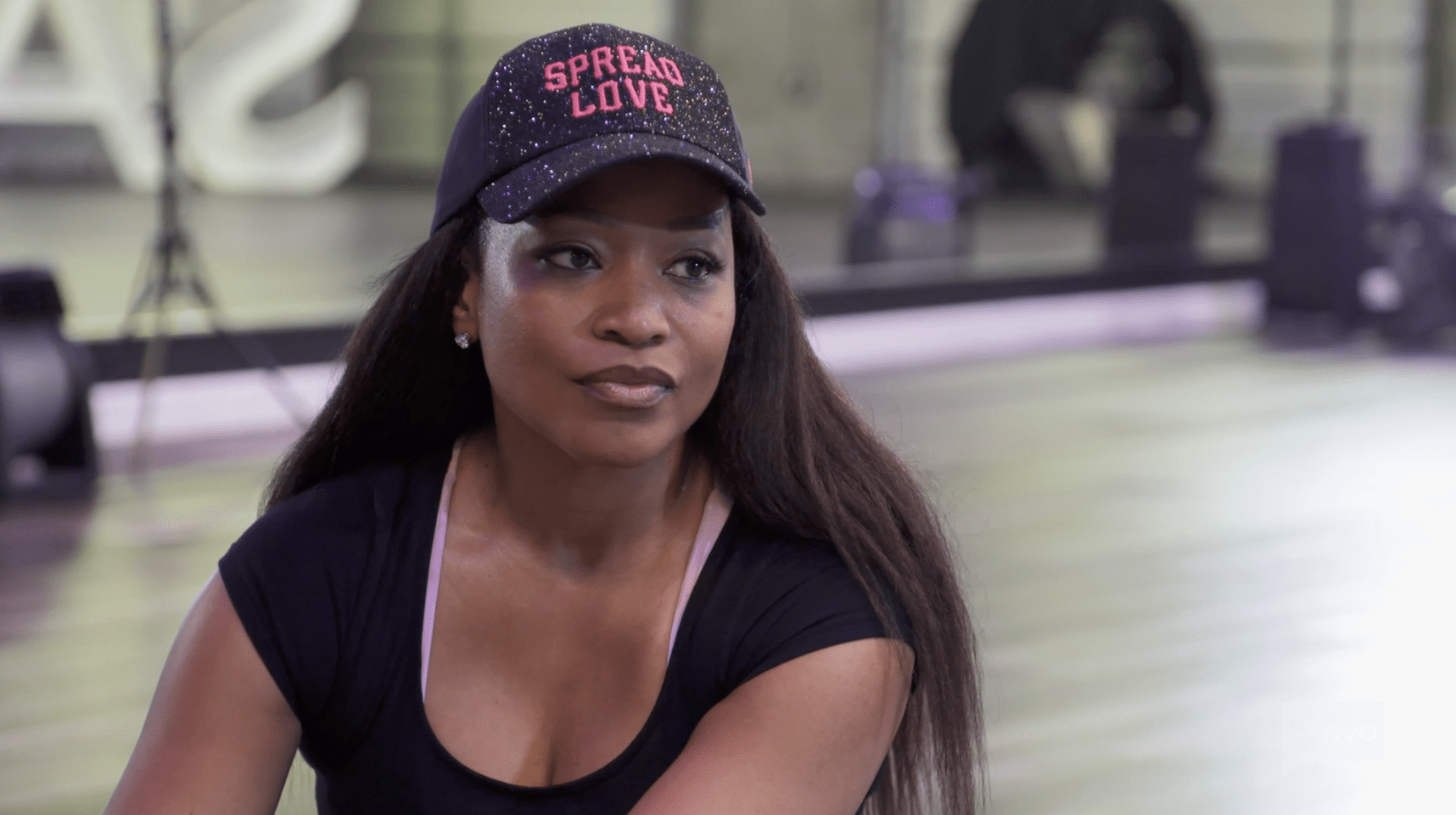 Kenya Moore wants some fridge in her outfit as Monyetta explains she used to dance with Prince, among other notable artist. While talking, Kenya's new boyfriend Roi calls to check in on his woman. Kenya gushes over Roi and Kenya admits Roi's very good in bed. In her confessional, Kenya reveals she isn't waiting on Mark to sign those divorce papers to start living her life.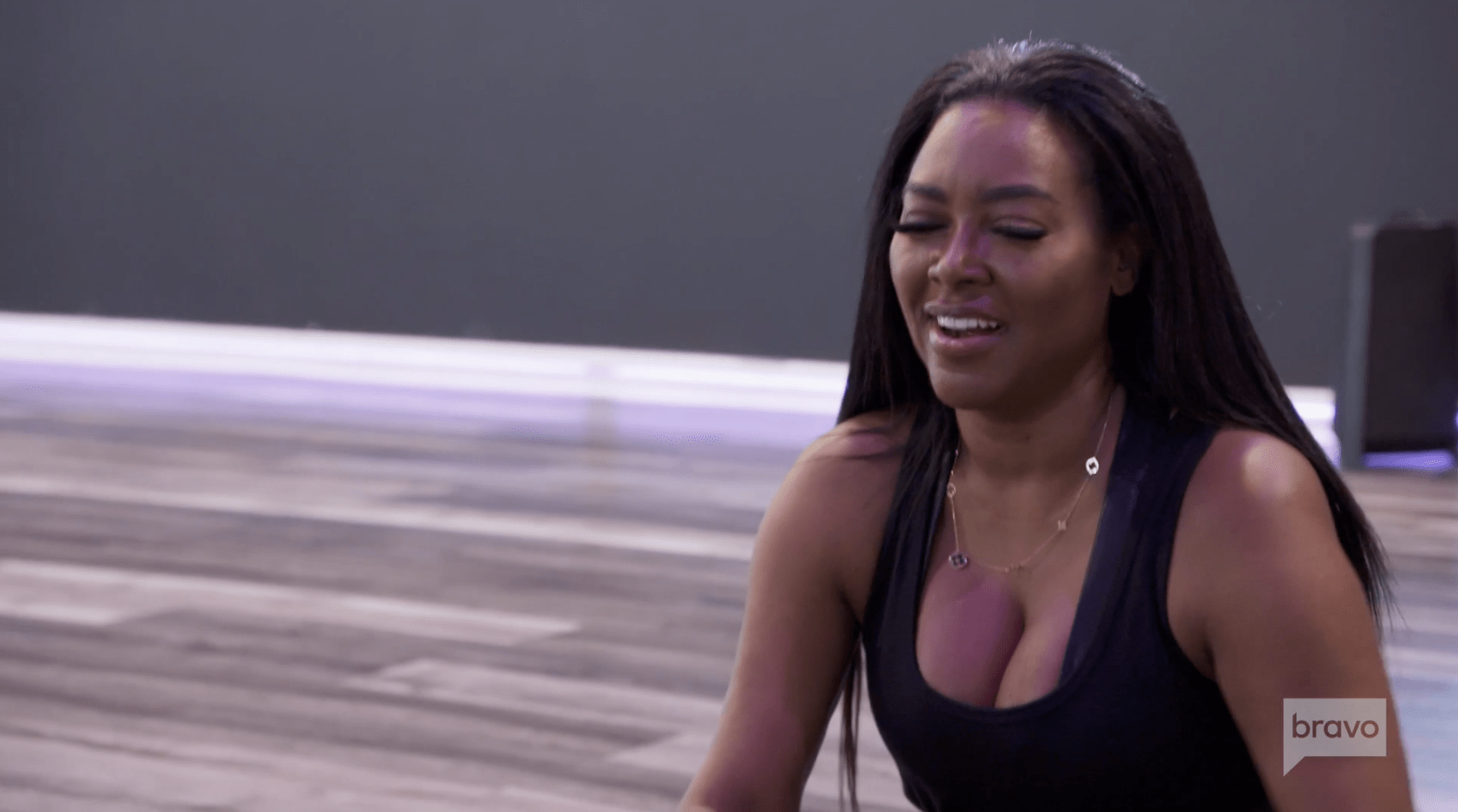 Monyetta loves Kenya and Roi together, and Kenya changes the topic to whether or not she wanted to invite the girls. The halftime show is a secret, so for all the ladies know; they're going to a game and Kenya's excited to gag the girls.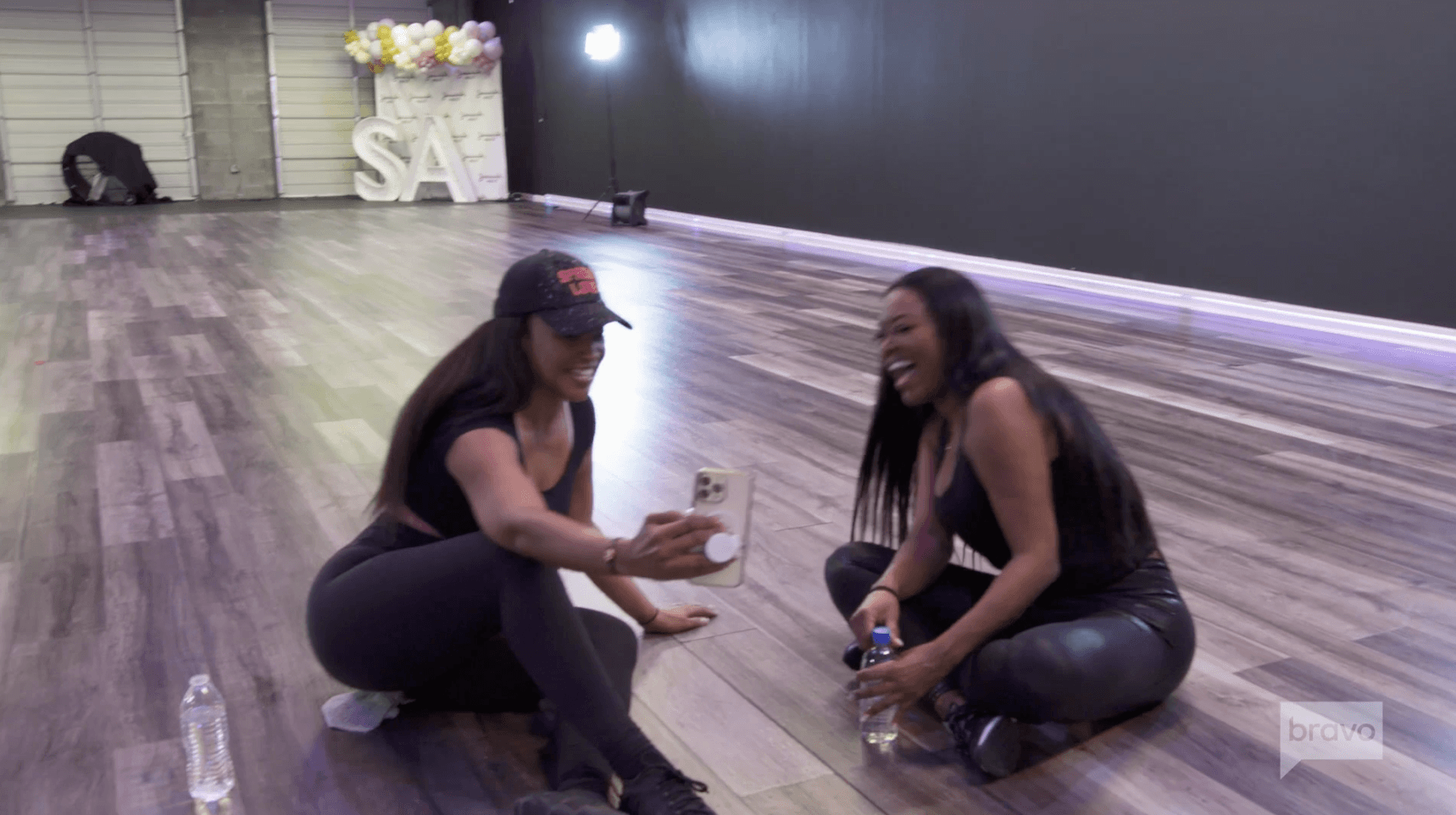 Meanwhile, Sanya Richards-Ross is chatting with her sister, Shari, and mother Sharon about duties for the day and calls her brother-in-law/assistant to give more orders. As Sanya runs down the to-do list, Shari is mean-mugging her, but Sanya doesn't care. There's still a lot to do and aside from Sanya's regular job, she's also a correspondent on NBC news. Sanya covers major events and even worked the Kentucky Derby.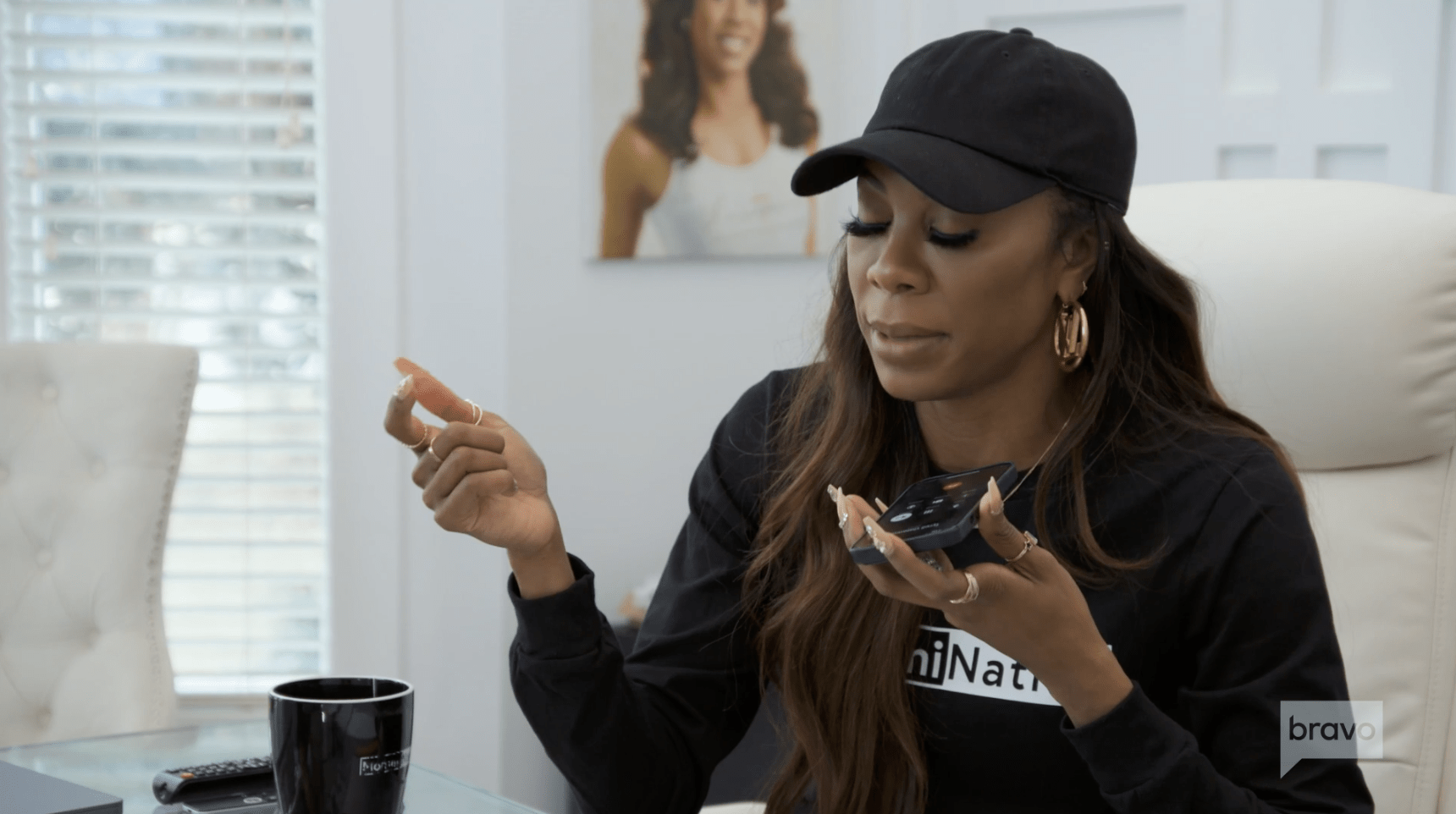 Sanya tells Shari and Mama Sharon that Ross is ready "for us to just be us, again" and immediately Shari's face turns sour. A flashback shows Ross saying he wants the household to be the "Ross's," but Mama Sharon thought they were allowed to stay for a year or two.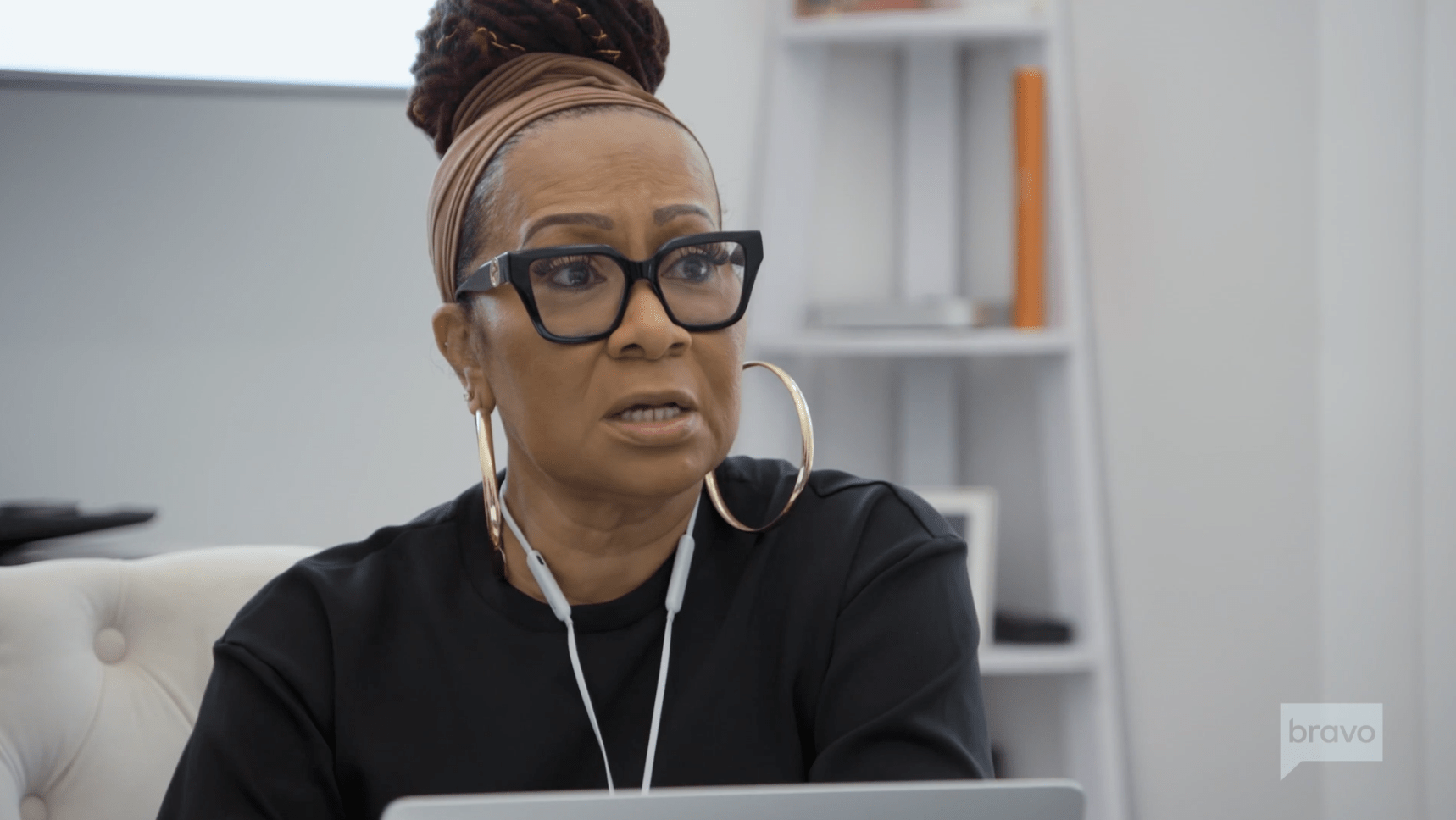 Sanya thought the same and Shari says, "things will never be the same." Sanya tries to backpedal but the damage is done. In their confessional, Shari says the family living together allows Sanya and Ross to move more freely and calls Sanya self-centered, as Mama Sharon agrees. Sanya admits she wants them to stay and although Mama Sharon warns Shari not to take it personal, Shari's struggling. Shari states she's going to rally the troops and get them out of there and just walks away before saying "Good for yall." Sanya doesn't want to hurt Shari's feelings, but she has to respect Ross's wishes. We'll see how this works out.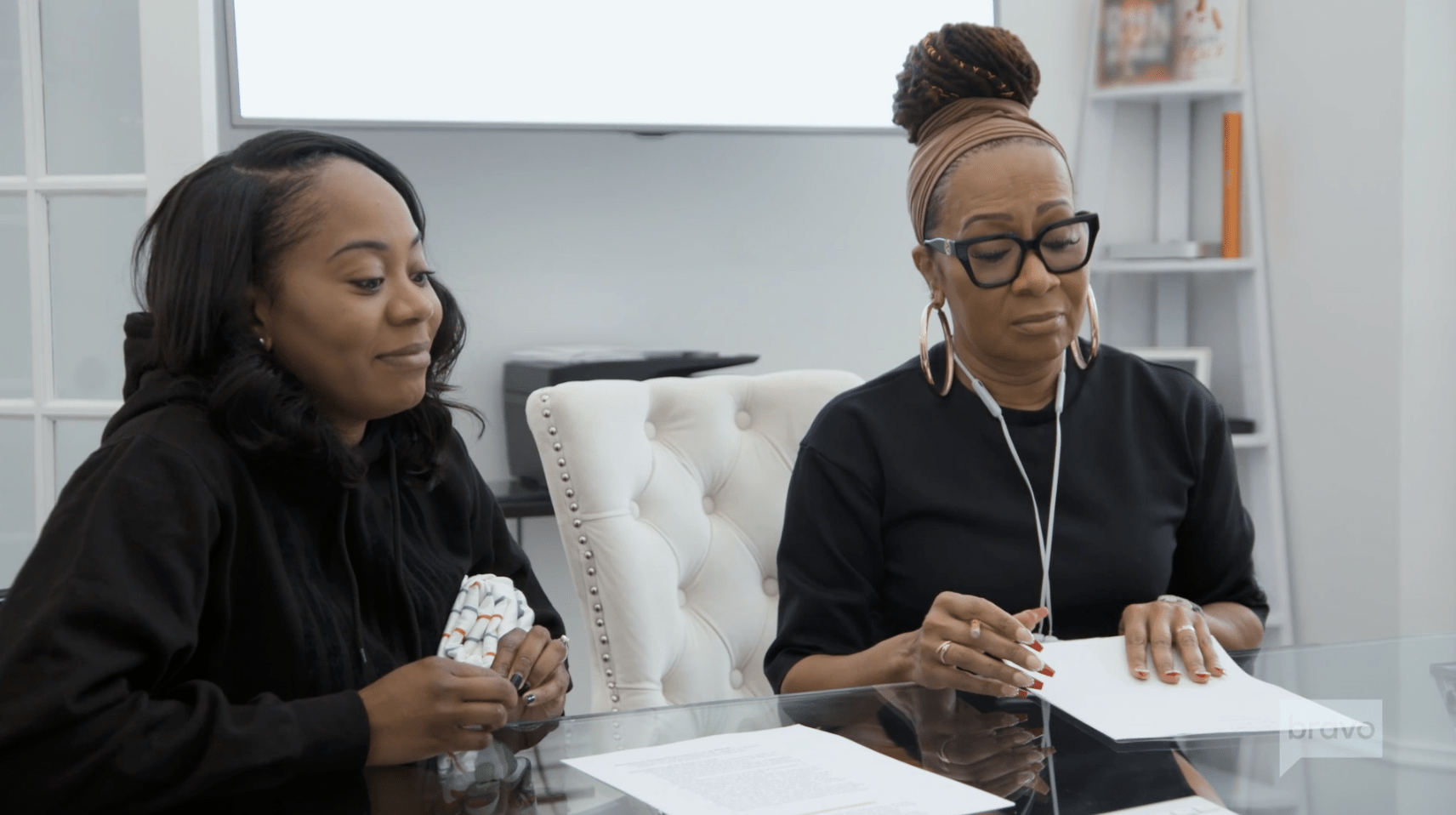 That evening, Marlo Hampton and her nephews William and Michael are preparing for their Halloween photoshoot as Marlo's sister Crystal, stops by for support. In her confessional, Marlo thanks Miss Sharon for allowing Marlo to create new family traditions, while claiming there's always something to celebrate. Marlo explains to Crystal that trying to get her record expunged, in order to carry a firearm again. Back in the day, Marlo had her rights to bear arms taken away and since the break-in, Marlo doesn't feel as safe without a piece on her.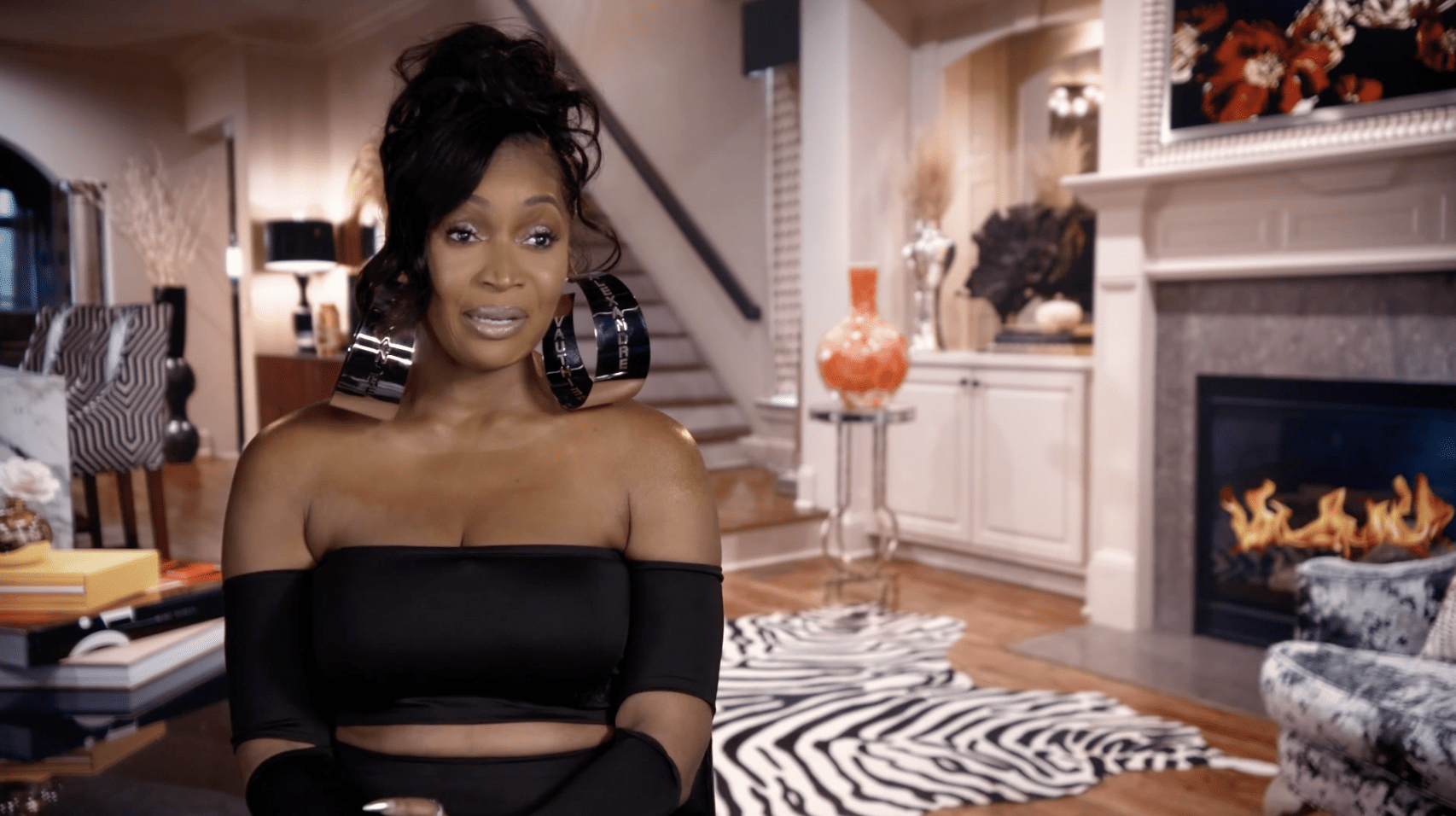 Marlo's tired of the ladies using her past against her and is beginning to take steps to change that. Marlo tells Crystal about meeting Courtney Rhodes and how last week Courtney offered to help Marlo in her expungement journey. Marlo's excited and wants Crystal to meet her new bestie as Marlo pivots to Kandi Burruss. Marlo says Kandi claims she's world-wide and that she helps the world; but Kandi never helped Marlo to get her record expunged. *Can you say, delusional?* Courtney arrives ready to dive into the drama as Marlo thanks Courtney for trying to help her out. In her confessional, Courtney coins herself as "Oliva Pope" of crisis management and thinks everyone deserves a fresh start.
Marlo and Courtney rehash the argument between Drew Sidora and Marlo, as Marlo begins playing victim. Marlo says the shooting at Blaze is hitting home for her and that her nephew Quentin, was killed by someone he met at Old Lady Gang.  Marlo recaps the text she sent to Kandi but is sure to downplay the actual contents of the messages. Marlo claimed on Quentin's obituary that he's wearing a chief's outfit and is inside The Old Lady Gang resturant. However, producers show us an obituary with Quentin wearing a blue jacket and black pants. 
Marlo says she's been bothered by the fact Kandi didn't send flowers or a card for Quentin's funeral; and that she just wanted Kandi to acknowledge Quentin. Marlo ask Courtney what she would've said and of course Courtney says "Oh, I'm so sorry," and "How can I help the family," only feeding into Marlo's failing mental state. Marlo wanted Drew to hold Kandi accountable and wonders why Kandi *keeps* having shooting at her restaurants. Marlo's on a mission to find out and to take down the Queen Bee. Marlo doesn't think anyone's asking the right questions and wonders if it's a flaw in Kandi's security. Courtney's dumb self inserts herself and says, "Maybe it's the culture she (Kandi) creates." Crystal begins crying as Marlo explains Quentin grew up with Crystal. Marlo claims her family's still sour at Kandi for Quentin's death and I think this feud just got a lot darker.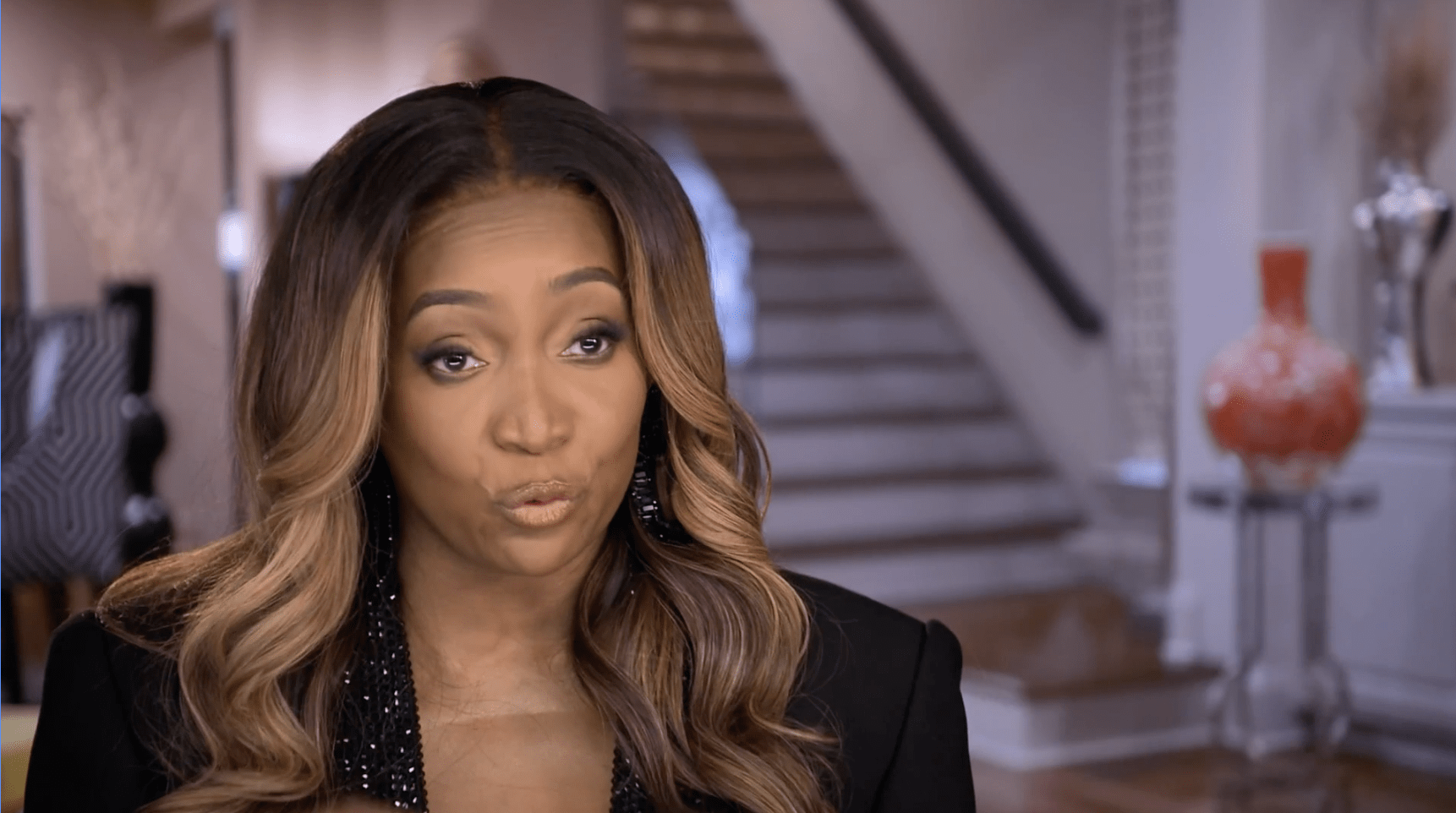 Marlo calls Kandi selfish and rehashes when Kandi brought up the girl Marlo cut in the face. Courtney's adamant that happened twenty years ago and it's clear Marlo has a new fan. Marlo says she has nightmares over the incident and Courtney thinks there's empathy missing. Marlo finishes the scene and completes her photoshoot with the boys. The next day, Shereé Whitfield's at the OBGYN to get checked out. Sheree has fibroids and is experiencing excessive bleeding and pain that can no longer be ignored. Sheree wants help because her fibroids are getting in the way of her sex life with Martell Holt. Producers are petty and flashback to Sheree stating Martel has Big D*** Energy, while Martell changes in Sheree's room.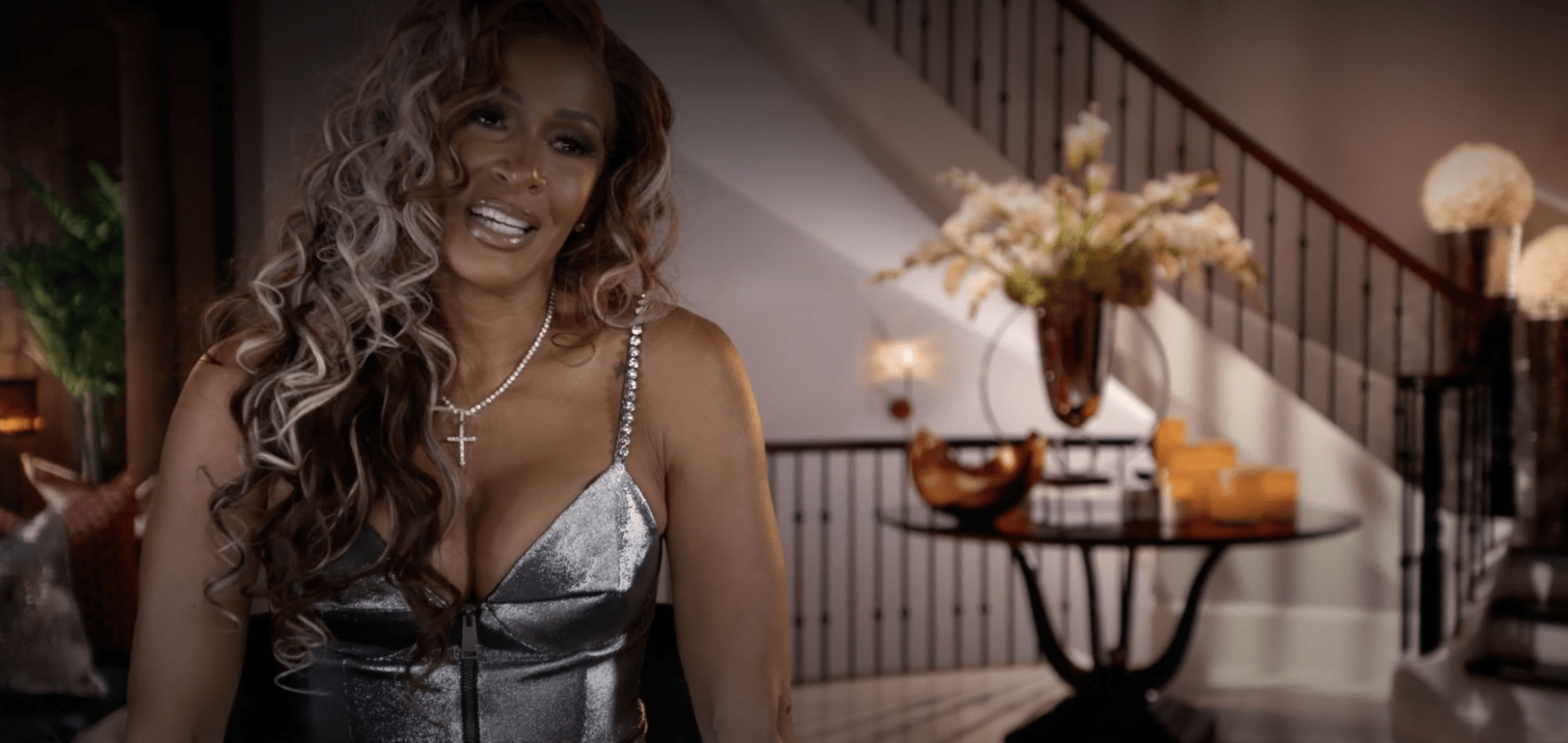 Sheree's doctor gives her the options of treatment and explains if they shrink the fibroids, that Sheree can't exercise or have sex for six weeks! Sheree's laying down to get examined and Sheree's doctor almost gave her heart-attack when she asked Sheree if she was "trying" during the ultrasound. Sheree almost freaked out, but the doctor soon put Sheree at ease as she completed the exam. Sheree has a few lemon-sized fibroids and although she doesn't want to have major surgery; Sheree wants to explore more options, so she's not down for eight-weeks.
Later, Sanya's preparing for the family photoshoot and lets us know Shari won't be doing her hair due to being sick. Sanya thinks Shari's sicker of her than anything and tells her parents ever since the conversation; Shari's been blowing things out of proportion. Sanya reveals Tyrell quit as her assistant and that Tyrell was sick of being around Sanya and Mama Sharon's "Woman Energy." Mama Sharon says she noticed Tyrell not responding to emails in a timely manner and thought Tyrell would say something before quitting. Sanya thought Tyrell being her assistant would be great but now sees the strain it's causing. Sanya gets emotional as she explains she wanted to bless everyone else since she's so fortunate and feels bad that she asked her family to come to Atlanta. 
Sanya's dad offers his support but Sanya clowns him and tells everyone her dad can't send an email or anything. Sanya says she's tired of working with family and Mama Sharon feels the same.
That morning, Kenya's explaining to Brooklyn and her assistant Caitlyn the plans for Birmingham; and tells Caitlyn she's arriving later and to share her location with Kenya at all times. Sheree's on FaceTime with Courtney as Courtney hopes Sheree get to spend time with Martell this weekend. Unfortunately, it's Martell's weekend with the kids so he's going to miss her. Deuce and Mama Sharon is helping Sanya pack as Mama Sharon checks out Sanya's wardrobe. It's time for Birmingham as Kenya has the ladies meet over Sheree's house for easier access to the driveway.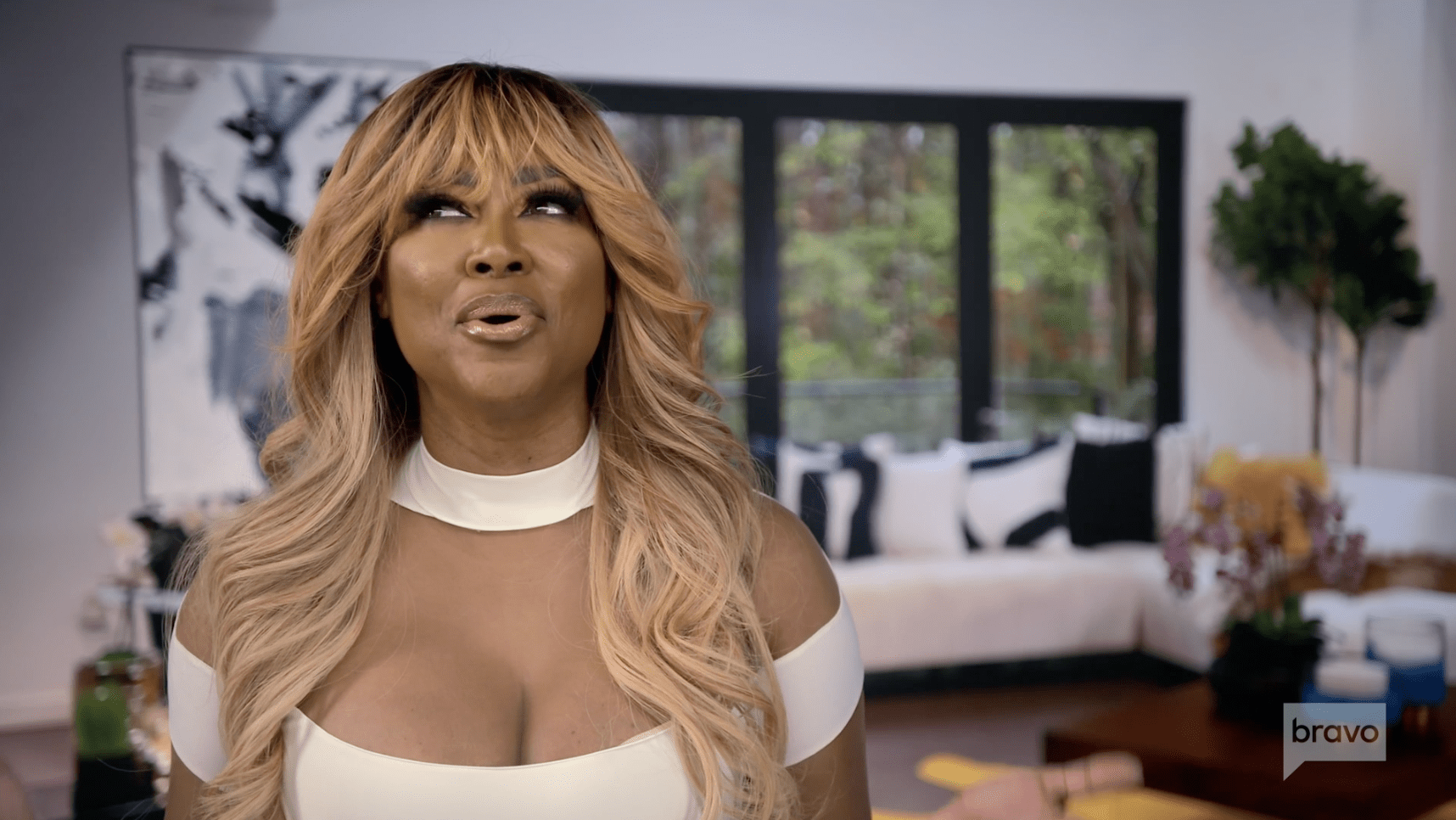 Kenya admits her driveways a nightmare and doesn't want her friends struggling to meet up. Kenya begins coughing as Sheree arrives first with messy Courtney not far behind. Soon Sanya, Monyetta, and Marlo finally arrive as we find out Drew's home with the flu. Kenya ask Courtney how she's related to Drew, but Courtney doesn't know. Drew claims to have influenza B and Kandi's away at The Ebony Power 100. Kenya's sad not to have her road-dog Kandi but is determined to make the most of Birmingham.  On the bus, Kenya explains the plans for B-Ham and tells the girls about the upcoming parade. Sanya has to leave for work in the morning and plans to be back once the job is done. Kenya tells the ladies about their upcoming dance class, in order to pass time until check-in. 
Marlo's coughing as Kenya finish laying out the itinerary and Sheree's skeptical of what Kenya has planned. Marlo says she doesn't have a charity outfit but isn't worried about the dress code, since it's Birmingham. Kenya and Marlo begin having a coughing fit and soon everyone's uncomfortable. Kenya ask Courtney if she's single since there's a lot of single men in Birmingham and although Courtney's situation is complicated; she admits to having a fling with Bryce. Sanya tells the ladies about Future's baby-mama admitting she ate Future's booty. Sheree ask the ladies if they ever ate booty and bust Kenya out and says "Kenya, what was it like when you did it?" The ladies laugh as Kenya doesn't deny it and says it was an experience she had in her twenties.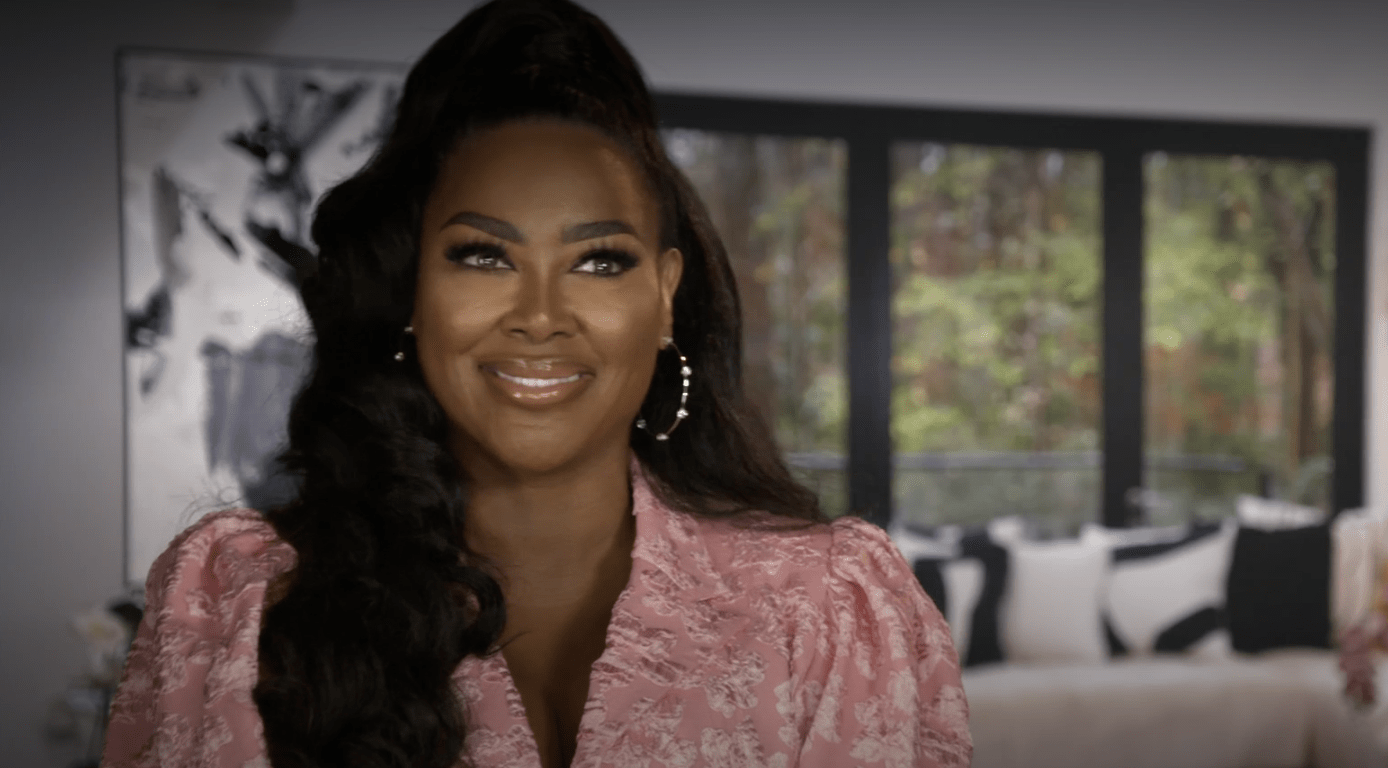 Well alright girl! The rest of the ladies are on the receiving end and soon the ladies arrive to their dance class. The ladies get changed and begin learning how to Buck. The ladies get their dance on and seem to be having a lot of fun. Sanya's shaking her little booty as Kenya adds a buck off for the ladies to compete for a prize. Marlo's salty Kenya and Monyetta excuse themselves but participate as Kenya and Monyetta take pictures while the ladies work it! The ladies go find Kenya and Monyetta and are soon brought back to the competition at hand. The ladies conduct the Buck-off and Kenya choses Sheree as the winner! Sheree's ecstatic and ends up winning the biggest room at the hotel.
The ladies arrive at the hotel ready to eat as they make their way to the restaurant. After placing their orders, Courtney gets a FaceTime from Bryce asking when she'll be home and soon we find out Kenya and Courtney have A LOT more in common. Kenya and Bryce made a movie together in the past and Kenya jumps on FaceTime to say hi real quick. Kenya didn't admit to dating Bryce and only said he was a fine chocolate man, back in the day. The ladies begin discussing the argument between Courtney and Kandi at the concert as Sanya hesitantly brings up the blow-up between Drew and Marlo. Marlo pretends to be oblivious as Kenya speaks up and reveals Drew called her to spill the tea! Kenya begins saying Marlo was upset at Drew but Marlo chimes in, saying Kenya wasn't there. 
The two have a small back and forth before Kenya tells the table that Drew said Marlo was standing over her while being aggressive. Marlo doesn't want to talk about it and Sanya states something triggered Marlo. Marlo wants Sanya to speak up on her behalf, but the rest of the ladies aren't feeling that. Kenya tells Marlo she doesn't need her there and that she can leave. Marlo begins saying Kenya's trying to control everything as Kenya laughs at Marlo. Sanya's drunk as the ladies laugh as Kenya explains the plans for the night. Kenya wants everyone ready by seven and soon dismisses them to get dressed. Sheree's not happy with her room and thinks Kenya played her. 
Marlo complains about the champagne Kenya got for them and calls Kenya tacky. Everyone's ready to the charity event as they meet in Kenya's room but Kenya's not happy with Monyetta's attire. Monyetta goes to change as the ladies board the bus to head to the event. Kenya leaves Monyetta, Marlo, and Sheree at the hotel since they're running late and doesn't feel bad since the ladies are being inconsiderate. The ladies arrive at the event and luckily Monyetta arrives at the same time as the bus. Kenya said the charity event was supposed to be luxury but when they arrived, everyone's in casual attire.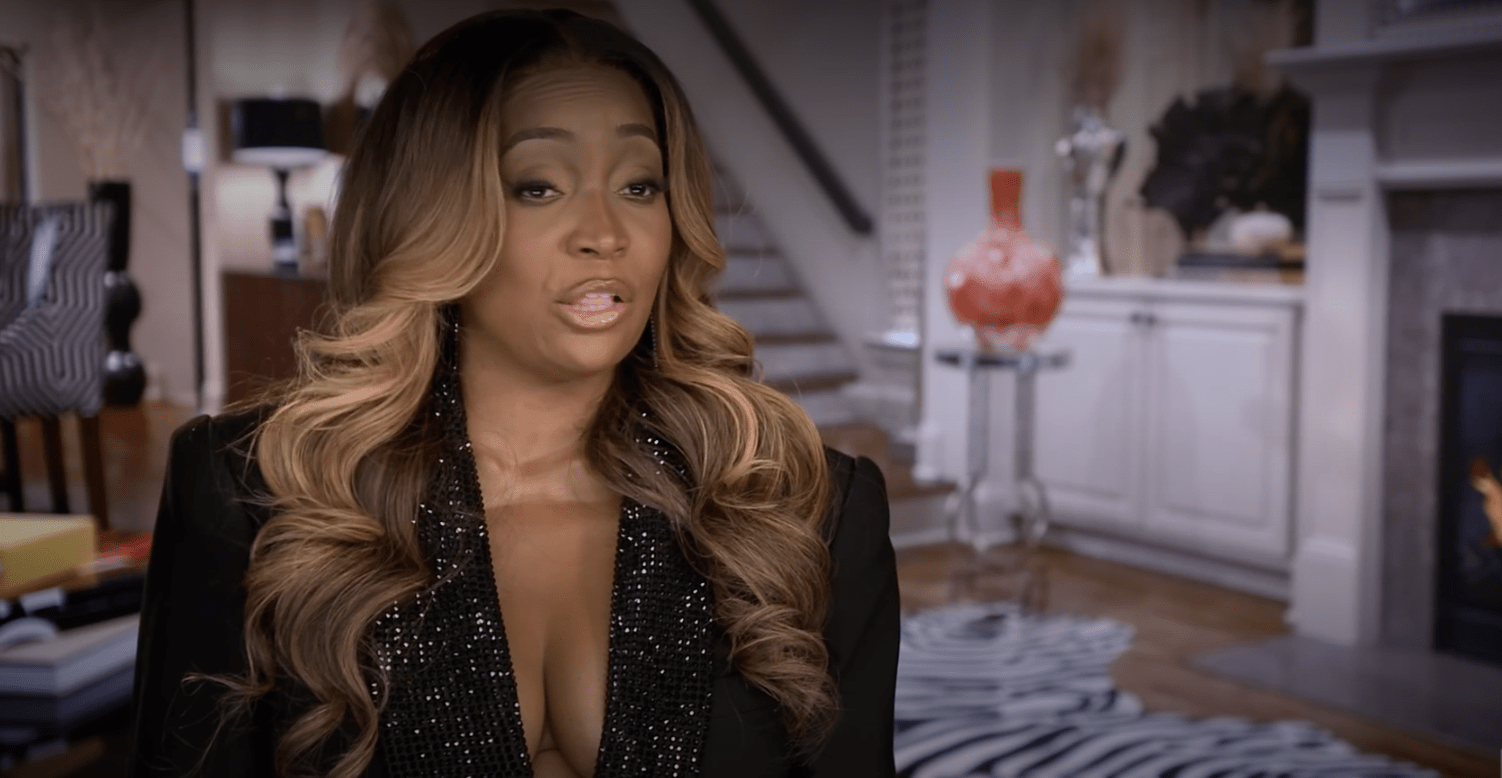 A few fans ask to take pictures and swarm the ladies as Marlo and Sanya chat in the van. Marlo thanks Miss Sharon again for helping her as Kenya complains of their seating situation. Marlo and Sanya order drinks and sparkles for the ladies as Sanya wonders what's going on at this event. Marlo thinks the party's lame as she calls Kenya a broke-down Carrie Bradshaw. The ladies head outside to take in the view, but a producer pulls Kenya to the side and basically says they have to leave. The ladies are distracting the guest from the event at hand and are told to leave immediately. 
Kenya gathers the girls and heads out as everyone wonders what just happened. Kenya blames production for getting kicked out, while Marlo blames karma. Back at the hotel, Kenya goes to her room to get some sleep as the ladies discuss what happened downstairs. Marlo rally's the girls to go to Kenya's room to get some answers! The ladies begin knocking but when they get no answer, Marlo and Sheree begin kicking Kenya's door. Kenya begins yelling and ask Marlo what the f*** she's doing! Kenya yells that Brooklyn's inside and calls Marlo a crazy psychopath!  Marlo wants Kenya to put Brooklyn in another room and come talk to her, while calling Kenya a "broke-a**." Kenya threatens to call the police and this trip just went to hell and we have to wait until next week to see what happens, on The Real Housewives of Atlanta. 
Stay Connected With All About The Tea: Twitter Ι Instagram Ι YouTube Ι Facebook Ι Send Us Tips   
LeAndra Williams is a content contributor at All About The Tea. She's a social worker and (super) mom by day, and a reality T.V. junkie by night.