'RHONJ' RECAP: Margaret Josephs Blames Teresa Giudice For Cheating Rumor and Plays Victim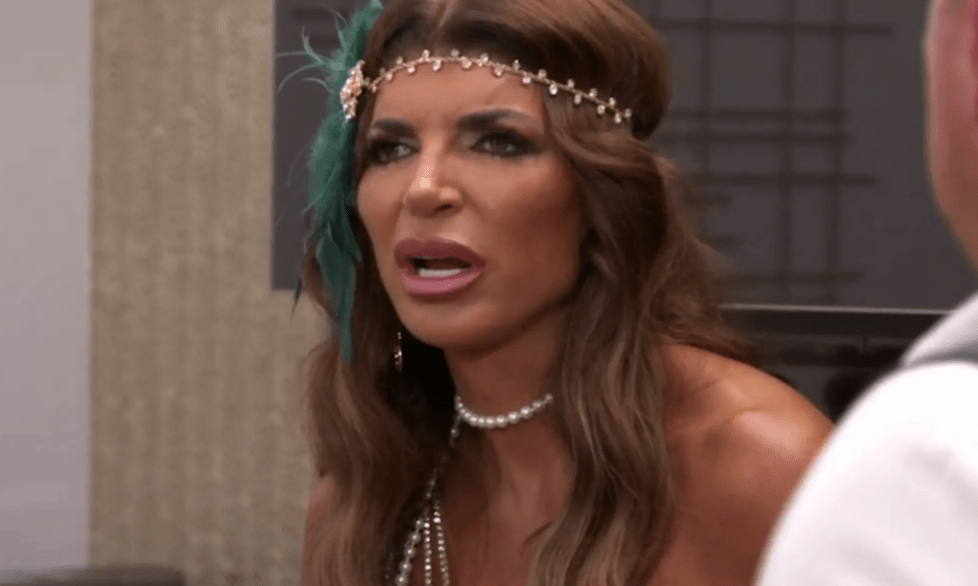 'RHONJ' RECAP: Margaret Josephs Blames Teresa Giudice For Cheating Rumor and Plays Victim
Welcome to the season finale of The Real Housewives of New Jersey. With somber music, we get a flash forward to twelve hours after Dolores Catania's Irish Prohibition Party. Margaret Josephs drinking coffee while reminiscing about cursing Danielle Cabral out at Dolores's party. Rachel Fuda's cleaning as she remembers screaming "What's going on?!" to Margaret last night. Danielle's in her kitchen thinking about telling Margaret to "Kiss my f***ing big fat f***ing flat a**!". Melissa Gorga's sitting outside by the pool reminiscing how she told the group that Teresa Giudice feeds on the idea of Melissa and Joe Gorga getting a divorce! In her confessional, Melissa says she's been trying over the last six-months to keep this big secret, in order to keep the family together.
Teresa's lighting candles as we see a flashback of Teresa calling Joe and Melissa "losers". Teresa states she didn't want to say anything because she was afraid Joe and Melissa would ruin her wedding. Melissa receives a call from Dolores stating how bad she feels about what went down at her house and doesn't know where the family goes from here. Dolores ask if Melissa and Joe are going to the wedding and Melissa replies "How can I go and celebrate someone else's marriage, when they are the people constantly trying to destroy mine". Another flashback shows Louie and Joe screaming at each other and Melissa's done being around toxic people; even if they're family. Melissa's done and producers take us back to twelve hours earlier. 
That day at Paul's house, Dolores is marveling over the decorations as Paul watches Dolores in her element. The house looks amazing, and Dolores believes she would've been a boss b*** in the 1920's and that the mobsters would all fight over her LOL. Dolores and Paul head outside to check out the Scoil Rince Riordan, which is the Irish School of Dance. Dolores loves their outfits and can't wait to show the crew a good ole Irish time! Dolores tells us that Paulie wants to bring Ireland to the boys and she's excited to sit back and let Paulie take the lead. 
In her confessional, Dolores admits this is her coming out party because she is now the lady of the house. I know that's right! Joe Benigno and Margaret arrive first and are loving what they see! Melissa and Joe arrive shortly after and give Dolores her props while greeting the crew. Melissa loves seeing Dolores and Paulie together and can't wait until Paulie proposes to Dolores. Rachel and John Fuda show up, along with Frank Catania and his girlfriend Brittany. Frank tries to bust a move with the Irish dancers and soon finds out he's no match for these dancing dolls. Jennifer Fessler and her husband Jeffery Fessler show up ready to party as Frank and Brittany joins everyone. 
The fellas greet each other as we Jackie Goldschneider while Bill and Jennifer Aydin arrive. Jennifer needs whiskey to take the edge off and admits she doesn't remember the Ireland trip but knows she had a great time. Rachel ask where Teresa and Danielle are, and nobody knows but Melissa wonders if Rachel's spoken to either of them. Rachel hasn't but feels like Danielle was fine a Teresa's bridal shower. However, Margaret didn't forget about Danielle crying and thinks Danielle's always crying. While the ladies talk mess, Danielle and Nate Cabral arrive just in time to join the melee. Rachel wants to know what's going on with Danielle, but Margaret thinks Danielle's dealing with something heavier than the issues with her brother.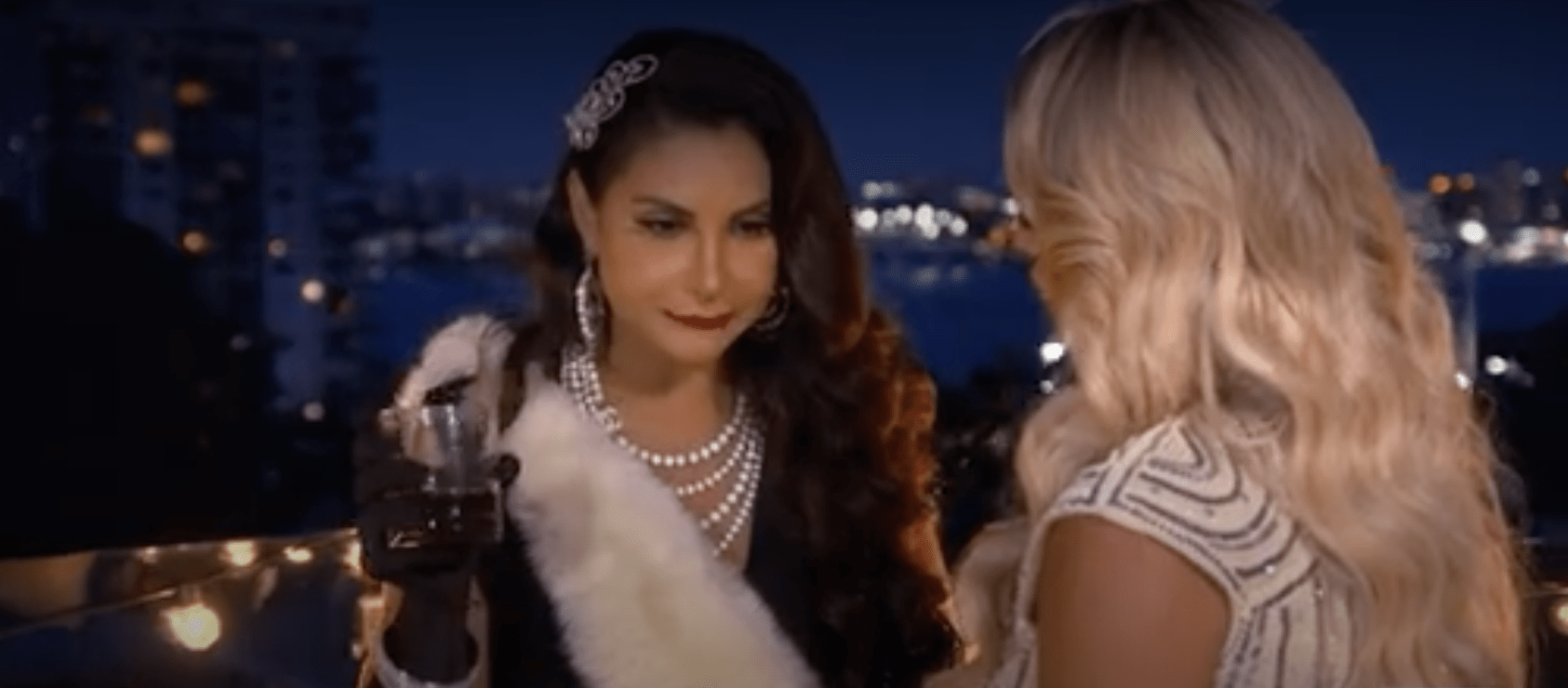 Margaret thinks Danielle acts pouty, childish and if the attention isn't on herself.  Danielle hesitantly greets her friends as she hopes for the best and prepares for the worst. Joe gets the guys to take shots and Paulie toast to his first guy's night. After, Bill brings up that he tried to convince Joe to have a talk with Teresa, while the ladies were in Ireland. Joe admits it's a tough situation and although Bill isn't trying to minimize what Joe's feeling, Bill doesn't want Joe to miss out on a once-in-a lifetime event in his sisters life. Understandable.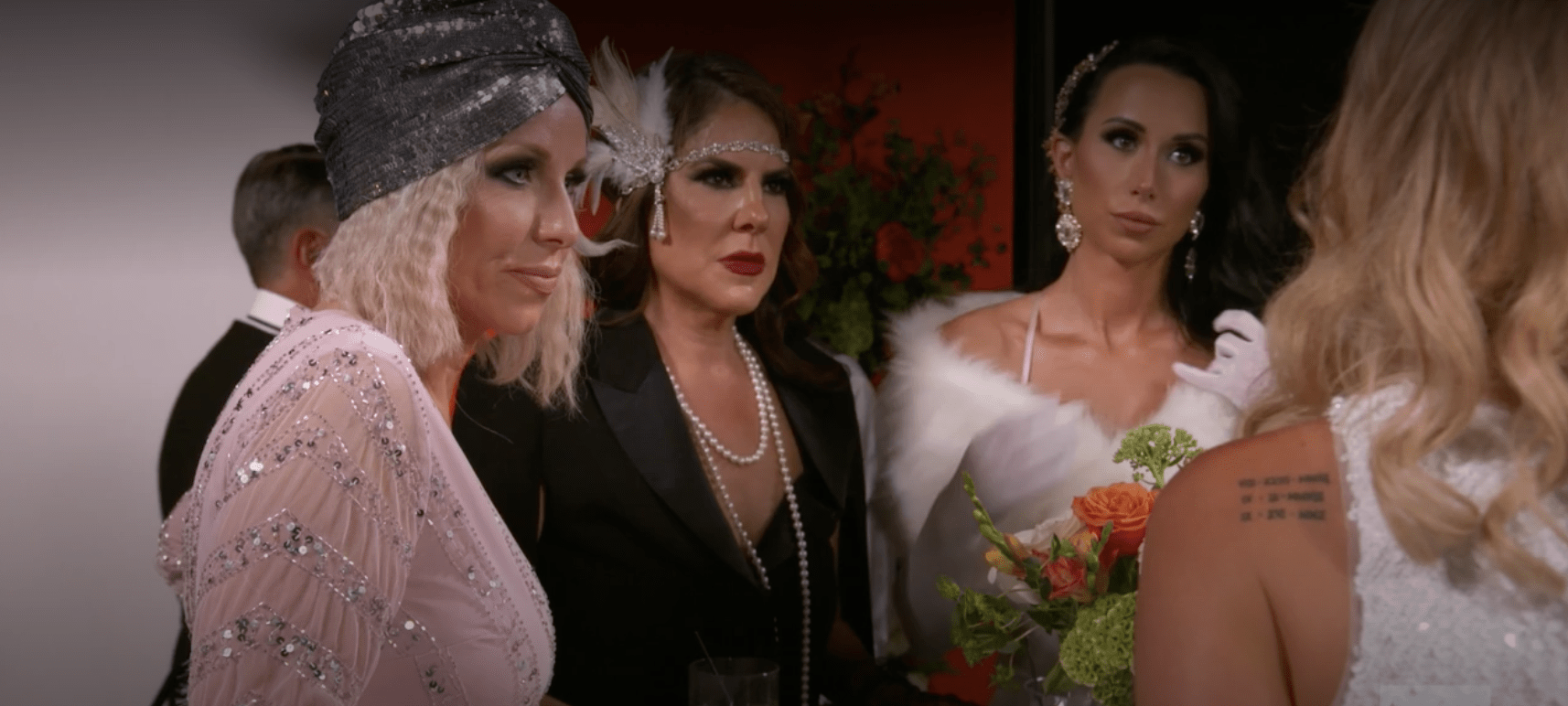 John has the bartender pours up more shots to increase the mood, while Melissa checks in on Danielle. Melissa ask Danielle if she's alright after learning of Danielle's crying spell at Teresa's bridal shower. Danielle says she's okay but admits to being triggered by Teresa and Melissa's issues. Rachel walks up and tells Danielle that she felt something was off with her in Ireland. Rachel wonders if Danielle was upset over her brother and Danielle states there's a combination of things bothering her but that she's ok. Rachel tries to get Danielle to understand her POV by stating if Rachel said something negative about Jennifer; that Danielle would've told her. However, Danielle denies that she would've said anything to Jennifer in that scenario, but Rachel doesn't believe her.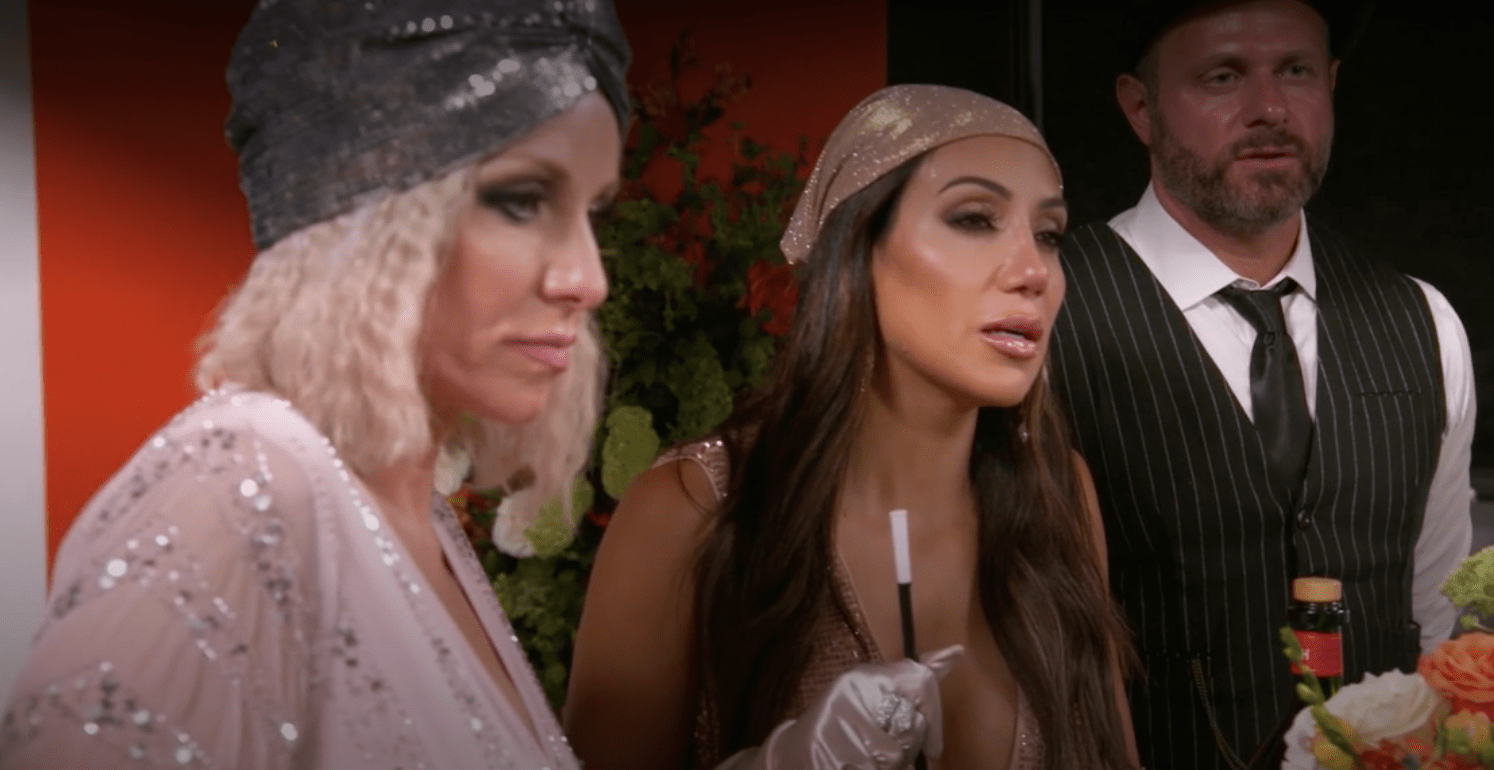 Rachel then says that she's in an awkward position, due to Margaret's ex-best friend (Laura) spreading rumors among the group. Rachel states she wanted to tell Margaret what was going on because Danielle didn't come up with this information on her own, and that Danielle was being fed information. Danielle says "That's fair" as Margaret ear hustles from the side. Danielle wants to put the situation behind them and both ladies agree to move and start over. Rachel was genuinely concerned for Danielle and Danielle admits other things happened in Ireland that put her on edge. Melissa wants clarification and wants to make sure Danielle isn't holding onto anything the rest of the crew doesn't already know. Danielle hesitates but Melissa knows the game and continues asking until she gets a straight answer. 
Danielle's flustered as she brainstorms a way to talk to Melissa as she excuses herself to get another drink. Frankie comes ready to party as Teresa and Louie arrive to join the festivities. Evan Goldschneider's hugs Louie as he exclaims Teresa and Louie have only three days left until they tie the knot. Joe's watching from the side as Melissa grabs another cocktail while Teresa and Louie make their way around the room. Louie greets everyone but Joe and even Frank notices the energy between Joe and Louie. Teresa's greeting the ladies as they navigate outside, and we see Jenn Fessler trying to hook Frankie up with her daughter.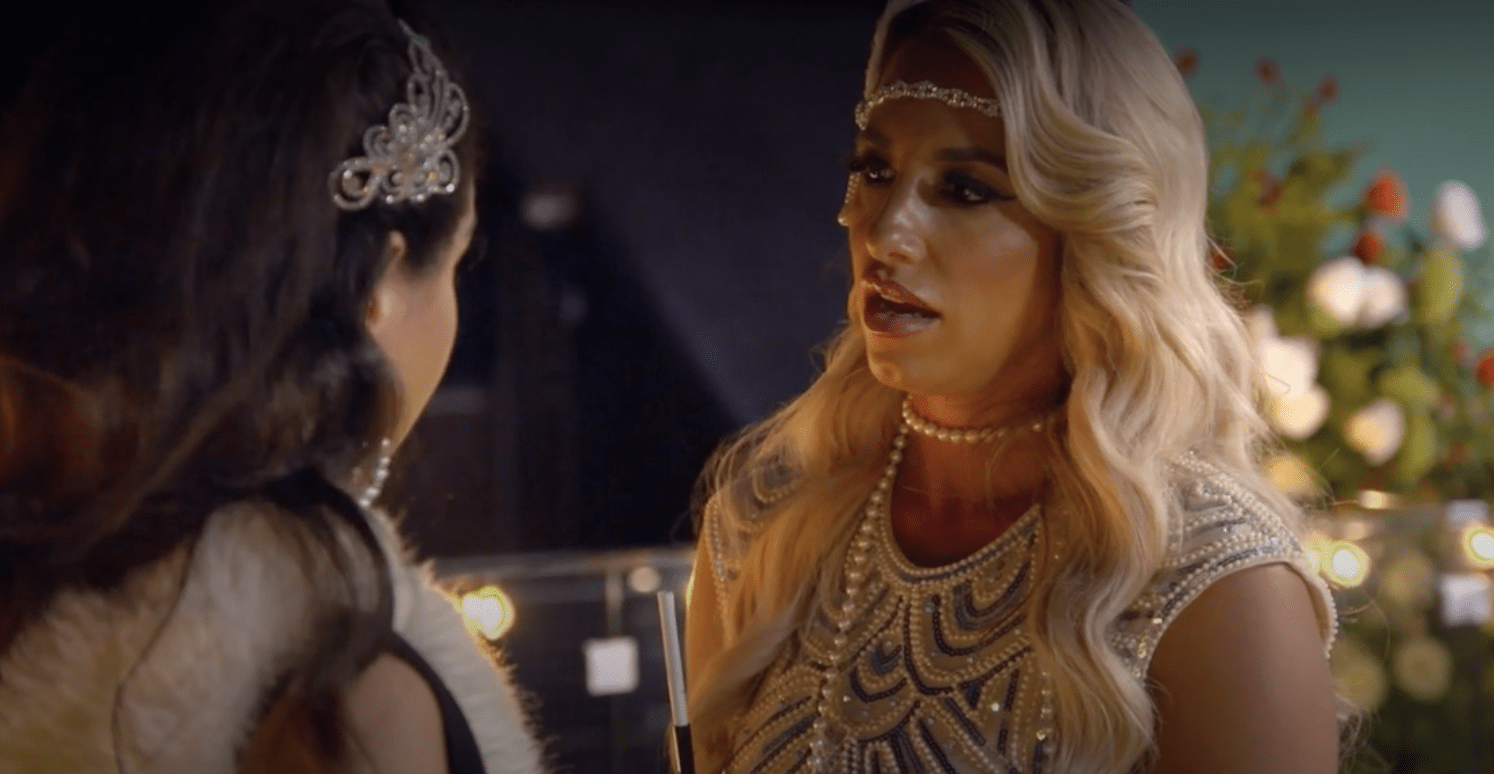 Bill and Jennifer tell Teresa and Louie how happy they are for them and that it's not easy throwing everything under the rug. Frank checks in on Joe and ask if he's spoken to Teresa yet. Joe replies "Nope" and tells Frank that Louie arrived with an attitude. Even Frank noticed Louie's short responses while Louie begins turning red and talking mess about Joe. Louie tells Teresa (While Bill and Jennifer stand there) that he would expect Teresa's blood brother would show up differently and that he's sorry for Teresa. Teresa replies "Babe, That's ok, I have you" and proclaims that she's in her love bubble ignoring the noise. Teresa wants to be happy, but Louie says she's not happy, especially with her brother. Louie tells Teresa's she's happy in this moment as Jennifer tells Teresa that it's all love. 
Everyone's getting wasted as we see John Fuda with his hat on backwards and Paulie and Joe B dancing to the side. Teresa's cutting Louie off from taking shots as Danielle and Jennifer talk outside. Jennifer's drunk but Danielle's afraid to get there because she's about to tell Melissa about the rumor. Jennifer sobers up (somewhat) to tell Danielle she cannot do that. Danielle feels like it's the right thing to do but Jennifer tries to steer Danielle away from disaster. Jennifer doesn't want to spill the beans because no one protected her last year and feels it's only right to protect Melissa's marriage. Jennifer states she tried so hard not to repeat this news and Danielle admits she begged Jennifer for details. Jennifer tells Danielle the only reason she told her was to justify the fact that all this information comes from Margaret. 
Danielle wants to give Melissa a chance to defend herself and tells Jennifer that she won't throw her or Teresa under the bus. Danielle tells Jennifer to trust her, and Jennifer washes her hands of it and tells Danielle "I am not gonna f***ing repeat it". Danielle agrees to take the fall if anyone has something to say and Jennifer admits she isn't taking the fall for anything unless she has to. As Jennifer and Teresa wish wedding bliss for Dolores next year, Melissa's telling the crew that Frankie looks like Leonardo Di Caprio from Titanic and that Joe looks like his Italian friend LOL. Danielle pulls Melissa outside to talk but Melissa thinks their going to have drinks. Danielle's nervous as Jennifer, Teresa, and Margaret look on from inside. Danielle begins gently and tells Melissa that Laura said that Margaret's friend, caught Melissa making out with some guy in the back of a car.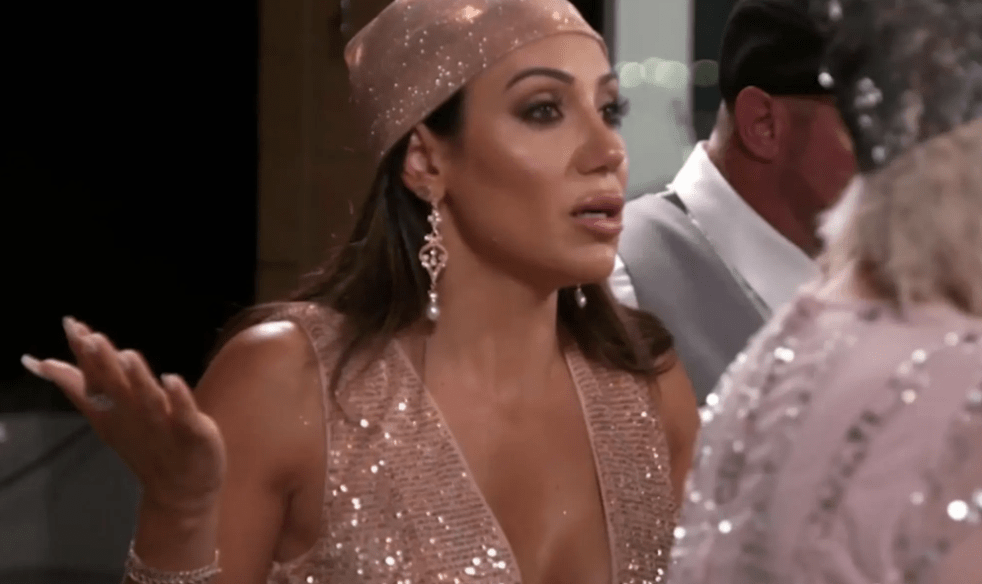 The friend told Margaret, who then told Laura and now that's how Danielle got the information. Melissa snaps and says, "If we're gonna be honest here, let's be really f***ing honest" and tells Danielle she already heard this rumor from Joe! Apparently, Teresa invited Joe over secretly to tell Joe behind Melissa's back! In Melissa's confessional, she explains Teresa and Louie invited Joe over and said Melissa was cheating on him. Melissa tells Danielle "Pretty f***ed up sister-in-law I have, isn't it?" and Danielle is speechless! Melissa thinks the rumors are baseless and wonders if Teresa thought Joe would pack his bags and leave Melissa. Melissa wanted Teresa to call them both over to discuss what Laura said and Danielle doubts that Teresa thought the rumors were true.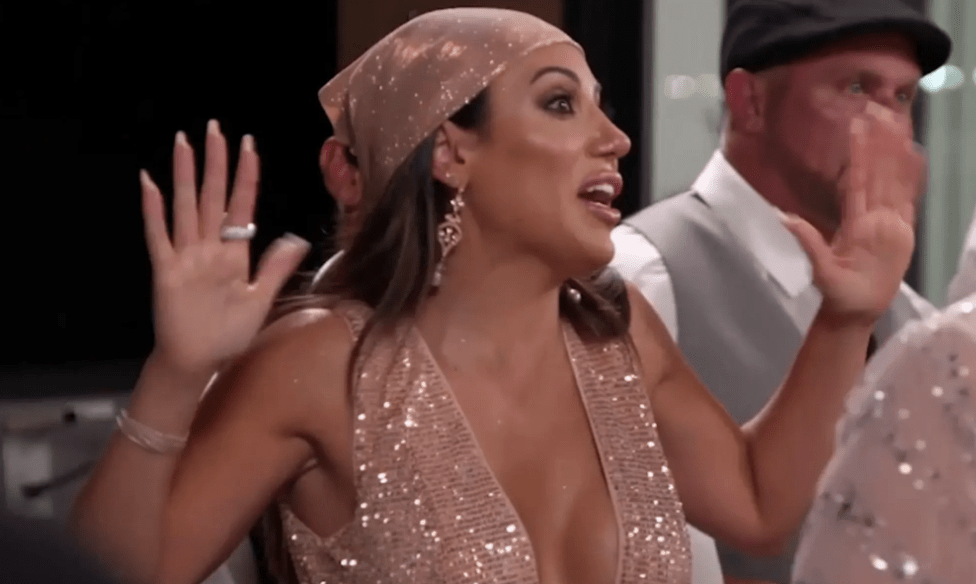 Melissa tells Danielle that she's been accused of being a stripper, doing things in parking lots, and Teresa thinks Melissa will leave Joe for a richer man. Melissa admits Joe can barely look Teresa in the eye after that day and isn't surprised Teresa got her minions to do her dirty work. Danielle states she doesn't believe the rumor and wonders why Margaret isn't feeling the heat from anyone. Margaret sees Danielle saying her name from outside and slowly makes her way to find out what's going on. Melissa doesn't believe Margaret would say that because it's one-hundred precent not true. 
Jen Fessler tells Margaret to go over there, and Margaret says she'll "Take her Amazon dress and wrap it around her throat" as she makes her way over to Danielle and Melissa. Margaret admits to hearing her name and wants to know what's going on. Melissa tells the truth and reveals it's all because of Laura and Margaret goes off! Margaret ask Danielle why she's talking about someone she doesn't even know and soon the two are going back in forth in a war of words! Danielle states "Don't shoot the messenger" but Margaret thinks Danielle's a sh** starter. Soon everyone sees the ruckus unfolding as these two scream at each other. Danielle begins putting her finger in Margaret's face as Danielle tells Margaret that everyone has her number!
Margaret tells Danielle her number's "Low Budget Betty." The ladies and security separate the two as Danielle stands up against Margaret as the rest of the ladies wonder what's happening. The fellas watch from the outside as Margaret and Danielle insult each other; as Melissa tells Margaret that Teresa and Jennifer met up with Laura and started this whole mess. Melissa snaps as she calls Jennifer and Teresa losers to their face. Teresa looks shocked as Melissa stands her ground against thing one and thing two. Melissa tells everyone about Teresa inviting Joe over six-months ago and all Teresa can say is "Wow". Teresa's so surprised she has to ask Dolores if she saw what Melissa just did LOL. Dolores is flabbergasted as Teresa says "Look at you" to Melissa and tries to walk away. Melissa's right on her heels as the liquor has peaked and emotions are hot! 
Melissa mocks Teresa from behind as she continues telling the story and Teresa tells Melissa to get off of her. Louie comes in to save his queen as Melissa finally stands up to her sister-in-law. Teresa turns her back on Melissa as Jennifer screams "Margaret's friend said it!" but Melissa doesn't care and thinks Teresa feeds on the idea of Joe and Melissas getting a divorce. In her confessional, Teresa says it was Louie's idea to invite Joe over and explain what Margaret said, so Joe can get in front of it. Of course. Teresa claims she never repeated the story to anyone, but we all know that's not true. Dolores ask Teresa why Melissa called them losers and Teresa fills Louie in on what happened. Louie takes the blame for Teresa but is turning red as he says "I don't give a f***" to a man trying to calm him down.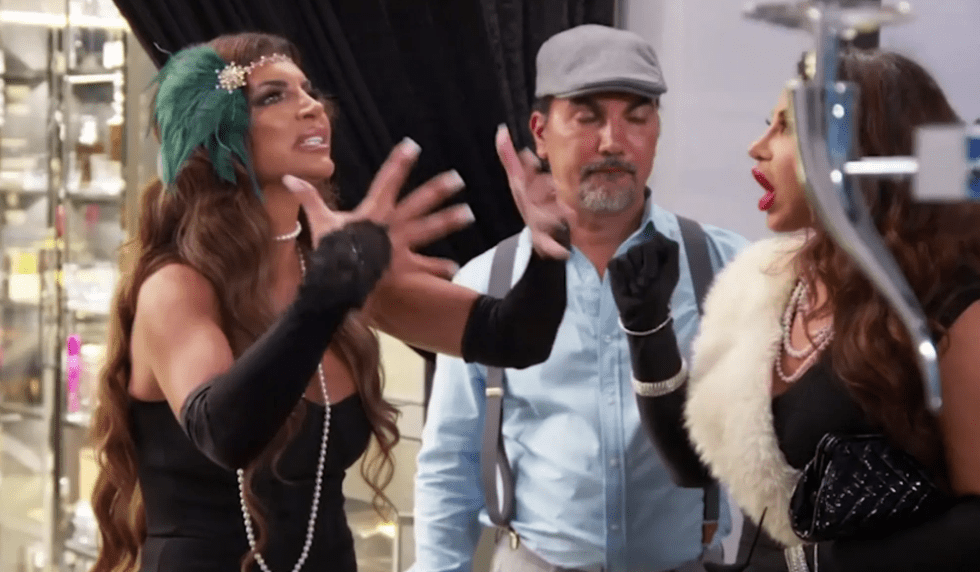 Louie breaks the fourth wall by looking into the camera and says "I'm a winner. I'm winning. She's winning," before asking Teresa for a kiss. Teresa thinks Melissa's looking for attention as Melissa tells Joe what happened. Joe confirms that Teresa and Louie did indeed call him over to accuse Melissa of cheating on him. Melissa's done protecting Teresa as Margaret calls Danielle, Teresa, and Jennifer disgusting. Margaret tells Teresa she should've told Danielle to stop it and Teresa brushes Margaret off to celebrate her upcoming nuptials. Margaret's upset that Teresa's letting this happen as producers get Teresa to admit that Jennifer told Teresa that she told Danielle the tea. Danielle starts screaming as she calls Margaret "Captain America" and ask the ladies why things get deflected off of Margaret.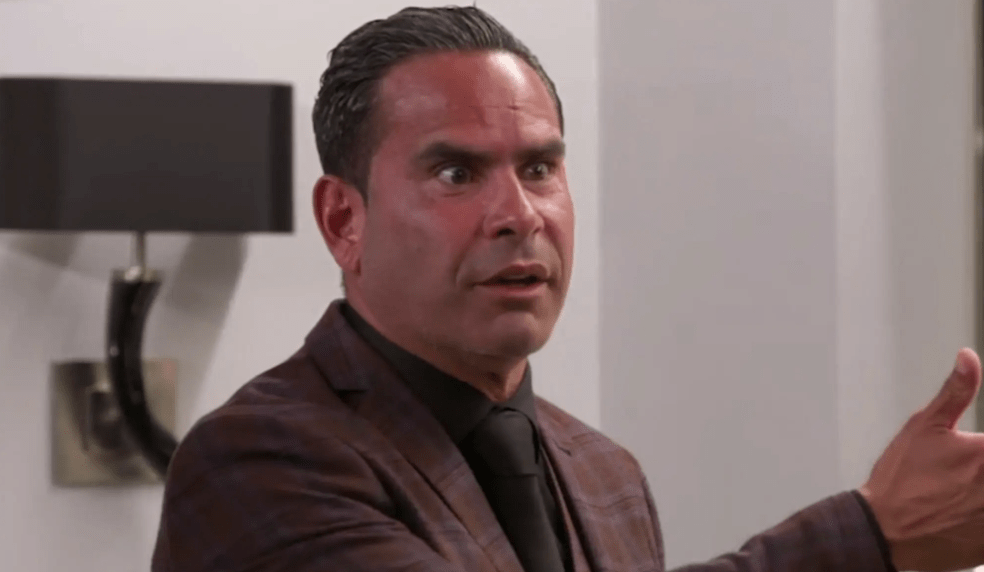 Margaret and Danielle continue arguing as Jennifer's tells Margaret about Laura singing like a bird. Margaret tries to walk away but Jennifer tells Margaret she doesn't know how to own her sh**. Margaret thinks Jennifer's on a revenge tour as Jennifer screams about the things Margaret said and that their daughter wants to become a therapist. Margaret says, "Cause Bill slept with a subordinate and she knew that". Jennifer loses it and lunges for Margaret as Rachel steps in, in the nick of time. Jennifer's crying and screaming the woman threw herself at Bill and how dare Margaret! Jennifer calls Margaret a nasty person as Bill takes Jennifer away as he apologizes to her.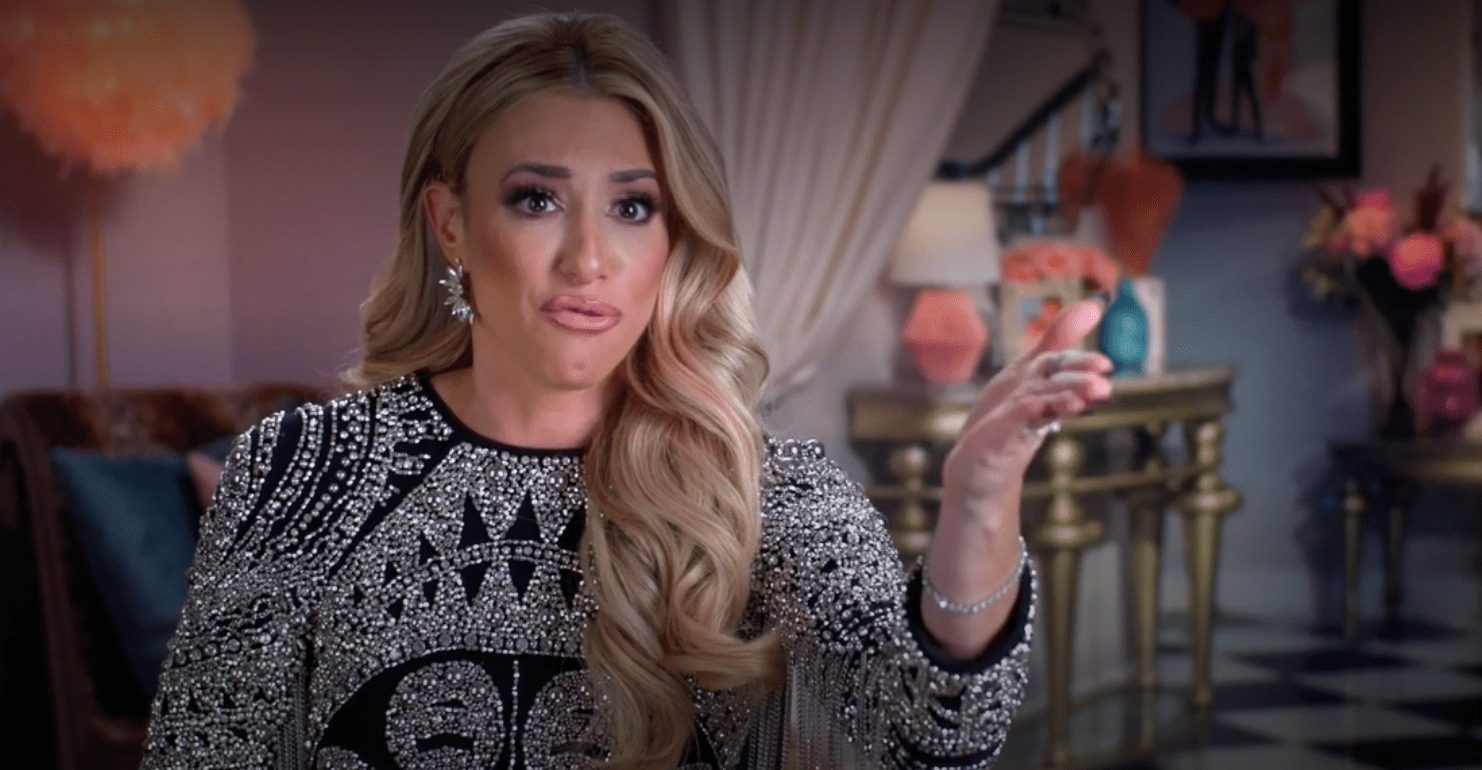 Melissa screams "Great party move Danielle," as Danielle continues sticking up for herself. Danielle says Margaret told Laura and that she wasn't talking behind anyone's back. Margaret disagrees as Danielle tells the full story from Ireland. Melissa wonders if Danielle believes it and tells her Joe doesn't believe it as Joe tells Danielle not to lose sleep over it.  While Margaret and Danielle argue, inside Louie admits to saying a lot of things about Joe and seems to be incite Joe into an argument. Louie doesn't want the ladies blaming Teresa and says, "Yea cause Bo Dietl knows sh** about everyone in this room!". Nate tries to calm Louie down as Melissa wonders why Louie's eyes are bugging out his head. Louie goes to find Teresa but is interrupted by Melissa asking him what's the matter.
Louie acts like he's about to go at Melissa as Nate holds him back and Joe gets up to tell Louie to back up and to not talk to his wife like that. Joe tells Nate he doesn't have to hold Louie back as security steps in to separate them. Louie giggles as he looks for Teresa and blames Joe and Melissa for trying to fight him.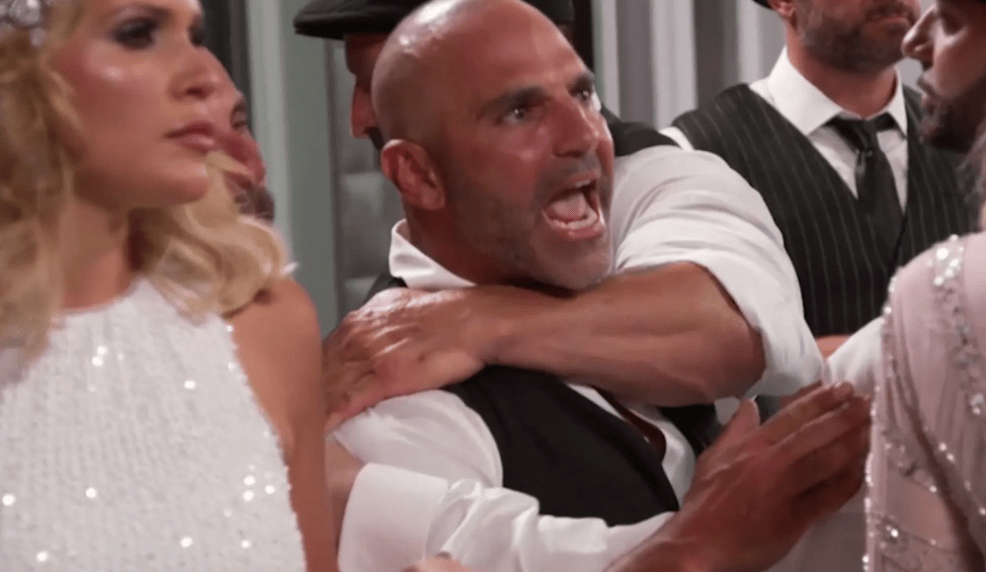 Teresa knew Melissa would try to blame her for the rumor as Jennifer ushers them to the door. Dolores and Paulie look on from the side as Margaret blames Danielle for the sh** show and Danielle screams at Margaret to kiss her flat a**! Margaret tells Danielle that's why her brother isn't talking to her and calls Danielle a "stupid f***ing b***". Nate and Rachel try to calm Danielle down, but Danielle maintains her innocence and claims she was looking out for Melissa's best interest.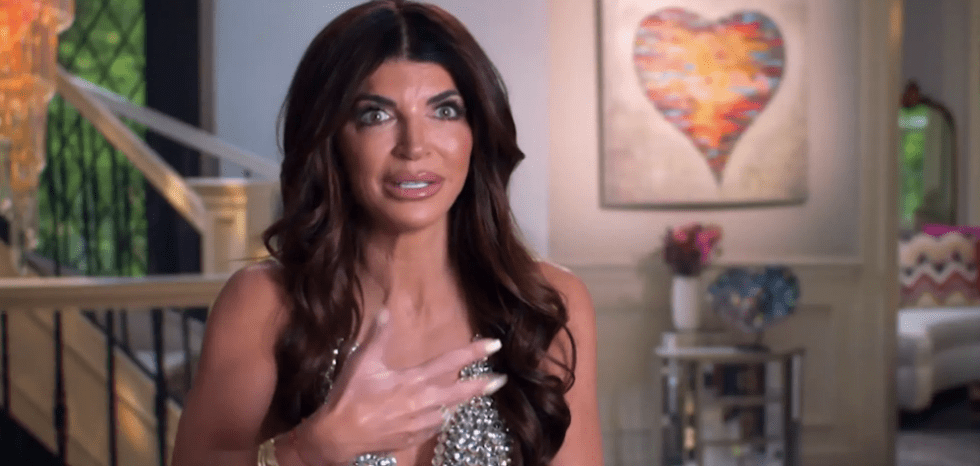 Rachel ask where do they go from here and Danielle doesn't feel bad for what she did. Danielle feels like she's the only one exposing Margaret as the crew say their goodbyes and leave. Dolores hurts for everyone as we get updates from the ladies since filming. Danielle still hasn't spoken to her brother and is focusing her energy on growing Boujie Kidz. Margaret continues living with Lexi and Nino as she continues to build her extended family. Rachel officially adopted Jaiden and celebrated at Disney World. The next day, Jennifer meets Teresa at her home to discuss the drama.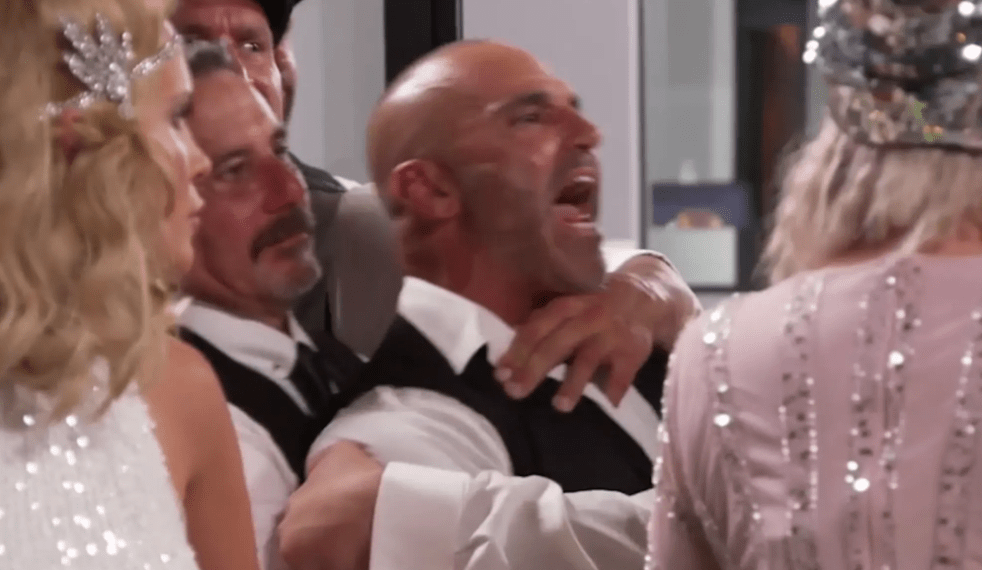 Teresa's hands are still shaking from last night and Jennifer's sad and disappointed. Teresa feels horrible but Jennifer thinks Melissa should feel bad. Jennifer tells Teresa that Danielle gave her the heads up, but Teresa wishes Danielle kept her mouth closed. Teresa thinks no matter what she's to blame as Dolores chats with Melissa about the event. Melissa knew about the rumor and is sad because Teresa and Louie couldn't wait to tell Joe. Joe's working construction on the house and we learn Teresa and Louie said Melissa was cheating with multiple men and Gia Giudice called Joe a few days later to tell Joe they think he can do better than Melissa.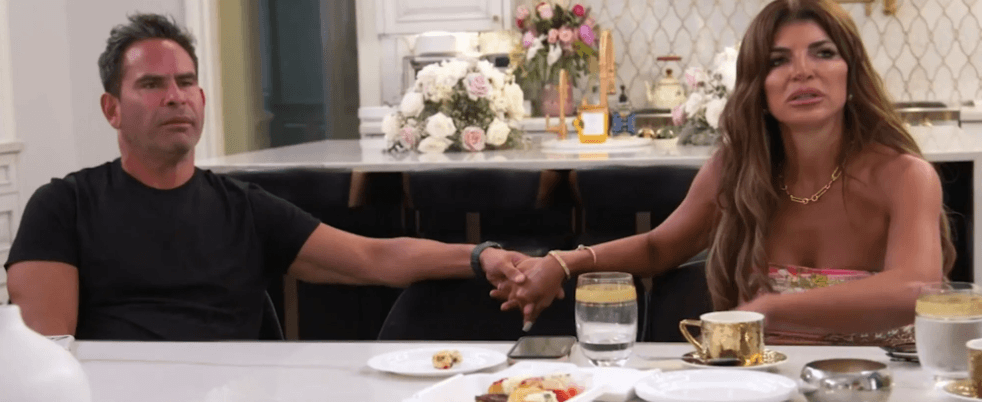 Melissa knew Teresa and Jennifer wanted Danielle to do their dirty work, but things just don't make sense to Dolores. Melissa blames Teresa for everything and is done dealing with toxic people. Melissa and Joe aren't going to the wedding and Dolores is afraid if they don't go, there's no coming back. Melissa been thinking it was over as Dolores confirms it's a no-go and gives Dolores permission to tell Teresa the news. Dolores arrives to Teresa's and both ladies apologize for ruining the party and tells Teresa what Melissa said as Louie joins them. Louie claims he was looking after Joe and didn't want anything blowing up in his face.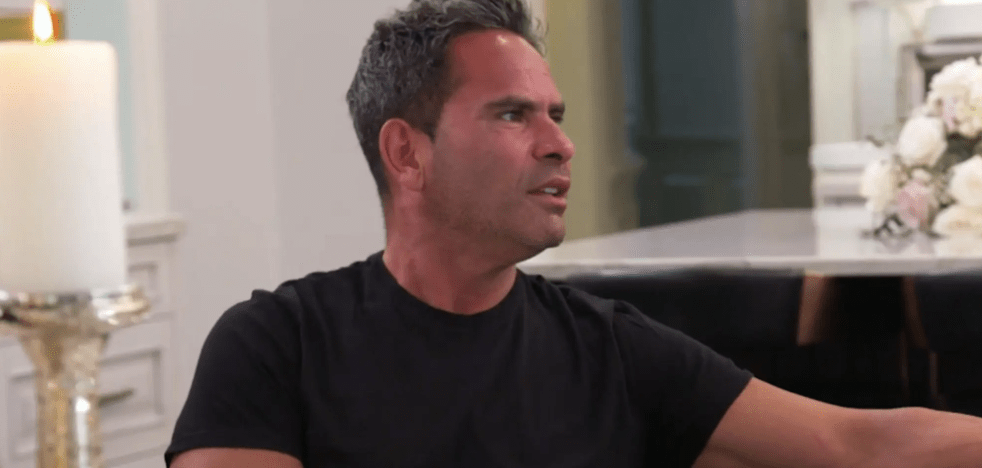 Louie then admits to having a private investigator who brought Louie information on everyone in the group. Teresa says she doesn't know anything as Dolores wonders why Louie's talking with a PI. Dolores tells Teresa that Melissa and Joe aren't coming to the wedding and Teresa thinks Melissa and Joe hate them. Teresa claims to be done and is cutting them out her life like she cut Kathy out. Teresa blames Melissa for separating Teresa and Joe as we learn Melissa's planning a housewarming party without Teresa and Louie's presence. Dolores and Paul are searching for a new home as Jennifer and Bill continue working on their marriage. Teresa claims to be relieved as Dolores and Jennifer leave and Louie tells Teresa "It's over" as they kiss. The lovebirds kiss as we learn they're prepping for their wedding and although they lost two guest, they've gained five pound of hair! Be sure to come back next week for Teresa's wedding special and thank you for riding with us for this season of The Real Housewives of New Jersey! 
Stay Connected With All About The Tea: Twitter Ι Instagram Ι YouTube Ι Facebook Ι Send Us Tips
LeAndra Williams is a content contributor at All About The Tea. She's a social worker and (super) mom by day, and a reality T.V. junkie by night.