'RHONJ' RECAP: Jennifer Aydin Reveals Melissa Gorga's Shocking Secret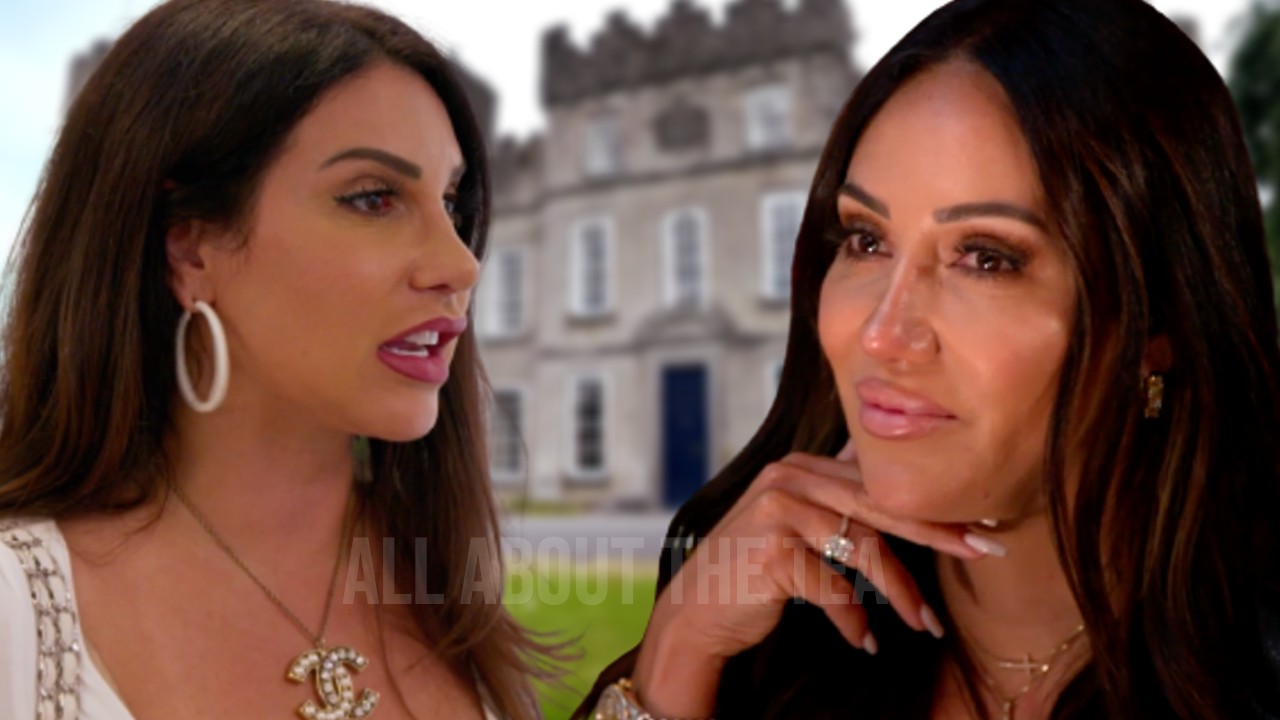 'RHONJ' RECAP: Jennifer Aydin Reveals Melissa Gorga's Shocking Secret 
Welcome to a new episode of The Real Housewives of New Jersey. This week, Melissa Gorga is prepping for Danielle Cabral's Kid Pop-Up shop. Danielle arrived (trying) to look "Bad & Bougie" as Melissa shows Danielle a few items. Danielle needs help selling Bougie kids and who else to help her besides Melissa?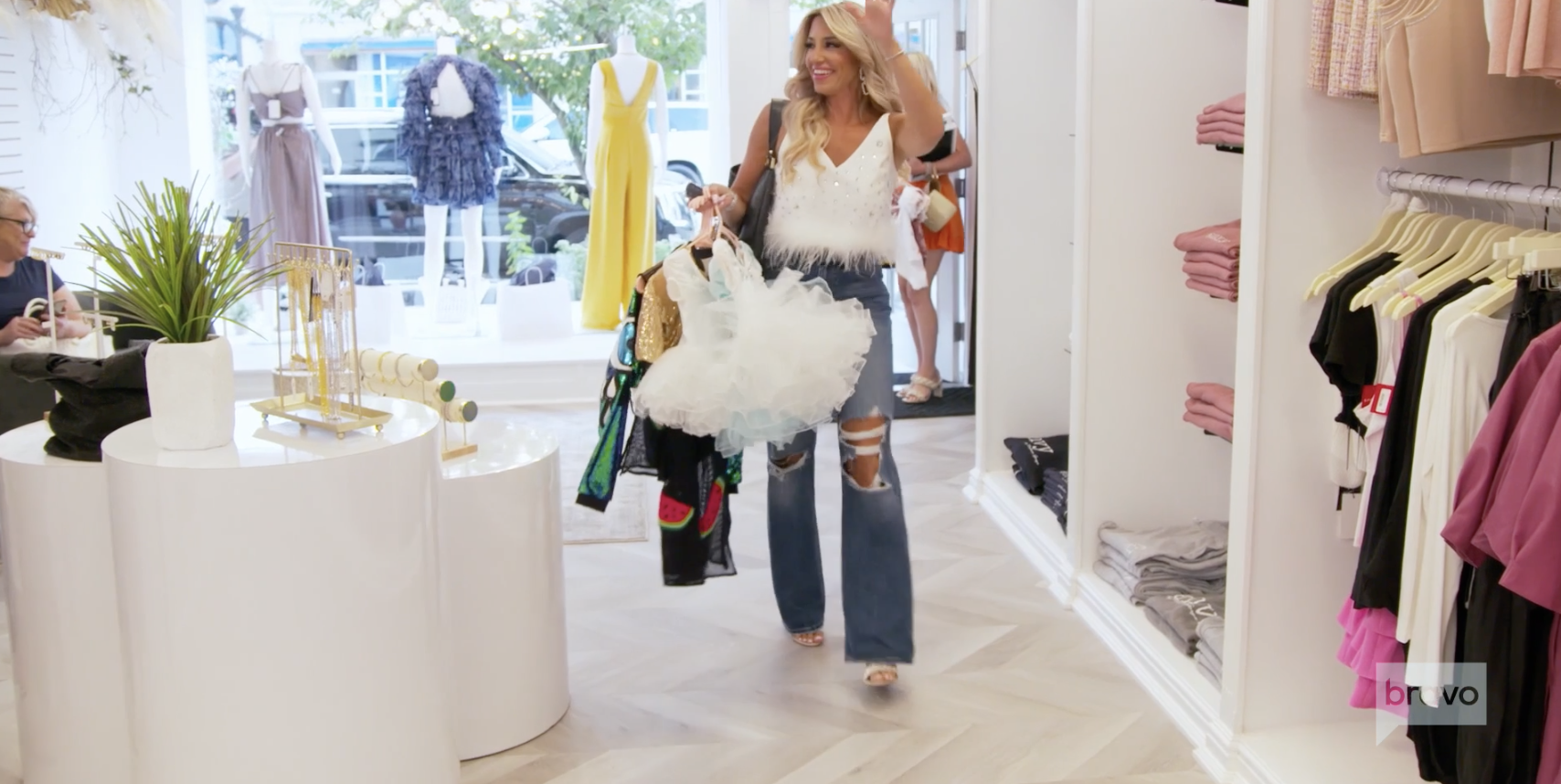 Melissa's live-streaming while Danielle shows shoppers her items as Jennifer Aydin stops by for support. Jennifer's looking for green to wear on their international trip and soon Jennifer stops shopping to corner Melissa. Jennifer A. ask Melissa if she's alright with Jennifer A. being Teresa's bridesmaid and Melissa doesn't bat an eye. Melissa doesn't care but it seems like Jennifer wants Melissa to be angrier than she's displaying.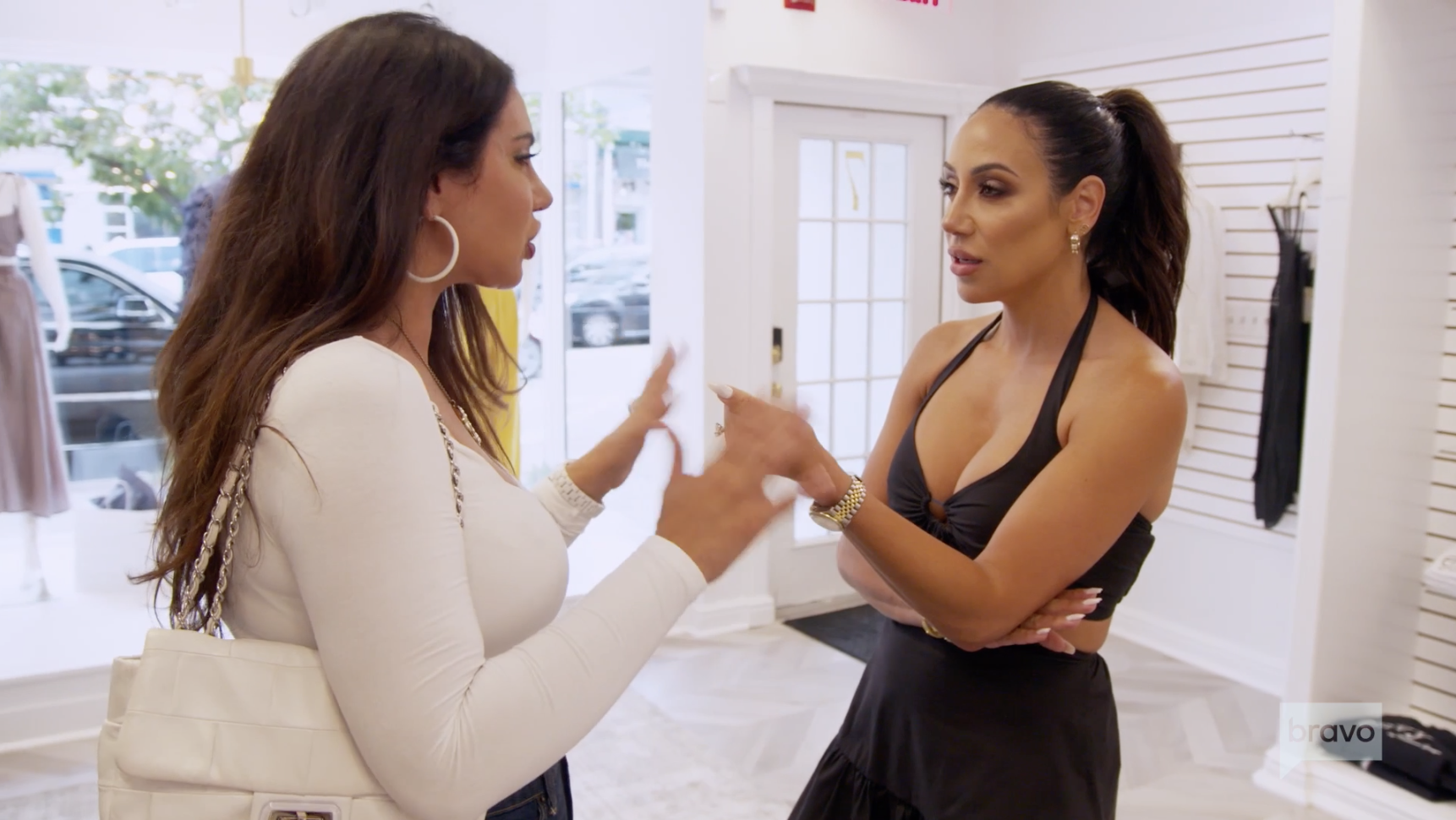 Jennifer Aydin tells Melissa she can always change her mind but Melissa tired of playing Teresa's games. Jennifer wants Melissa to accept the olive branch but Melissa's trying to move on. Melissa changes subjects and focuses on Danielle and her issues with Rachel Fuda. Danielle thinks Rachel threw her under the bus and begins to call Rachel a rat. Danielle's just upset she got caught running her mouth and Danielle needs to step her cookies up before they crumble *Kudos to Nicki Minaj*.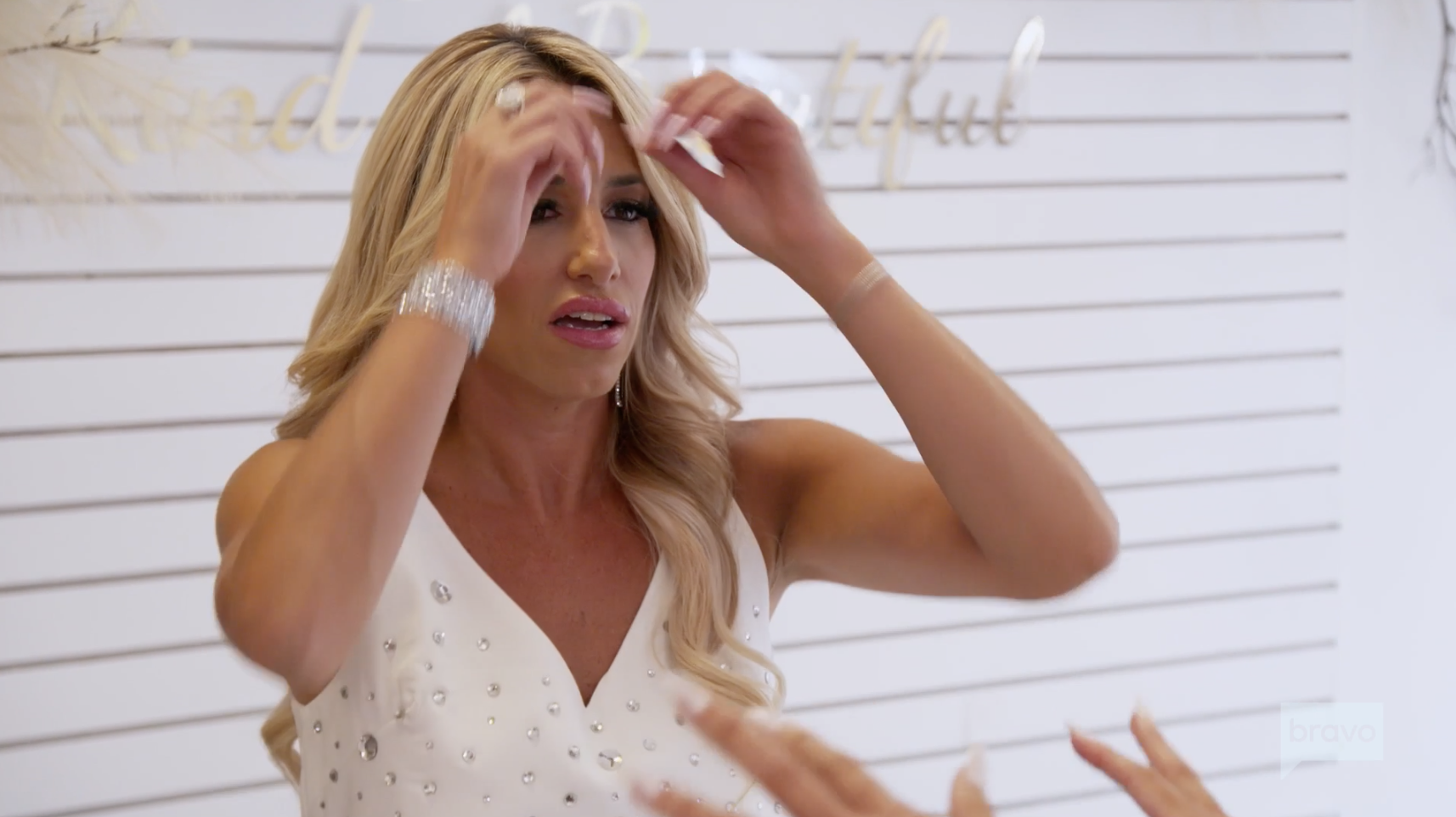 Later, Teresa's packing for Ireland while Louie looks from the side. Margaret Josephs showing her outfits off to her puppy while Rachel ask John Fuda if he can survive without her LOL.
Dolores Catania and Paulie are hanging out with his brother and wife as Dolores explains how excited she is to bring the girls to Ireland. Dolores explains in her confessional that for Valentines Day, Paulie took her to this beautiful castle in Ireland and afterward she met Paulie's entire family. Dolores adores them and loves the bond she has with them. Dolores is excited to host this trip but admits the group is very particular LOL. Paulie tells Dolores to inform the girls that the people of Ireland will fight if they fight and to be prepared LOL. Dolores also remembers the terrible cup reading from last week and right on que, Margaret's telling Joe all about the fake psychic.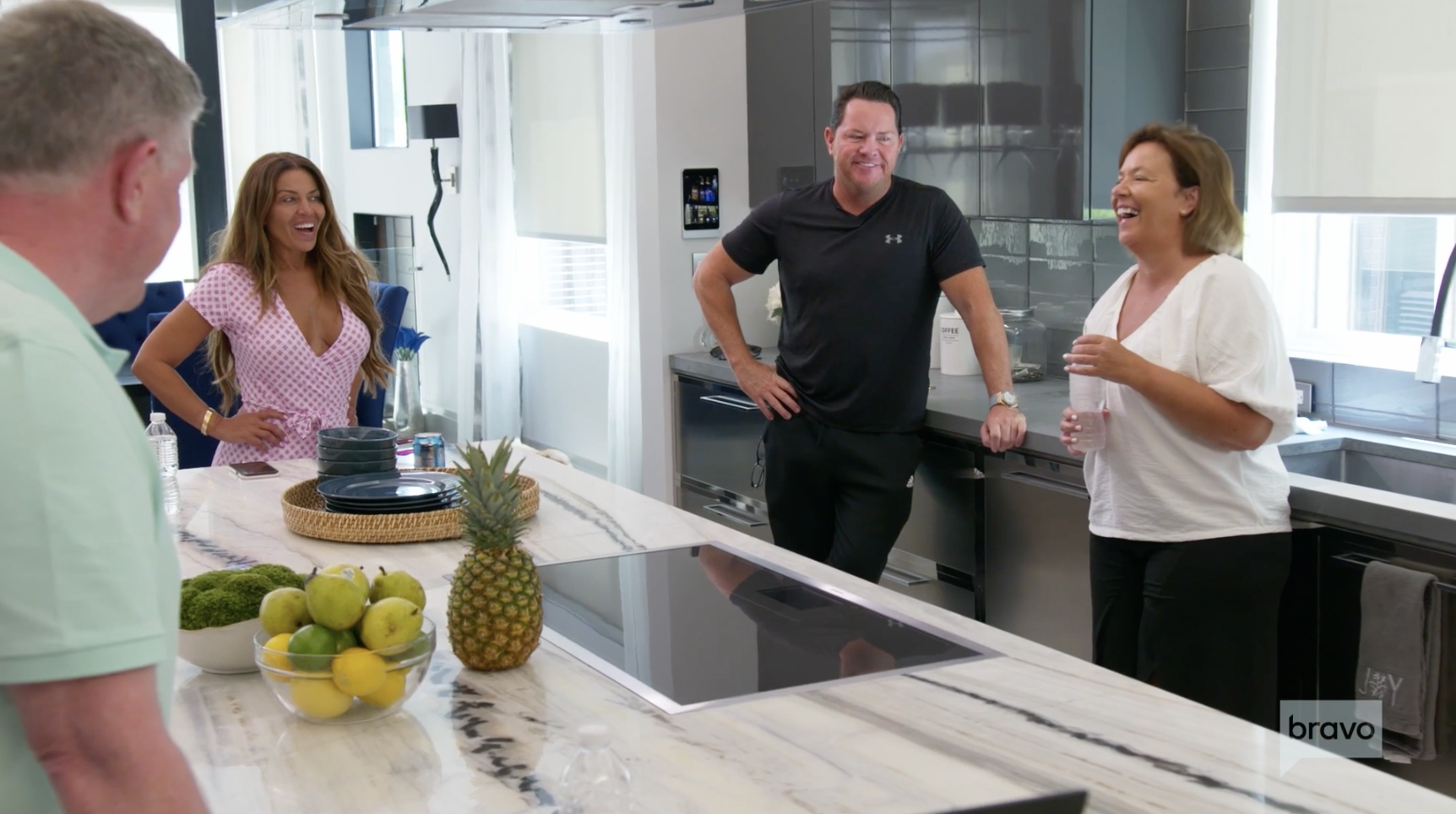 Joe wonders how Margaret Josephs knew the psychic was tainted and as Margaret explains what happened, Joe can't deny something fishy went on. Margaret thinks Jennifer is immature and Melissa thinks the same as she discusses it with Joe.
Melissa hasn't spoken to Teresa Giudice since the shore, and Louie tells Teresa it's impossible to talk to her brother. Teresa doesn't want Louie to get stressed and Teresa hopes to go into the trip with positive vibes to produce a positive outcome. Louie doesn't want Teresa to give away her power and Jennifer thinks Teresa's threading lightly due to her upcoming wedding. Jennifer wants to throw a bachelorette party for Teresa and try her hardest to avoid Margaret. Jennifer's upset that Margaret outed Bill Aydin's affair and thinks it's Margaret's fault their daughter wants to be a love-therapist.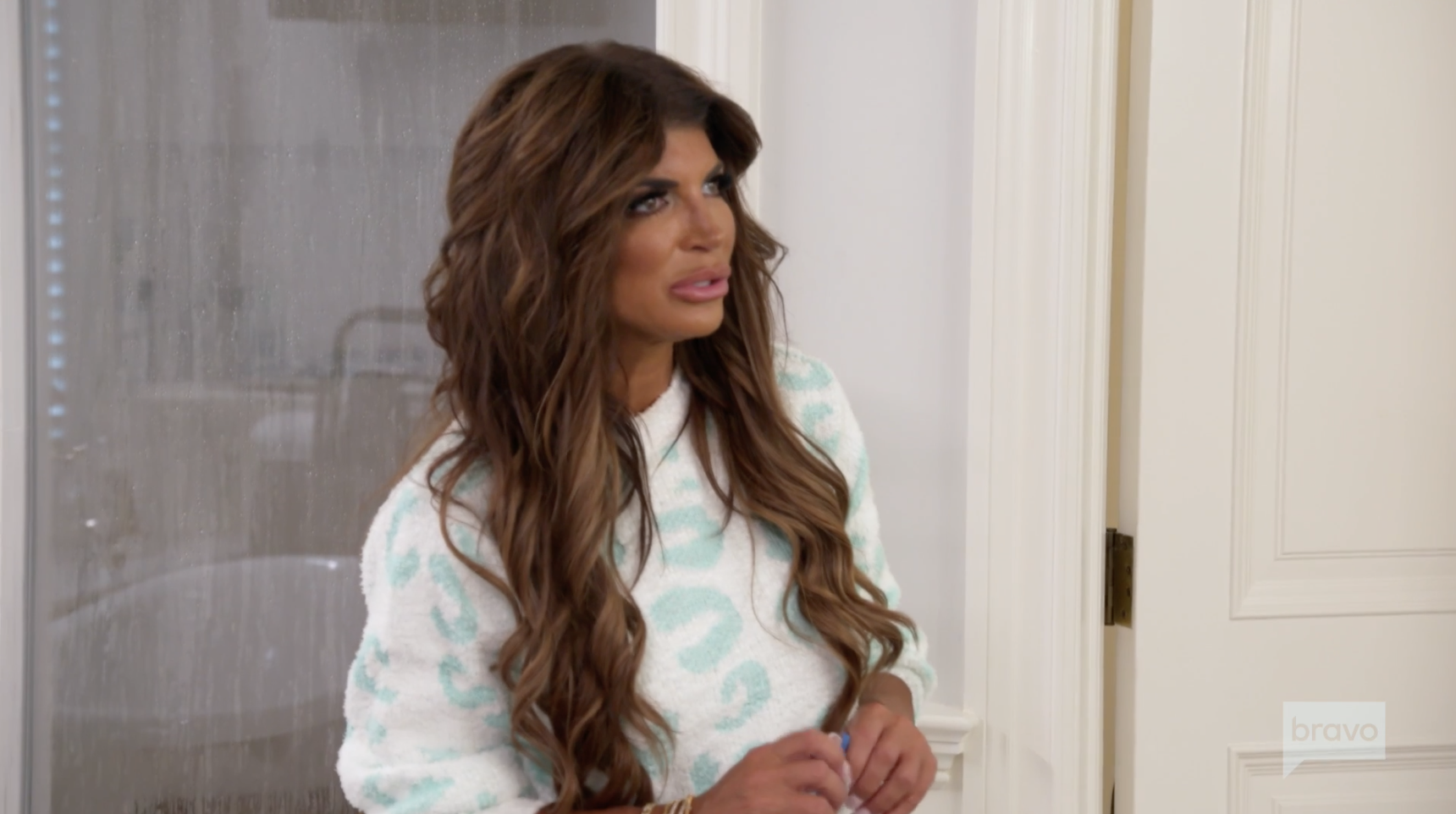 Jennifer Aydin begins discussing therapy and the impact it's had on her but somehow finds herself talking about Margaret  again. Jennifer wants Bill to participate more with the kids and finally gives Bill sh** about being in the pool house all day. Bill doesn't want to give up his true self and Jennifer tells him his true self got left at the door when he said, "I do". I know that's right. Jennifer likes having Bill around and wants to continue with therapy. Bill responds with "Maybe" and Jennifer's taking that maybe in stride LOL. The next day the ladies are at the airport preparing for their flight. Rachel and Danielle are flying together and Rachel's not letting this rift spoil her trip. Margaret plans on avoiding Jennifer and hopes their castle has a dungeon for her LOL.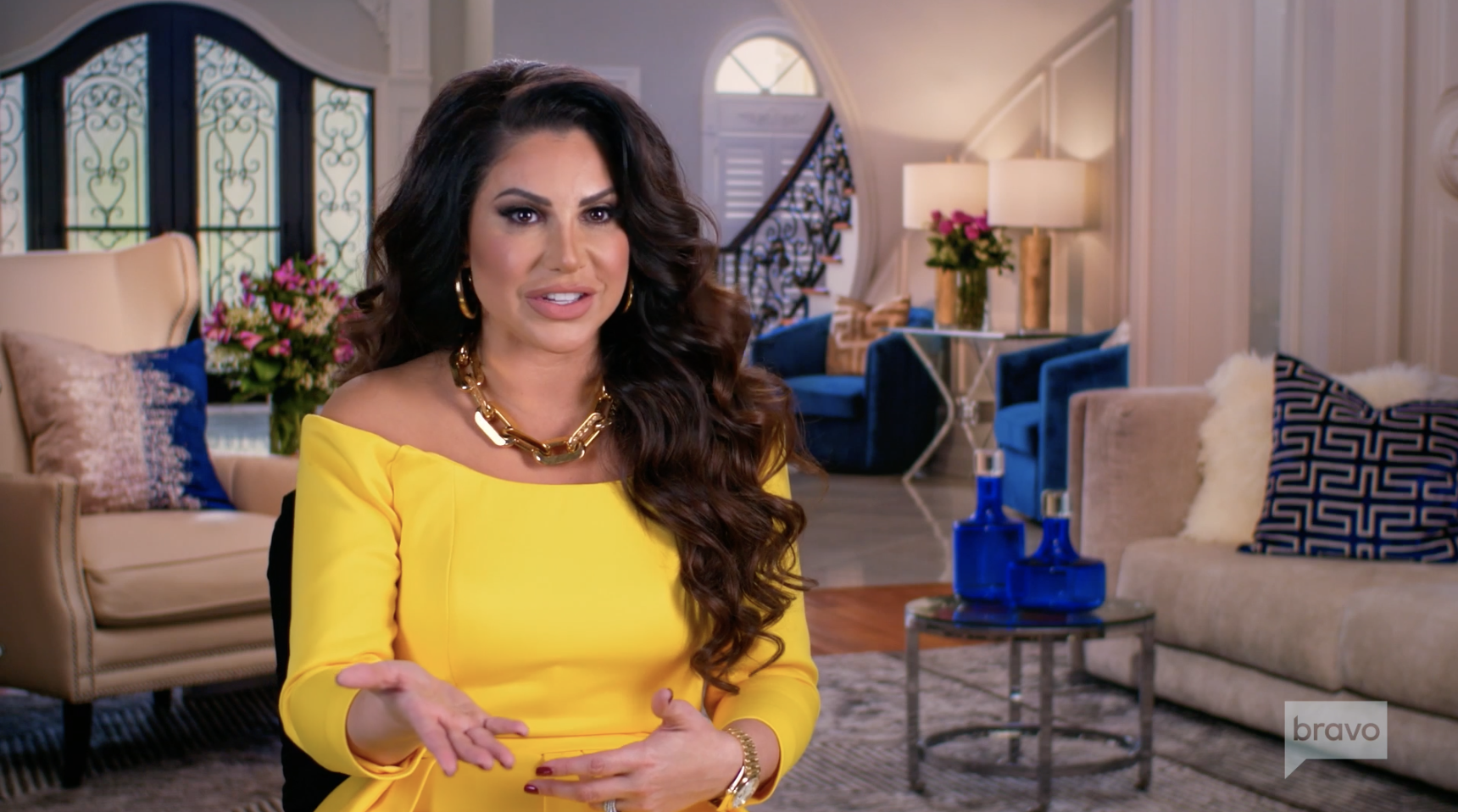 The ladies touchdown in Ireland and Dolores steps into hosting duties as she leads the ladies to their sprinter van. Dolores tells the ladies that their staying in a four-hundred year old castle and soon the ladies are afraid the castle's haunted LOL. There's nine bedrooms and seven bathrooms and for once Dolores is going to take the big room while Teresa gets the other large room. The ladies reminisce on their trip to Jamaica and how good Jennifer was roasting them.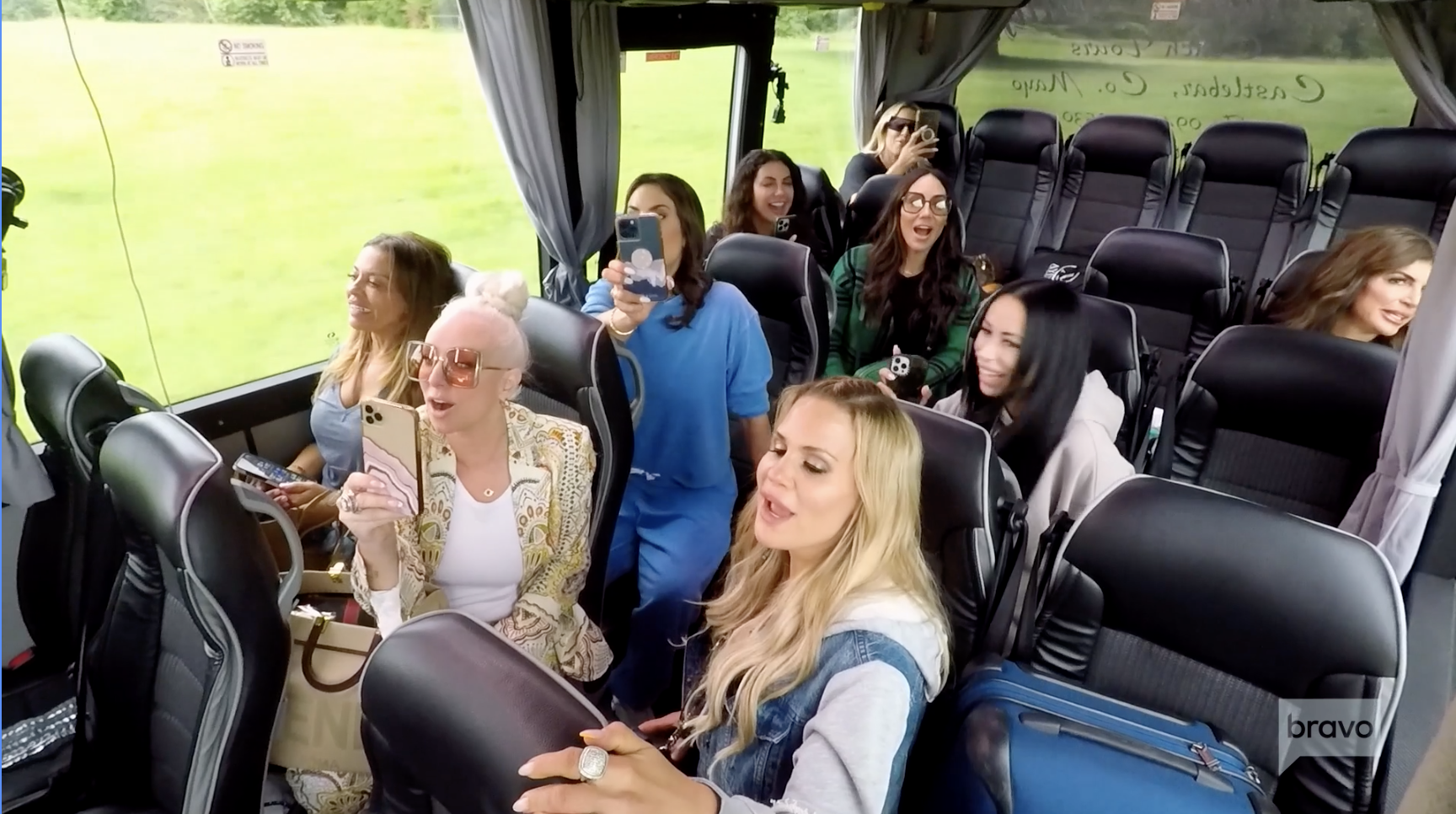 Jennifer Fessler tells the group about her time as a talent agent and how she slept with the actor who played Tony Soprano. Jennifer Fessler was obsessed with this man, but her husband had to put her in check after a while.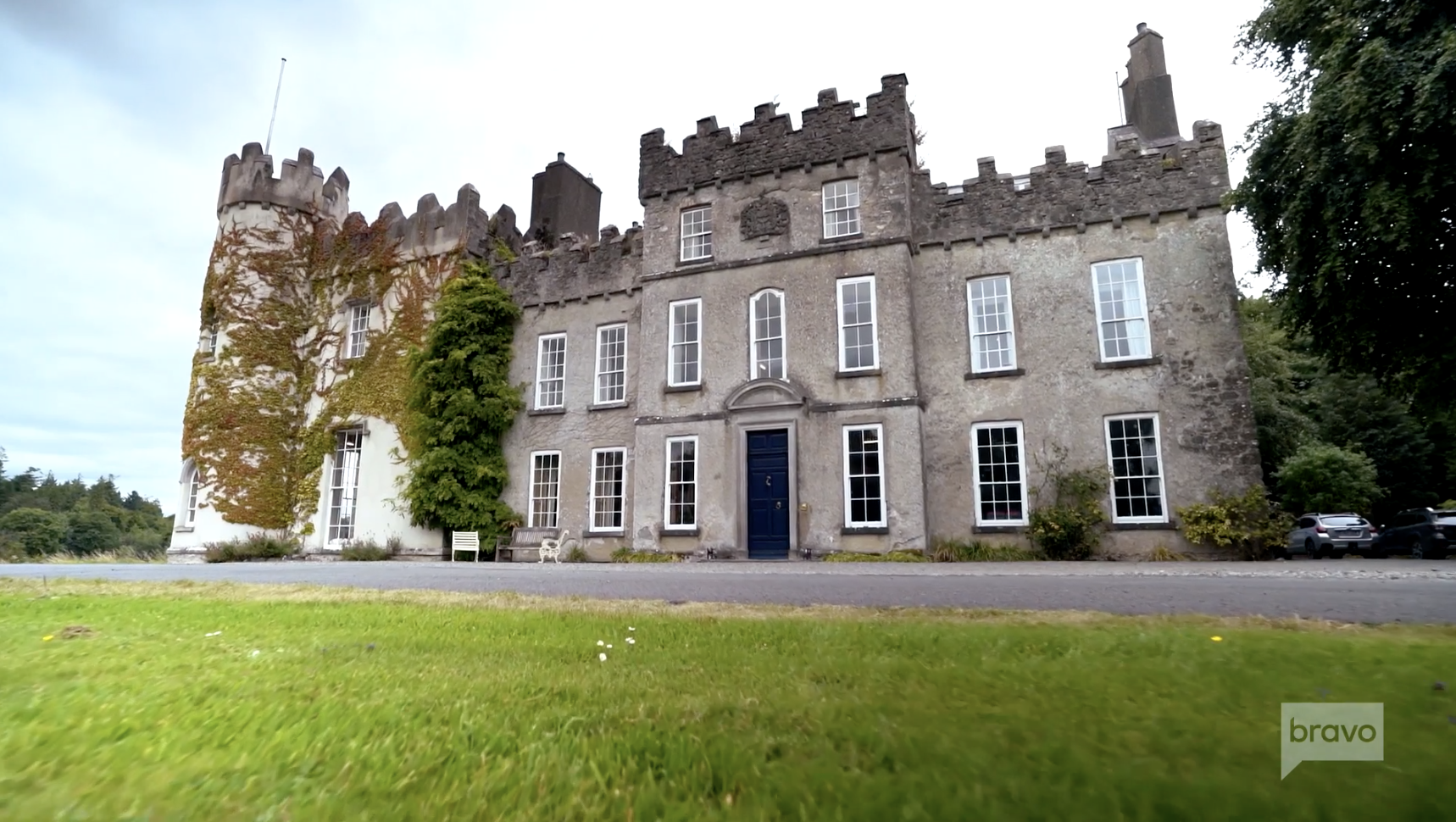 The ladies arrive at the castle and are amazed at what Dolores booked. Danielle's fan-girling in the back as the ladies are greeted by the castle staff. The staff show the ladies the amazing property and everyone is happy with their accommodations. Rachel thinks the paintings are creepy and fully believes this castle is haunted LOL.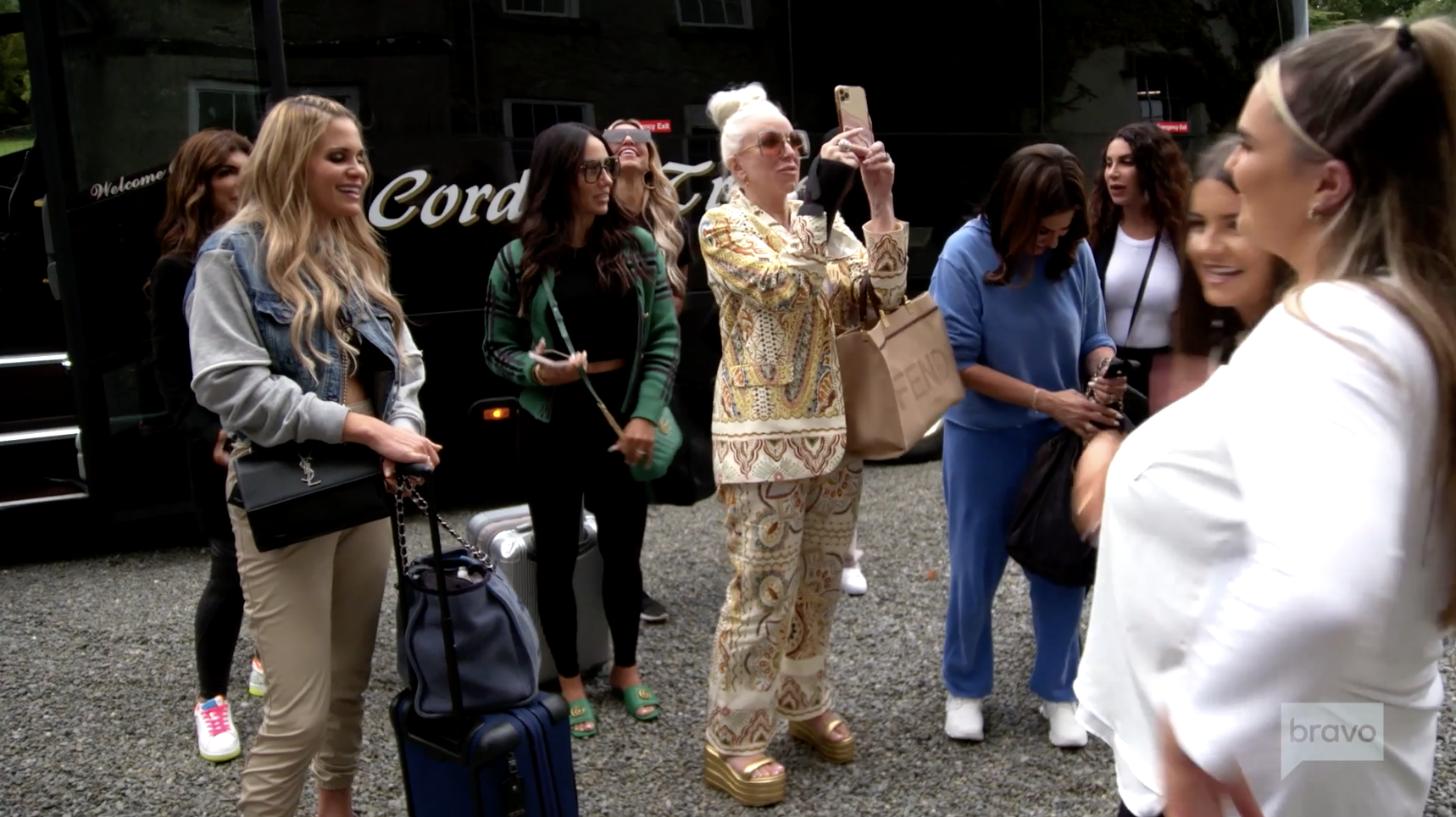 The ladies draw their rooms from a hat and soon the ladies check out each other's room. Teresa has Dolores sit at the head of the table while the rest of the ladies sit around her. Teresa's excited about the pineapples in the room and Margaret notices Teresa sitting next to Melissa. The ladies begin eating as Dolores sets the tone for the trip. Dolores tells Jackie Goldschneider it wasn't cool to call the coffee reader out and Margaret thinks it was Jennifer's fault for bringing the crazy lady.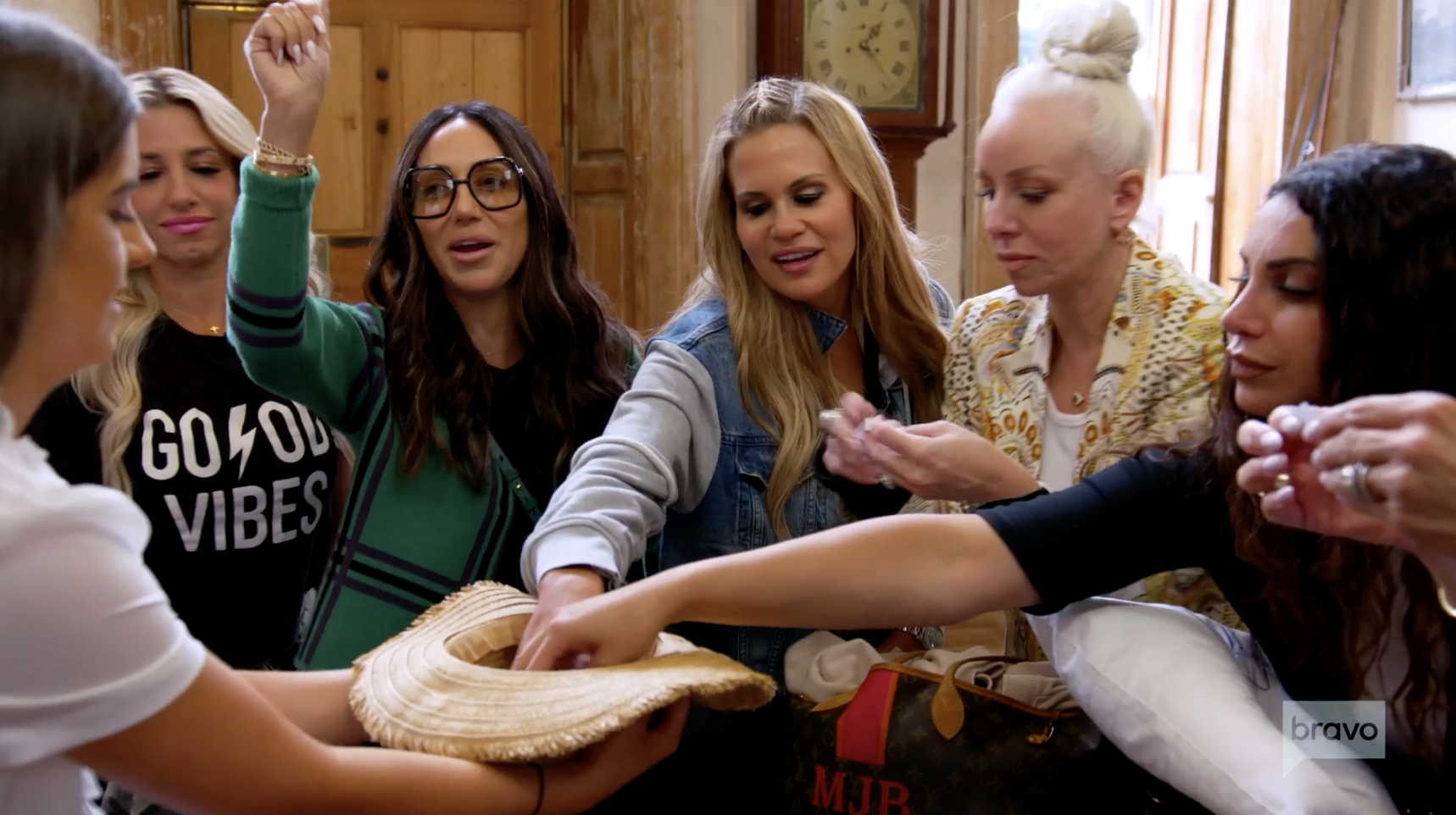 Jennifer A. ask Margaret how it's her fault and soon an argument ensues. Margaret accuses Jennifer of witness tampering and Jennifer maintains she did nothing wrong. Everyone acknowledges something suspect happened, but Jennifer hold onto her truth while Teresa sits quietly nearby. Teresa claims she has good readings before and admits Jennifer told the psychic about her beef with Margaret. The entire table is like "Yep, we figured" as Jennifer tries to explain herself LOL. Jennifer forgets what she told people and is now realizing she needs to keep better check of her words. Jennifer admits to talking a lot and admits Margaret's right about Jennifer having too much to drink and forgetting what she said. 
Jennifer A. stands by that she didn't feed her information about Laura, but Margaret isn't believing that mess. Soon, Jennifer and Margaret are back arguing over Laura and her lies; and Margaret wants to know what Jennifer A. is warning Melissa about. Margaret tells Jennifer A. that what Laura said is unsure and Rachel nor Jackie believe anything Laura has to say. Danielle wants Jennifer A. to spill what Laura said but Jennifer's keeping that secret close to her chest. Dolores dismisses the ladies as Dolores and Margaret go upstairs. The ladies are getting ready for the bar crawl, and everyone looks gorgeous, but Danielle. Danielle rushes to Jennifer's room to check out the bachelorette props as she finds a way to bring up Laura again. Jennifer A. loves that Margaret's on edge due to this dirty secret and Danielle ask Jennifer point blank what it is.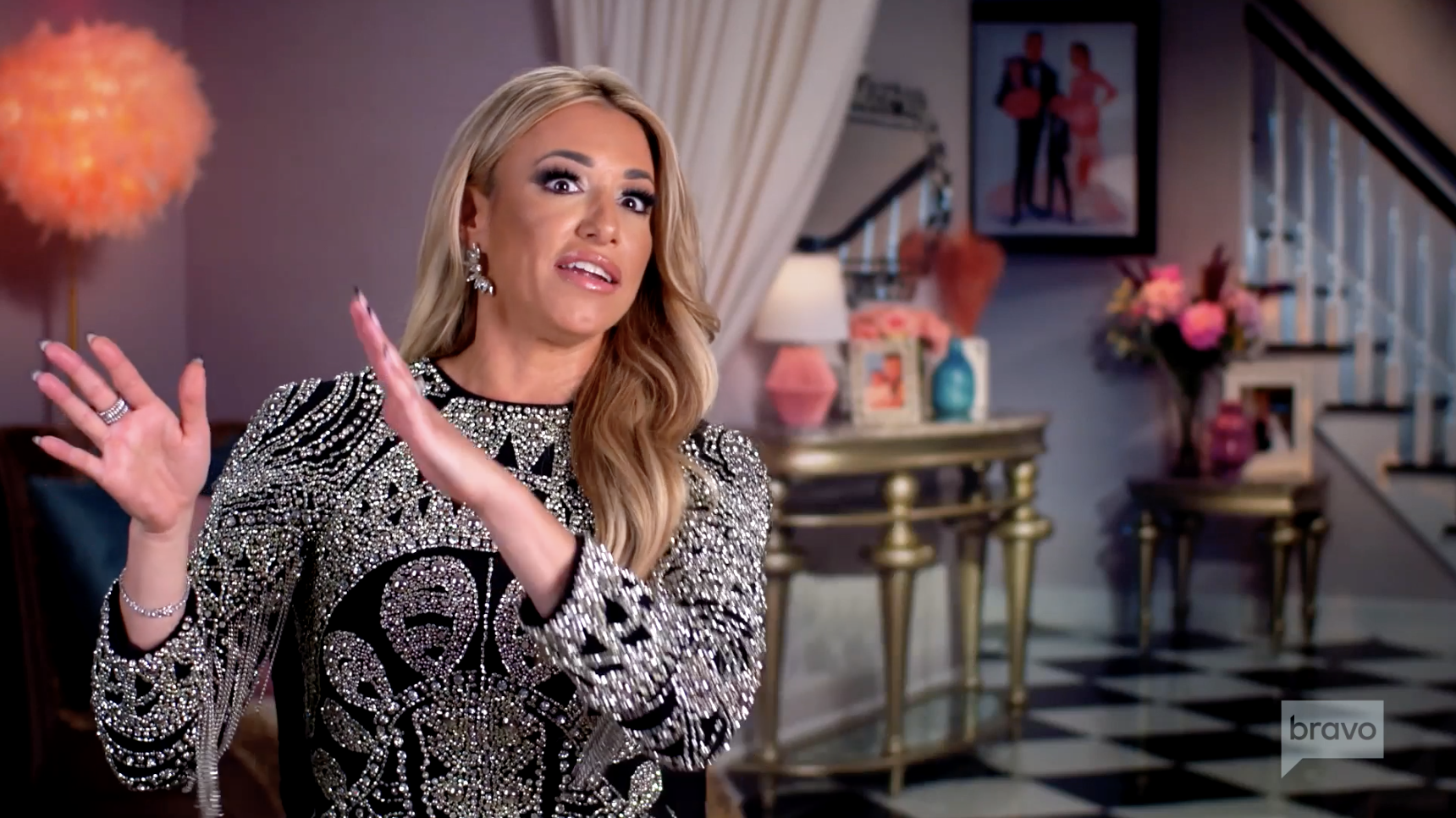 Jennifer A. tries not to say it but eventually tells Danielle that there's a rumor that someone caught Melissa making out with another man. Danielle's shocked and thinks Margaret has an arsenal of dirt on everyone. Goodness. Jennifer tells Danielle that Teresa believes Melissa's cheating on Joe and that may be the reason Teresa didn't add Melissa as a bridesmaid. Danielle regrets asking Jennifer A. the tea and says she doesn't want to touch this mess with a ten-foot pole. Meanwhile, Teresa shows off her outfit to Louie via FaceTime as Jennifer and Danielle take shots. The ladies make their way downstairs and are ready to party. Teresa looks cute in her white dress as she reminisces about her first bachelorette party. The ladies take shots together before heading out to paint Ireland, green. 
Dolores never had a bachelorette party and is thrilled to live bicurious through Teresa. The ladies make it to the first bar and order drinks to begin the festivities. Jennifer A. tells the group she had another prop that said "Single for the night" but didn't know if anyone would wear it. Danielle ask the ladies if they send their men dirty pictures while they're away and Jen Fessler thinks it's gross LOL. Teresa admits she does but the rest of the ladies said no. Jennifer A. encourages Melissa  to send Joe a dirty picture and Danielle offers to play a new game. Danielle wants to send Joe a picture of her and see if Joe can tell the difference.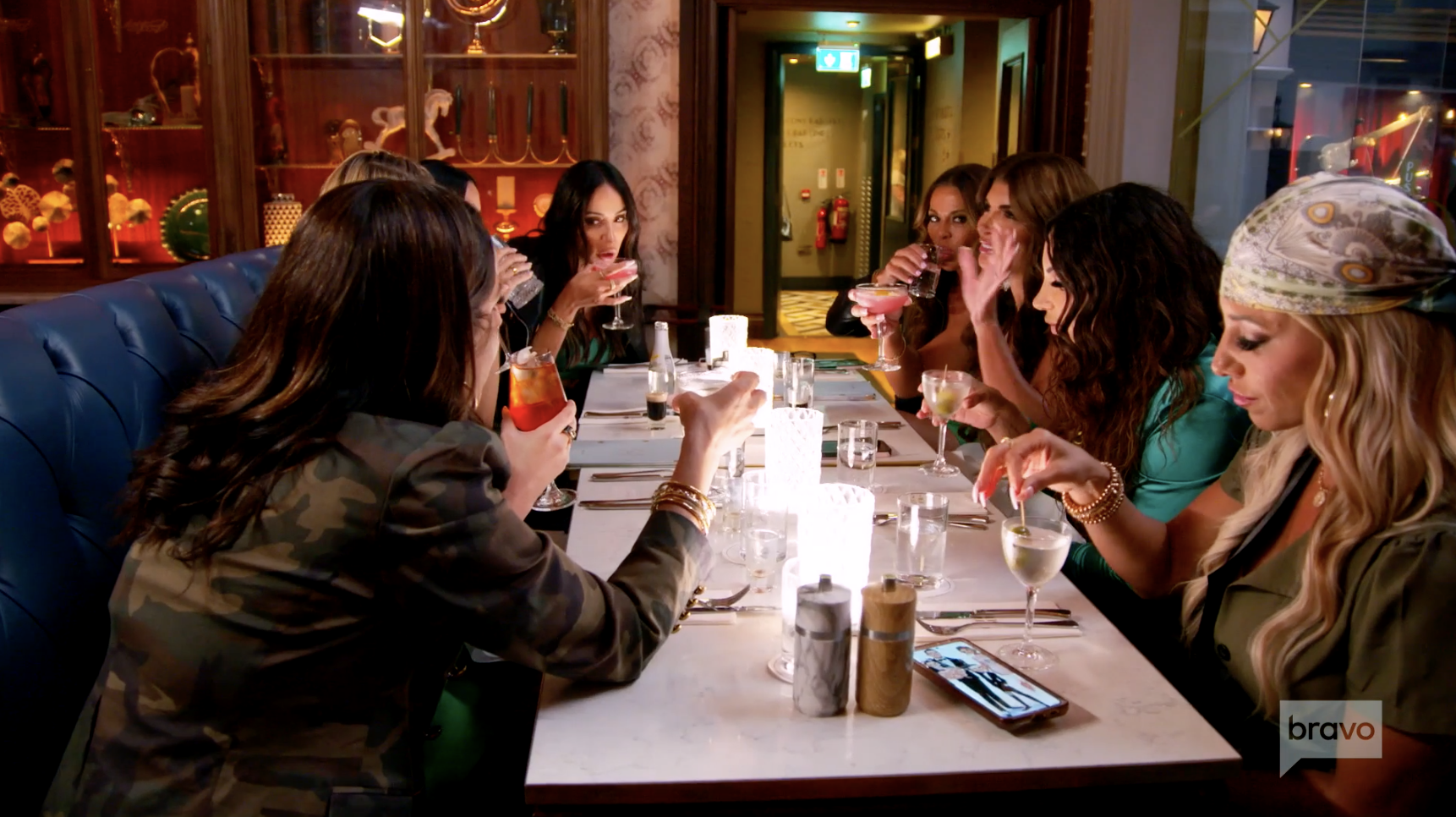 This is dangerous girl, LOL. Luckily Joe said, "Who's that," and now Danielle feels better about Joe and Melissa's marriage. The ladies take shots and Teresa begins discussing everything she has to get done and Danielle ask if Jennifer and Dolores got their dresses. Jen Fessler ask what made Teresa choose Dolores and Jennifer Aydin as bridesmaids, and Teresa does a lot of talking without explaining anything. Teresa says she didn't want another problem with her brother and Melissa looks fed up.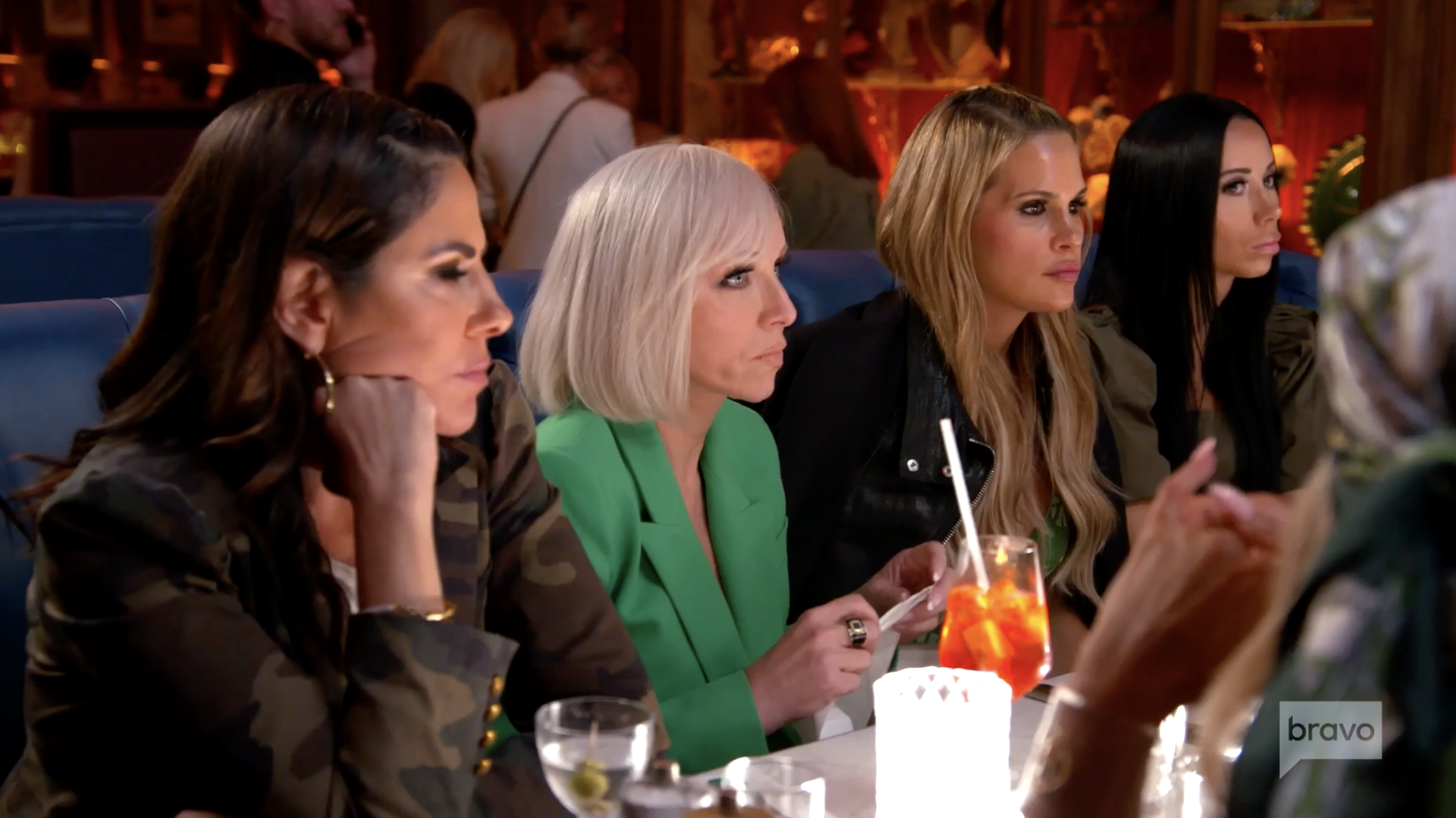 Melissa ask Teresa why would Joe make a big deal out of it since Teresa invited other friends to be in the wedding? Teresa brings up Melissa's mom and blames Joe for not bringing the issue up with her before now.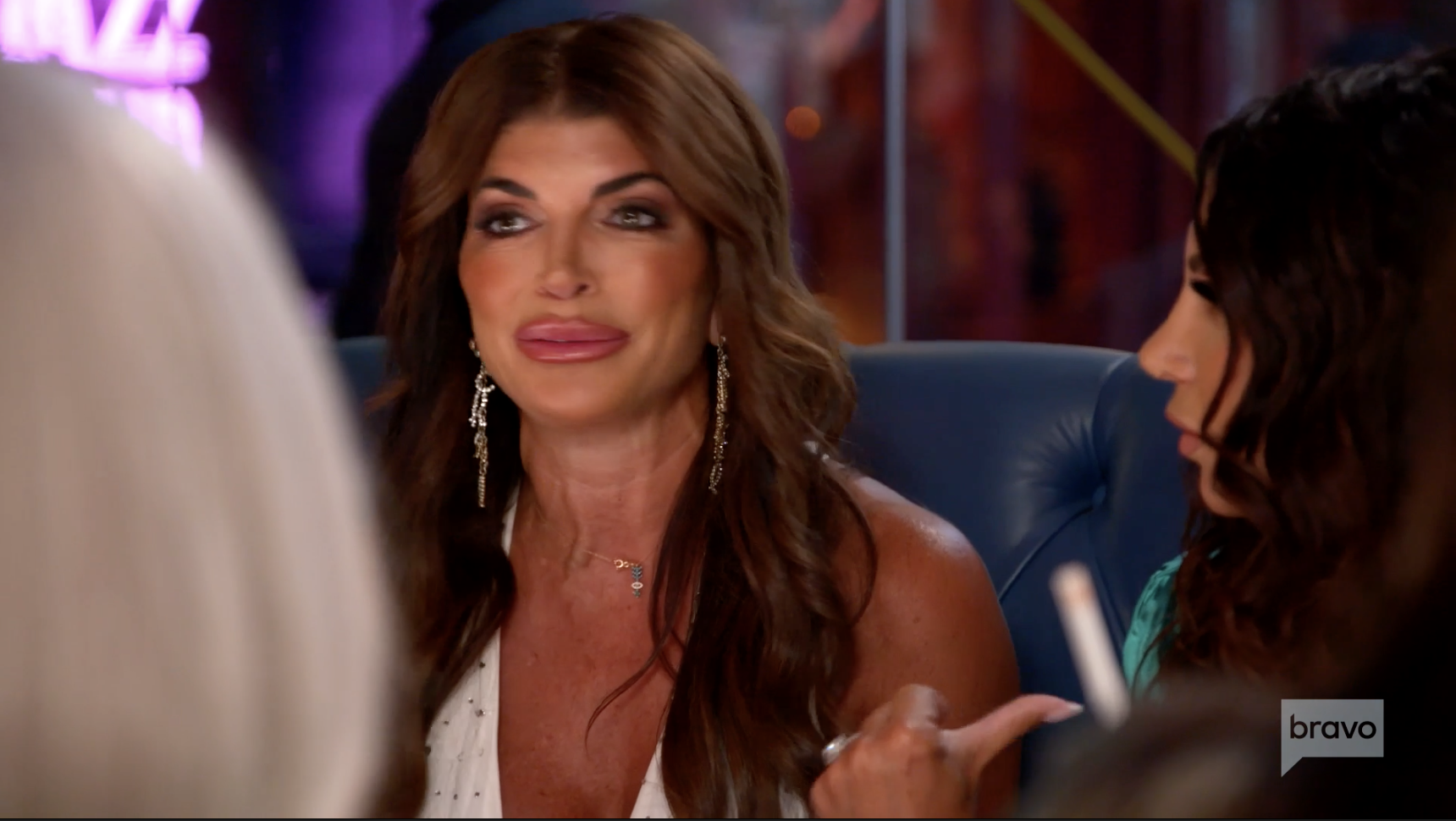 Melissa brings up that Teresa brought up drama between her mother from years ago and didn't say any of that when the topic originally came up. Teresa begins stumbling over her words as Melissa points out that she and Teresa didn't speak back in the day.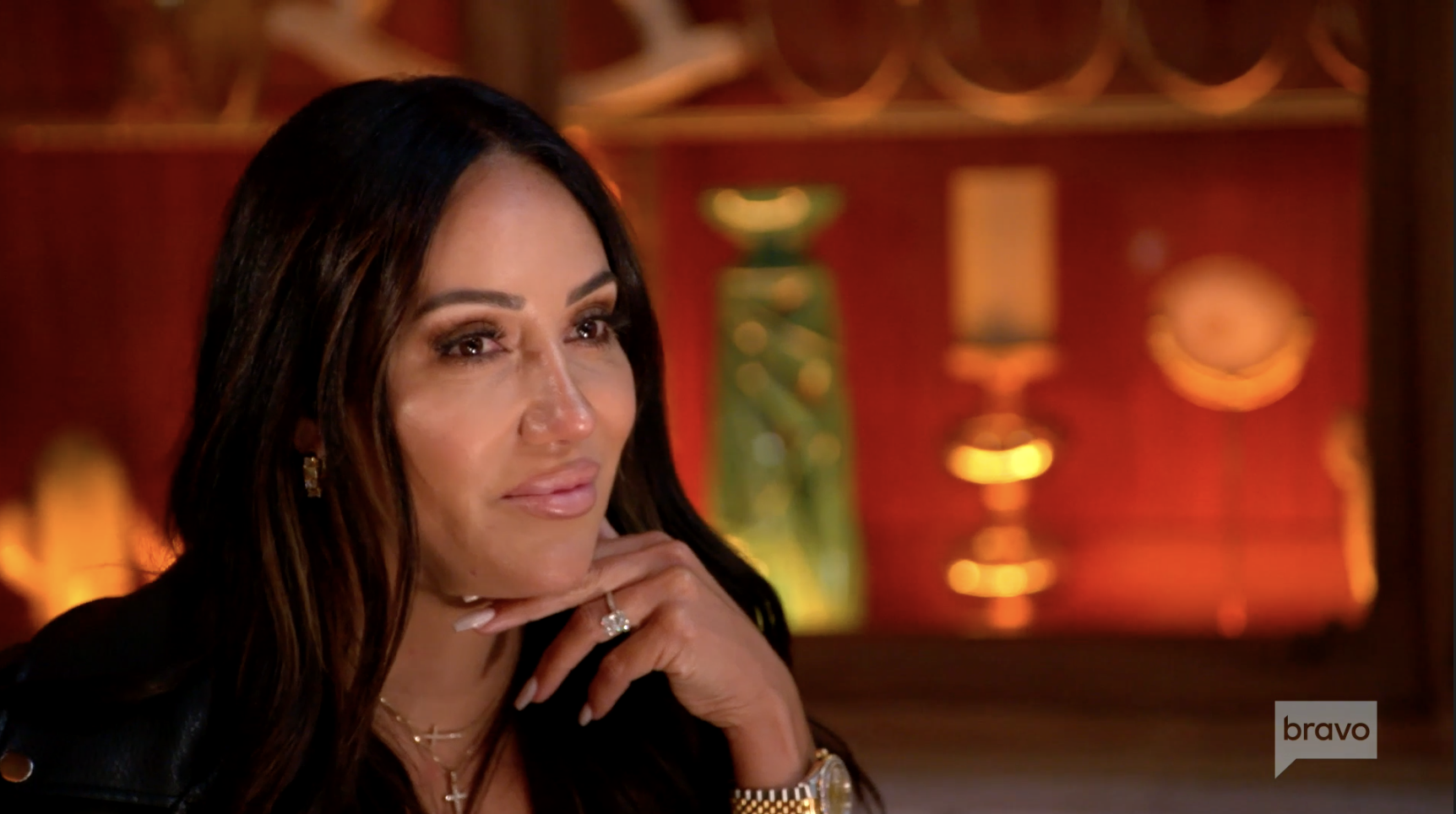 Jennifer A. chimes in to assist and tells Melissa that Teresa was obligated to put Melissa in the wedding. Margaret and Melissa are shocked by Jennifer's brazenness, but Jennifer tries to apologize while Teresa exclaims she doesn't need help. Melissa tells Jennifer A. that she and Teresa are family, and that Jennifer doesn't know what she's talking about.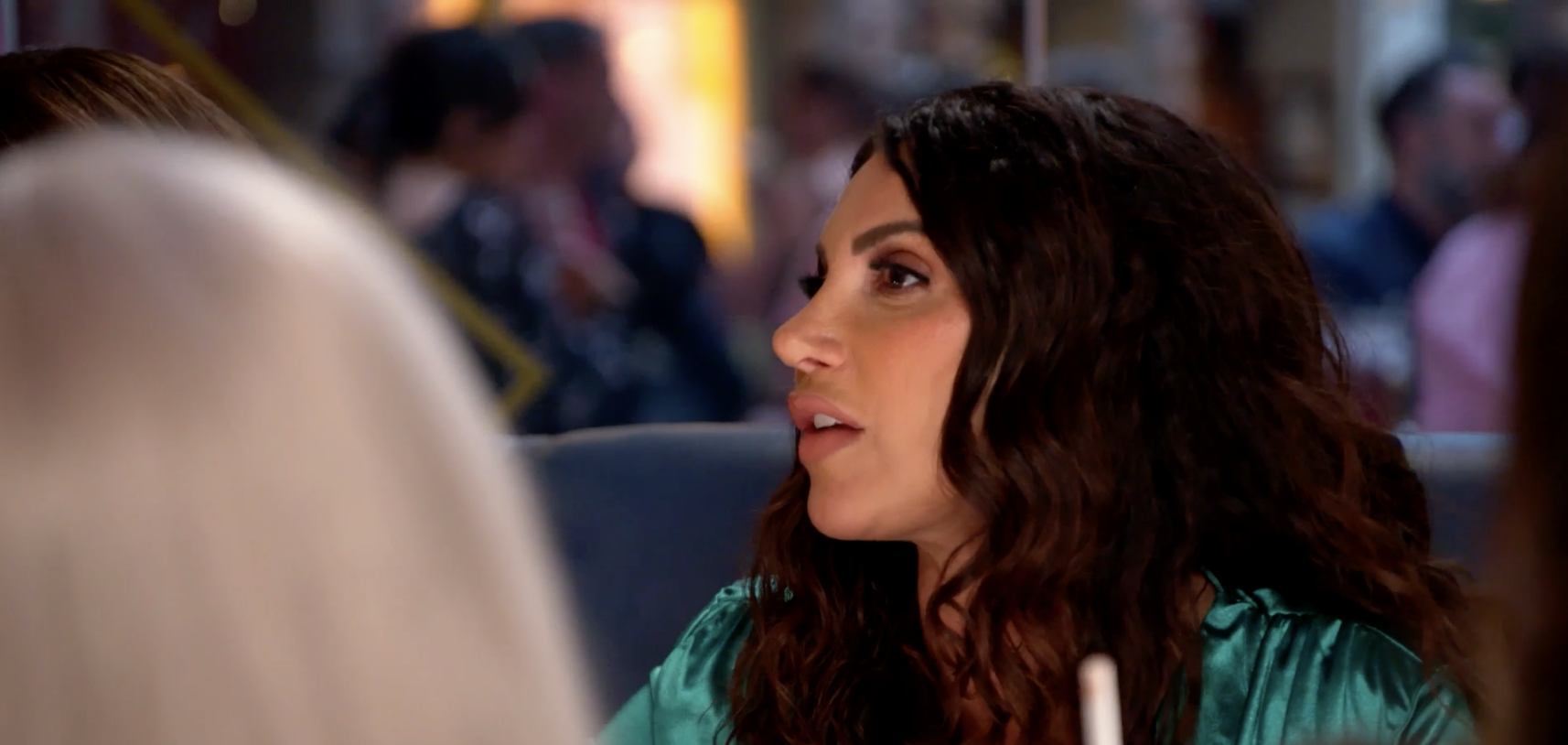 Melissa tells Jennifer to stop talking for her as Teresa tells Jennifer she's able to handle herself. Teresa admits to Melissa that she's made mistakes and Rachel thinks out of respect, Mama Donna should've been invited. Teresa continues blaming Joe for not calling her and says that's why she got upset in the first place. Teresa tells the table that she never throws Joe under the bus and Melissa had to check Teresa, because she definitely does LOL.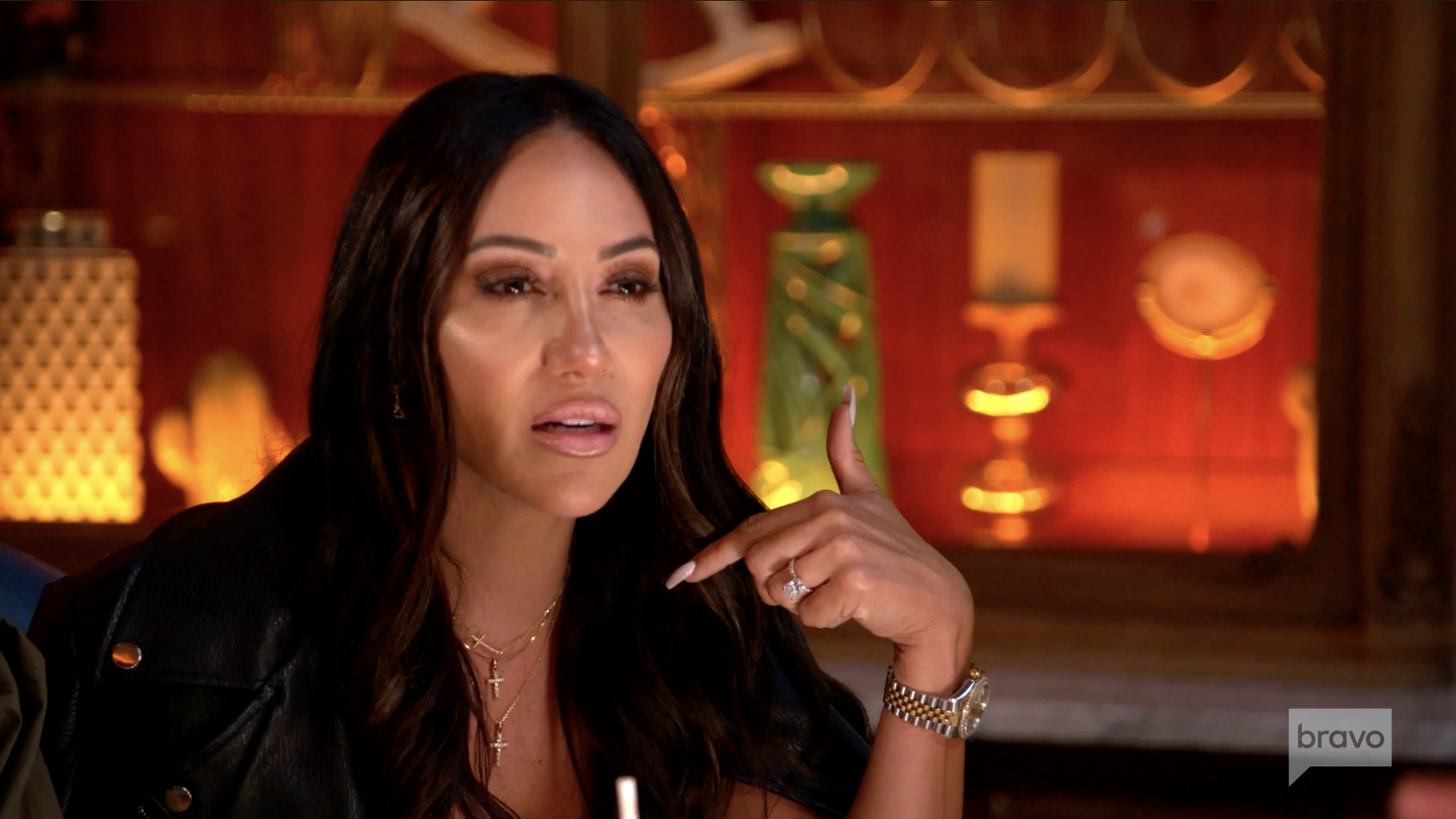 Melissa's tired of Teresa claiming to be perfect while she sh**s on Joe. Can we all get along? The ladies break up this tense dinner and Teresa thinks we should blame Jen Fessler for this mess LOL. Melissa puts it to bed as Jackie reads the table a limerick. Jackie reads and it's clear the joke's on Jennifer and the scammer psychic. Jennifer doesn't think it's funny and Jen Fessler makes a limerick about Rachel.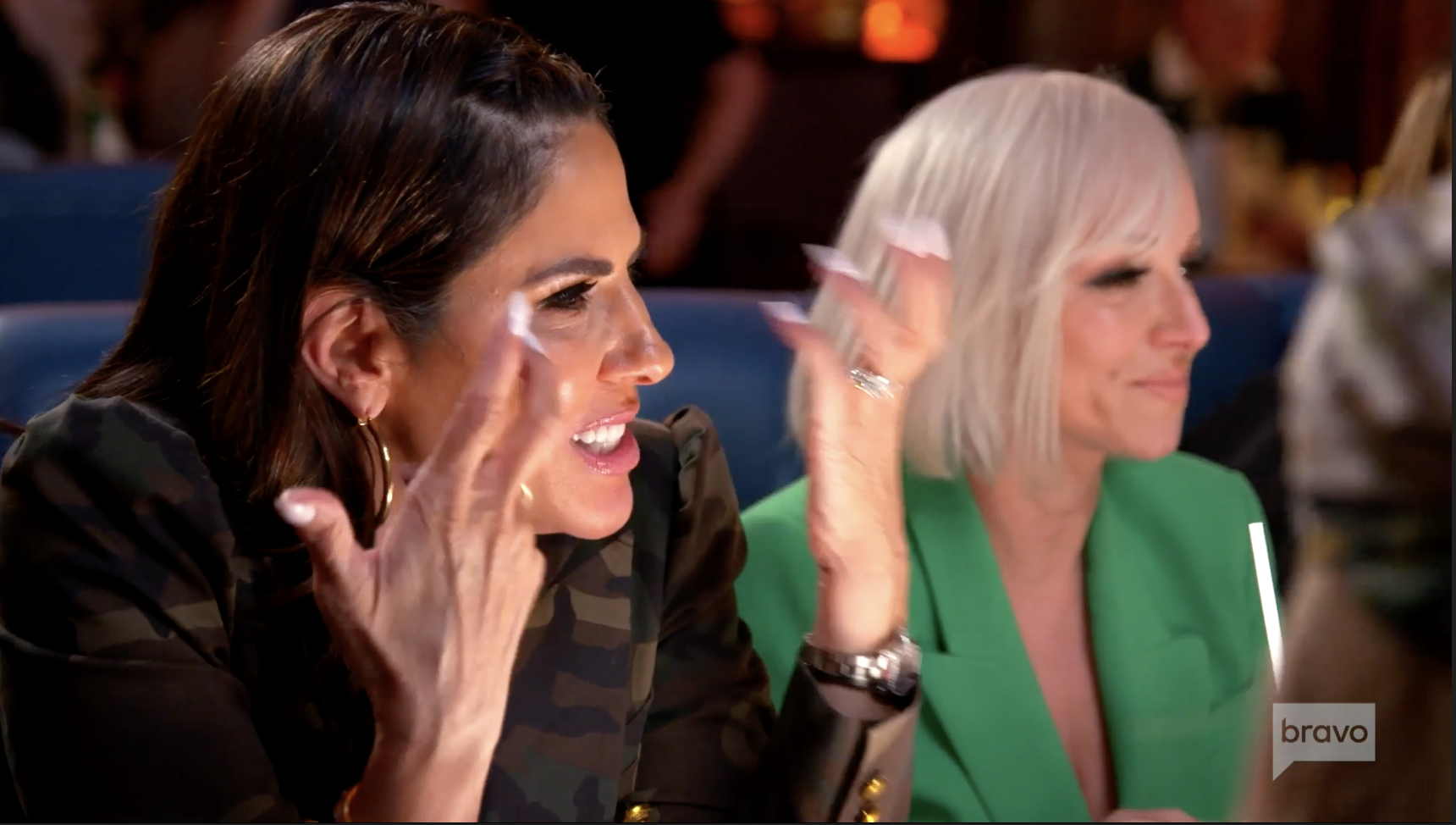 The group laughs and begins to have a great time as the episode concludes. Be sure to come back next week for another episode of The Real Housewives of New Jersey. 
Stay Connected With All About The Tea: Twitter Ι Instagram Ι YouTube Ι Facebook Ι Send Us Tips
LeAndra Williams is a content contributor at All About The Tea. She's a social worker and (super) mom by day, and a reality T.V. junkie by night.