'RHONJ' RECAP: Luis Ruelas Threatens To Punch Joe Gorga In The Face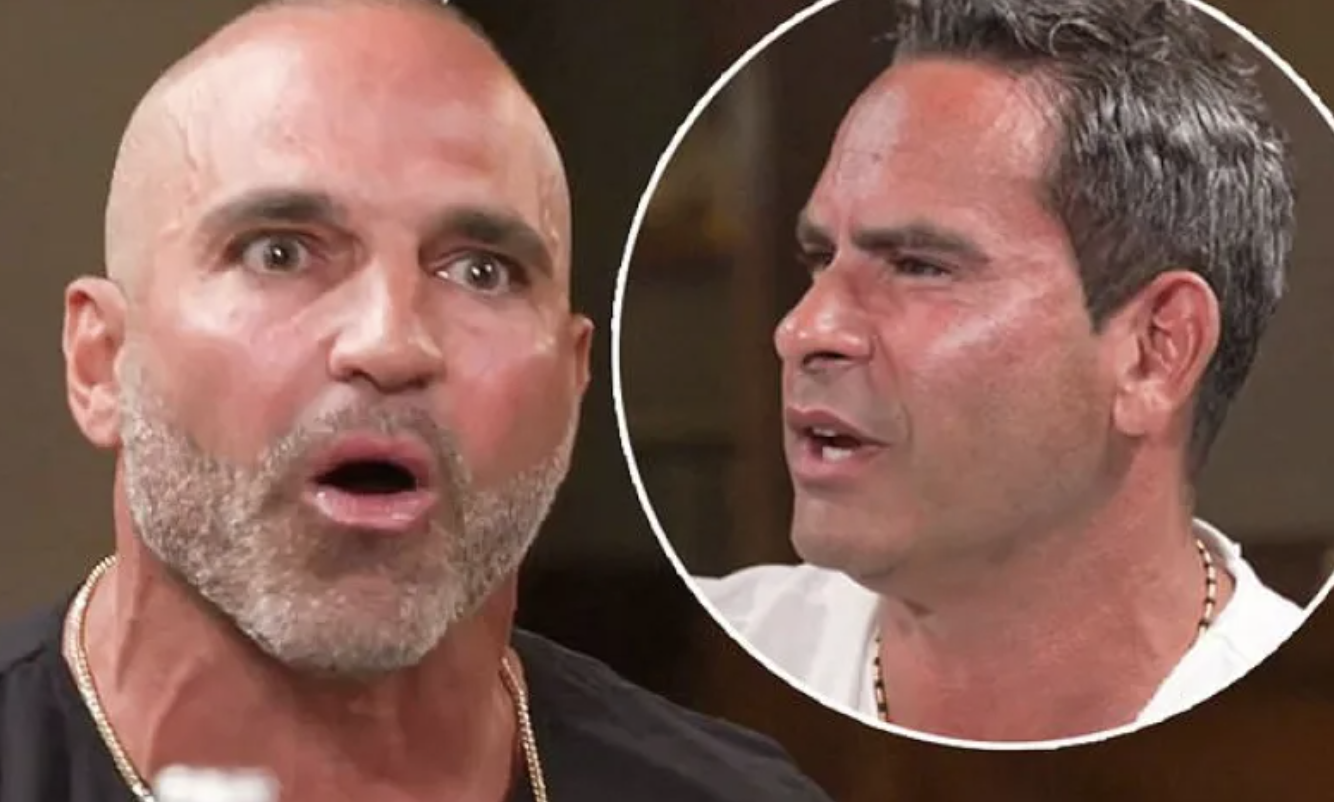 'RHONJ' RECAP: Luis Ruelas Threatens To Punch Joe Gorga In The Face
Welcome back for another episode of The Real Housewives of New Jersey. The crew's down at The Jersey Shore and everyone's having a good time, except for Danielle Cabral. The next day, Melissa Gorga and Margaret Josephs are waking up their husbands as Rachel Fuda and John Fuda check in on their kids.
Dolores Catania catches Paulie up on the madness of last night's activities, while John checks out Joe Goga's wax job from last night. Downstairs, Melissa and Margaret are cooking as Joe, Jackie and Evan Goldschneider join them. Melissa's surprised that Evan got drunk but Margaret and Jackie are disgusted by how drunk Bill and Jennifer Aydin were. Jackie doesn't think the pair can be around each other without being wasted and Margaret has no problem agreeing with that assessment.
Meanwhile at Jennifer A's shore townhouse, she's cooking as Bill, Teresa Giudice, Louie, Danielle, and Nate Cabral come downstairs. Jennifer gets compliments for her spread as Rachel tells John to saddle up for their upcoming brunch. John wonders if he needs to put up boxing rings and Rachel rebukes any physical altercations today. Back at Jennifer's, Nate discusses how drunk everyone was and somehow Danielle segways into how upset she was about the ladies talking about her brother drama. Danielle spills it that Melissa's the one that threw the girls under the bus and Jennifer confirms Jackie had the most doubts. Danielle gives a theatric applauds for Jackie trying to come back at her. 
At Melissa Gorga's, she admits to the table she told Danielle what the women were saying and does an amazing impersonation of Danielle explaining how hurt she is. Jackie still thinks somethings missing from Danielle's story and Dolores feels the same way. Rachel doesn't know what Danielle's going through but admits there has to be something more to the story. Danielle thinks Rachel was a sh** starter and is upset that Rachel told Margaret about their conversation, that alleged Margaret's always ready to fire when needed. Danielle's ranting as her husband nods awkwardly as Teresa and Jennifer allow Danielle to create the drama for the season. 
Danielle's afraid of Margaret and blames Rachel for their fallout. Teresa says Margaret made her feel bad for not extending an invite to Melissa's mom; as Margaret tells Melissa about Teresa admitting she didn't want to invite Melissa's mom to her wedding, due to their rocky past. Melissa's upset all over again and it doesn't look like the drama between families will be over anytime soon. Jackie feels that Teresa picked the one thing that would make Melissa upset, and Jennifer Fessler and Dolores understand the damage that's been done. Margaret does tell Melissa that Louie tried to find Melissa's mom and Melissa wonders if Louie's actions are genuine. Joe Gorga questions Louie's motives as producers question if something happened between Joe and Louie.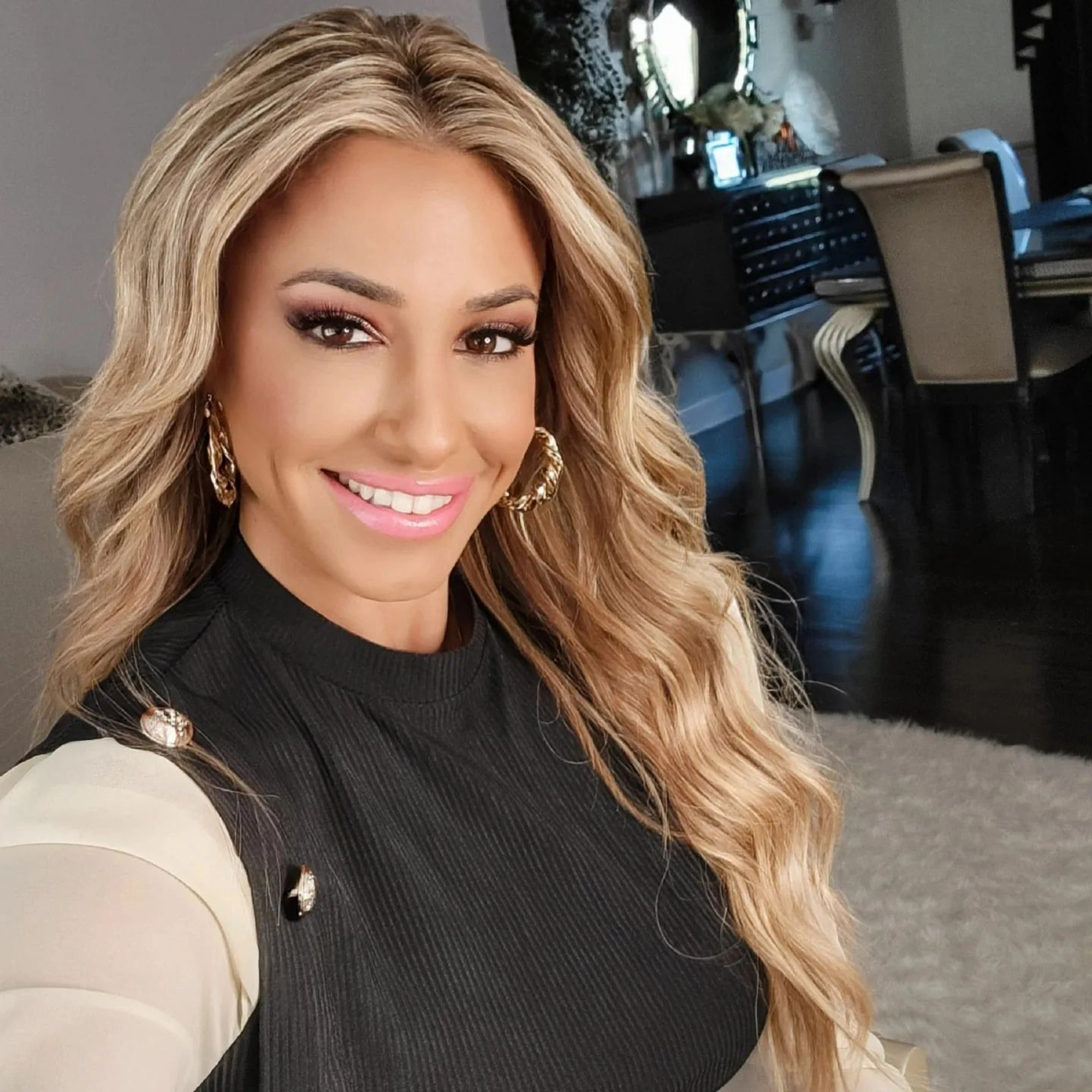 Joe admits there is something more and Teresa finally decides to speak the truth. Teresa tells us that Louie and Joe had a business deal together and Louie allegedly lost $250,000! Teresa's been keeping her mouth shut but no more! Apparently Joe had an idea for a pizza oven with Teresa and Louie added money to invest in his new bride and brother. Teresa claims the deal was for Joe to get 5% but instead Joe wanted 50% without putting in 50% of the money. Louie took the loss for the sake of his relationship and Joe continues not liking Louie for their failed business deal. Joe wanted to honor their father but instead Teresa stepped in and changed the entire concept and even had a photoshoot with her daughters. Joe feels screwed and Melissa thinks Teresa's selfish. Whew!
Melissa pretends to becomes emotional as Joe wishes things could be different and Margaret tries to give them words of encouragement. Joe doesn't want this and can't think of what to do next. Melissa feels that Joe's alone in this situation and we can feel the tension building.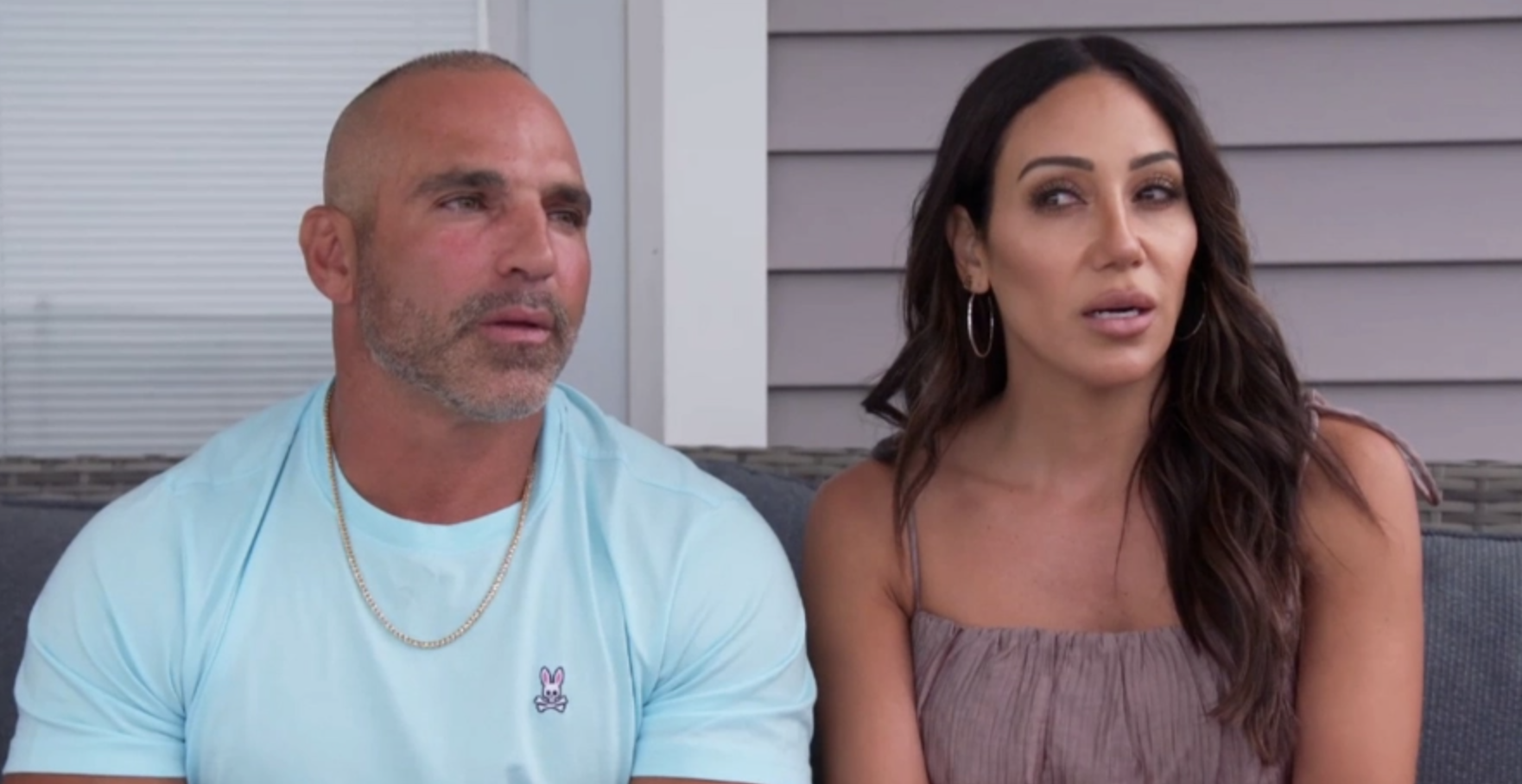 Rachel's preparing for brunch as the decorators come and there's even a mermaid! Rachel leaves to get dressed as the rest of the couples are getting ready for brunch. Jennifer Fessler doesn't understand the extra's at parties and she's like most of us and wants to eat! 
Everyone begins to arrive, and Rachel did a great job with the food and décor. Margaret checks in on John and his chest as the first dish comes out. Dolores brings up last night and Rachel tells them she tried to text Jennifer to check on her, but she didn't respond. Jackie thinks Jennifer's fragile, and Dolores is surprised by Jackie's observation. Jackie thinks Jennifer's trying to be strong and reveals Jennifer told her about her arguments with Bill.
Jackie admits their fighting over how to raise the kids and Jackie feels bad for Jennifer's situation. Dolores's surprised Jackie knows so much and thought she was a good friend to Jennifer. Dolores loves Jennifer and Bill as a couple and doesn't wish them bad, even if she's not meshing with Jennifer. Joe and Melissa arrive and John Fuda shows off Joe's handy work and then whips out a video of Bill, Nate, and Louie on Instagram.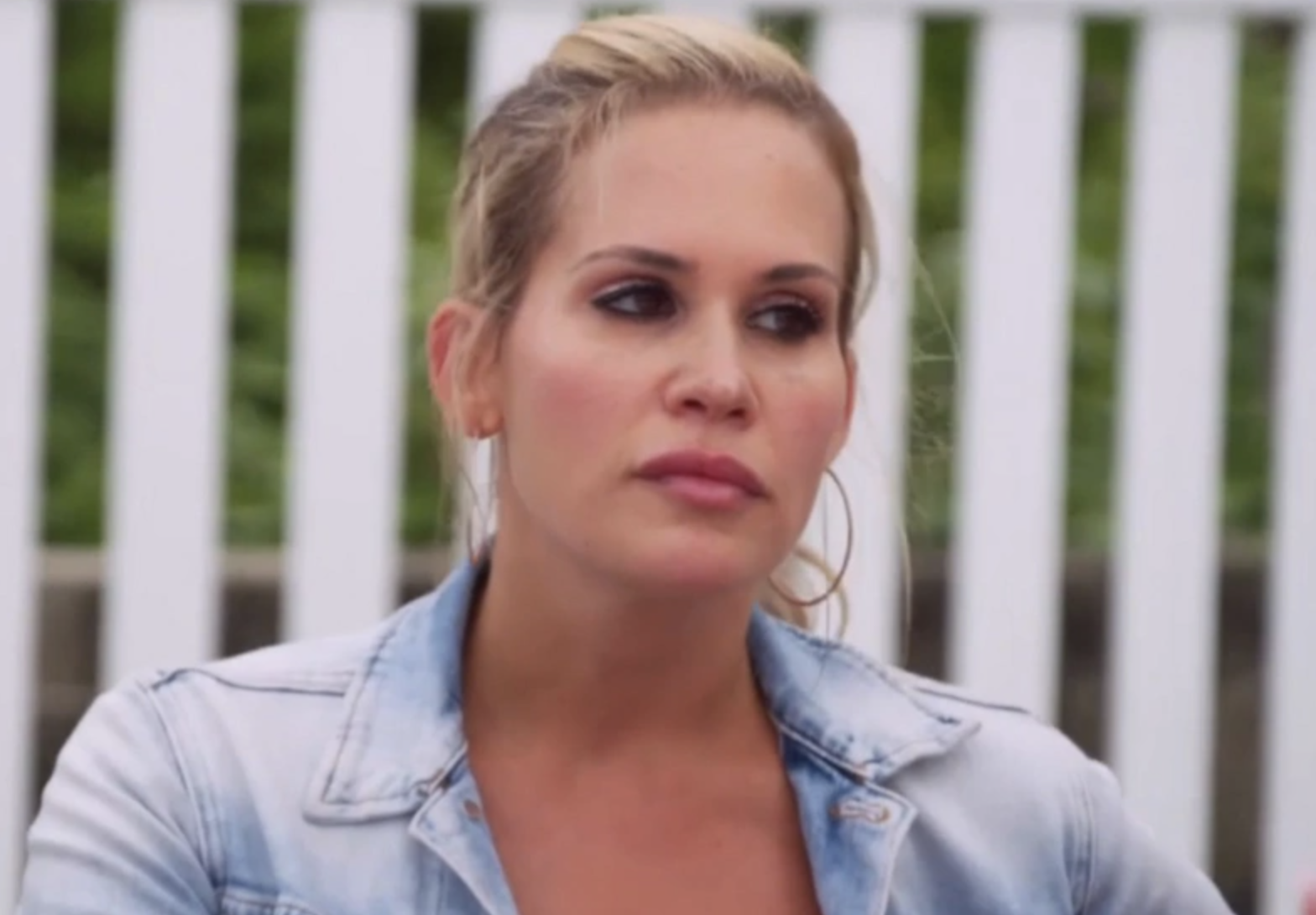 Louie's talking about teaching forgiveness and Joe and the boys make another video about waxing John Fuda. LOL. The boys do a shot as the ladies question if the mermaid's drunk LOL. Jennifer F checks in on Melissa and wonders what the reasoning of Teresa's problem. Dolores chimes in and Melissa doesn't get how Teresa claims to be happy and in love, yet spreading negativity. Teresa and Louie arrive as Margaret says everyone should own their part and Jennifer F makes Margaret repeat herself to hold her friend accountable. Jennifer F tells Margaret that Danielle's upset over the group talking about her but Margaret feels Danielle does the same thing. The rest of the crew arrive and the drama is about to begin! 
Everyone greets each other as the steaks cook on the grill. Margaret's not trying to be fake but can remain cordial around company. More food comes out as Joe ask Dolores about Paulie's health. Dolores says Paulie's fine, and Joe tries to joke with Dolores before she ultimately walks away LOL.  Teresa's happy Paulie's home resting and Jennifer makes a bold move by asking Dolores out to lunch. Dolores admits she wants to talk to Jennifer away from the group and it looks like this friendship might be on the mend. 
Margaret's getting a drink as Danielle comes up to discuss last night. Margaret takes her time with her drink as Danielle pulls her aside. Margaret admits she was hurt by Danielle's arsenal comment and Danielle tries to explain herself miserably. Danielle's irritated that Rachel's creating a divide and calls Rachel over to join the conversation. Danielle confronts Rachel about "attacking" Margaret while shopping, but Rachel clarifies that Danielle said that "Margaret has an arsenal of information". Danielle admits she said that and thinks Rachel threw her under the bus by speaking the truth! Margaret wonders why that would be in Danielle's head and Danielle brings up Margaret's ex-best friend whose on the street spilling all her tea.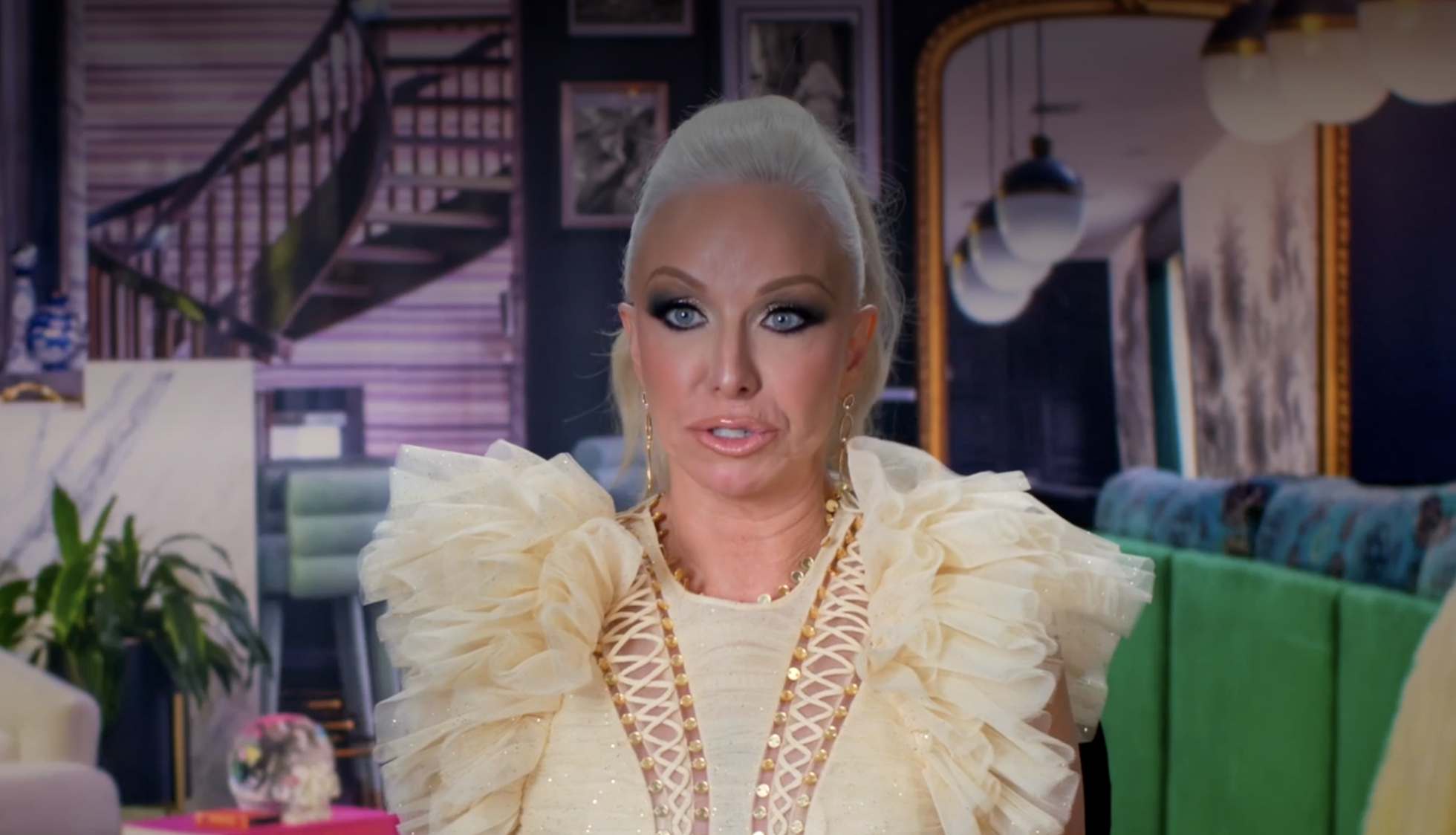 Margaret questions if Danielle believes everything she hears and Danielle denies it. Margaret flips it back on Teresa and Jennifer for meeting up with this ex-best friend as Melissa fills drunk Jennifer in on the drama. Jennifer admits she did warn Danielle about Margaret and says she'll tell Margaret to her face! Meanwhile, Danielle's creating a moment and bearding Rachel about spilling the beans to Margaret. Danielle points her fingers at Rachel as she claims Rachel was doing the same thing as her! Danielle begins mocking Rachel's laughter and says Rachel is just as guilty of sh** talking. Rachel challenges Danielle and ask her to repeat what she allegedly said. Danielle's stuck as she gets caught in her lie and Rachel stands on her own! I know that's right!
Margaret and Danielle continue arguing before Danielle apologizes and Margaret goes to get a glass of water. Rachel ask Danielle if they're cool and Danielle's noticeably shaken up. Rachel tries to talk to Danielle but it's a wrap and now a new beef is born. The husbands take shots as the women continue talking on the side. John invited Frank Catania on the boat but Frank can't make it due to work. Jackie checks in on Dolores after her fight with Frank last night and Dolores is okay but admits it is a touchy subject.
Jackie tells Dolores that Frank looked sad after she walked away but Dolores shut that down immediately! Dolores says she isn't worried about Frank's feelings and wants the ladies to stop participating in Frank's pity-party. The guys play cornhole as Jennifer F compliments Louie's ability to deescalate a situation. Louie credits his past relationships for his growth as Teresa eats it all up LOL. Teresa tells Jennifer she would've invited Melissa's mom if only Joe would've called her and asked. Teresa tells Jennifer about their family history as Jackie walks away since she overhears Teresa and Jennifer Fessler's conversation. Teresa thinks Joe is making things bigger than it is and Louie pulls Melissa to the side for a chat. 
Louie's being extra as he grabs Melissa's hand and claims to be sincere with what he's about to say. Louie compliments Melissa mom's kindness and that she's been nothing but sweet to his boys; and Melissa admits her mother adores Louie. Jackie doesn't think Melissa's upset about the invite and thinks Melissa's upset because Teresa didn't invite her day one. Teresa joins the conversation and ask what everyone's talking about, and Jennifer doesn't hesitate to fill her bestie in. Teresa rolls her eyes and questions why everyone's talking about her. Jackie tells the group that Melissa's upset and was crying that morning. The rest of the ladies join in as Danielle changes the subject to herself and the ladies questioning her story about her brother.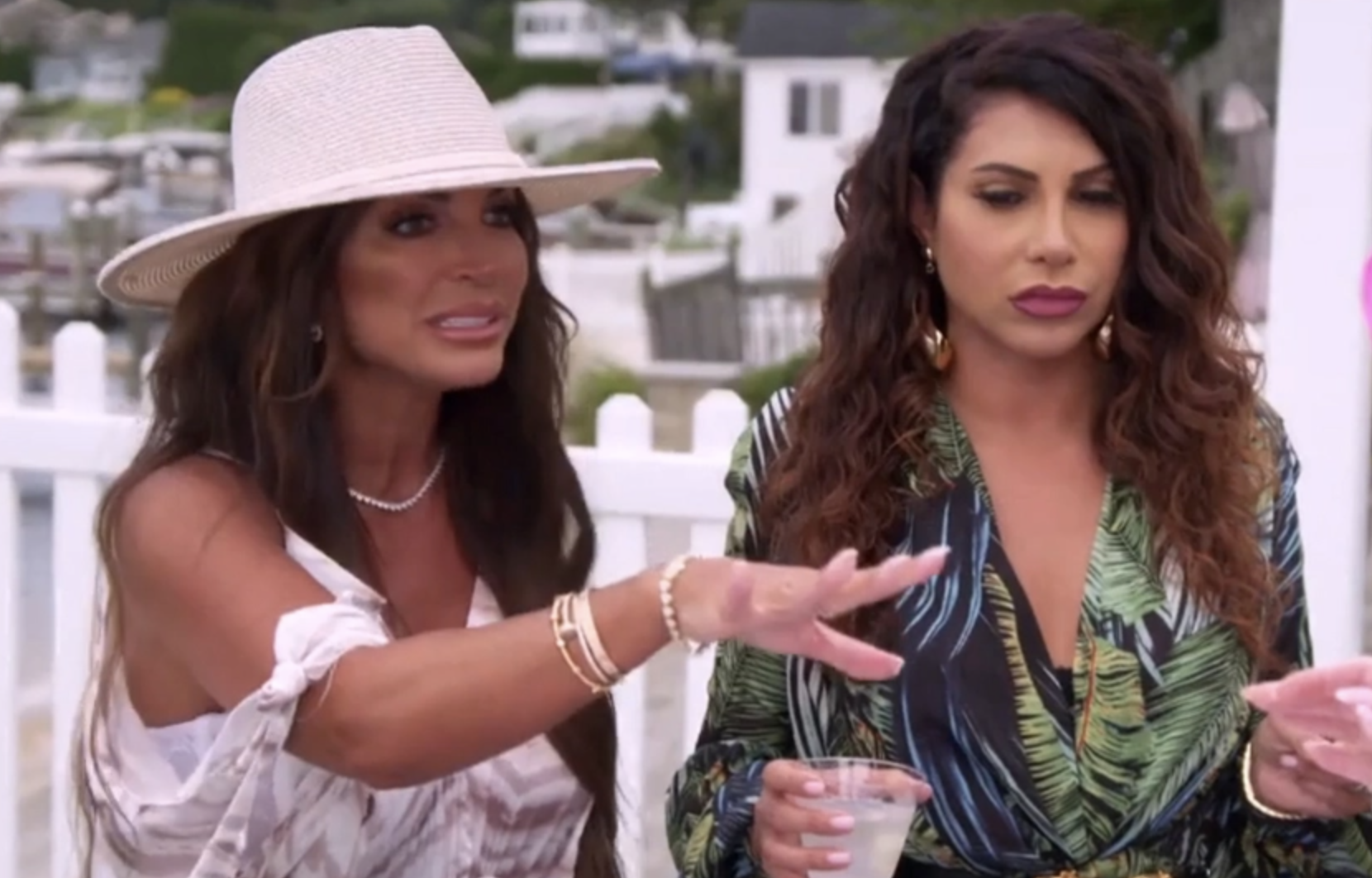 Danielle thought she was honest with the girls and is upset that the ladies don't believe her. Jennifer Fessler doesn't understand and thinks it's crazy as Jackie chimes in that the story doesn't make sense. Dolores thinks there's something with the sister-in-law and Danielle refuses to go into it any further. Jackie doesn't believe Danielle and challenges her to tell the truth. Danielle quickly becomes the victim and walks away because she can't take the heat! Rachel tries to stop Danielle from leaving but Danielle grabs Nate and leaves once again. 
Margaret thinks Danielle's outrage is outrageous and shades Danielle in her confessional. The men are having a great time as Rachel tries to talk to Teresa about Danielle's exit, but Teresa's focused on her issues with Joe and Melissa. Teresa claims Joe should've called her and Rachel thinks Teresa should've invited Mama Donna from the jump. Teresa tells Rachel to get the whole story before opening her mouth and now snapping Teresa has arrived! Teresa goes to find Melissa to interrupt her conversation with Louie to find out what's wrong. Melissa tells Teresa she's upset and told the girls about their rough history. Louie tells Teresa that she's ruining the moment between him and Melissa but Teresa's not listening.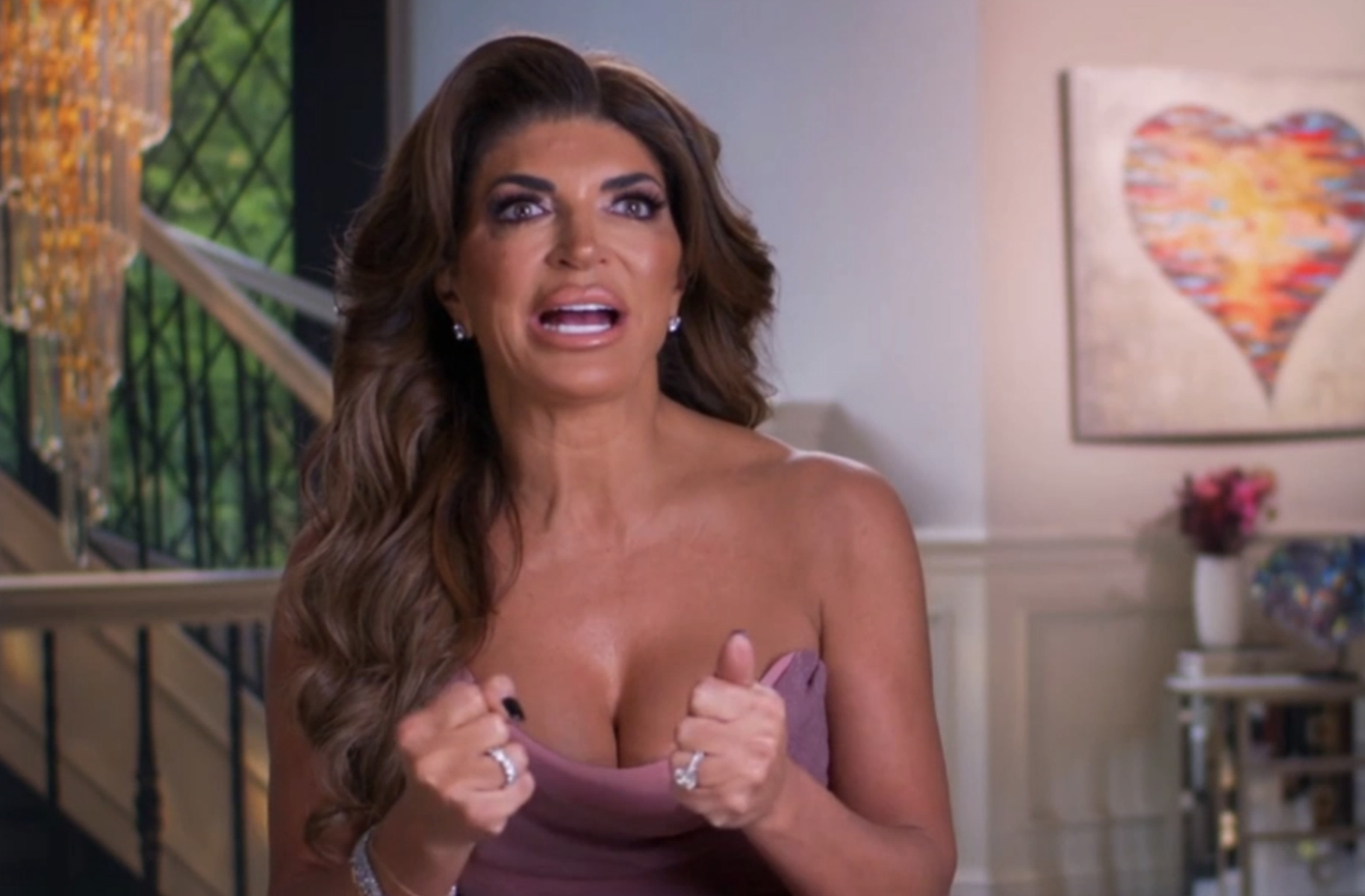 Louie wants respect but Melissa can see that Louie can't control his anger. Louie gets Teresa to leave as Joe Gorga joins their conversation. Louie reinvites Mama Donna to the wedding and apologizes that there's a lot of hurt going around. Louie wants peace but Melissa thinks Teresa's causing everything. Teresa thinks Joe needs therapy and doesn't appreciate him blaming her for everything. Jackie sighs and says, "That's not nice" and Teresa becomes activated! Teresa curses Jackie out and tells her to get out of her face but Jackie's not scared of Teresa. Teresa claims Melissa has daddy issues and Jackie doesn't think that's a nice thing to say since Melissa lost her dad in a car accident when she was 16.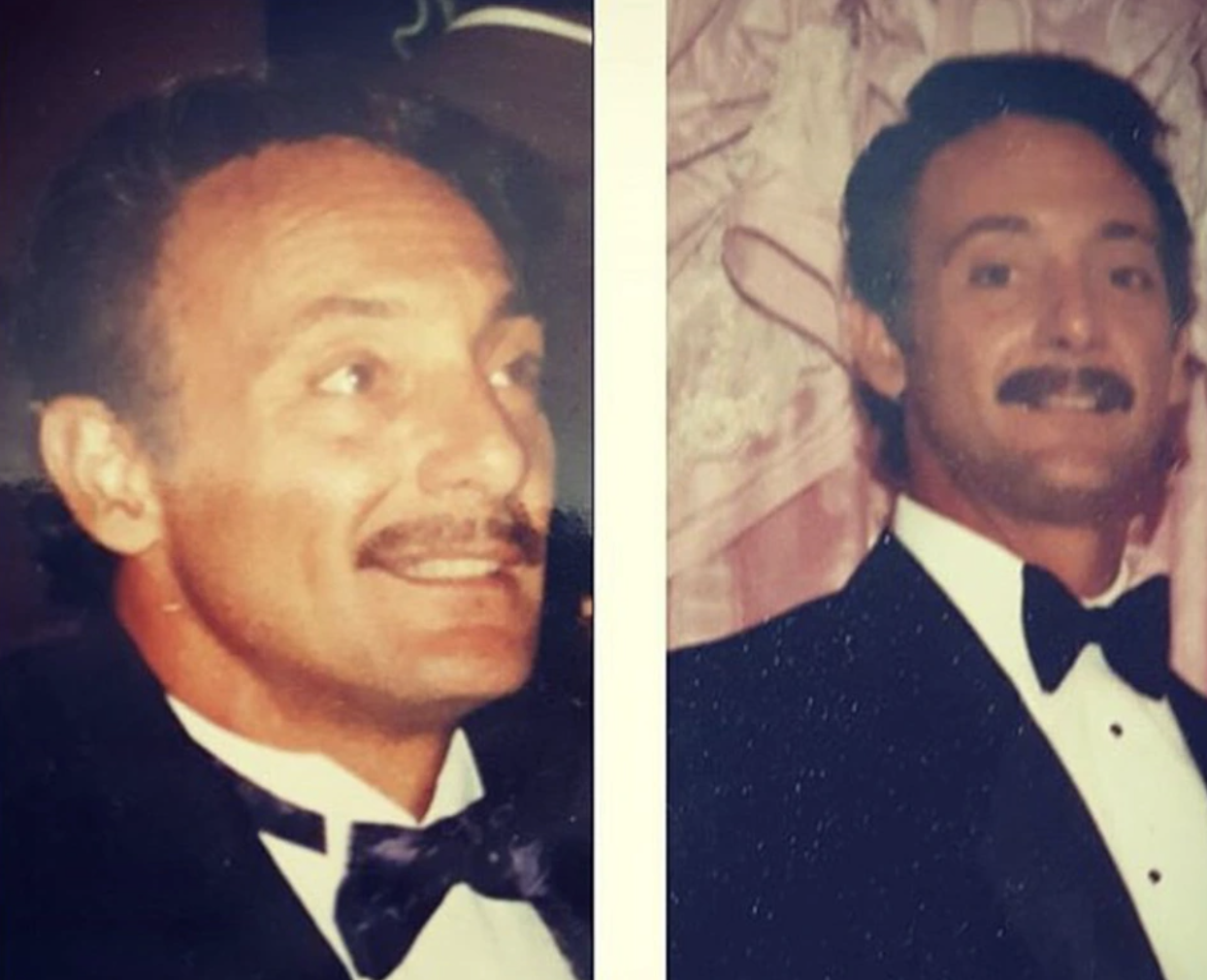 Melissa hears the commotion from the side and Teresa doubles down on her antics. The men watch as the ladies continue screaming at each other. Louie starts talking to Joe alone and tells Joe that he sleeps in his fathers pajamas, so that Teresa's kids feel safe. What in the world?
Teresa interrupts before Joe can react and Joe clocks that Teresa's hot from her argument. Teresa wonders why Joe didn't call her about Mama Donna instead of making it an issue within the group. Joe tells Teresa he called Louie and Gia for help, but Teresa didn't do anything. Teresa then brings up last year and that she wishes Joe and Melissa had her back more.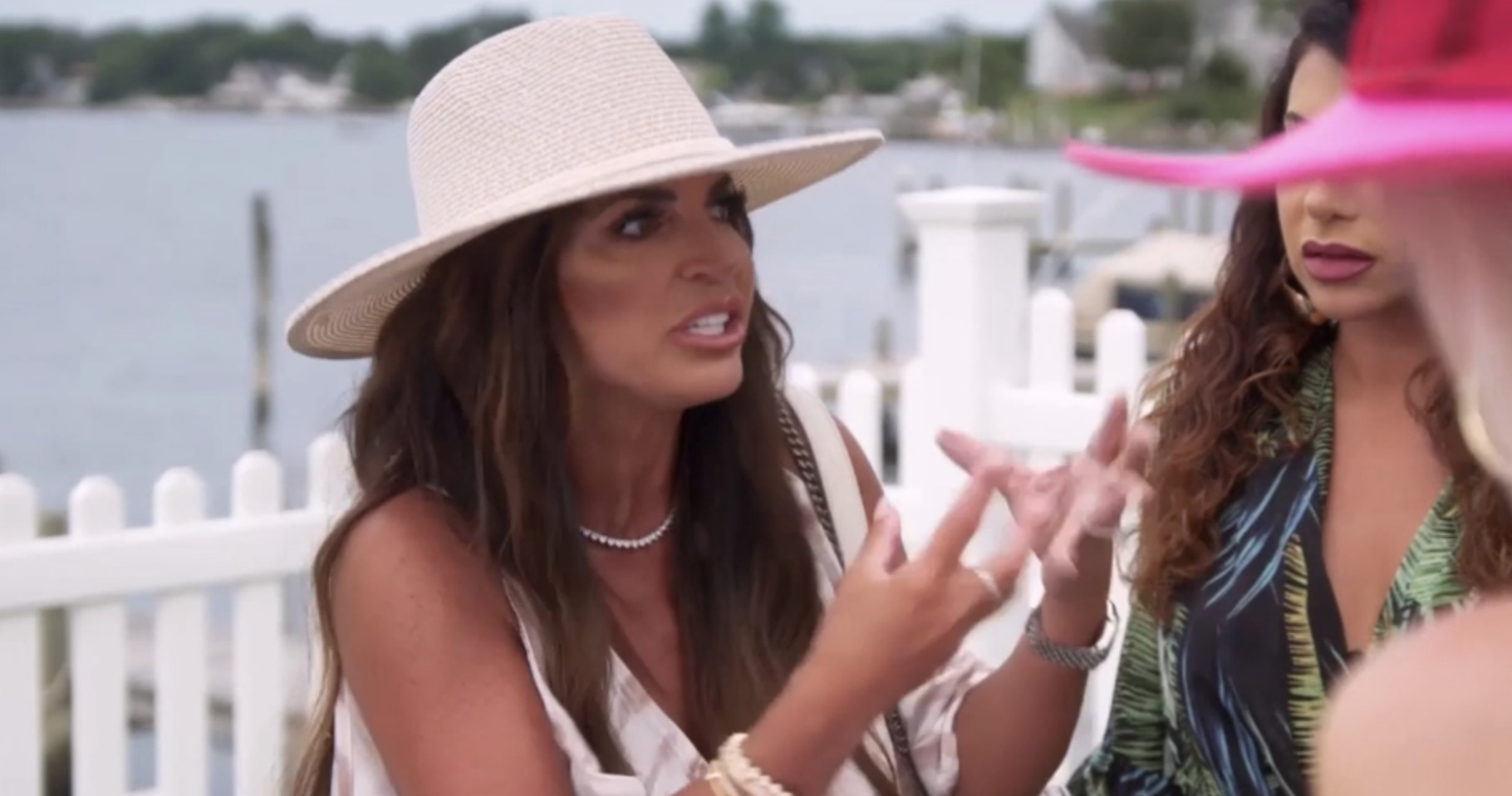 Melissa goes to check in on Joe, and Teresa tells Melissa why she didn't include her in the wedding. Melissa thinks Teresa should've took up for Joe when Jennifer was talking bad about him, but Teresa can't see it and storms off. Teresa tells Louie to fix it as the crew watches from the side. Melissa tells Teresa to fix it and Teresa comes back and claims she's happy. Joe thinks Teresa has a "f*** it" attitude and the two go back and forth before Louie says Joe's playing the "b**** boy" role well. Joe tells Louie to shut the f*** up and Joe and Melissa leave as Teresa stands ten toes down in her actions. Jackie clocks Teresa on her actions as Teresa tells Margaret to fix it. Louie gets upset and scolds Teresa by telling her she doesn't listen to people. Louie's car is blocking Joe in and soon everyone's arguing again as Joe as Louie to move it.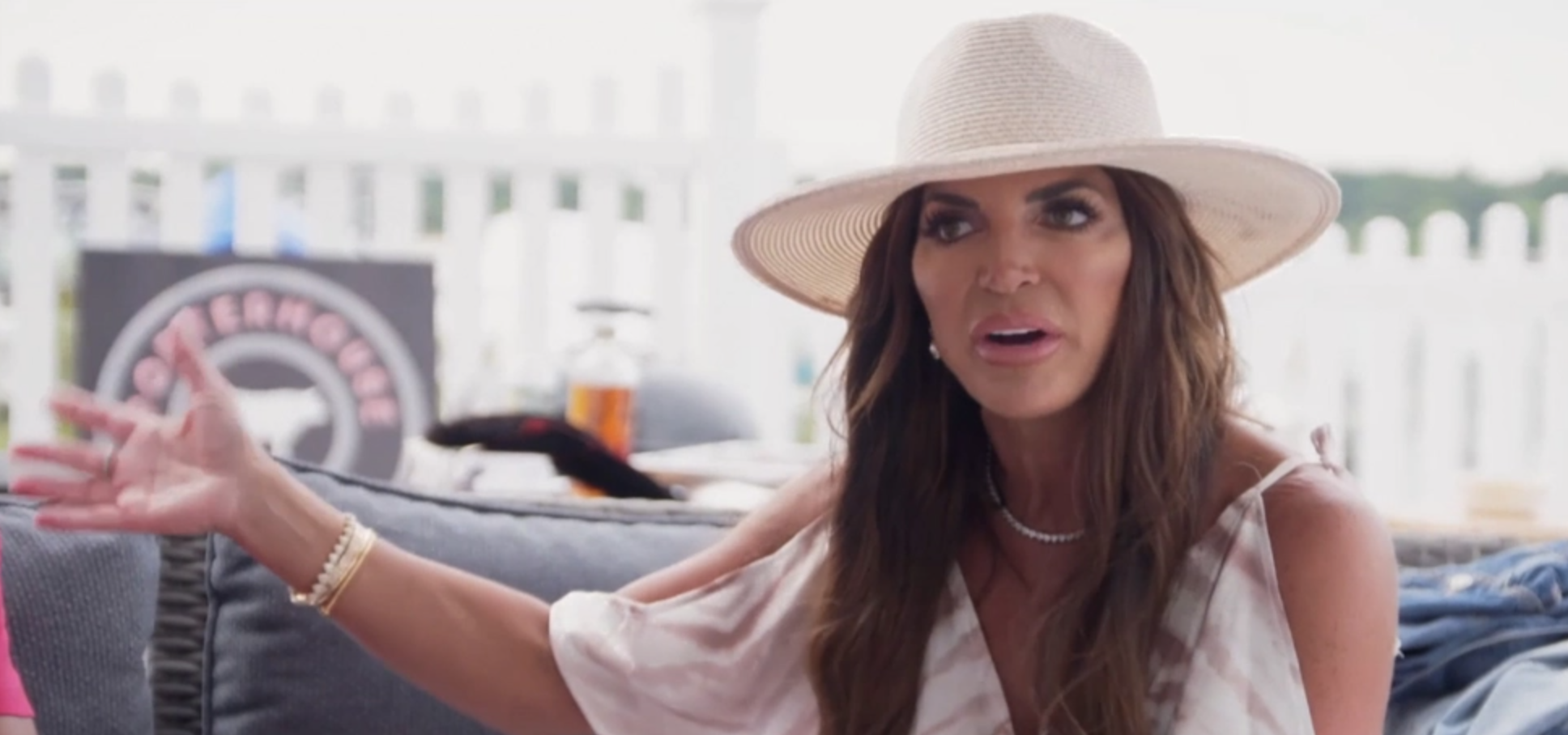 Louie claims Joe is enjoying the family problems as Joe mocks Teresa for sitting with Margaret. Louie tries to calm Joe down and eventually move his car to allow Melissa and Joe to leave. Joe's tired of taking the blame for their issues and Teresa thinks Melissa should want to make things right with them.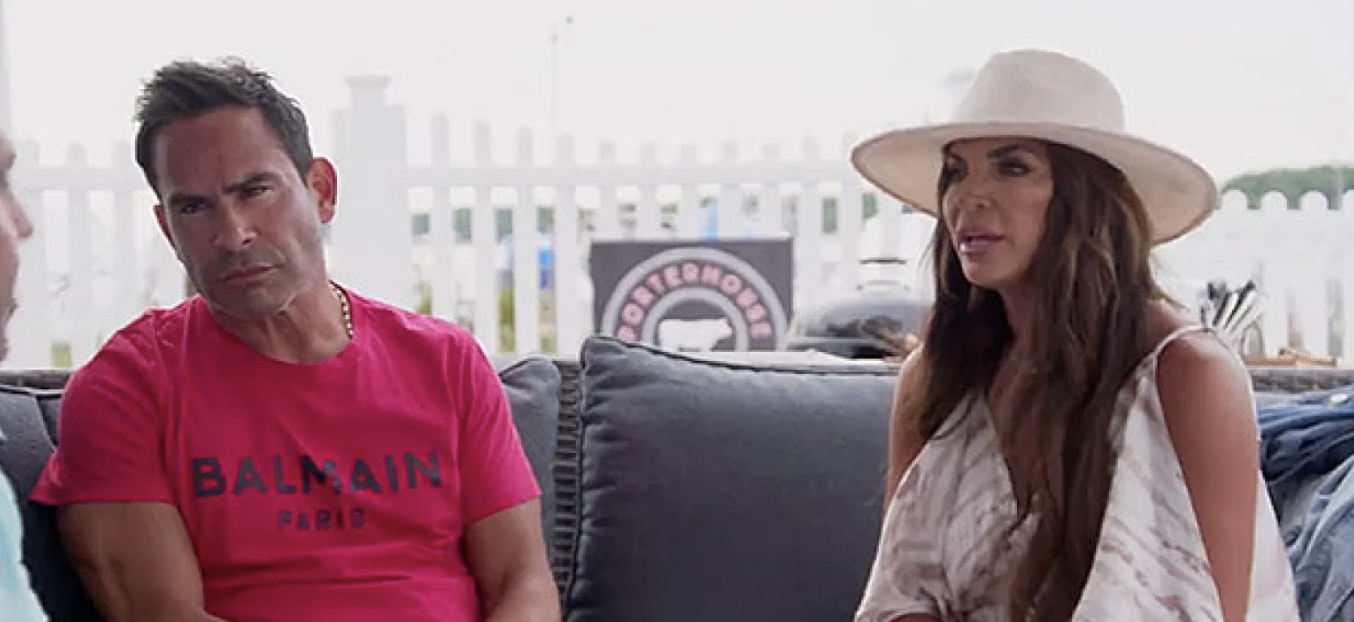 Teresa says if Melissa was a good woman she would make Joe fix it and we're back in the every lasting cycle of Teresa versus Joe and Melissa. Everyone tries to talk some sense into them but neither Teresa nor Joe are backing down. Make sure you come back next week for a brand-new episode of The Real Housewives of New Jersey.
Stay Connected With All About The Tea: Twitter Ι Instagram Ι YouTube Ι Facebook Ι Send Us Tips
LeAndra Williams is a content contributor at All About The Tea. She's a social worker and (super) mom by day, and a reality T.V. junkie by night.