RECAP: 'Queens of R&B: SWV & Xscape' Kandi Wants LaTocha Checked For Missing Xscape Rehearsal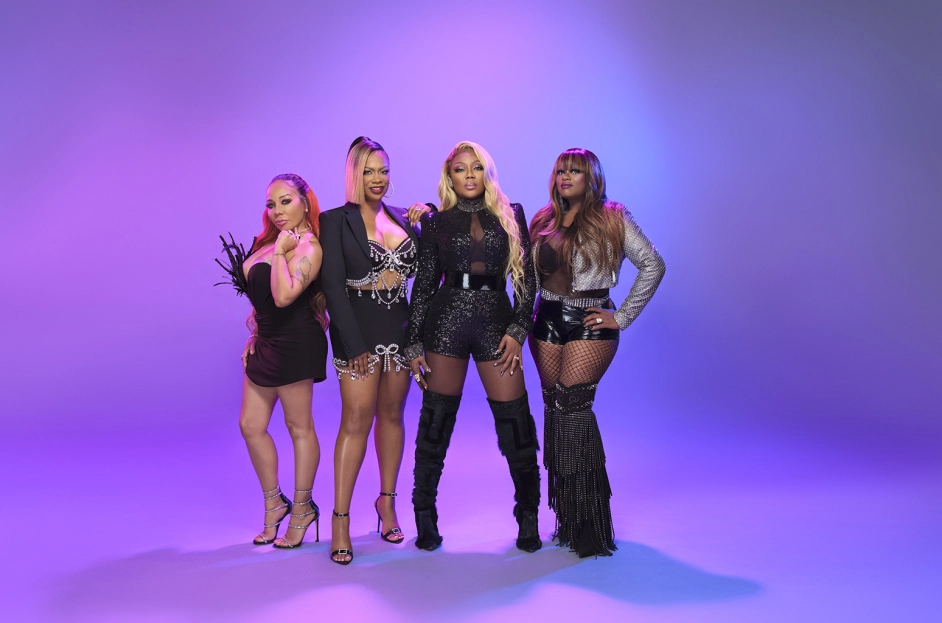 RECAP: 'Queens of R&B: SWV & Xscape' Kandi Wants LaTocha Checked For Missing Xscape Rehearsal
Welcome back to a new episode of Queens of R&B: SWV & Xscape. First, Coko and Taj are working out as Tiny cooks with her daughter. LaTocha's meeting with her husband/manager Rocky. After the workout is complete, Coko's rolling around on the ground as Taj reminisces in her confessional about her friendship with Coko over the years. Coko used to be a mean girl but now they're friendship is stronger than ever.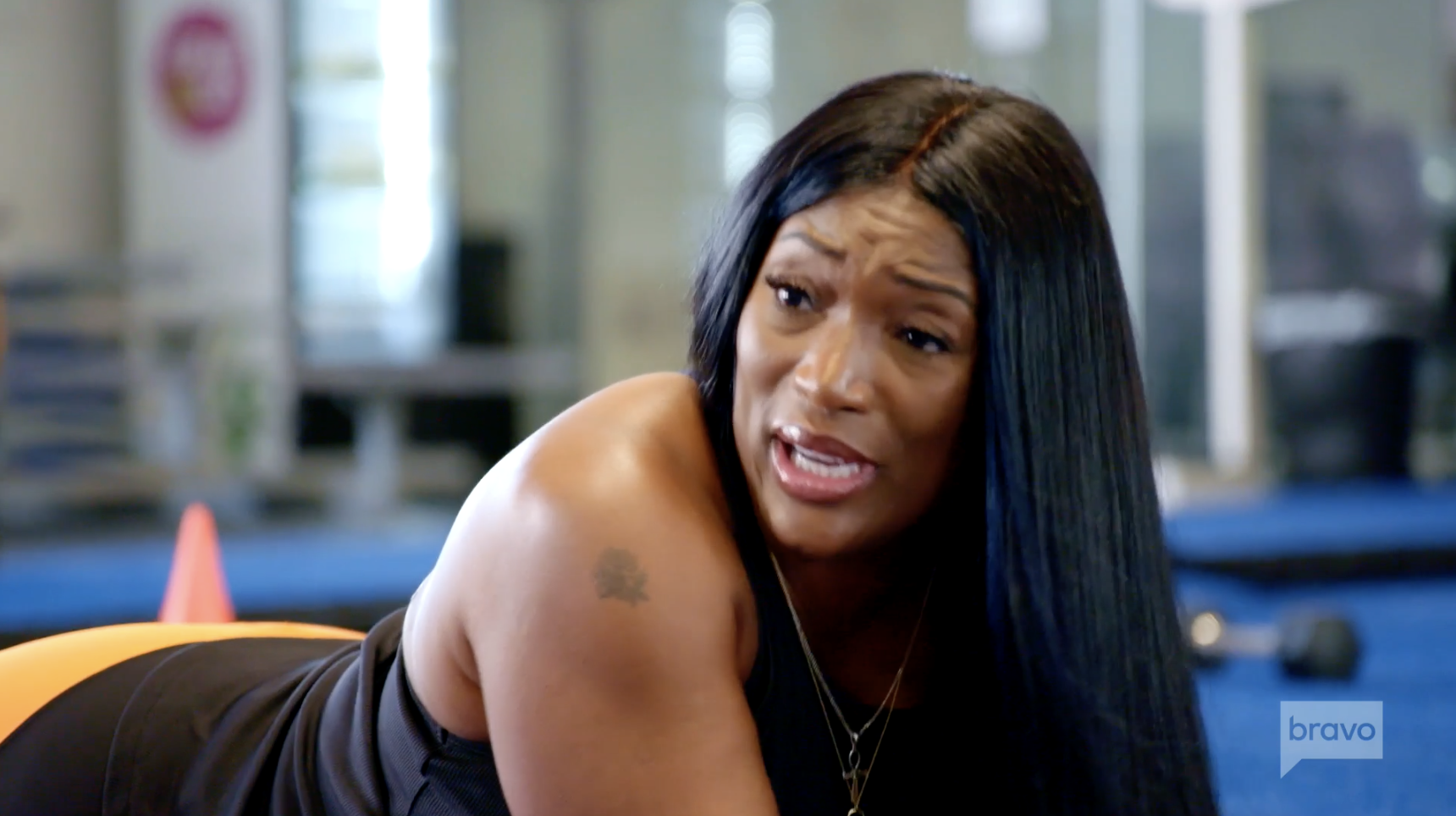 Taj brings up their previous meeting with Xscape and Coko thinks the meeting was a mess! Taj and Coko agree that there will be no show unless both groups agree to co-headline. Taj and Coko educate us on all the groups they've worked with and think Xscape can learn a thing or two about the business.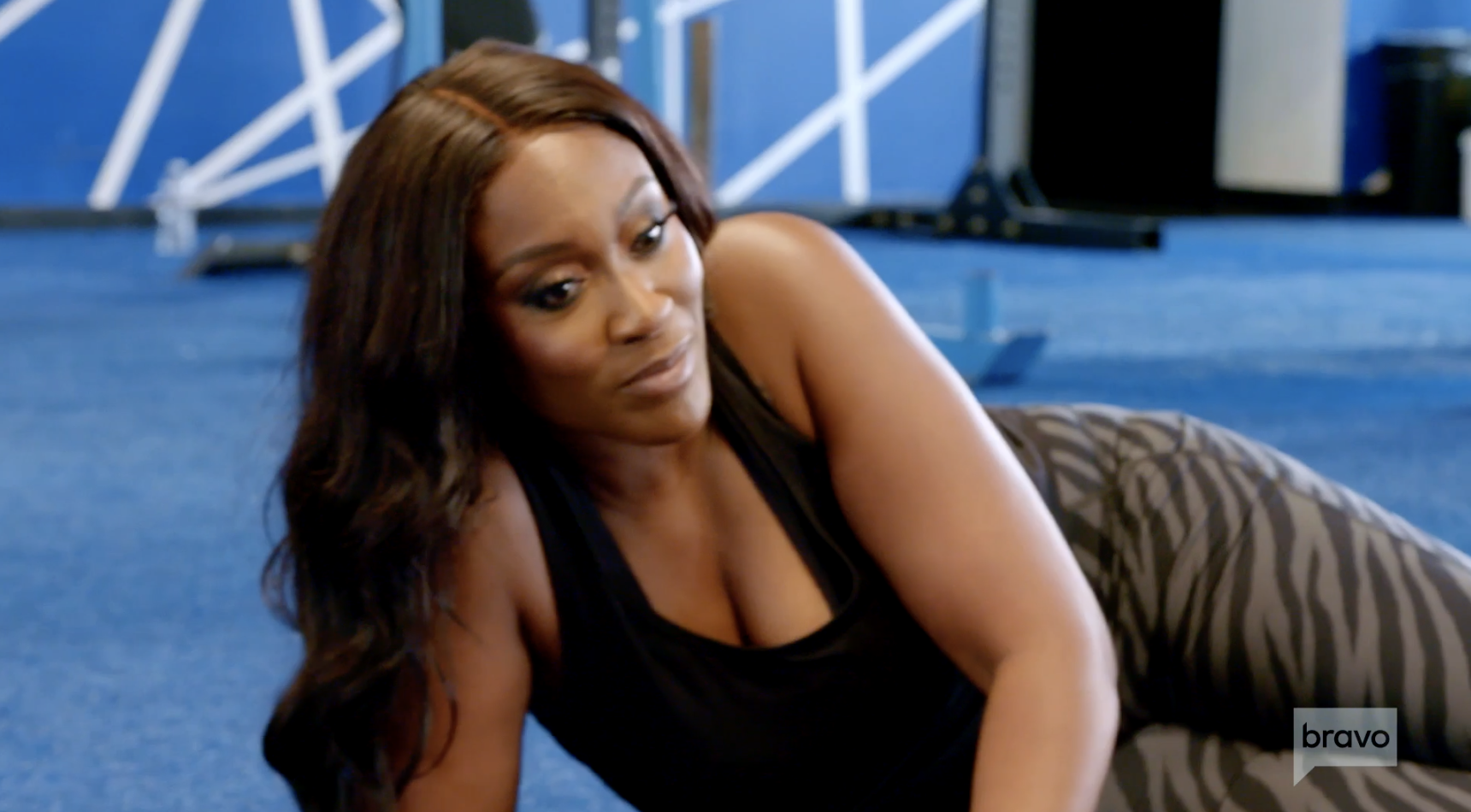 Taj admits to being crushed if the show doesn't happen, but Coko could care less! Meanwhile, LeLee's home working as she gets a visit from their manager Dan. LeLee tells Dan about her erotica-audio book and shows him what she's working on. LeLee has ten chapters so far and even reads a little bit to Dan. Dan turns red like a tomato and gives LeLee props on her work. LeLee puts any doubts to shame and tells Dan that SWV continues to be her priority and continues asking how Dan's doing after that disastrous meeting. LeLee wants everyone to put their egos to the side so they can make history together! LeLee thinks SWV is more mature than Xscape and believes they know more about how the business works.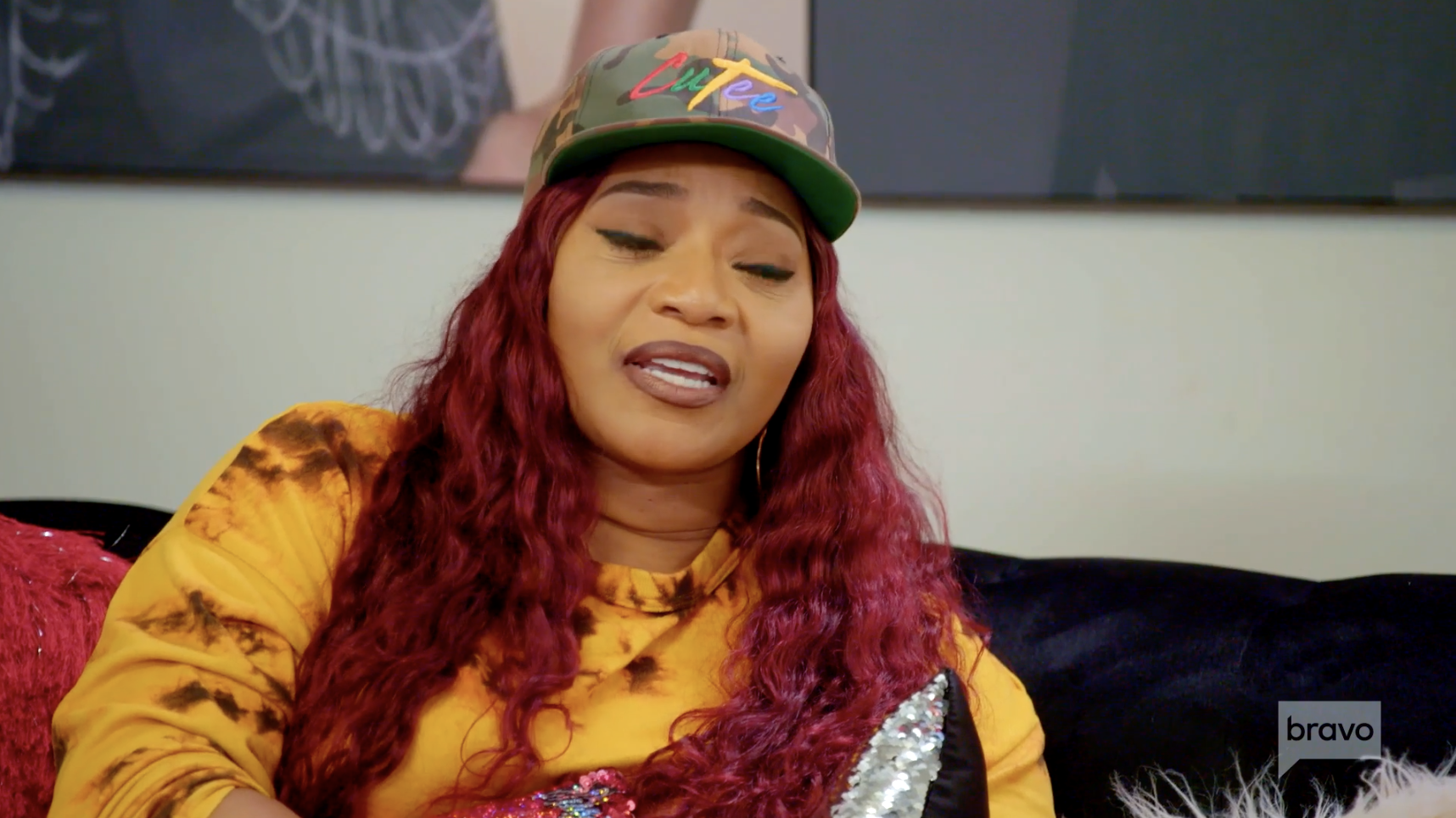 The next day, Taj and Tamika meet for lunch! After ordering their food, Tamika ask Taj how she's doing in Atlanta. Taj misses her son and Tamika tease her on teenage boys attitude towards parents. Tamika takes a picture of her food and soon the two discuss their diets and looking good on stage. Taj loved The Spice Girls and still has their dolls from the 90's. In her confessional, Tamika wants to continue with the show but is unsure of what her other group mates think. Tamika ask about Coko and Taj reveals ever since Coko lost all that weight, everything's strictly bodycon for her.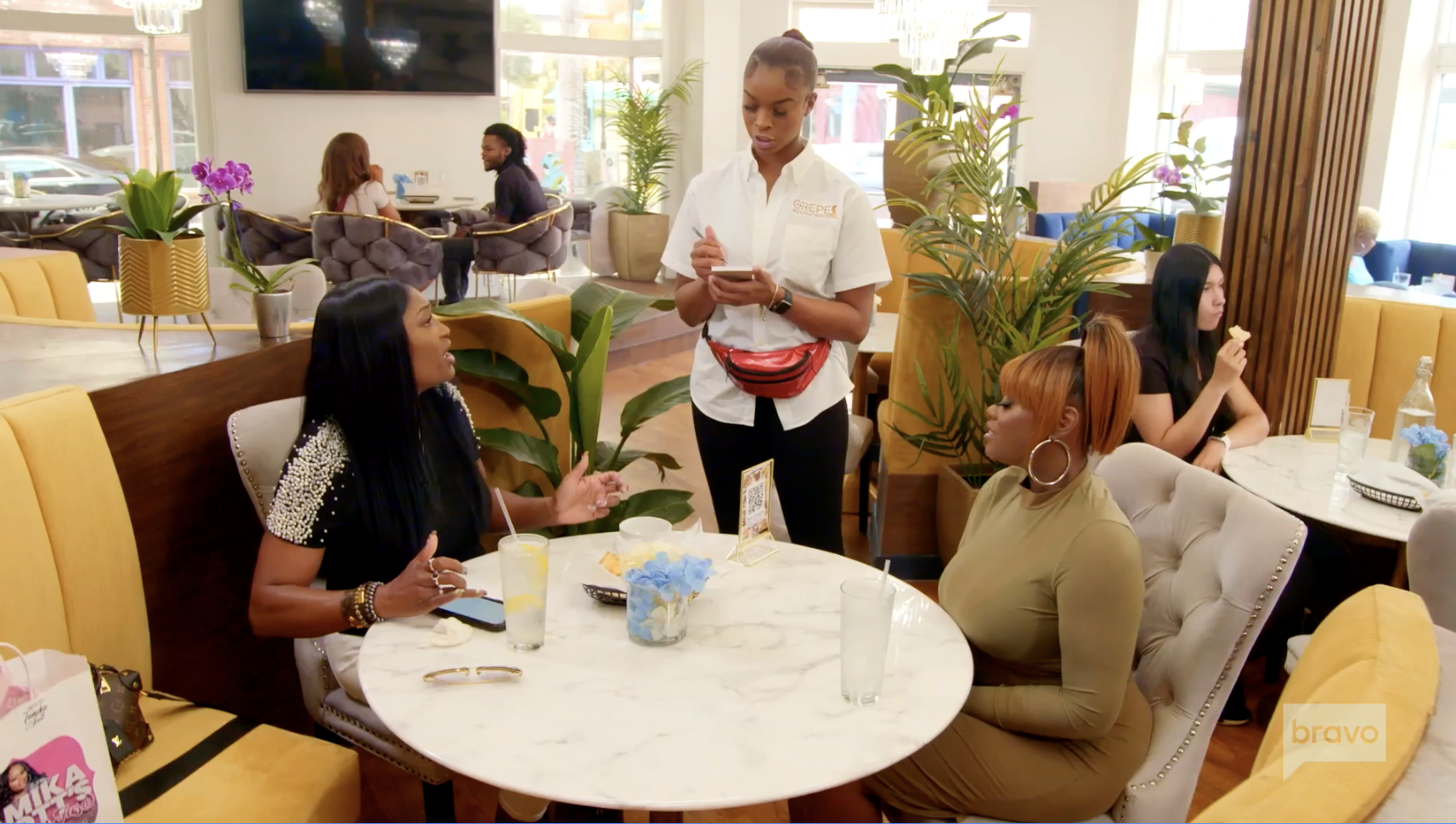 Tamika tells Taj that Kandi and Tiny like booty shorts but she prefers to look like a retired stripper. Tamika and Taj go over ideas regarding how they'd like to make their entrances during their big show. Tamika's enjoying stepping into her creative role and being heard for a change. Taj compliments Tamika on her drawings and gives Tamika confidence to continue her artistry.
Later at Taj's condo, SWV comes together to attempt to redo the business meeting from the previous episode. LeLee begins eating all the lunch meat and crackers as she shades Taj's food choice in her confessional. LeLee hopes Xscape comes in happy but Coko wants Xscape to have a better attitude and realize who they talking to. 
Tiny arrives first and inquires about the lunch meat as LaTocha and Kandi show up shortly after. Tamika arrives with Steve who is a creative designer and gives the ladies a peak into her imagination. Tamika begins explaining her concept but before she can finish, Coko wants to know if Xscape has decided on co-headline with them. Everyone's looking around dumbfounded but Coko needs to know. LeLee speaks up first and Kandi's down for whatever Xscape want to do. LaTocha speaks up and confirms the ladies can coheadline and Kandi feels set up. Kandi tells us that the rest of Xscape thought they should headline but she's not gonna bust them out in front of SWV.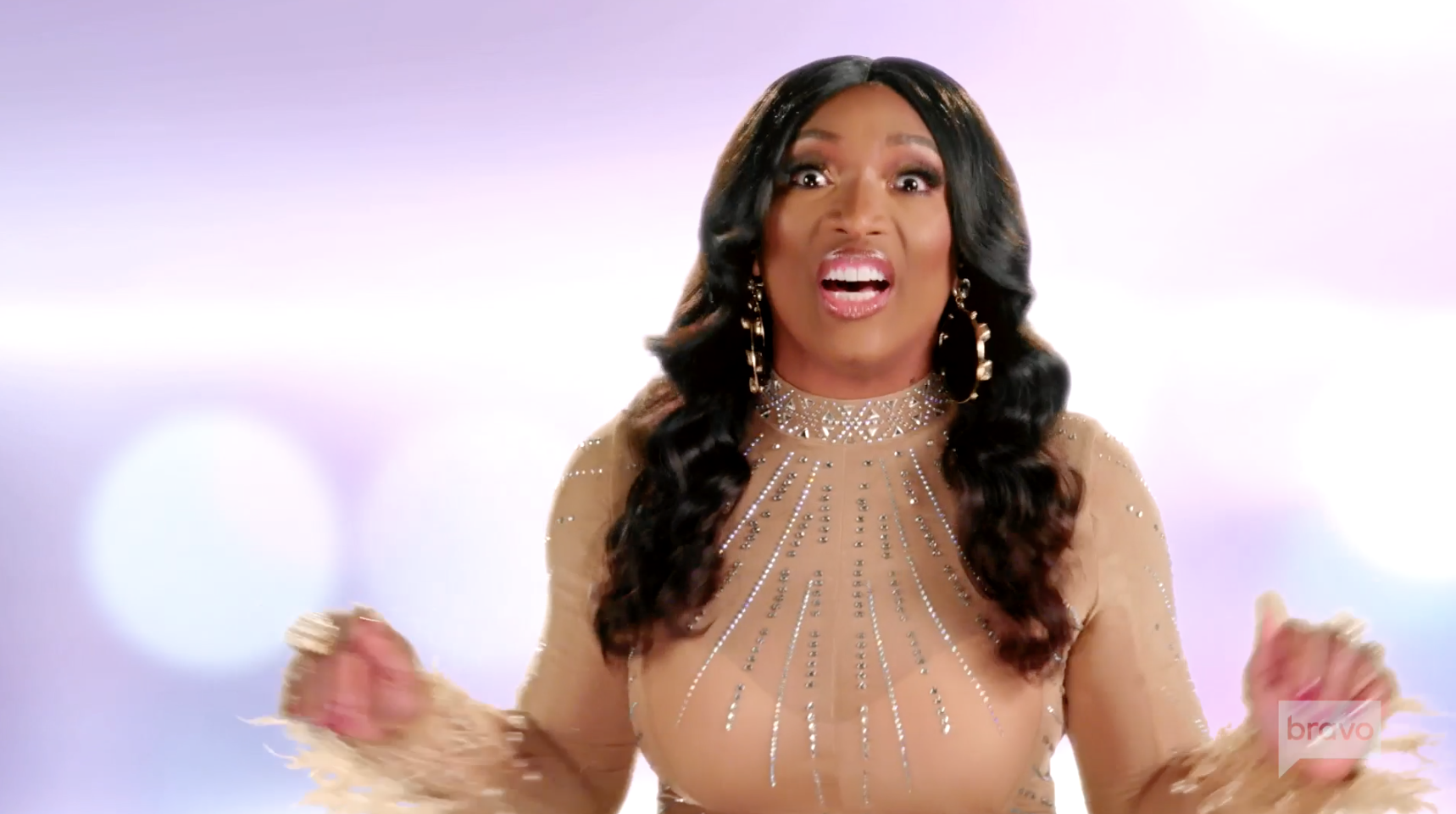 Tamika finishes explaining her concept and the ladies are loving her work, but LaTocha looks salty in the face. In her confessional, LaTocha admits she's usually the one that takes the lead on the creative side and thinks Tamika's taking away that aspect of her. The girls are digging it and LaTocha's steadily itching in the corner. Kandi fills us in that LaTocha used to work with Steve on the group's effects and thinks its hilarious that Tamika's stepping up and showing out! LaTocha's on her phone as her sister explains and Tiny thinks the ideas are cute and cheesy. Tamika was doing good until she began talking about horses child! The ladies applaud Tamika and Steve on their work and Taj asks Tamika to begin reading off the list of what needs to be done.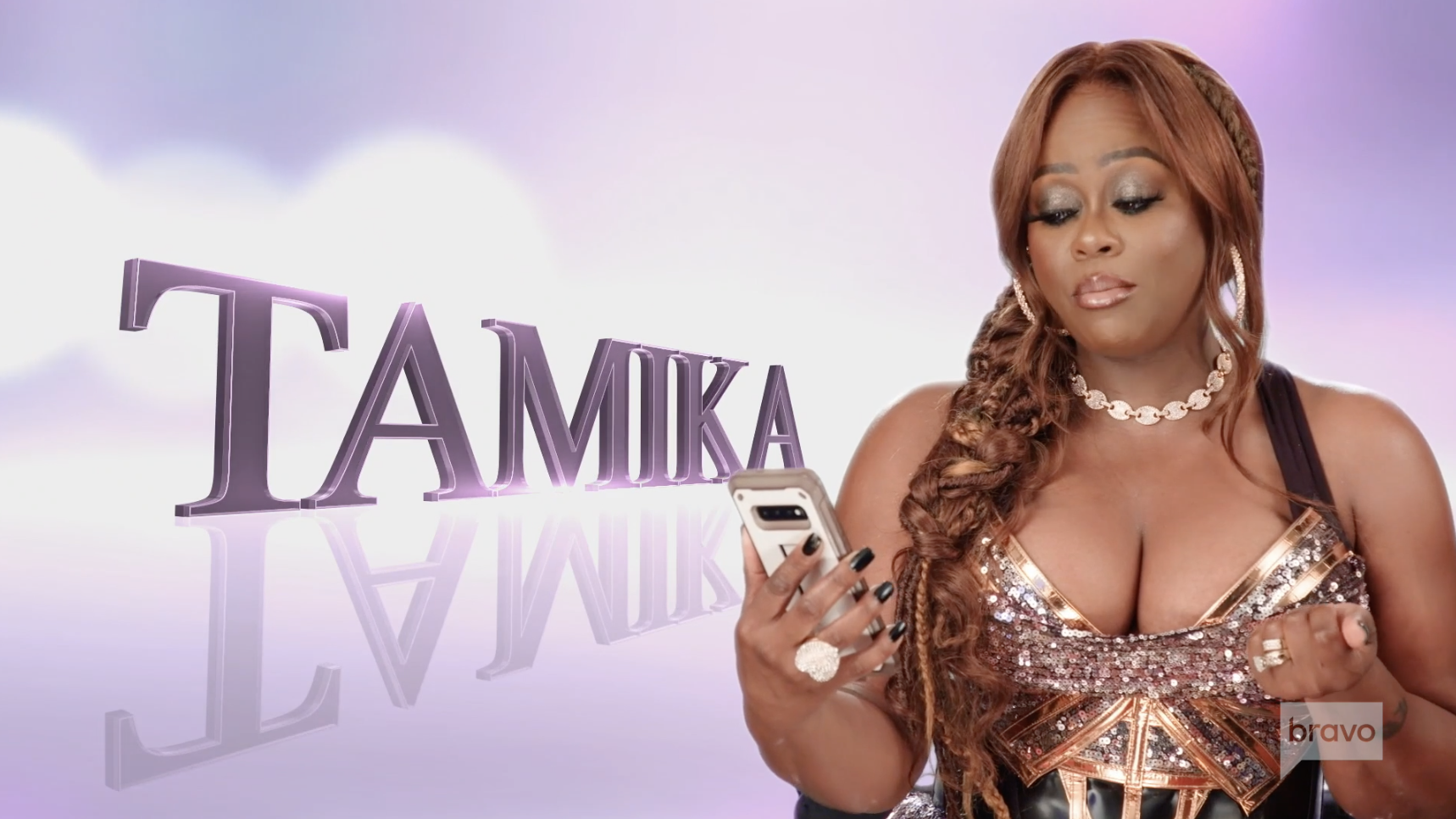 Tiny and LeLee are doing wardrobe while LaTocha, Kandi, and Coko work on the song list. Everyone has their assignments and ends on a good note. Let's hope for the best. Later, Kandi's singing "Weak" in the studio as she waits for Coko and her son Jalen to arrive. Kandi's going to help Jalen with his singing career and Coko wants Jalen to get the experience. While Kandi's explaining things, LaTocha pops up out of nowhere! Kandi's debating which songs to add to their show and Coko wonders which songs they usually begin with. Kandi and Tocha admit Xscape switches it up sometimes and Tocha makes a dig at her own group. Coko choses songs for SWV but when Kandi ask Tocha about Xscape singing "Run to the Arms", LaTocha locks up and the energy in the room changes.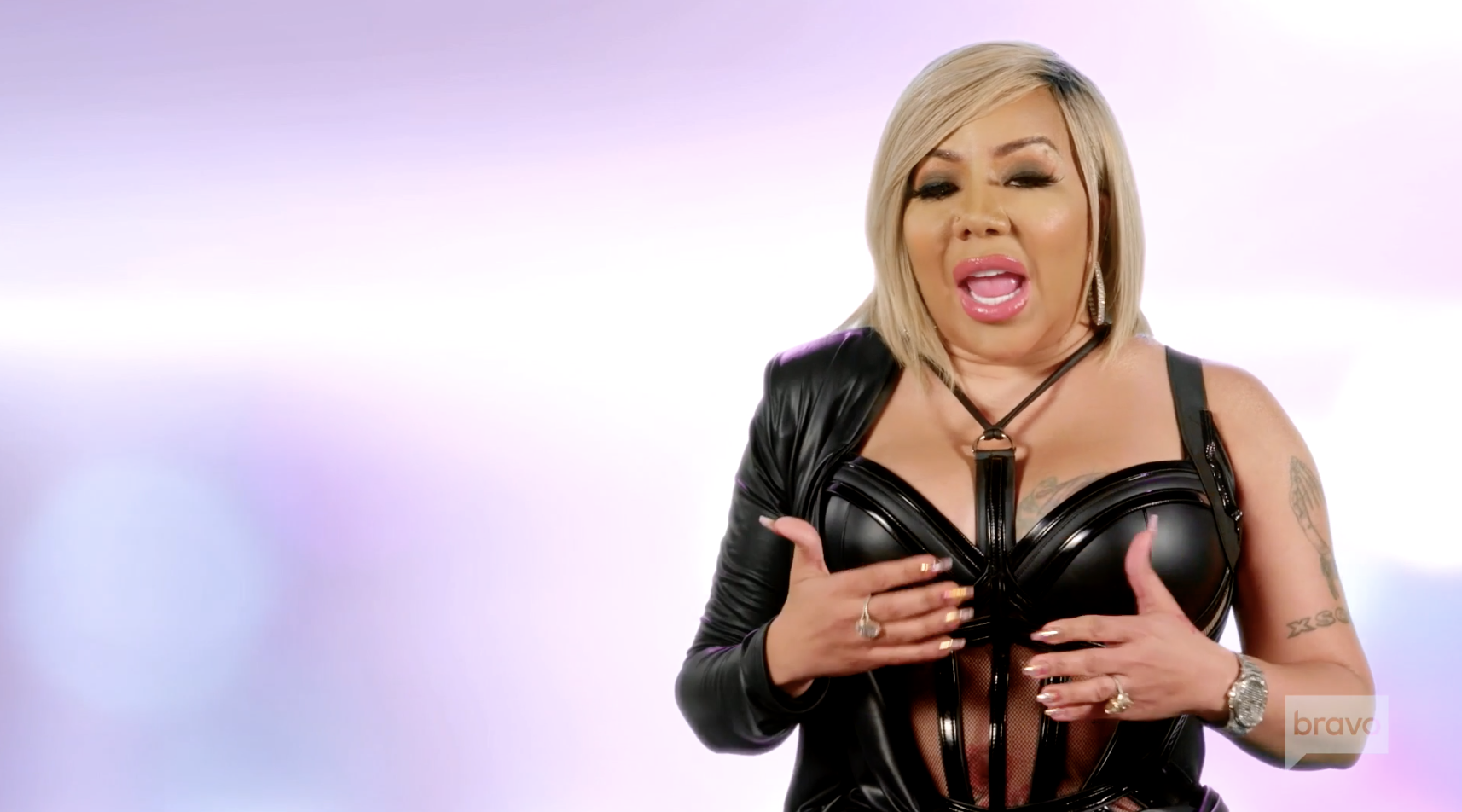 Kandi tries to compromise with LaTocha but LaTocha doesn't know what she wants to do. When Coko ask why LaTocha isn't thinking about the show, LaTocha claims she has a lot going on. SMH. Kandi's over LaTocha's attitude and LaTocha's excuses! Kandi thinks the theme should be beginning with a bash and ending with a bash and everyone agrees. Coko would like to begin with "Weak" since that's SWV's biggest record. Kandi choses "Understanding" and Coko wants the girls to put their cattiness aside to get this money! The next day, Tamika's meeting up with Taj to review the work with their creative director. Steve shows Tamika and Taj what he's been working on, and the ladies love what they see!
Tamika and Taj give their two cents on what they'd like to include and the price is steadily increasing with each demand LOL. Tamika's really upset about the horses but Steve refuses to put real horses at the Toyota Center. The next day, Kandi meets up with Don Juan and immediately begins complaining about the issues going on between the ladies. Kandi tells Don Juan about her meeting with Coko at the studio and the difference between collaborate Coko and absent LaTocha.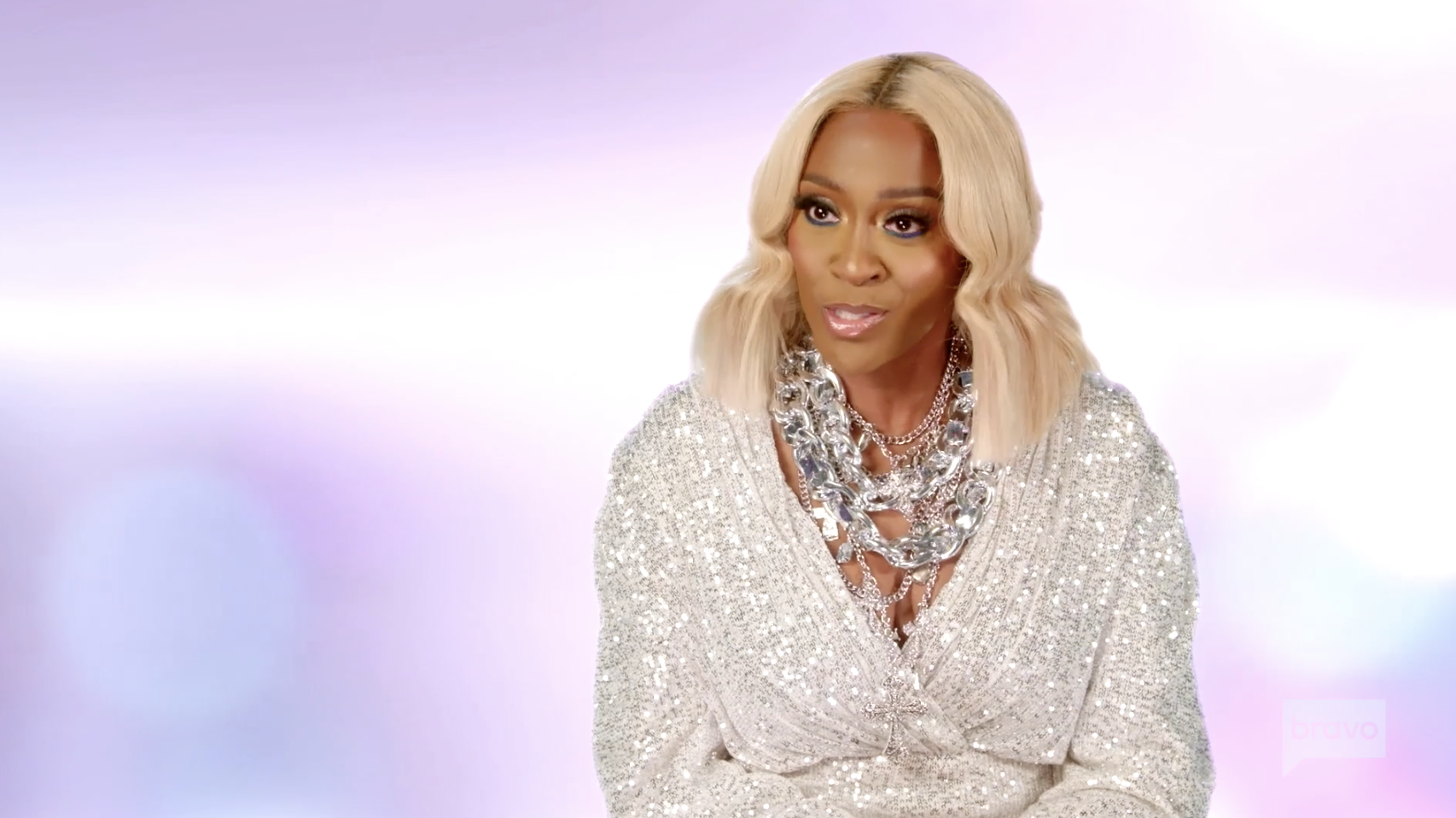 Don Juan wonders what LaTocha's issue is, and Kandi tells Don Juan about LaTocha's gospel career. Don Juan doesn't see it for LaTocha and goes on a mini rant about how LaTocha's a new artist and that she needs to earn respect! Kandi thinks that's LaTocha's problem and knows that Rocky has been trying to get Tocha to go solo. Kandi thinks Tocha keeps Xscape on the backburner as a safety net but won't forget how LaTocha did the same thing back in the day. Don Juan knows LaTocha can't touch what Kandi and Tiny's brand brings but Kandi's thinks LaTocha doesn't want to deal with them period. Don Juan tells Kandi "Don't make someone a priority that makes you an option" and Kandi can't agree more. 
Coko, Taj, and Jalen are going shopping so that Jalen can give them a crash course on fashion. The three are having a great time shopping before Coko sits them down to get Taj's advice on Jalen dropping out of school. Once Coko gives Taj the rundown, Taj ask Jalen why he dropped out and ask him to think about it. Coko wants Jalen to go back to school but Jalen admits his mental health wasn't good while at school. Coko admits Jalen deals with depression and Jalen reveals he was seeing a therapist. Taj tells Jalen how she left college to pursue her career but warns him that after her career was over with, she had nothing to fall back on. Taj tells us that when SWV was over, she ended up working at a coffee shop for $9 an hour! 
Taj wants Jalen to know he has options and to think about it. Jalen's going to consider it, but we all know that boy ain't going back LOL. The next day Xscape are rehearsing and doing the thing without LaTocha present. During a break Kandi ask Tamika about LaTocha but LaTocha's ignoring all of them. Meanwhile, Tocha's at home chatting with Rocky about her gospel contract. LaTocha's so excited to begin this new journey and leave Xscape behind her! Rocky's glad to be there for LaTocha and gives LaTocha props on entering a deal that's going to allow her to own her masters.
Rocky ask LaTocha about the future of Xscape and back at rehearsals the girls are singing their lungs out without Tocha. Kandi's annoyed Tocha's not coming, and their stage manager tells them Tocha plans on coming to sound check. Kandi's fed up and wonders why they don't set the rules instead of letting Tocha run everything. Tiny ask Kandi what she'd like to do, and Kandi thinks Tocha is treating them like she's Gladys Knight and they The Pips. Tamika knows Kandi's right and LaTocha finally admits to separating from Xscape for good.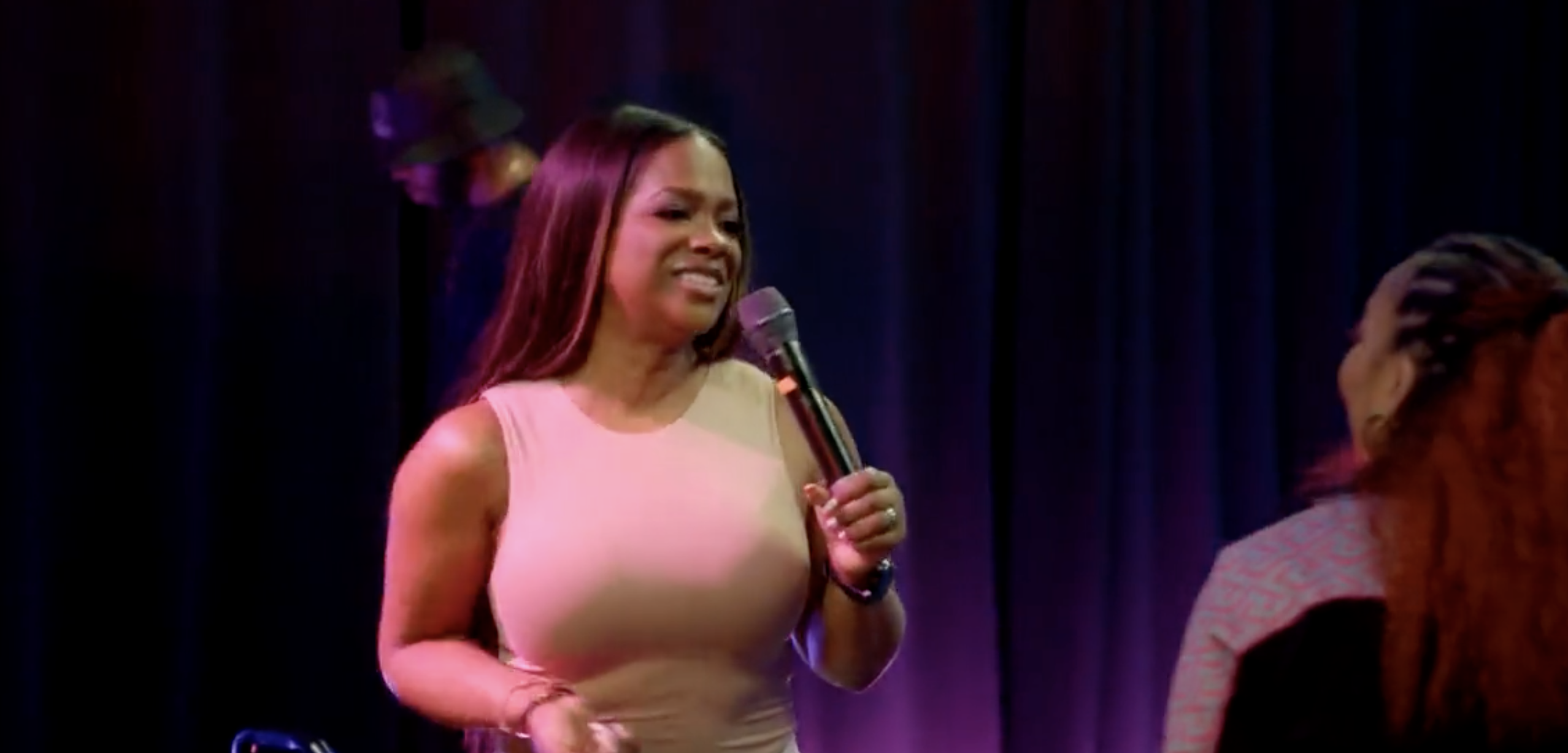 Rocky understands and doesn't push for more as he encourages Tocha to sign her contract and the two toast to her freedom. SMH. Kandi, Tamika, and Tiny continue rehearsing as Kandi decides their going to do the show with or without LaTocha. Whew, this is messy!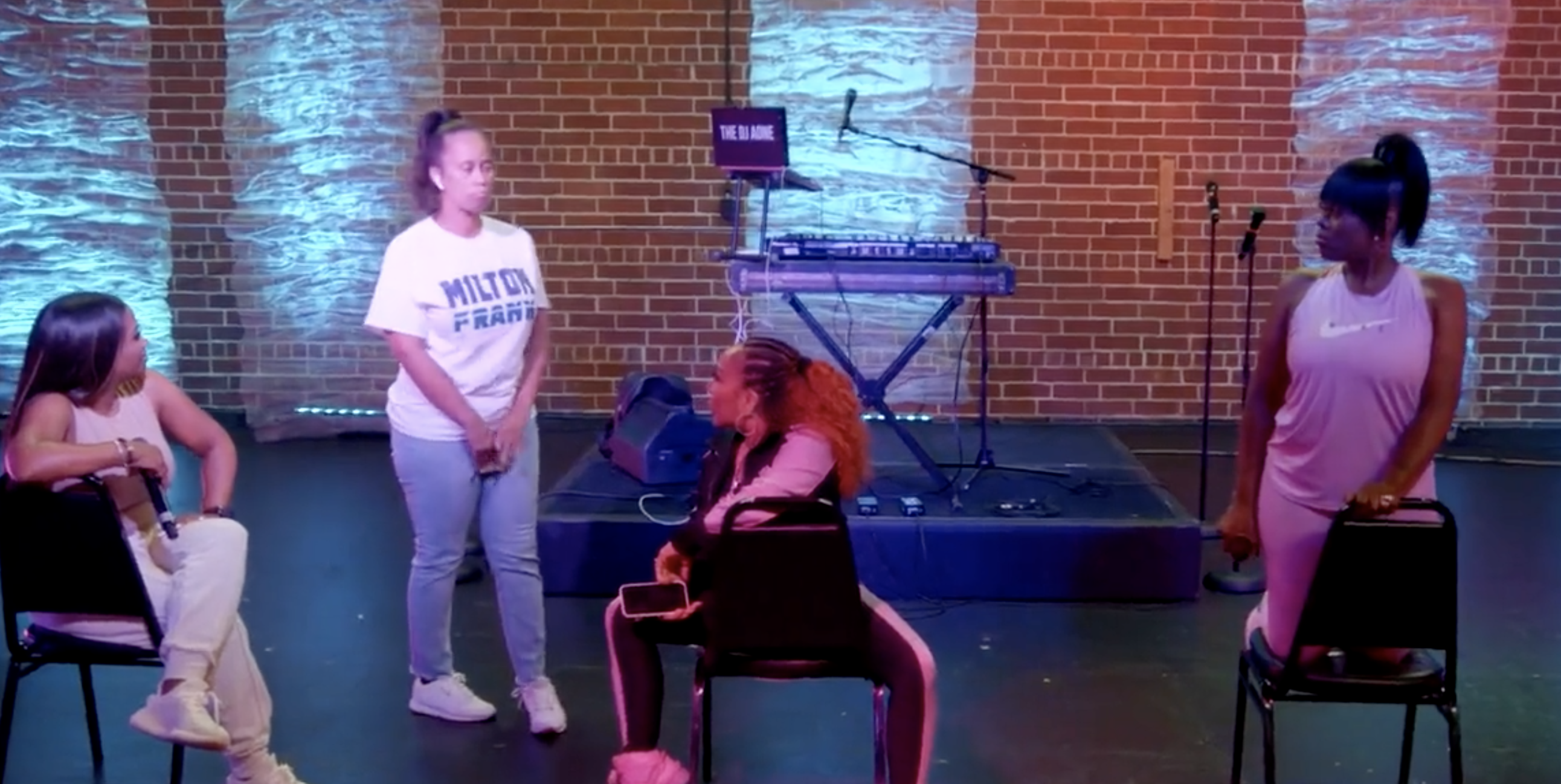 Be sure to come back next week for a brand-new episode of Queens of R&B: SWV & Xscape.
SWV & Xscape: The Queens of R&B airs Sunday nights, on Bravo, at 9:30pm ET.
Stay Connected With All About The Tea: Twitter Ι Instagram Ι YouTube Ι Facebook Ι Send Us Tips
LeAndra Williams is a content contributor at All About The Tea. She's a social worker and (super) mom by day, and a reality T.V. junkie by night.