Ana Navarro's Impressive Weight Loss Praised by Fans 'You Look Amazing'
Ana Navarro's Impressive Weight Loss Praised by Fans 'You Look Amazing'
Ana Navarro enjoyed a flood of praise from fans of The View, after revealing her slimmer physique on Instagram.
The charming host of The View,Ana Navarro, 51, and husband, Al Cardenas, recently attended Emilio Estefan Jr.'s 70th birthday party, decked  out in 70's themed costumes. Ana, who was snapped in multiple pics alongside other guests, posted lots of photos of the festivities.
The daytime personality, who wore a figure hugging top and bell-bottom pants, has been dropping pounds over the past few months. 
Ana Navarro captioned the series of photos — "@emilioestefanjr turned 70 and had a 70's themed birthday extravaganza. Al & I understood the assignment. Dear God. I hope we make it thru the night without my husband breaking his neck with those platforms. Thank you, @marlenesmakeup and @touchofclassbyjanet1970 for the 70's hair & makeup look."
Fans applauded Ana Navarro for her groovy costume and noted her slimmed down figure. 
One follower wrote — "Ana, you are stupefyingly beautiful."
Another said —  "Nice outfits! Everything comes back. 'Staying Alive'
One commenter cheered — "You rocked it, Ana!"
Another wrote — "Ana, you look radiant!!!"
A third gushed — "Fabulous! You both look amazing!"
Ana Navarro flaunted her trimmer bod last week, in an Instagram video that featured the host describing her Friday look. Ana rocked a floral dress, simple accessories and metallic platform heels in the pic, and wore her hair in dark waves. Ana gushed over her dress, telling her followers the backstory behind the garment.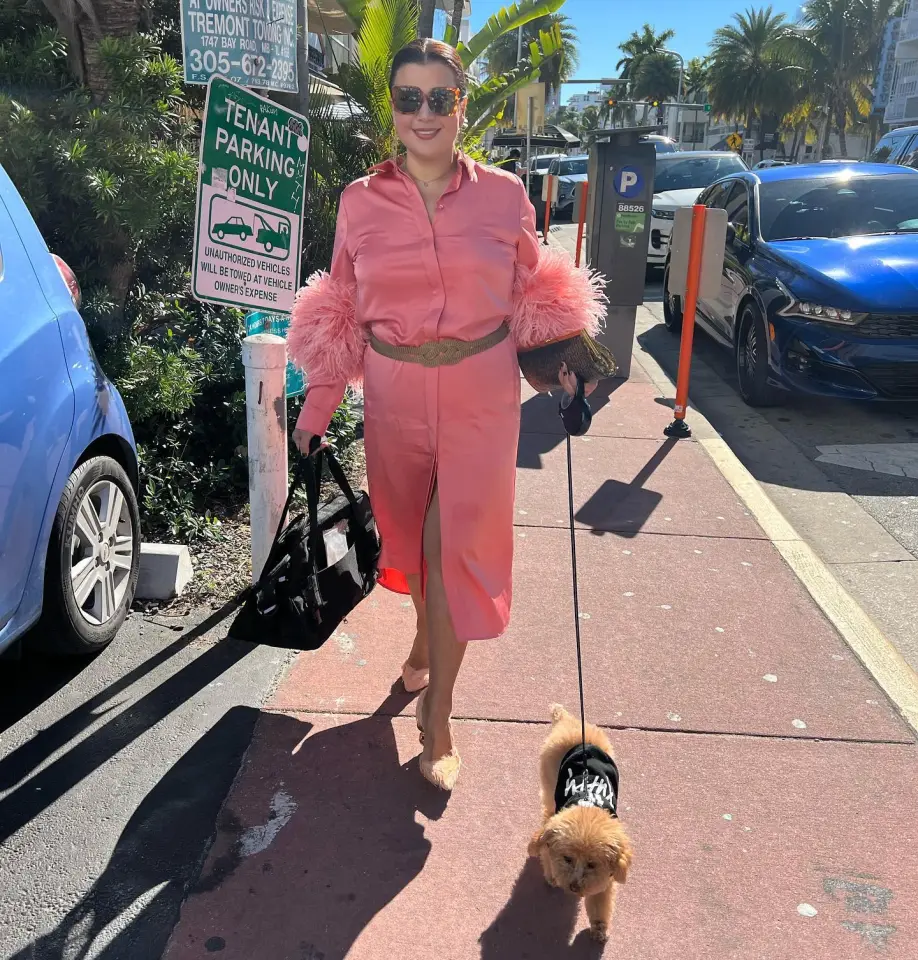 She said — "So this week I saw on Instagram that my friend and somebody I admire tremendously, Shonda Rhimes, is now working partnering with St. John."
"I've never thought of St john as very youthful, and then today I come to The View  and then Fran Taylor had picked out a St. John dress."
The 51-year-old declared — "And look how beautiful this dress is. Shonda, you're onto something, girl!"
Ana's fans agreed that the dress was a stunner, but many were also quick to point out her obvious weight loss. 
One follower wrote — "It's funny. I caught a few minutes of the show today and the second I saw your dress I said "wow ana looks amazing". The print is stunning."
Another fan called the look "flattering," while others took notice of her trimmer physique. 
One person wrote — You're looking gorgeous and just have to say your hard work is showing."
Another follower gushed — "You look fabulous! You have lost weight, you look so happy. You enjoy life every day!"
"You look amazing," another fan stated.
Ana recently admitted that she had undergone cosmetic procedures, posting a video of herself having a facial treatment, last Wednesday. 
She wrote in the post's caption — "Y'all have been asking why my face looking a little younger. Needless to say, I [heart emoiji] the question."
"I'd never done sh*t. Then I turned 50 and started obsessing. I baste myself like a Thanksgiving turkey with Vitamin C serum, hyaluronic acid and retinol."
She added — "I intrinsically trust @carloswolfmd and have told him, I'll try anything but surgery. So that's where I am."
Stay Connected With All About The Tea: Twitter Ι Instagram Ι YouTube Ι Facebook Ι Send Us Tips