'RHONJ' RECAP: Teresa's Daughters Give Melissa The Cold Shoulder Amid Family Feud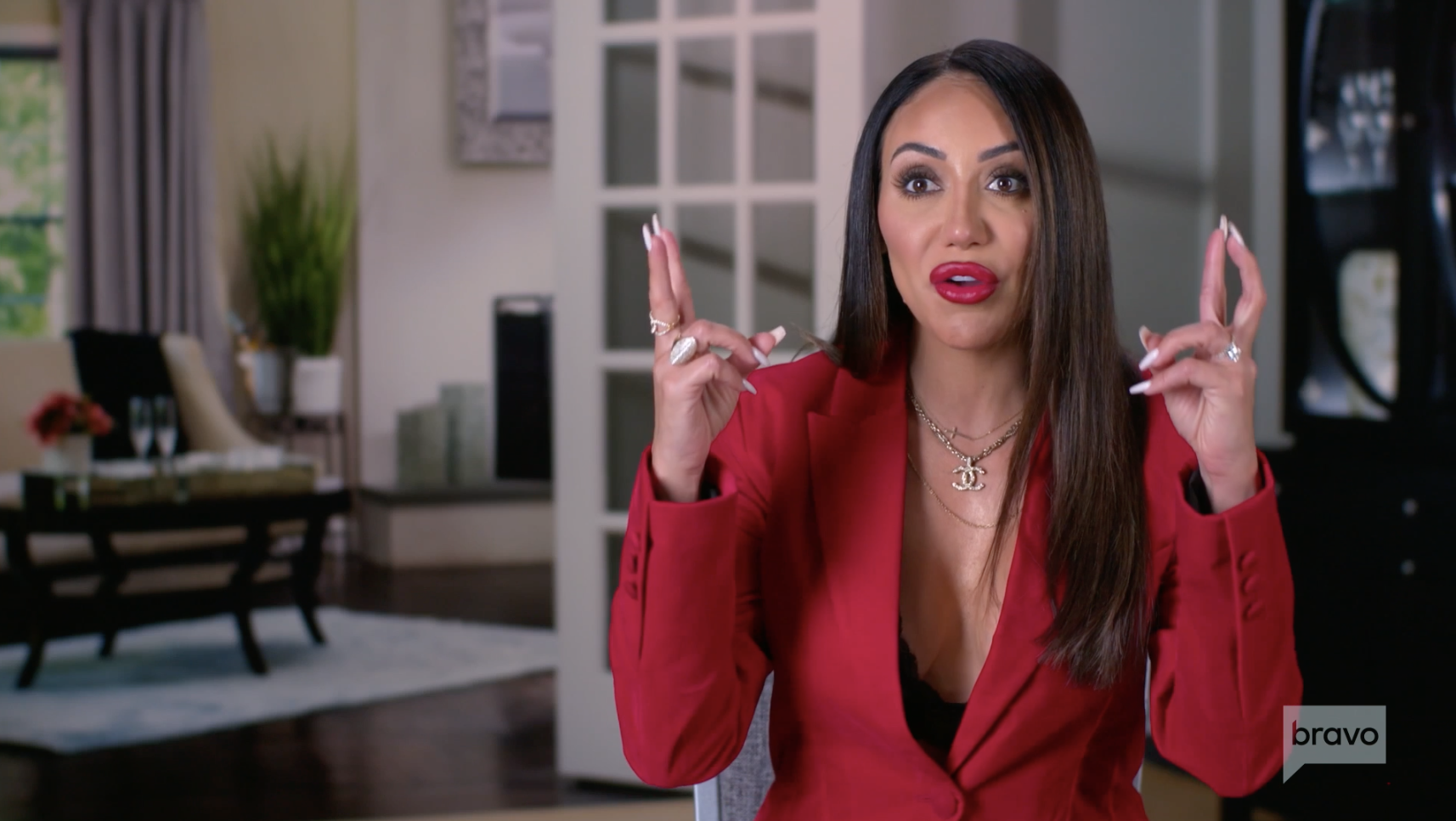 'RHONJ' RECAP: Teresa's Daughters Give Melissa The Cold Shoulder Amid Family Feud 
Welcome to back to a brand-new episode of The Real Housewives of New Jersey. First, the ladies videotape their men coming home drunk after guys night, and it's clear the men had a lot of fun.
The next day at Teresa Giudice's house — she and Louie are fixing up the patio as Louie fills Teresa in on the drama with Joe Gorga. Teresa apologizes to Louie about Joe's behavior while Joe and Melissa Gorga are working on building a new house.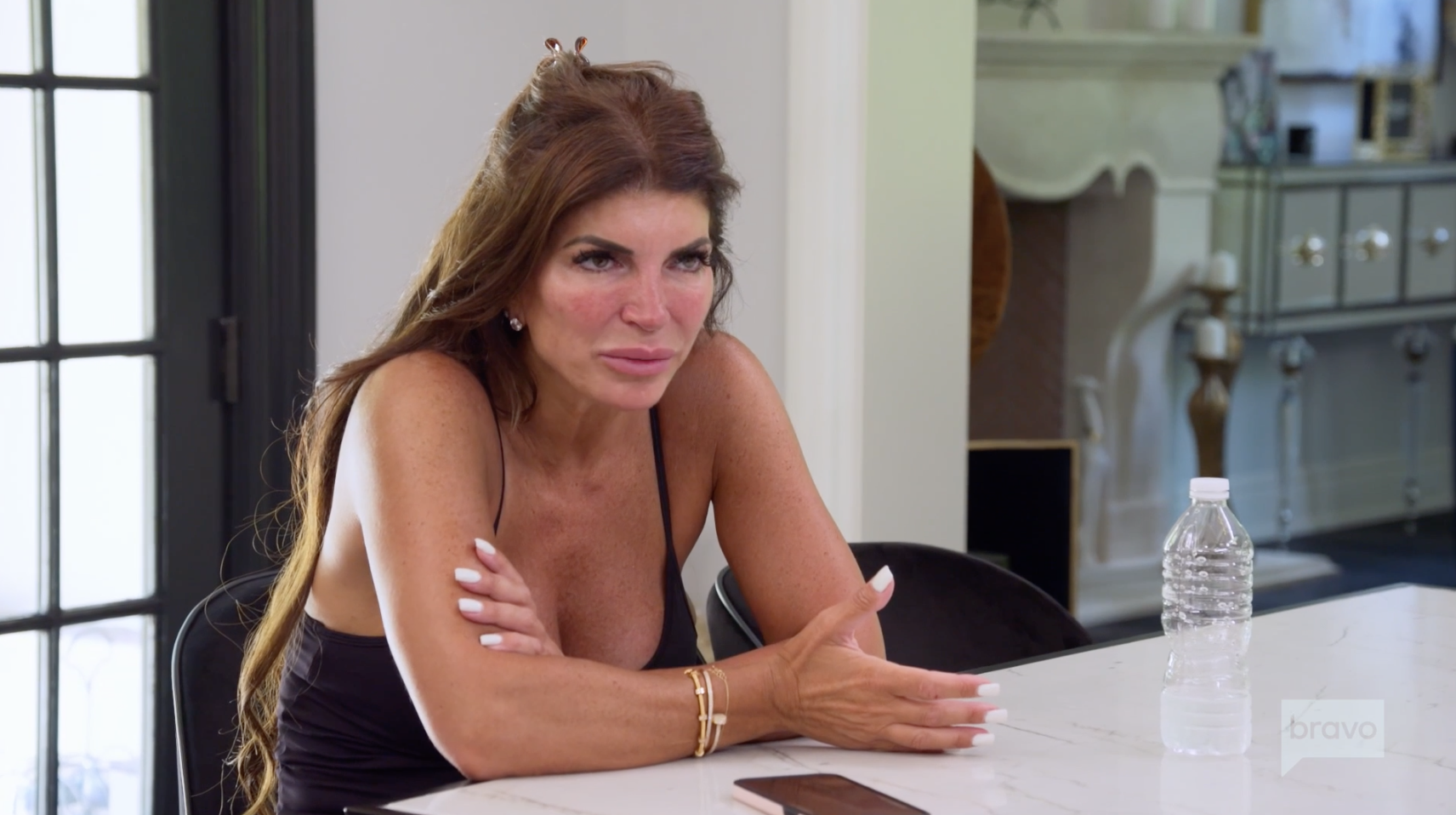 Joe picks Melissa up to show her the inside of their dream home and Melissa ask Joe about guys night. Joe tells Melissa about Louie bringing up the podcast comments and now Melissa's upset that Louie brought up such old news. Producers let us listen to Melissa's statement and a flashback of Joe talking to Joe Giudice while Teresa was in prison.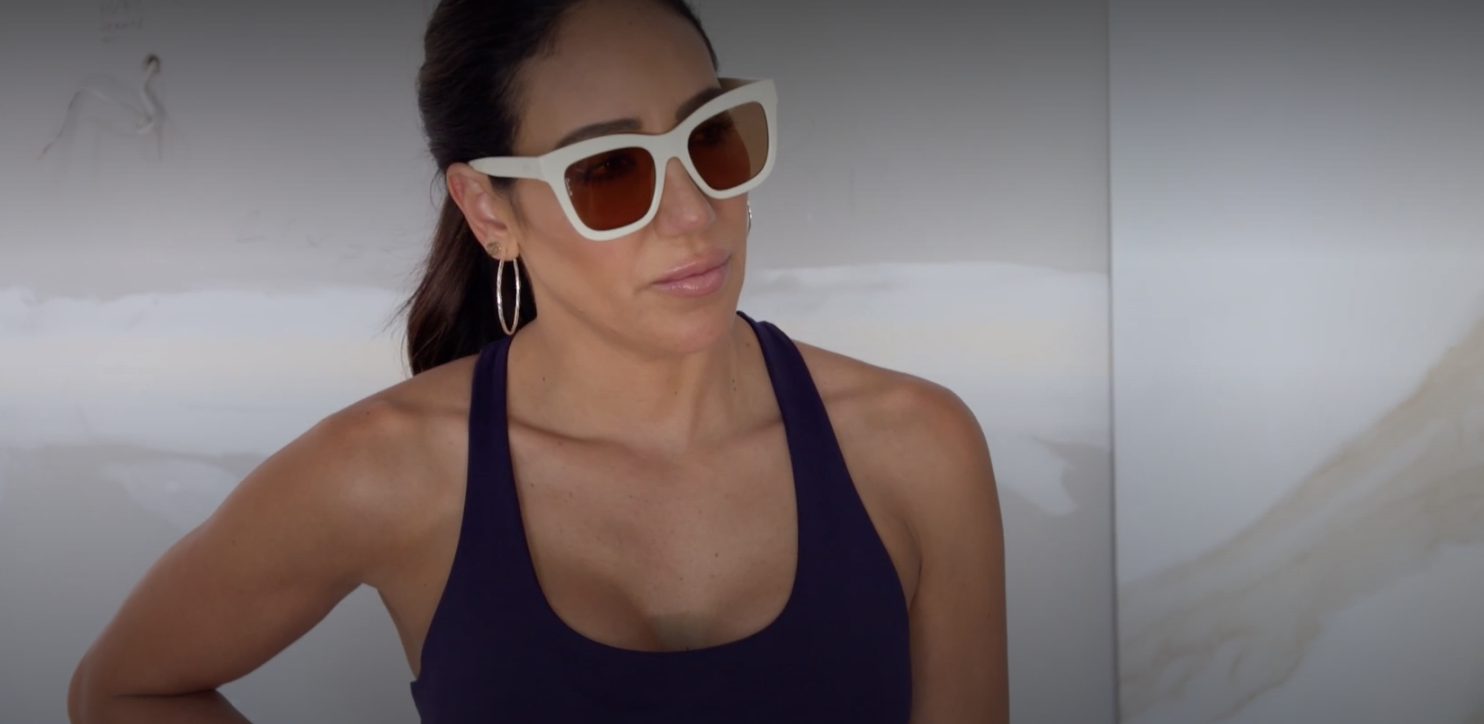 Melissa doesn't understand what's so wrong with her statement and Joe's still upset that his mother-in-law wasn't invited to Teresa's wedding. Meanwhile, Teresa's telling Louie she's embarrassed by Joe's actions and Louie tells Teresa why Joe's upset. Teresa doesn't understand what Joe's issue is and now Joe thinks Louie is the problem. Louie feels bad for Joe and Teresa doesn't know why Joe's so traumatized.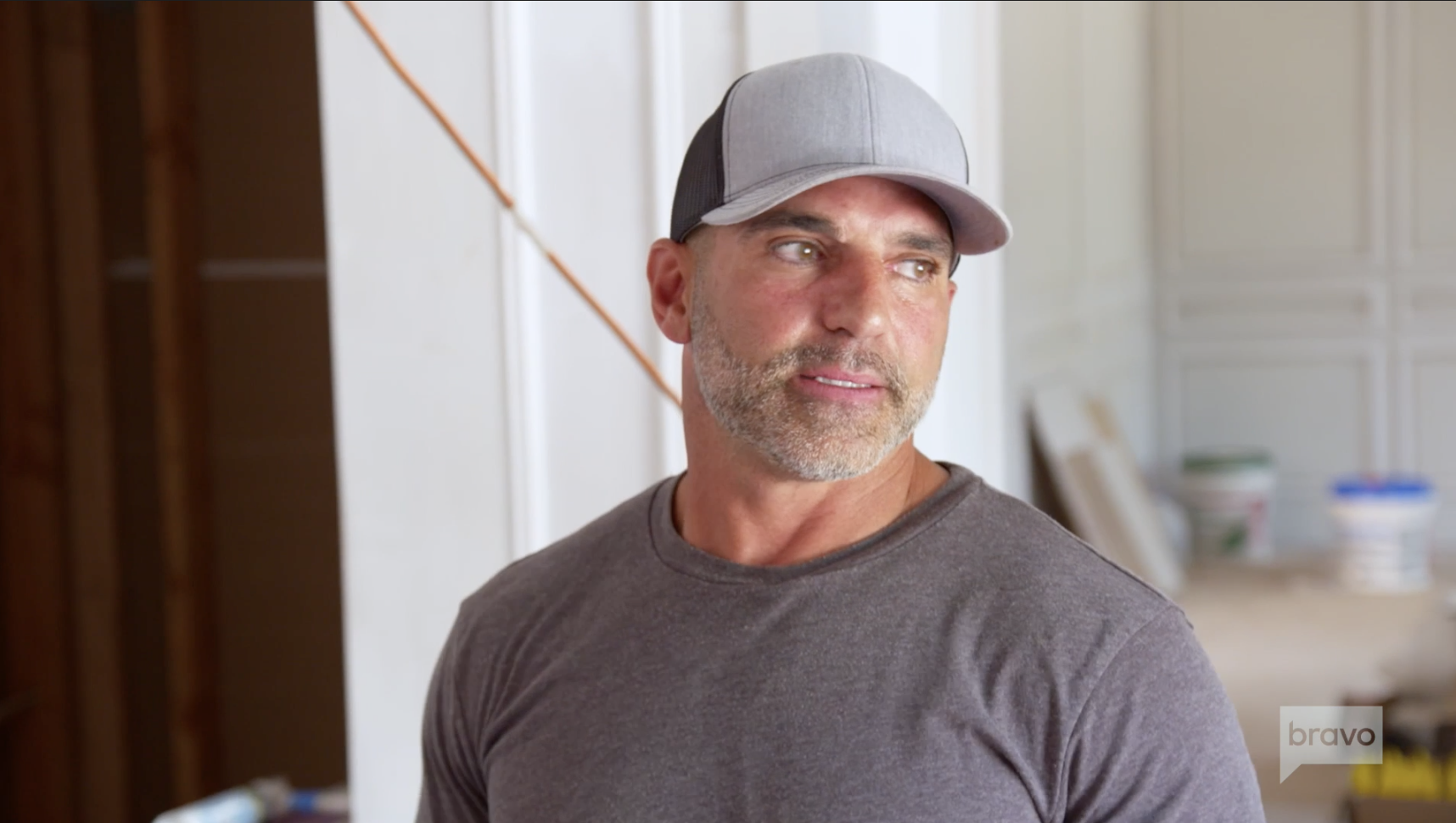 Louie ask Teresa to call Joe and invite him and Melissa to her upcoming housewarming party. Teresa calls Joe and tells him that she's happy he answered the phone. Joe's pretending that everything's good while Louie writes down what Teresa should say. Joe says he wants peace but when Teresa ask if he wants to talk; he declines and says he just want to move forward.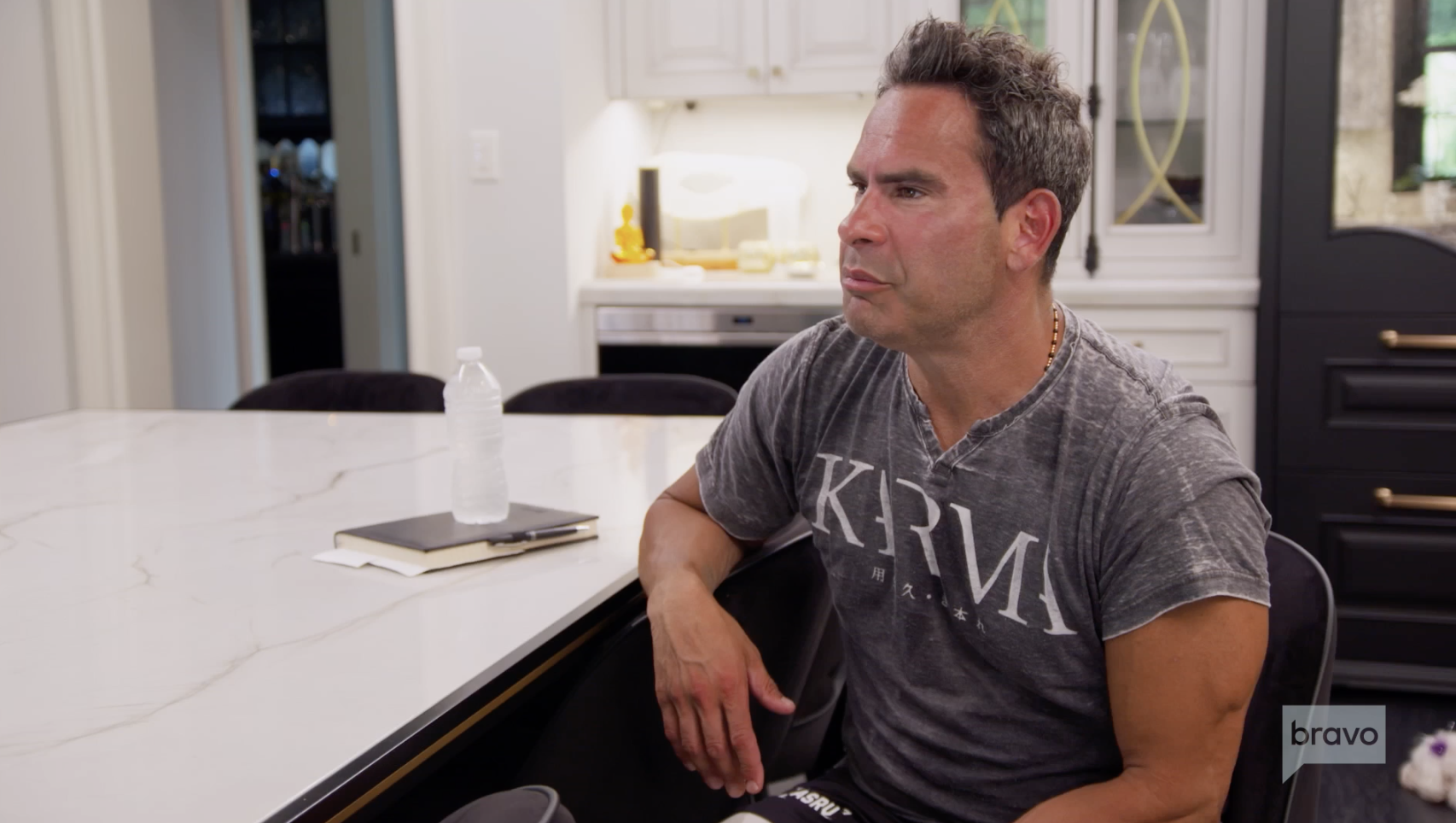 Teresa invites Joe to her housewarming, but Joe doesn't give Teresa a definite answer. Louie wants Teresa to take baby steps and Melissa and Joe shake on a job well done as Louie kisses Teresa.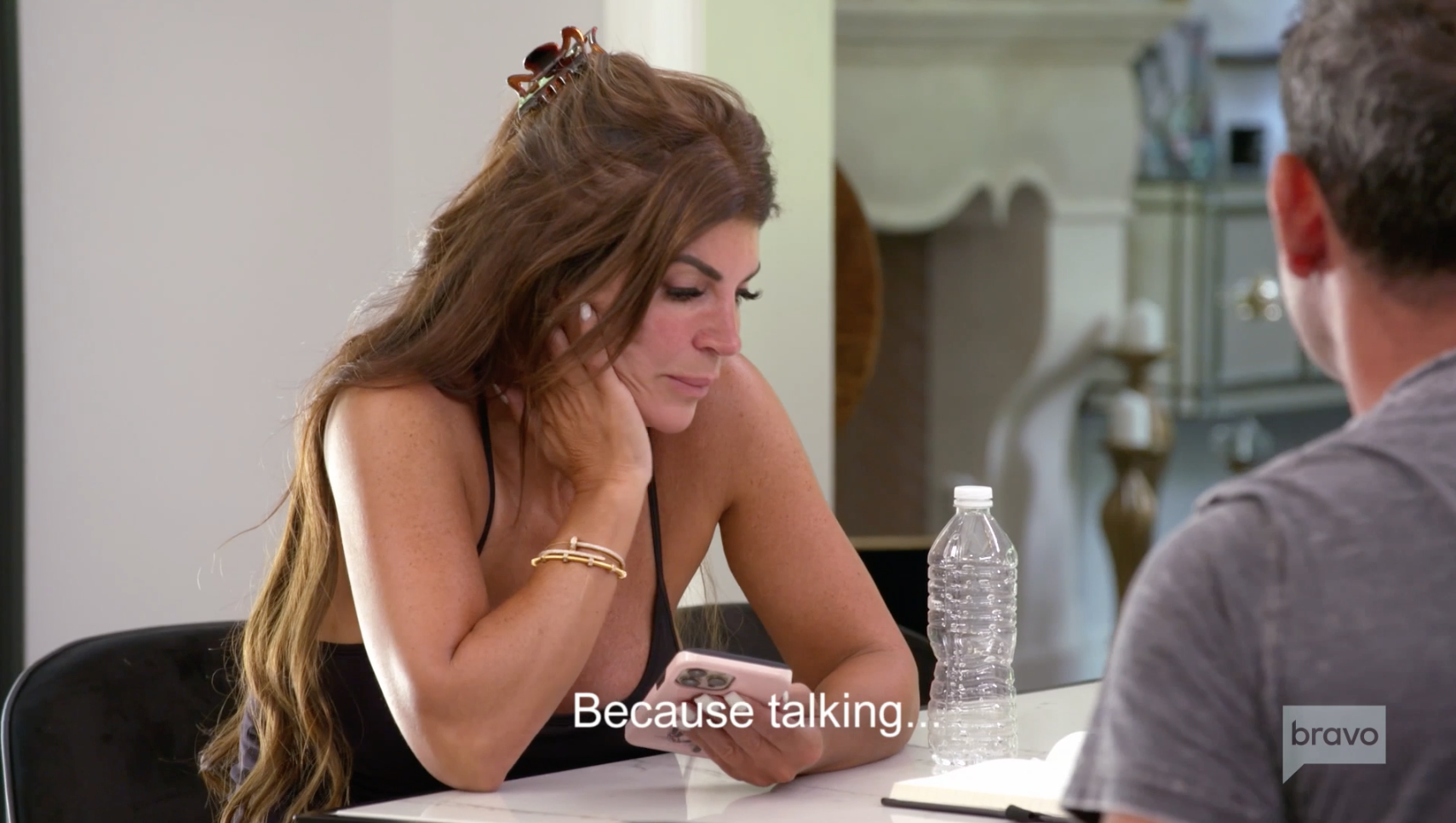 The next day at Dolores Cantania's house, she and Frankie Jr. wait on Mama Valerie to arrive. While fixing Mama Valerie a plate, Dolores ask how she's doing and discusses Valerie's diet. Mama Valerie admits to eating cake for breakfast and Dolores is done fighting her mother about her eating habits. Mama Valerie ask about Paulie and how the group reacted to him.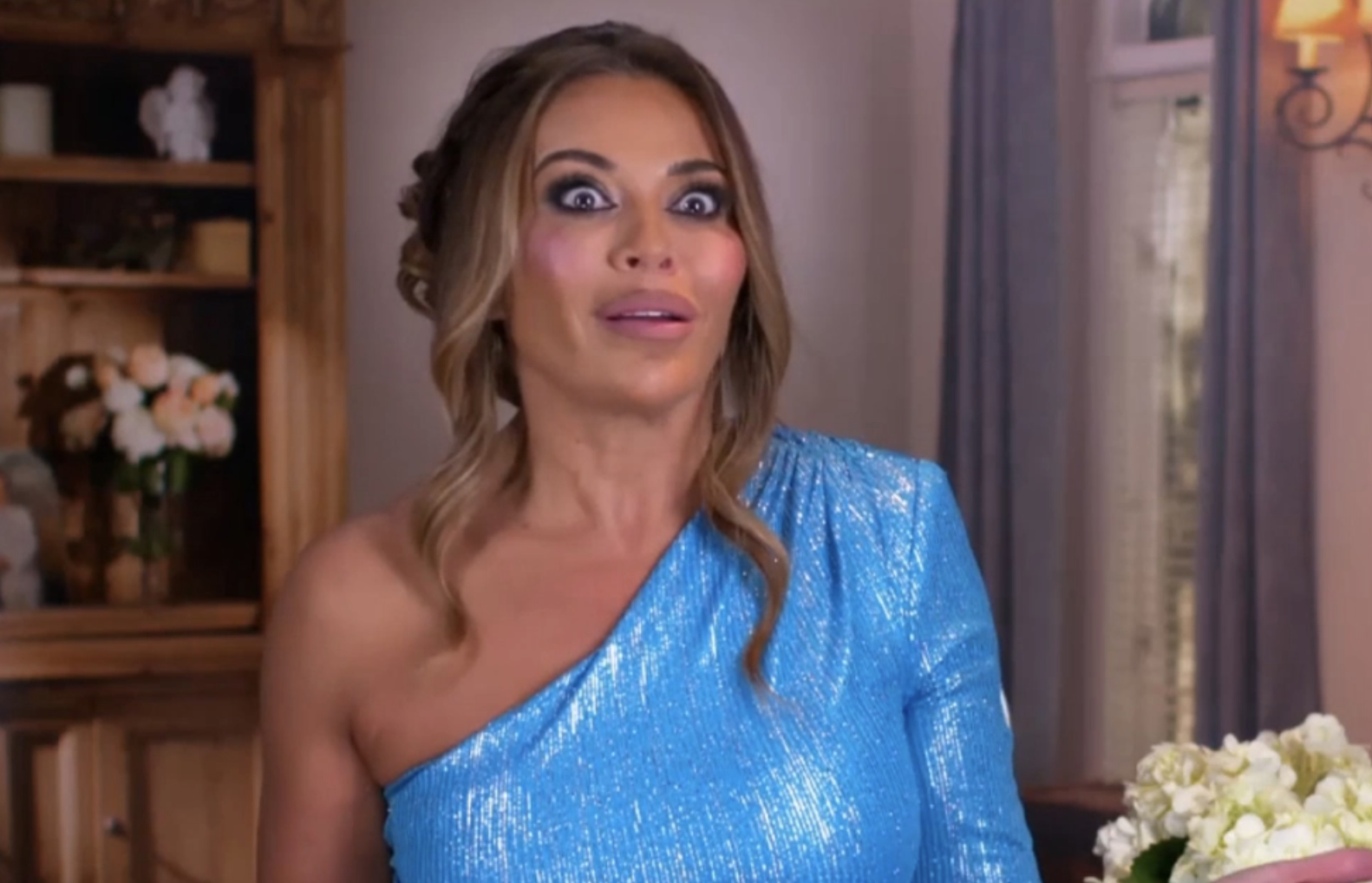 Dolores tells them that everyone loves Paulie but Frank is having a hard time getting along with Paulie. Frankie thinks there's a lot of miscommunication and that Frank might've thought Paulie was going to be buddy buddy with Frank; like how David was. Dolores is putting her foot down when it comes to her relationship and says Frank will get over it.
That night, Jennifer Aydin and Bill Aydin have a date night and after ordering — Jennifer discusses her son's upcoming prom and that she got him a party bus. Bill tells Jennifer she created a monster and would like for Jennifer to put her foot down. Jennifer doesn't want the kids to be sad, but Bill thinks Jennifer needs to deal with her own issues. Jennifer then brings up that Bill just bought a new car and now Jennifer thinks Bill is always fighting with her. Jennifer brings up the fight with Dolores and while Bill was trying to defuse the situation, Jennifer just wanted Bill to have her back. 
Jennifer tells Bill that she feels like he takes her love for granted and Bill's upset that Jennifer continuously sh**s on him. Bill ask if Jennifer if she wants things on her terms and Jennifer wants Bill to gas her up. The two agree to disagree and Bill ask for the check. Guess date night is over.
The next day, Rachel Fuda is meeting Jennifer Fessler for lunch. Jennifer compliments Rachel on her amazing body and Rachel tells us in her confessional how much she loves Jennifer F. The two talk about how much they like each other and after ordering Rachel brings up the drama from the Mozzarella party. Rachel and Jennifer go through the drama between Jennifer and Margaret Josephs and Jennifer's comment about Rachel's nose job. Rachel tells Jennifer F. that Jennifer Aydin called her to apologize if she offended her and then began trash talking Dolores.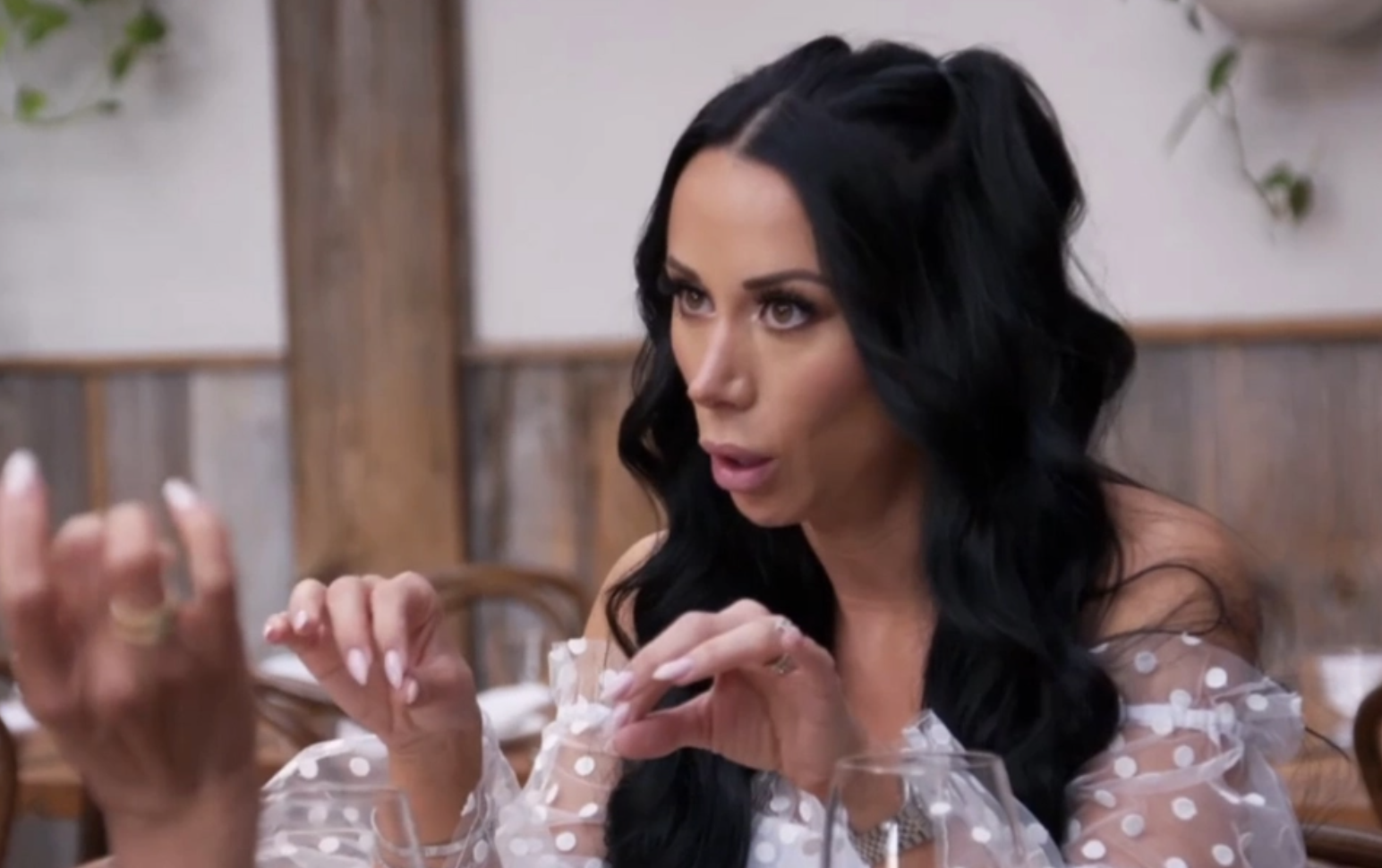 Jennifer F. then reveals Jennifer Aydin called her also and originally talked about therapy and then began bad-mouthing Margaret — claiming that Margaret is jealous of Jennifer A. Jennifer's not switching teams that fast and both ladies think Jennifer is manipulative. Both ladies agree Jennifer's not nice and that Jennifer's jealous and needs to get well soon.
Later, Margaret's browsing at a local shop as she awaits Dolores's arrival. The ladies are shopping for a wedding gift for Teresa and Louie and while shopping the two bring up the drama from guys night. Dolores feels bad for Joe and calls Melissa to check in on her. Melissa admits Joe lost his mind and that their upset at how Teresa's treating her extended family. Margaret and Dolores want to know if the Gorga's are attending Teresa's party and Melissa wants to go to speak her peace and clear the air. Let's see how this works out.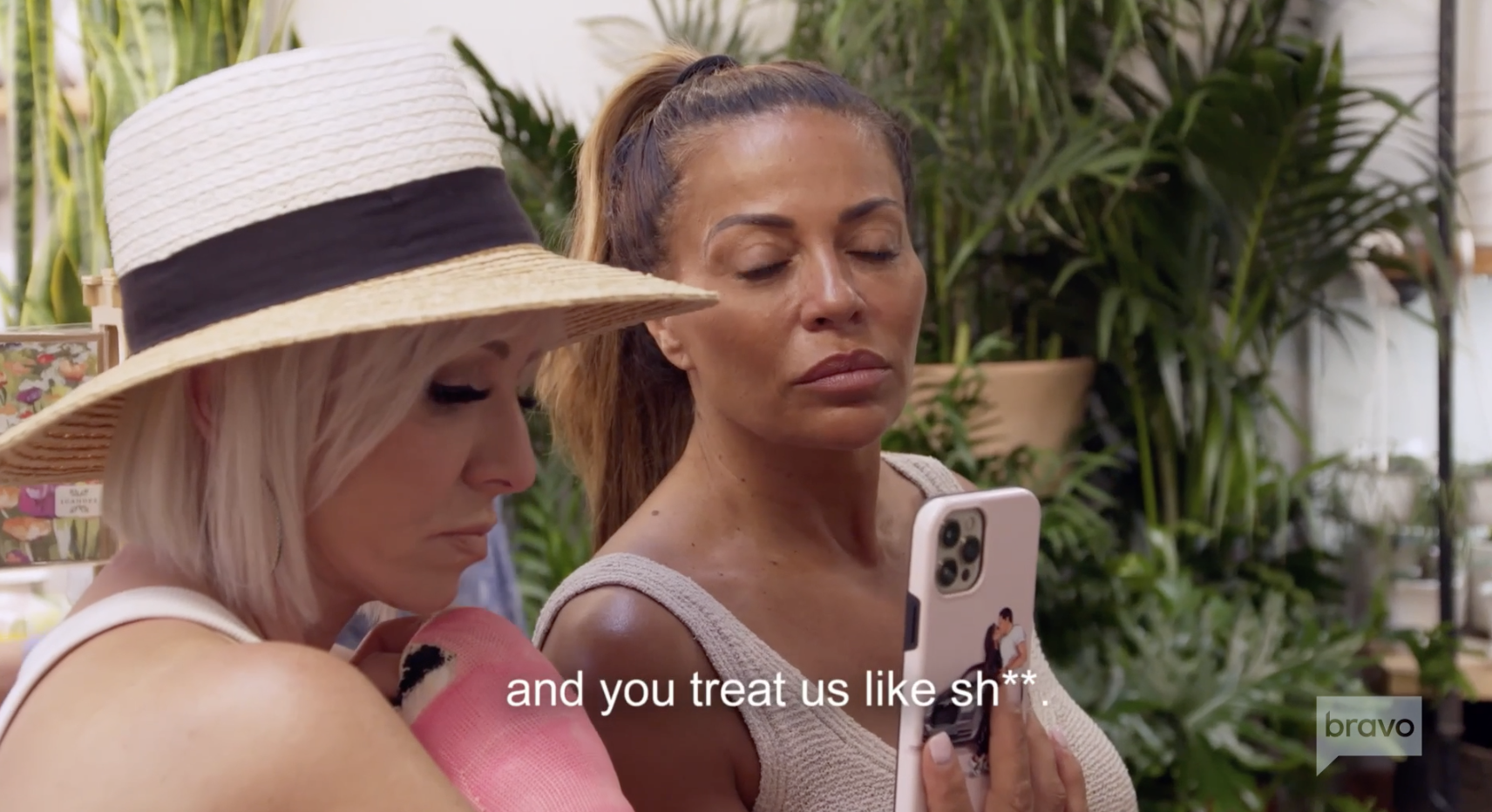 It's Teresa's Love Bubble Party and she and Louie are making sure everything's in place for the party and we see how grown Milania is. As Melissa's getting her make up done, Joe calls her and backs out of Teresa's party. Joe doesn't want to feel uncomfortable, but he has to face these issues head on. Gia comes out looking beautiful and Teresa tells the girls that Joe isn't coming.
Louie feels sad that Joe isn't coming but the girls seem unfazed by their uncle's absence. Teresa tells her daughters about Joe being upset that certain people weren't invited to the wedding and Teresa's daughters are upset that Joe can't be happy for their mom. 
Meanwhile, Joe's still complaining about Teresa to Melissa and tells her to go and have a good time. Melissa promises not to stay long but she wants to peace between the two families. Dolores and Paulie arrive to Teresa's first and everyone's all smiles as they greet each other.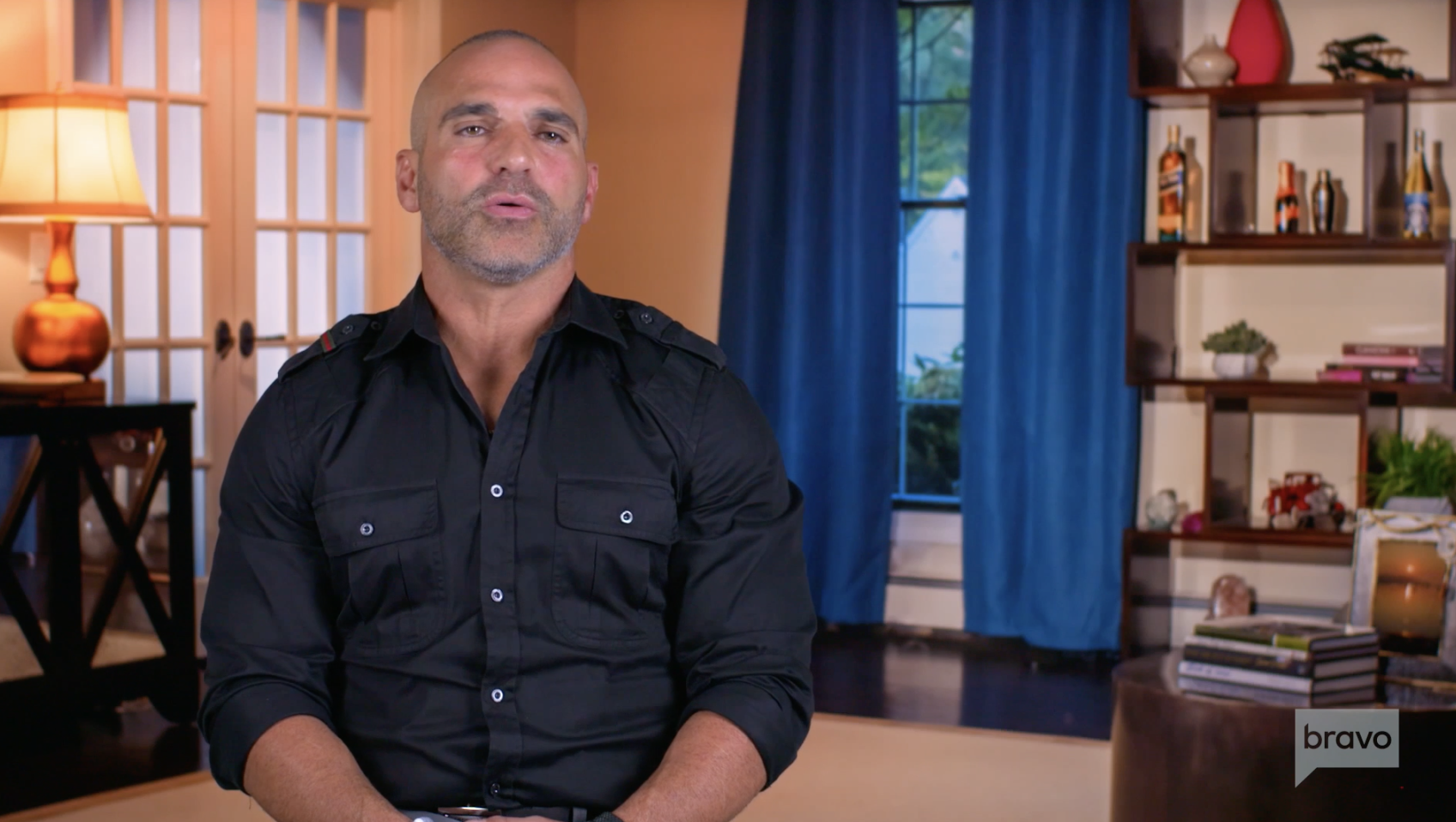 The guest begin arriving as Margaret compliments Teresa on her party. Danielle Cabral and her husband arrive and are blown away by the model in the bubble. Teresa introduces Danielle to her daughters and Louie's son and Teresa looks so happy! Jennifer F. arrives and we're introduced to her husband while everyone's getting their drink on. 
Rachel helps Jennifer F. get food out of her teeth as Jennifer and Bill arrive with a tree of life for Teresa. Margaret tells Jackie and Dolores about Jennifer Aydin's phone call to Jennifer F. and tells the ladies that Jennifer Aydin thinks Margaret is jealous of her. Jackie and Dolores are shocked, and Margaret thinks Jennifer's looking for attention since she isn't getting any at home. And I oop!
Teresa's playing hostess as Melissa arrives and greets everyone. Rachel checks in with Teresa about Joe's absence and Teresa tells the group that her daughters haven't seen Joe in six months. Rachel's glad that Melissa's here but Danielle hopes Joe doesn't make disappearing a habit. The men take shots as the ladies huddle up. Dolores tells the group that Frank isn't coming and that she doesn't think Frank's avoiding Paulie. 
Rachel tells Dolores about Frank missing their relationship and Dolores makes it clear she doesn't care and that she's moved on with Paulie. Good for you girl! The party is partying and Melissa chats with Gia and Gabriella while everyone else mingles. The conversation between Melissa and the girls are awkward and Gia's upset that the kids get put in the middle every time their parents argue. The girls eat as Danielle jokes about bringing Tupperware with her. Louie pulls Teresa up and thanks everyone for their support and loving on them. Margaret apologizes to Melissa about Teresa calling the crowd her "chosen family" and Melissa seems sadden by Joe not being there.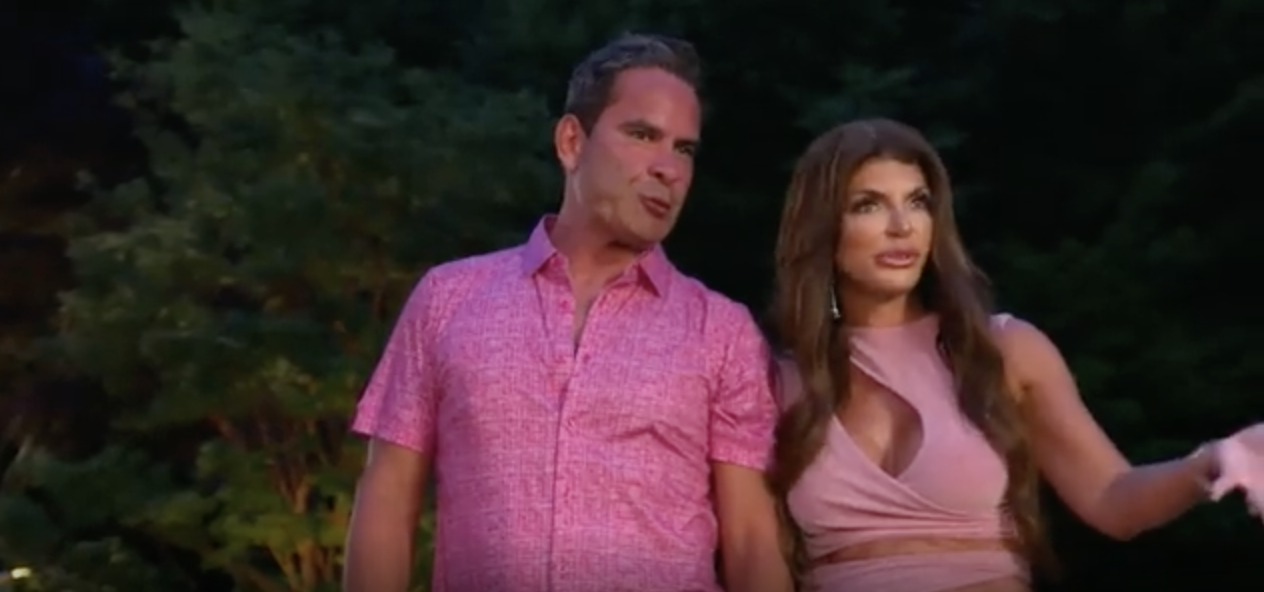 Melissa gets emotional as she excuses herself from the group to wipe her tears in the bathroom. Margaret and Jackie notice Melissa's upset, and Melissa's upset at all the digs coming from Teresa. Soon Teresa's sprinklers come on and now Teresa and Louie are frantically trying to turn them off. Jackie makes a comment to Melissa about not liking Danielle and Melissa spilled the beans about telling Danielle about Jackie's comment. Jackie continues trashing Danielle and tells Melissa that Danielle isn't important to her.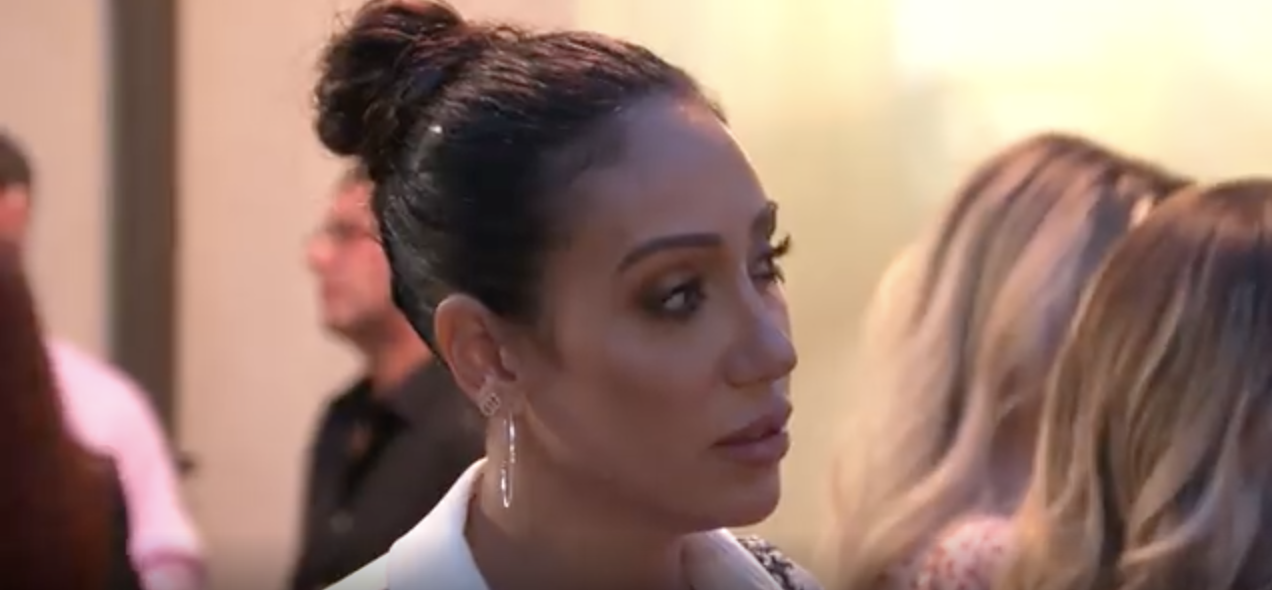 Danielle hears her name and joins the conversation. Jackie denies looking Danielle up and down and Danielle tells Jackie she doesn't like her vibe. Jackie doesn't like Danielle's hands in her face and Jackie ask Danielle if she's threatening her.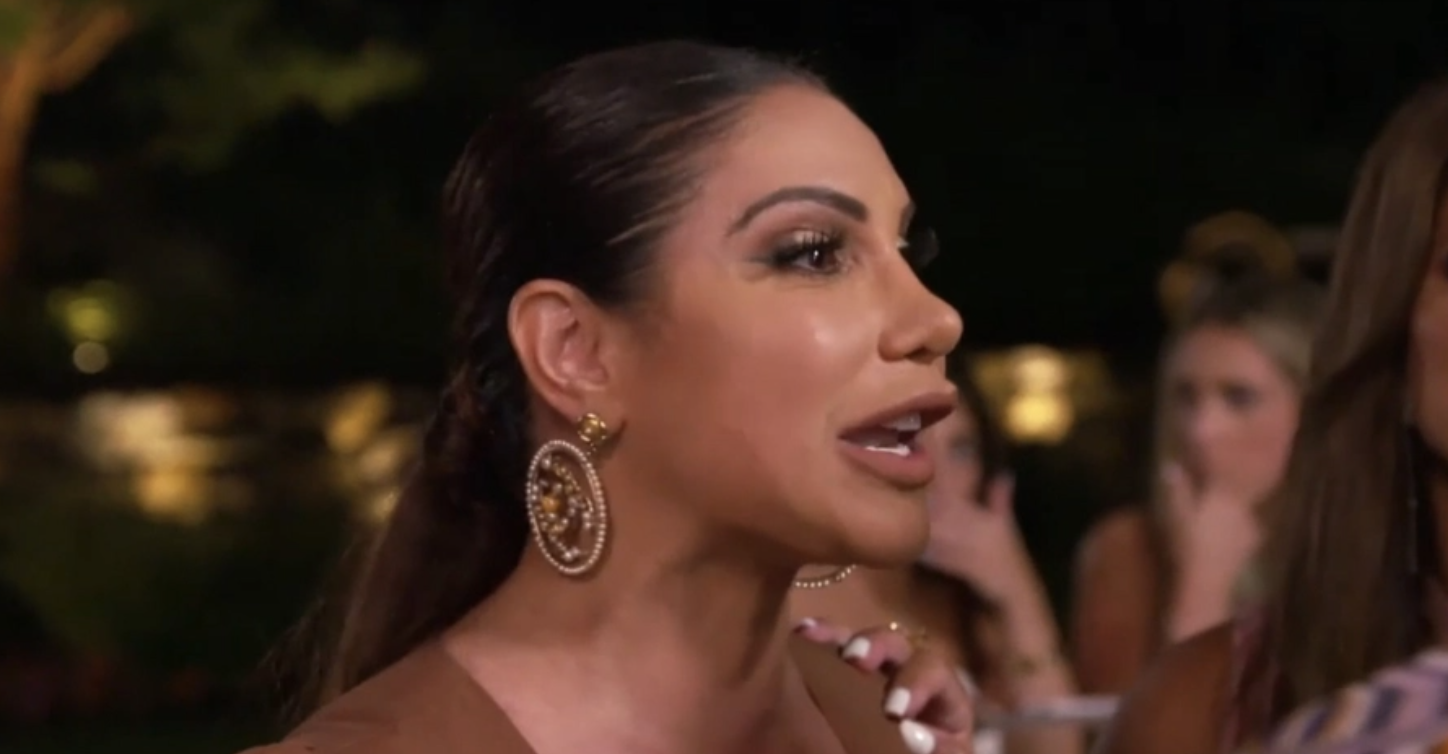 Jackie ends up telling Danielle "f*** you" while walking off and getting another drink. Meanwhile, Jackie's taking shots with Jennifer as Margaret joins in to confront Jennifer about her phone call to Jennifer Fessler. Jennifer initially lied but in her confessional admits Jennifer Fessler didn't defend Margaret either. Soon Margaret and Jennifer are going back and forth and then bring Jennifer Fessler in to clarify. Margaret wants to know how they can move on if she's still bringing up old stuff. Rachel jumps in to point out Jennifer's behavior and soon Rachel and Jennifer are arguing.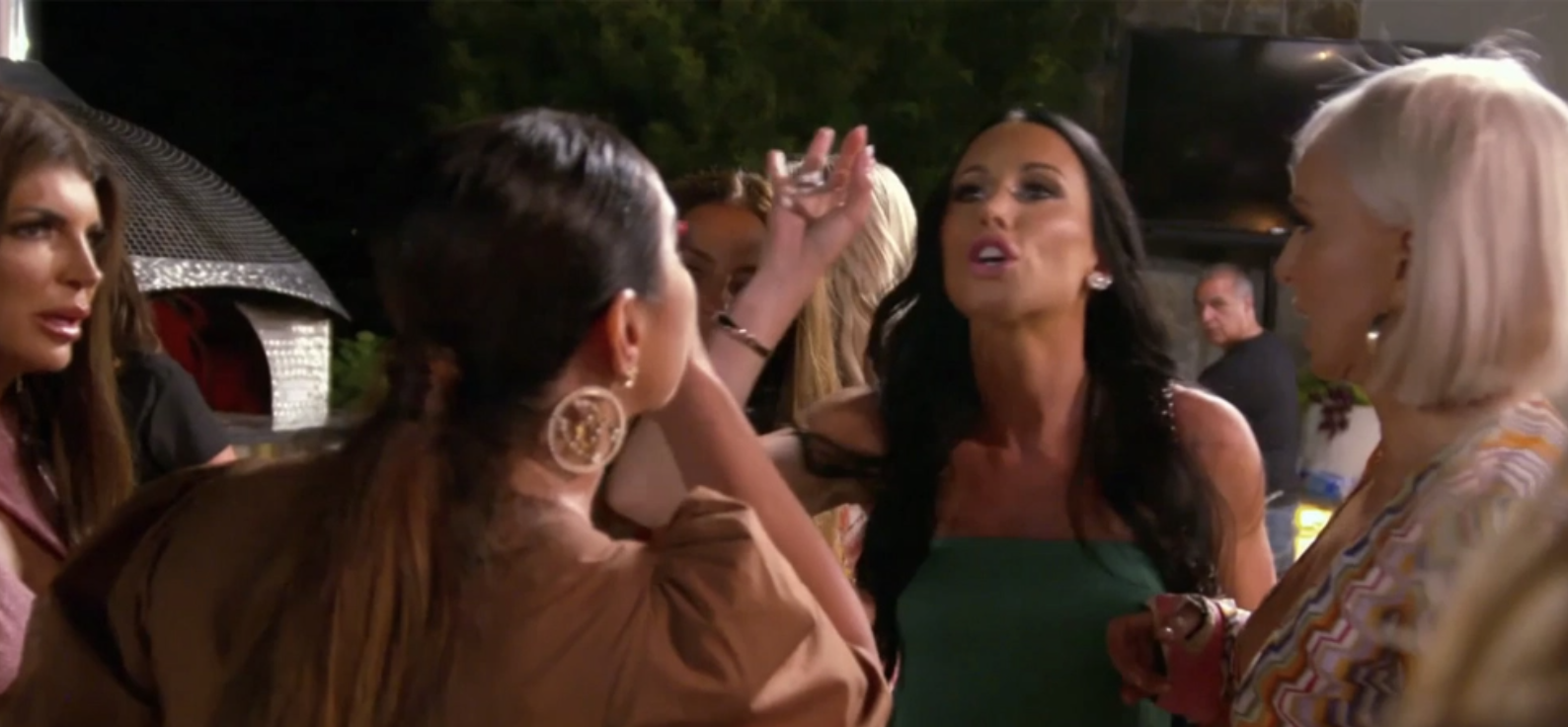 Jennifer A. calls Rachel an idiot and Rachel tells her to watch her f***ing mouth. Jennifer begins screaming and causing a scene as Jackie forces Jennifer to calm down. Jennifer tells Rachel she feels bad about her terrible nose job and soon Jennifer's caught in a lie.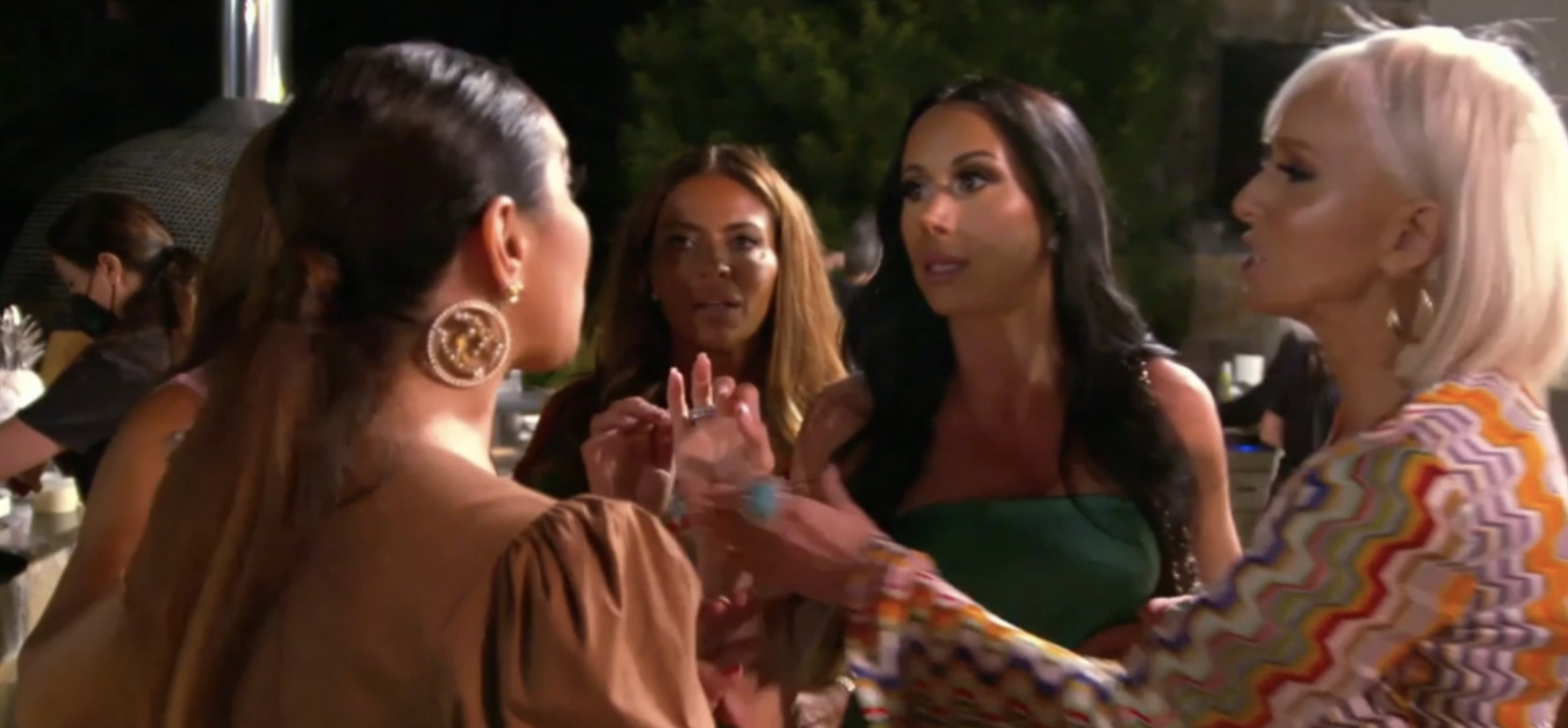 Teresa comes to Jennifer's defense and Rachel's over it at this point. Rachel grabs her husband and exits stage left. Be sure to come back next week for a brand-new episode of The Real Housewives of New Jersey.
Stay Connected With All About The Tea: Twitter Ι Instagram Ι YouTube Ι Facebook Ι Send Us Tips
LeAndra Williams is a content contributor at All About The Tea. She's a social worker and (super) mom by day, and a reality T.V. junkie by night.