'RHOP' RECAP: Mia Claims Wendy Had Sex With Peter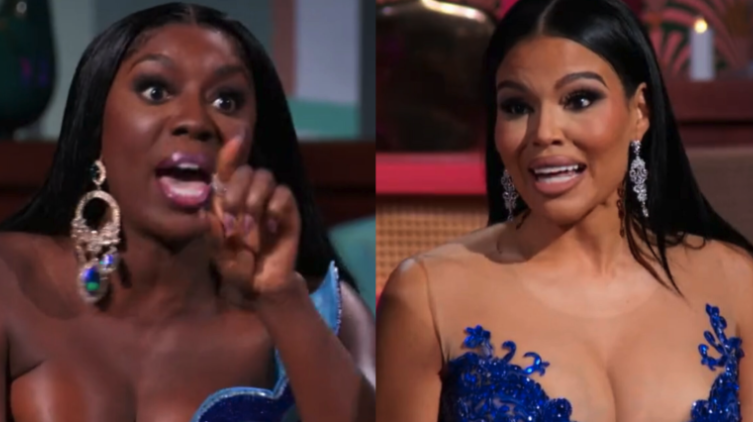 'RHOP' RECAP: Mia Claims Wendy Had Sex With Peter
Welcome back to part two of The Real Housewives of Potomac reunion! We begin with Candiace Dillard Bassett going off on Gizelle Bryant, regarding her accusations against Chris Bassett. Dr. Wendy Osefo comes in to defend Candiace and points out that Gizelle creates a pattern to target the ladies' husbands. Candiace continues going off on Gizelle and her "dwindling uterus" and wants Gizelle to tell everyone what Chris allegedly did to her. Gizelle continues her stance that she was uncomfortable being in the room alone with Chris. Candiace and the group thinks Gizelle is playing semantics and Mia Thornton chimes in with her two cents and is told to shut up by Candiace.
Candiace won't let Gizelle turn her husband into a predator and Mia wonders what's wrong with what Gizelle is saying. Andy wants Chris to clear it up when he comes on stage. Andy then changes gears to focus on Deborah Williams and her false accusations against Chris. Ashley Darby admits to being taken aback by the footage, and Deborah claims that editing is protecting Chris. Andy then wonders why Deborah attacked Eddie Osefo for smiling at her. Wendy thinks the ladies aren't used to being treated with common decency and that the men are scared to talk to them for fear of being accused of something. Andy then points out Candiace's rant on Instagram Live; Andy also points out that Candiace complimented Robyn Dixon throughout the Live. Karen Huger asks who sent Robyn the Live, and Robyn claims a blog sent her the information.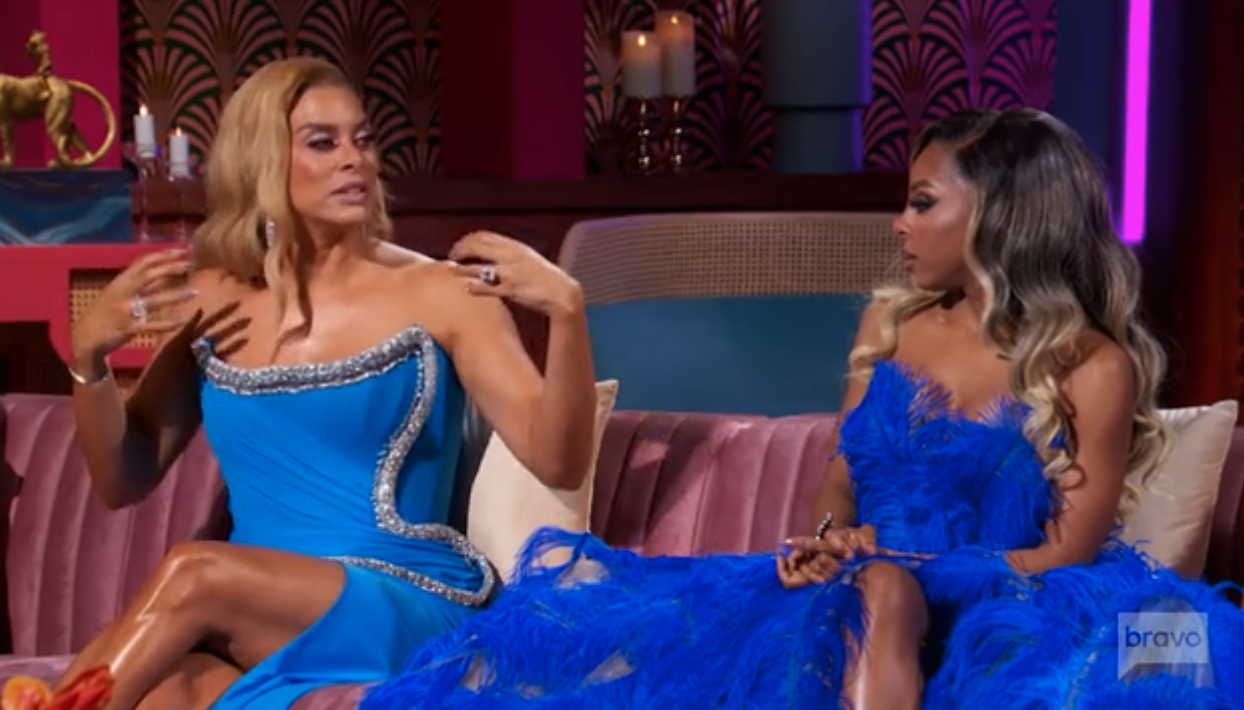 Robyn continues stating that she thought Candiace was talking about everyone and was in her feelings about the way Candiace was treating her. Candiace thinks Robyn could've come to her, and wonders why Robyn didn't come to her first before shaming  Candiace in front of the group. Candiace tells Robyn she embarrassed herself, and Robyn thinks everything the ladies do should be on camera. Producers flashback to Robyn's WWHL appearance, showing how Robyn lied throughout the entire season. 
Andy reads a fan's question about Candiace looking up to Robyn more, instead of Wendy, and Candiace claims to have known Robyn longer. Wendy chimes in about the loyalty Candiace has to Robyn, although Robyn pulled out the speaker on Candiace. Robyn doesn't think it's a competition, and before any more arguments happen, Andy allows the ladies to break for lunch. While backstage, the husbands arrive and mingle and the ladies fill their men in on the drama. Wendy tells Chris about Candiace fighting for his honor, and it's nice to see real friends stick up for each other. Back on stage, Andy focuses on Gizelle's health scare and becoming an empty nester. After Gizelle's recap, Andy wonders if Gizelle plans to make her house a forever home and wonders how the podcast is going.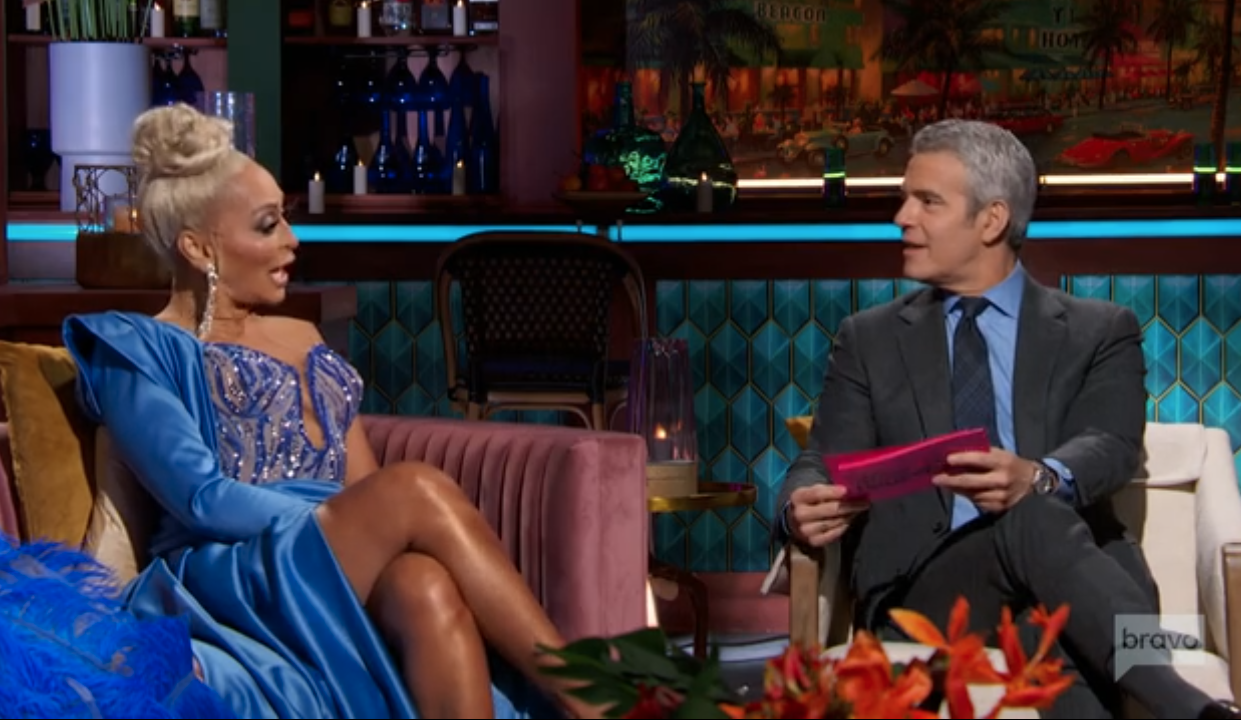 A fan has a question for Karen about stealing Robyn and Gizelle's idea for a live show as she did with Wendy's candle line. Karen claims that she didn't want to steal Wendy's thunder and that she planned on releasing her candles after her fragrance. Andy thinks Karen owes thanks to The Countess and Wendy Williams, and Karen admits that Candiace is the only one who knew Karen's show was a variety show. Karen offers Andy a VIP ticket to her show and Andy wonders who the "La Dames" are. Karen gives her spiel about her fans, and Andy wonders, if Robyn had a fanbase, what would they be called? Karen replied, "Boring," and the ladies laugh. Andy then reads a question directed toward Gizelle and how she's feeling after her surgery. 
Gizelle tells the group that so many women reached out to her and could relate to what she was going through. On the side, Candiace is shading Gizelle because this is the first time she's been honest about anything, LOL. Gizelle continues talking about the surgery and how her kids were upset because the surgery took longer than expected, plus, Gizelle had to spend the night at the hospital. Gizelle begins to get emotional and attempts to brush the topic off until later, but boss Andy Cohen isn't having it. Gizelle admits that it was hard telling her kids on camera about the surgery and that she didn't know how they would react.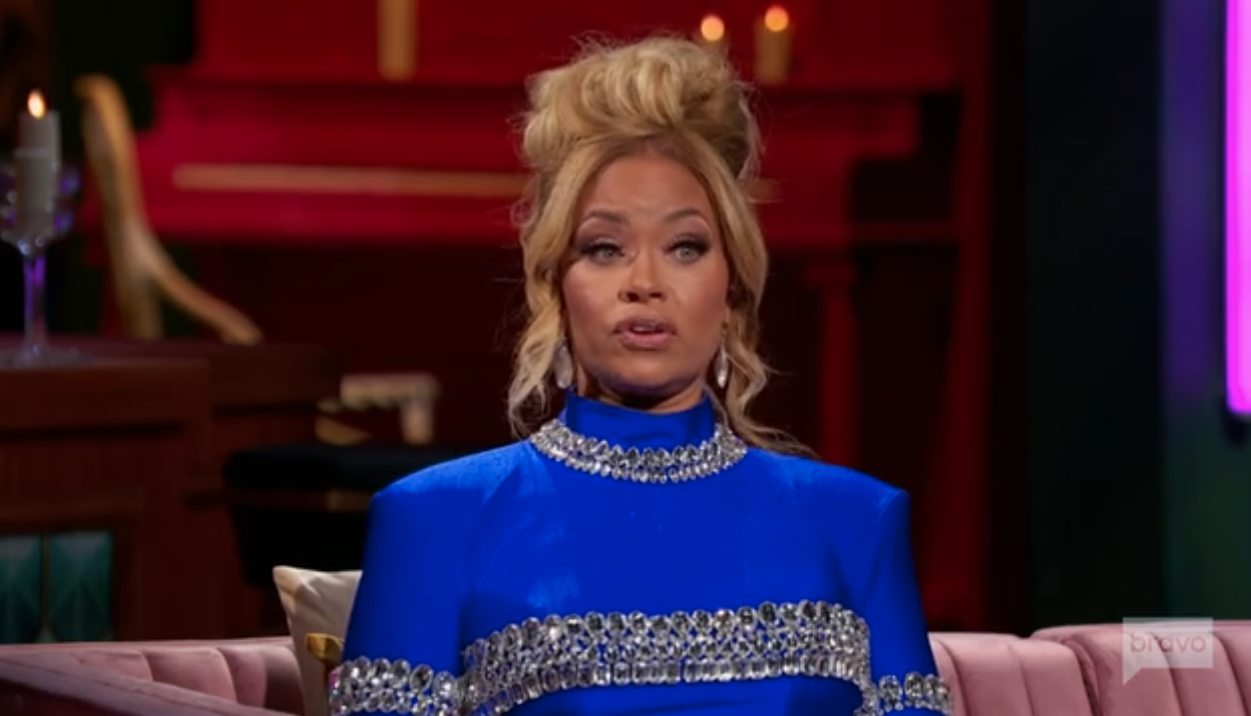 Andy tells Gizelle that he's happy she's okay and tells her that there's a lot she doesn't want to talk about but has an expectation of everyone else. Gizelle denies Andy's claims and states that she won't sit with people she doesn't like (points to Wendy) and talk about her health. Candiace, Karen, and Mia claim Gizelle bullies the group for information, but Gizelle doesn't see it. Andy brings up Gizelle's boo from the season, Steven, and assumes Steve is no longer since Gizelle's dating Winter House star,  Jason Cameron. Andy wonders if Jason met the girls, and Robyn wants to know the age difference. Jason is 16 years younger than Gizelle, and she admits he gives her energy. Andy asks if we'll see Jason on the show, and Gizelle says it's a possibility. 
Andy then focuses on Wendy and her season with drinks being thrown at her — and kidney stones. After Wendy's recap, Andy starts with Wendy's health and asks if she dialed it back. Wendy says that she reduced her stress and is drinking more water and Andy wonders what Wendy was thinking when she decided to open a Nigerian Lounge. Wendy admits to being nervous and talking to Candiace and Ashley about their business woes. Ashley admits to trying to talk Wendy out of opening a restaurant but says she has more faith in Wendy since she's partnering with someone who knows the business. Andy then asks Mia what's Gordon's relationship with Peter Thomas, and Mia claims their just friends.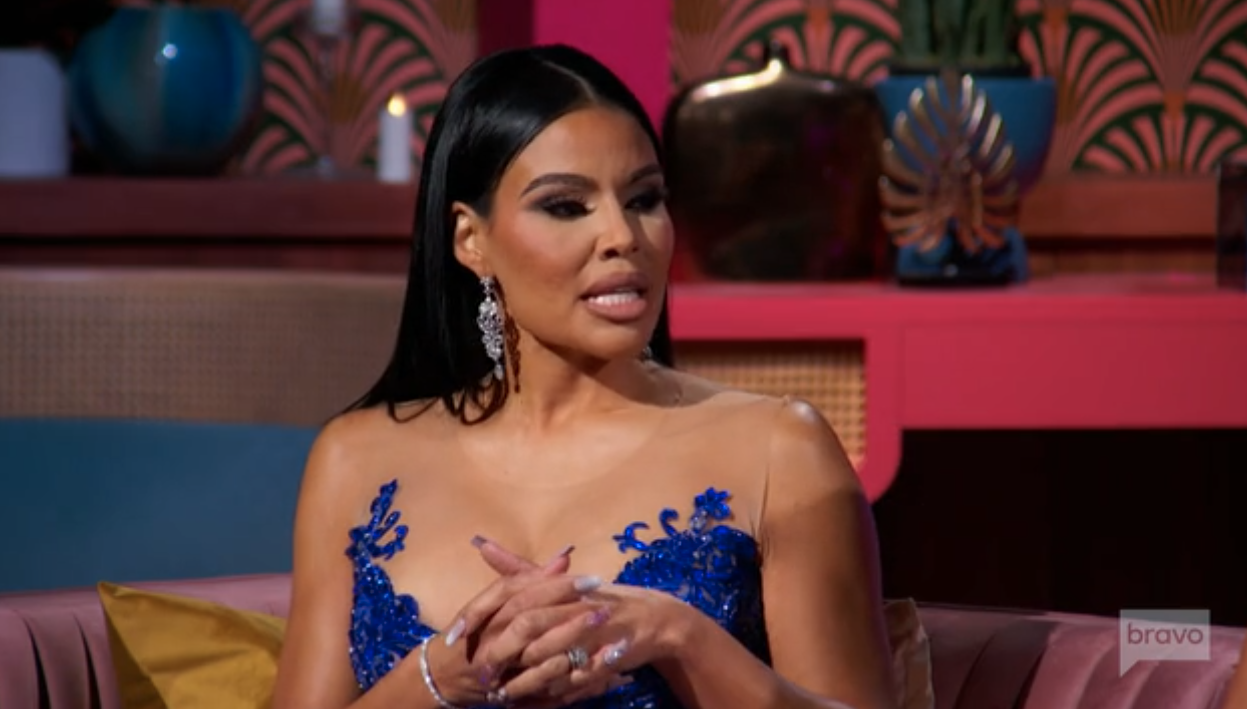 Andy asks Mia and Gordon about sleeping with Peter's girlfriend, and they claim the lady wasn't Peter's girlfriend at the time. Andy tells Mia he doesn't understand why she threw a drink at Wendy, and that Wendy didn't say anything wrong. Mia claims to remember Wendy just spitting things out, but Wendy knows that's not true. Andy thinks Mia was trying to make Wendy and Peter's situation more than it was. Mia claims to be talking business, but Candiace chimes in to defend Wendy. Wendy tells Mia that Mia can't take ownership for what she did and that it's "F*** Mia Forever!" 
Mia claims Wendy had sex with Peter and Wendy calls Mia trash. Candiace laughs on the couch at Mia's audacity, and Wendy and Mia continue going at it. Mia claims Wendy had dinner with Peter before filming, but Wendy isn't listening to it. Candiace is disgusted by Mia's lies, and Mia claims she saw the cameras at Bar One. Wendy tells Mia she f—ks for lobster and Andy asks Robyn how Wendy was antagonizing Mia when Mia threw a drink at Wendy. Robyn admits that she doesn't know how she would react if someone threw a drink on her and states that people have the right to retaliate any way they want. Robyn then says she didn't want to see Wendy fighting on TV.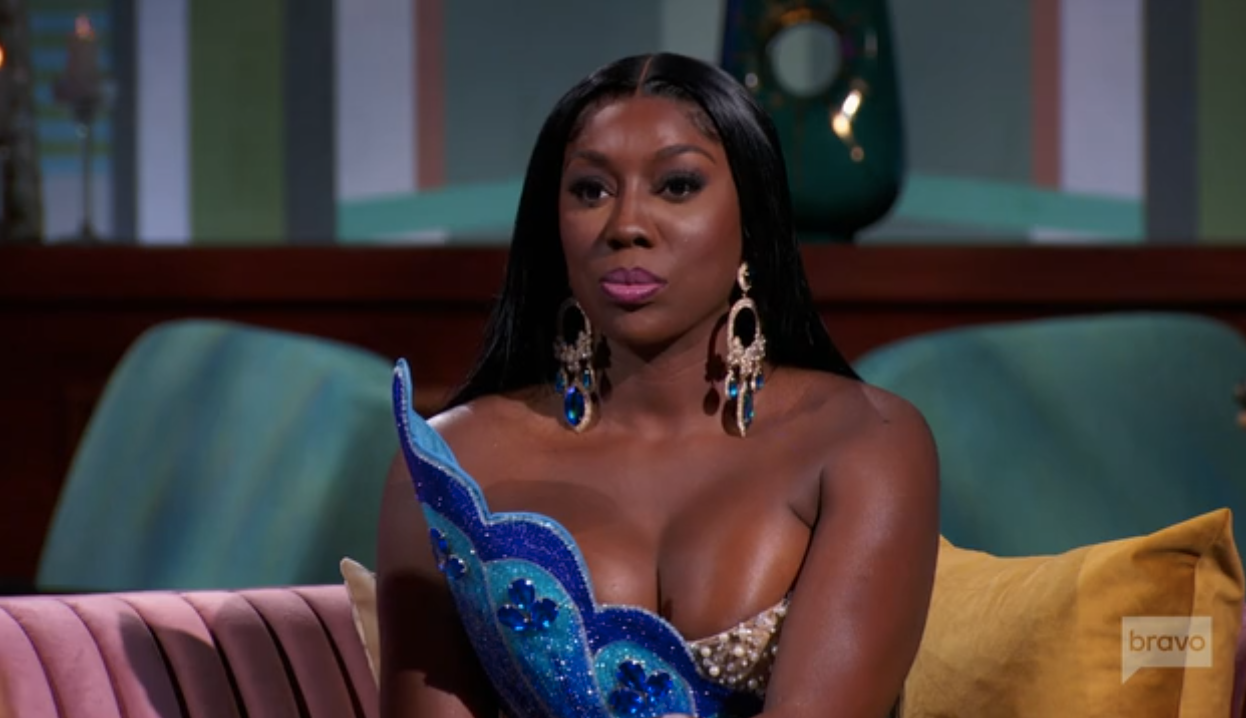 Producers show us unseen footage of Wendy and Robyn talking in Miami, but Wendy still doesn't get Robyn's viewpoint. Wendy thinks Robyn should've stuck up for what was right, and Robyn claims she's not justifying what Mia did, and that she and Wendy wasn't friends at the time. Robyn blames Karen for not stopping the ladies from fighting, and Karen defends herself by telling Robyn to stop dragging Karen into her BS. Karen doesn't think it's her job to defuse any situation and isn't shy in letting Robyn know. Andy and the ladies think Robyn added fuel to the fire but Robyn can't see past her own big head. Andy asks another question from a fan that points out that Charrisse Jackson-Jordan did have to hold Robyn back during her argument with Wendy. 
Andy turns to Ashley to point out how she flip-flopped her stance when it came to violence this season. Andy points out that Monique Samuels was way more violent than Mia but Ashley wrote a letter to the courts. Candiace is on the other couch triggered. Ashley states that the two situations are different and that no one checked in on Wendy after the altercation nor held Mia accountable for her actions. Ashley didn't like the backlash Monique got for fighting, and Candiace is on the side saying that Monique deserved it, while Ashley continues sticking up for Wendy. 
Andy moves on to Gizelle and that she's a hypocrite for defending Mia. Gizelle claims it's different because Candiace got beat up and Wendy got wet, so it's not comparable. Andy wants Gizelle to listen to how Wendy feels about being violated by the drink. Gizelle doesn't like Wendy, so she doesn't care what happens to her. Candiace gets upset and says that's a testament to Gizelle's moral compass because right is right and wrong is wrong, chile! Wendy gets emotional as she tells the group that what happened to her was f—ked up and the way it was handled within the group was f—ked up! Wendy tells Mia not only could she have beat her a**, but that she only went to her room to talk so the group could move forward as a whole. 
Wendy tells Mia she still doesn't f—k with her as Mia pretends to be unphased. Gizelle's confused because wasn't Mia and Wendy showing each other their vagina? Wendy blames it on the tequila. Andy has the ladies take a break as we see Jacqueline Blake arrive backstage and begins getting ready. Jacqueline wants to clear up some accusations from Mia and can't wait to face off against her ex-bestie. After the break, Andy brings up colorism and the feedback from fans around the country. Andy admits that as a white man, he shouldn't be leading the conversation, but felt it was important to address. Andy tells us that producers called the ladies and asked how they'd like to facilitate the conversation.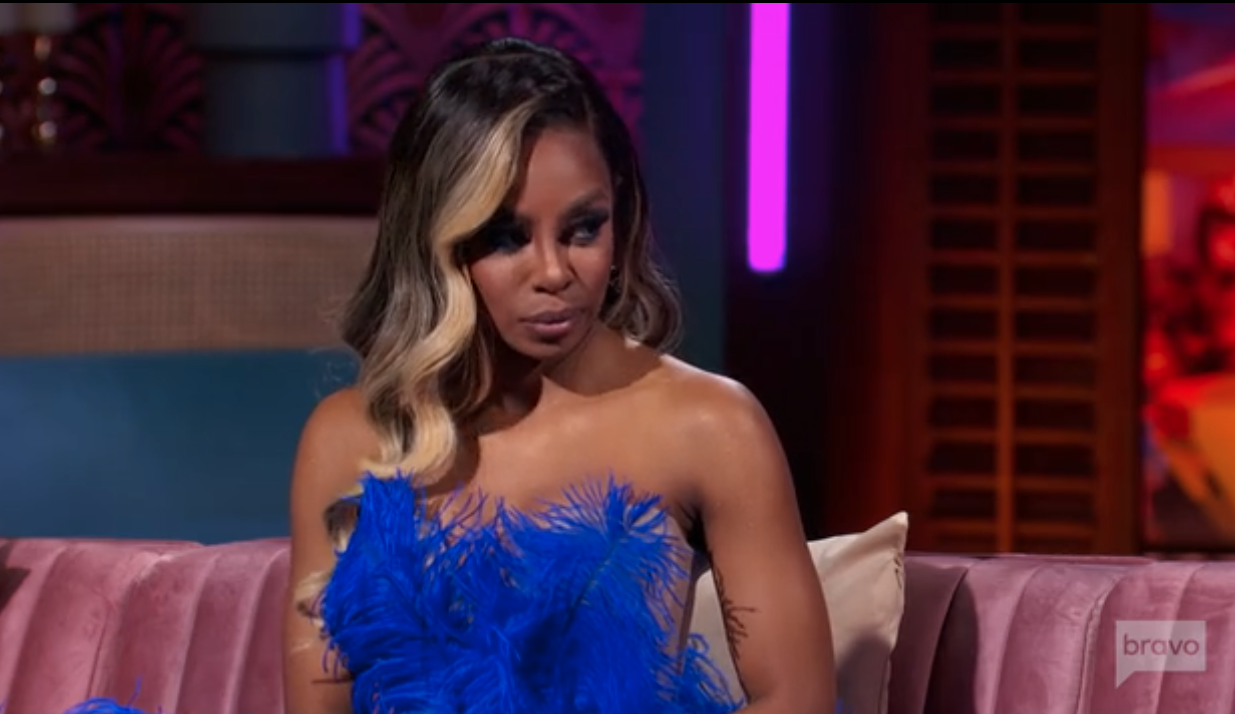 Luckily for us, the ladies agreed to talk to each other without a moderator. Andy focuses on Candiace since she was the most vocal about the topic and gives Candiace the floor to speak her peace. Candiace thanks Andy for this opportunity and reads the ladies the definition of colorism. The ladies agree on the definition and Candiace thinks it's important to pinpoint instances where colorism reared its ugly head. Candiace admits to being loud but doesn't like that she's labeled the crybaby when Robyn went to Ashley's restaurant and put her finger in her face. 
Robyn thinks she's been called a mean girl and aggressive, but Candiace doesn't think she nor the fans hold her accountable. Gizelle's confused as to how Candiace's claims are a sign of colorism, and Candiace thinks she's being villainized. Karen thinks it's important if the ladies personalize the conversation and believes it takes a conscious effort to change our mind frame. Karen summed it up perfectly by saying that Candiace is judged harsher by her actions than Robyn. Ashley wants to know how that's true, and Karen wants the ladies to listen to Candiace's feelings. Ashley says she acknowledges her privilege and understands what the ladies saying and that she loves all the ladies.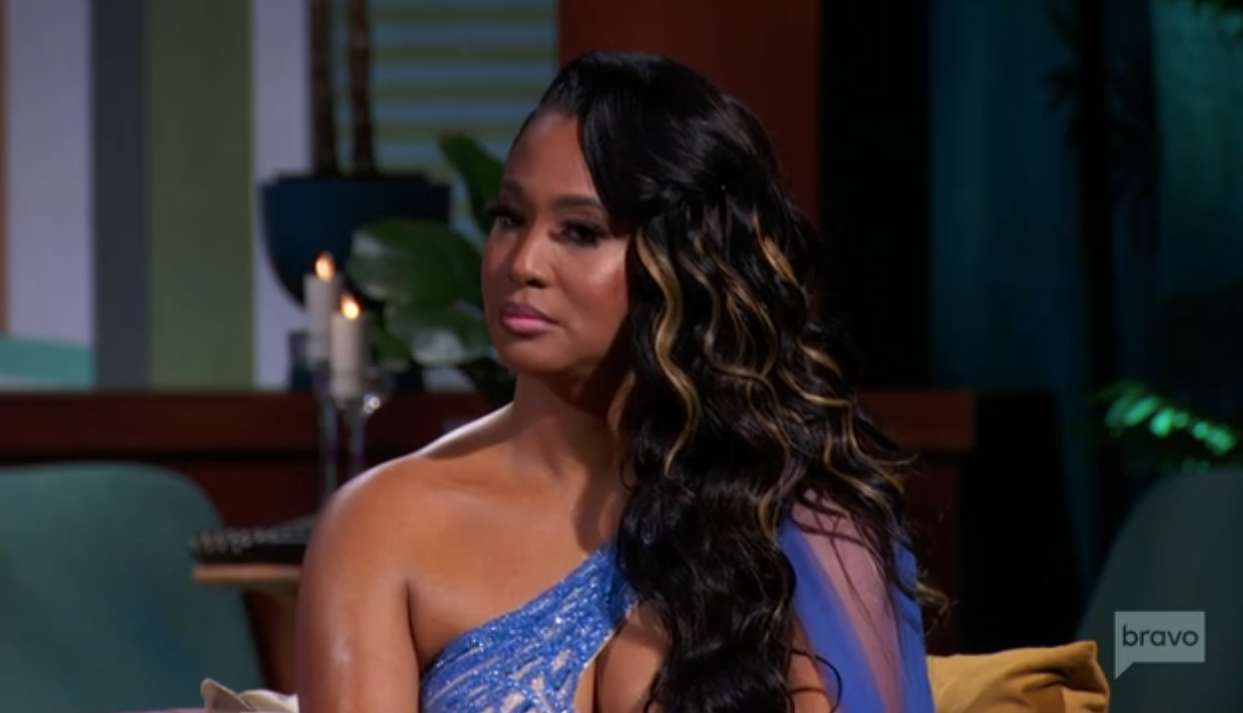 Mia gets emotional as she apologizes for her role in the group and says the ladies have work to do. Wendy says she wants the group to be conscious of dog whistles and the group gives a shoutout to Michelle Obama for watching. After a quick break, Andy brings Jacqueline out and she admits to being surprised at how their friendship ended. After Mia and Jacqueline's recap, Andy ask how she feels after watching it and Mia says she's disappointed. Jacqueline's devastated and believes Mia wanted to treat her like a peasant so Mia could feel superior. Mia doesn't feel that way but thinks it was a lot of personal things going on in her life and she didn't feel supported by Jacqueline. Jacqueline clears up that her sister was the nanny for Mia since Mia didn't have help from her family. 
Andy asks if Jacqueline treated Mia beneath her and that's why she treated Jacqueline wrong throughout the season. Mia denies those claims and even admits to still being close to Jacqueline's parents. Jacqueline admits her mother hasn't seen the season yet but that her family has and they are disgusted with Mia! Mia admits she wishes things didn't play out on television and Jacqueline thinks Mia is unhinged. Jacqueline brings up the group text Mia sent about Jacqueline being on food stamps although Mia's business is in shambles. Wendy and Ashley are shocked by Jacqueline's bluntness, and Mia pulls out a bedazzled book of receipts. Be sure to come back next week, for the conclusion of The Real Housewives of Potomac reunion! 
Stay Connected With All About The Tea: Twitter Ι Instagram Ι YouTube Ι Facebook Ι Send Us Tips
LeAndra Williams is a content contributor at All About The Tea. She's a social worker and (super) mom by day, and a reality T.V. junkie by night.