Kim Zolciak BANKRUPT Due To Gambling Addiction and Psychics Amid Foreclosure Nightmare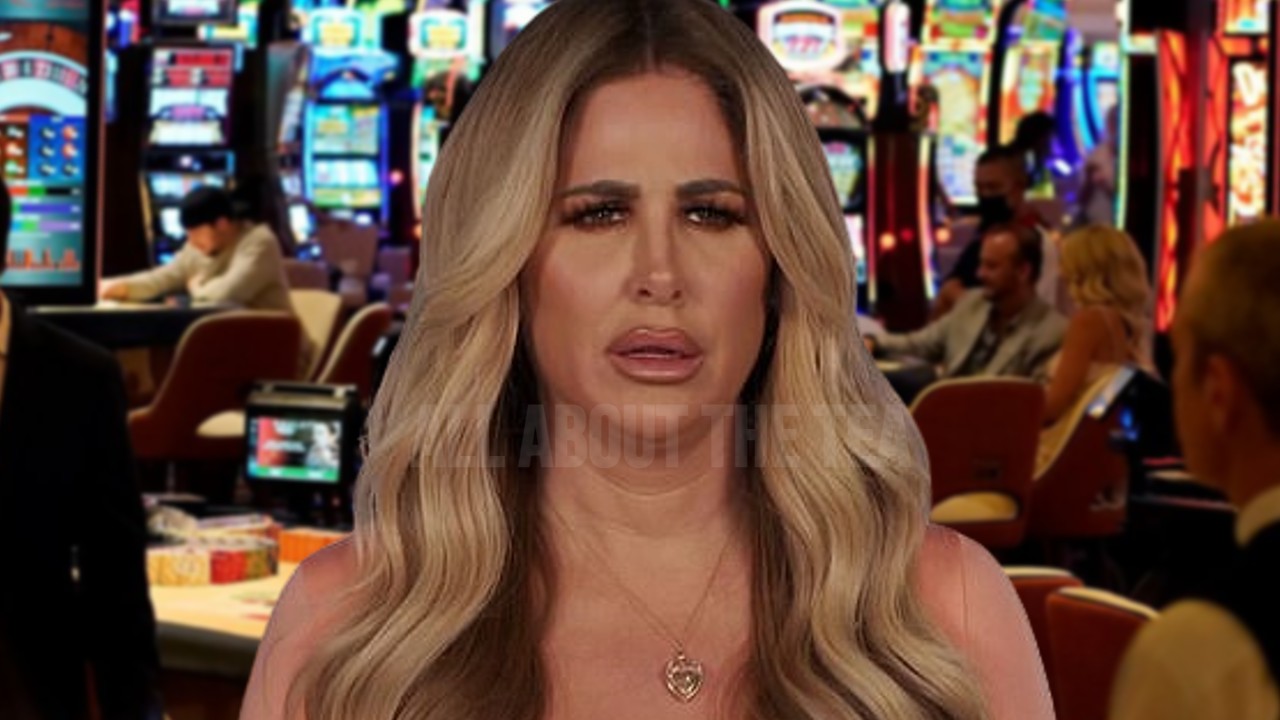 Kim Zolciak BANKRUPT Due To Gambling Addiction and Psychics Amid Foreclosure Nightmare
Wasting money on psychics and a gambling addiction are to blame for Kim Zolciak's financial crisis and home foreclosure.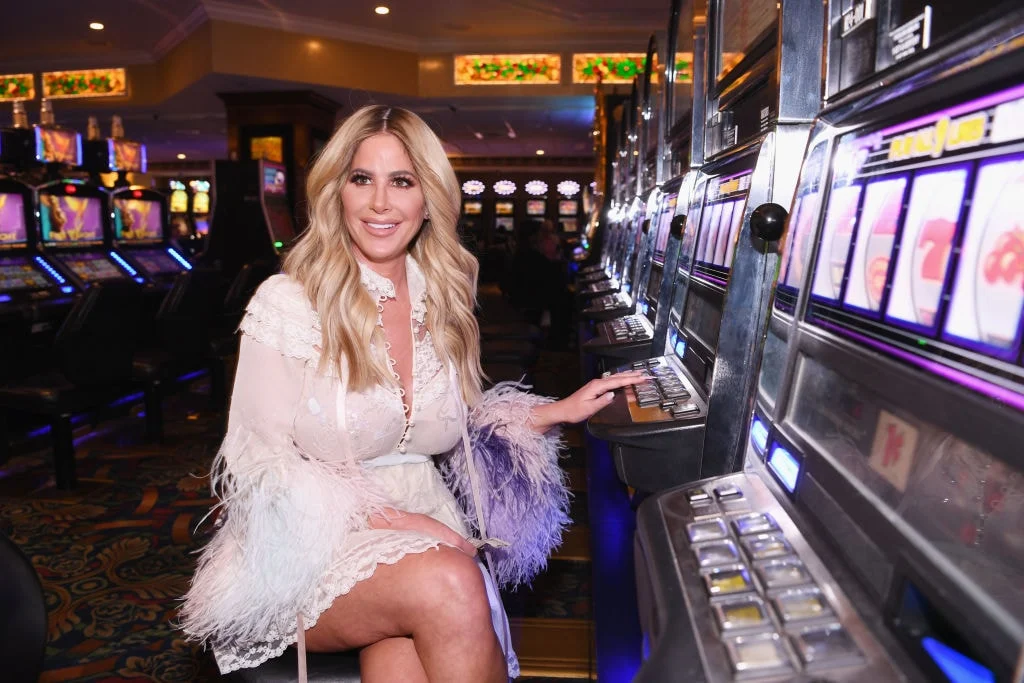 The reality TV diva's out-of-control gambling habit was well documented on her Bravo spin-off, Don't Be Tardy, which ran from 2012 until its 2021 cancelation.
Kim Zolciak's extravagant lifestyle includes a luxurious Atlanta mansion, designer clothes and handbags, expensive wigs, Versace china, luxury vehicles and much more.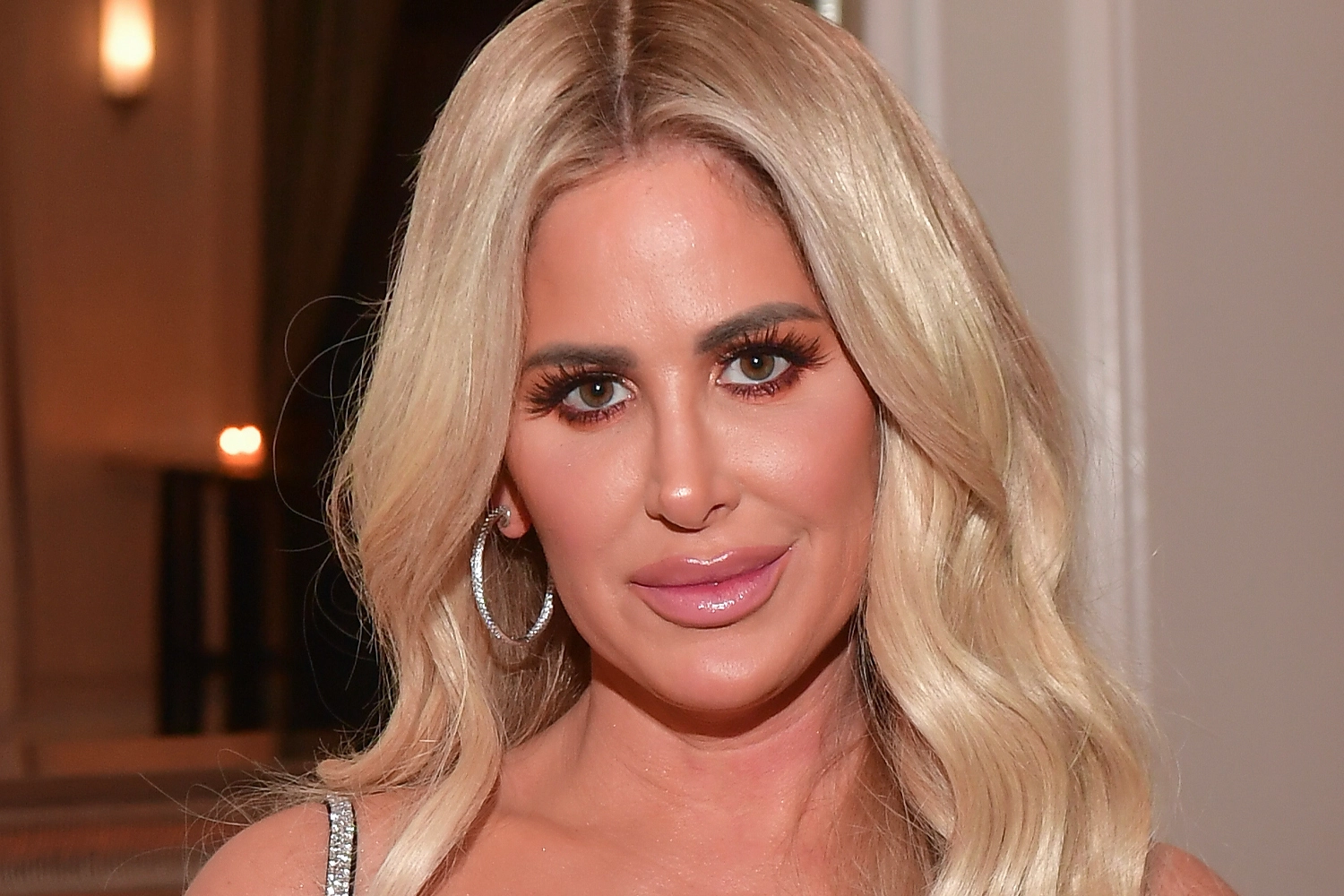 During an episode of Don't Be Tardy, which aired in December of 2020, Kim, 44, her husband Kroy Biermann, 37, and their family went on a road trip to Las Vegas, Nevada.
In the episode, the mom of six bragged about gambling away enough money to purchase "a whole RV."  Just for perspective — the cost of an RV can range from $35,000 to $800,000.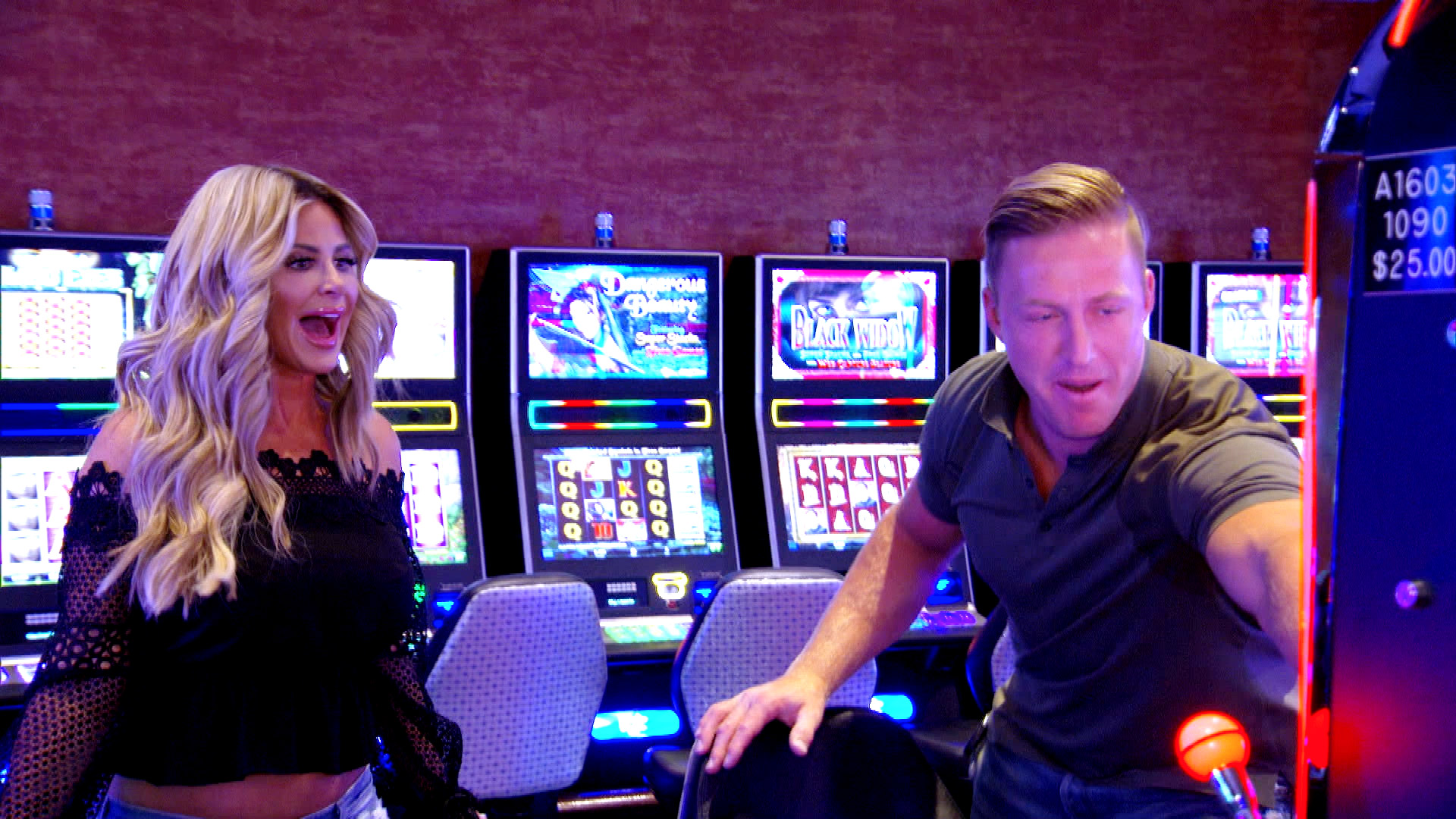 Upon arriving at the hotel/casino, Kim made a mad dash to the casino and embarked on an 11-hour gambling marathon. Her husband withdrew $25,000 from the casino cashier for the day's gambling. 
"I would have been up a whole RV, actually, had I just stopped while I was ahead, but I just can't help it – I kind of broke even," Kim said in a talking head confessional.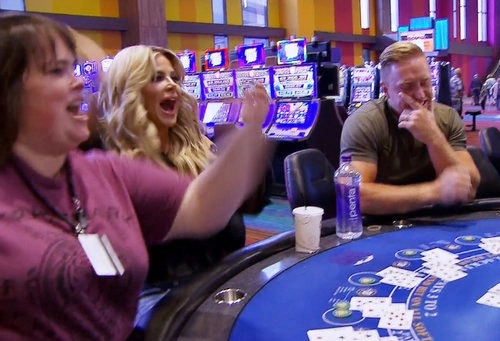 Kim was proud that she had established a reputation at multiple major casinos for being a high roller — not for her reality TV fame: "Planet Hollywood and Caesars do know us."
A high roller, also referred to as a whale or cheetah, is a gambler who consistently wagers large amounts of money. High rollers often receive lavish "comps" from casinos to lure them onto the gambling floors, such as free private jet transfers, limousine use and use of the casinos' best suites.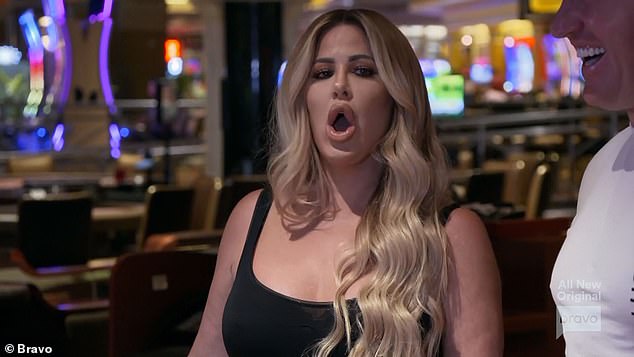 Among the perks offered by casinos to Kim are limousine rides and penthouse suites.
In the video below, Kim is seen feeding $100 bills into slot machines and commented that she doesn't get much rest or eat while she's on her gambling sprees. 
"I don't even need to eat here in Vegas," Kim stated in the episode. "As long as I have my wine and my water, I don't need sleep, and I don't need food."
Kim's daughters Brielle, 25, and Kaia, 9, both commented on their mother's adoration of gambling — with Brielle saying that her mother spent "hours," exchanging hundreds of dollars. And Kaia commented, "My mom plays the casinos because she wants money." 
Press play below.
In 2019, Kim gambled away $30,000 at The Palms Casino in Vegas. "She had some small wins here and there, around $250, but for the most part the money is gone," a source told Radar.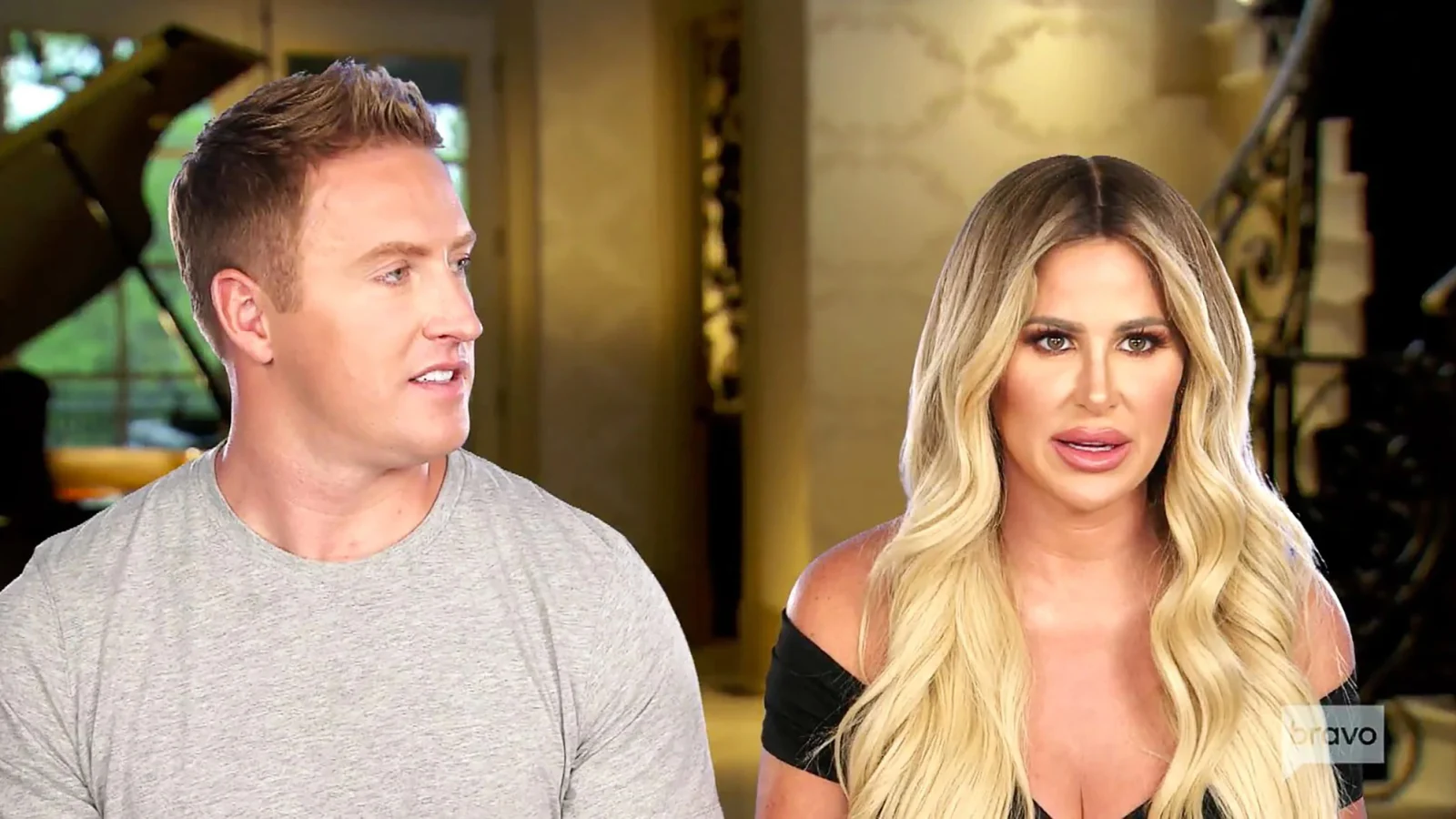 The casino snitch told the outlet that Kim racked up the big losses playing "a combination of black jack, craps and … slot machines, too."
Then in another episode that aired in 2016, Kim loss $25,000 at a Montana casino.
In addition to Kim's gambling addiction — she also spends thousands every year on psychics and other voodoo rituals.
On Tuesday, Kim took to her Instagram Story to post that she spent over three hours on the phone with an expensive psychic. She wrote, "Just finished my reading with the best @nataliepsychic (holy s**t look at the time)."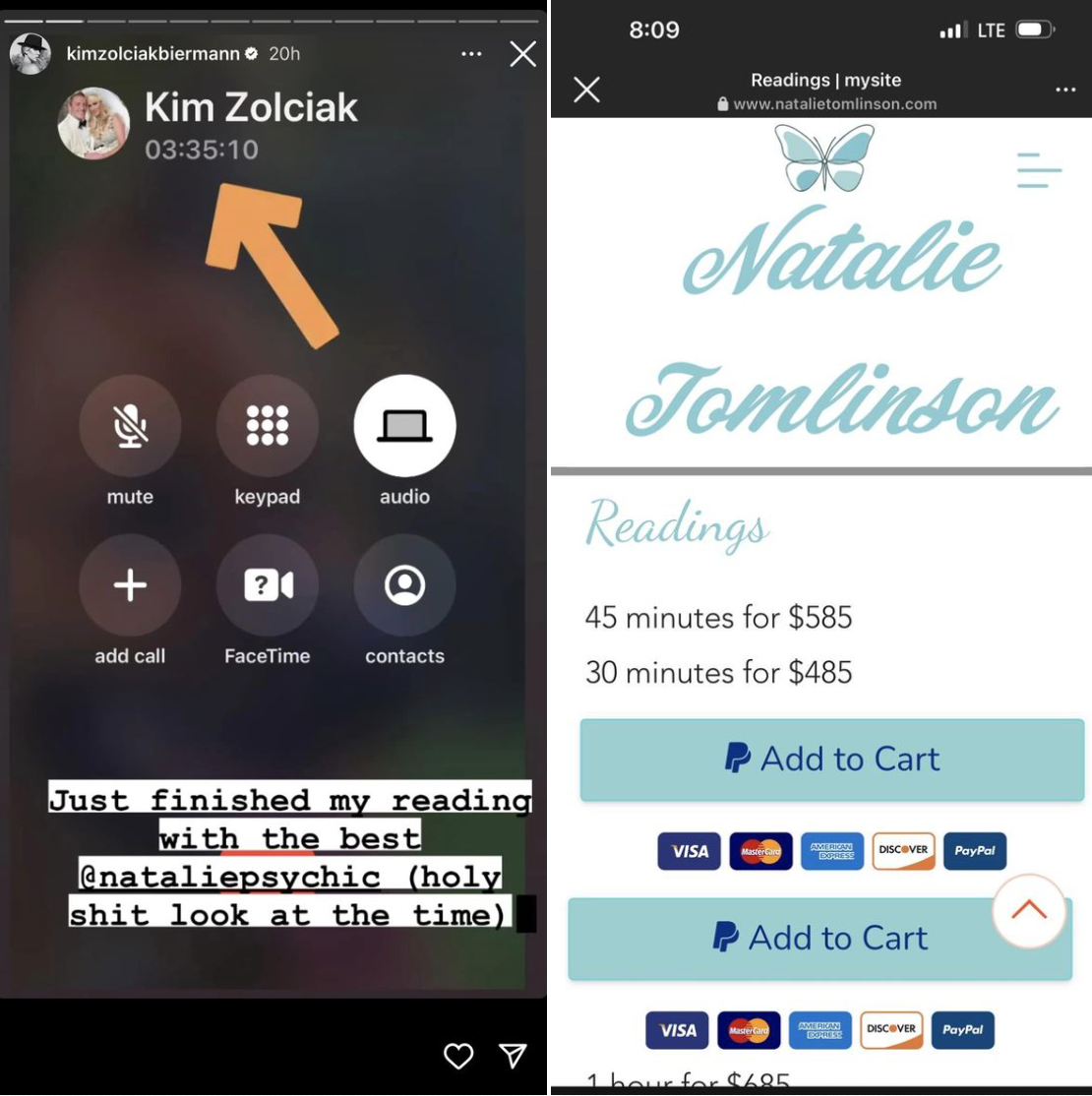 The psychic's name is Natalie Tomlinson, whose celebrity clients include Denise Richards. The cost of Kim's session was well over $2,000 — as Natalie Tomlinson's website states she charges $685 for a one hour reading.
Over the years Kim's used a slew of psychic's but the most memorable is Rose, who frequently appeared on The Real Housewives of Atlanta.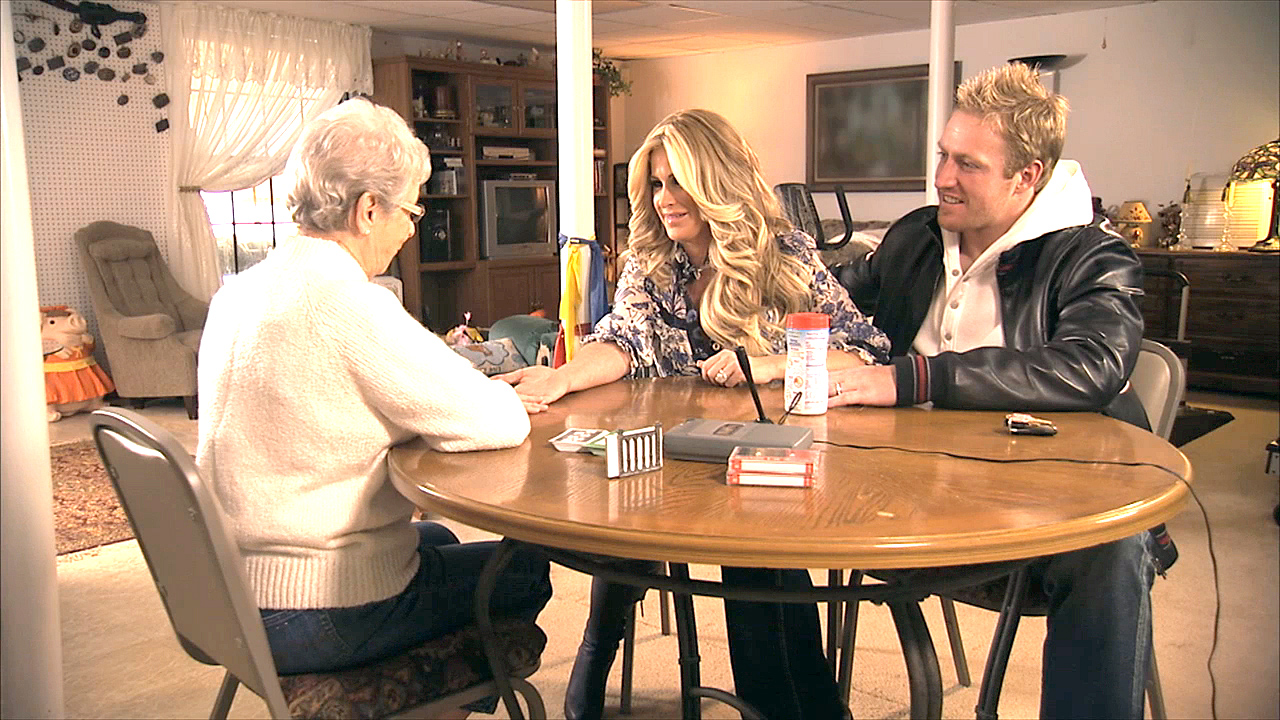 Viewers first met Rose during Kim's time on The Real Housewives of Atlanta, and she continued to visit the psychic over the years on Don't Be Tardy. In Season 2 of Don't Be Tardy, Rose predicted that Kim would have another girl before she and husband welcomed twins, Kane and Kaia, whose middle name was also inspired by Rose, in 2013. As the seasons went on, Kim and the whole Biermann family would often seek guidance from Rose whenever they felt any uncertainty in their lives.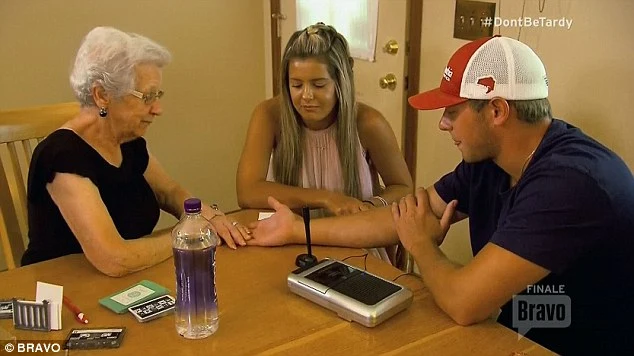 As reported, Kim Zolciak's financial crisis is dire with her home in foreclosure and scheduled for auction in March. Also, she's been selling off her worldly possessions in a fire sale.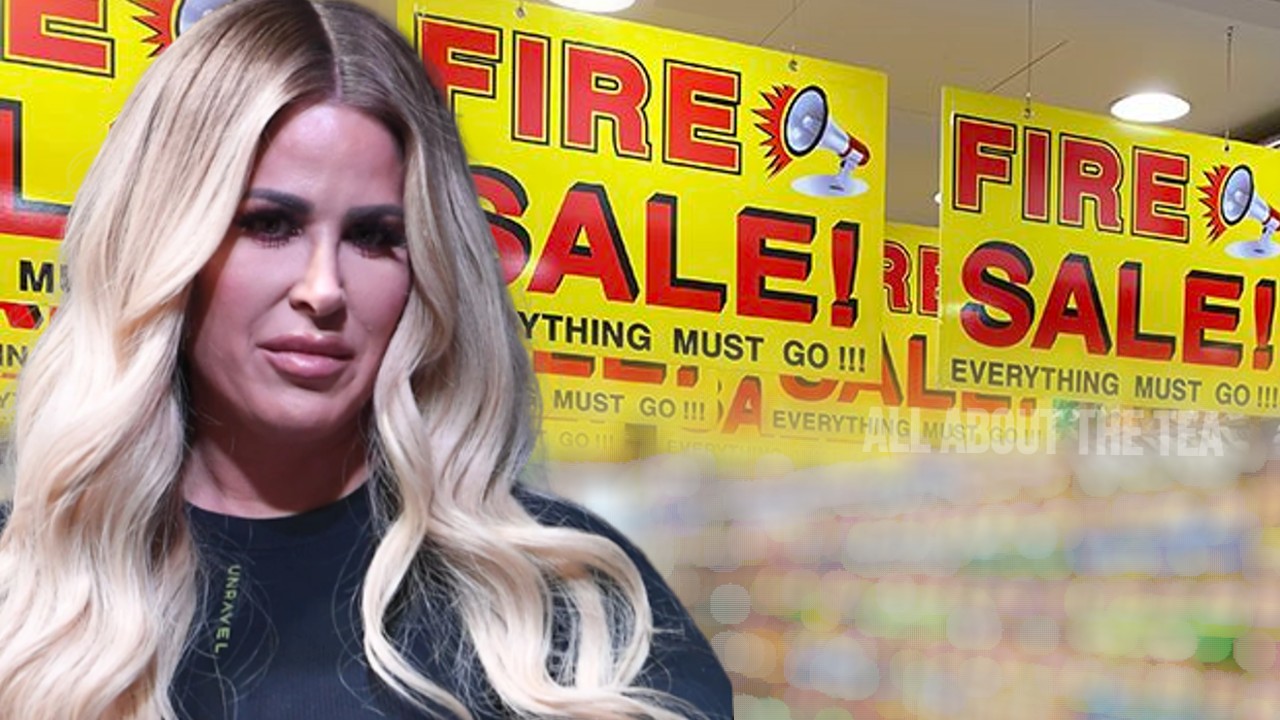 A notice was filed with Fulton County Records by Truist Bank formerly SunTrust Bank to proceed with seizure of the property. There is an outstanding mortgage amount of $1,650,000.00, plus taxes and fees. According to Fulton county records, Truist Bank began the foreclosure proceedings on Kim's 7,186 square ft. Alpharetta, Georgia back in August 2022 and plans to auction off the property on March 7, 2023, at the Fulton County courthouse.
Stay Connected With All About The Tea: Twitter Ι Instagram Ι YouTube Ι Facebook Ι Send Us Tips
Avigail is an Entertainment blogger at All About The Tea, who specializes in The Real Housewives of Atlanta and The Real Housewives of Potomac. Avigail has a background in marketing. She's a Brooklynite living in the Bahamas, with a passion for travel, writing, reality TV watching, pop culture and spoken word.