'RHONJ' RECAP: Joe Screams 'F**k You' To Louie During Heated Argument
Welcome back to a brand-new episode of The Real Housewives of New Jersey! The ladies are at Danielle Cabral's Mozzarella Party and Teresa Giudice and Melissa Gorga are going at it! Melissa's upset at the way Teresa treated Joe Gorga and Teresa feels like Melissa didn't stick up for her last year. The rest of the ladies are watching from the sidelines as chaos erupts. Teresa tells Melissa that she wasn't supportive when she met Louie, but Melissa disagrees. After the heat dies down, Teresa asks Melissa to be a bridesmaid in her wedding. Melissa tells Teresa she's alright with not being in the wedding and the two hug it out as the party wraps up. 
The next day, Margaret Josephs is chatting with Joe in the kitchen as Rachel plays with her adorable daughter. Dolores Cantania is doing laundry with Paulie and the two begin talking about Frank's health. Paulie calls Frank "Mr. Potato Head" and it's clear the men in Dolores's life are children. Margaret's photographer interrupts their conversation and begins to set up for Frank's calendar shoot as Frank arrives. Frank is irritated he has to knock now, and he hugs Paulie. Frank invites Paulie to guys' night and busts his balls about looking to Dolores for approval. Paulie tells Frank he expected different from Frank and thought he would pull Paulie aside to talk man to man. Frank claims Dolores kept the two apart, but Paulie thinks Frank asked Dolores to do a man's job!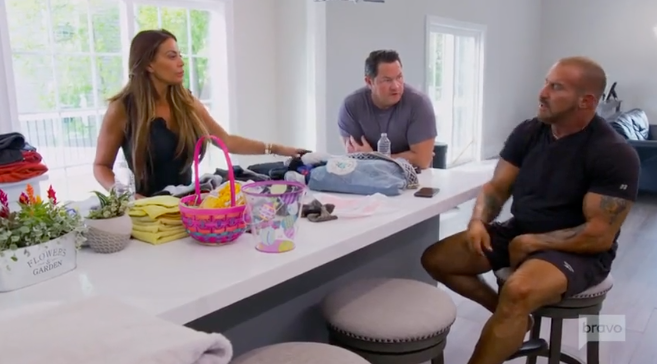 Dolores is over there cheesing as Frank looks taken aback. The conversation ends as the group goes outside to prepare for Frank's photoshoot. We see young Frankie as he comes out to see what's going on and Frank gets oiled up for his debut. Dolores and Paulie laugh as Frank poses with bunny ears and an easter basket. Later, Margaret, Melissa, and Jackie Goldschneider meet for lunch at Elia. After some small talk, Margaret asks how Jackie's doing and Jackie reveals that therapy has worked wonders for her. The ladies order drinks and food and then dive into Danielle's mozzarella party. Jackie claims there's no issue with Danielle but Margaret and Melissa spill the beans and tell Jackie that Danielle didn't appreciate being looked at up and down.
Jackie admits to eyeing Danielle because her look was a trainwreck from top to bottom! Jack thinks Danielle should've been an adult and called Jackie to talk to her. Soon, Margaret changes topics to her issues with Jennifer Aydin and Melissa thinks Jennifer is in a weak position. Jackie can tell by Jennifer's post that she's not doing well, and Margaret admits that Jennifer's not being herself. Later, Rachel and her husband John take their daughter to her birthday photoshoot. Rachel's little girl is turning two and Rachel wants to make sure she shows off her pretty girl! Rachel and John help their daughter out as she poses, and Rachel asks John if they should have another baby. John's hesitant because they just had a baby three months ago but Rachel has baby fever.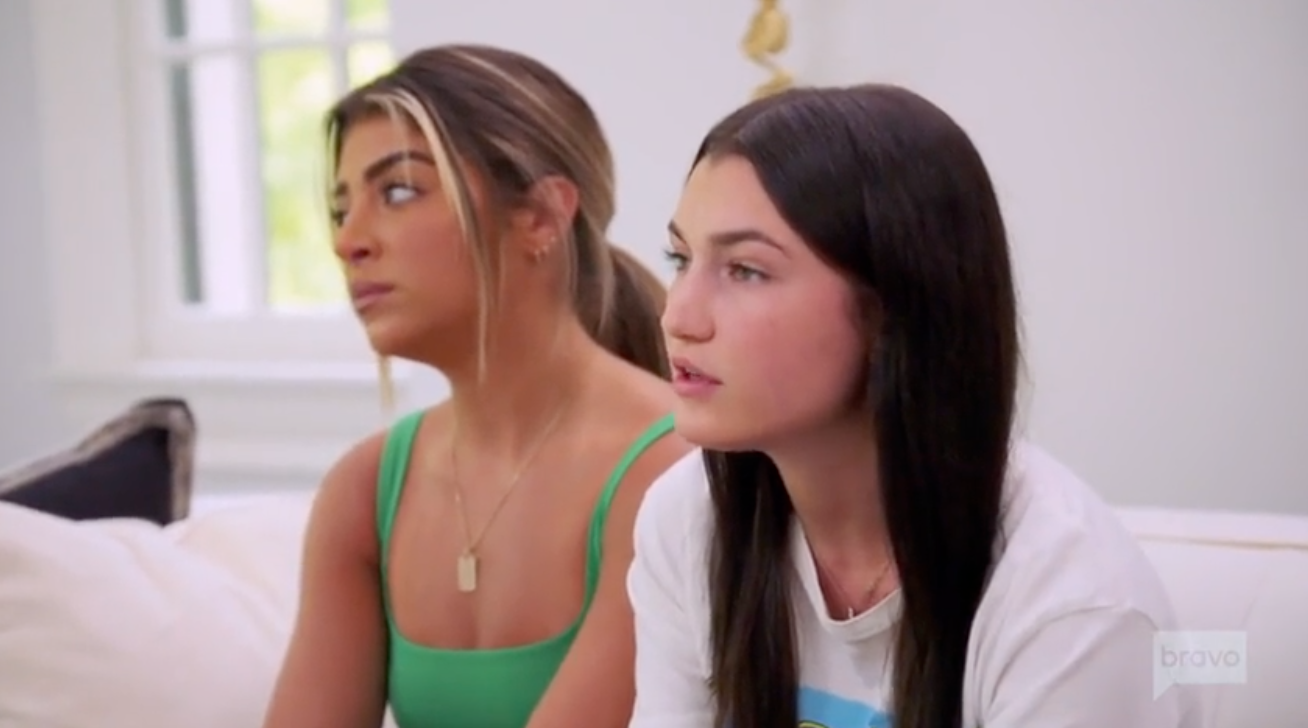 In her confessional, Rachel reveals that she had a miscarriage, and since,  she hasn't been able to naturally conceive. However, Rachel and John do have IVF as an option but Rachel admits going through IVF is very exhausting. Rachel gets emotional as she continues convincing John to get on board, but John wants to wait a year. Seems like we've got our first marital spat! Rachel has five embryos left and she told John the time is ticking! At Teresa's, she's journaling as Gia comes in with a huge salad. Soon, Louie comes down and Teresa voices her anxiety surrounding her upcoming wedding. Teresa tells Gia and Louie about her argument with Melissa and Gia thinks it's sad that Melissa's lying to make Teresa look bad.
Teresa's other daughter comes into the room as Teresa admits that she asked Melissa to be in her wedding, but Melissa declined. Gia wishes Teresa didn't ask Melissa, and Gabriella claims Melissa and Joe weren't as there for them when Teresa was locked up as they claimed. Louie thinks Melissa lied for attention and her daughters are confused as to why Melissa would use their hurt for airtime. Louie thinks Melissa and Joe are hurting Teresa on purpose and the girls get emotional as Louie apologizes to Teresa for being treated that way. Louie claims he sees Joe for who he is, and Gia thinks it's time for the train to stop.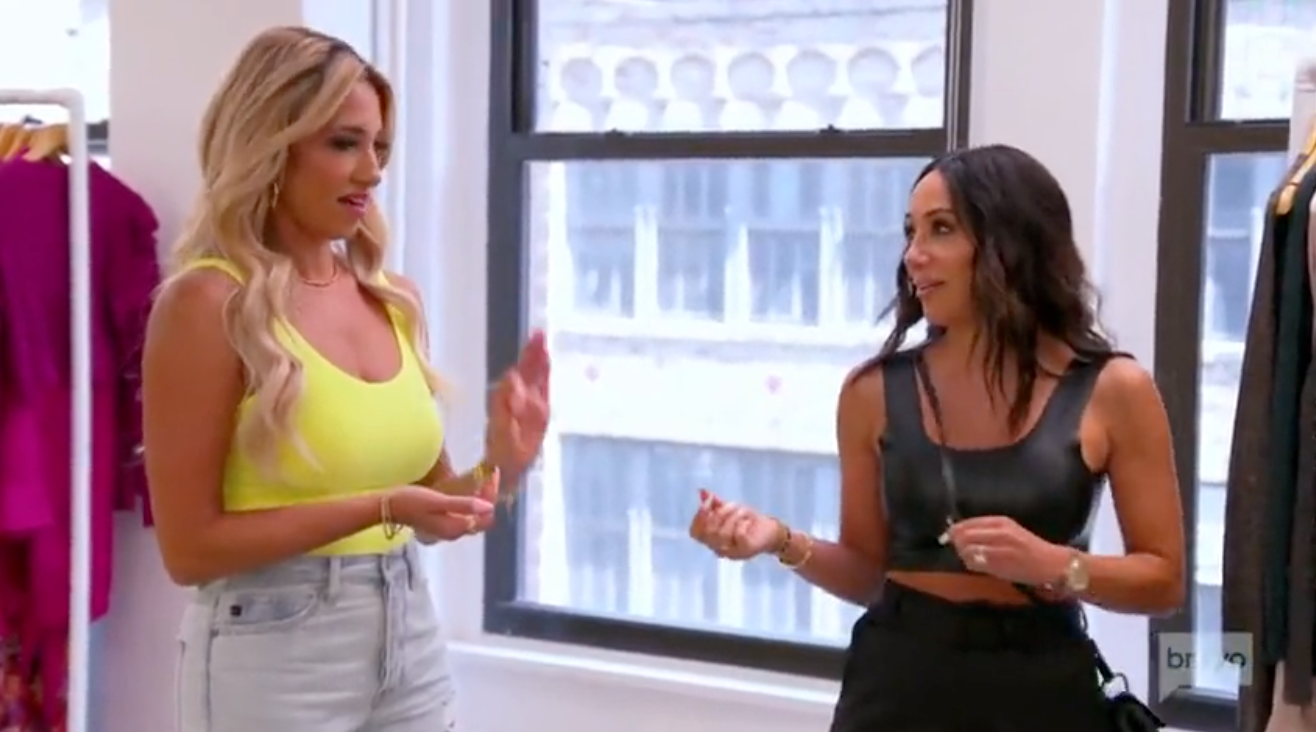 In New York City, Danielle visits Melissa at Envy, and we find out that  Danielle wants to learn more from Melissa. Danielle has a clothing line called Bougie Kids and wants Melissa's help. Melissa pulls clothes as Danielle shops around, then Danielle asks how Melissa's been. Melissa tells Danielle about Jackie being offended that she wasn't invited to Danielle's party and Melissa tells Danielle that Jackie didn't appreciate her outfit. Danielle doesn't feel bad for not inviting Jackie and feels she felt Jackie's vibe from a mile away. Danielle switches topics and tells Melissa that her situation with Teresa hits harder because she had a fallout with her brother. Come to find out, Danielle blocked her brother for shading her online, and after she blocked him, he called her and kicked Danielle out of her wedding!
Danielle also put her two cents in about his upcoming wedding and clashed with his fiancée, so naturally, he disinvited her to his wedding. Danielle feels like the wife is the problem and Melissa thinks Teresa's the problem in her scenario. Melissa tells Danielle that Joe's grown and that she tried enough to mend things with Teresa. At Jennifer's, she's talking to Bill and the kids as they talk to their kids about an upcoming sleepover. Jennifer and Bill begin telling the kids they are going to do more chores and Jennifer wants to pay them. Bill wants to scale back a bit but Jennifer's spoiling the kids after her affair was made public last year. The kids clean as Bill sits and Jennifer joins him on the couch.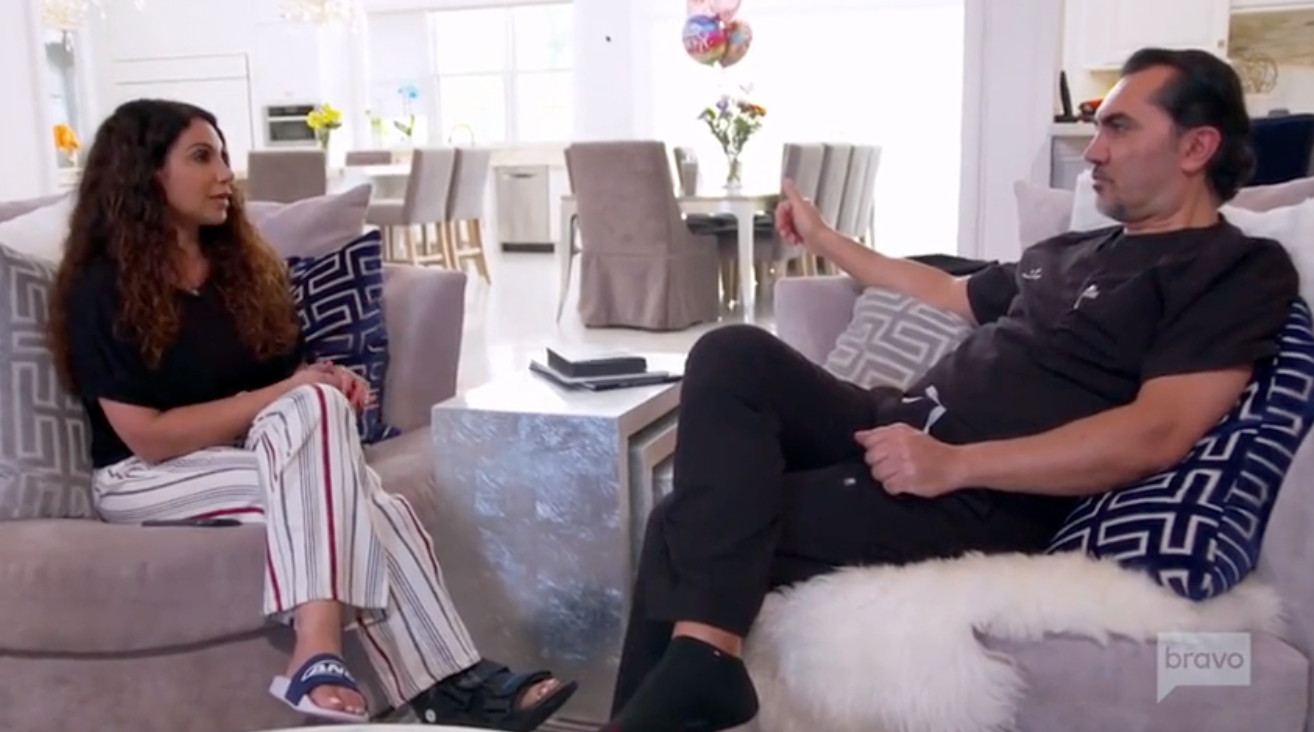 Jennifer tells Bill about being late to Danielle's party and her argument with Margaret. Bill's over it at this point but Jennifer wants Bill to answer if Jennifer is self-reflective. Jennifer gets frustrated when Bill doesn't answer quickly enough, and Bill thinks nobody is perfect. Bill wants Jennifer to acknowledge her role in the issues and Jennifer just wants Bill to have her back. Jennifer feels that Bill is being condescending, and ends the conversation before it can go anywhere. 
At Danielle's, her daughter and husband are awaiting her parents' arrival. Danielle's daughter, Valentina, wasn't able to participate in her school's art fair due to COVID, so Danielle wanted to create a special event for her at home. Danielle's father, Big Phil, arrives with flowers as Danielle hugs him in a colorful jacket. The kids are preparing for their grand entrance as Danielle's mother Angel arrives. In her confessional, Danielle tells the story of her parents divorcing when she was young and how the two finally got along after Danielle had her son. Valentina comes down after she's announced and provides a rundown of artwork and the artist who inspired them. After a round of applause, her brother gives Valentina her flowers as Danielle reflects on her daughter and son's relationship.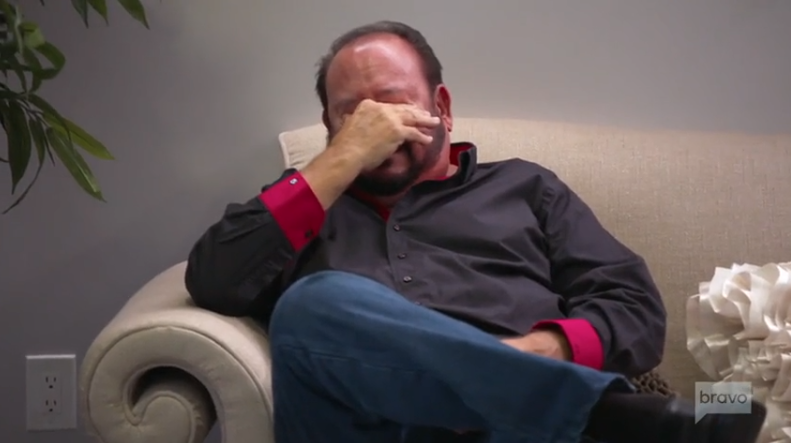 Danielle, her husband, and her parents talk as they admit that they're saddened by her brother's absence. Big Phil begins to cry as Danielle shares that he's the only person who has a personal relationship with her brother. Big Phil wants the kids to get along, and we can see the hurt on his face. This too shall pass, and we hope so, for Danielle's sake. The next day, Melissa and Joe are at the Jersey Shore, cooking as they laugh at their son Gino's shirt. Melissa's mom and sister come by, and soon, the adults go outside to chat. After setting the table and having small talk, Melissa asks her mom if she was invited to Teresa's wedding. Melissa's mom didn't receive an invitation and Joe wonders why Melissa's family can't be there.
Melissa sends the kids away as Joe expresses his anger towards how Teresa is treating them. Joe's offended because he wants to abide by his father's wishes, and Joe tells his sister-in-law that he spoke with Louie to ask for help but Louie is making things worse. Melissa's still upset Louie called her insecure and Joe's prepared to tell Louie off at guys' night. It's Frank's Guy's Night and Frank gets a drink at the bar as Joe B arrives first. Frank gives Joe crap for allowing Margaret to dress him as the rest of the fellas arrive.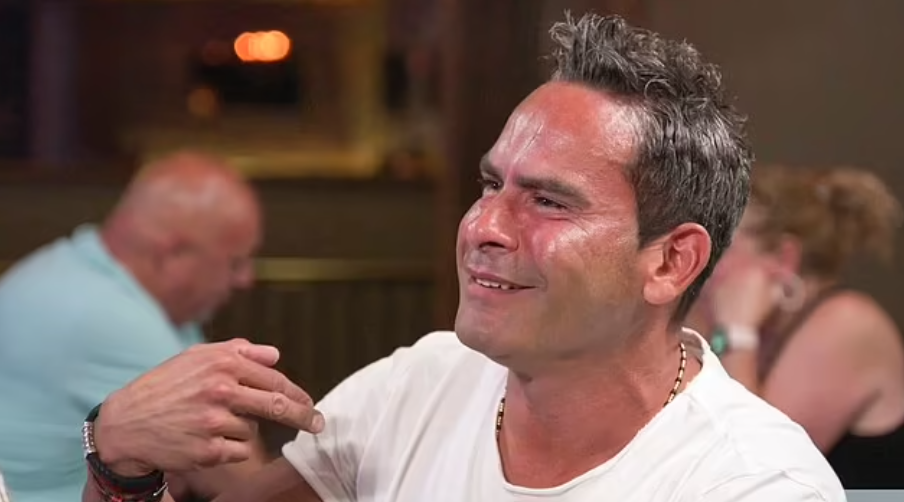 Everyone but Louie has arrived and the men are all smiles as they order food and drinks. After getting settled, the OGs give the new husbands crap as a right of passage and Rachel's husband John gifts Frank some diapers as he recovers. The guys take shots as Joe B tells Frank that Paulie isn't coming. Frank thinks Paulie isn't coming due to their previous conversation at Dolores's. Frank feels like Dolores is never home and Joe asks Frank if he misses Dolores. Frank admits to missing his relationship with Dolores but he put his feelings aside so Dolores could be happy. The guys laugh as food comes out. They are having a great time. 
The guys wonder if Louie's coming, and Bill tells Joe that he should be nicer to Louie. Joe claims he's always been supportive of Louie and is now upset that Melissa's parents aren't invited to the wedding. As Joe continues talking mess, Louie shows up as Joe calls him every name in the book. Louie greets the fellas as Joe looks pressed on the side. After Louie orders and toasts with the guys, the men ask what Louie wants to do for his bachelor party.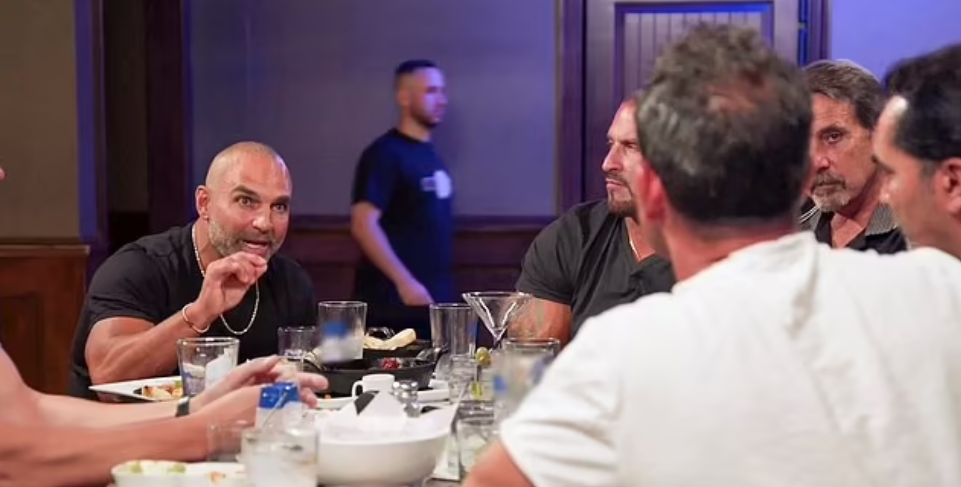 Louie wants to have a joint bachelor party and Joe asks who Louie's going to invite. Louie wants to know the basis of Joe's question and Joe wants to know why Melissa's family isn't invited to the wedding. Joe's upset his side of the family is left out and Louie blames past issues for the non-invite. Joe thinks it's a slap in the face and the guys come to Joe's defense. Louie brought up Melissa's comments on the podcast, and soon, Louie tells Joe about his nieces talking mess about him. Joe tells Louie he doesn't know anything and tells him to be quiet. The two men begin arguing and turning red as Joe tells Louie "F*** you!". 
Louie claims to be above Joe and that Joe doesn't affect him. Joe begins banging on the table as Louie tells Joe to stop with the theatrics. Louie tells the men that it's Teresa's choice and that Teresa stood her ground. The guys discuss Italian culture and Joe admits to being hurt by being left out. Louie wants Joe and Teresa to talk, but Joe's afraid of being hurt again. Louie encourages Joe to be vulnerable. Louie also thinks Teresa deserves to hear what Joe said and that they need to end it. Louie tells Joe how much Teresa loves Joe and Joe promises to think about it as we end there. Goodness! Be sure to come back next week for a brand-new episode of The Real Housewives of New Jersey! 
Stay Connected With All About The Tea: Twitter Ι Instagram Ι YouTube Ι Facebook Ι Send Us Tips
LeAndra Williams is a content contributor at All About The Tea. She's a social worker and (super) mom by day, and a reality T.V. junkie by night.