'RHOP' RECAP: Gizelle Accuses Mia Of Embezzling Money From Her Chiropractic Company
It's reunion day! Before the reunion, we get a snippet of Robyn Dixon admitting that Juan Dixon "inappropriately" communicated with this woman from Canada. Robyn claims they've worked through their issues, but Andy Cohen didn't believe her on Watch What Happens Live! As the ladies roll into the studio early in the morning, they seem eager to get the drama started. Gizelle Bryant's complaining per usual as the rest of the group get ready for a chaotic reunion. Ashley Darby's wearing some awful blonde wig and the rest of the ladies are looking good as they get ready. Dr. Wendy Osefo's not worried because she spoke her truth all season and Andy checks in on Karen Huger about Charrisse Jackson–Jordan being in the building. Karen could care less as Andy catches up with Mia Thornton about her issues with Jacqueline Blake. 
Andy shades Robyn as he goes into Gizelle and Robyn's dressing room. Candiace Dillard-Bassett gifts Andy a t-shirt and the ladies begin to make their way to the stage. The stage is themed after the ladies' Miami trip and Andy begins introductions with Karen. Andy thinks Ashley's glowing and inquiries about her relationship status. Andy references the breakup between Ashley and Luke Gulbranson and also Gizelle's new boo Jason Cameron from Winter House. According to Wendy, Ashley introduced Jason to Gizelle and now Gizelle finally got the webs out of her cooch. Andy congratulates Robyn on her wedding and Karen's happy Robyn finally got married. Robyn doubts Karen's well wishes as Andy asks Candiace how to get to Sesame Street.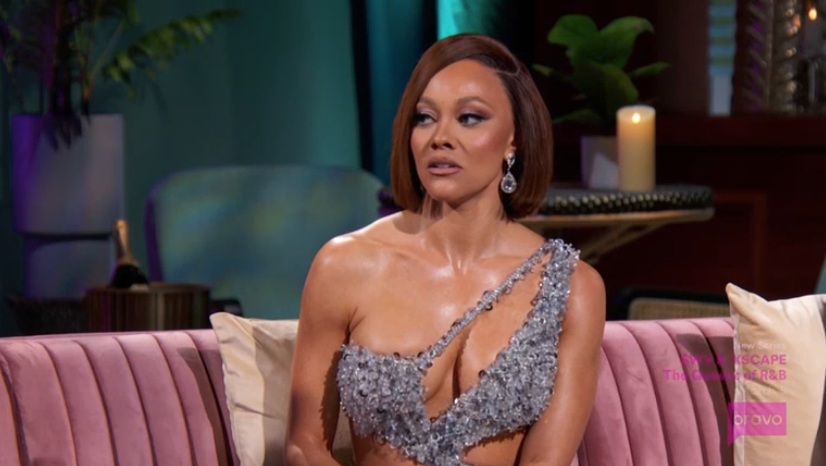 Candiace says Ashley has the key to Sesame Street and Andy checks in with Wendy on her health status. Wendy's drinking red wine, tequila, and water as Andy greets Mia. Andy asks the ladies how they like their seating arrangement, and all the ladies agree that the seating is strange. Andy acknowledges that this is a complicated group, so the seating was a bit of a puzzle this year. Andy begins on Ashley's journey throughout the season and all the confusion behind divorcing Michael Darby while buying a house together under their LLC. After the recap of Ashley's hectic season, Andy congratulated Ashley on her new home. Ashley reveals that she only lives seven minutes from Michael and that they both have keys to each other's houses.
The group is shocked and Ashley continues making excuses for her odd life while Gizelle asks if an hour's notice is enough time to get the new boo out of the house. Andy asks if there's ever been an incident that Michael popped up. Ashley explains that one day Luke was over and the kids had to come home earlier, so Luke had to skedaddle out of there. Luke feels like Ashley needs stronger boundaries with Michael and Ashley reveals that she fell in love with Luke! Ashley continues preaching rainbows and butterflies as Andy wonders if Michael feels insecure compared to Luke. Ashley knows that Michael's dating and Robyn asks when the divorce will be settled. Andy then wonders about Ashley's prenup agreement, and we find out that Ashley won't be getting alimony, chile!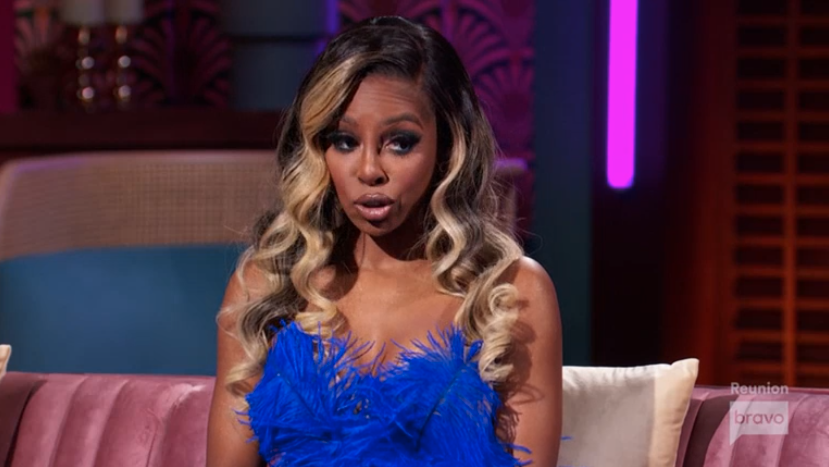 The group is confused because Ashley's always bragged about having an air-tight prenup — but looks like mama's going to be working for those Birkins from now on. Apparently, Michael was smarter than Ashley and used his investment money to hide assets from Ashley. The ladies ask questions, and Ashley's not getting a thing but those kids. Karen wonders if Ashley can get a lawyer to look into it while Mia comments that Ashley should've had another baby. Ashley gets her house and a little spousal support. A fan doesn't believe Ashley's divorcing Michael due to the threesomes but Ashley's not budging. Andy asks Mia if things changed with her after having kids and Mia agreed while stating that she kept up her skills to keep her man.
Another fan wonders if Ashley is now less successful than Candiace now that she can't afford her own house. Ashley saves face and Candiace comments about the house that Mama Dorothy helped Candiace with along the way. Candiace made sure to bring Ashley's comment back around to her now that Ashley's feeling the purse strings. Candiace and Ashley go back and forth while Ashley sees nothing wrong with her previous shade towards Candiace. Ashley says she's filing divorce papers in February and will keep Michael's last name for her kids' sake. Ashley clarifies that Michael is a great parent and they're working on co-parenting. Andy gives the ladies a break and Ashley lets Gizelle know that she and Luke got into an argument recently and that she's dating someone new. Gizelle tells Ashley to get a divorce first before dating anyone else and Ashley agrees.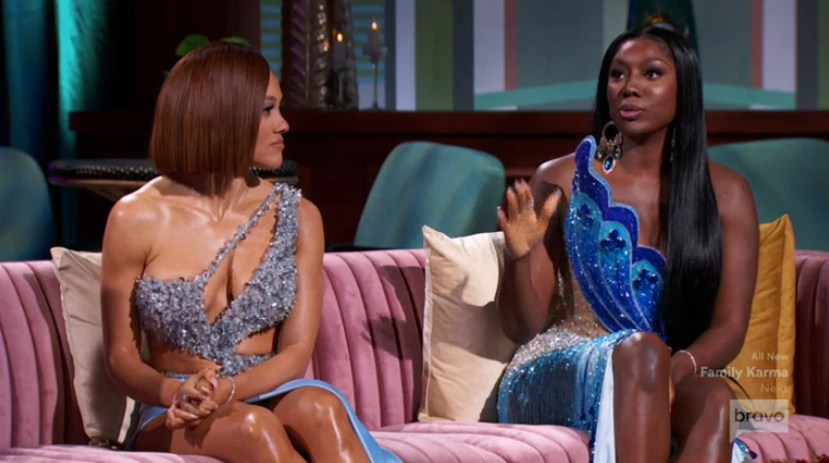 After the break, Andy moves on to Mia and her questionable health scare. After the recap, Andy tells Mia that he's happy she's cancer-free and wants Mia to discuss the diagnosis more. Mia claims that she has an enlarged lymph node and a bunch of other lies. Candiace asks Mia about her last visit and Robyn wants to know Mia's diagnosis. Mia doesn't answer the question, and instead, says she's still taking medications and trying to figure out what's going on. Mia claims that she may have needed a hysterectomy and that she wishes she reached out to Gizelle in order to bond. Andy wonders if Mia's plastic surgery is beginning to fight against her body and Mia admits that her doctor had a conversation with her about foreign objects and her body rejecting her.
A fan called Wendy a hypocrite for her "hot mic" moment, but Wendy owns it and clarifies that she was upset at the way Gizelle and Robyn came at her. Wendy admits that she still thinks Mia's lying and Mia wonders why Wendy didn't say it to her face. Mia calls Wendy a snake as Wendy educates Mia on the difference between a dermatologist and a doctor that deals with cancer. Mia slams Eddie as an opportunist who followed his wife around the hospital, and Wendy shades Mia by saying, "Maybe your next husband will do that for you." Andy inquires about Mia's business being taken from her, and of course, Mia says a bunch of nothing that makes no sense.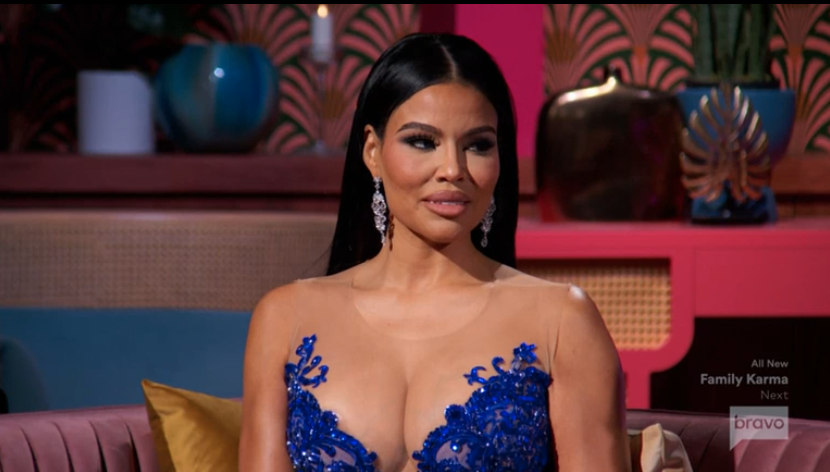 Mia claimed her brother-in-law voted her out, and the number of board members keeps changing as the ladies laugh at Mia. Karen asks about Mia's ownership percentages and wonders how Mia got her portion of the business taken. Mia claims managing members and members are different and is getting flustered as her lies catch up to her. Mia gets upset at the ladies laughing at her and claims the ladies don't know about business. Mia says she owns her stakes, but I think we've all checked out on Mia at this point. Gizelle wonders if the brothers argued about the way the money was spent and says it looks like Mia and Gordon embezzled money from their company. 
Mia denies stealing money and Gizelle thinks Mia's trying to get in front of her losing her company. Andy questions Mia about moving out of Potomac and she admits that her family is living off their savings. Mia and Gordon also gave up all their rental properties and are living in a penthouse. Andy chats about Mia's reactions on social media and asks Gizelle how she feels about Mia's openness online. Andy asks if Mia would do anything differently this season and she doesn't apologize for throwing a drink at Wendy. During the break, Gizelle's chatting with Grace while she's driving, and Andy tells Grace to focus on the road. Gizelle asks Andy if he's ever been with a woman and Andy says he hasn't but that he's curious, LOL.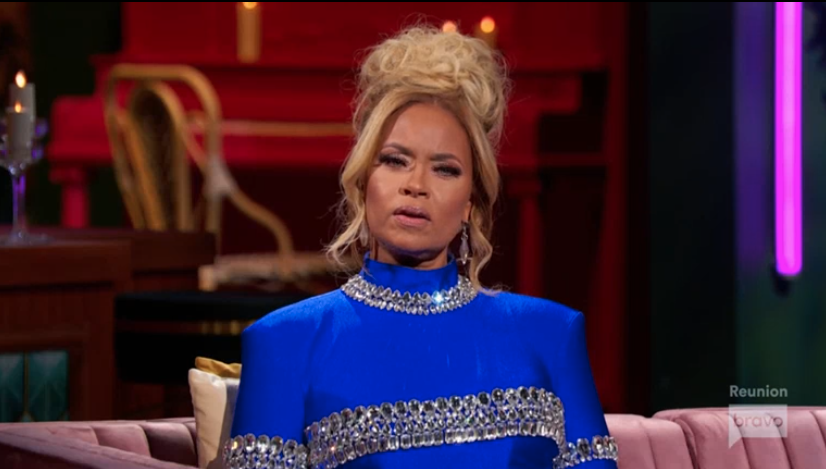 After the break, Andy focuses on Candiace and her chaotic season with "Gizzard Neck" and her accusations towards Chris Bassett. During the unseen footage, we find out Chris apologized to Gizelle after cameras wrapped for the season. Andy doesn't think Chris's apology was an admission and Candiace clarifies that Chris sent that message before they saw the season. Candiace is upset about all the extra comments Gizelle made about Chris throughout the season. Gizelle apologizes to Candiace and says she will apologize to Chris, too. 
Ashley tries to stand up for Gizelle and Candiace is baffled. Candiace feels like Gizelle is gaslighting her and Robyn comes to Candiace's defense about Gizelle waiting until the season aired to accuse Chris of ill behavior. Candiace tells Gizelle to take her apology and shove it! Gizelle says Chris lied about Gizelle offering to go to her hotel room and Candiace sticks up for her man by playing semantics with Gizelle. Candiace continues saying Chris wasn't lying as Andy switches gears to Candiace's baby journey. Candiace gets emotional as she tells the world that she and Chris have six embryos. After a brief celebration for Candiace, Andy reads a fan question regarding Candiace saying that Gizelle accused Chris of sexual assault and how dangerous that is.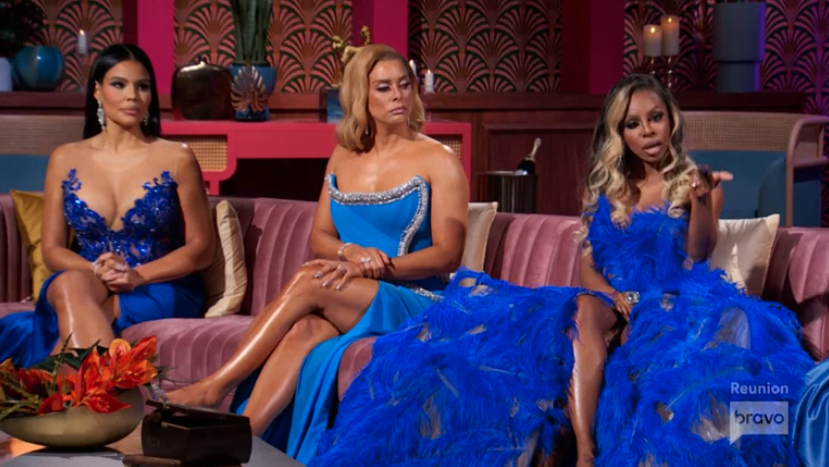 Candiace doesn't back down as she continues saying Gizelle accused Chris of sexually assaulting Deborah Williams at Karen's Spring Fling. Robyn throws it out there that it's not a good idea for a married man to be in a hotel room alone with a single woman. Andy chimes in and states that it seemed like a moment from the Victorian era. As a viewer, Andy wonders if Gizelle was worried about damaging Chris's reputation. Candiace claims that Gizelle's mad "because her sh*t stinks," and Gizelle tries to defend herself by claiming the group talks about everyone. Andy asks about Gizelle's timing again and wonders if Gizelle used this situation as ammo. Gizelle claims that she only spoke up because Ashley had an incident with Chris, as well. Wendy chimes in about Gizelle's pattern and how she brings up mess as the cameras roll, instead of in real-time. 
Candiace names all the times she's seen Gizelle prior to this season's filming and Gizelle continues making excuses for herself. Candiace tells Gizelle she's not smart and wonders why Gizelle didn't talk about her "dwindling uterus" instead of making up lies about Chris. Next time, on part two of the reunion, things heat up as Jacqueline joins the couch, and we see unseen footage from Robyn's one-on-one with Andy! See you next week! 
Stay Connected With All About The Tea: Twitter Ι Instagram Ι YouTube Ι Facebook Ι Send Us Tips
LeAndra Williams is a content contributor at All About The Tea. She's a social worker and (super) mom by day, and a reality T.V. junkie by night.