Gia Giudice Calls Out Joe Gorga For Using Joe Giudice In Publicity Stunt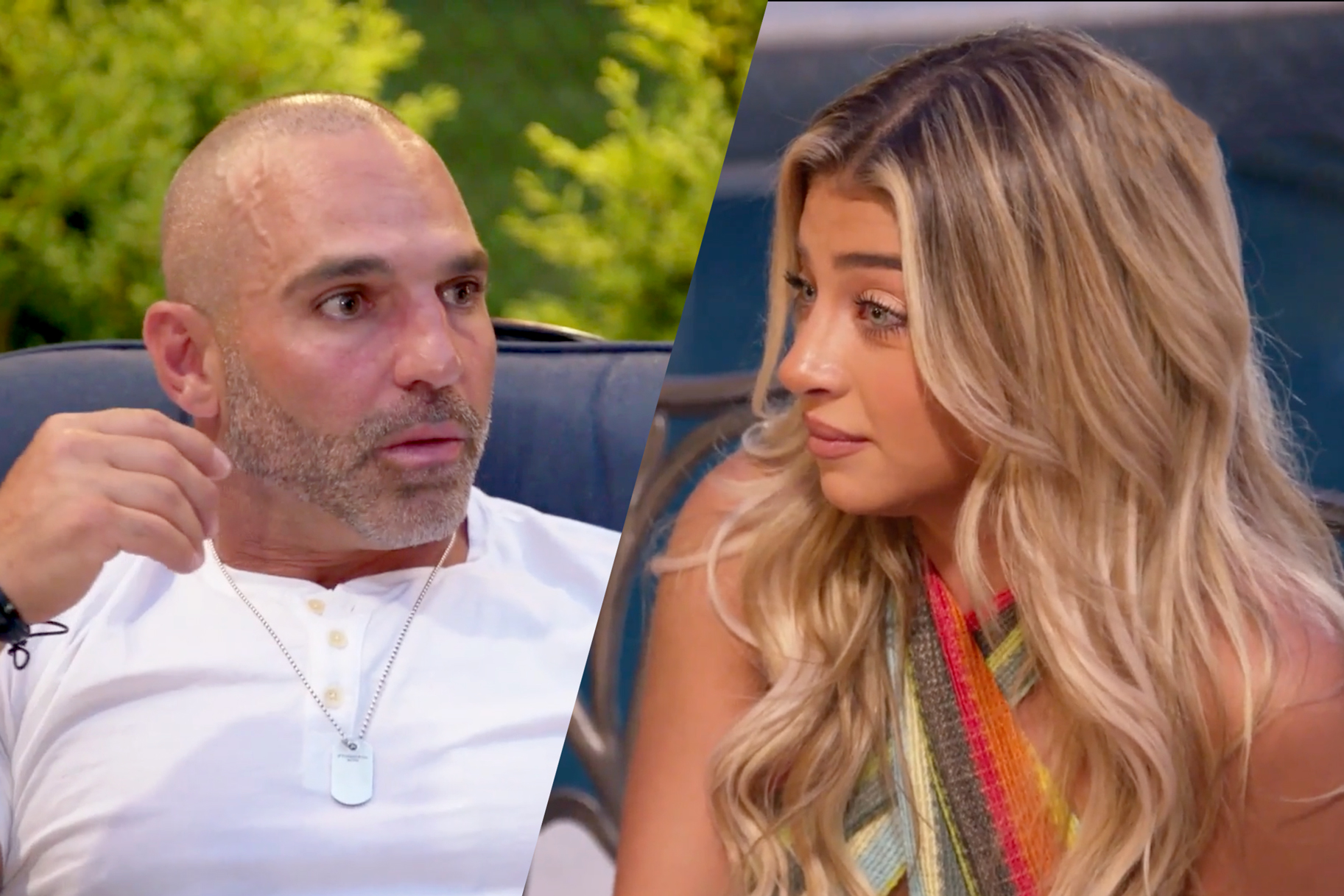 Gia Giudice Calls Out Joe Gorga For Using Joe Giudice In Publicity Stunt
There is clearly still a family war brewing between Joe Gorga, and his niece, Gia Giudice.
Over the weekend, Gia Giudice took their drama to social media after her uncle, Joe Gorga, posted a video of him reuniting with her father Joe Giudice, in what appears to be a publicity stunt.
In a video posted Sunday, Joe Gorga and Joe Giudice are seen running into one another at a bar in the Bahamas, where Teresa's ex-husband now lives and works in construction after being deported from the US in 2019.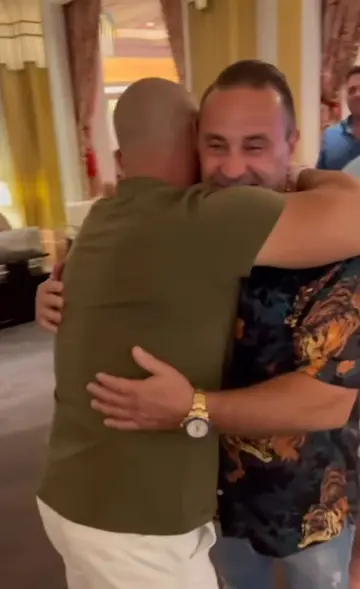 "Both walked into the same bar at the same time. A lot of history there. We have memories since we were kids," Joe Gorga captioned the post. "I'm happy he's doing well and looks good. We were both happy to see each other and catch up. Glad someone caught it. #life #rhonj"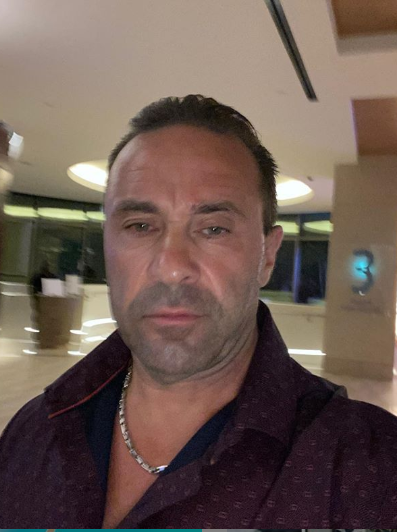 Despite the lack of sound in the video, the pair can be seen giving each other a hug and then turning toward the camera for a brief moment. After Joe Gorga posted the video, Gia commented on the post, calling her uncle an "opportunist" for sharing the 5-minute interaction.
Press play below to watch.
View this post on Instagram
"This is honestly comical knowing you were with him for not even 5 minutes and we're [sic] able to have somebody take a video of the interaction meanwhile all you have done is talked so poorly about my father," she wrote. "You are such a opportunist to take advantage of the once in a lifetime opportunity to see my father and use it for a post."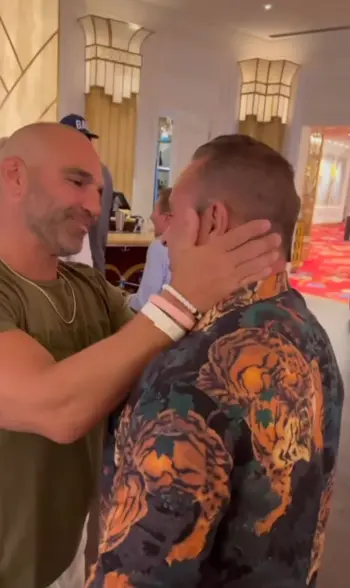 Joe Gorga replied, writing that "we both said horrible things about each other" and calling their interaction "a nice moment."
He concluded, "We have a lot of history. Get the hate out of your heart."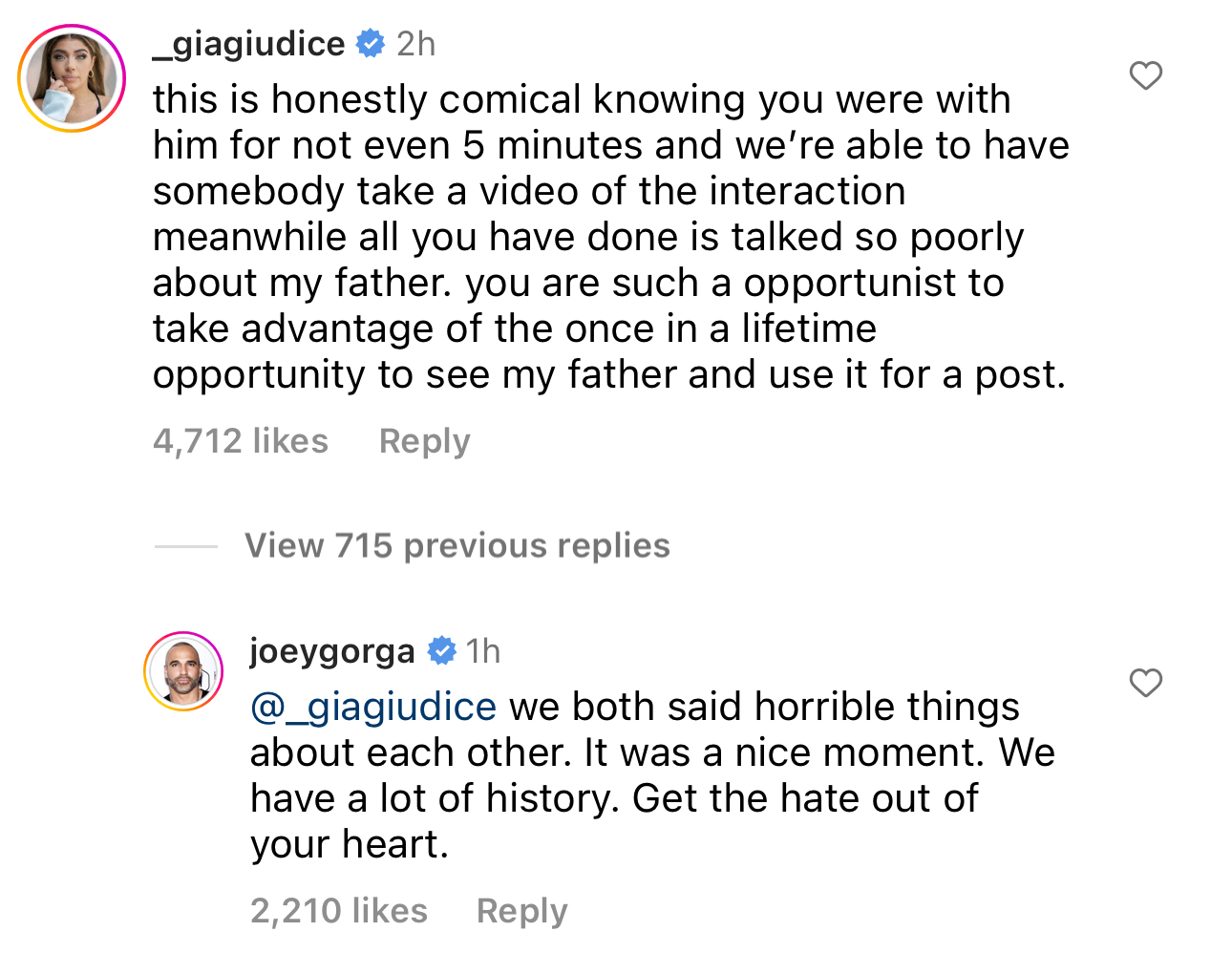 During Season 12 of the Bravo reality series, Gia stood up to her uncle Joe after he made disparaging comments about her dad, Joe Giudice.
Following a fight between RHONJ co-stars, Margaret Josephs and Jennifer Aydin — Gia confronted Joe, saying, "This is why people just shouldn't open their mouth in the first place, just like dad didn't deserve it either."
Joe picks up on Gia's not-so-subtle dig at him.
"What, Gia? I hear you talking," an agitated Joe replies in the clip below.
"You're going to come at me disrespectfully? Because then I won't talk to you," Gia says, adding, "I'm an adult now too so you can talk to me like one. Because I'm done with you being disrespectful. You're not going to talk down to me either."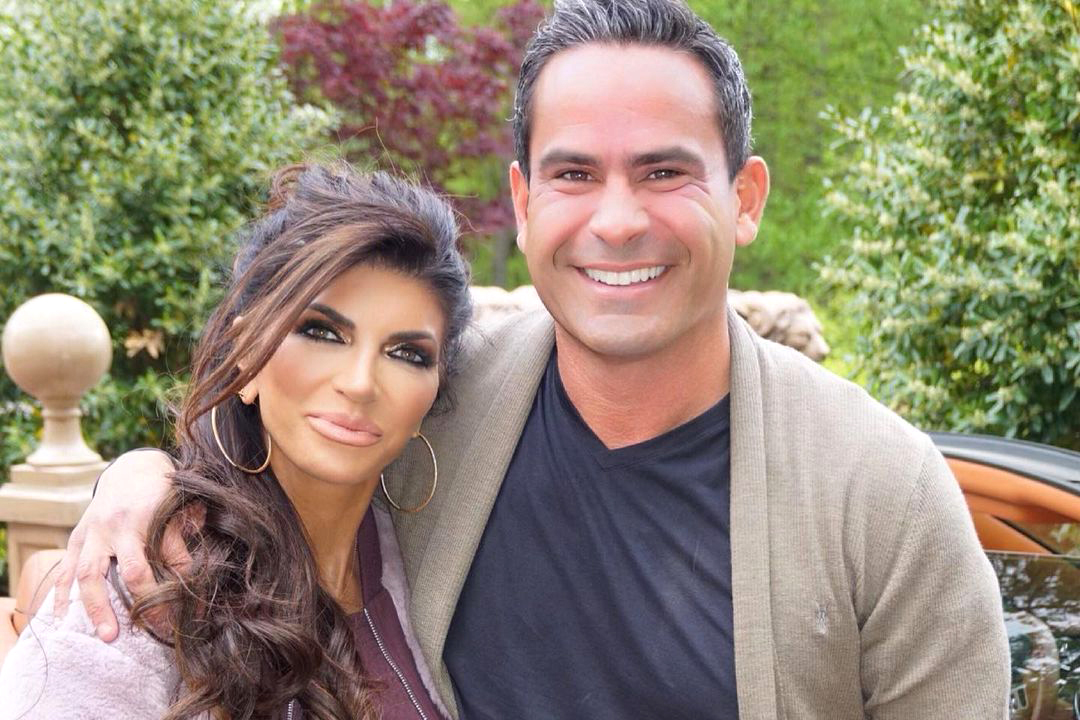 As a result of the bad blood, Joe and Melissa skipped Teresa's wedding to Luis Ruelas.
Joe and Teresa Giudice took turns serving time after they were indicted on federal fraud charges in 2013. After serving 41 months in prison, Joe was deported to his native Italy in 2019, even though he lived his whole life in the United States. He eventually moved from Italy to the Bahamas in 2021, which is much closer to the US and his daughters can visit him easier than flying all the way to Italy.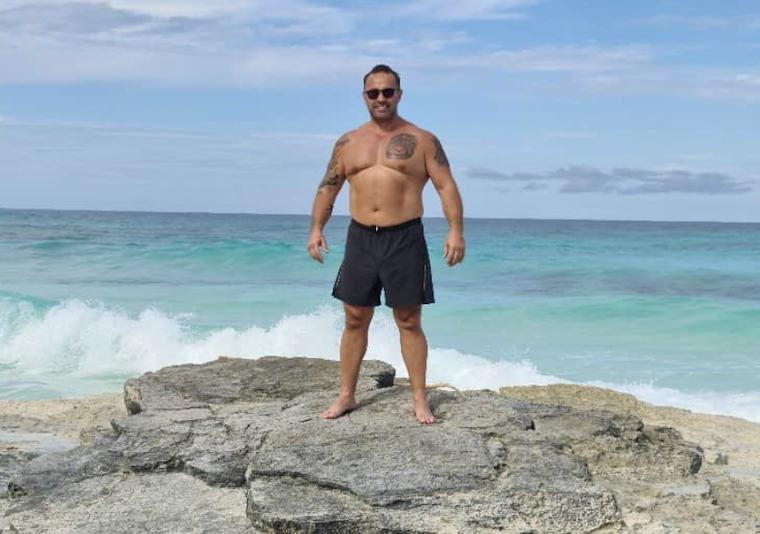 Joe hasn't given up on his fight to get back to the US and his daughter Gia recently accepted a job working for an immigration attorney to help her father in his legal battle to return to the states.
Gia Giudice, 22, will be working at Martinez Immigration, a virtual law firm run by sole practitioner Kathleen Martinez. The lawyer first announced the news on January 30 with a video on her Instagram page.
"What? Like it's hard?" the beginning of the video's caption read, paying homage to the film Legally Blonde. "We are so excited to welcome [Gia Giudice] to the firm!! Welcome to Martinez Immigration firm, Gia!"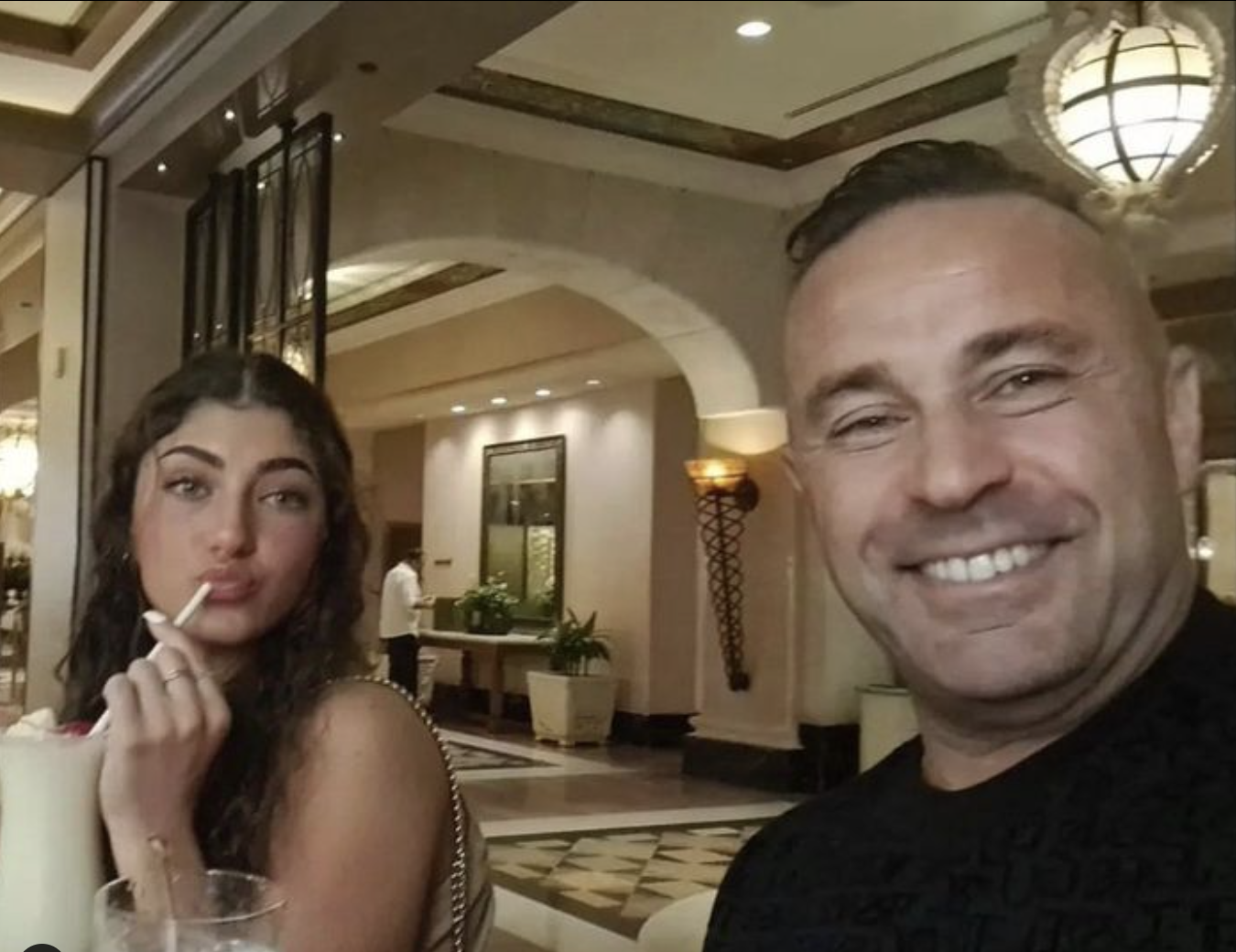 Gia's exact role at the firm is unclear. Due to her lack of law school or bar exam experience (though she plans to, more on that later), Gia could become an intern or paralegal at the firm.
Stay Connected With All About The Tea: Twitter Ι Instagram Ι YouTube Ι Facebook Ι Send Us Tips
Avigail is an Entertainment blogger at All About The Tea, who specializes in The Real Housewives of Atlanta and The Real Housewives of Potomac. Avigail has a background in marketing. She's a Brooklynite living in the Bahamas, with a passion for travel, writing, reality TV watching, pop culture and spoken word.