'RHONJ' RECAP: Melissa and Teresa Get Into Explosive Fight
Welcome back to a new episode of The Real Housewives of New Jersey! After Jennifer Aydin exits Dolores Catania's charity event, Melissa Gorga wonders how things escalated so quickly. Dolores tells the group that Jennifer was bad-mouthing her to the group, and when Dolores confronted Jennifer, Jennifer said the two weren't friends. Jennifer is still cursing Dolores out as Bill Aydin gets her in the car while  Melissa tries to defend Jennifer to Dolores. Dolores claims she cared about Jennifer, and now that Jennifer thinks Dolores is a real friend, Dolores is wiping her hands of Jennifer. Dolores feels she's argued against the entire group for Jennifer and a flashback shows the many times Dolores spoke up for Jennifer.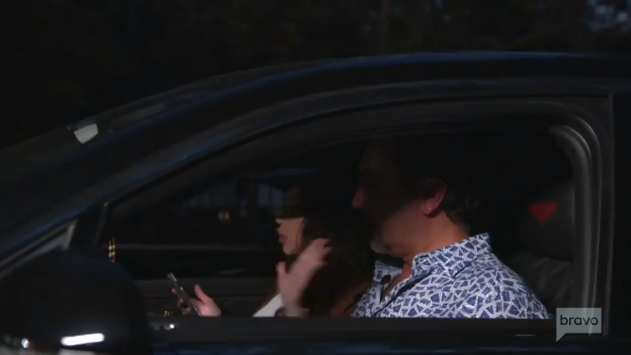 Jennifer continues going off in the car and even snaps at Bill. Dolores continues, speaking highly of Bill and claims he doesn't deserve to deal with Jennifer's BS. Bill tries to calm Jennifer down as the ladies fill Dolores in on all the chatter from Jennifer that evening. Melissa thinks Jennifer wants Dolores to be obsessed with her and Dolores isn't giving anyone but Paulie that type of love, LOL. Danielle shares that Jennifer was chatting with the newbies for 45 minutes about how she'd like to be friends with Dolores. Teresa Giudice wants Jennifer and Dolores to hash it out, but Dolores doesn't want anything to do with Jennifer. Jennifer thought Dolores would apologize, but instead, Jennifer's mourning the loss of her friend.
The next day, Danielle Cabral and her husband are talking to their son as Jennifer hangs out with her kids at home. Margaret Josephs is at the doctor for her wrist, while Teresa chats with Louie's assistant to kick wedding planning into high gear. Teresa has 67 days left until the big day and she still hasn't sent her invitations, yet. Teresa wants her wedding to be bigger and better than anything she's ever planned and is excited to marry Louie. Meanwhile, Melissa and Joe Gorga are packing to visit LA! Melissa's been asked to host an award show with Teresa. Melissa knows things will be awkward, especially since the two haven't spoken recently. Joe feels that Teresa and Louie were cold at the calendar shoot and Melissa's still mad Louie called her insecure.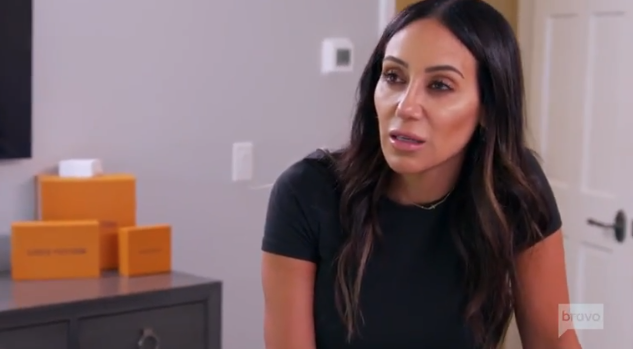 Melissa feels like she's been nothing but nice to Louie and wonders how things went so wrong. Joe felt strange at Teresa's engagement party and Joe is shocked that Teresa's acting this way. Joe realizes that Teresa and he may go their separate ways and admits it's sad. Later, it's raining as Danielle stops by Jennifer's for a visit. The kids introduce themselves and seem to kick it off immediately. Jennifer shows Danielle around and Danielle loves Jennifer's style! As the kids run off and play, Jennifer allows Danielle to help herself to food while they get comfortable. Danielle asks Jennifer how she's feeling after Dolores's event and Jennifer admits to being hurt by Dolores's attitude. Danielle felt Dolores's combative attitude and admits that she would feel defensive as well if she were in Jennifer's shoes.
Jennifer's done being a chump for Dolores but Danielle's still trying to get her feet wet in the group. Danielle feels that Jennifer's been the nicest to her so far; Teresa gave Danielle the rundown on all the ladies. Jennifer wants to know what Teresa said about Margaret and Danielle reveals Teresa's positive intent towards mending things with Margaret. The two wonder how Teresa and Margaret's chat went as Jennifer FaceTimes Teresa to get the details. Teresa's very happy with how the conversation went and Jennifer wonders if Margaret brought up her ex-bestie Laura. Laura was Margaret's ex-best friend and apparently after they fell out. Laura was going around the group trying to spill tea on Margaret!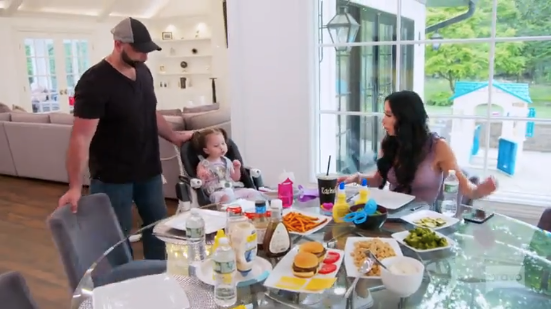 According to Laura, Margaret takes it upon herself to get as much information on the ladies as possible. Danielle wonders if Laura talked about anyone else besides Margaret, but all we hear is silence. Jennifer doesn't want to share, but we know Jennifer's holding onto that nugget until she needs it. The next day, we're at Rachel's as she and her husband John Fuda wrangle up the kids. Rachel explains that she met her husband at a bar and now they have two children together with a stepson.
Rachel and John talk to their son about his phone as the family eats breakfast together. Rachel tells John that Danielle invited the ladies to an event and that she's excited to get to know everyone. At Margaret's, she's sitting food out with Joe as she awaits Jackie, Melissa, Jennifer Fessler and Dolores's arrival. Melissa arrives with sprinkled cookies as the rest of the ladies laugh and get their drink on. Margaret met Jennifer Fessler through Ziggy and now Margaret can't get enough of Jennifer F. As the ladies eat, Margaret explains the game. The first question is, "Which sex act makes you feel guilty?" and these ladies are some freaks! Melissa feels guilty licking Joe's balls, and I am on the floor!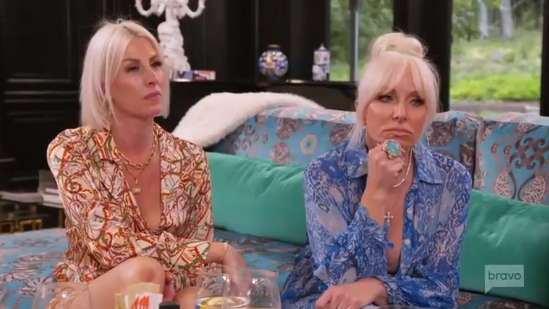 Dolores asks Melissa how the trip to LA with Teresa went and Melissa admits the trip was awkward. Melissa tells the girls that she and Teresa haven't spoken and that Joe's sad but doesn't want to pretend anymore. Margaret thought she saw a different side of Teresa when they talked but feels her actions need to back up her apology. Jackie feels that Jennifer Aydin's more dangerous than Teresa, and Dolores agrees. Dolores asks the group if she's a good friend and everyone agrees they love Dolores. Margaret feels weird with Jennifer because she felt they genuinely made up, but now Margaret knows about the meeting with her ex-best friend Laura. The group is shocked as Margaret continues explaining that Jennifer and Teresa met with Laura to talk sh*t about Margaret! 
Margaret feels played by Jennifer and lets us know in her confessional that someone in Jennifer's camp spilled the beans to Margaret! There's a mole in the group! Dolores wonders how Jennifer can be so petty and now Melissa's second-guessing how much they can trust Jennifer. Later, Dolores heads to Paulie's condo for a cute lunch date. Dolores tells Paulie that the girls were making fun of her phone case, which shows the two of them kissing by a car. The things Dolores used to make fun of her friends for are the things Dolores is now doing, LOL. Dolores asks Paulie if he likes her being around more often and Paulie loves it! Dolores walks around in his underwear and everything!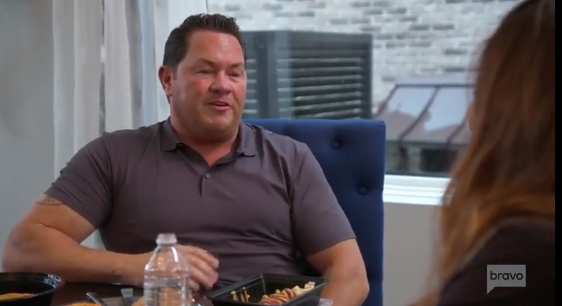 Dolores enjoys that Paulie makes her feel welcome but makes sure Paulie doesn't miss having a social life. Paulie's enjoying spending alone time with Dolores but wouldn't mind socializing more. Dolores is surprised Paulie wants more of the action after what happened at Dolores charity event. Paulie has fun but tells Dolores to move on if she and Jennifer can't resolve their issues. Paulie thinks Dolores is a great friend and feels it'll be Jennifer's loss if they can't make up. Besides the drama, Paulie enjoyed spending time with the guys, and although Frank Catania was sick, Dolores is glad Paulie met the other guys. Paulie jokes that he's been hitting the gym in preparation to meet Frank and now he can relax a bit, LOL.
Paulie feels that Frank's more uncomfortable than he is and Dolores feels that Frank isn't good with change but he needs to get over that! Paulie realizes Frank's not used to a man taking care of Dolores, but Frank doesn't have to worry anymore because Paulie's there. I know that's right! Dolores loves what she hears and gives Paulie a well-deserved kiss as they wrap up lunch. The next day, Jennifer wobbles down the stairs and everyone receives an invitation to Teresa and Louie's wedding. Joe and Melissa get their invite but are still unhappy with how things are with Teresa. Joe thinks the wedding is going to be awkward and Melissa claims they have a job to do. Joe feels disgraced due to his and Teresa's actions towards one another and feels that their parents aren't proud of them.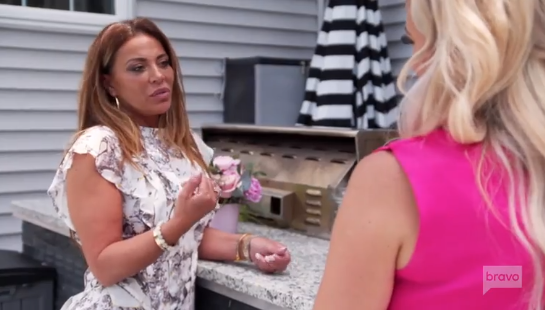 Joe feels that Louie adds fuel to the fire instead of helping the siblings get closer together. Joe's over trying to mend things with Teresa, and I don't blame him. The next day is Danielle's Mozzarella Party! Danielle's getting décor in place while the mozzarella makers come to set up. Danielle's house is beautiful and Danielle loves being over the top while making memories. The ladies begin to arrive as Danielle shows off her hosting skills. Dolores thinks Danielle's house is cute and goes get a drink with Danielle while discussing who's all invited. Danielle asks Dolores if she's going to keep the peace and Dolores said she's fine with everyone. Melissa and Margaret ride together as they chat about their issues with Jennifer and Laura spreading lies.
Margaret feels Jennifer undermined the friendship they were developing and now Margaret is over it! Teresa arrives and lets Danielle and Dolores know that she has to resend her invitations due to Ramona Singer leaking Teresa's wedding details online. The rest of the ladies show up ready to party and everyone looks gorgeous! Rachel asks Dolores if she's spoken to Jennifer recently and Dolores thinks it's better to let things cool off before trying again with Jennifer. Teresa lets Dolores know that Jennifer just wanted to be acknowledged for coming to Dolores's event. Dolores doesn't feel like has to kiss Jennifer's butt for friendship and Teresa doesn't want to take sides.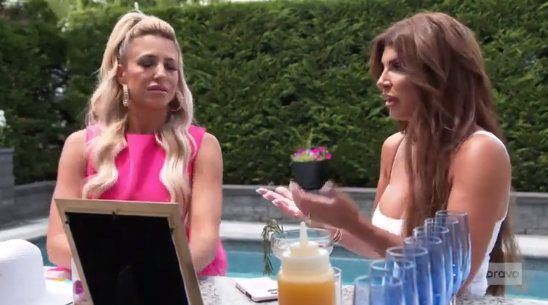 Teresa wants both ladies to hash it out, but Dolores wants Teresa to stop defending Jennifer just as Jennifer arrives. Dolores doesn't want to hear anything else from Jennifer and that's that! To break the tension, Jennifer Fessler asks for a napkin to dry her drenched thighs and the ladies crack up laughing. As Margaret and Melissa arrive, Teresa explains that Joe's hurt over what she said at the reunion, but she apologized and hopes Joe forgives her. The ladies educate Jennifer F on the stigma of therapy in the Italian community. The ladies toast to therapy and Prozac as Melissa and Margaret greet everyone. The ladies wonder if they're waiting on Jackie, and surprisingly, Danielle says no and that she got an odd vibe from Jackie.
Jennifer Aydin thinks Jackie's a snob and Margaret disagrees. Rachel throws her awkward moment with Jackie in the midst, as well, and now, Jennifer wonders if Jackie's the reason Rachel snapped at her. Rachel believes that Jennifer's the one who originally snapped, and Jennifer admits to being triggered by the entire conversation. Margaret doesn't want Jennifer held up on the hypocritical word and Margaret wants everyone to move forward. Danielle breaks the tension by toasting to moving on as the ladies get their aprons on to start making cheese! The ladies check out the men more than they're checking out how to make the cheese. Danielle compliments Italian men who cook and the ladies are loving their lesson.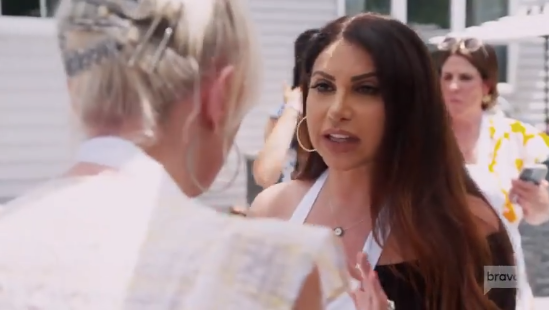 Margaret pulls Jennifer to the side to talk and wonders what happened that made Jennifer revert to her old ways. Jennifer admits she thought Margaret's apology was real and felt things began to unravel after Teresa and Jennifer met with Laura. Margaret asks "Why?" and Jennifer states that she just wanted to know what she had to say because she was curious. Jennifer feels she's the most honest out of the group and Margaret's upset that Jennifer won't admit to digging up dirt on her. Margaret and Jennifer are back to arguing as the rest of the ladies watch from the side. Margaret calls Jennifer paranoid as she goes over to tell Teresa to get Jennifer into therapy. Jennifer overhears Margaret and begins going back at it with Margaret.
While they're arguing, Margaret brings up Jennifer's issues with Dolores and Jennifer thinks Dolores is the one with the problem. Now, Dolores being activated, asks Jennifer what she means by that. Jennifer tells Dolores that since Dolores doesn't care, not to worry about it. Dolores gets up and tells Jennifer if she had an issue with her, then come to her instead of everyone else. Dolores and Jennifer go back and forth while Melissa and Jennifer F discuss food. Jennifer F tries to play peacemaker but goes back to her food when her efforts are met with pushback. Dolores no longer wants an apology and Teresa tries to calm things down as Dolores and Jennifer agree to be cordial moving forward. Teresa wants Jennifer to take the high road as Dolores continues living her life without worrying about Jennifer, LOL.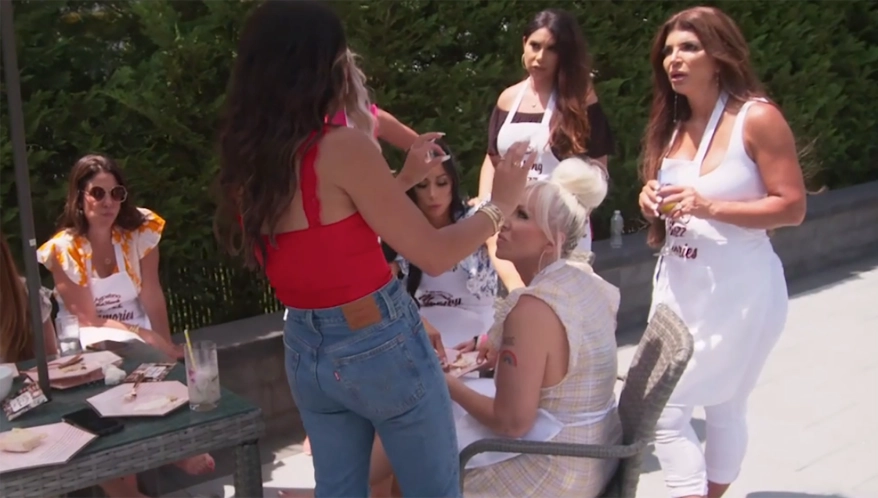 Teresa tells the ladies that there's no seating arrangement at her wedding and before we know it, Melissa and Teresa are back at it. Teresa claims she asked Melissa to sit with her at the engagement party and Melissa's upset that Teresa's telling a bold-faced lie. Teresa claims she wanted Joe and Melissa at her table, and Jennifer admits that Teresa told her she felt bad once everything was said and done. Melissa claims that she doesn't care anymore and that Teresa was horrible to them in New York. Teresa admits that she didn't invite Melissa to sit at her table due to her issues with Margaret, and Melissa threatens she's getting upset. Teresa wanted Melissa to tell Margaret to stop, and now Melissa realizes she'll never be close with Teresa. Teresa and Melissa continue going back and forth and it's clear these two will never be real sisters. Come back next week for a brand new episode of The Real Housewives of New Jersey! 
Stay Connected With All About The Tea: Twitter Ι Instagram Ι YouTube Ι Facebook Ι Send Us Tips
LeAndra Williams is a content contributor at All About The Tea. She's a social worker and (super) mom by day, and a reality T.V. junkie by night.