Danna Bui-Negrete Taunts Jen Shah In Deleted 'RHOSLC' Showdown
The showdown between Jen Shah and Danna Bui-Negrete was a hot topic on Part 1 of The Real Housewives of Salt Lake City reunion on Wednesday night. Fans know that the footage, which was teased in the Season 3 trailer, was cut from the season, so many were eager to see what led up to the messy interaction between Jen and the cast "friend."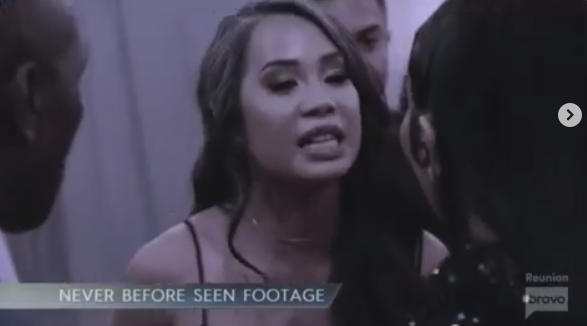 Andy Cohen questioned Danna about why she went after Jen at Heather Gay's book party. 
Jen told Danna "don't talk to my husband," while standing alongside Sharrieff "Coach" Shah, at the beginning of the clip. 
Danna hit back—"Don't get in my f-cking face, okay? Don't get in my motherf-cking face. If you get in my face, I can get right back, too."
Jen encouraged her to "do it, honey," and Danna fired back that Jen liked to "bark" while she "[bites]."
Jen shouted back—"Bite, honey. Bite," and Danna reacted by bringing up her upcoming trial.
She yelled—"B-tch you don't wanna catch no motherf-cking cases, okay? You're being f-cking indicted. And if I were you I'd be real nice right now, especially if you want the money on your f-cking books!"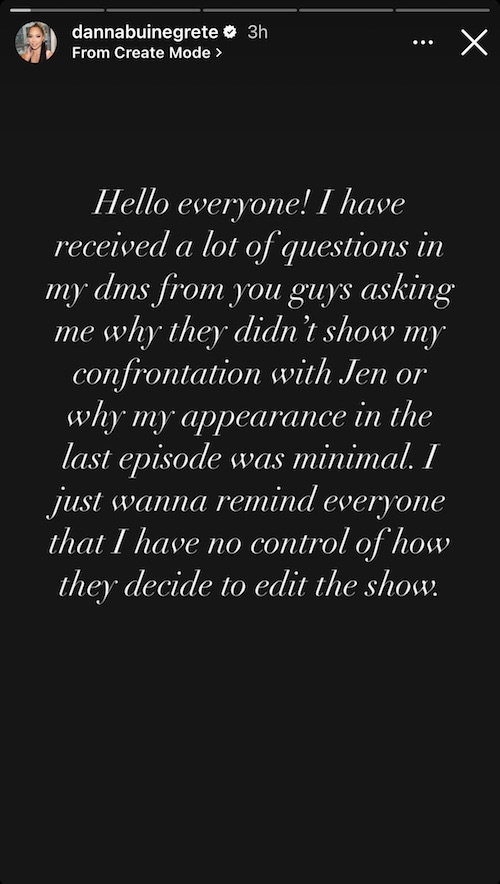 Danna spoke out on her Instagram Story after the squabble was cut from the narrative. She reminded viewers that she had "no control of how they decide to edit the show," before offering context on what went down before the drama exploded with Jen. 
"I wanted to have a conversation with her about her being one way around us and another way around her husband and why she wasn't taking accountability for her behavior and actions," Danna explained. "She was making fun of where I live, making fun of my hair, she was calling my husband different Spanish names that were clearly not his name and that was very disrespectful. I don't know why so much time was wasted filmed on her lies about being innocent when … well we all know how that turned out." 
She added—"I've always been one to call it like I see it and it's frustrating that you all didn't get to see what really happened."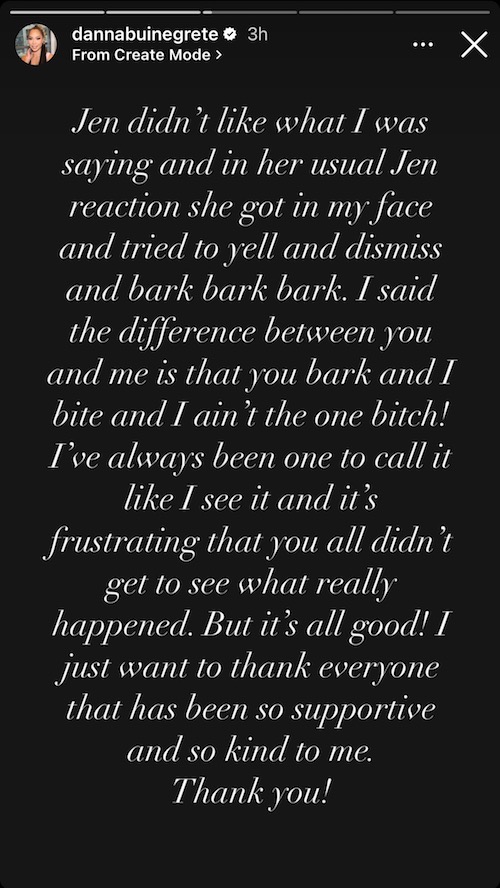 The mystery surrounding Heather Gay's black eye also took center stage during the first part of the reunion series.  
"I don't know how I got the black eye," Heather told host, Andy Cohen, and her costars. "I blacked out. I don't know what happened. … I cannot speak to anything other than I walked to my room and I blacked out and I woke up with a black eye."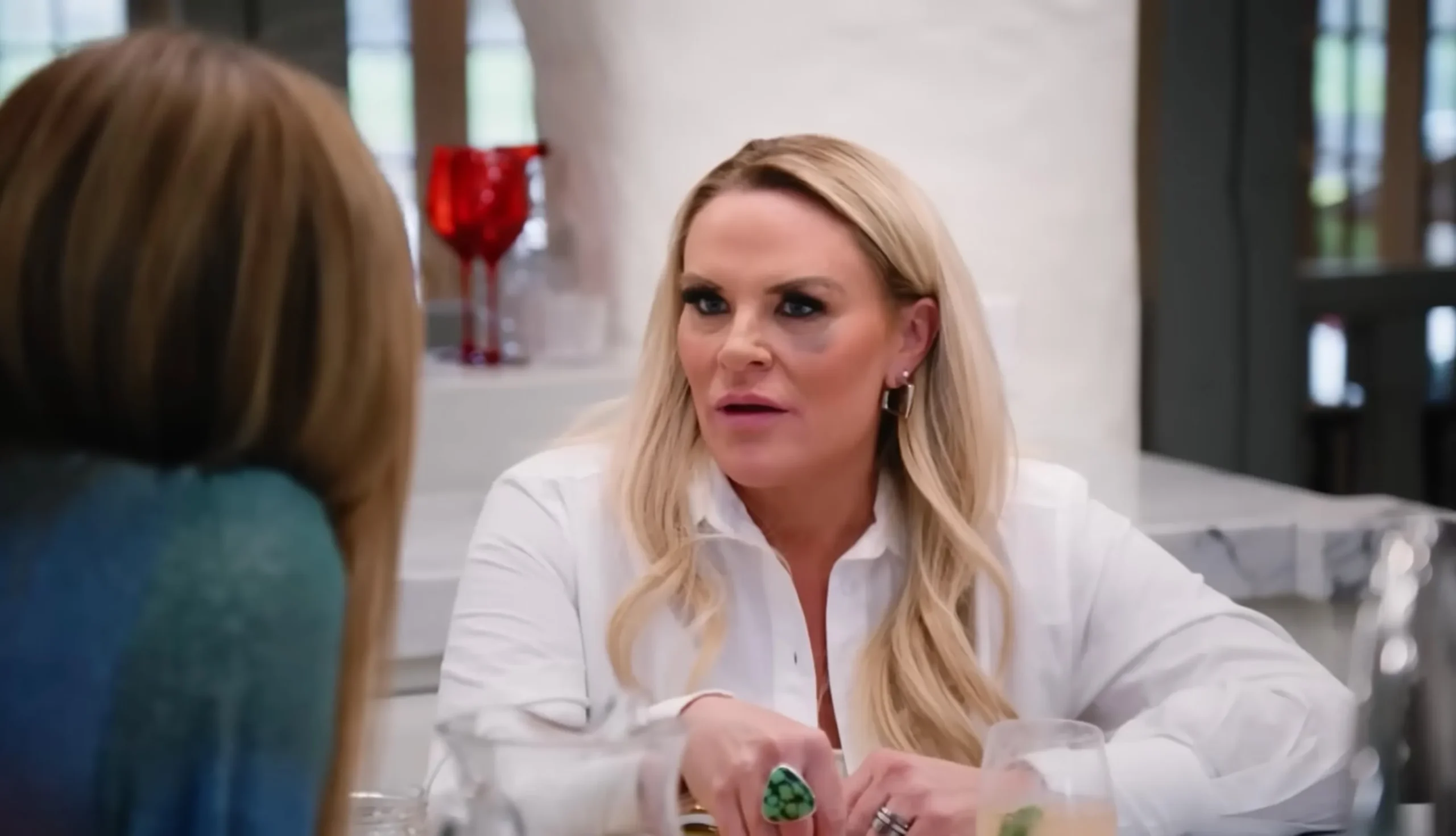 Heather received the shiner while on a cast trip to San Diego during a wild night of partying. RHOSLC fans swapped theories on social media about what could have caused Heather's injury, for the remainder of the season.
"I thought if maybe they knew, somebody would maybe say something," Heather said, adding that she had "started to remember" some things as the days passed. "I thought, 'Some people here knows.' … I assumed when I was on the show with cameras and cast, that somebody would give me the trigger that would make me remember. And I still don't know; I still don't know how I got it."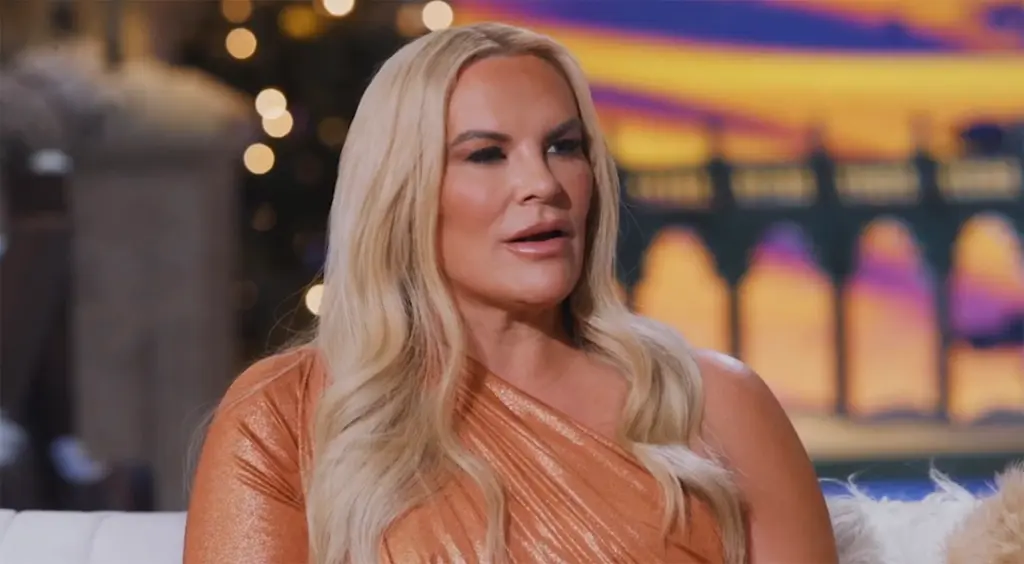 Cohen revealed that a network investigation came up empty due to having "no additional footage" from the pertinent timeline.
"It was humiliating," Heather shared. "I don't want to get drunk and blackout and have no memory of it. It was terrifying and it was humiliating. For me, I have a lot of Mormon shame about drinking."
Part 2 of The Real Housewives of Salt Lake City Season 3 reunion airs  Wednesday at 8 pm ET on Bravo.
Stay Connected With All About The Tea: Twitter Ι Instagram Ι YouTube Ι Facebook Ι Send Us Tips
Avigail is an Entertainment blogger at All About The Tea, who specializes in The Real Housewives of Atlanta and The Real Housewives of Potomac. Avigail has a background in marketing. She's a Brooklynite living in the Bahamas, with a passion for travel, writing, reality TV watching, pop culture and spoken word.