'RHOP' RECAP: Karen Huger's Cheating FINALLY Exposed … She's Been Doing This For Years!
Welcome back to a brand-new episode of The Real Housewives of Potomac! As the ladies continue celebrating Ashley Darby's birthday in Mexico, the ladies are getting ready for the day as Ashley dances in the hallway. Gizelle Bryant and Mia Thornton get drinks by the pool with a side of gossip. Gizelle has the bubble guts and is trying to push through it by bringing up the drama between Karen Huger and Charrisse Jackson-Jordan. Gizelle feels everything Karen said about Charrisse was a lie and Gizelle thinks Karen's jealous of Charrisse. When Mia doubts Gizelle's claims, Gizelle deflects by stating Dr. Wendy Osefo is jealous of Mia! 
Gizelle thought Wendy and Mia would talk since some time has passed, and she also thinks Mia's issues with Jacqueline Blake have gone too far. Mia thinks there's no going back with her best friend of 20 years and Mia admits that their argument was nasty on the plane. Mia thinks Jacqueline takes jabs at her without expecting Mia to react. Gizelle hopes the two can chat later and Mia wants to plan a bachelorette party for Miss Robyn Dixon. Gizelle wants some strippers and Mia makes it clear that she won't be dancing. Gizelle ask Mia's help finding the best strippers in town and Mia graciously accepts. Mia tells Gizelle that the girls plan to shop and see the city later as Gizelle sneaks bread out of her purse. Mia catches her and Gizelle admits that her stomach is giving her a run for her money, child! 
Mia and Gizelle laugh as we check out Wendy and Candiace Dillard-Bassett getting ready in their rooms. Robyn's chatting with her assistant about her upcoming wedding as Ashley meets up with Karen outside. The two are excited about their shopping trip as Karen struggles with her eyelashes. After the pair order drinks, Karen compliments Ashley on her trip. However, Karen's upset at Robyn for attacking her and doesn't understand why Robyn called her fake. Ashley tells Karen that when Robyn and Juan Dixon got divorced, Robyn was at her lowest and that Charrisse was really there for her. 
Ashley admits that Charrisse is an important person in Robyn's life and Karen gets upset and wants to stop talking about Charrisse. Ashley continues her point as Karen focuses on loyalty. Karen wonders why Robyn went so deep with her and attacked Karen's reputation. Karen voices that Robyn's wedding is fake and questions why Robyn doesn't want her parents in attendance. Ashley looks stunned as Karen reveals that there's a lot Karen knows about Robyn, including Juan's other woman. Ashley's shocked at the bomb Karen dropped and apparently Juan's girlfriend lives in Montgomery and the two openly date in Georgetown. Ashley wants clarification and Karen tells Ashley that Juan and this woman are dating! Karen reveals Juan's girlfriend looks like her and when Ashley asks for more, Karen clarifies that the woman also has blonde hair like Karen.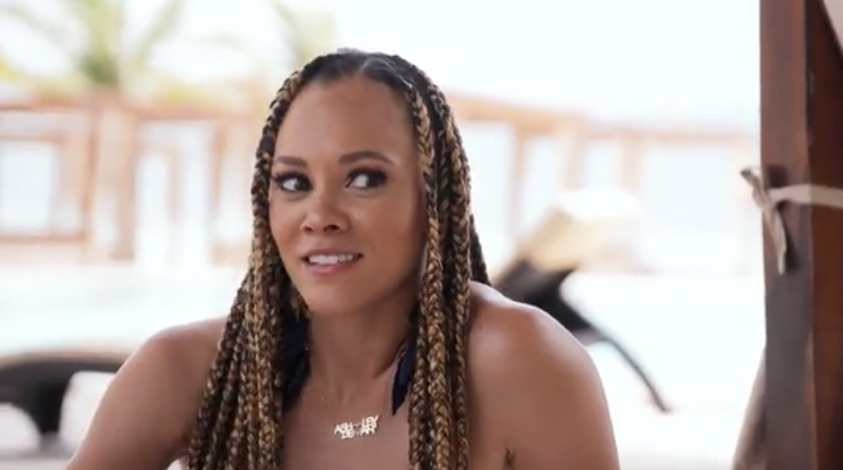 Ashley wonders if Robyn knows and Karen says "yes" and then clarifies that she thinks the two have some sort of arrangement. Ashley knows how Robyn feels when she's confronted with the possibility of Juan with other women and flashes back to when Robyn and Gizelle confronted Ashley at her restaurant. Karen wants to table this conversation until they get back to the group and Ashley voices her concerns in her confessional. Karen wants to talk to Robyn woman to woman and the two split up while Ashley waits for the other ladies. Charrisse and Jacqueline are chatting at the bar about Mia, and Jacqueline doesn't know if the two will get past it. Ashley talks to Wendy and Candiace about her recent conversation with Karen. Ashley reveals more truths are coming as Charrisse meddles from the opposite end. 
Ashley puts Candiace and Wendy at ease by stating that it has nothing to do with them, but you can tell their wheels are beginning to turn. Candiace and Wendy begin guessing who the news is about and eventually pick Robyn as the topic of discussion. Ashley tells the ladies that Karen feels Robyn disrespected her integrity and came left field with new information. Wendy and Candiace immediately know what's going on and soon hackle at what's to come. 
Candiace shades Ashley in her confessional and Robyn joins the ladies as they discuss her. Robyn hugs Candiace as Karen and Mia join the group. Ashley has quesadillas on the bus as Gizelle admits to spending a lot of time on the toilet. The ladies board the sprinter and Robyn wants to play a shady game. Robyn begins and the ladies pick Gizelle as the "Karen" of the group. Ashley has to pee, and Karen admits to watching a lot of porn. The ladies talk about their porn genre of choice as Charrisse questions Mia about her push-up bra. Wendy asks Candiace about her video reveal with Trina and Candiace says the ladies will see everything in about a month. The ladies arrive at the store to get their shop on.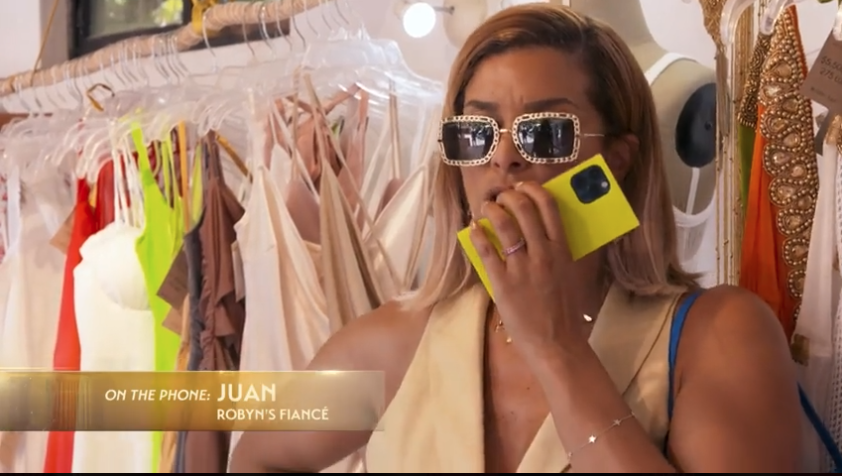 Afterward, the ladies go around the corner to a dream catcher shop as Candiace takes pictures. Ashley wonders if the group should get friendship bracelets and Mia states that the group needs to be friends first. Wendy chuckles at Mia's comment and Mia admits to wanting to like Wendy. The ladies chat outside the shops as Robyn tags along with Ashley to a nearby shop. Ashley uses this moment alone with Robyn to inform her of Karen's plans to expose Juan's alleged girlfriend. Robyn asks for more information and Ashley's hesitant at first but eventually spills the beans. Robyn appears shocked but laughs it off as Ashley continues explaining that everyone knows. Robyn claims to have never heard the rumors and wonders if Karen ever saw it for herself. 
Robyn calls Juan to ask him point-blank as Ashley stands nearby. After giving Juan the rundown, Robyn asks Juan if he's dating anyone else and Juan gets a bit irritated! Juan screams as he says Karen doesn't know him and explains that she doesn't go anywhere. Juan's going to curse one of them women out if they don't stop, and Ashley's listening to it all. Juan calms down after a while and says he appreciates Robyn before hanging up. Ashley doesn't want Juan to be mad at Robyn and Robyn states that Karen should've never opened this can of worms.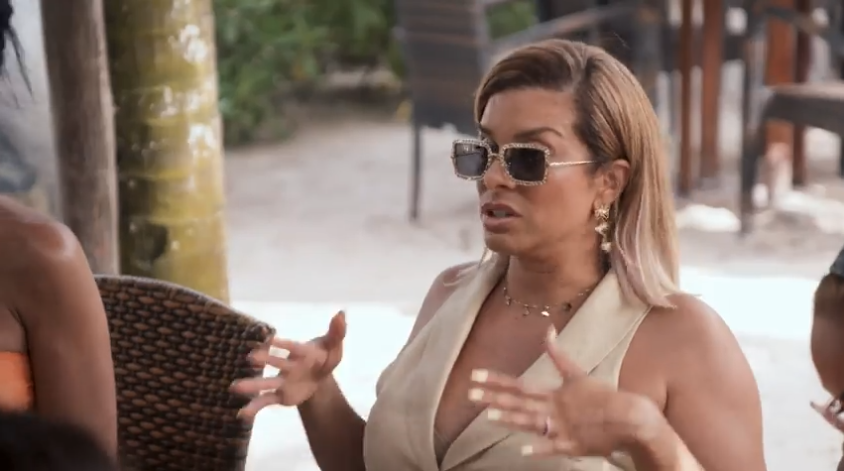 Robyn wonders if she's supposed to sit and cry about this information and laughs at the thought of Karen trying to take her down. Robyn says it's on and popping as the two leave the shop and head back to the group. Ashley takes the ladies to lunch as Candiace avoids the birds on the ground. Once everyone's at the table, Gizelle manages to make Mia sit next to Jacqueline as Karen, Ashley, and Wendy go to the bathroom. Robyn states that she's excited and drunk Charrisse joins in as Mia wonders what happened. Robyn tells Mia to wait, and Candiace discusses chatting with Ashley earlier about Karen's issues. Robyn thinks Karen's full of sh-t as producers make us listen to a flush from the bathroom. 
Robyn thinks Karen shouldn't be surprised at how she feels and thinks Karen's comments towards Charrisse were wrong. Karen and Wendy head back to the table as Robyn continues her rant. Robyn felt that Karen was very "mean-girlish" and Karen states that if Robyn would've stopped at speaking up for her friend, they'd be fine, but instead feels that Robyn went further than necessary. Karen won't allow Robyn to attack her integrity and claims she's not mean-spirited and that Robyn takes a shot at her every chance she gets. Karen reveals that she knows Robyn went around the group and told the ladies to watch out for her and states what is fake is Robyn's wedding!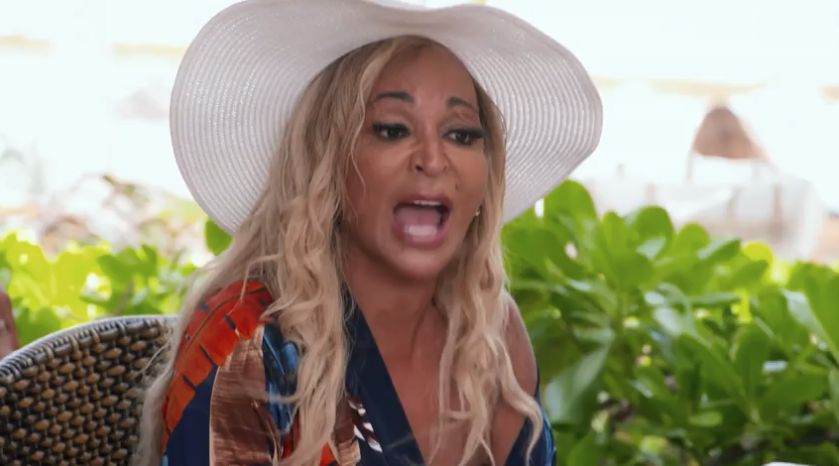 Karen says Robyn and everyone else knows about the blonde girl in Georgetown. Robyn denies it while Wendy and Candiace admit to also hearing about this rumor. Karen says people come to her all the time because Robyn continues to stab her in the back. Karen says she doesn't believe Robyn's getting married and tells Gizelle to shut up as Gizelle tries to defend her friend. Robyn says she's not getting married for them and Karen says she'd rather not know and soon Robyn begins yelling at Karen to stop asking! 
The two go back and forth as Karen shades Robyn about her "suspect" wedding. Robyn tells Karen what she needs to worry about is people who send actual pictures of Karen doing dirty. Robyn pulls out her phone and begins showing the table "Blue-eyes" as Charrisse giggles and Ashley tries to make the table toast. Karen admits to being at bars with a few people as Robyn continues busting Karen out. The food comes out as Robyn shows everyone but Karen the picture in her phone. Ashley asks if it's the driver from before and Karen continues denying all accusations. Ashley tells Karen it's a picture of someone from the back and Karen tells the ladies they can kiss her butt.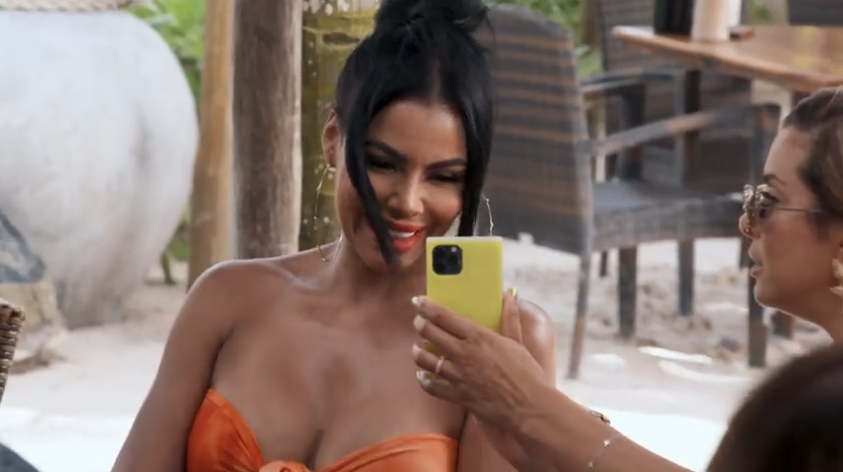 Mia thinks the picture looks like Karen and Robyn admits in her confessional that someone originally sent the picture to Gizelle. Karen continues laughing it off and claims that she's not talking to Gizelle's "Thou without a man" self, LOL. Robyn questions why Juan would be with a woman so close to home and tells Karen that Juan's ready to curse her out. Karen receives this and tells Robyn before he does, he should know Karen was trying to protect him. Robyn begins screaming again. Karen brings up the reunion where everyone wore white and claims Robyn stated she would have a threesome with Juan. A flashback shows Robyn saying the opposite and Karen continues with her side of the story.
Karen says that after the reunion, they all went to dinner, and she spoke to Juan, and Juan squeezed the heck out of Karen and told her he'd like Karen to be the third wheel. Robyn's irritated at Wendy laughing and Wendy screams when she hears Karen drop that bomb. Candiace laughs and tells Wendy to shut up playfully as Karen and Robyn continue going at it. Robyn says she doesn't care as Karen yells at Robyn to tell the group why she really doesn't like Karen. The table laughs as Gizelle defends Robyn and says Karen's claims are ridiculous.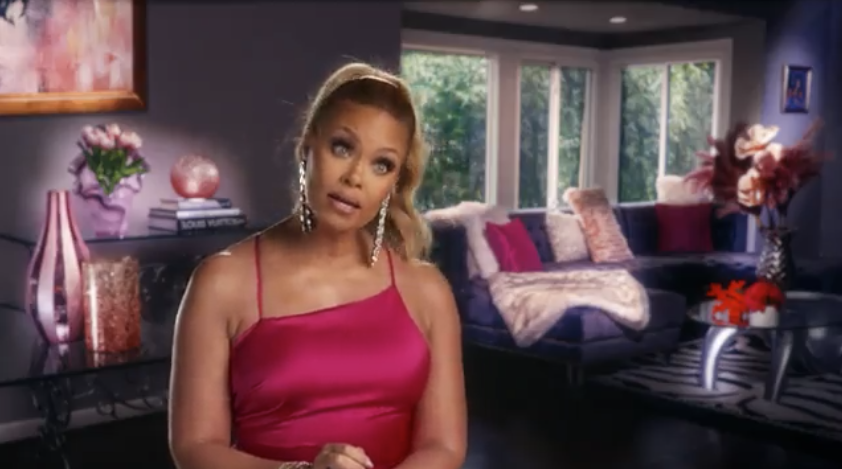 Gizelle wonders if Karen's saying that Juan wants to have sex with her and Karen states that Juan did make her feel uncomfortable. Robyn questions Karen's truth and the two continue going back and forth as the ladies keep eating. Gizelle remembers Karen sharing this experience with her but admits that she thought Karen was referring to Michael Darby. Gizelle thinks Karen's ego is blown and Gizelle wonders if Karen and Robyn are beyond repair. Karen says she's fine and doesn't want to be in the fake ish anyway. Candiace and Gizelle compliment the food as Gizelle tries to feed the group more shots. Gizelle toasts to receipts as Karen tells Gizelle to come stronger. After shots, the group is ready for a nap as Karen and Wendy thank Ashley for a wonderful trip.
Gizelle senses the peace and asks Jacqueline and Mia how things are between them. Jacqueline claims they're working through it and tells the group she refuses to discuss the topic with them. Jacqueline claims to be "above this" and states that she'll talk with Mia later. Jacqueline continues talking as Mia says, "Well shut up then." Jacqueline immediately gets upset and tells Mia that their friendship means nothing to her. Jacqueline goes off and claims that she's supported Mia with the girls and her claims of having cancer and then not having cancer. The table is shocked as Jacqueline continues hurling insults at her ex-bestie. Jacqueline brings up that her mom took Mia in, and Mia brings up that she was there as Jacqueline's mom was dying. Candiace tries to calm the situation down as Jacqueline calls Mia dark and ugly.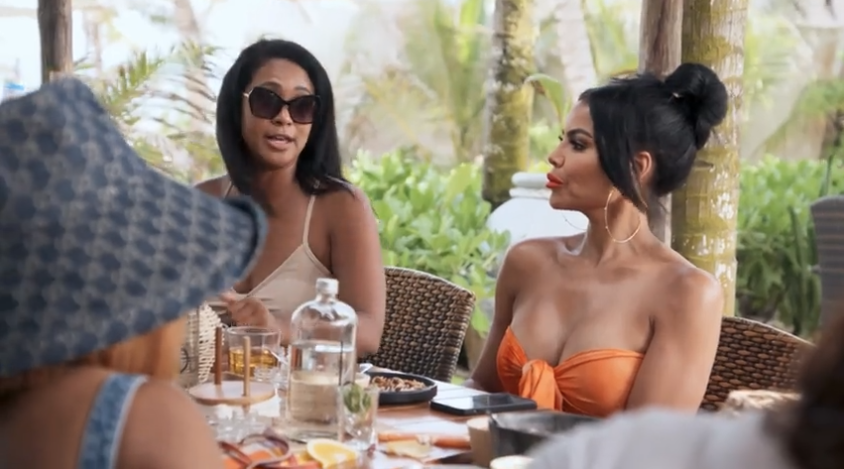 Jacqueline begins crying as she explains her mom creating space for Mia as Gizelle tries to mend things. Mia claims Jacqueline does this all the time and seems unphased by her friends outburst. Mia claims their other friend group doesn't want anything to do with Jacqueline because of this and Gizelle gets up to comfort Jacqueline. Mia says Jacqueline is exhausting her and Jacqueline moves away from Mia. Wendy's wondering what happened as Ashley questions how Jacqueline's getting back to the resort. 
Ashley voices that she's glad she doesn't have sisters and Mia uses this opportunity to be transparent with the group. Mia tells Wendy that she has a soft spot for her in her heart and that she really wants to like Wendy. Wendy receives it as Mia tells Wendy how beautiful her family is and doesn't want their friendship to suffer because of insecurities. Wendy wonders what Mia's talking about and offers to talk to Mia one on one for clarification. The two squash their beef for now as the group leaves the restaurant. At the bar, Jacqueline claims her sister's going to curse Mia out as Charrisse and Candiace comfort her at the bar. Jacqueline states that she can't be around Mia and Mia thinks Jacqueline's searching for attention. Jacqueline states she's going to f—k Mia up as the group heads back to the sprinter.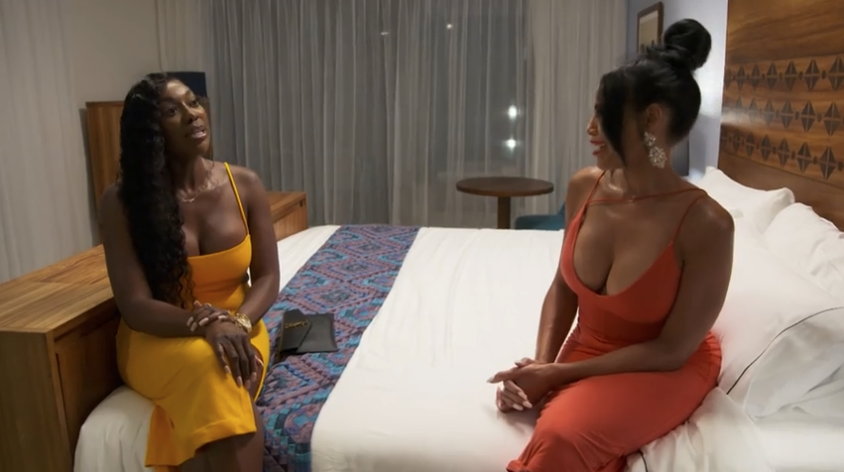 Later that night, Wendy goes to Mia's room as she's getting dressed. Wendy compliments Mia's room as the two sit to talk. Mia questions whether Wendy showered as Wendy wonders what Mia has to say. Mia states that she likes Wendy and doesn't know where things went wrong. Wendy had to remind Mia that she threw a drink at her. Wendy feels throwing a drink is the equivalent of spitting on someone and Mia apologizes again. The two chat about their husbands and friendship and it seems the two have settled their differences, for now. Mia and Wendy hug it out and head to dinner. 
Two hours later, Ashley wants to have a nice dinner to close out an amazing trip. Mia showed off her monkey noises as the girls had a decent dinner for once. After dinner, Ashley tells us the girls went to the bar and began showing each other their panties. According to Wendy, Mia got too faded and told Wendy she'd like to eat her box! Candiace can't remember if that happened and now we're all wondering what the real deal is, LOL. Be sure to come back next week for more of The Real Housewives of Potomac! 
Stay Connected With All About The Tea: Twitter Ι Instagram Ι YouTube Ι Facebook Ι Send Us Tips
LeAndra Williams is a content contributor at All About The Tea. She's a social worker and (super) mom by day, and a reality T.V. junkie by night.