'RHOP' RECAP: Karen Huger's Rehab Stint and Cheating Put On Blast
Welcome back to a new episode of The Real Housewives of Potomac! We're in Mexico where an explosive argument erupted between Karen Huger and Charrisse Jackson-Jordan! The two ladies are cursing each other out as Dr. Wendy Osefo and Candiace Dillard-Bassett calm Karen down. As the ladies sit back down, Charrisse mocks Karen and Karen gives Charrisse a fake apology to move on. Candiace asks Karen what about Charrisse being at the funeral upset her, and Karen replies that she was upset once Charrisse brought it up a year later. Karen doesn't feel like Charrisse attended the funeral for any other reason than for her own gain. 
Charrisse explains her side to Robyn Dixon and, of course, thinks Karen wants the other ladies to believe Charrisse has ill intentions. Robyn tells Karen that she's been lying to the group about being "cool" with Charrisse, and Karen tells Robyn that was her reason for being upset with Charrisse. The food comes out as Karen and Charrisse continue yelling at each other and the ladies look on. Charrisse brings up friends from Karen's past that no longer deal with her, and Karen continues paying Charrisse dust! In her confessional, Charrisse states that Karen had a drinking problem and once went to rehab. Karen makes a comment about going to "Safeway" and Karen calls Charrisse dusty and jaded.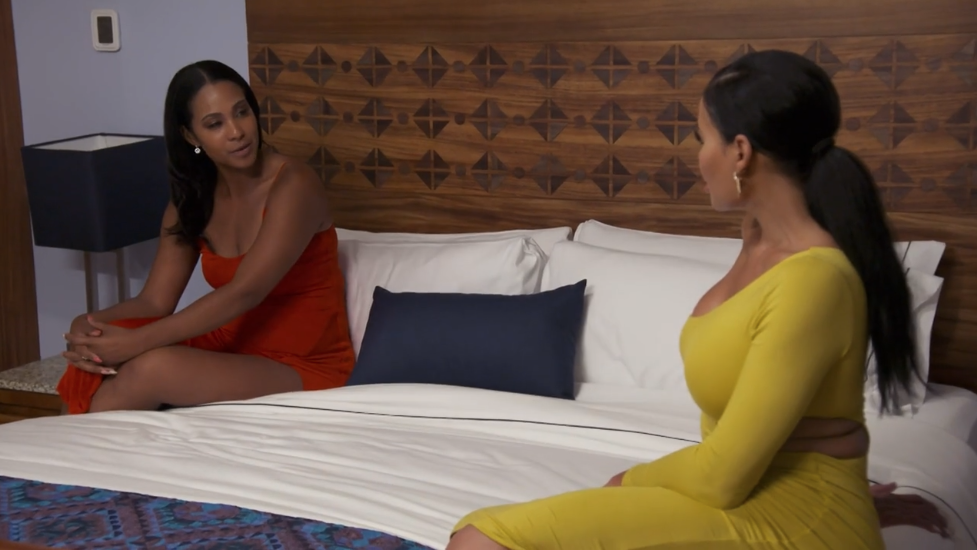 Robyn says that she knows about Karen's supposedly boyfriend while Candiace says, "no comment." Ashley tries to calm things down as Wendy asks to wrap her food up. Robyn comments that the shaman didn't work, and Ashley says, "healing isn't always pretty." Gizelle Bryant mocks the argument between Karen and Charrisse as Ashley continues talking nonsense. Candiace deflects and changes the subject to Jacqueline Blake and gives her a chance to voice her grievances with Mia Thornton. Jacqueline wants to talk later, and the table accepts while the ladies depart. Thirty minutes later, the girls are dancing and having a good time while Mia and Jacqueline sneak off to chat. Candiace, Ashley, and Wendy are dancing to Candiace's song in the hotel's lobby bar while Jacqueline tells Mia that her comments to her were unacceptable.
Jacqueline doesn't understand why Mia would take their issues to this level and why Mia insinuated she'd sleep with Gordon Thornton. Mia plays dumb, claiming to be helping Jacqueline, but Jacqueline tells Mia to own her ish. Jacqueline brings up that Mia slept with Gordon Thornton while he was married, and Mia admitted to it, saying that she accepts her past. Jacqueline says that Mia sold her soul to the devil and calls her a b-tch while Mia leaves the room. The next day, the ladies are getting ready while Karen and Jacqueline eat breakfast downstairs, separately. Gizelle and Mia meet Ashley on the beach and Ashley has an activity for the girls.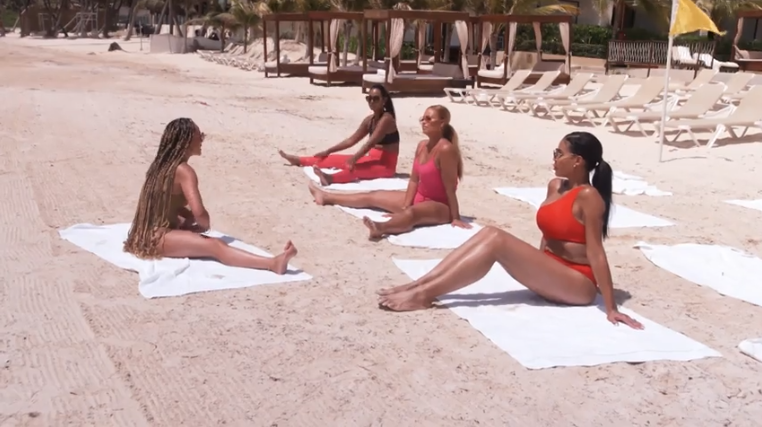 Karen's not interested in joining and Robyn's skeptical although she gets ready to join. Candiace meets Karen outside near the pool and Candiace tells Karen about Mia and Jacqueline taking time away to chat. Mia takes a corny video of Gizelle in the ocean as Jacqueline arrives to partake in Ashley's activity. Jacqueline says in her confession that Mia used to be more down to earth but has become vainer and Jacqueline doesn't trust her. Ashley calls for Candiace to join from the sidelines and Candiace ignores Ashley as she continues talking to Karen. Candiace asks how Karen's hands are doing from last night and Karen doesn't remember hitting the table. 
Candiace asks how Karen and Charrisse will be from here on out and Karen agrees to be cordial with Charrisse. Ashley has the ladies doing some type of exercise that will help in the bedroom and the ladies seem to be into it. Ashley instructs her three-group class as Gizelle complains in her confessional and Mia talks about not using her vibrator until she gets home to Gordon. Ashley has the ladies doing all sorts of moves as Gizelle doesn't take it seriously and Karen and Candiace head inside. Ashley thanks the ladies for participating and informs them of their next adventure, while Robyn and Charrisse join the ladies.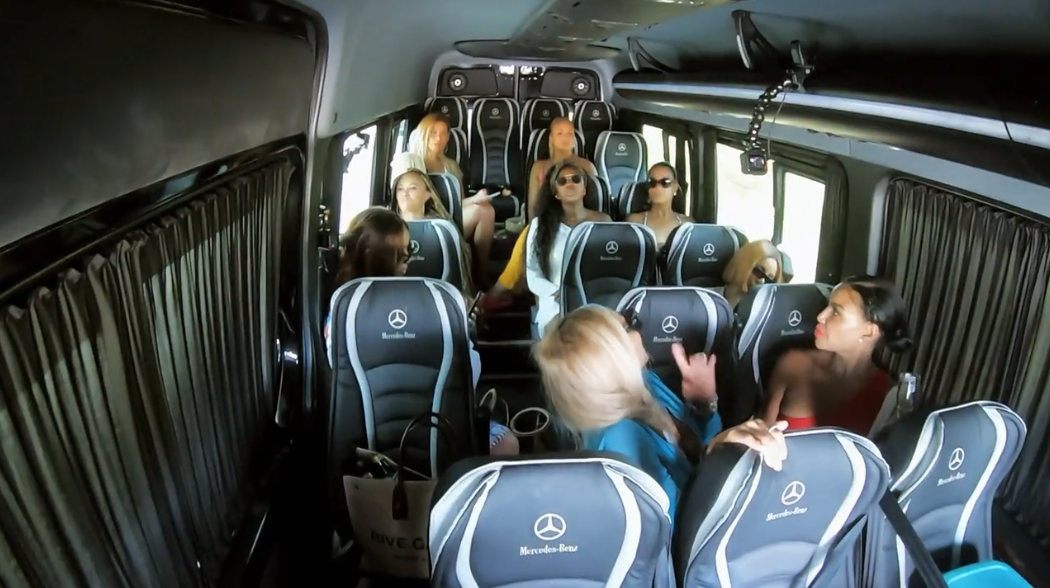 Karen and Candiace walk up after the class is over, while Charrisse calls Karen "fake" to Gizelle. The ladies gather in the sprinter to head to Ashley's second adventure as Karen sits with Mia. Karen comments about the energy between Jacqueline and Mia and then follows up with Robyn, asking why she isn't wearing the veil. Robyn reiterates that it flew away. Karen uses this time to ask when Robyn's wedding date is, and Robyn tells Karen that it's none of her business as she continues holding that information to herself. The group makes it to the Cenote and Ashley's excited for the group to get some spiritual healing. Candiace is already hating the mud as the tour guide explains the four gifts the Cenote is said to give. Karen and Gizelle go in slowly while Ashley jumps in! 
The ladies are all having a good time, but before long, the mosquitoes start to tear them apart! Jacqueline wonders if there are parasites in the water, and the mosquitoes are doing the Lord's work while they work on Gizelle's butt. Karen and Candiace fall victim to the bugs, as well, and soon, the ladies head off to lunch. The ladies arrive at the taco bar and are excited to eat while Karen orders first. The ladies get their food and take a seat before diving into the drama for the day. Ashley tells the group that things have been great and wonders if the group liked the shaman. Robyn thinks theirs a number of pockets that need healing. Karen asks Candiace how her relationship with Ashley is going and Candiace's face tells it all!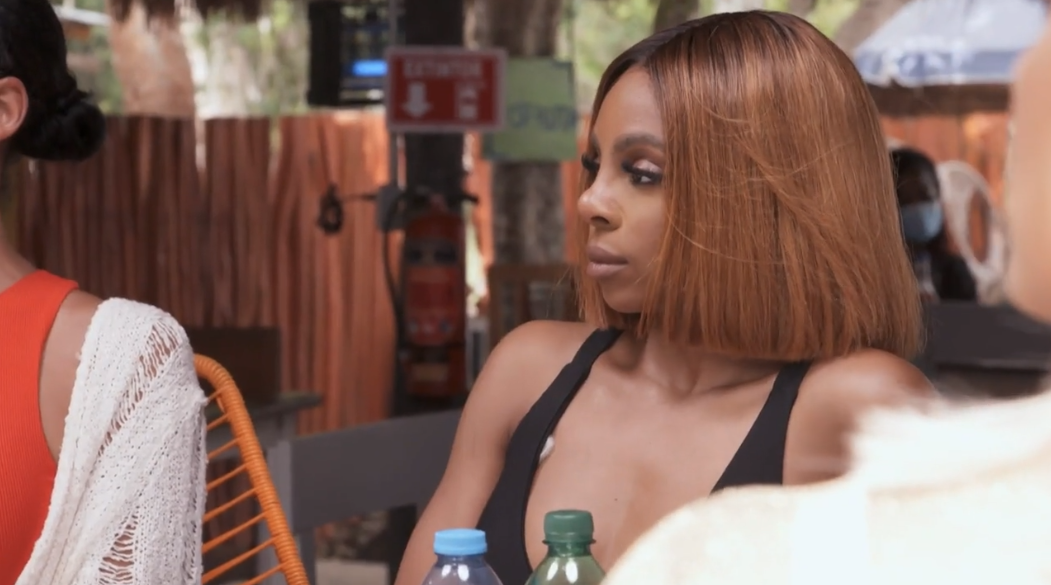 Karen wanted to bring it up because it happened at her show and Ashley brought Deborah Williams to talk to Candiace. Karen asks if Ashley regrets bringing Deborah to the show, and Ashley continues by saying that "she'd want to know." Candiace says the way Ashley thinks about relationships is toxic because of the issues she went through with Michael Darby. Candiace plays nice and tells Ashley that she wants her to have a better relationship with men while Wendy makes noises supporting Candiace's nice read. Ashley claims that she understands they both approach situations differently and apologizes to Candiace for bringing Deborah, especially if it was harmful.
Candiace feels like she and  Ashley get to a good place and then Ashley sabotages it. Candiace also feels like Ashley isn't genuine and Ashley admits to holding resentment towards Candiace for her past comments. A flashback shows Candiace's insensitivity after Ashley had a miscarriage. Wendy steps in and states that when the three of them are around each other, they have a great time while Mia shadily looks at herself in the mirror. Ashley and Candiace agree to take baby steps as Karen thanks the group for making progress. Later, Charrisse and Ashley are chatting at the bar and Ashley brings up the argument from the night before.  Ashley tells Charrisse that she's proud of the way she held her own against Karen and Charrisse continues telling her side of the story.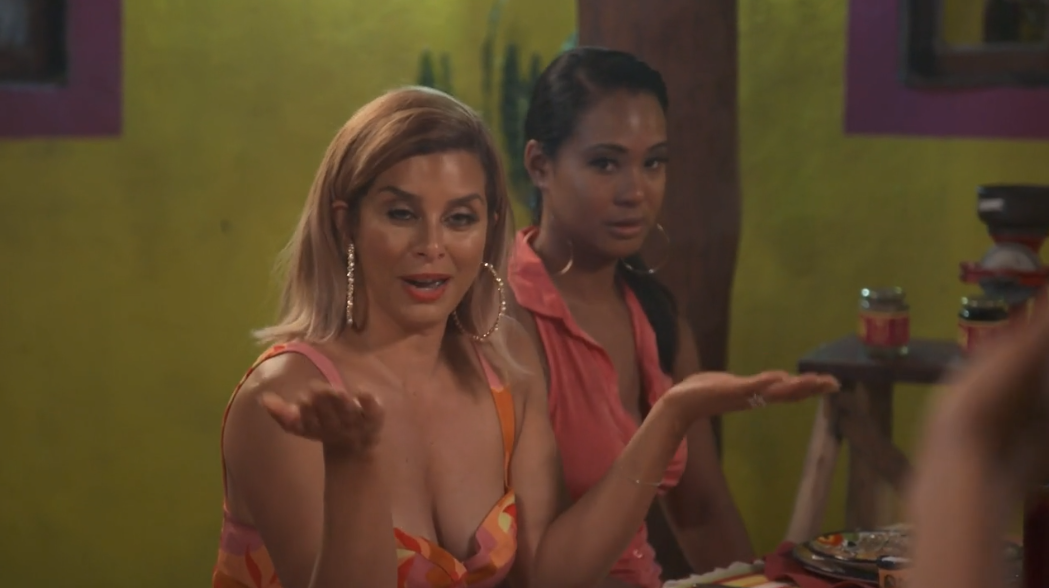 Charrisse claims in her confessional that Karen wrote a one-line text to her when her father died. Karen is fixing her hair while Wendy's taking a quick nap. Mia's checking in on her kids while Ashley chats with her boys via FaceTime. The ladies are ready to eat and head to the sprinter for dinner. The ladies look beautiful as the hostess takes them to their seats and Gizelle compliments Ashley's restaurant choice. After the first course, Ashley brings up Robyn's wedding, and Robyn hesitantly talks about not knowing if she needs a wedding. Gizelle puts her head down in embarrassment. 
The girls look confused as Robyn clarifies that she doesn't want a traditional wedding. Robyn tells the girls about the suit maker coming to the house, and she tells the ladies that she and Juan will get married in Jamaica. Robyn tells the ladies that she's getting married the day after her brother-in-law's wedding and still decided that it'll only be the four of them — Robyn, Juan, and their son — in attendance. The girls shade Robyn in their confessionals and Mia asks if they can have a bachelorette party. Robyn agrees and the ladies celebrate! The food comes out as the table takes a shot. Charrisse looks sour face as Gizelle begins talking, SMH.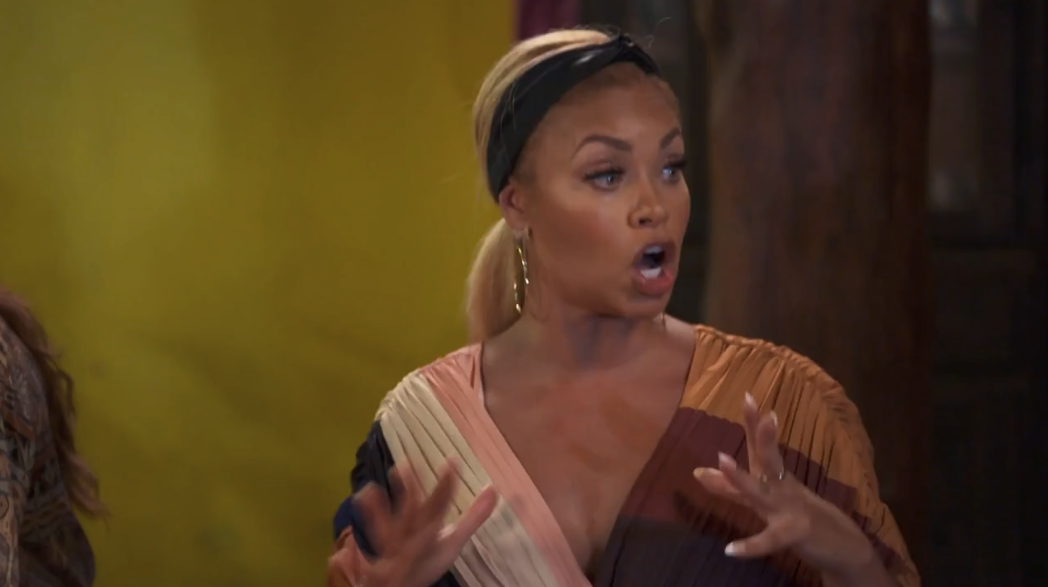 Gizelle states that the argument between Karen and Charrisse didn't sit well with her and that Charisse's character was assassinated. Gizelle talks good things about Charrisse as we get a flashback of their friendship. Gizelle states that if there's a Potomac queen, it'll be Charrisse. Karen tells Gizelle that since it involves Karen, to stop and that there's nothing else to discuss. Gizelle tries to continue while Charrisse sits silently, then Robyn jumps in. Robyn says that they are all held to the fire and that Karen wants to be off limits. Karen is disengaging and tells Robyn that she's talking to herself. Robyn says a bunch of nothing and claims that Charrisse was offering a secure gesture in Karen's time of grief. Karen is once again triggered. 
Karen tells Robyn not to talk about her mother and that her mother is her grief. Charrisse begins slurring her words while saying she understands grief. Charrisse states that she worked her butt off to put the girls together in the first place. Karen admits she wasn't on the list and Charrisse claims someone recommended Karen and that's why she's here. Robyn claims Karen doesn't like that Charrisse connected all the girls and Robyn claims Karen doesn't want Charrisse around. Karen states that she calls it as she sees it, and Robyn calls Karen a "bullsh-tter."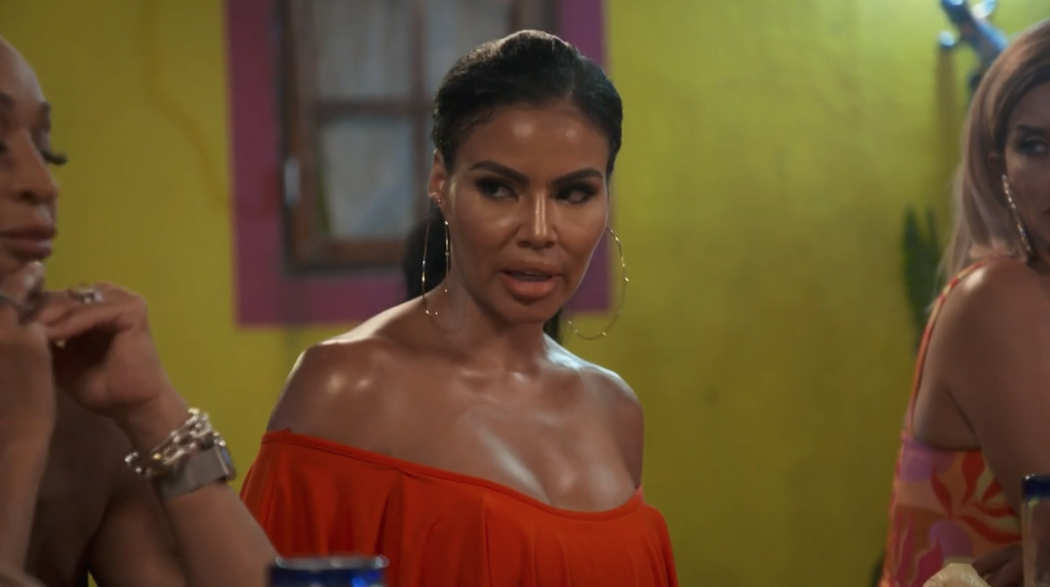 Robyn claims that Karen dances around issues and Karen says, "Okay Robyn." Robyn is stretching this issue out and says Karen's not being honest … but Robyn's not even honest with her own relationship! In her confessional, Karen says that Robyn sounds stupid and admits that Charrisse has some things on her before apologizing to the group. Robyn comments on Karen's non-apology towards Charrisse, and Candiace brings up that Mia apologized to the group but not to Wendy for throwing a margarita at her face. Mia claims that she's not sorry and Wendy tells Mia she assaulted her. Mia asks Wendy if she knows what defamation of character is and Mia claims that Wendy doesn't know how to be a friend. Wendy tells Mia she can't even be a friend to someone (Jacqueline) for over thirty years. Wendy continues telling Mia that she jumped to conclusions as Mia accuses Wendy of calling Gordon gay. Mia wants Wendy to admit that she said Gordon sleeps with other men and Wendy brings up that Mia slept with Peter Thomas's girlfriend. 
Mia tries to make it seem like Peter had her sloppy seconds and Candiace calls Mia a h*e in her confessional. Wendy continues arguing her point as Mia gives Wendy a fake apology. Mia rolls her eyes. Wendy tells Mia that she has real things to lose while calling Mia a "gutter-a**b-tch." Wendy doesn't accept her apology while Mia claims that Wendy's pretending. Wendy tells Mia never to do that again and they continue to fight while Candiace tells the group to table it. Wendy continues mocking Mia as she walks away and wonders to Ashley why Mia's so pressed. Be sure to come back next week for a brand-new episode of The Real Housewives of Potomac! 
Stay Connected With All About The Tea: Twitter Ι Instagram Ι YouTube Ι Facebook Ι Send Us Tips
LeAndra Williams is a content contributor at All About The Tea. She's a social worker and (super) mom by day, and a reality T.V. junkie by night.