Kathryn Dennis Stripping On OnlyFans After Being Fired From 'Southern Charm'
Kathryn Dennis has turned to OnlyFans to bring in income after being cut from the cast of Southern Charm. 
While Kathryn has yet to address circulating speculation about her departure, she wasted no time getting up and running on OnlyFans. The mom of two linked her Twitter and Instagram bios to her OnlyFans account, which offers monthly subscriptions for $14.99 as well as subscription bundles. Users can sign up for three months for $40, six months for approximately $70 and a year for roughly $125.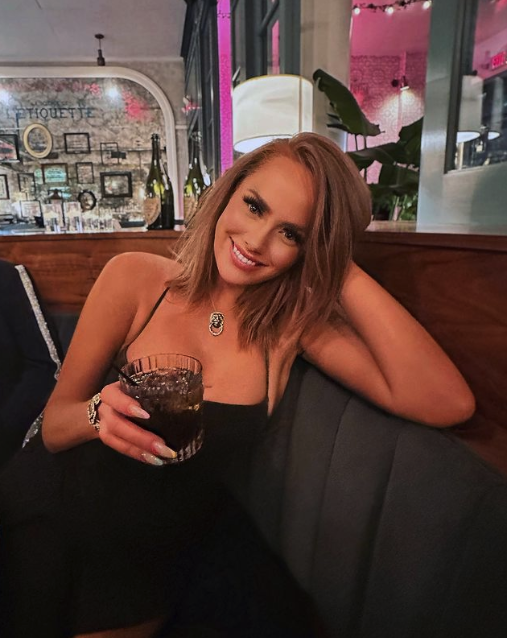 "Hey you, your fav ginger here 😉 You probably know me from Southern Charm on Bravo but you don't know the real me — at least not yet," her OnlyFans introductory pitch reads. "I've been on TV since I was 21 and just turned 31! Now that I have a place where I can be free to be all of me and taking reign of my 30's, I'm super excited to be able to express myself in ways that I haven't been able to over the last 10 years."
"I feel like I am finally discovering myself again and am excited to share the journey with you," her message states. "Wings grow strong once the cage is gone."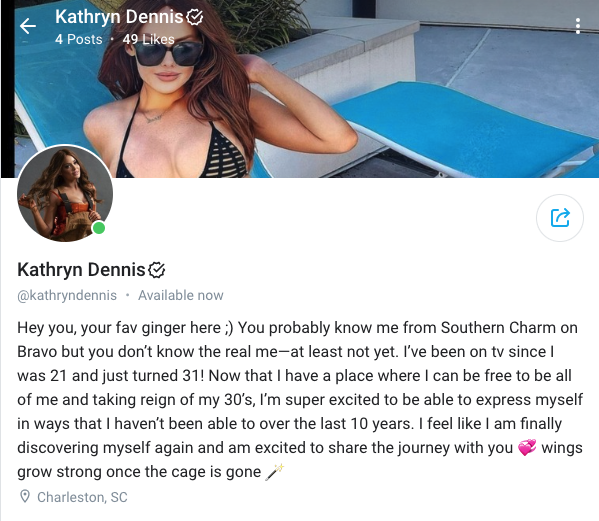 Kathryn has shared six photos and one video with her subscribers since launching her account. 
Kathryn was an original cast member of the Charleston, South Carolina-based show, which debuted in 2014. Fans watched her rollercoaster romance with the father of her two children, Thomas Ravenel, before the developer left the show and Kathryn moved on with Chleb Ravenell.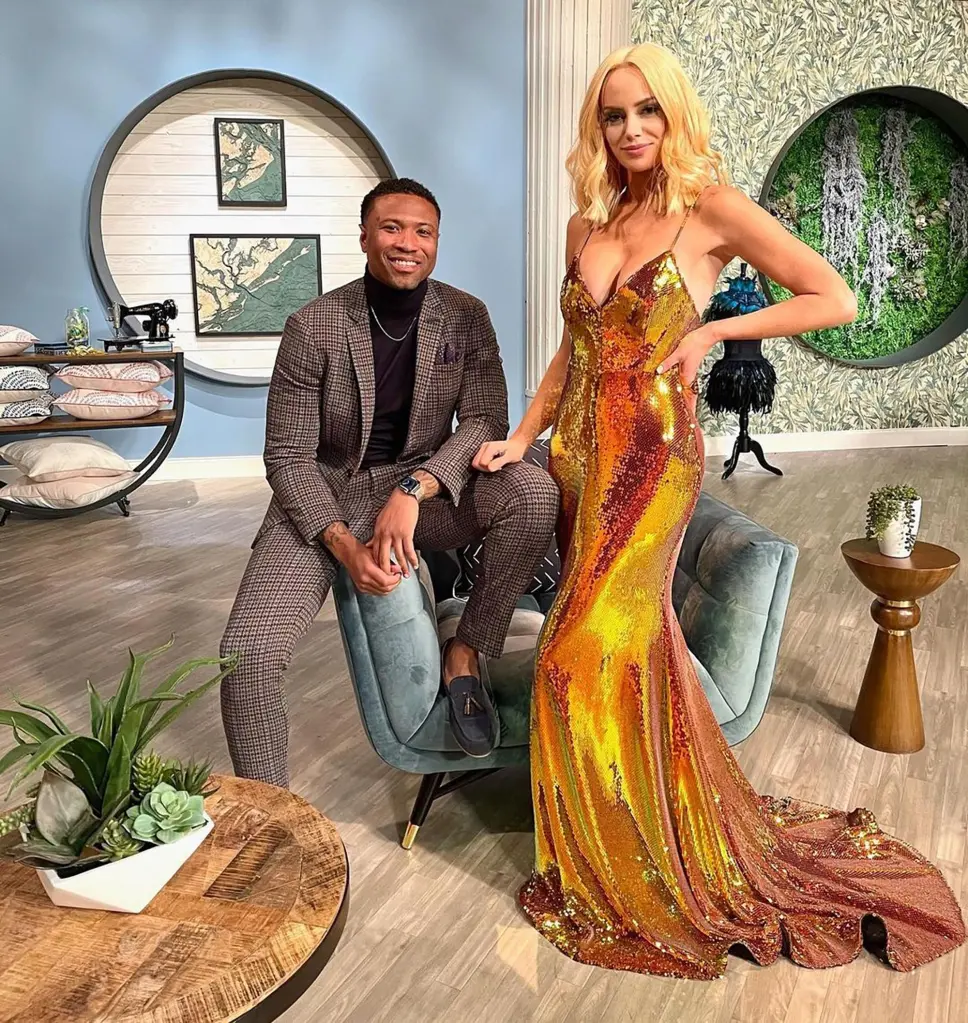 While multiple reports alleged that the network cut ties with Kathryn due to an alleged poor work ethic and mistreatment of staffers, AllAboutTheTea.com got the complete inside scoop from an in-the-know insider. 
The snitch dished that Kathryn became too large a liability after she accused her ex, Chleb Ravenell, of physical assault. 
"Kathryn accused her ex-boyfriend, Chleb Ravenell, of physically assaulting her, and the allegation caused a firestorm for production," the source claimed. "Kathryn told producers that Chleb punched her in the face during a heated argument, which resulted in a black eye and swollen jaw. Bravo conducted an investigation, and at the conclusion of their investigation, Chleb was fired from Southern Charm. Later, Kathryn was also fired because of the legal liability the allegations pose. They can't really prove Chleb assaulted her, and her injuries could stem from fillers and Botox."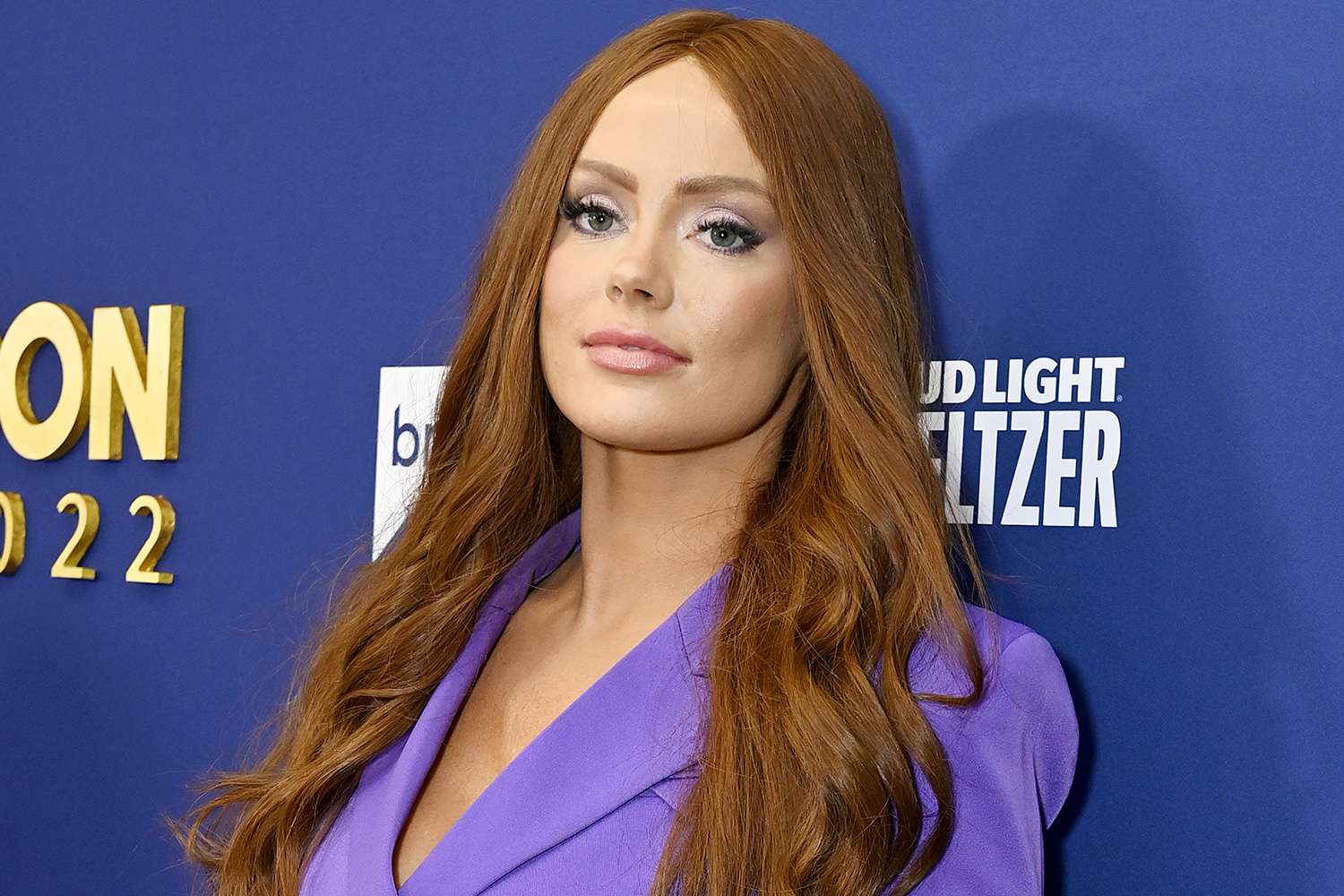 Producers purportedly "pulled the trigger" after the dicey domestic violence allegations, after becoming tired of Kathryn's unprofessional antics during filming season.
"Kathryn's mental health issues and drug use was affecting her ability to show up and do her job effectively," the insider explained. "Cast members and producers became fed up with her total disregard for their time, constantly missing events or showing up late, and random unprovoked outbursts."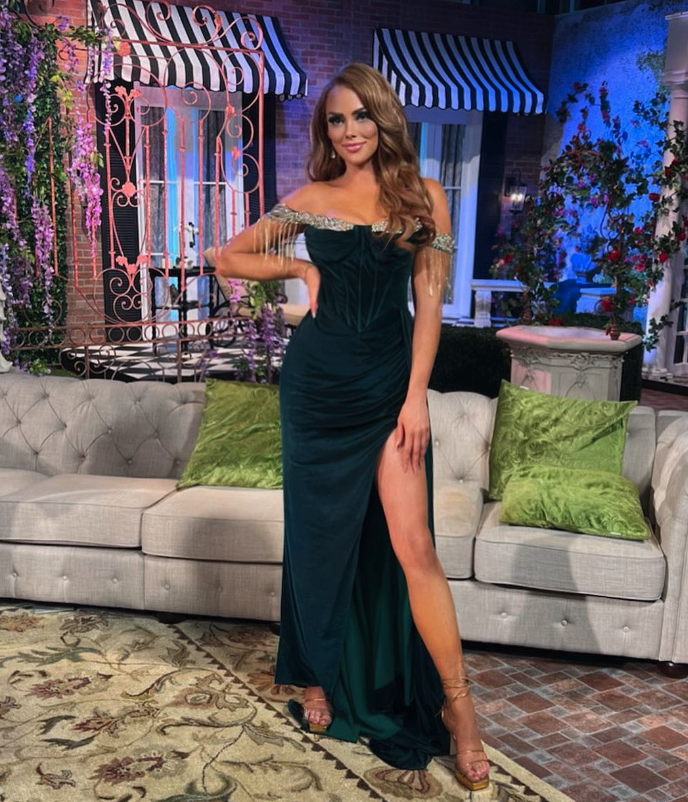 Kathryn confirmed her exit in a statement to Page Six. 
"What a wild ride it's been!" Kathryn told the outlet. "Can you believe I was 21 when I first started filming 'Southern Charm,' back in its first season? That was in 2013, and in the decade that followed, it's safe to say my life changed in ways I could never imagine."
She went on—"It hasn't always been easy, but I'm so lucky to have had reality cameras there, capturing so many moments that I'll never forget (and a few, even, that I'd like to)."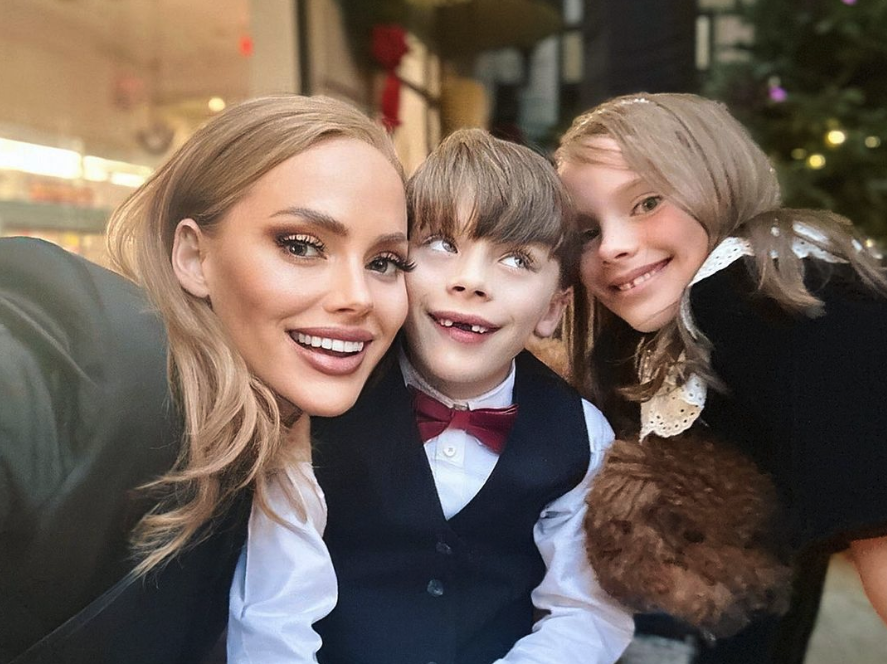 The Bravo star thanked the viewers, who watched her "grow up," and build friendships she will "always treasure" and "become a mom to two amazing children."
She concluded—"And through it all, the love y'all have shown for me not only gave me the strength I needed to tackle it all, but helped me realize that I wasn't alone. I'm so grateful. I'll be carrying that love with me as I enter this next chapter of my life, away from the 'Southern Charm' lens."
Stay Connected With All About The Tea: Twitter Ι Instagram Ι YouTube Ι Facebook Ι Send Us Tips
Olivia Davis is a Staff Writer at All About The Tea. Olivia's hobbies include binging Netflix series, and watching Housewives on Bravo. She graduated from San Francisco State University with a degree in History.