Kenya Moore Faked Her Scenes On 'Special Forces: World's Toughest Test' … Stunt Double Exposed
Kenya Moore is being accused of using Hollywood tricks to pull off her role on the Fox new series, Special Forces: World's Toughest Test.
The Real Housewives of Atlanta personality stars alongside 15 other celebrities on the new reality show, which the network describes as the "ultimate celebrity social experiment." The plot involves participants enduring brutal training challenges under the leadership of ex-Special Forces operatives.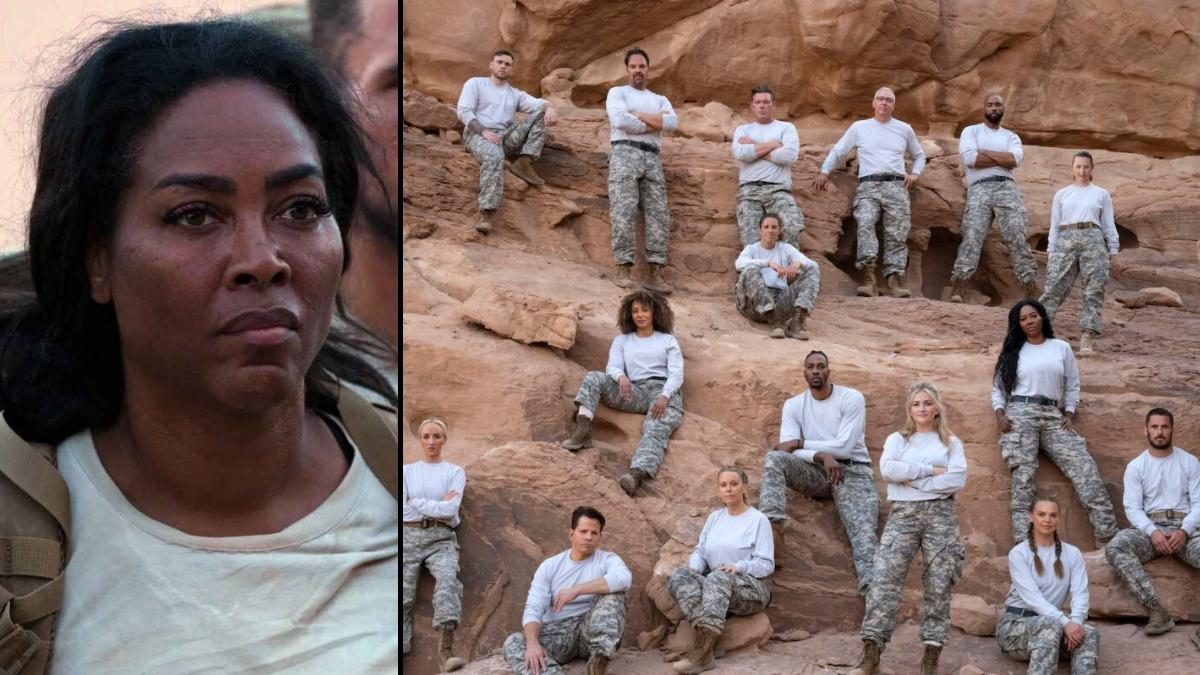 "You wouldn't believe me until you see it with your own eyes," Kenya wrote on Instagram about one of her harrowing experiences. "This show was one of the hardest things I've ever had to do in my life and it was all real no stunt doubles just us. In Amman Jordan in the Middle East—- in the desert in the Summer."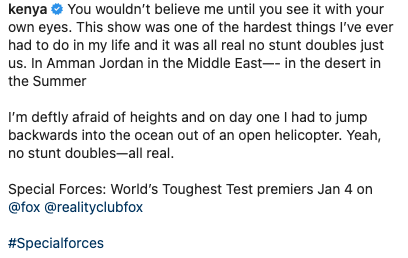 The cast includes Kate Gosselin and Hannah Brown, athletes, Danny Amendola, Dwight Howard, Carli Lloyd, Mike Piazza, Nastia Liukin, and Gus Kenworthy, singers, Mel B and Montell Jordan, actors, Jamie Lynn Spears and Beverley Mitchell, reality TV doctor, Drew Pinsky, celebrity chef, Tyler Lawrence, and former White House communications director, Anthony Scaramucci.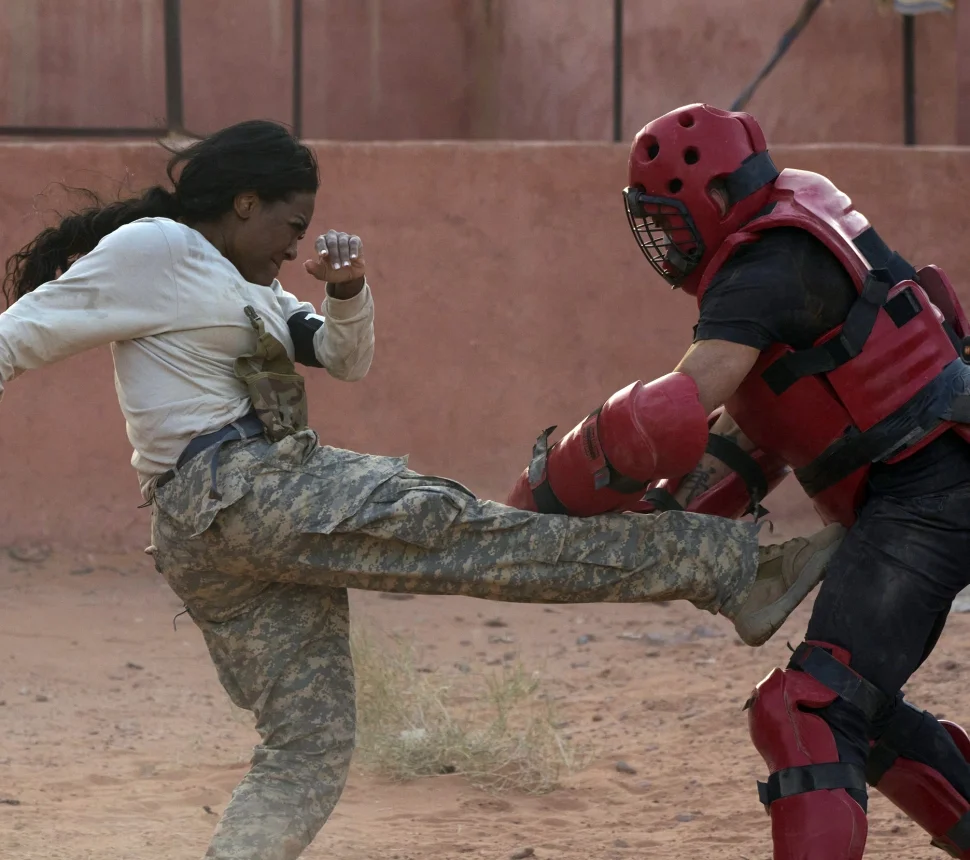 The Bravo star spoke to Fox 5 Atlanta about why she wanted to take on the grueling challenge.
"I wanted to prove something to myself, that I am as tough as I think I am but I wanted to show my daughter that I not only talk the talk but I can walk the walk," she said. "I just want to be an example for her in terms of what she could do in life."
The show will feature each celebrity tackling one of his/her biggest fears.
"I was almost disabled by a fear of heights," Kenya said. "I have this incredible fear of heights and I felt like if I could overcome that, maybe with this show, it kind of taught me mind over matter."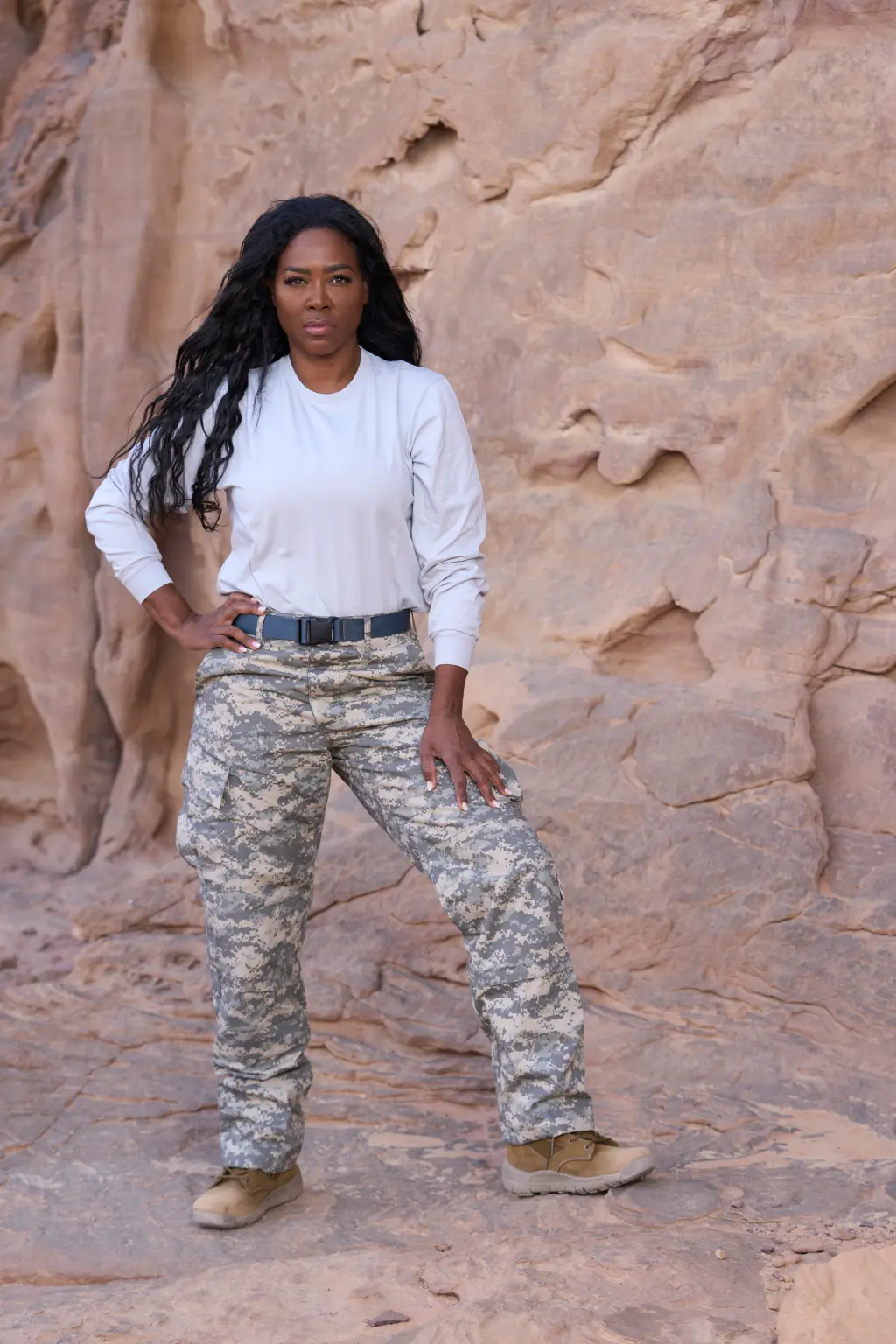 Some fans aren't convinced that Kenya is always the star of her own "Special Forces" narrative.   
The Neighborhood Talk shared a clip of the show on Instagram, which featured Kenya fighting off a padded-up attacker in a self-defense challenge.
"I just believe in being able to defend yourself," Kenya told cameras. "I mean, I'm from Detroit, you gotta know how to fight." 
Eagle-eyed fans picked up a spot in the video that supported the idea that  Kenya was not the only fighter in the footage. Many users spoke up in the post's comment section about what appeared to be an exposed stunt double.   
One user asked—"She turned white mid-fight?😂😂"
Another said—"That stunt double that they used is wild! 😂😂😂😂"
A third person noted—"I saw a white woman for a second …"
One fan laughed—"Does that stunt double look non-black to y'all or is it just me? Lol"
Another commenter quipped—"I saw that white woman on the the lil tussling part….but Ian gone say nothing!"
A fan added—"The white stunt double has me crying 😂😂😂"
One user wrote—"The stunt double knows how to Fight stop playing so much."
Another chimed in—"Ummmm i saw a Caucasian women at the 10 second mark 👀"
Special Forces: World's Toughest Test airs Wednesdays at 9 pm on Fox.
Stay Connected With All About The Tea: Twitter Ι Instagram Ι YouTube Ι Facebook Ι Send Us Tips
Raissa Asunbo is a Content Contributor at All About The Tea. She lives in Toronto, Canada and enjoys reading, watching movies, traveling and spending time with her family.