'90 Day Fiance: Happily Ever After?' Season 7 Tell-All Recap: Angela Sobs, Big Ed & Liz Split, and More Bombshells
'90 Day Fiance: Happily Ever After?' Season 7 Tell-All Recap: Angela Sobs, Big Ed & Liz Split, and More Bombshells
Angela Sobs Over Michael's Betrayal
Angela Deem and Michael Ilesanmi's marriage hangs by a thread on Part 2 of the 90 Day Fiancé: Happily Ever After? tell-all special. Angela, 57, breaks down in sobs as Michael, 30, explains a recorded message that revealed his voice expressing love for another woman. 
Previously, Angela was infuriated to learn that Michael had been cheating on her after someone sent her the incriminating voice message. Angela, once again, wonders if her marriage had been worth the pain, in a preview clip from Sunday's episode. She makes it clear that it was hearing Michael say "I love you" to another woman that hurt the most. 
"I was over there and he was in my bed when he did that — when I'd go downstairs," Angela says in the sneak peek. "I found out that he was doing this the whole time that — when we made up. He knew what he was doing."
Michael tells his wife "it's ok," but Angela just isn't having it.
"It's not okay, Michael," she says. "You're a lying son of a bitch. I protected you for four years, and I know you did stupid s—, but when you [cheat], there's no way you can f—ing love me."
Angela continues, "When you're telling another bitch that you love them and I'm in the bed with you. And you want me to believe you love me?"
Angela adds that Michael's unfaithfulness had taken her by surprise.
She shares, "Michael does a lot of things, but I never thought he would cheat on me. I swear to God." 
Angela reminds the Nigeria native that infidelity doesn't have to include sex.
"Whether you had sex or not, you told another woman you love them," she declares.  
Michael cops to sending the voice note and confesses to a long distance connection with a "random lady," whom Angela labels a "fu**ing whore."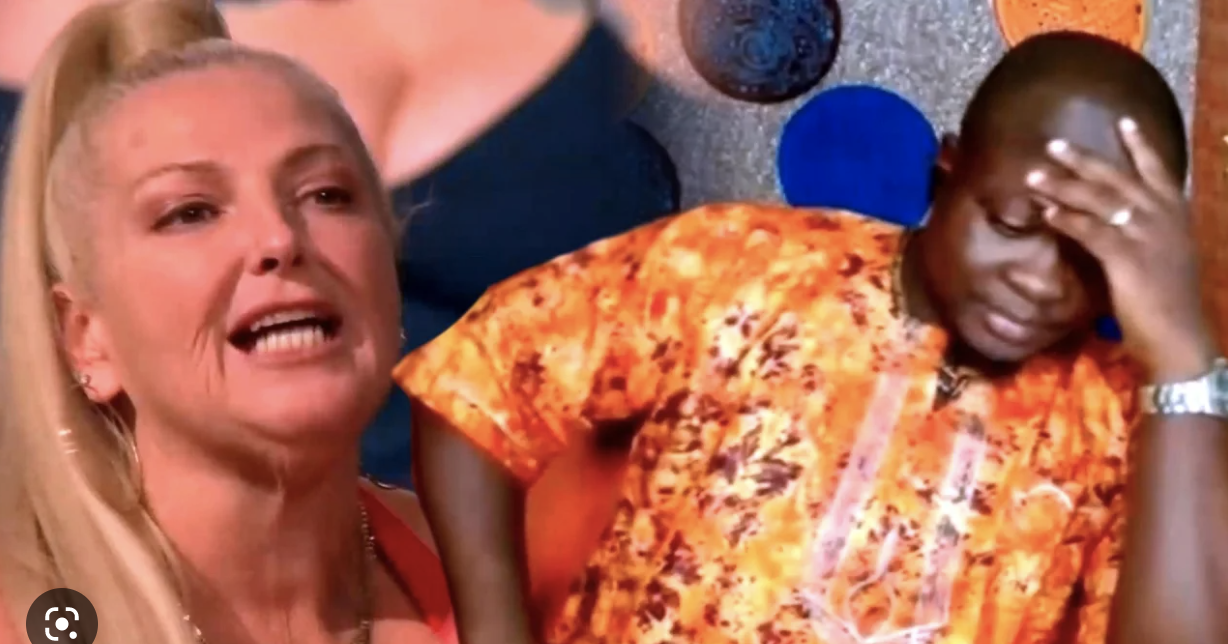 Michael tries to defend his marriage, admitting that he stepped out of line.
"All this, I know I admitted my wrong," Michael says. "I caused it all. But … I love my wife and nobody can come in between us."
The couple was in a good place when Angela flew home from Nigeria after enduring lots of ups and downs, earlier in the season. Things were looking up after she decided against visiting her virtual Canadian "crush," Billy.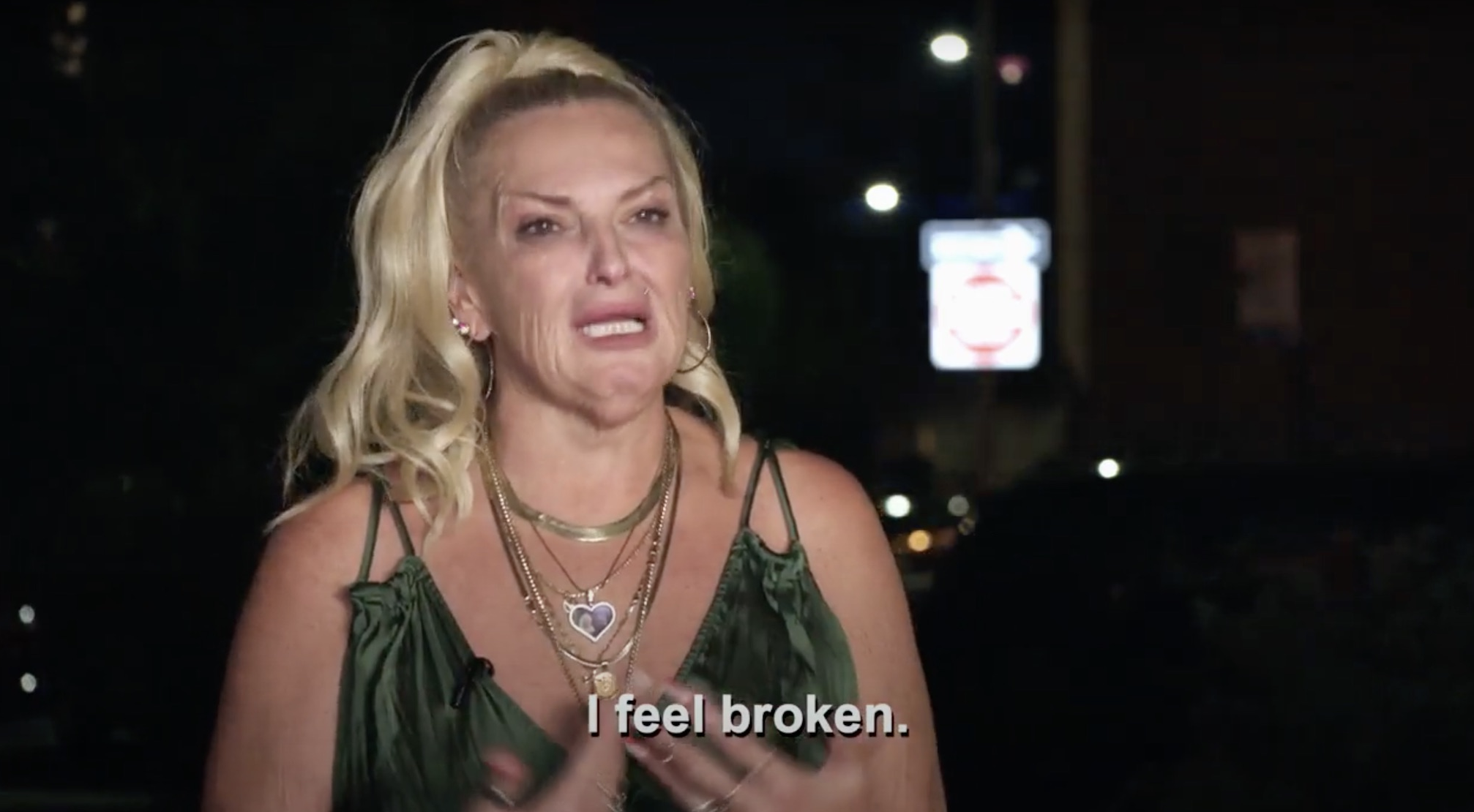 The 90 Day cast had expressed nervousness over interacting with Angela on the tell-all set, but the cheating bombshell causes a shift within the group. Usman "Sojaboy" Umar even acknowledges that Angela had good reason to demand that Michael stay off social media. 
"I now see the reason why she [doesn't] want him to be on social media," Usman admits.
Big Ed and Liz Split
Ed "Big Ed" Brown and Elizabeth "Liz" Woods broke up during the tell-all for the 11th time.
Ed asked for his engagement ring back in the midst of a blowout fight with Liz during the reunion. 
Ed's ex-fiancé Rosemarie "Rose" Vega attended the tell-all virtually, and dropped a bomb by revealing that she and Ed had spoken recently — despite Ed lying about being in contact with Rose. But he was caught this time because Rose had receipts to back up her claims.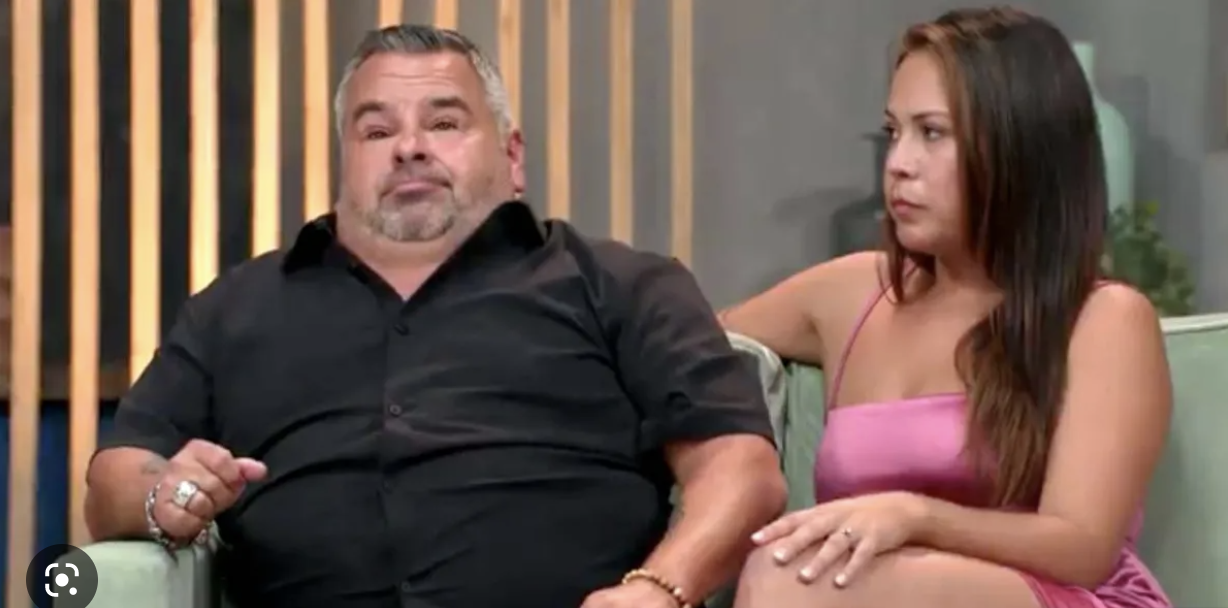 She showed Liz screenshots. Liz read the images from late 2021, which proved Ed had asked to visit Rose in the Philippines. And he text Rose just two days before he proposed to Liz.
Naturally, this infuriates Liz and she tells Ed that she loss respect for him. That's when he asked her for her engagement ring back.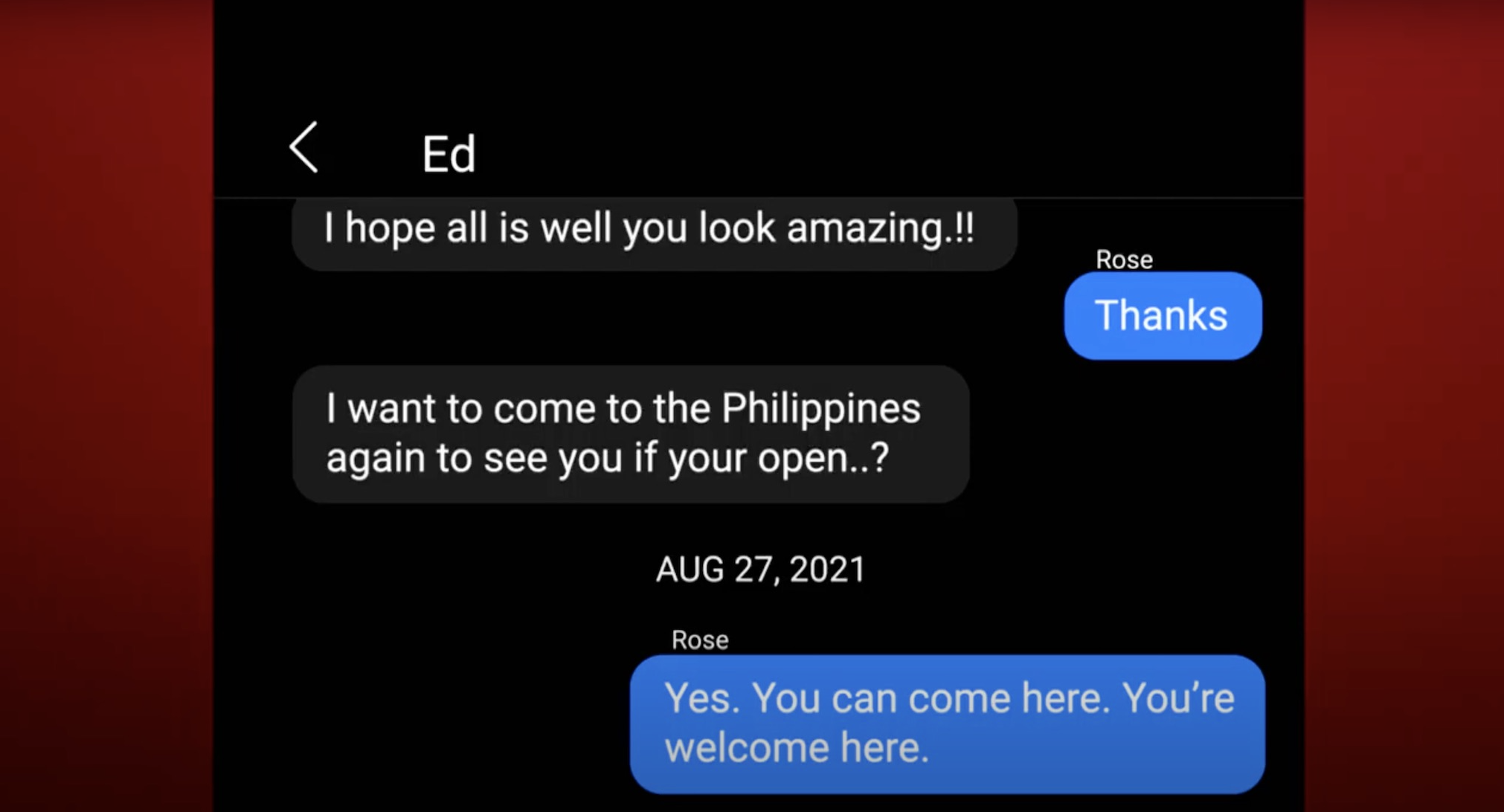 After the blowout, Ed tried to make up with Liz but then said  he expected her to have his back while filming the reunion.
"You just need to know where I was at today. I was drowning," Ed said. "And I felt like you were stepping on my head. The one person I wanted to count on and stand beside me, right or wrong, and I thought that was you."
Liz explained that she was humiliated by his lies, hence her inability to have his back.
"I can't do that when it was a lie," Liz replied. "You could have just told me you reached out."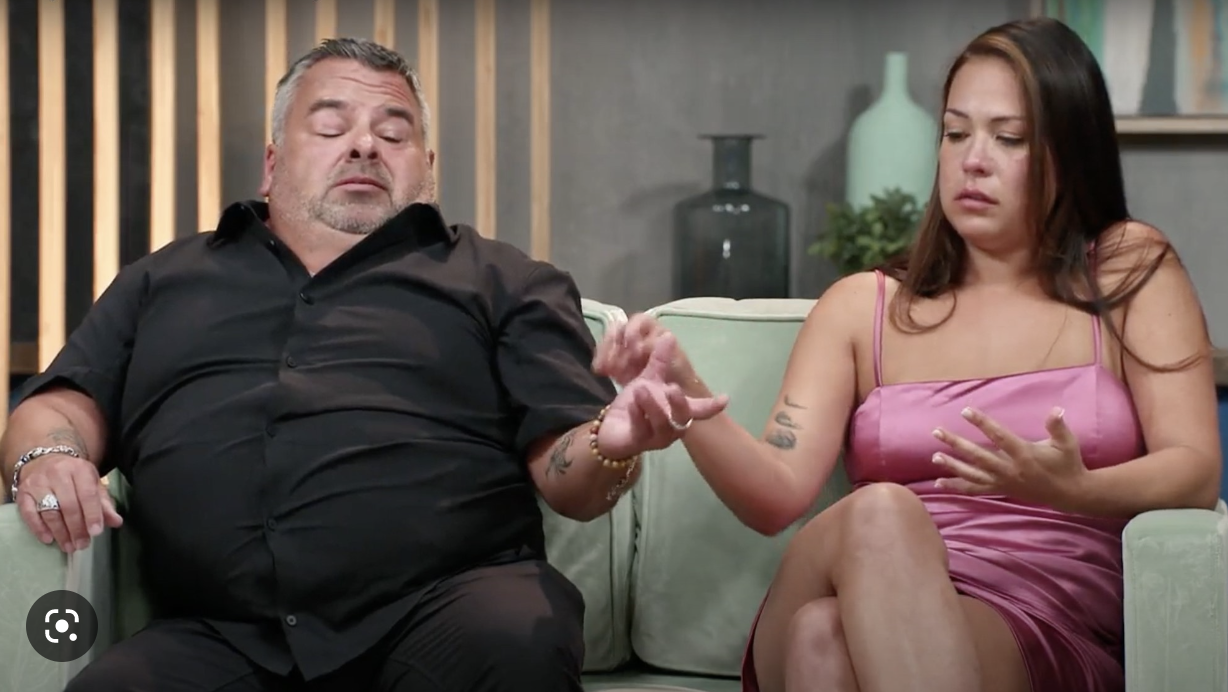 Ed suffers amnesia and tells her that he, "doesn't even remember the texts," then adding he'd like Liz to "take accountability for yourself."
He continued, "I don't just decide one day I'm gonna break up with you."
Liz is not falling for Ed's passive aggressive tactics, she holds him accountability for his "wrongdoing," but he keeps denying it, "I didn't get caught in anything. You act like I'm trying to lie to you … number one, I don't lie. Here I am trying to defend myself and I have six other couples pouncing down my throat, and you're standing there and you're letting me drown."
He also accuses Liz of playing up her emotions as a sympathy grab from fellow 90 Day cast members, which only escalates the situation.
Elizabeth and Andrei
Elizabeth Potthast joins the reunion stage virtually because she's close to her delivery date, and reveals her pregnancy has been draining. 
Andrei Castravet is supportive of his wife's singing aspirations and she sings a requested song with a snippet of "Mary Had a Little Lamb."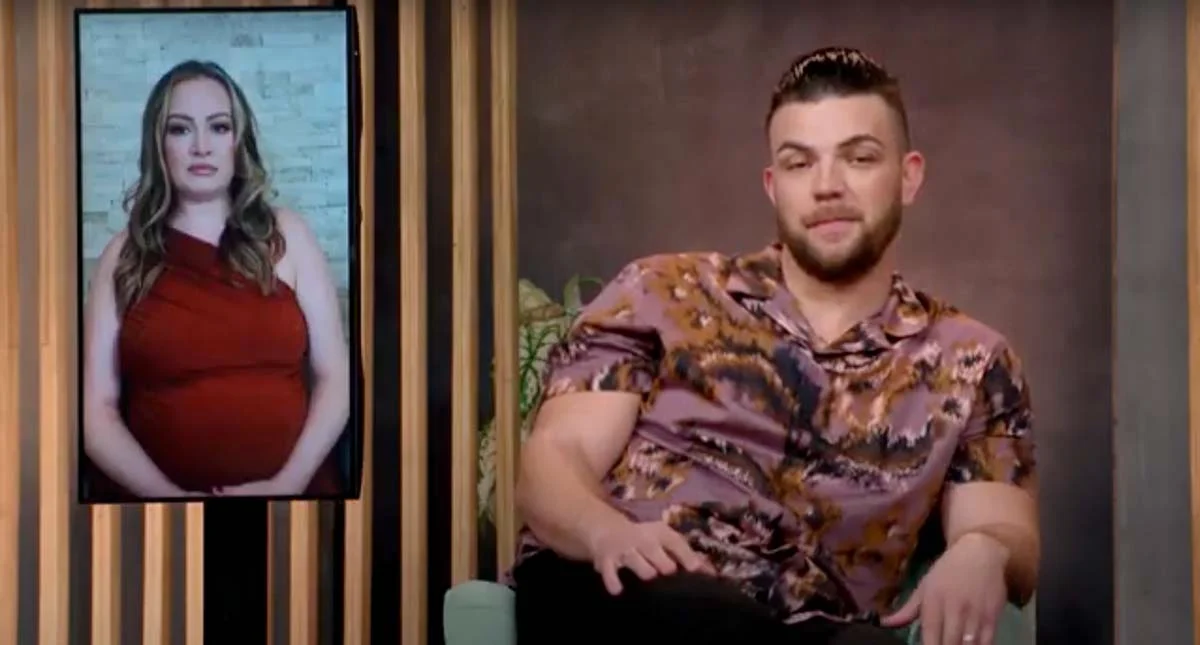 Elizabeth's brother Charlie and sister, Becky join the stage. Andrei's attorney also joins the stage via video to educate Elizabeth's family on the consequences of filing false reports to INS. He shares that the government takes the violation very seriously and it could result in felony charges. Charlie denies trying to sabotage Andrei's immigration case but he understands why someone in the family would want to report him.
In a surprising twist, Andrei and Becky seemingly reconcile. Becky and Andrei even share a hug off-stage. "We'll fix it," Andrei promises. "We'll work it out."
The 90 Day Fiancé: Happily Ever After? tell-all continues Sunday, at 8 pm  ET, on TLC.
Stay Connected With All About The Tea: Twitter Ι Instagram Ι YouTube Ι Facebook Ι Send Us Tips
Olivia Davis is a Staff Writer at All About The Tea. Olivia's hobbies include binging Netflix series, and watching Housewives on Bravo. She graduated from San Francisco State University with a degree in History.