'RHOP' RECAP: Karen Huger Threatens To Whoop Charrisse Jackson-Jordan At Explosive Dinner
Welcome back to another episode of The Real Housewives of Potomac! This week, we begin with Karen Huger as she packs for Mexico while chatting with Ray Huger. Ashley Darby and Karen decided to jointly host this trip, and everyone's invited! Karen wonders how the group will behave since Candiace Dillard-Bassett and Gizelle Bryant aren't getting along and Mia Thornton attempted to take over Karen's show. Karen and Ashley want to arrive in Mexico early and decide to bring Dr. Wendy Osefo with them since she's having issues within the group. Meanwhile, Gizelle's riding around in her car and calls Robyn Dixon to talk about her biopsy. Apparently, Gizelle's been monitored for a number of years and doctors decided Gizelle needs a full hysterectomy.
Robyn asks Gizelle a few questions and Gizelle explains that she was nervous and was at the hospital, consoling herself. Gizelle states that surgery won't slow her down and although it takes time to heal, Gizelle's still going to travel for the girls. Gizelle switches the conversation to Karen's live show and Robyn agrees that the show was weird. Gizelle's also upset that Karen didn't invite Charrisse Jordan-Jackson and thinks Karen's being mean by excluding Charrisse. Gizelle, however, thinks Charrisse dropping a video of Karen's "girls" being out at the club was a funny thing, SMH. A flashback shows Candiace talking about the video at Karen's live show and verifying that Karen wasn't too pleased with the nip slip. Gizelle wonders if Karen and Charrisse will talk in Mexico, and Robyn thinks Karen will dance around the topic, per usual.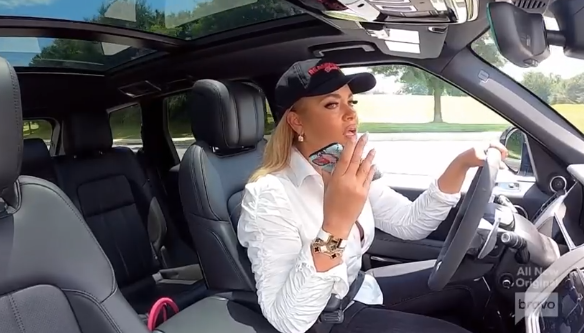 Gizelle tells Robyn that she's going to DEMAND to know what Karen's issue is with Charrisse. Looks like them blonde highlights got into Gizelle's brain, LOL. That evening, Robyn's home dancing with her boys as Juan Dixon comes in to watch. Robyn looks a mess while she tries the next TikTok trend before sitting down and beginning a conversation with the boys. Robyn tells her boys that it's time for her and Juan to plan for a wedding and that someone's coming to take their measurements. The boys are even surprised this wedding is actually happening, and Robyn reiterates that it'll only be the four of them. Carter wonders why Robyn's parents aren't invited. 
Robyn wants an intimate service, and producers wonder how her parents will take the news. Robyn thinks her mom will have the biggest issue but continues on with her wedding plans. Robyn asks the boys where they'd like to go for the wedding and is soon interrupted by a knock on the door. A man comes in to ask important questions about outfits, and timelines, and soon we see suit options for them. Juan wants a little room with his suit and Robyn admits that she only has a month left to finalize the wedding plans. At Mia's, she's working while asking Gordon Thornton about schedules. Gordon and Mia talk about business while Mia wonders how she will go on the girls' trip while managing her household.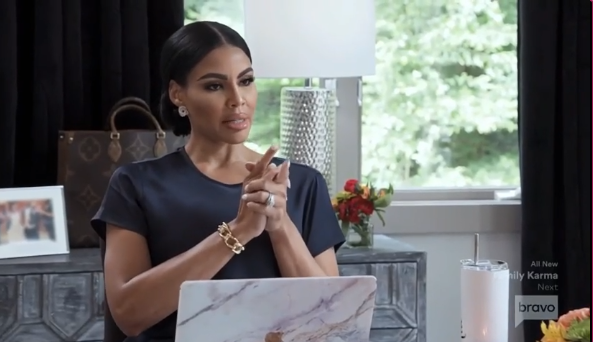 Mia tells Gordon about the trip to Mexico and informs Gordon that Jacqueline Blake is mad at her. Apparently, Jacqueline drops her kids off at Mia's all the time, and since Jacqueline's sister is Mia's nanny, Mia feels like Jacqueline takes advantage of her. Mia tells Gordon that Jacqueline's kids aren't her responsibility, and he agrees. The next day, the ladies are at the airport waiting for takeoff! Ashley has her vacation braids in as she greets Karen first. Ashley's excited to spend this birthday as a newly single lady, but still has some reservations about the future. The girls make it to Mexico, and everyone looks amazing.
As the ladies split up into the car, Ashley pulls out a beer and Wendy pulls out a bottle of her own. Karen, Wendy, and Ashley toast to a great trip and Ashley's birthday, and Karen thinks the trip is already off to a great start. Ashley gives the ladies a rundown of what's to come and is excited to get the girls activated. Group A (Karen, Ashley, and Wendy) make it to the resort and make themselves comfortable as Group B arrives in Mexico. In the airport, Mia tells Candiace and Robyn about an argument that just took place in the air. According to Gizelle, in first class, Jacqueline and Mia were arguing about how they raise their kids. Mia's nanny called her, asking where were Jacqueline's kids, and that set everything off. Mia told the nanny that Jacqueline's kids aren't her responsibility, and things went left from there.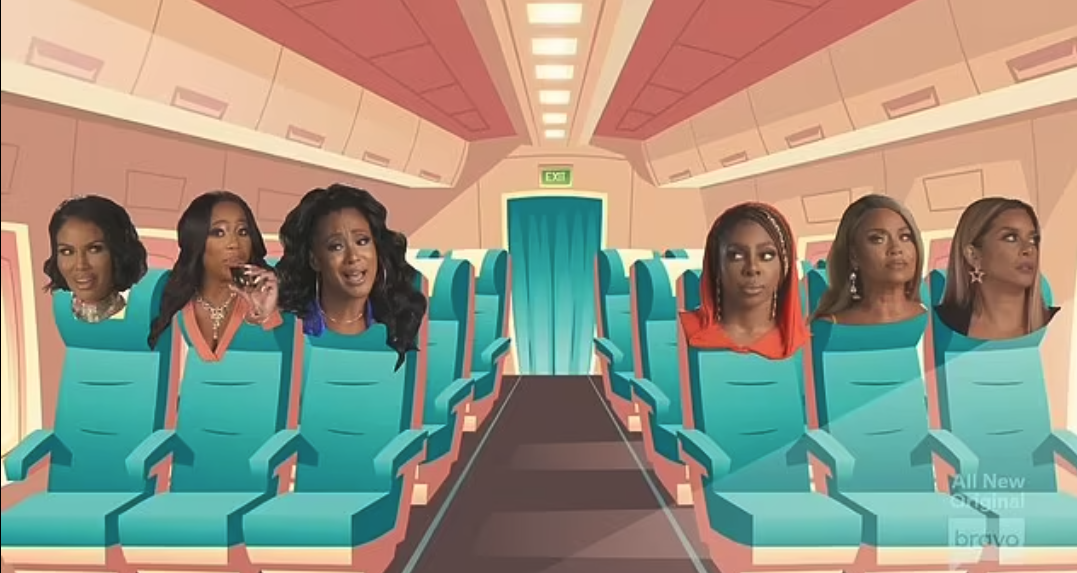 Jacqueline threw a low blow by saying Mia doesn't know what it's like to be raised by a village, and now we know ish is about to heat up! Ashley's in her room unpacking and shows us all the vibrators she brought on the trip. The rest of the ladies arrive in Mexico and take a sprinter van to the resort. Karen goes to Ashley's room to go over hosting assignments and shows Ashley a flashlight she got for Mia, LOL. In the van, Candiace asks the girls if they look at their vaginas in the mirror. Mia said maybe they all should look at each other's privates and Karen's creating shady gifts with Ashley. Ashley forgot a gift for Charrisse, but we all know Karen doesn't care. In the van, Charrisse tells the group that Karen told Mia that Charrisse puts a dark cloud over the group.
Robyn disagrees and Charrisse needs a bottle of wine to talk to Karen … Karen feels the same. Ashley, Wendy, and Karen greet the ladies as Mia shades Jacqueline while exiting the sprinter. Karen takes the group to a room to celebrate Ashley as everyone sings "Happy Birthday" to her. Ashley appreciates this group of women, and soon, food and drinks are flowing. As everyone sits down, Mia continues shading Jacqueline as Jacqueline calls Mia the devil. Mia claims they fight every day and Jacqueline feels like this is the worst fight they've ever had. Jacqueline says that Mia is controlling and that when Jacqueline doesn't do what Mia says, Mia turns her back on her.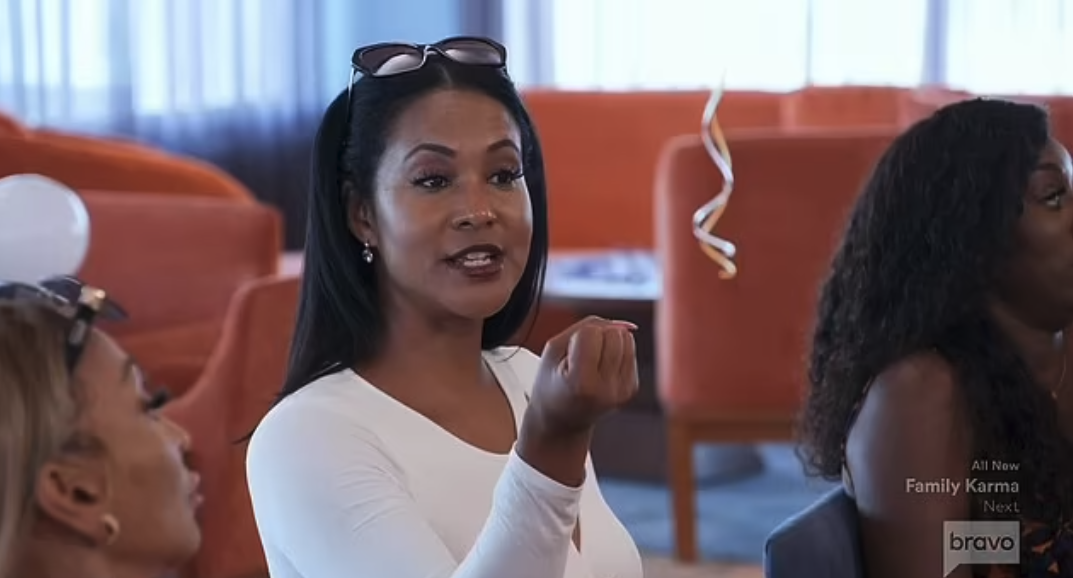 Jacqueline states that Mia needs more d**k in her life, and soon sets it off! Mia comments, "You would know" before asking, "Do you want to go there?" Mia tells Jacqueline to keep her legs closed to married men and Jacqueline jumps up screaming how she is done with Mia. The entire room is stunned by the sudden outburst and attempts to calm Mia and Jacqueline down to no avail. Jacqueline claims that Mia sold her soul to the devil and begins to cry. Jacqueline claims that she would never sleep with Mia's husband as Candiace tries to get Mia to console Jacqueline. Wendy consoles Jacqueline as the room begins to calm down. Mia doesn't care about Jacqueline's tears and claims that Jacqueline's kids are at her house right now, eating her food, LOL. 
Jacqueline claims she's above this and doesn't want to talk to Mia anymore. Candiace comments that this is a domestic dispute and the ladies decide to table the issue in order for the ladies to see the next surprise. Karen has brought a Shaman to cleanse the group, and everyone seems interested. Candiace is skeptical but continues participating while the Shaman asks the ladies questions. Charrisse wishes happiness for everyone and it's clearly a dig at Karen. The Shaman instructs the women to hug each other and Jacqueline declines a hug from Mia. Candiace consoles Jacqueline and admits that she feels bad for her. Jacqueline is still crying as the Shaman ends his session and the ladies put their feet in the ocean.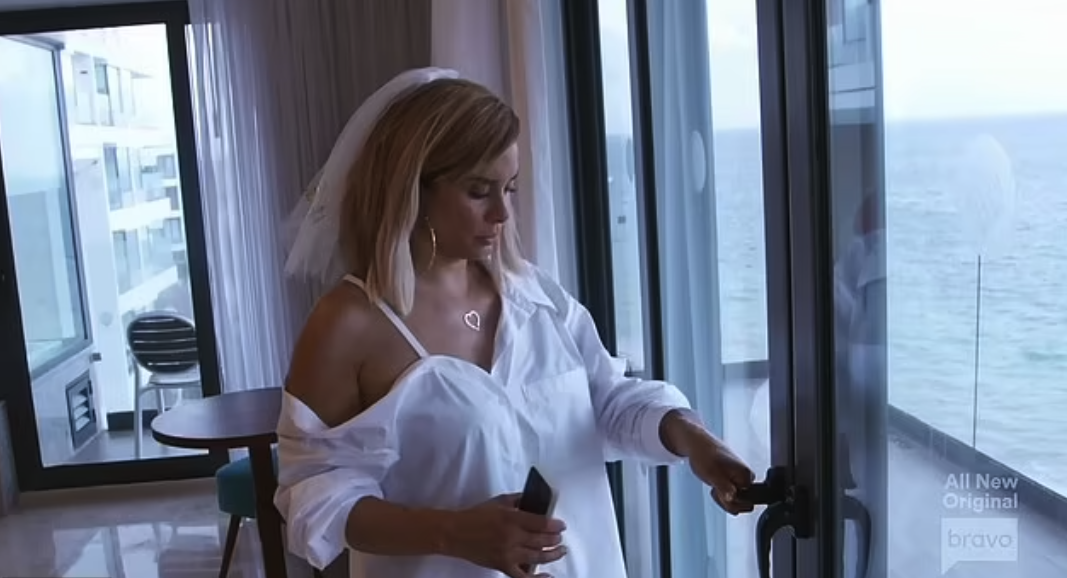 The ladies go back to the hotel to prepare for dinner and are surprised by Ashley's first gift bag. Robyn's chatting with Juan as she shows Juan around. Mia shows Gordon her sex toys as Robyn puts her "bride-to-be" veil on to check out the view. The wind carries away Robyn's veil and now Robyn wonders if nature is giving her a sign. The ladies look beautiful as they head to dinner. Ashley brings up that she saw Gizelle out on a date and Gizelle confirms that she even kissed him! Ooh, looks like Gizelle finally has some business to attend to. Charrisse enters and Karen immediately turns her face up. 
As Charrisse sits, Gizelle asks Ashley how Michael is doing at home with the boys. Ashley explains that it's going well right now and doesn't know if she wants her marriage to end. The conversation is interrupted by the waiter and Wendy's now sitting next to Ashley. Ashley asks Wendy how she's doing as Mia enters. Candiace and Jacqueline arrive for dinner with Robyn trailing not too far behind. The food looks amazing and Ashley wants to make sure everyone liked their gift. Robyn tells the table about the veil flying away and Ashley tells the table that she gave the flashlight to Gizelle. Candiace tells the group about their conversation on the sprinter and that she wants to look at her vagina so that she can appreciate what it looks like before childbirth.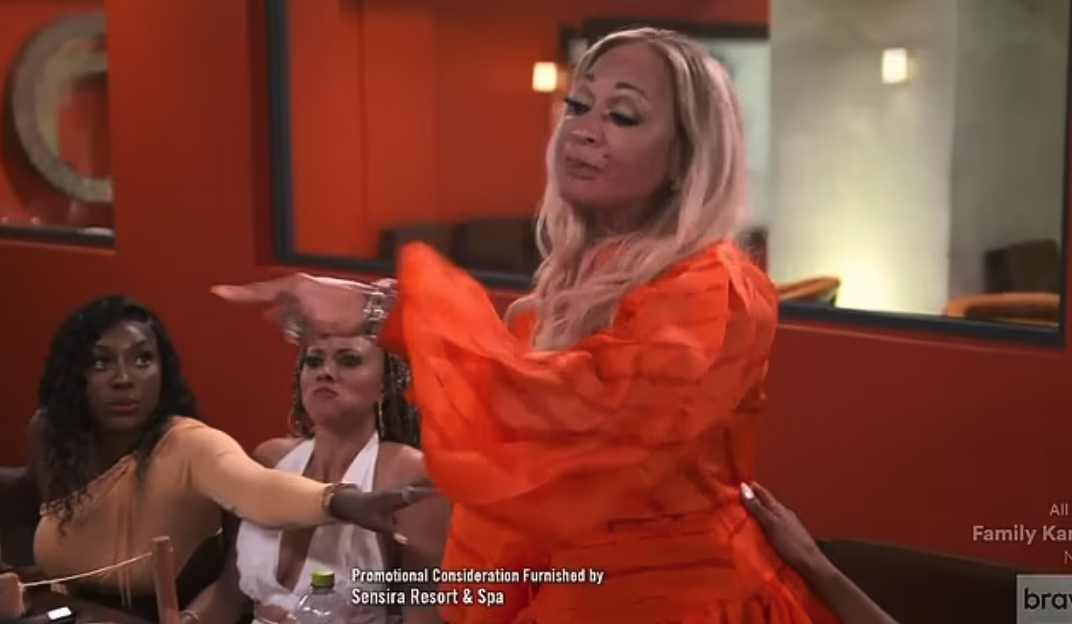 Candiace wants to redo IVF, and soon, Gizelle asks Karen what the plans are for tomorrow. Gizelle makes a confession to Charrisse that she told Karen that Charrisse wasn't invited to Karen's show because of the video. Karen says she wasn't upset and wonders why Charrisse didn't send the message directly to her. Karen tells Charrisse that Charrisse has been begging to be her friend, and once Charrisse starts, Karen makes sure she finishes! Charrisse claims Karen didn't call her during her divorce or when her father passed, and Karen confirmed that she sent Charrisse a text. 
Karen doesn't feel like she owes Charrisse anything and Charrisse just wants Karen to admit that she doesn't like her. Karen tells Charrisse that she's about to check her and yells while telling Charrisse to never disrespect her mother. Chaos soon erupts as Karen stands up screaming at Charrisse and Charrisse is screaming back at Karen. The ladies try to get them under control! OMG, it's about to go down in Mexico! Be sure to come back next week for a brand-new episode of The Real Housewives of Potomac! 
Stay Connected With All About The Tea: Twitter Ι Instagram Ι YouTube Ι Facebook Ι Send Us Tips
LeAndra Williams is a content contributor at All About The Tea. She's a social worker and (super) mom by day, and a reality T.V. junkie by night.