'RHOP' RECAP: Candiace Confronts Robyn About Exposing Her IG Live Rant
Welcome back to a brand-new episode of The Real Housewives of Potomac! The ladies are back home trying to make sense of Mia Thornton's chaotic trip. Karen Huger is home using her home sauna as Ashley's soon-to-be ex, Michael Darby, dances while Dylan looks for his toy. Mia, Gordon Thornton, and the kids are out of the house as Mia discusses opening a new chiropractic location. Gizelle Bryant and Robyn Dixon are working on their 'Reasonably Shady' podcast as Gizelle toots their own horns. Gizelle and Robyn discuss the business side with one of their associates, and it appears the ladies actually take this podcast seriously. After their associate leaves, Gizelle gives Robyn the update about the twins' birthday party and reveals the girls don't want her there because they "hate" Gizelle.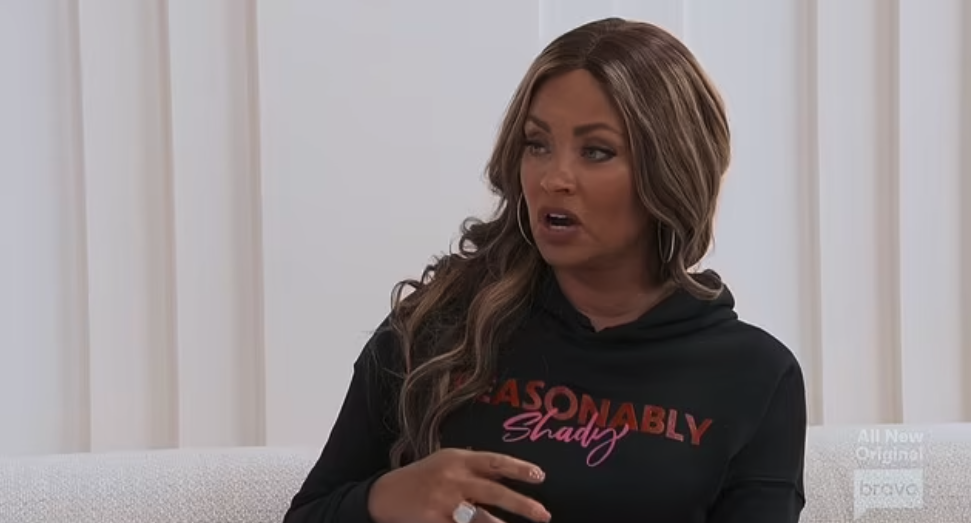 Robyn begins talking about everything she's got going on and Gizelle brings up Wendy Osefo and Robyn's drunken last night in Miami. Robyn exaggerates her side of the story as she tells Gizelle that she invited Candiace Dillard-Bassett to lunch so they can discuss their heated fight in Miami. Robyn tells Gizelle that Candiace is upset but Gizelle doesn't have any sympathy for Candiace at this point. Meanwhile, Candiace and Chris Bassett are figuring out the space in their backyard since Candiace graduated from Howard University. Candiace now has a business degree and wants to celebrate with her friends and family. As the pair head inside, Chris goes over the guest list and Candiace apologizes to Karen in her confessional. Candiace finally remembered that she did indeed talk about Karen, and Candiace talks to Chris about meeting up with Robyn.
Chris understands his wife likes to hold a grudge but thinks it'll be nice if the two ladies make up. As Chris begins cooking, Candiace lets Chris know that she's waiting on her period. Candiace is all smiles with the potential of a baby, and we get a cute moment between husband and wife. That evening, Karen's laying out some crackers as her former assistant, Matt, comes by. After the two grab a drink and take a seat, Karen and Matt cheers to Karen's upcoming "live" show. Producers asked what sparked Karen's new adventure and a flashback shows Gizelle mentioned the idea first.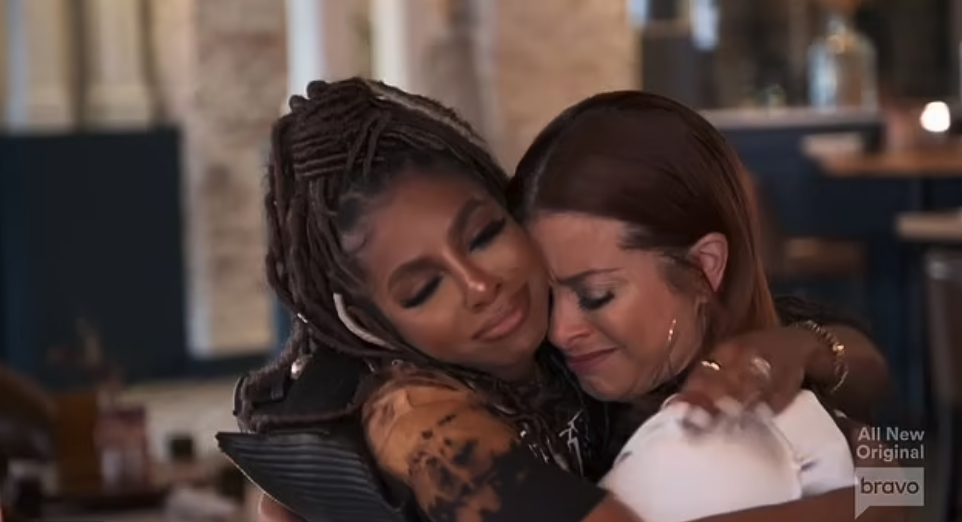 However, Karen gives credit to her friendship with Wendy Williams, LOL. Matt and Karen discuss their ideas and Matt has a lot of ideas for this "Keeping it Karen" event. Karen brings up the elephant in the room — that Karen and her girlfriends often share the same business ideas. Karen tells Matt about Gizelle and Robyn's live show, and Matt says Gizelle and Robyn's podcast doesn't seem that interesting. Shade! The next day, Eddie Osefo picks Wendy up from the airport. Wendy's exhausted but tells Eddie about the good time she had in Chicago. After Miami, Wendy was a keynote speaker in Chicago, and we love to see Dr. Wendy working! Wendy's excited to be home but she has a lot on her plate, including a doctor's appointment for kidney stones. Eddie wants Wendy to prioritize her health and Wendy promises to do so. 
Later, Robyn enters a restaurant as she waits for Candiace. After ordering a drink, Candiace pulls up ready for this confrontation. The two ladies hug and start off nice before Candiace asks how the people are. Robyn begins crying as Candiace embraces her. We find out that Robyn's friend and hairstylist recently lost her sister and brother-in-law in a car accident. Robyn hates seeing her friends in so much pain and Candiace remains emotionally supportive of Robyn. After getting themselves together, Candiace orders a drink before expressing how glad she is that Robyn and she are meeting. Robyn says she views Candiace as a sister and Candiace feels the same way about Robyn.
Candiace doesn't understand why Robyn couldn't talk to her and Robyn states that she questioned why Candiace was questioning her loyalty. Robyn points out that she told Gizelle that she has a difference of opinion about the Chris situation and that Candiace was wrong for throwing her under the bus. Candiace apologizes to Robyn and Robyn asks Candiace to be more specific in her rants next time. The two get emotional as they discuss how short life is and hopefully the ladies can leave the BS behind. Later, Mia and Gordon arrive at their new practice opening and say hi to the few people who are in attendance. Mia introduces her son to the guests as Mia facilitates the decorations. Mia and Gordon toast to their new location as they discuss loving their new location. 
Mia tells producers that she brings different friends on board but doesn't explain what other businesses fell through. Karen arrives at Mia's opening and Karen loves it as Jacqueline Blake arrives. The party's getting started as Karen asks Mia about her mom visiting. Mia's mom is MIA, but Karen doesn't want to spoil Mia's moment, so they put a pin in their conversation. Mia welcomes her guests and explains the opening and cuts the ribbon. Yay. *sarcastically* In Ashley's world, she's visiting her Uncle Lump with the kids as Ashley's aunt greets them and brings out refreshments. Ashley chats with her uncle about the issues between Michael and that he recently screamed at her, and Dylan had to interject. Ashley's aunt tells her how bad that is and Ashley decides not to argue anymore.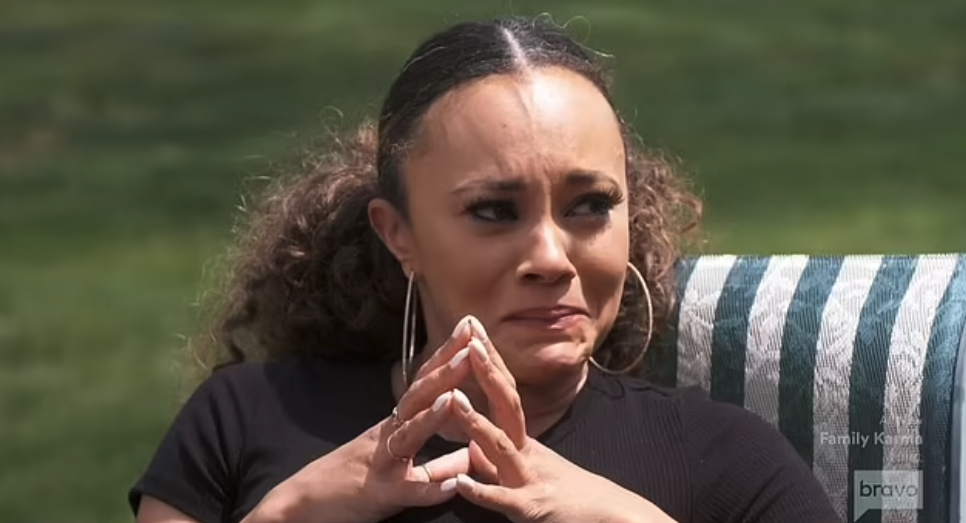 Ashley's aunt and uncle want her to focus on the boys and Ashley's still trying to figure out how she's going to be a single mom. Ashley's scared to do this by herself and becomes emotional as she describes the fear of being on her own. Ashley knows she has a lot on her plate, and she's scared of the unknown. Ashley's aunt reassures her that she's not alone and that Ashley is a fantastic mother. Ashley has to believe in herself and it's understandable to be afraid of the unknown. You got this, Ashley! Later, Candiace is at the airport picking up Mama Dorothy. Dorothy discusses her flight as Candiace recaps the troubles she's had with her mother. 
The two discuss the weather as Candiace tells Mama Dorothy about her late menstrual cycle. Dorothy thinks a baby will calm the couple down and Candiace and Dorothy briefly discuss children hearing curse words. It's the day of the twins' party and they look gorgeous as Gizelle and her hairstylist swoon over them. The place looks amazing as Gizelle tells the girls she'll be in the other room with her friends. Jamal Bryant's there as he hugs all up on Gizelle and he greets his girls. The family takes a few quick pictures as Ashley greets Gizelle. More guests arrive as Charrisse Jackson-Jordan stomps through, and Robyn arrives shortly after. Charrisse and Ashley discuss kids as Gizelle introduces Jamal to everyone. Gizelle goes off to give her girls a speech and both said a few words before singing "Happy Birthday" and making their exit.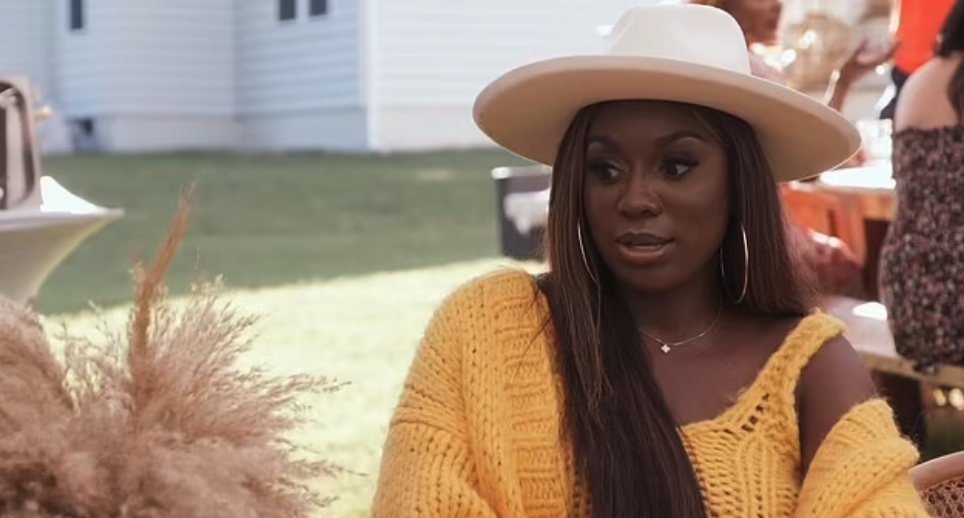 It's Candiace's graduation party and Candiace is super happy as she grinds on Chris. The tent and decorations are up as Mama Dorothy sees a snake in the garden and refers to it as Gizelle. Guests begin arriving and everyone's ready to party! Chris greets a few of the guests as Karen and Ray Huger arrive. Karen and Ray greet Mama Dorothy as Candiace comes down looking pretty in pink. Candiace recaps the relationship between Dorothy and Chris and reveals that Dorothy apologized to Chris for last year's issues. Robyn shows up and is greeted warmly as she congratulates Candiace. The party begins and Candiace is all smiles as Charrisse comes with her daughter, Skylar. 
Wendy and Eddie stop by and immediately Robyn's face drops. Wendy greets Robyn as Ray and Chris work on the grill. Candiace mingles with her family, and unfortunately, Candiace's pregnancy test was negative. Candiace is sad but ready to continue freezing her eggs. The ladies begin eating as Karen asks Robyn about her upcoming wedding. Robyn tells Karen that it'll be a private ceremony with just Juan Dixon and the kids, and Karen doesn't like that answer. Wendy sits down as Karen leaves Wendy and Robyn to sort out their issues. Wendy's checking in with Robyn just in case she didn't mean her apology in Miami.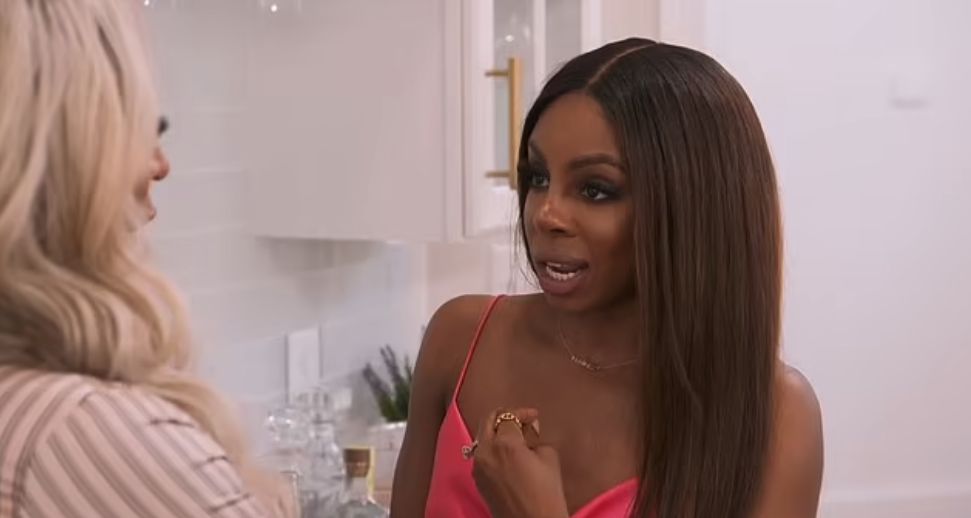 Robyn had time to think about it and only wonders why Wendy was only comfortable talking to Robyn when Wendy's outside the group. Robyn thinks when the girls are around, Wendy likes to debate and doesn't know which Wendy she'll get from day to day. Wendy replies that she thinks it's a valid question and blames her confidence on liquid courage. Wendy didn't want their friendship lost and apologizes to Robyn for hurting her. Robyn appreciates that and Wendy forces an apology from Robyn in return. The two hug and make up (but from Wendy's recent tweet, we know this doesn't last long). 
The two rejoin the party as we see everyone have a great time celebrating Candiace. Karen sends Ray to get a drink while pulling Candiace to the side. Robyn hugs a guest that knows her situation as Candiace and Karen discuss what Ashley said in Miami. Candiace admits to not remembering the conversation with Ashley but remembers she was being messy and tells Karen how much she loves her and Ray. Karen appreciates Candiace's apology and the two hug and make amends. Karen asks if Ashley was lit that day and Candiace admits they both were drunk. Candiace hates that the group isn't all together as Ray and Chris chat about Gizelle's accusations.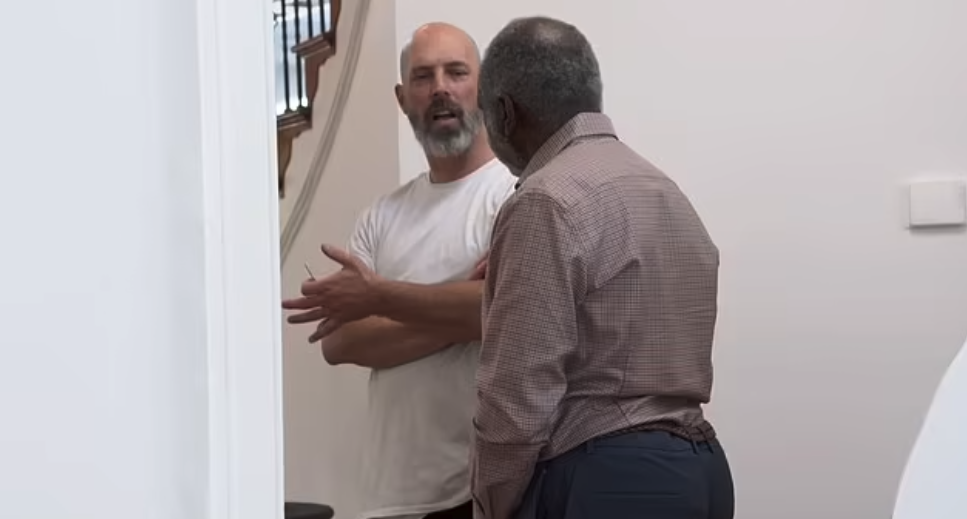 Chris explains how Candiace communicates and Ray suggests Chris apologize to Gizelle just to make peace. Chris ain't here for that and even producers wonder why Chris won't apologize. Chris stands by the fact that he did nothing wrong and Candiace is standing ten toes down behind her husband. Candiace thanks her guests for coming as Chris begins getting anxious about all the people packed into their house. Candiace thanks her mom as Chris continues cursing outside about Ray's suggestion. Candiace wraps up her party and appreciates all those that came to celebrate her. Candiace toast to magical Blackness and ends the episode on a positive note. Be sure to come back next week, for a brand-new episode of The Real Housewives of Potomac! 
Stay Connected With All About The Tea: Twitter Ι Instagram Ι YouTube Ι Facebook Ι Send Us Tips
LeAndra Williams is a content contributor at All About The Tea. She's a social worker and (super) mom by day, and a reality T.V. junkie by night.