'1000-Lb. Sisters' Tammy Slaton Marries Caleb Willingham In Rehab Obesity Hospital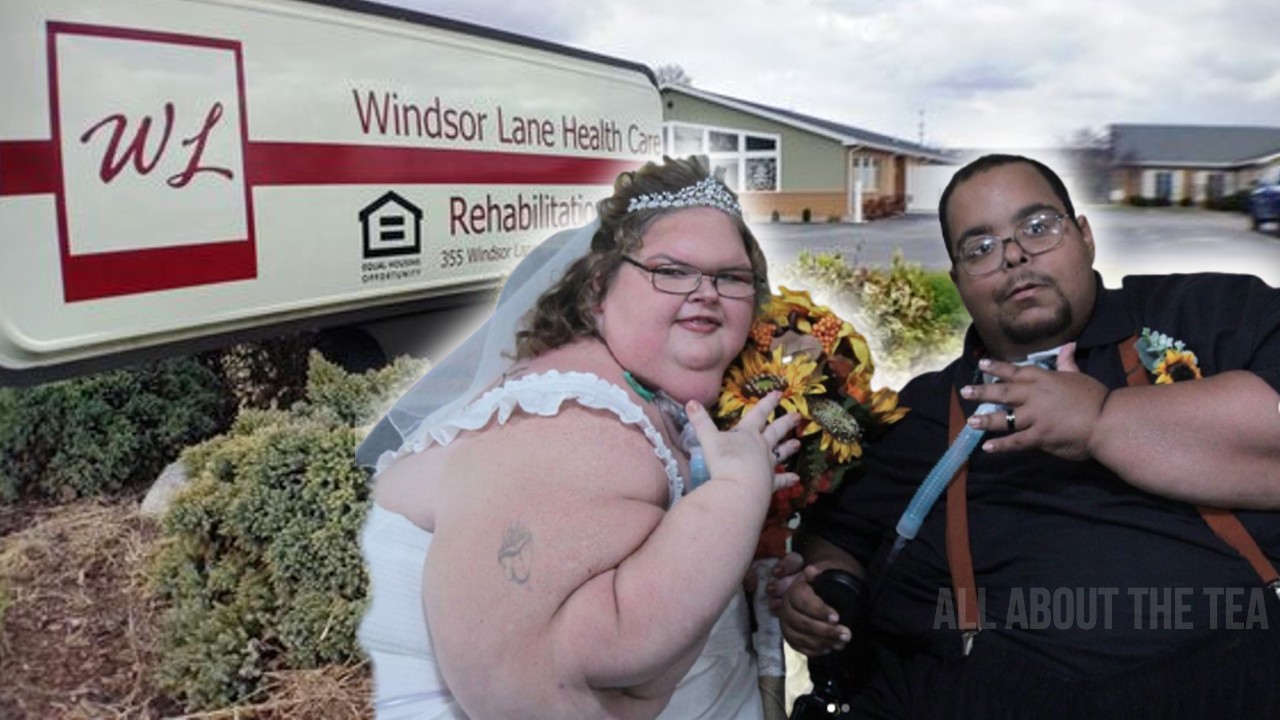 '1000-Lb. Sisters' Tammy Slaton Marries Caleb Willingham In Rehab Obesity Hospital
1000-Lb. Sisters star Tammy Slaton is now a married woman!
Tammy Slaton, 36, got married to husband Caleb Willingham, 39, on Saturday at Windsor Lane Rehabilitation Center in Gibsonburg, Ohio.
"You all knew me as Tammy Slaton, but now you'll all know me as Mrs. Tammy Willingham," Tammy says. "I'm married now!"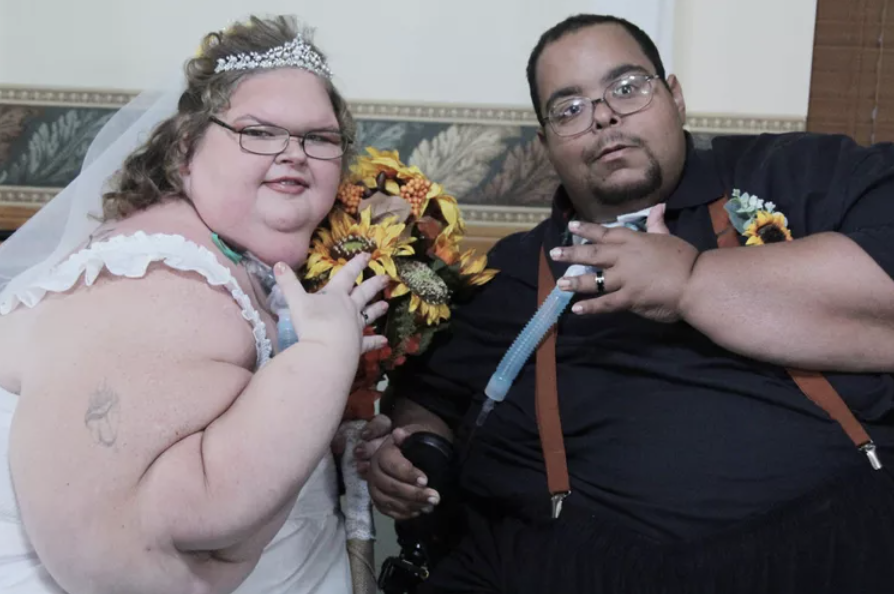 Tammy Slaton met Caleb Willingham at the rehab center and quickly fell in love while both received care at the facility. The wedding was attended by 30 friends and family members to the small celebration on Saturday.
Tammy wore a traditional white gown and tiara. Tammy's sister and co-star wore an orange dress with purple hair. Caleb dressed in black shirt with brown suspenders on their wedding day this weekend.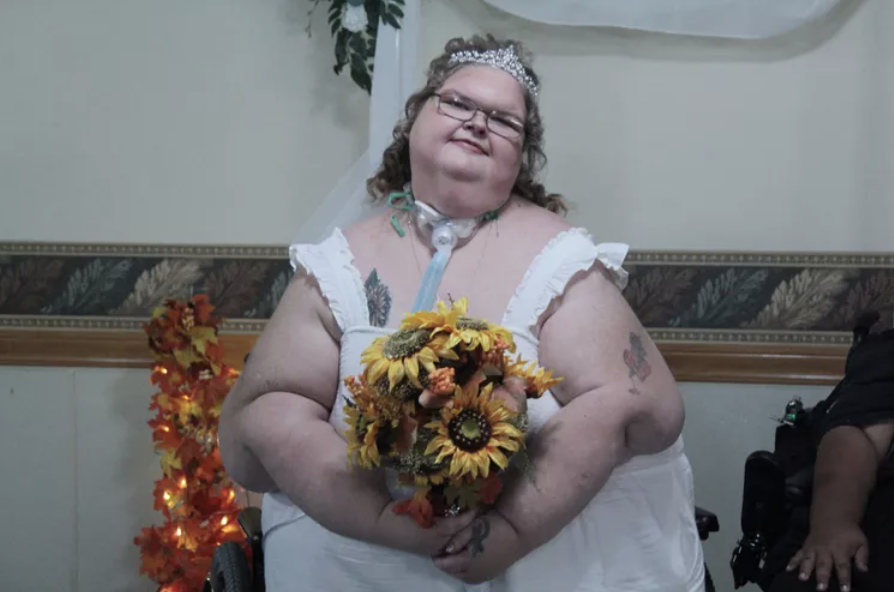 The couple got engaged in late October and both share the same struggles of obesity and have relied on each for support while in rehab. Now, Caleb intends to move to Kentucky to spend more time with his wife.
Tammy and Caleb's wedding journey will be documented in a new season of 1000-Lb. Sisters, which premieres Jan. 17 at 9 pm ET.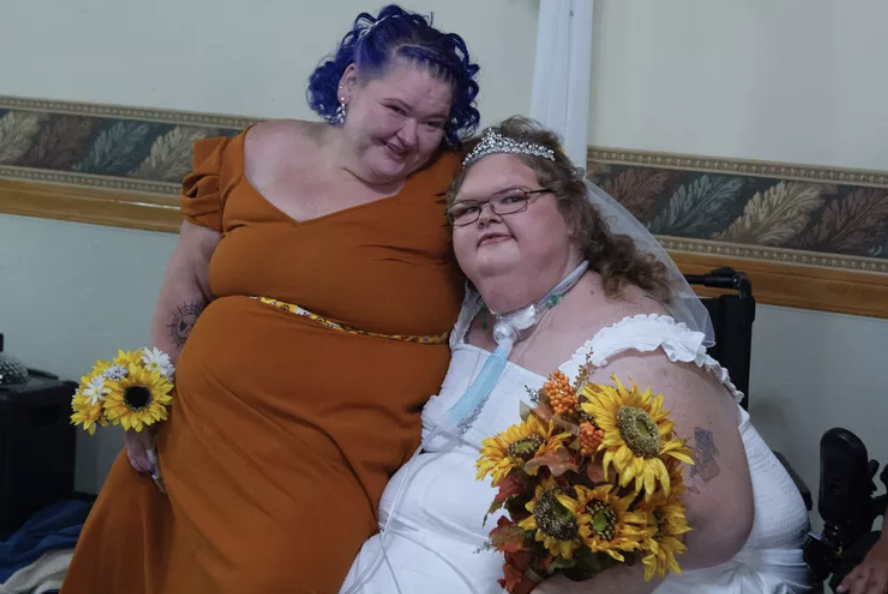 The network's official Instagram page posted Tammy and Caleb's wedding news, the caption read, "Congratulations are in order! ❤️Tammy Slaton has tied the knot with beau Caleb Willingham. You'll see her road to the ring when #1000lbSisters returns Tuesday, Jan 17 at 9/8c."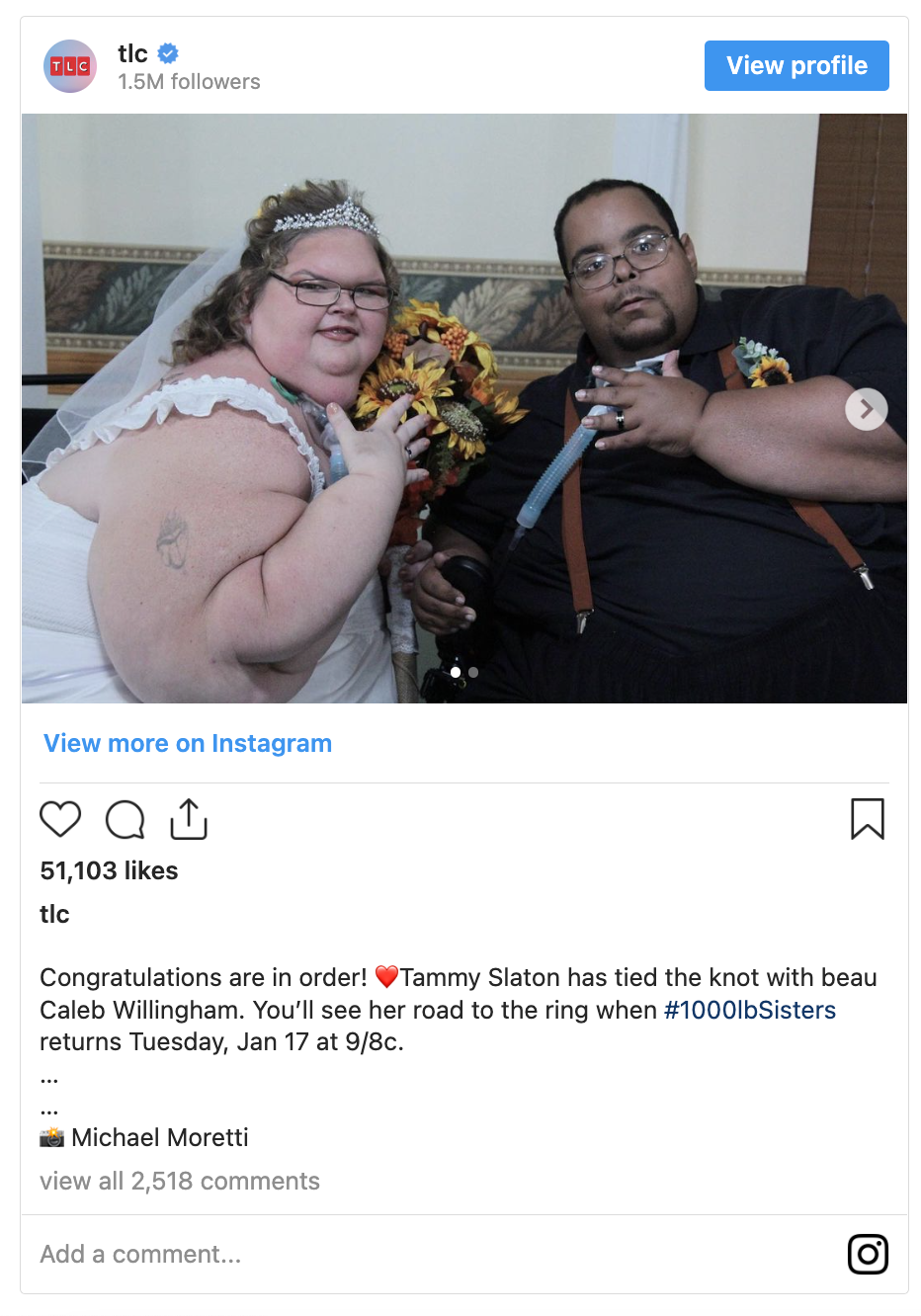 As reported, The TLC star was hospitalized back in November of 2021 for carbon dioxide poisoning — consequently she was moved to a facility for long-term patients.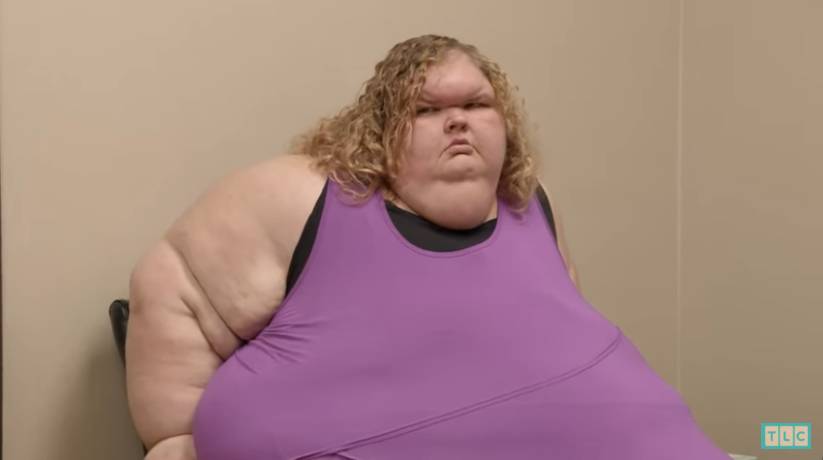 Tammy previously dated a man named Philip, a known "chubby chaser," and encouraged her to gain more weight. Phillip did not date women under 300 pounds. Tammy was "tired of fighting" with him and they broke up, she said in a December episode of the series.
"Tammy told me she broke up with Phil, and I'm like, about damn time. Now you need to work on yourself. Tammy don't need somebody that wants her to be a glutton," Amy said on the show. "I'm hoping with the whole breakup, it don't deter Tammy away from her weight loss, because she needs to lose this 25 lbs. The doctor gave her a goal."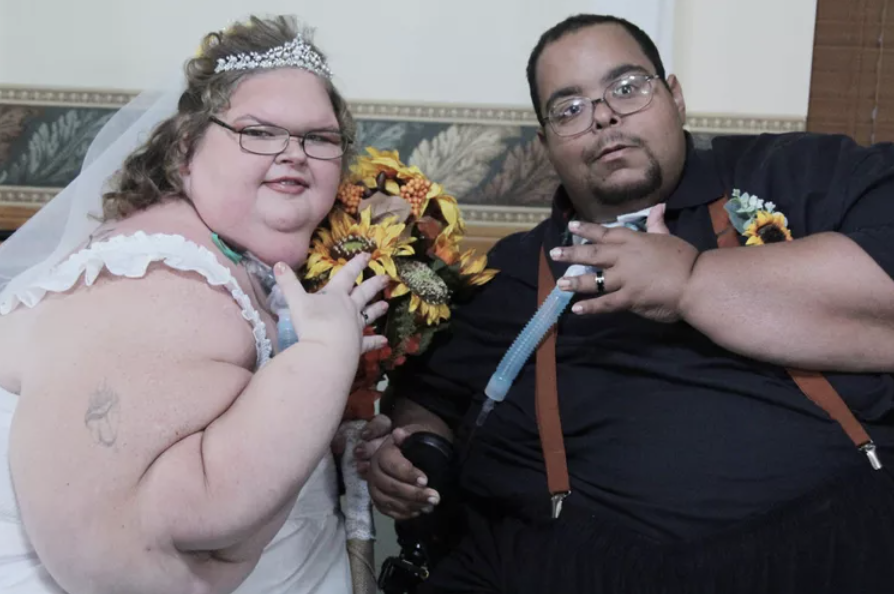 After her split from Phillip, Tammy revealed that her "door's always open" to talking to potential partners. "I don't talk to as many people as I used to. I am trying to be more careful," she said. "But every day, I get a comment like, 'Hey baby, you cute. [I] wanna take you out.'"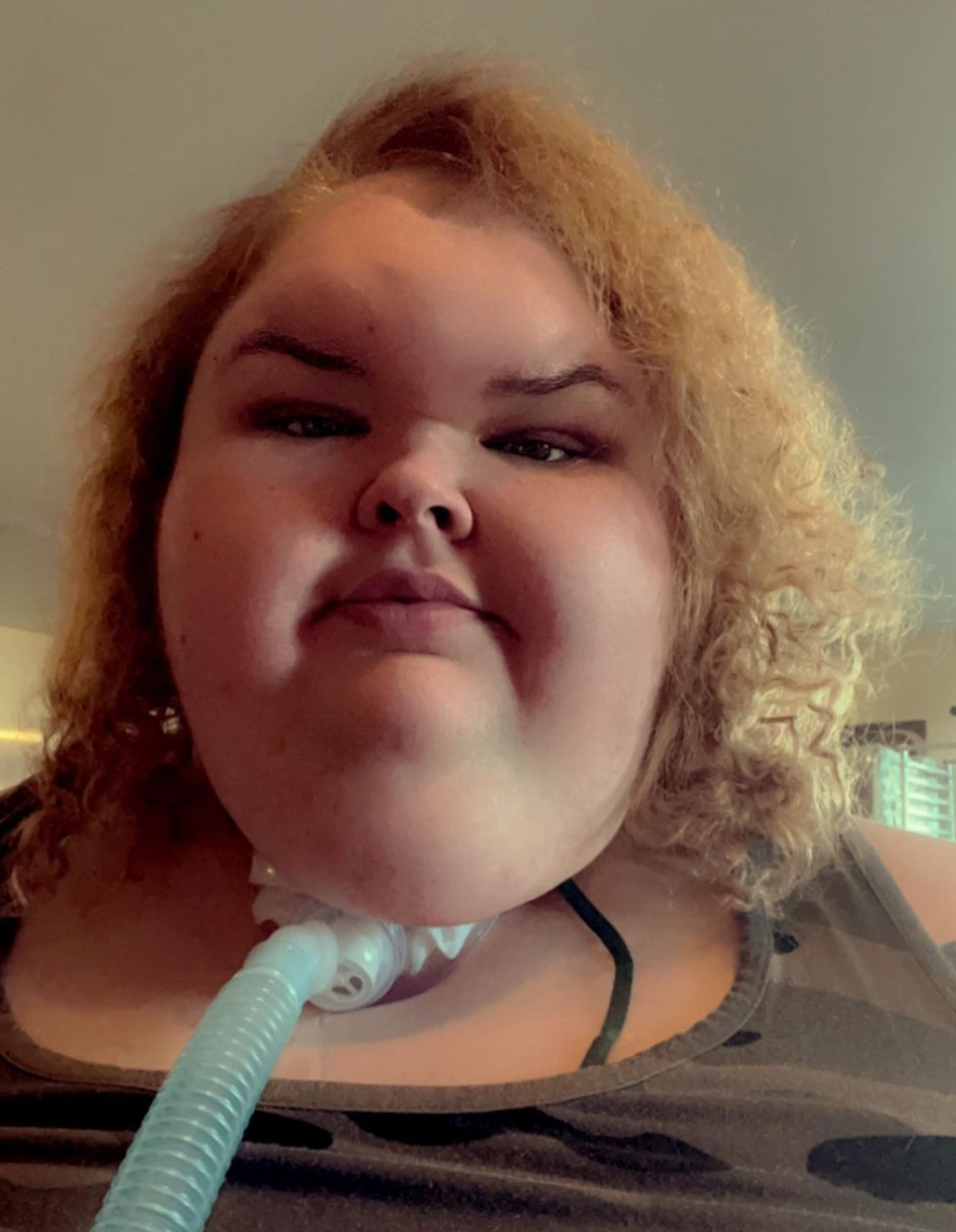 On the TLC reality series, Tammy ate tons of junk food, and drank alcohol extensively, which is what led to her current stint in rehab. Tammy explained she was aware of how detrimental that behavior was to her health and she showed no concern. Dealing with deteriorating physical health and not taking care of one's self is just one of the concerns that allows Tammy's eligibility to be a ward of the state of Kentucky.
Season 4 of 1000-Lb. Sisters premieres January 17, 2023, at 9:00 pm ET, on TLC.
Stay Connected With All About The Tea: Twitter Ι Instagram Ι YouTube Ι Facebook Ι Send Us Tips
Nancy Zhāng is an Entertainment Blogger for All About The Tea. Nancy covers hot topics, recaps and celeb news. She loves to multi-task as a writer and a private chef. She received a B.S. in Mass Communications from LSU. Nancy's married and the proud mom of 2 German Shepherds.