Lisa Barlow Feuds With Meredith Marks Over Her Alleged Affair
Lisa Barlow and former bestie, Meredith Marks, are fighting again over a cheating rumor.
Lisa, 47, appeared on the Real Housewives of Salt Lake City After Show    and said Whitney Rose told her that her co-stars Heather Gay, Meredith Marks, and Jen Shah accused her of cheating on her husband. "Whitney told me … at her Wildrose Beauty party, they invited the gentleman that they thought I had an affair with hoping to trip me up," Lisa said. The Vida Tequila owner also said that Heather spoke to the man for almost an hour trying to find out if the affair really happened.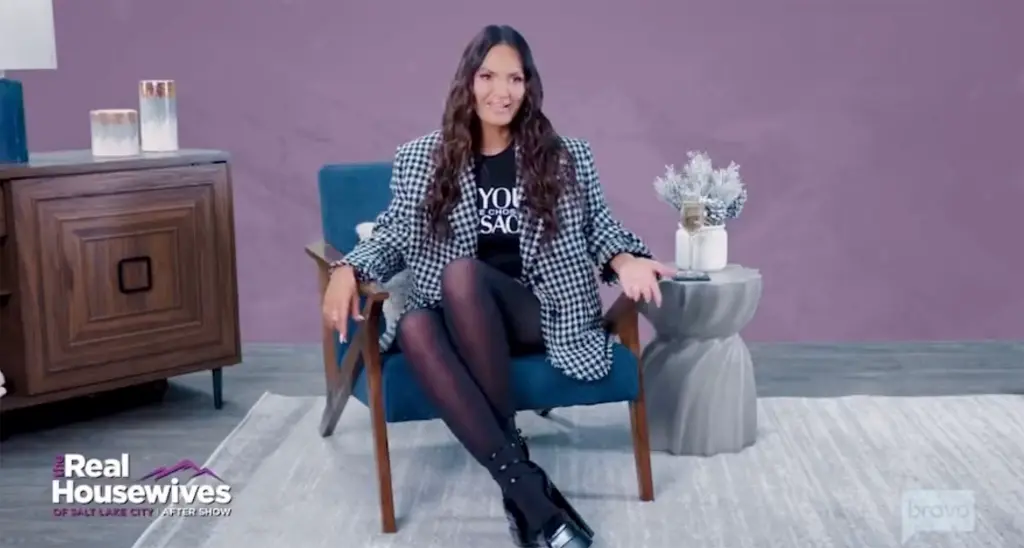 Lisa added about the affair, "It was so disgusting because this was a kid who is like a decade younger than me that I have seen only twice in my life and I was with my husband both times."
Watch the clip below!
Jen Shah responded to Lisa's claims with confusion in the Queens of Bravo comment section on Instagram. "Huh? I'm so confused can someone fill me in on what affair? Are we still talking about court side tickets?" Jen asked. Meredith, 50, took to Twitter to respond to Lisa's accusations and denied being involved in spreading the cheating allegations.

Meredith, 50, took to Twitter to respond to Lisa'saccusations and denied being involved in spreading the cheating allegations. Marks wrote while tagging Lisa, "I knew nothing about your affair with the man that Whitney invited to her wild rose party at the time of the party. The first I heard about that affair was months later from Whitney. You cannot hold me responsible for something I knew nothing about."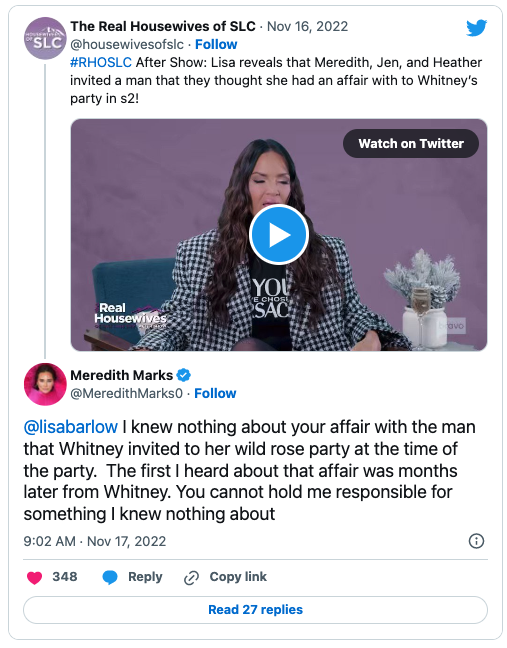 Lisa fired back, "There was NO Affair that's why it's so gross.  And you're on on camera saying you knew he was there and the intent was exactly what I explained in my video. Whitney invited him but you all knew the intent." Meredith doubled down on her earlier comment — "LISA, I KNEW NOTHING ABOUT THAT MAN OR ANYTHING ABOUT YOU HAVING AN AFFAIR WITH HIM AT WHITNEY'S WILD ROSE PARTY. WHITNEY SAID YOU HAD AN AFFAIR WITH HIM MONTHS LATER TO ME. THAT WAS THE FIRST I HEARD OF IT."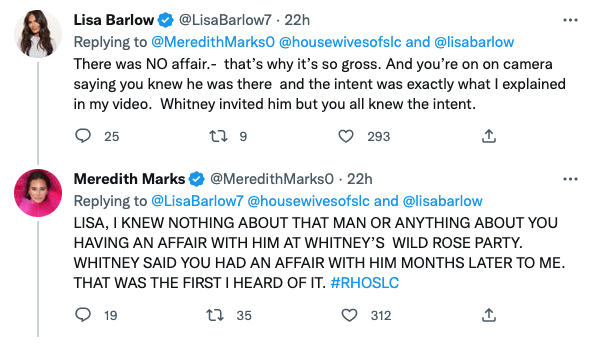 Then, Barlow replied, "You're unhinged," with two red heart emojis. But Meredith wasn't backing down from this battle as she tweeted back, "No lisa, not unhinged." She continued, "But I am tired of the perpetual lies about me. I did not know anything about that man or any affair you had with him or anyone else at Whitney's wild rose party. I had nothing to do with him being there." In another tweet in response, Lisa said, "Don't worry, I'll request a reminder of footage."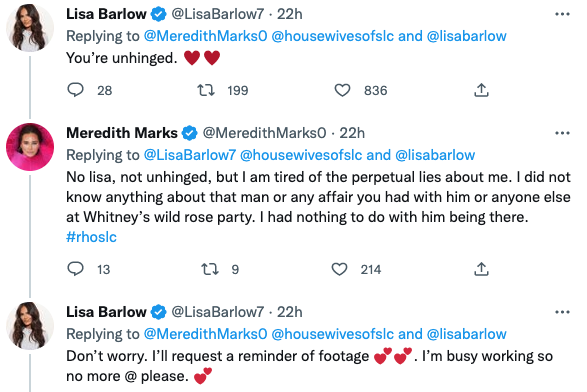 Lisa and Meredith were good friends at the start of The Real Housewives of Salt Lake City. However, they had a falling out after Lisa's outburst where she accused Meredith of sleeping with half of New York. 
Stay Connected With All About The Tea: Twitter Ι Instagram Ι YouTube Ι Facebook Ι Send Us Tips