'Married to Medicine' RECAP: Simone & Toya Call Out Anila Over Robbery Rumors!
It's reunion day and the ladies are entering as Andy Cohen checks in on them. Dr. Contessa Metcalfe ran up on Dr. Heavenly Kimes in her trailer on set, and Heavenly ran away like a scared puppy. Heavenly tells Andy that she's traumatized, and Andy checks in on Toya Bush-Harris and Quad Webb as everyone gets ready. We get a brief preview of the reunion, and it looks like we're in for a treat! The ladies look beautiful as Andy greets them at the Vegas-themed reunion. Andy begins by asking Dr. Jackie Walters how she thinks the night will go, and Jackie thinks it'll be tumultuous. 
Andy greets Dr. Heavenly and thanks her for taking a break from social media to join the rest of them. Andy greets Dr. Simone Whitmore before joking about Simone's volume, and he asks Toya if she's gotten her bacon power today. Contessa's ready to go thirteen rounds tonight and Anila Sajja's ready to be there as Mason tells Aunty Quad to "go hard and send them home." Andy focuses on Quad's upgrade and new role as an authority figure to her nephew, Mason. We get a flashback of all of Quad's ups and downs throughout the season, and I can admit, Quad has come a long way, but she needs to answer to the thot-usations that are circulating about her, LOL. Backing up, Andy compliments Quad on bringing her family in, and a fan wonders if Quad ever considered not putting Mason on camera. Mason isn't allowed to watch the show but Quad tells us that Mason enjoys filming the show.
Toya lets out a loud sigh as Quad continues explaining that Mason's mom is alright with Mason living with Quad. Andy loves Quad's house and wonders how Quad furnished it. Quad claims she has the receipts to prove that she paid for everything in full. Andy wonders if Toya appreciates Quad's new space, and Toya puts the judgmental attitude back on the ladies. Quad complimented Toya's house but Toya brings up Quad hating on her from day one. The two ladies go back and forth, and Toya admits that she doesn't want to be Quad. Andy brings up the T-shirt Toya gifted Quad, and Quad thinks Toya doesn't like Dr. Eugene Harris. Toya claims that Quad wants Eugene and wants the stability that Toya has. Toya asks where her checks are and that the ladies only see clothes. Toya brings out her books and shows Andy a list of checks addressed to Toya monthly.
Toya eats Quad up as Andy jumps in and reads some comments from the fans. Andy asks Heavenly what she knows about Quad's love life and Heavenly admits to not knowing anything, but the people are interested. Toya yells out "married men" and Quad is activated to defend herself. Toya accuses Quad of taking trips with a married man and Quad gives Andy the lie detector results. Toya states that the test is inadmissible in court as Andy reads out Quad's results. Quad has no deception indicated and wonders if the ladies believe the test. Dr. Simone chimes in that she never mentioned the man's name and Heavenly admits to perpetuating the rumor and apologizes to Quad. 
Quad tells Heavenly that she doesn't think before she speaks and Contessa chimes in agreeing with Quad. Heavenly isn't trying to make excuses and states the difference that Toya is married and Quad isn't. Heavenly doesn't want to tear up any families and Contessa brings up the man's wife and that she blocked Quad on Instagram. Whew. Quad doesn't like that people think she slept her way to the top but Toya wonders why it's okay for Quad to do that for her. Another fan brings up Quad's finances and Simone wonders about Quad's ability to pay her bills, as well. Simone thinks Quad is keeping up with everyone else and Quad claims she doesn't have to explain herself to anyone. Moving on, Andy focuses on Dr. Heavenly and the loss of her mother. After a recap of Heavenly's journey this year, Andy wonders how Heavenly's holding up since her mother died.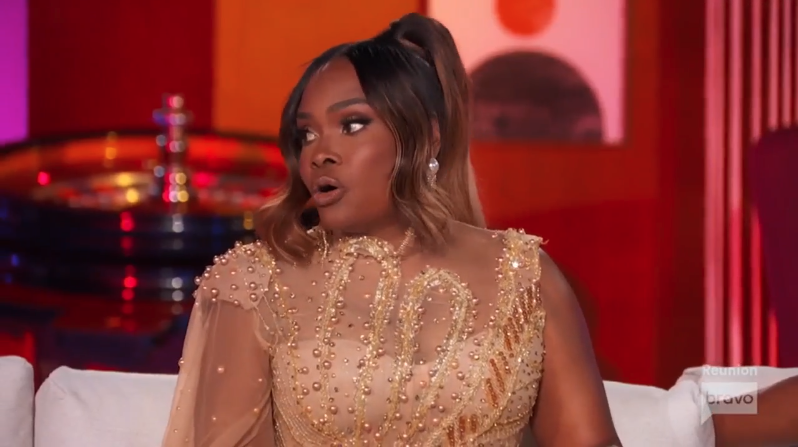 Heavenly continues following her mother's wishes in regards to her sister, and the rest of the ladies have met Heavenly's sister. A fan wonders if Heavenly goes to therapy and Heavenly admits that she doesn't. Dr. Jackie doesn't think Heavenly is grieving appropriately and Simone shares that Jackie and Heavenly view crying as a weakness. A fan jokes that Heavenly must've been going through the change since she began M2M, and Simone defends Heavenly and her mood swings. A fan comes for Heavenly's beauty business and Heavenly reveals that she would censor herself if her social media began hurting her businesses. Andy makes the comparison of Heavenly's friendships taking a hit because of her social media and Heavenly is speechless for once. 
Simone says that Heavenly doesn't give a damn, and a fan wonders how Heavenly's other businesses are going. Another fan wonders if Quad would've gone after Mr. Wright before Andy shifts his attention to Toya's opinion of Heavenly's wigs. Andy gives us a recap of all the shady moments this season, and we relive some of the best moments of the season. Andy begins to discuss the ladies' joking habits and read sessions. Andy wants to know where Dr. Heavenly draws the line at. The ladies bust into laughter and Heavenly thinks Andy was messy for asking that question. Andy directs his attention to Anila and asks whether she believes her U-Haul joke landed or not.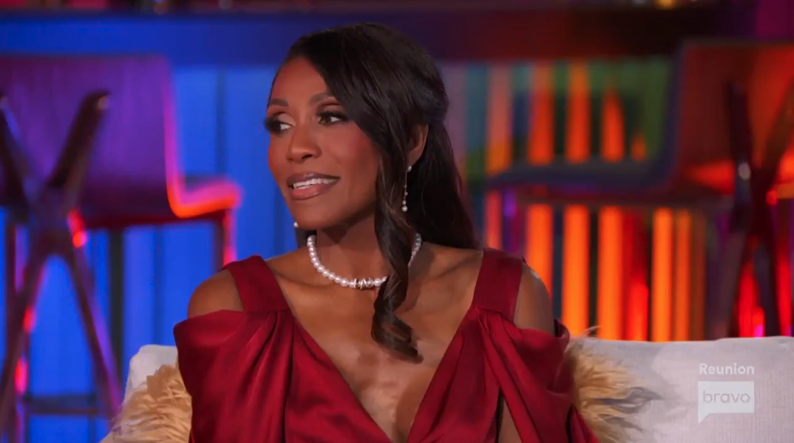 Anila thinks it was shady but funny. Toya then chimes in saying that someone told her to dress as a burglar next year. Heavenly starts laughing but Anila doesn't crack a smile. Andy moves to Contessa and wonders how a baked Dr. Jackie would be; Contessa thinks Jackie would talk excessively. Another fan points out how Quad can dish a joke but can't take one about herself. Quad thinks she can take a joke, but soon, she and Heavenly get into it about each other's banter. Heavenly points out that Quad calls her breasts long, but Quad doesn't like Heavenly joking about her butt. 
Quad claims that Heavenly is nipped and tucked right now, and soon, Andy and the girls compliment Heavenly on her beautiful corset. Andy asks Jackie how the ladies continue to share laughs with each other, and Jackie points out that the ladies have found a way to relate to each other. After the break, Andy focuses on Anila and the home invasion her family endured. After the recap, Andy asks about the current drama because Anila has now been robbed twice in a six-month span. Andy wonders if they discussed moving, and Anila wants to remain in her home. Andy discusses the housewarming party while the fans wonder how Anila got half a million dollars worth of furniture. Anila gives Andy her blogging press release as Anila explains the metrics.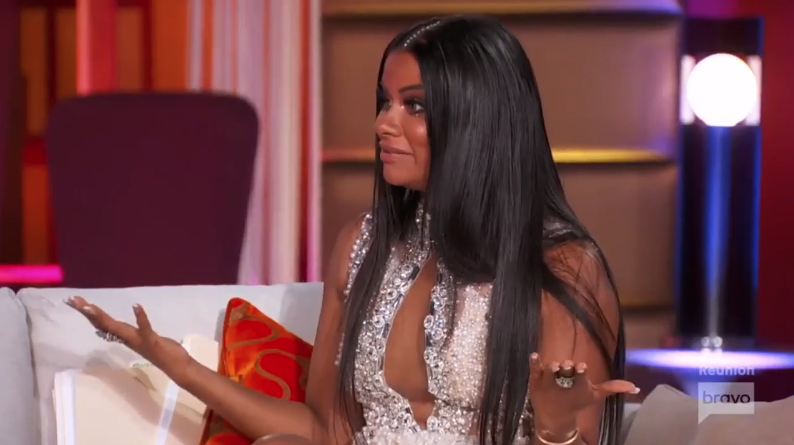 A lot of viewers commented on Anila's situation with Ms. Gomez and Andy asks the ladies their opinion of Anila's mother. Simone thinks Anila brought her mom too many places and Anila finally gets the message. Andy questions Anila about her Instagram post regarding the break-in and Simone tells Anila that her post made it seem like Anila knew who did it. Andy wants to know why Quad thinks Toya had something to do with the break-in, and Simone gets upset as she explains the nuance of the situation. Quad thinks Toya had knowledge of Anila's break-in because of Kari Wells, and Contessa and Quad get into it for a brief moment. 
Anila attempts to explain her point of view, but Toya has had it! Anila claims that she never accused Toya, but Toya couldn't hear over her own screams and tells Anila that she might keep getting robbed because she's an a**hole, LOL. Toya thinks Anila is setting herself up for failure, and it's clear this won't be solved anytime soon. Andy asks Heavenly what she thinks, and Heavenly doesn't think Toya had anything to do with Anila's break-in. Andy tells the ladies about a gang that targeted and robbed a lot of celebrities in Atlanta. Anila claims that she talked to their detective and he claims there's no link to the other robberies. Toya doesn't know if Anila's telling the truth or not, and then, Anila brings out her own lie detector test. Andy reads the results, and it seems Anila's in the clear for now. Anila still doesn't know who robbed her place and Simone thinks the group is in a bad place and not taking accountability for hurting their friends.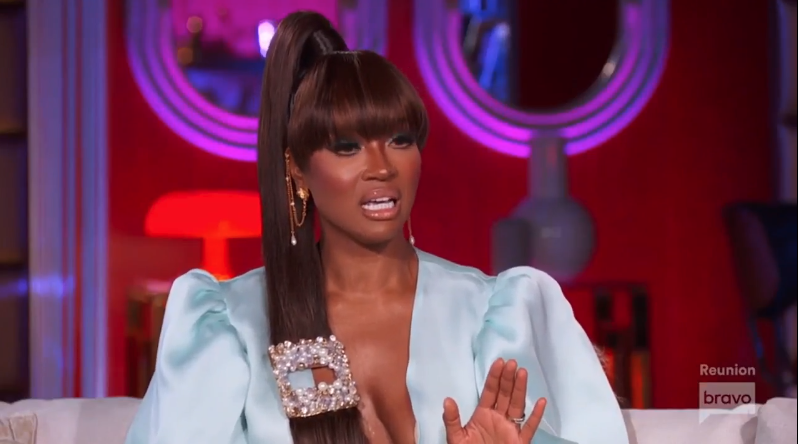 Contessa asks Anila why she's hanging out with Toya if she thinks Toya had something to do with the break-in. Anila doesn't think anything bad of Toya, as of right now, but doesn't clarify if she thinks Toya is withholding information. Be sure to come back next week for part two of the Married to Medicine reunion! 
Stay Connected With All About The Tea: Twitter Ι Instagram Ι YouTube Ι Facebook Ι Send Us Tips
LeAndra Williams is a content contributor at All About The Tea. She's a social worker and (super) mom by day, and a reality T.V. junkie by night.