'Married to Medicine' RECAP: Anila Insinuates Toya Was Involved in Home Robbery!
Welcome back to the world of Medicine and Messiness! This week, we begin with Anila Sajja as she's home with Dr. Kiran Sajja and their kids. The kids are eating pizza as Dr. Kiran asks if the kids are happy to be home. In their confessional, Dr. Kiran and Anila explain that it was a lazy Sunday, and coming home to see their house being robbed. After the police took care of everything, Anila and the kids drove to Savannah to spend two weeks away from the house. Dr. Kiran reminds Anila of the argument between Toya Bush-Harris the other night. Kiran now has an updated security system and Anila looks sad as she drinks her wine to calm her nerves.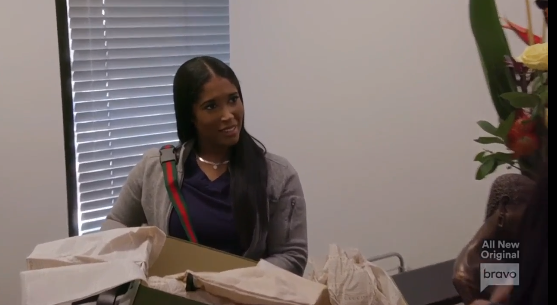 Anila begins crying when she sees her empty closet and doesn't understand why someone would do this to her. Quad Webb is home eating with Mason while Dr. Simone Whitmore and Cecil Whitmore eat dinner as they discuss writing their book. Dr. Eugene Harris and Toya are also cooking as Dr. Jackie Walters works in her office the next day. Dr. Jackie decided to hire a new doctor and now Dr. Jackie's load is lighter than ever! Dr. Jackie shows the new doctor around the office to get her familiar with her new job duties. Producers ask Jackie if she's OCD, and of course, Jackie doesn't see issues with her behavior. Jackie likes things to be in order and it's clear how she has her office set up. 
Dr. Jackie gifted her new doctor with a Gucci bag and that's one lucky doctor! The next day, Eugene and Toya talk to their son about his schoolwork and Dr. Eugene's new job. Eugene decided to get out of the ER and into Urgent Care where his patients have cancer. Toya's excited about the new hours and time she'll be able to spend with Eugene. Since Ashton's turning 12, he wants to throw a dinner party for his friends. At the grocery store, Ashton asks at the deli counter the type of steak they have — Ashton wants the expensive stuff. Ashton is not only throwing a dinner party, but lil buddy also wants to cook for his friends. You go, boy!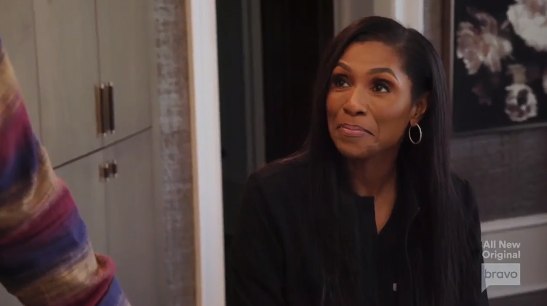 At Simone and Cecil's, they call Omarosa Manigault Newman to get some advice on their new book. Simone and Cecil are struggling and want to make sure they add all the important elements to the book. Omarosa feels the book proposal is missing why Cecil and Simone almost divorced. Simone feels it's too painful to revisit, while Cecil doesn't mind putting it all out there. We all know that Cecil's golfing buddy almost ruined a 26-year marriage, but is Simone emotionally ready to dive back into it all? Omarosa is very worried and doesn't want the book to tear the Whitmores apart. Simone and Cecil decide to put the book on hold and get back into counseling for the sake of their marriage. Good idea! 
Later that day, Dr. Jackie is working in the office as she reviews a patient's pap smear. Dr. Jackie is excited to leave the office by 2:30 pm and loves being home before the sun sets. Jackie enters with Curtis Walters cooking in the kitchen and Curtis ain't ready for the new Dr. Jackie! Jackie explains to Curtis how excited she is for her new schedule and finally feels a sense of accomplishment for all she's done. Jackie wants to serve more people and Curtis is behind her 100%. Jackie wants to start exercising with Curtis and traveling more, and Curtis gifts Jackie new luggage. The next day, Toya is facilitating Ashton's dinner party and makes sure decorations are in place.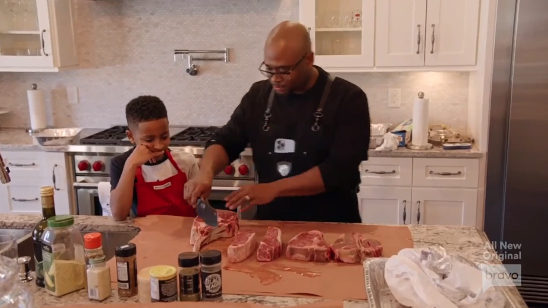 One of Ashton's friends can't come due to being sick and Toya and Eugene joke about Ashton liking the girl. Toya's nervous to tell Ashton but will lay it on him gently as he seasons the steaks with Eugene. Ashton already knew his friend had COVID and wasn't fazed at all. Eugene directs Toya out of the kitchen so the boys can cook in peace. The party is getting started and Ashton gives roses to all his lady guests. Ashton gives his guests a rundown of what's to come and the kids are so cute with their apple cider and birthday wishes for Ashton. The dinner is bomb and I'm mad I didn't get an invite, SMH. Ashton thanks everyone for coming and Toya and Eugene have a cute moment in the kitchen with a kiss. 
That evening, Dr. Heavenly Kimes invites a couple of the ladies over for dinner. Jackie and Quad came over to check on Heavenly after her mother passed away this week. Heavenly tells Jackie and Quad that her mother wanted Heavenly to make up with her sister. Heavenly has a therapist to mend her relationship with her sister but has yet to make the call. Heavenly admitted that going to a therapist to make sure her mother crossed over in peace and revealed that her mother was no longer in pain. It's clear Heavenly has a lot of growing to do and I think the passing of her mother will adjust her priorities. The next day, Dr. Jackie and Curtis are throwing a vaccine drive/thank you party at their house.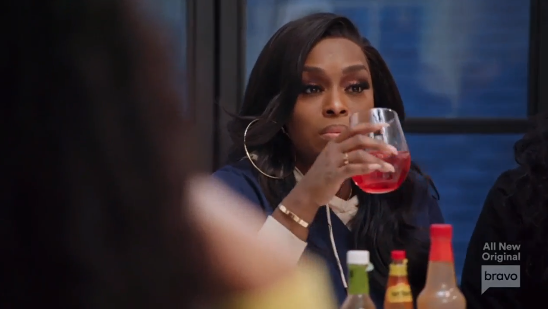 Jackie has food, heaters, and decorations as everyone begins arriving. Everyone's complaining about the cold as Simone drags Heavenly to the BBQ food truck for some grub. Heavenly tells Simone to get Cecil a plate and we all know Simone doesn't work that way. Toya and Eugene arrive, and thankfully, Eugene fixes Toya a plate with zero fuss. Jackie calls Anila to see if she's coming, but Anila is still traumatized. Anila thinks she was targeted, and we find out the security cameras weren't working at the time. The ladies get too cold and head inside as they converse about Anila's break-in. Quad tells the ladies that Kari Wells thinks Anila had a hit out on her and the ladies crack up laughing! 
The men are outside adjusting the heaters as the ladies continue analyzing on what happened to Anila. Toya admits that she threw a Christmas party the same night Anila's house was robbed but no one saw anything. Toya wonders if Anila's a liar and Quad claps back by calling Toya a liar in return. Toya brings up that Quad's speaking negatively about Toya's family and brings Heavenly into the mix. Heavenly gets upset and begins telling Toya not to bring her name into anything! When did Quad and Toya get on the wrong foot? Did I miss something?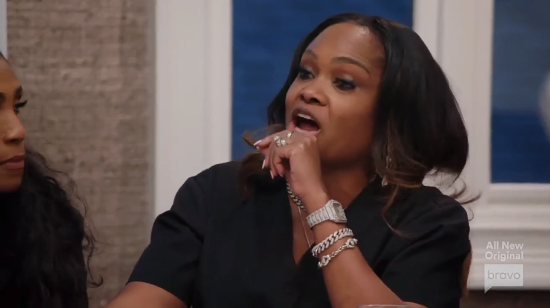 Heavenly gets very upset and puts her coat on to collect Dr. Damon Kimes as the rest of the ladies look on in awe. Heavenly tells the ladies to kiss her a** and climb a tree as she attempts to storm out before getting stopped by the door. Heavenly gets even more upset because she can't get out the door and once outside begins cursing the husbands as she drags Dr. Damon away. The husbands laugh as Quad runs after Heavenly. Inside, Toya doesn't have sympathy for people who try to ruin her marriage. I feel you, Toya, cause them ladies knew what they were doing. 
Dr. Contessa Metcalfe comes out to apologize to Heavenly and wants Heavenly to know that she understands where she's coming from. Jackie, Toya, and Simone go outside to check on the husbands but not before Simone gives Toya a pep talk about being the bigger person. Toya has a big heart but is hurt that her friends aren't giving her the grace that they expect from her. This group has a lot of learning and growing to do. Let's hope they find their way and be sure to come back next week for a brand new episode of Married to Medicine! 
Stay Connected With All About The Tea: Twitter Ι Instagram Ι YouTube Ι Facebook Ι Send Us Tips
LeAndra Williams is a content contributor at All About The Tea. She's a social worker and (super) mom by day, and a reality T.V. junkie by night.