'RHOA' REUNION RECAP: Drew and Shereé Nearly Come to Blows Over Allegations About Ralph!
Welcome to part two of The Real Housewives of Atlanta reunion! Marlo Hampton continues her sob story of going to multiple foster homes and claims the other ladies couldn't walk a mile in her shoes. Marlo believes the ladies hate on her because of her fashions and Kenya Moore tries to chime in to clarify her point of view. Marlo continues fake crying before Andy Cohen gives Kenya the floor. Kenya doesn't believe Marlo's words match her actions and thinks Marlo's a contradiction. Sanya Richards-Ross, wanting to balance out the conversation, admits that she had a different experience with Marlo and that Marlo's been a great friend to her. Drew Sidora wants Marlo to be consistent and Andy moves the conversation to the break-in Marlo experienced at her home. 
Andy reads Kenya's tweet regarding Marlo withholding information from the group and asks Kenya to clarify what she meant on Twitter. Kenya wanted to jump on a conference call with the ladies to keep each other safe and feels like Marlo didn't contribute to their safety. Andy moves the subject to Marlo kicking her nephews out. Marlo recognizes her delivery wasn't the best and feels like she should've said she needed a "reset." Marlo felt she didn't have control over her house and Andy understands the hurt that Marlo experienced. However, Andy admits it doesn't land to him that Marlo kicks her nephews out after experiencing being abandoned. Kandi Burruss chimes in to remind Marlo about making her house a home for the boys and not understanding why Marlo gave up so easily.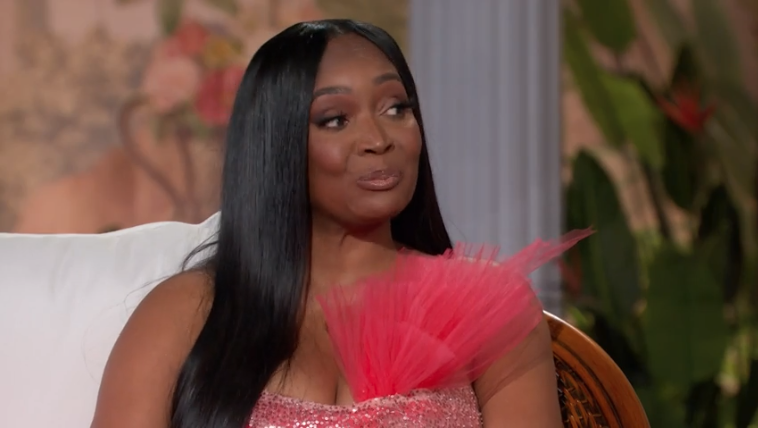 Marlo continues making excuses for herself and claims she now has a therapist and a life coach to help her through these changes. A fan asks Marlo about spoiling her foster girls versus her nephews and Marlo believes since she doesn't see the foster girls as much, they need extra attention. Marlo admits to not hearing from her sister in a while and Andy continues giving Marlo props for making sure her nephews were emotionally alright. Kenya interrupts Marlo's moment by asking Andy for a tissue. Andy asks if Kenya was moved by Marlo's words, but Kenya's nose is just running. 
Andy thanks Marlo for sharing and Kenya shades Marlo by saying Marlo's doing damage control for kicking the boys out. Marlo hears Kenya and calls her an evil b****. Marlo thinks Kenya isn't able to lift her up and the two get into a brief verbal spat. The topic moves to the many receipts of the season, and we're reminded of Ralph Pittman gaslighting Drew, Kenya and Marlo going at it, and the 'Drop It With Drew' fiasco. Producers kept the ladies on their toes this season and Andy wonders if the added pressure ensures the ladies tell the truth now. Kenya thinks some ladies will lie no matter what, which is a direct dig at Marlo. Drew admits it was hard seeing herself get roasted all season and Ralph was a little upset about the gaslighting situation.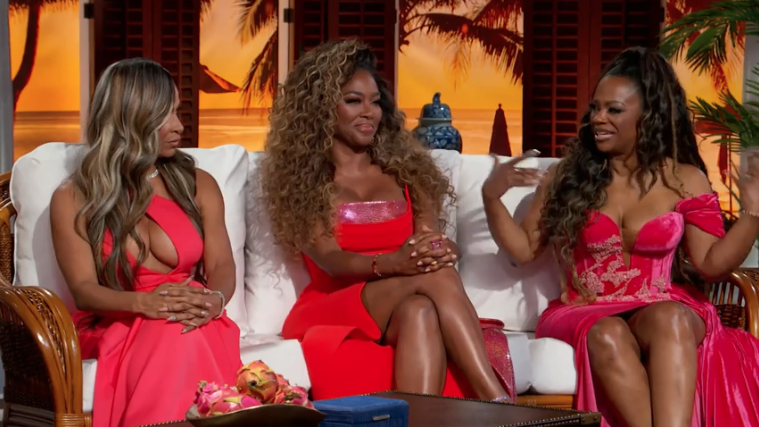 A fan asks Marlo about her edges and Marlo's happy with her hair progression. Kenya thinks Marlo needs some of her Kenya Moore Haircare products to help her hair grow and Kenya stands behind her products, LOL. Drew explains Ralph's football career, and Shereé Whitfield and Kenya laugh at Drew's explanation. Shereé was tired of being clowned for She by Shereé and Kandi reveals she put out "B*tch I'm Worldwide" merchandise and admits the fans love it! Andy moves the topic to Kenya, and we get a recap of all the wonderful moments of Kenya Moore. Andy asks the ladies if they noticed a change in Kenya and Kandi thinks Kenya's good energy was shining through her this season. Kenya explains her love for dance and becomes emotional explaining the loss of her grandmother and wanting to dance for her. 
Drew tells Kenya that she saw the aura of light shine through Kenya and that's why she wanted to give their friendship another chance. Andy asks about Kenya's divorce, and she admits the progress is at a standstill. The ladies explain how much they love drunk Kenya and Shereé thinks Kenya's a lot of fun. Kenya's dating and wants to have fun in the meantime. A fan directs a question toward Sanya and the pressure she put on Kenya to bring a plus one to Jamaica.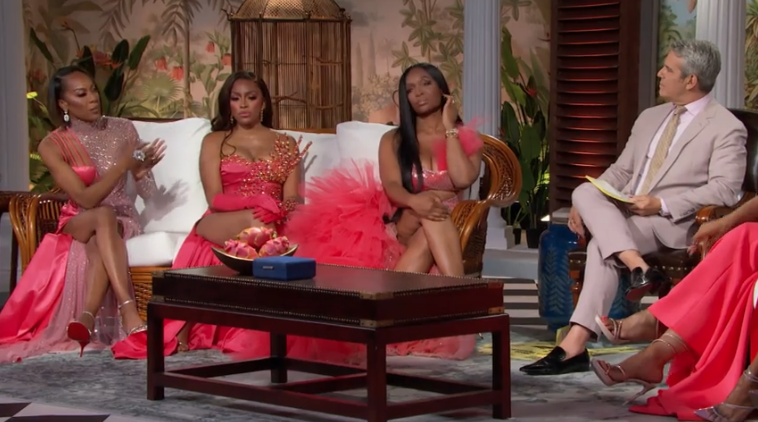 Sanya thought she was being nice by extending the group to another person and admits that she didn't mean to make Kenya feel like she had to bring a man. Another fan thinks it was rude for Kenya to hang up on Sanya and Kenya doesn't regret anything. Andy directs our attention to the iFit fiasco and wants to understand what the big deal was with Shereé and Kenya for missing it. Shereé claims that she really wanted to go, but we all know Shereé only wanted to go to expand her own business. Kenya wanted to go to show Sanya she was there for her, but Sanya didn't feel that way. Sanya was already annoyed by other events that were out of her control and Sanya only wanted everyone to have fun. 
Andy asks Shereé what she meant when she told Sanya she needed to "handle" Kenya. Shereé feels that Kenya can be aggressive and that Kenya only respects you if you stand your ground. Kenya and Shereé get into a silly spat before Shereé's phone starts ringing and it's none other than Martell Holt. Andy gives Shereé props for Martell's looks and Kenya makes a comment about Martell's peen. Drew wants Shereé to confirm but the conversation moves to John from Jamaica. Andy wants to know if Kenya met John that night, and of course, Kenya doesn't kiss and tell. Kenya was also disappointed that Sanya thought she had trauma dumped on people and believed the two connected.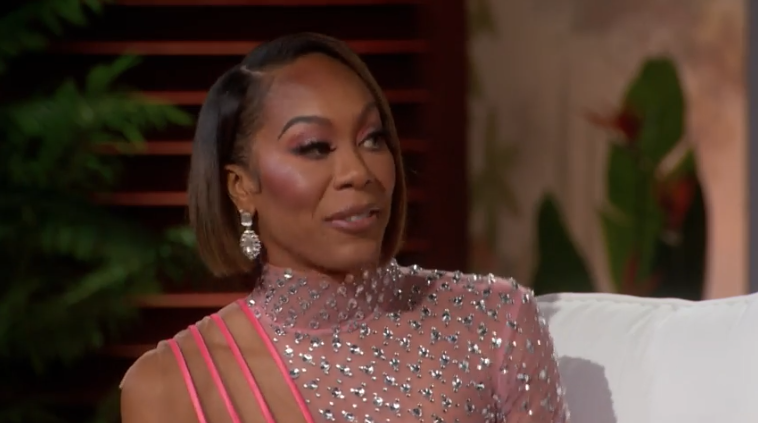 Sanya sees a pattern in Kenya's behavior and loves the fact that Aaron Ross took up for her in Jamaica. Sanya doesn't think Ross was cursing at anyone and Kenya thinks Ross is a sweet guy and respects him. Andy asks Kenya about the game the ladies played at Brooklyn's birthday party and Kenya thought it would be fun shade instead of shade SHADE, LOL. Andy asks Shereé about the comment about Kandi sucking penises and Shereé doesn't think she said anything wrong. No one admitted to writing the comment about Kandi and Kenya still feels the good energy from this season. 
Andy shifts our focus to Sanya this season and we get a recap Sanya's full house, her issues with Drew, and baby-making discussions with Ross. Sanya had a great time this season but admits being a housewife is harder than running in the Olympics. Andy loved watching Sanya's family and Sanya loves doing life with her family. Sanya's still trying to get pregnant and is happy that Ross understands the help Sanya needs with having more kids. A fan gives Drew the blues for the advice she gave Sanya about having another baby and Drew doesn't back down on women making their husbands happy. Sanya and Drew get into an argument about Drew's WWHL appearance and Drew didn't think she had bad intentions, but her advice didn't land at all.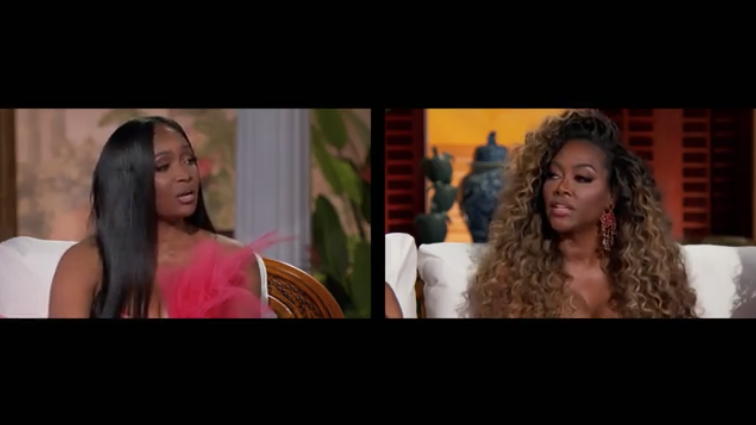 Andy gives us a recap of the tumultuous friendship between Marlo and Kenya and soon the two get into a war of words. Andy wonders where the issue with the ladies began and Marlo thinks Kenya is dismissive. Marlo claims that she understands why Kenya hasn't forgiven Marlo for her comment about her mother, but something tells me Marlo just enjoys arguing with Kenya. Marlo claims Kenya was only friends with her to team up against Porsha Williams and soon the two are back screaming at each other. Drew reveals that Marlo had an issue with her for being friends with Porsha and now the real truth comes out! Marlo begins backpedaling and Kenya calls Marlo a sociopath. 
Kenya tells Marlo that everything about her is fake and reveals Marlo's real name to everyone! Marlo claims it's not her name and the rest of the ladies are shook! Kenya reminds Marlo that she called her and Kandi "the money girls" and calls Marlo broke in the same breath. Another fan thinks Kenya's being a hypocrite with her words towards Marlo and another fan thinks Marlo and Kenya hurt each other how their mothers hurt them. Kenya doesn't agree with that and thinks Marlo is disingenuous.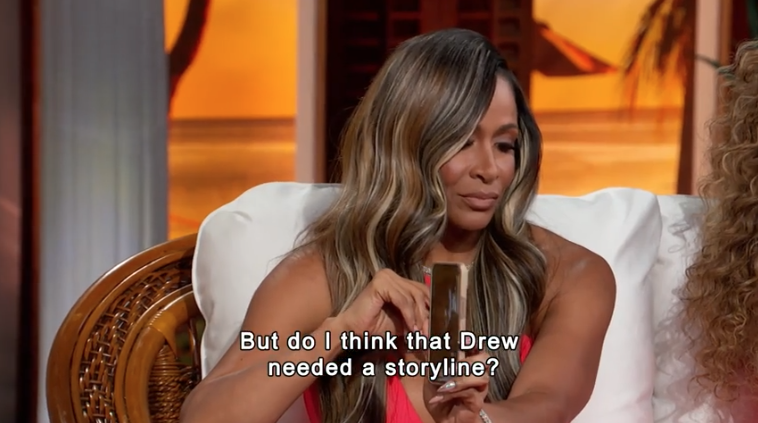 Kenya goes on about Marlo and the many things she doesn't like about her and the two begin going back and forth again. Andy tries to move the conversation along before Marlo calls Kenya a lying b*tch. Kenya and Marlo yell at each other before Andy asks Marlo about her arrest record. Marlo tells us she was in jail for six months and that she was also on house arrest in the past. Andy then directs our attention to the shade fest between Drew and Shereé as we see a recap of their beef. A fan wonders if Anthony was really Shereé's assistant and Shereé has to answer for naming Anthony her assistant in her phone. Drew didn't believe what Anthony said but didn't know what to do with the information. 
Shereé claims she confronted Anthony and another fan asks Drew if she pays all her assistants. Another fan brought up the rumor about Ralph being gay and Drew plays a recording of Anthony saying Shereé was lying. Shereé then calls Anthony on FaceTime and Anthony admits he was never Shereé's assistant, and that Shereé didn't owe him anything! What in the world!? Anthony doesn't remember calling Ralph gay but tells the ladies that Drew needed a storyline and his help! Wow! This is getting crazier and crazier! Be sure to come back for the final part of The Real Housewives of Atlanta reunion! 
Stay Connected With All About The Tea: Twitter Ι Instagram Ι YouTube Ι Facebook Ι Send Us Tips
LeAndra Williams is a content contributor at All About The Tea. She's a social worker and (super) mom by day, and a reality T.V. junkie by night.