'RHOA' REUNION RECAP: Marlo Breaks Down While Revealing Details Of Her Traumatic Childhood!
Welcome to part one of The Real Housewives of Atlanta reunion! We begin with the ladies arriving looking refreshed, while Andy Cohen makes his rounds to the ladies' rooms. The women are ready to put Season 14 to rest and we're ready for the drama. The stage was decorated inspired by Jamaica and the ladies look beautiful! After some brief small talk, Andy raises the question, "Who's the new bone collector?" and a recap shows everyone doing their share of meddling. Shereé Whitfield and Drew Sidora get into a brief argument concerning the assistant, Anthony, and Sanya Richards-Ross gets agitated by Drew's opinion of her. After the break, we get a rundown of Shereé's time on the show and her journey with She by Shereé. It's no doubt that  Shereé had an eventful season, but we're all wondering if the stress was worth it.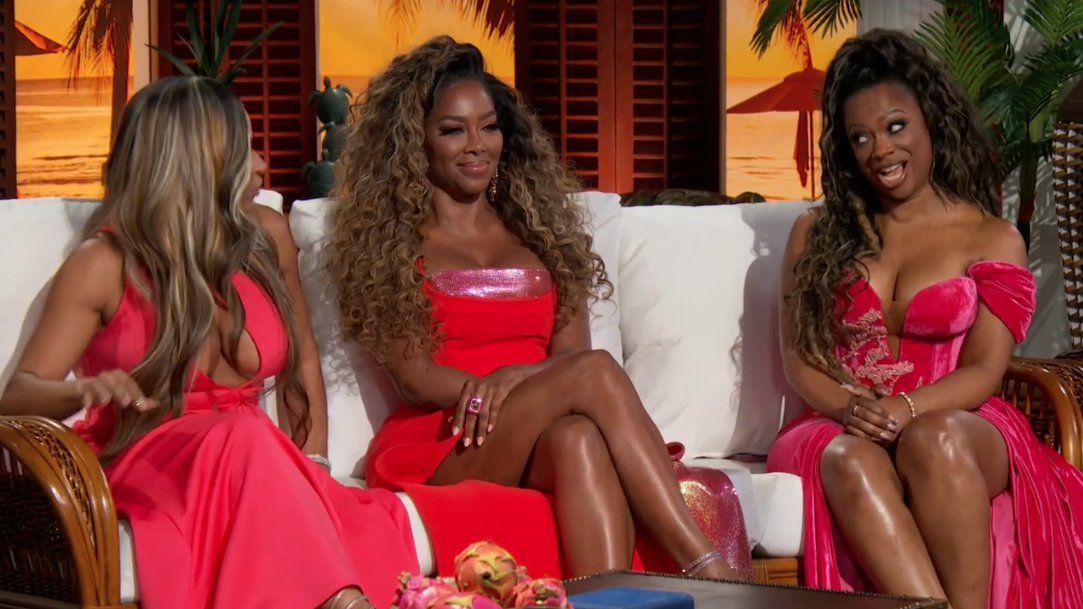 Andy congratulates Shereé and wonders where things are with She by Shereé. Shereé says the fashions are done and continues making excuses as to why there's no inventory, but we shall see. Andy wonders if Sheree was ever embarrassed by all the talk of, She by Shereé, but Shereé said that she was thrown off guard by all the attention. The ladies loved the fashion show, and the ladies answer a few fans' questions about the season finale. A fan directs our attention to the shade being thrown between Shereé and Kandi Burruss and Kandi defends herself by bringing up the disgusting comments from both Shereé and Marlo Hampton. Kenya Moore comes to Kandi's defense and Shereé thinks she's good clickbait for Kandi's YouTube channel. 
Kandi wants the tapes rolled back because Shereé definitely said some terrible stuff about Kandi all season. I feel like Kandi's giving Shereé the same energy, but Shereé is used to being the victim. A fan then directs our attention to the beef between Shereé and Drew and how long it took Shereé to come out with her fashions. Drew brings up the point that all of the ladies had something done to their bodies, and soon Drew and Shereé argue for a bit. I mean, it did take Shereé 14 years to show us 22 pieces, but she can't let Drew live. Shame.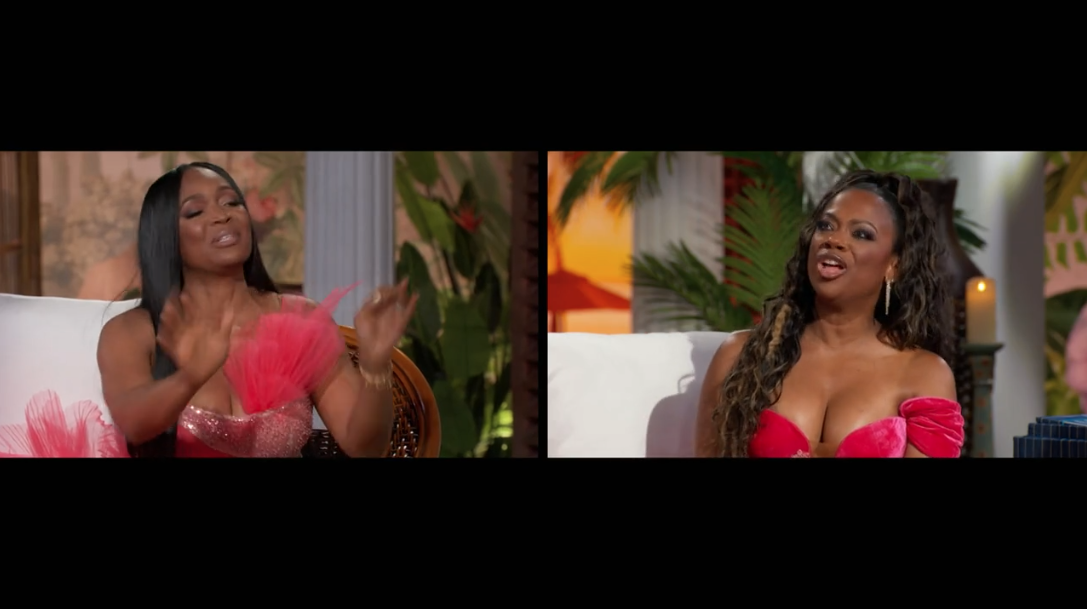 Drew continues explaining that she had elective surgery because it's what she wanted to do and wishes she received more support from the other ladies. A fan brings up the rumors about Shereé not paying her bills and Shereé claims that she moves at her own pace. Andy begins questioning Shereé about paying her bills and Shereé continues making excuses. Stop doing business with Shereé! Kenya tries to talk sense into Shereé and makes a point that although Shereé may not be satisfied with a service, that doesn't absolve Shereé from paying for the service. A fan directs a question toward Kandi throwing shade, and soon, Marlo and Kandi get into it. We all know that Kandi helped Marlo get on the show and now Marlo's trying to turn things around for her benefit. 
Marlo claims that it was a contract issue, but Kandi is rolling her eyes, so I don't believe anything Marlo says. Kandi did help Marlo a lot and Kandi is fed up with the lies from Marlo. Marlo claims Kandi that doesn't produce shows, but we all know Kandi is the breadwinner of the group, so Marlo can hush all that! Shereé brings the focus back to her as a fan questions Shereé about her abstinence with Tyrone Gilliams. Shereé admits that Tyrone didn't satisfy her and that he used her for her likeability. Andy directs our attention to Shereé's new boo — Martell Holt from OWN's Love and Marriage: Huntsville, and Andy wants to know all the tea! Kenya's happy for Shereé, but fans wonder if Shereé ignores the red flags concerning her new boo. Shereé says that on Martell's reality show, he's a different person, but we're still side-eyeing that man.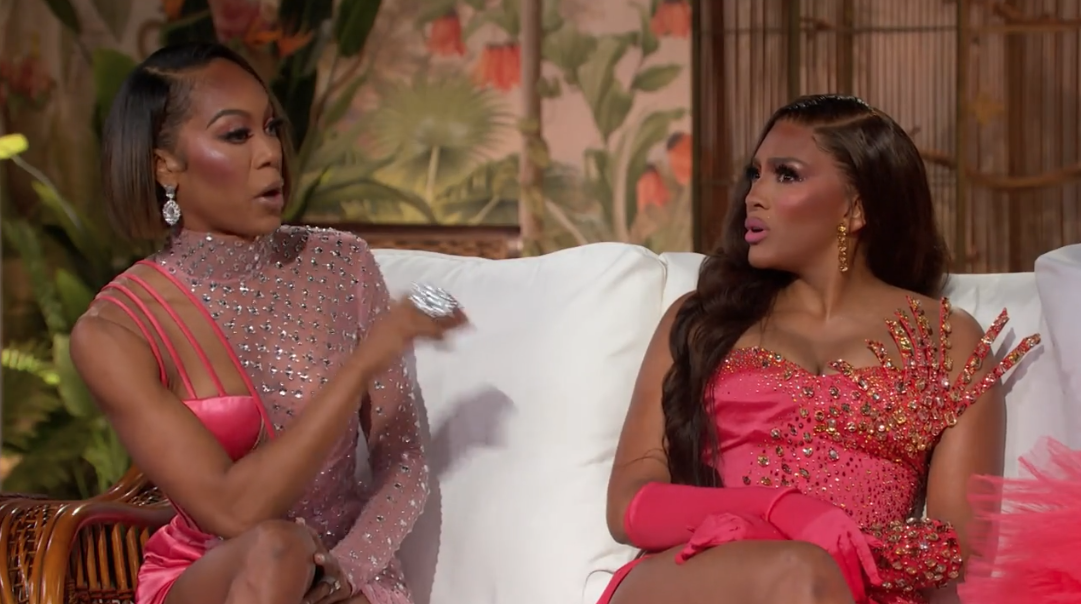 The women ask Shereé to be careful then we transition to the beef between Sanya and Drew. After a season recap, Andy wonders where the two women stand today. Sanya admits that she and Drew no longer talk and Drew wonders what changed between them. Drew claims she never did anything to Sanya and Sanya thinks Drew milked her situation and plays victim to the fans. Sanya claims that Drew is lying and that the two ladies had a conversation off-camera which we weren't shown. Sanya and Drew begin to get heated as the two begin going back and forth.
Sanya says that she went to Drew's room because Sanya didn't want Drew to feel blindsided by the conversation, but then Drew started acting weird. Sanya claims that Drew then blindsided her, but there's no resolution to this. Sanya doesn't want Drew talking over her and a fan has a few questions about Sanya's clout chasing. Sanya gives Marlo the benefit of doubt and Andy makes a point that it made sense that Sanya invited those who have the most Instagram followers. Sanya begins getting emotional as she explains wanting to get to know all the ladies and begins asking Drew to stop acting. Drew and Sanya continue going back and forth as the birds chirp in the background and Andy wants to know if their friendship is repairable. Andy asks the room whether Drew's a flip-flopper and Shereé calls Drew a liar.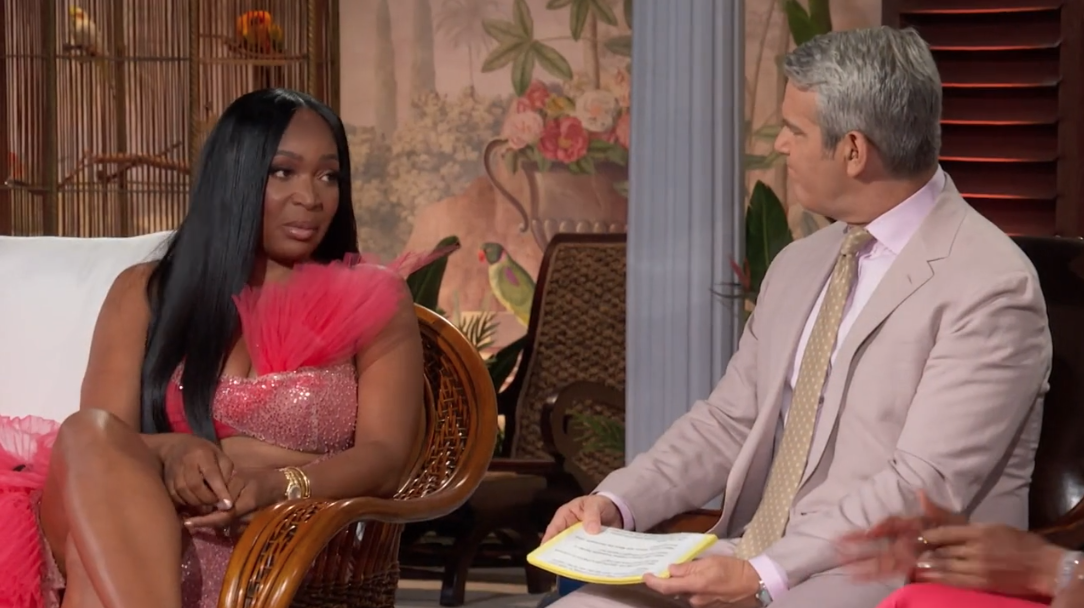 Andy hopes Sanya and Drew can get past their issues as we transition to Marlo's time on the show. After Marlo's recap, Andy wonders if Marlo's mom got to connect with the boys. Marlo begins crying as she explains the relationship with her mother and claims that her mom went back to her same old ways. Marlo's really milking this first seat and I ain't mad at it! Marlo gives Mama Joyce praise as she wishes she had a mother to comfort her in her time of need. Marlo continues explaining how alone she feels and that the other ladies don't make her feel worthy. Marlo tells the story of how she ran away from home at 10 years old and went to foster care immediately afterward. Marlo, no doubt had a tough childhood, but I want sis to get the help she needs instead of taking her trauma out on everyone else. 
Andy wonders what searching for a home did to Marlo and she continues explaining her hurt while bringing attention to Kenya's shade of her being an ex-con. Marlo claims to feel blessed to share the stage with her fellow co-stars, but her actions are still questionable. Kandi admits to learning more about Marlo after meeting her mom and understands her childhood was rough. Andy understands Marlo wanted a peach so badly and connects it back to Marlo wanting to be accepted. Marlo always wondered why she never got a peach but she sure has come a long way. Andy asks Kenya if Marlo was the housewife she expected her to be and Kenya tells the truth and says no. Marlo went the opposite way of what Kenya thought she would be and continues believing Marlo was a sour peach.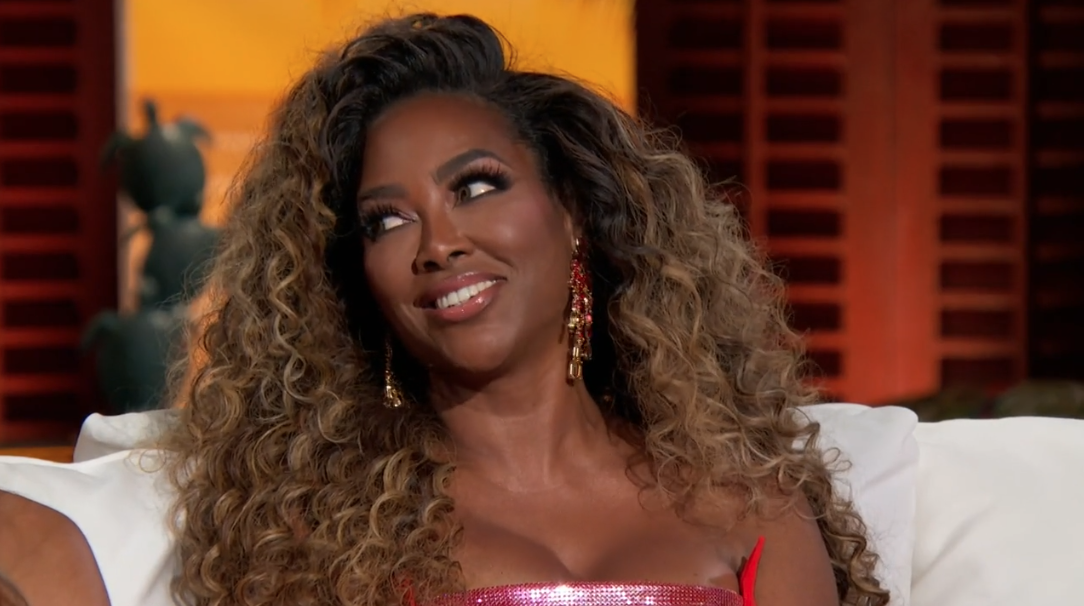 Marlo continues trying to get on Kenya's good side but Kenya is fed up with the BS! Marlo claims that she didn't say anything about Kenya's estranged husband, Marc Daly, and Kenya holds Marlo accountable for her words. Andy feels Marlo suffered emotional abuse from men and that those relationships have affected how she responds to the ladies. Marlo continues making excuses for herself and Andy asks Marlo the tough questions about ever having a serious relationship. 
We can only imagine what Marlo had to survive growing up, but that doesn't give her an excuse to be an evil person. That's it for part one of the reunion. Be sure to come back next week for part two of The Real Housewives of Atlanta! 
Stay Connected With All About The Tea: Twitter Ι Instagram Ι YouTube Ι Facebook Ι Send Us Tips
LeAndra Williams is a content contributor at All About The Tea. She's a social worker and (super) mom by day, and a reality T.V. junkie by night.