'Married to Medicine' RECAP: Anila Accuses Toya of Cheating on Eugene!
Welcome back to Married to Medicine, the world of medicine and mess! This week we begin with Toya Bush-Harris and Dr. Eugene Harris at home with the kids as Anila Sajja and her parents decorate the house for Christmas. That evening, Dr. Contessa Metcalfe and her kids are decorating the tree as Laila makes a point about getting coal. Dr. Simone Whitmore and Cecil Whitmore are home and Cecil surprises Simone by inviting Dr. Damon Kimes and Dr. Heavenly Kimes for a do-over. Simone looked unamused as Cecil tells her he was just joking. Toya and Eugene arrive first, and we find out that Audra Curry and Dr. Martin Curry are coming by, as well. Quad Webb stops by the Whitmores to offer advice, as well, and everyone looks ready to mingle.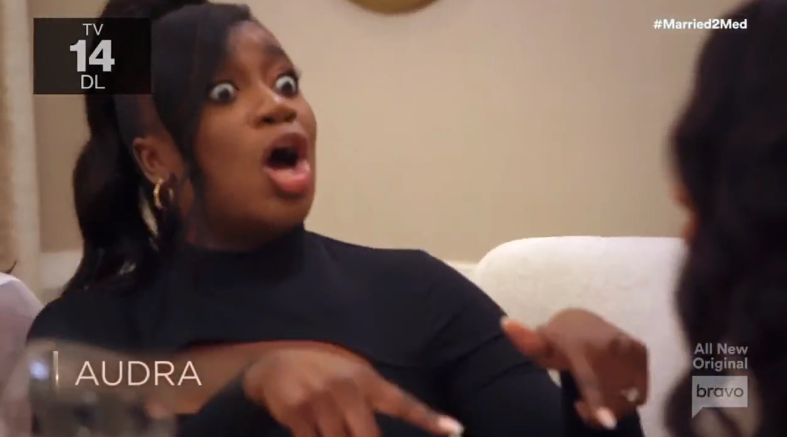 After everyone checks their jackets and begins eating, Toya wonders where Audra and Martin are coming from. Toya doesn't like Audra's jeans, but of course, this is Audra's first season, so we'll give her a break. Cecil begins explaining what he wants from his friends and Audra wants to know if the book would benefit the younger generation. Audra makes it a point to bring up that she was born in 1990 and Eugene takes the floor to change to the conversation. Eugene gives Martin advice on handling arguments and Toya gives good advice about handling conflict when you're tired of your spouse. Simone shares a story of when she slept in the guest bedroom and when Cecil followed her to the guest room. 
The couples debate when it's a good time to kick their spouse out of bed. Both Toya and Quad agree that you have to be friends with your spouse as well as their lover. Audra begins making a point that no one gets and it's clear that Audra just wants a moment. Audra brings the conversation back to Toya and why Toya has so many opinions about Audra. Toya compliments Audra's jogging suit and Toya just wanted Audra to dress the part. Audra claims not to care about labels and gives Toya crap for wearing Chanel earrings. Audra and Toya begin going back and forth about a budget as Quad laughs in the background.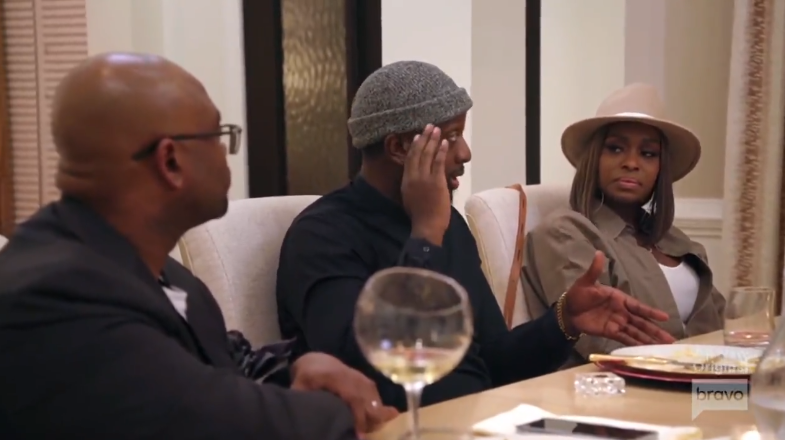 Cecil tries to bring the conversation back to the topic at hand. Quad brings up being an Alpha woman and questions the men about how they handle being with that type of woman. Eugene states that Toya thinks she runs things and that he doesn't let her, so Toya won't run over him. I can see that, and I commend him for being honest. Simone mentions writing a chapter about being vulnerable, and Eugene takes this time to apologize to Toya for not being a team player last year. The pandemic did a lot and Toya appreciates Eugene recognizing where he could improve. Cecil wonders if the issues last year have carried over to this year and Toya confirms that it has. Eugene understands and I appreciate them sharing their growing pains. 
Cecil wants Audra and Martin to share something they're dealing with and Martin brings up Audra prioritizing things according to her mindset. Quad warns the Currys about tit for tat and explains that life happens but their own the same team. The couples enjoy the rest of their night and finish on a good note. The next day, Quad greets her party planner to help her with the Holi-Slay party she's throwing. Quad wants people to enjoy the scenery, but the goal is to keep her guests on the first level. Quad doesn't want anyone upstairs and I don't blame her! Protect your stuff, girl! Quad's party is doubling as a holiday party and housewarming and she's excited to show the girls her new place!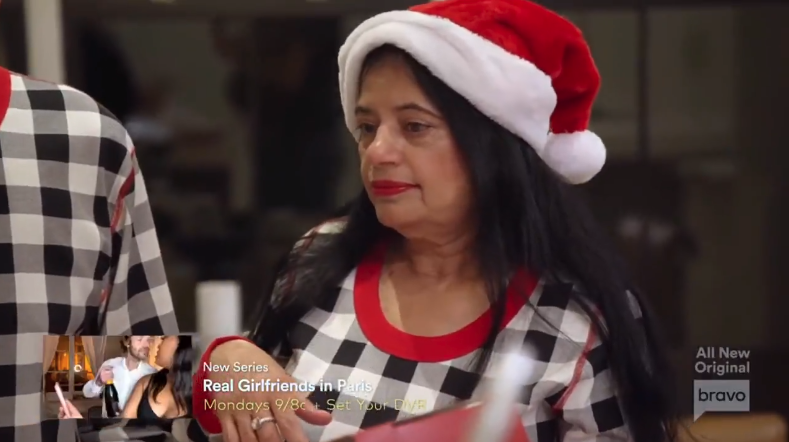 The party planner gives Quad a few ideas to bring Christmas to light and Quad's down with spending some money for the party but throws shade at Toya's spending habits. Outside, Quad wants to make sure her guests stay warm by the fire pit, and it looks like Quad's ready to throw a great shindig! That evening at Anila's, she and Dr. Kiran Sajja are making instant cocoa for the kids as her parents come down to join them. They put out cookies and snacks for the kids and Anila explains how much Christmas means to their family. The kids come down to help make gingerbread houses and the Sajjas are happy to make their own traditions with the kids.
Anila's mom begins complaining again and Anila tries to change the subject. Anila's mom asks how Anila and Kiran feel about the parents' visit and Anila's tongue-tied. Anila explains to her mom about Ms. Gomez leaving and Anila's mom thinks Ms. Gomez didn't give Anila enough notice. Anila ignores her mom's distaste for everything and saves the hot chocolate before it burns. It's the day of Quad's party, and she's facilitating, so everything is perfect. Decorations are going up and music is being put together. This should be fun! Eugene gets Toya's opinion on what to wear and Toya is concerned about visiting Quad's place. Last year, Toya felt disrespected but wants to compliment Quad to keep the peace. Toya also has a T-shirt for Quad and wants to return the favor for the budget basket Quad gifted Toya.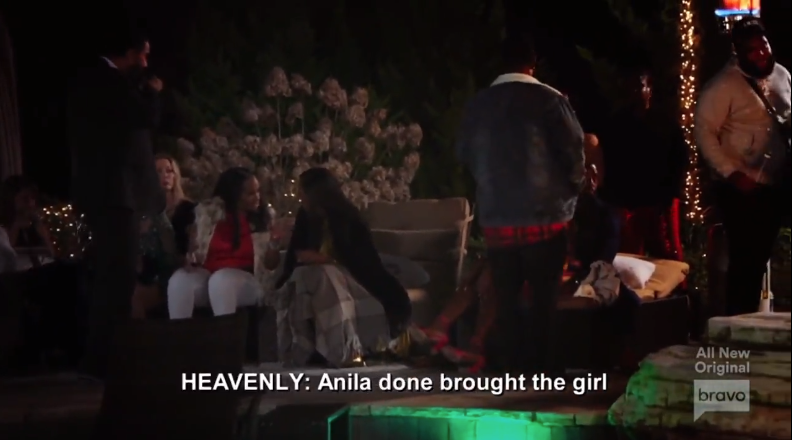 Quad's house is beautiful and ready to serve her guests! Audra and Martin arrive first (Audra stepped up her fashions… a little bit) and they are in awe of Quad's house — and so are her other guests. Kari Wells stops by, and we finally see Dr. Heavenly. The girls compliment Quad on her house as Toya and Eugene arrive with gifts. The crew is having a good time; Quad thanks Toya for the gift. Dr. Jackie Walters and Curtis Walters arrive with Dr. Simone and Cecil not too far behind. Anila arrives with her messy friend and Heavenly already knows the night is about to go downhill. Toya hates Anila's outfit and the two shade each other as everyone continues having a great time.
Quad redirects her guests to the back and Contessa is overly excited over smores. Heavenly being on the hot mic, tells Jackie about Anila's friend spreading a rumor about Toya sleeping with a man in the neighborhood. Heavenly's not happy that Anila brought this friend to the party, and something tells me Heavenly's about to clock in. Quad begins speaking on the mic and Toya has a little PTSD from when Quad shaded the girls when she worked on the Sister Circle talk show. Quad begins explaining her struggles in the past and wants people to know there is life after a divorce.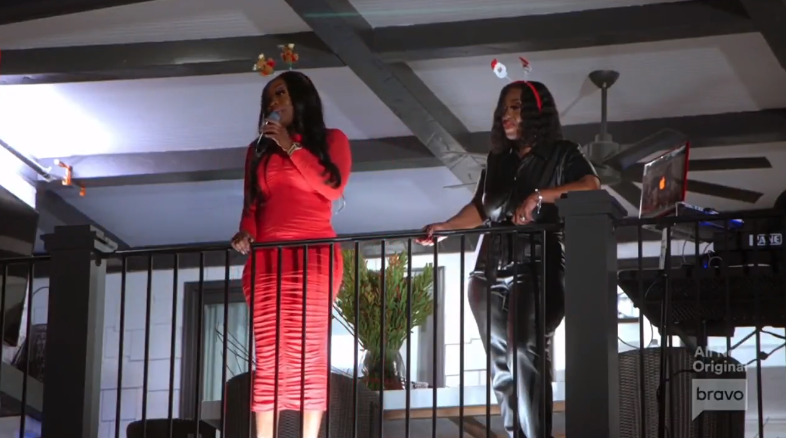 The crowd is listening, but I don't think anyone knows the message Quad's trying to relay. Dr. Scott Metcalfe and Contessa joke because Quad's gloating is exactly why we love Quad, LOL. After Quad's speech, she introduces a break dancer and we see how he pops, locks, and drops it. After the show, the men are conversing as Dr. Damon shows us a few of his moves. The crowd is having a great time as Heavenly asks Audra about her issues with Toya. Audra's tired of feeling unworthy and I feel like Audra's childhood trauma is about to come up. Anila complains to Quad about Toya's comment about Anila's dress and her friend comments like she knows Toya. The girls migrate to the living room as Contessa compliments Anila's friend on her bag while the husbands smoke cigars outside. 
Damon gives advice on when you're engaged versus when you get married. Curtis chimes in and the fellas have a good conversation about marriage and the concept of "we." In the living room, Toya compliments someone else's outfit as Quad redirects the conversation to holiday cheer. Audra decides to make this moment about her and gets up and begins pulling out her calculator as the rest of the ladies stare in disbelief. Toya wonders why Audra has so much energy toward her and it's clear to me that Audra is jealous of Toya! After Audra's failed attempt to read Toya, Toya says it's scary what Audra's doing and remains unbothered. Simone thanks Quad for hosting everyone and is about to leave before Heavenly pulls her back down and before long, Toya's friend and Anila begin getting into it.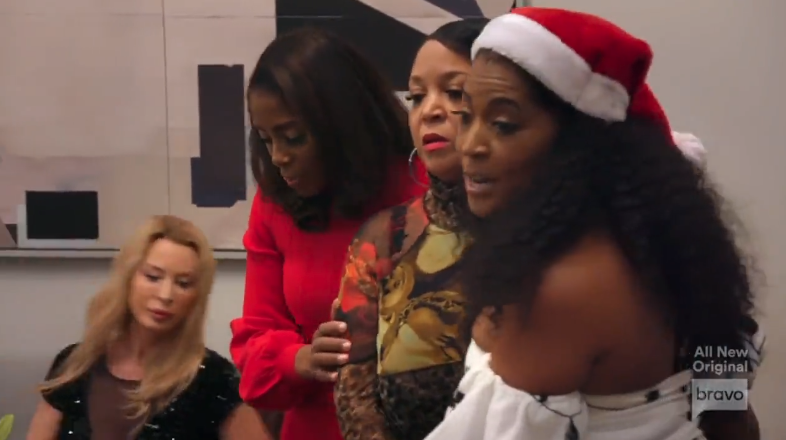 Quad had to step in between the ladies to prevent them from fighting and Anila doesn't want Toya to talk about her. Anila begins talking about the friend she brought, and Toya says the friend is no one to her. Toya doesn't know her but Heavenly fills Toya in on the rumor and Toya activates! Toya wants to know who spread the rumor and now Anila is silent! It's about to go down next week, so be sure to come back next week to see how this party really gets down on Married to Medicine! 
Stay Connected With All About The Tea: Twitter Ι Instagram Ι YouTube Ι Facebook Ι Send Us Tips
LeAndra Williams is a content contributor at All About The Tea. She's a social worker and (super) mom by day, and a reality T.V. junkie by night.