'RHOA' RECAP: The Ladies Throw Kenya & Marlo A Surprise Party AND Intervention!
Welcome back to another episode of The Real Housewives of Atlanta! Kandi Burruss is taking Ace to an acting class, and we're introduced to his acting coach, Craig. Kandi updates Craig on the many auditions Ace has and we get a glimpse of Ace's acting skills. Marlo Hampton's home preparing for her nephews to come back and takes a call from her baby sister, Crystal. Crystal tells Marlo that the boys know about coming home and Crystal gives Marlo some parenting advice. Although the boys don't do their chores, Marlo has an educational aide coming in to assist her and to add structure to the household. Marlo enjoyed her thirty-day break but says she's excited to have the boys back. 
Let's see if Marlo's able to stick to the plan. Meanwhile, Drew Sidora is drugged up on the couch as Ralph Pittman talks to Josiah about his homework. Drew's feeling numb after having to get 22 stitches in her foot! Shereé Whitfield stops by, and Drew tells Shereé how much she appreciates this moment. Sanya Richards-Ross drops by, as well, and joins the ladies in the living room. Drew's serving the ladies with her personal chef and the food looks amazing! Drew's surprised she hasn't seen Marlo, yet and the three laugh about Drew's Achilles bringing them together. Drew felt bad about missing the last dinner in Jamaica, but Shereé filled Drew in on all the mess from the night. Sanya felt like Kenya's energy was off in Jamaica and readily admits that Kenya Moore ATE HER UP at the last dinner! 
Sanya thought she was winning in her head, but in reality, Sanya can't hang with the big dogs. Shereé thinks Kenya will respect Sanya if Sanya steps up her game and Shereé spills the beans about Kenya calling Aaron Ross aggressive. Sanya immediately gets upset and says that Kenya wishes she had a man like Ross in her life. I mean, true, LOL. Drew's falling asleep on the couch as Sanya calls Kenya right now to address the issue. Kenya answers sounding all surprised and tells Sanya that she'll have to call her back when Kenya wakes up. By the end, nothing was resolved, and Sanya ended up calling Kenya a b**** before hanging up the phone. 
Sanya wants Kenya to understand her boundaries, but I think it's Sanya's job to assert those boundaries to the group. The next day Shereé is facilitating a model call for her upcoming fashion show. Shereé looks beautiful as she greets some of the models and meets with her fashion show coordinator, Rawan. It's two weeks until the fashion show and Shereé's excited to work with Rawan to conduct an amazing show. Kenya stops by to help Shereé, and Kenya has her best face on, although she's irritated with Sanya and Shereé. Kenya meets Rawan and immediately asks why Shereé didn't ask Kenya to pose so there would be more models. Rawan replies that this casting is on the down low and Shereé wanted it that way.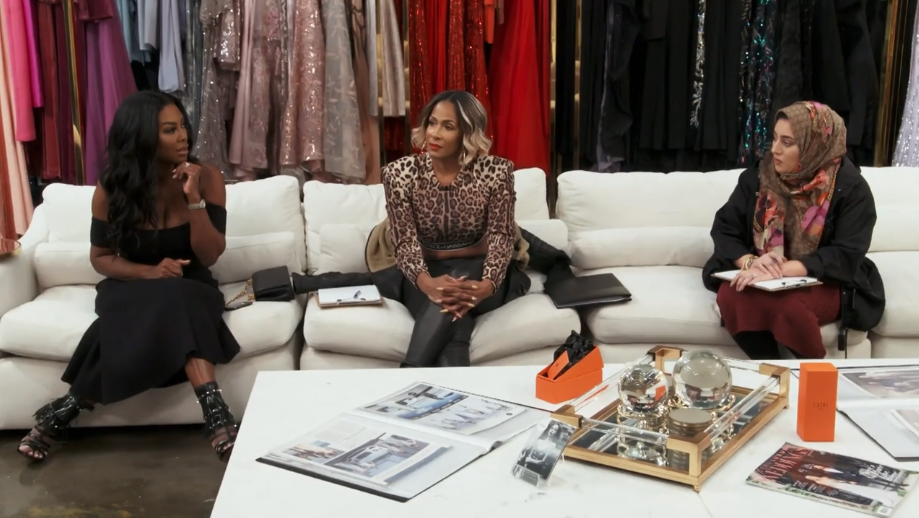 Shereé is very overwhelmed, and Kenya has a lot of opinions about the way Rawan does her staging. First Kenya insinuates that Rawan doesn't have the chairs facing the right way and then Kenya comments on having real models. Rawan answers by stating that she needs a real budget for real models. Rawan breaks down the prices of real models versus the latter and Shereé thinks it's too late to get real models. Shereé claims to have spent over a million dollars on samples and Kenya makes a good point: that if Shereé spent that type of money on samples, they would be there by now. The models begin and Kenya and Shereé like what they see so far. Most of the models are 5'6 and 5'4, but hey, we all can't be Tyra Banks. 
Kenya and Rawan start bickering, yet again, and surprisingly Rawan doesn't back down! Rawan's giving it to Kenya just as much as Kenya is giving it to her, and I think we have our newest peach, LOL! Shereé finishes selecting her models and Kenya offers to help Shereé with getting everything Shereé needs for SHE by Shereé. The next day is Ralph's book cover photo shoot and Ralph is in his element as his family cheers and encourages him on. Drew is happy to support her husband and chats with her mom, Pastor Jeanette, while Ralph wraps up. Surprisingly, Drew and Shereé thought it'd be a great idea to throw Kenya and Marlo a surprise birthday party/intervention.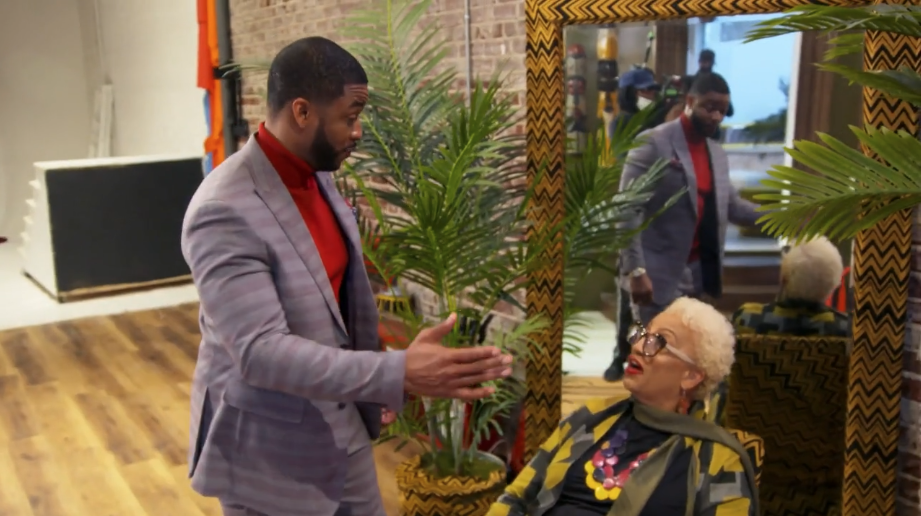 Ralph changes clothes and discusses his book with Pastor Jeanette and Pastor Jeanette wants answers as to why Ralph isn't adopting Josiah. Ralph explains to Pastor Jeanette that he spoke with Josiah and Josiah's biological father, Ricky. Since Ricky would be hurt by the adoption, Ralph decided not to go through it. Pastor Jeanette understands but doesn't want Josiah hurt by a decision Ralph made. Ralph believes he's making the right decision and Drew thinks Ralph will consider adopting Josiah later on. Marlo is home with the boys as Marlo's assistant is helping William with his homework. Michael comes down to eat and tells Marlo about his day at school. Marlo tells the boys what they have to do to get their phones back and it seems like they're all on the same page. 
It's the day of Kenya and Marlo's surprise party! Drew and Ralph decorated their house and are happy about the way everything turned out. Shereé pulls up an hour late and continues using her fashion show as an excuse for everything. Shereé thinks the party décor is a little much and Drew tells Shereé that if she were on time, maybe she would've had some input. Here's where Shereé starts playing, SMH. Shereé tells Drew that she's only giving her a fourth of the invoice and now we see Shereé trying to get out of another bill! Putting the coins on hold, for now, Drew tells Shereé about the guests she invited on behalf of Marlo and Kenya, and before Drew could finish, Shereé has to take a call. Shereé's friend in L.A. is checking on the samples for her and things don't look good. 
Apparently, Shereé's supplier doesn't have the number of pieces he said he would have and some of the pieces are incomplete. Shereé's stress is through the roof, but she continues to have a positive attitude. Sanya and Kandi arrive first and are surprised by the effort Drew and Shereé put in. The ladies talk to Shereé about her fashion show and Shereé claims that some of her pieces are stuck in Alaska. Kandi doesn't believe her. Monyetta arrives and we meet Kenya's cousin, Che, along with some of Marlo's old friends.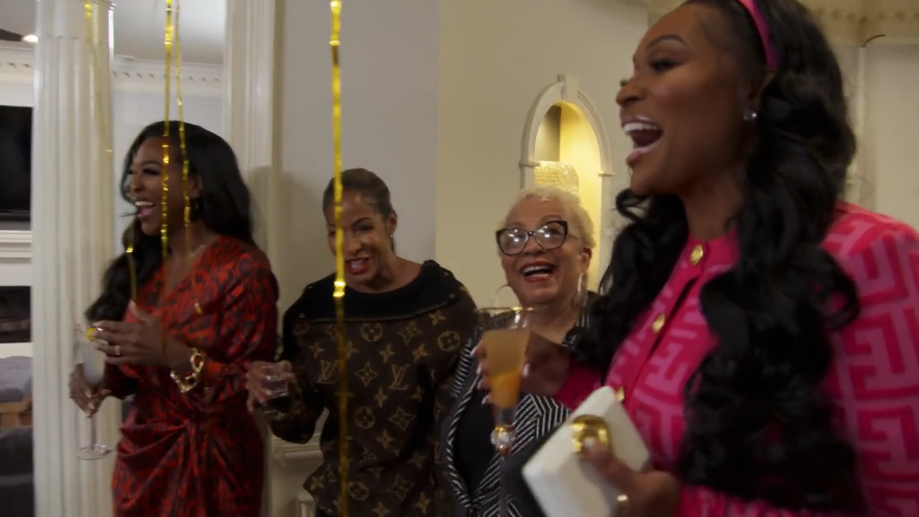 Surprisingly, Marlo and Kenya arrive at the same time, but Kenya proceeds inside without holding the door for Marlo, LOL. We're off to a bad start already. Ralph greets the ladies and directs them to the surprise around the corner! Kenya and Marlo were surprised and thanked the ladies for such a fabulous celebration. Everyone sits down for dinner and Drew starts off with a toast as Marlo's best friend makes a quick speech about how much she loves Marlo. Marlo's best friend is secretly a Kenya stan, but we won't tell anyone. The chef comes out to tell the ladies what they'll be served and Drew starts off by saying it's a celebration and everyone's over Kenya and Marlo arguing. 
Marlo and Kenya liked each other in the beginning, but the ladies at the table are trying to get to the bottom of their issues. Kenya believes that Marlo showed her exactly who she is and doesn't feel like Marlo deserves any more chances. Marlo pretends not to know what the most recent issue is, and Kenya brings up an incident from six years ago when Marlo talked about Kenya's mama. Kenya doesn't think Marlo has love for her and Marlo continues using the excuse that they both said hurtful things. Things begin to get turnt, and before things get out of hand, Drew calls Pastor Jeanette over to pray over the food. Afterward, Drew and Shereé introduce a shady game, and first off is a question directed toward Sanya. Sanya stands up and says "B****, you wish you had a man like mine" as she proceeds to break the chair.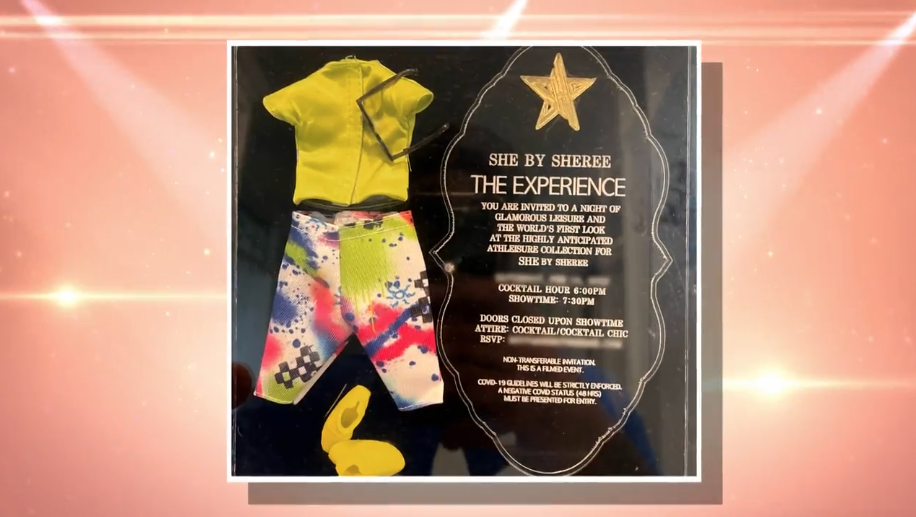 The next question is about a friend not paying their half of a bill. Kandi says to call them out, and soon, Shereé starts making excuses for why her money's short. Kenya then calls Shereé out for claiming her coins are short while rocking a $7,000 sweater. Once the laughter dies down, Shereé gives everyone their personalized invitation to her fashion show, and once again,  everyone wonders how Shereé has the invitations but not the samples, SMH. Shereé admits she doesn't have any of her outfits, yet, and Kandi is baffled! 
The ladies begin to go in on Shereé, but Shereé isn't afraid of a challenge! Shereé asked Pastor Jeanette to pray for her fashion show and Kenya called Shereé's model call a disaster! The ladies begin asking the important questions and Shereé clarifies that she didn't spend a million dollars on samples. Marlo asks Kandi to post on social media to help Shereé, but Shereé doesn't want any help. Everyone wants Shereé to win and Kenya gives Shereé some advice to step it up! The next day, Shereé is at a coffee shop, waiting to meet Apollo Nida.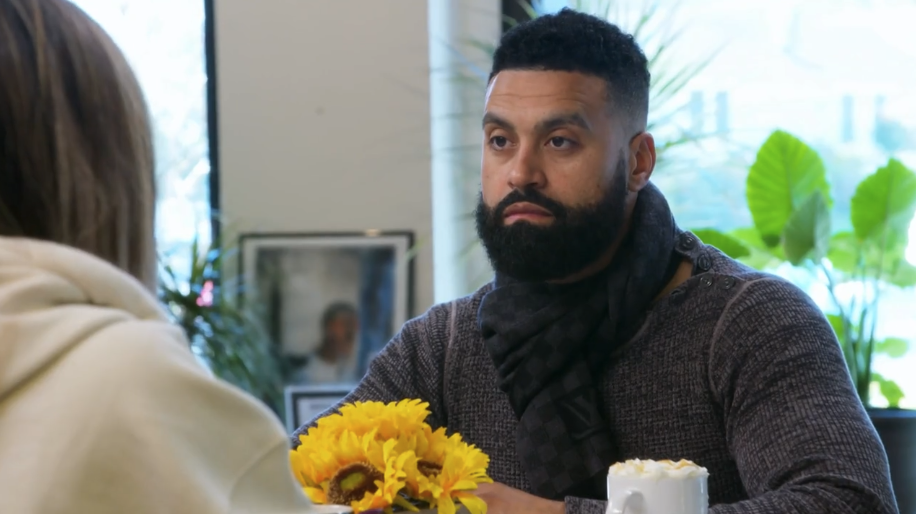 Shereé asks Apollo to walk in the fashion show and then asks for advice about Tyrone. Apollo tells Shereé that these jailbirds be playing women on the inside and ghosts them once they come out. I mean, no surprise, but I'm glad someone told Shereé the truth. Apollo tells Shereé about his time being home and claims that his ex-wife, Phaedra Parks, left him to die! Of course, Apollo thinks Phaedra was cold-hearted and Apollo tells Shereé about his time inside with Tyrone. Shereé tells Apollo about being left alone in Philly and Apollo thinks Tyrone's a distraction from what Shereé's goals are. Shereé needs to figure it out! Come back next week to see if Shereé finally pulls off her SHE by Shereé fashion show on The Real Housewives of Atlanta! 
Stay Connected With All About The Tea: Twitter Ι Instagram Ι YouTube Ι Facebook Ι Send Us Tips
LeAndra Williams is a content contributor at All About The Tea. She's a social worker and (super) mom by day, and a reality T.V. junkie by night.