'RHOA' RECAP: Kenya & Shereé Fight With Sanya In Jamaica!
This week on The Real Housewives of Atlanta, the ladies and their husbands are still on Sanya Richards-Ross's Jamaica trip and things have already gotten off to a rocky start. On day two, the ladies are getting ready as Sanya and Shereé Whitfield meet for a day out. Kandi Burruss-Tucker's still upset at Marlo Hampton for her antics at dinner and continues to express herself to her hubby, Todd Tucker. Kandi's officially done with Marlo at this point and none of us can blame her. Monyetta Shaw and her husband meet Sanya and Shereé downstairs so Sanya can show them around Kingston. Apparently, there's supposed to be a footrace soon and Marlo and Drew Sidora will help facilitate it. Marlo's upstairs chatting with her florist as Ralph Pittman and Drew meet the crew downstairs. Sanya bought a tracksuit for Drew's race and Drew readily accepts.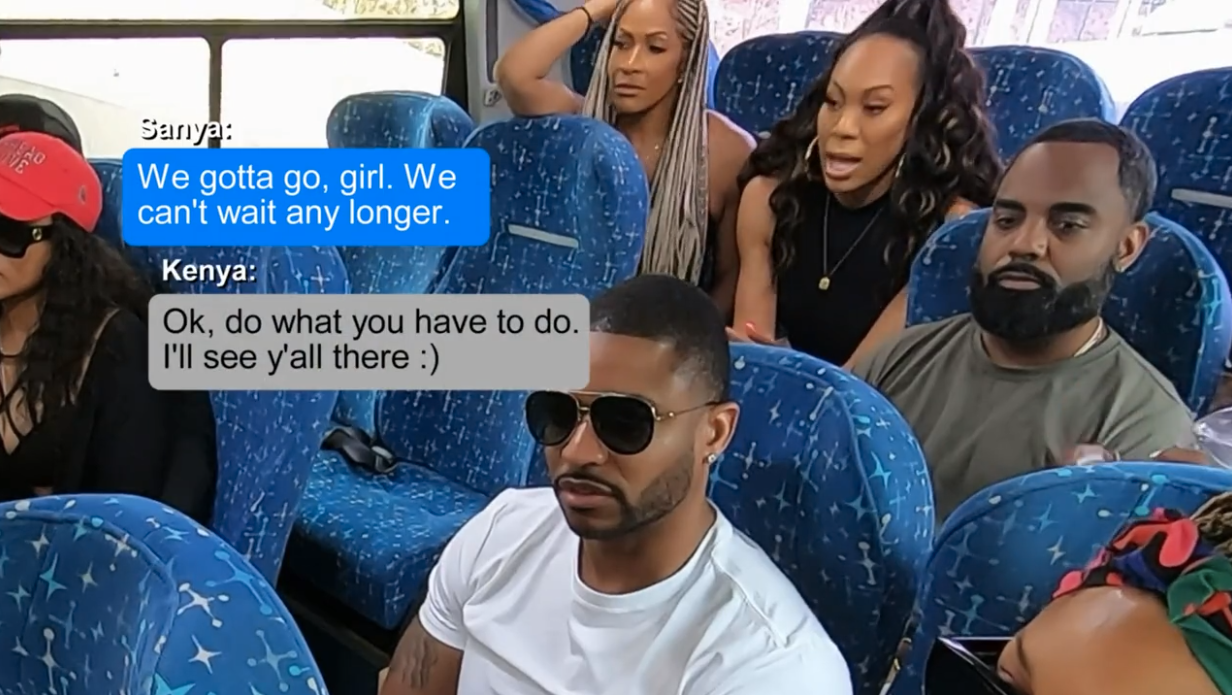 The crew heads to the bus and Marlo finally makes it on the bus before the pull-off. Marlo apologizes to Ralph and Drew on the bus as Kandi and Todd look unbothered. Kandi tells the group that Kenya Moore may not make the trip today and that she's not feeling well. Shereé thinks Kenya wants to spend more time with her new boo, but only time will tell. The bus still hasn't taken off 30 minutes later and Sanya calls Kenya to check in. Kenya said she'll try to hurry but, in her room, she's taking her sweet time, LOL. On the bus, Sanya continues reiterating why she wanted the group to leave on time and all the excursions they were about to experience. Kenya's in her room taking pictures of the beach and 10 minutes later Kenya texts Sanya that she'll meet them there. 
Marlo complains about needing to use the restroom and attempts to back out of the upcoming race. She claims to have forgotten her shoes but Sanya ain't hearing none of that. Sanya tells the group about her roots and time in Kingston, and we get to see Sanya's childhood home. Sanya's Auntie even came out to meet the girls and it was a cute moment. Once the crew returns to the bus, Sanya asks the group what they thought of Kenya's date. Shereé thinks he's a four and the rest of the group thinks Kenya's getting her groove on. Sanya takes the group to a famous ice cream shop where her parents got married. After the group gets their treats, Shereé pulls Marlo outside for a chat. Shereé checks in on how Marlo's feeling and admits she didn't see the argument coming.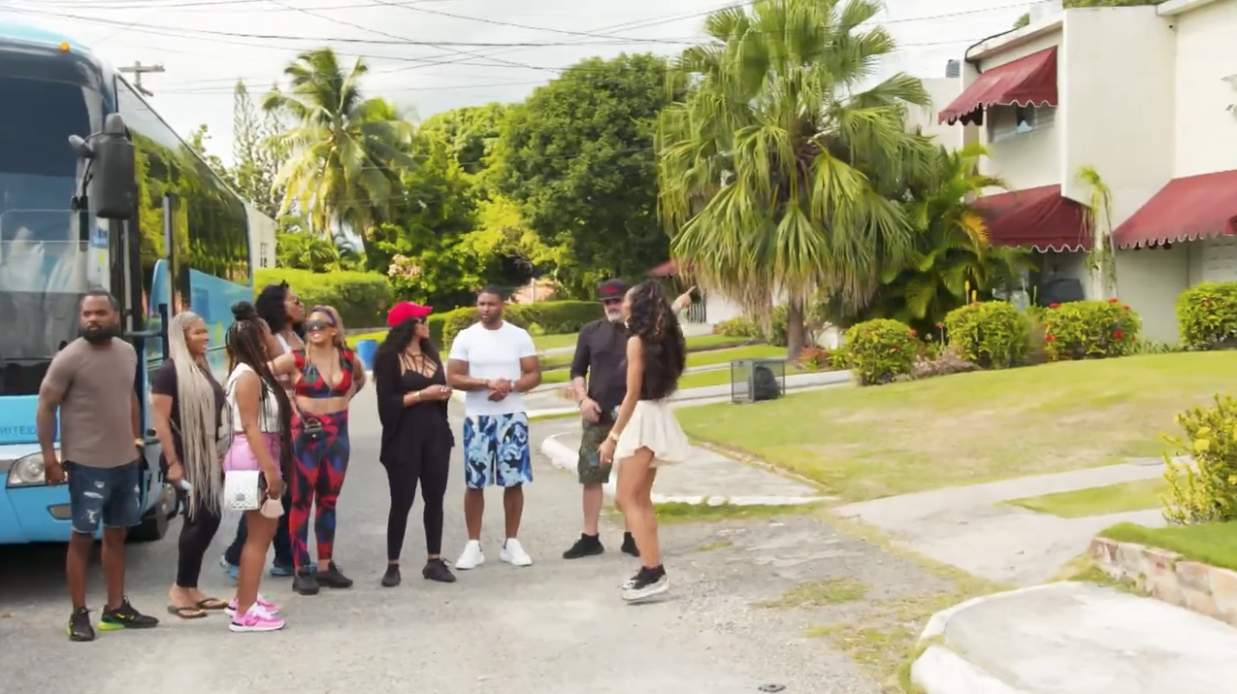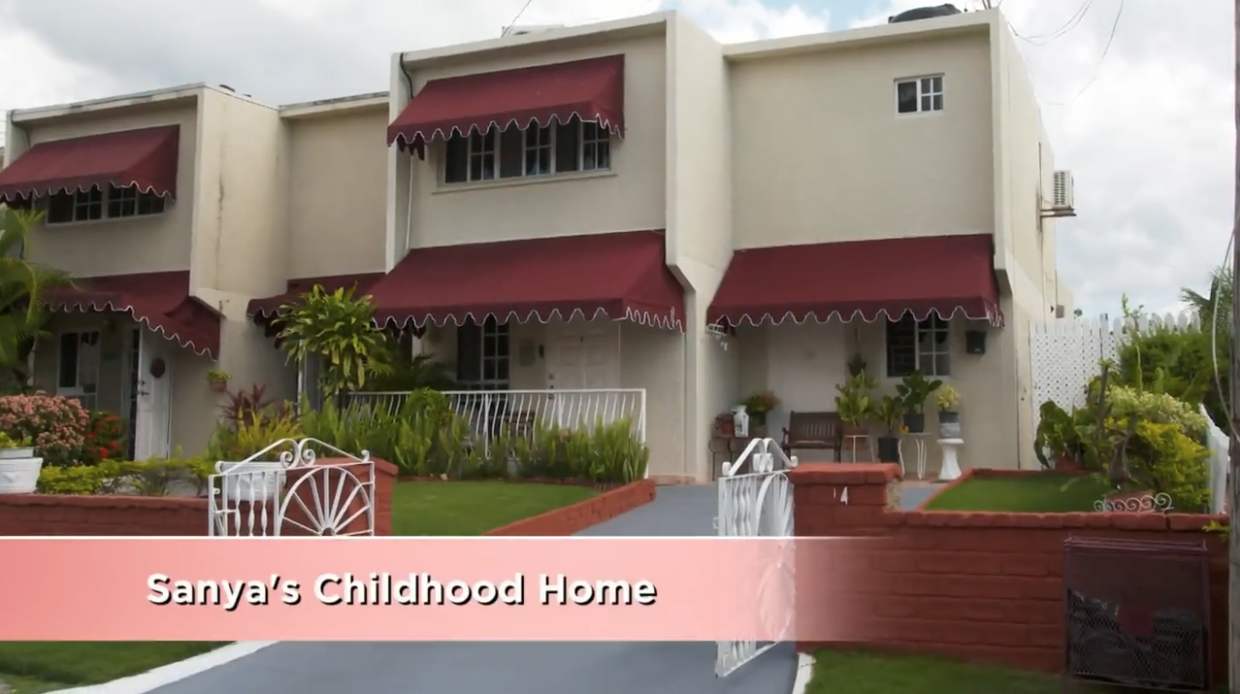 Marlo's confused as well, but Shereé gives Marlo a pass for being "passionate." Marlo thinks Kandi should've stayed out of her business. Monyetta and her husband get the tea from Kandi herself and Kandi just thinks Marlo's a hypocrite. Kandi really got upset because Marlo came after Todd. Two hours later, Kenya shows up and gets a taste of Kingston town. Sanya pulls Kenya to the side and asks why Kenya couldn't show up for her. Kenya says she's been on time for everything, but of course, producers show a different story. Kenya gets emotional as she explains to Sanya that Brooklyn doesn't want to see her dad. Kenya's overwhelmed and trying to find peace anywhere she can. Although Sanya sits in silence, in her confessional Sanya doesn't think Kenya should continue using her failed marriage as an excuse. 
The crew heads back to the bus, and for some reason, Marlo decides to use this time to talk to Kandi. Marlo gets ignored the first time but when she calls Kandi's name again, Kandi responds with "Why are you talking to me?" Clearly, sis ain't in the mood to talk but Marlo's asking for it. Marlo and Kandi have a brief back and forth as Marlo tells Kandi to grow up, and Kenya tells Kandi not to give Marlo the attention she desperately wants. Marlo gives a half-ass apology and Kandi rightfully pays her dust. "Keep your sorry," Kandi says, and Marlo continues to talk to Kandi until Kandi eventually says "B****, shut the f*** up!" as the crew looks on. The crew arrives at the national stadium and Sanya expresses how much it means to her that everyone's there.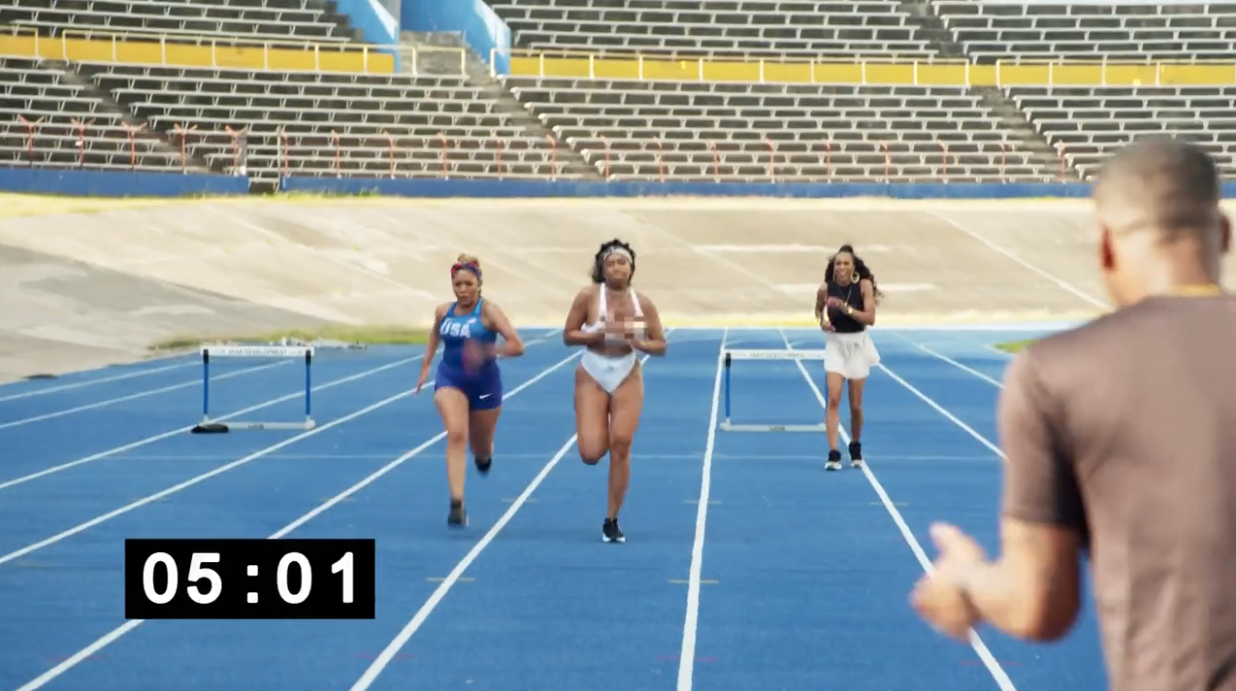 We see the amazing stadium as Sanya explains her fastest time on the track. Sanya really did her thing for Team USA, and she should be proud! Sanya shows the girls what she's working with as she takes her shoes off and runs 36 meters in six seconds! Next up are Drew and Marlo, and the crew places bets on who'll win. Marlo looks like she's going swimming and Drew looks scared than a mug, LOL. After introductions, Drew and Marlo take off and Marlo's breast comes out, but she also comes out with the win. Shereé wins the bet and as everyone laughs, Drew ends up falling and twisting her ankle, SMH. As Drew's on the ground, the Minister of Sports arrives and checks on Drew. Drew's carried out and taken to the nearest ER — and of course, she tore her Achilles. Drew calls the crew to let them know she's okay and returns to the hotel two hours later on crutches.
On the bus, Sanya invites the group to more activities as they head back to the hotel. The next day is Sanya's iFit video shoot and only Marlo made it to the bus on time. Sanya's been saying how she needs everyone to be on time and unfortunately, that means Kenya and Shereé got left! While Marlo watches Sanya in her element, Kenya and Shereé are at the hotel mad! The girls are in the lobby and Kenya's upset because Sanya didn't call or answer Kenya's calls when she tried to reach her. Kenya says she was on time, but Sanya may be over them at this point. Marlo and her florist walk around the shoot as Sanya wraps up to meet them to eat. Sanya lost her phone so that explains why she hasn't spoken to anyone. But will they believe it?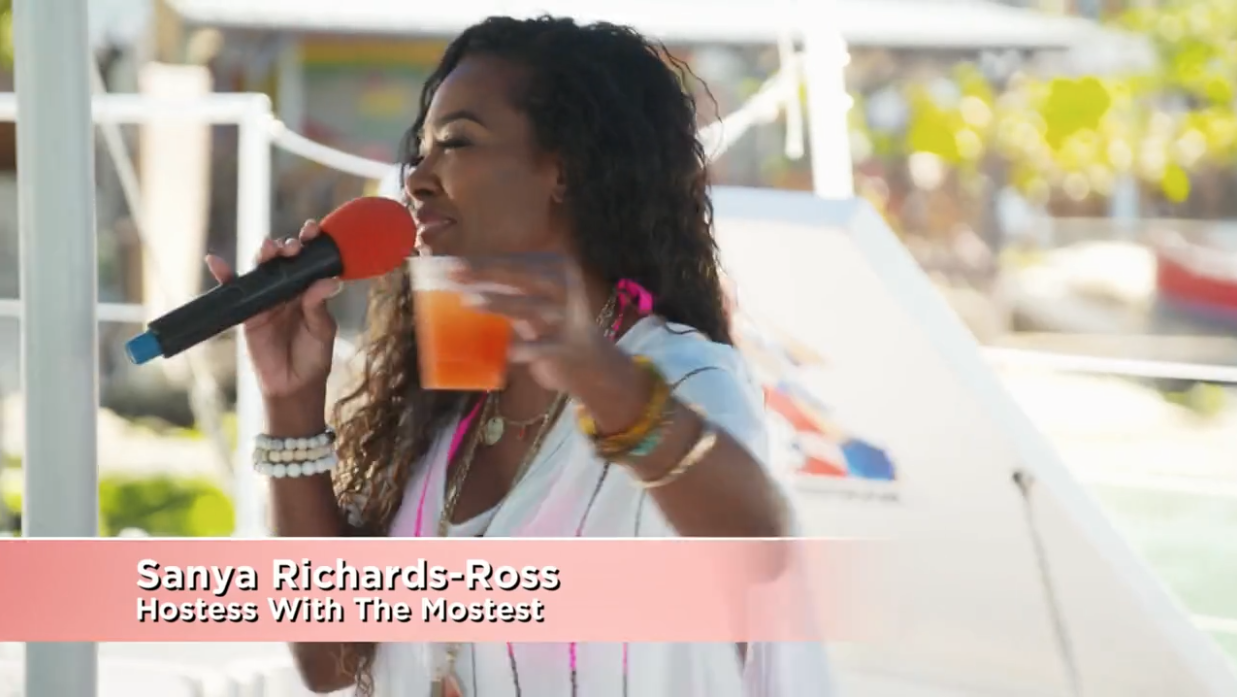 As Drew nurses her ankle, Kandi checks in on her as Ralph excuses himself. Kandi asks Drew to rehearse with her and Drew's happy to help. Drew's explaining her point of view on the acting business before shifting the conversation to Marlo and her antics. Drew thinks Marlo's trying to get in Kandi's head and tells Kandi that Marlo called Sanya a suck-up. Drew sees how messy Marlo really is as Sanya and Marlo wrap up their basic lunch. 
Shereé, Kenya, Monyetta, and her husband are heading to the next spot as they question whether Kandi and Todd are coming. Kenya hasn't heard from her, but Monyetta tells the group that Kandi's auditioning for a new role. Kenya and the crew head onto the boat and immediately get drinks to unwind. Kenya takes the mic and begins impersonating Sanya as she makes everyone laugh. Kenya's getting her groove back dancing on the boat and everyone is having a great time! Afterward, Kenya admits to being mad but not mad at Sanya, especially after the fun they just had. Monyetta asks Shereé about She by Shereé and Shereé tells the ladies about an upcoming presentation that she's planned. Kenya wants to be a model and walks for Shereé for her time to shine, honey!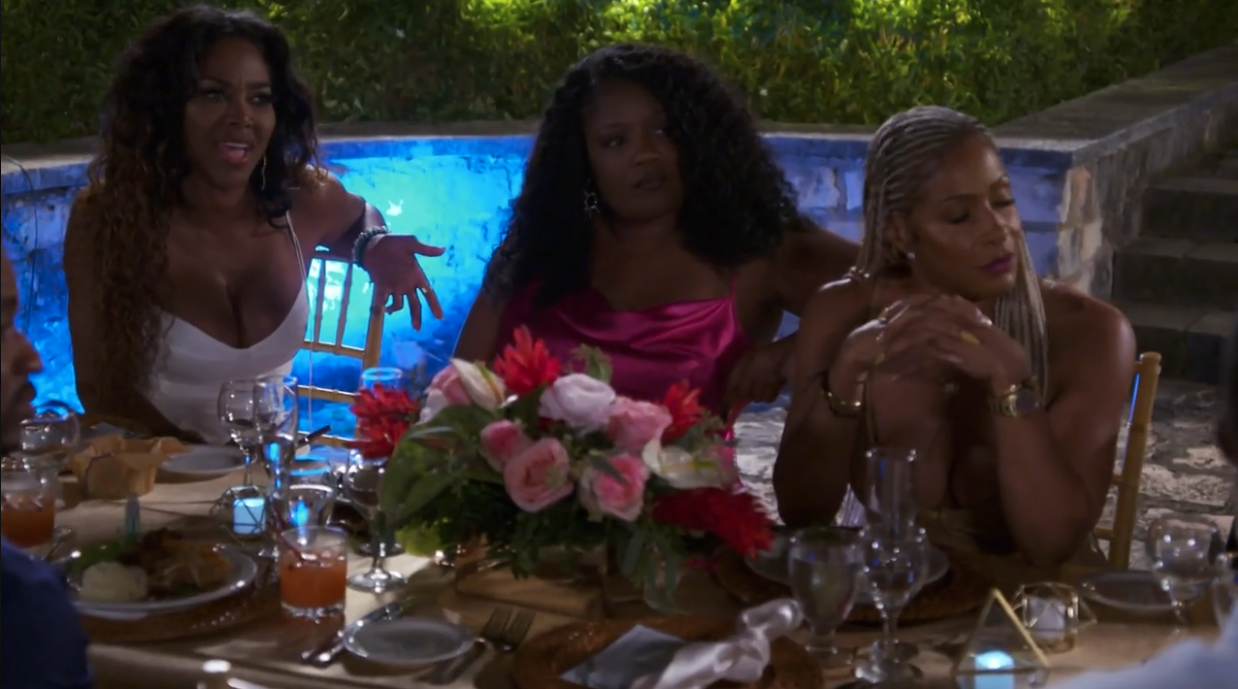 Kenya and Monyetta bust it down after Kenya's walk and Shereé doesn't think Kenya's suitable for her fashion show. SMH, so much for being a friend, Shereé. The crew gets ready for dinner, and everyone looks gorgeous! Shereé thinks Sanya uninvited her and Sanya made it a point to explain herself. Marlo spoke up for Sanya, but Shereé's still upset. The group is having dinner at Rolls Hall, and everyone's impressed with Sanya's hosting for the night. After appetizers and drinks come out, Kandi checks on how Sanya's feeling as Drew toasts with Ralph. Kandi then asks Ralph when they'll get a preview of his book and things begin to go downhill. Ralph reads a paragraph from his book, but Drew's still uneasy about this whole process. The crew loves what they hear, and Drew admits to seeing a different side to Ralph and will table the adoption conversation for now. 
Before Drew can express herself to the group, Kenya and Shereé are whispering about Sanya disinviting them to the video shoot. Kenya bust Shereé all the way out and Sanya re-explains herself. Kenya's upset that Sanya never called her back and soon Sanya and Kenya are arguing. Sanya doesn't think she should have to stop working to check in on Kenya and Kenya's upset that Sanya doesn't care. Shereé reiterates her point of view, and before you know it, Ross stands up and tells the table not to f*** with his wife! The group is shocked, and the episode completes. Be sure to come back next week for a brand-new episode of The Real Housewives of Atlanta!
Stay Connected With All About The Tea: Twitter Ι Instagram Ι YouTube Ι Facebook Ι Send Us Tips
LeAndra Williams is a content contributor at All About The Tea. She's a social worker and (super) mom by day, and a reality T.V. junkie by night.