'LAMH' Fans Petition to CANCEL 'Abusive' And 'Homophobic' Martell Holt!
Love & Marriage: Huntsville stars, Martell and Melody Holt, are in the midst of a custody battle over their four children. Things have been tense ever since Melody revealed that her ex-husband is suing her for full custody of Maliah Selene Holt, Mariah Holt, Martell Holt, and Malani Holt.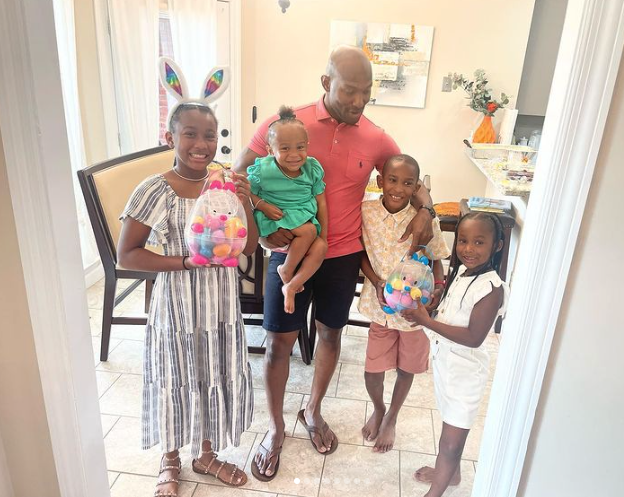 Over the weekend, Martell took to Instagram to reveal his reason for wanting full custody and accused Melody of lying about the welfare of their children when they were with Melody's brother, Marcus. 
"I'm requesting full custody because she's had over 24 people (since our separation), with only a few being her family members watch our children, including Marcus in my city for 2 nights while Melody flew to another state without informing the father of anything," Martell wrote in a lengthy statement. He continued, "I asked Melody if we could not allow men to watch our children and she said "I do what I want"."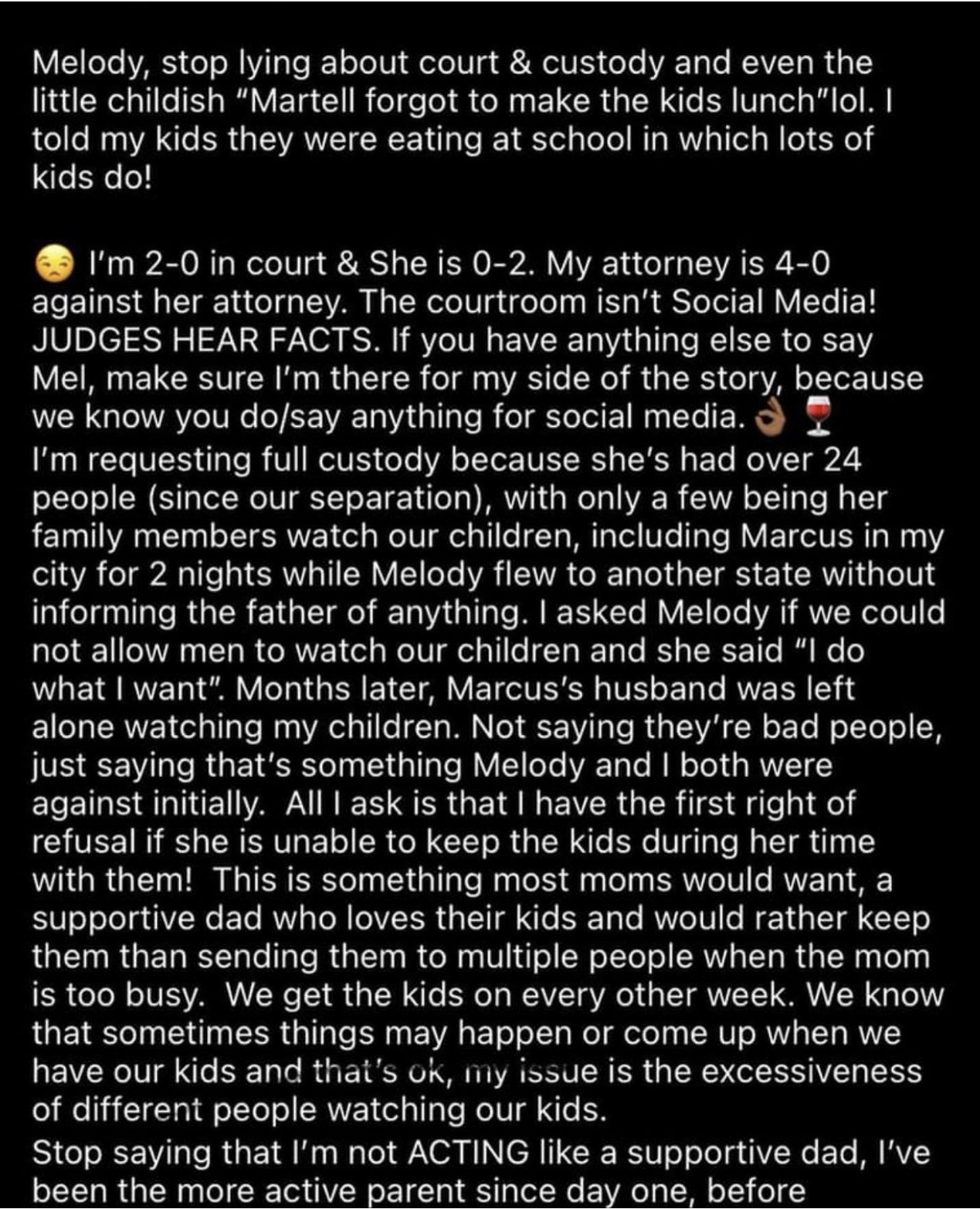 Martell addressed Marcus and his husband in the statement, adding that he didn't like when the kids were left alone with Marcus' husband after asking Melody not to let that happen. 
"Months later, Marcus's husband was left alone watching my children. Not saying they're bad people, just saying that's something Melody and I both were against initially. All I ask is that I have the first right of refusal if she is unable to keep the kids during her time with them!"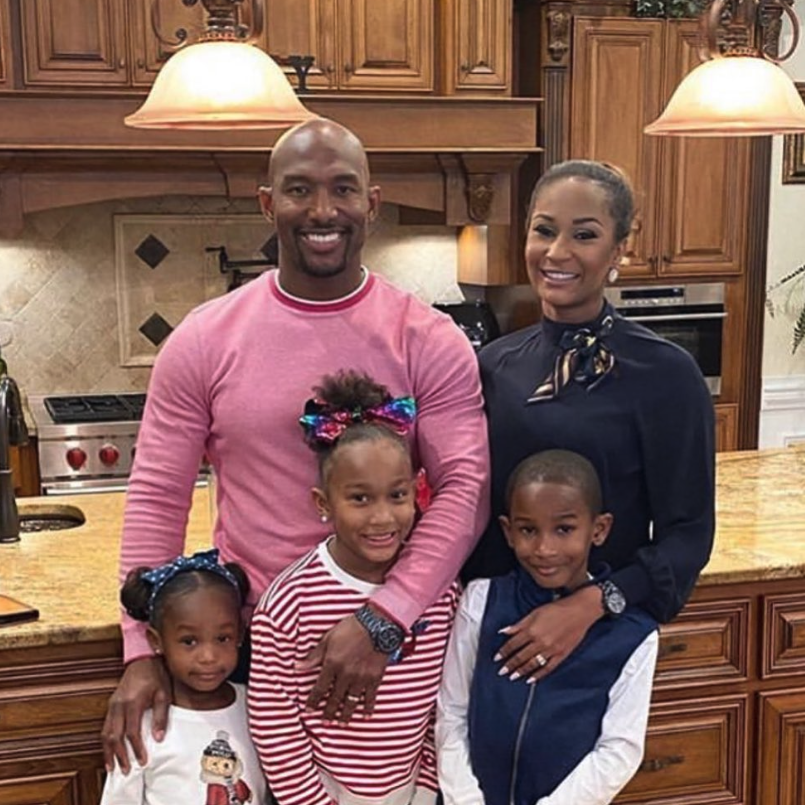 Fans have not been liking the way that Martell has been treating Melody. One fan started a petition via Change.org, demanding that Martell be canceled and removed from Love & Marriage: Huntsville due to his toxic antics.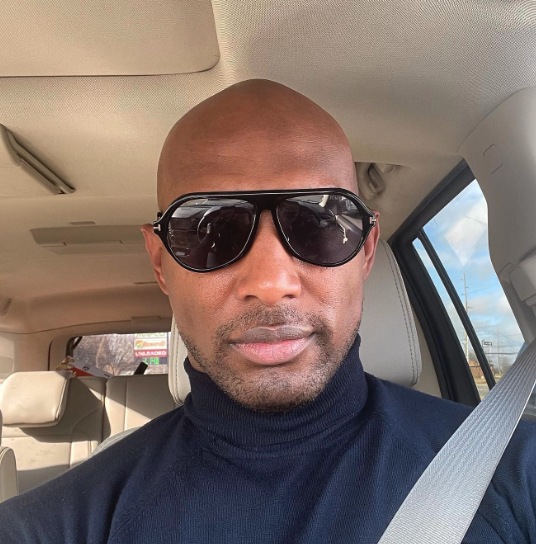 "Martell Holt has become dangerous and unhinged. He cheated on his beautiful wife of 12 years with Coleslaw who bore him an outside son in the marriage," the petition details state. The petition creator continued, "Then he sues the ex wife for needing daycare since she has to work. He stole $17,000 out of the joint bank account before the divorce was final." The details allege that Martell is abusive towards his son which forced "Melody to have to report him and keep her kids safe from him for 56 days."
So far, the petition has 935 signatures with a goal of 1000.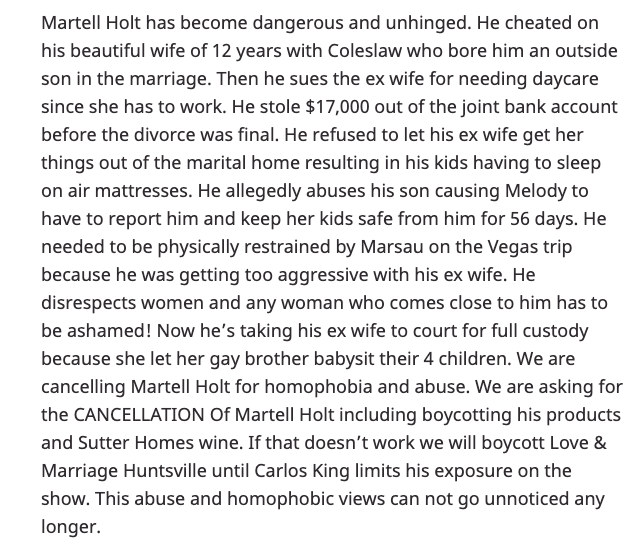 On Monday (Aug. 8), Melody took to Instagram to inform her fans that while she's aware of Martell's Instagram rant, she will respond "when my spirit leads me to (not what or when anyone else thinks I should)." Melody did respond to Martell's allegations regarding their children and said that she will not discuss any "embarrassing or hurtful" things said about the kids. "I will continue to protect my kiddos as much as I possibly can and look out for their safety and well being, physically and mentally," she added. Melody concluded her statement by thanking fans for their prayers and support.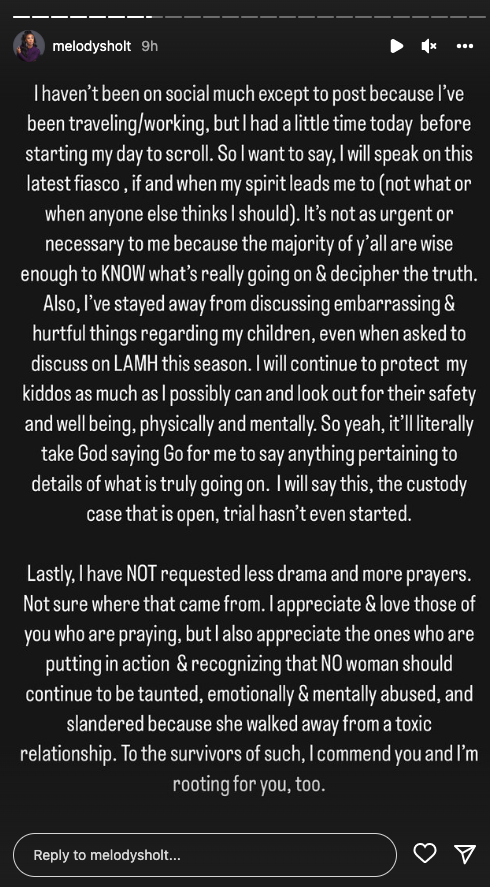 "I appreciate & love those of you who are praying, but I also appreciate the ones who are putting in action & recognizing that NO woman should continue to be taunted, emotionally & mentally abused, and slandered because she walked away from a toxic relationship." Melody wrote. "To the survivors of such, I commend you and I'm rooting for you, too."
Stay Connected With All About The Tea: Twitter Ι Instagram Ι YouTube Ι Facebook Ι Send Us Tips
Ashlee Nicole is a Senior Editor at All About The Tea, who specializes in content curation. Born and formed in New Orleans, LA, Ashlee is an absolute music junkie and self-proclaimed foodie who loves all things music, entertainment, and culture.