'RHOA' RECAP: Marlo Calls Todd 'Broke' And Gets Into HEATED Argument With Kandi!
Welcome back to The Real Housewives of Atlanta! Todd Tucker is on a drinking hiatus as he chats with Kandi Burruss-Tucker at their home. Shereé Whitfield's discussing her upcoming show with staff as Marlo Hampton talks to her assistants about her nephews' 30-day sentence. As Kenya Moore packs, she receives a call from Drew Sidora as she gets her lashes done. The two laugh about Drew's appearance before diving into Sanya Richards-Ross' upcoming Jamaica trip and the slew of rules that come with it. Kenya doesn't take Sanya's rules seriously and the two clown Sanya for her failed birthday celebration for Shereé. Kenya states she can do a better job decorating, and I honestly agree. 
Kenya debates who to bring since Sanya continues pushing the agenda for a couples trip. Drew doesn't want Kenya to feel pressured to bring someone and Kenya reveals that she's staying in Jamaica a few extra days to celebrate her birthday. Sanya and Aaron Ross are working out at home while discussing the upcoming trip. Sanya's brother-in-law and Aaron's best friend are training the pair, and soon the kids come in to see what's going on. Deuce and his cousin bust out a few baby pushups before running off to play. After working out, Sanya asks Aaron if he's spoken to any of the husbands and if he's excited about Jamaica. Aaron's excited and hopes there won't be any drama on the trip.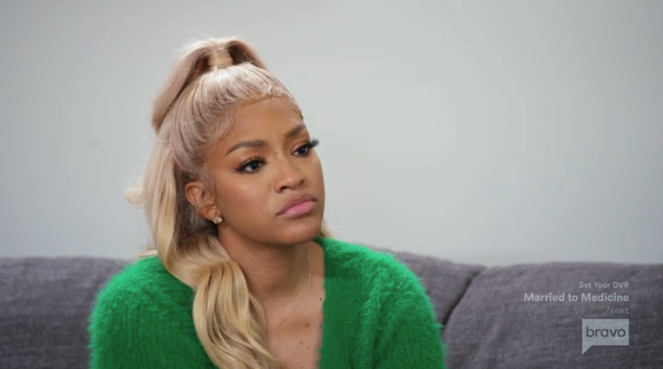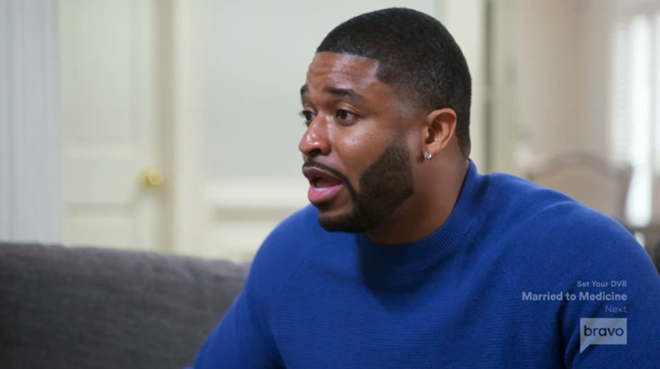 Sanya's hoping the trip will mend friendships and give the crew a chance to relax. We shall see. At Drew's, Ralph is adjusting the AC while clowning Drew about her wig lifting. Ralph even runs his fingers through Drew's blonde wig, and I'm sorry, but the wig seemed dry. The two chat about Ralph's wig preference before mentioning Jamaica and promoting Ralph's book. As Ralph's excited about the launch of his stepdaddy book, Drew's still irritated at Ralph for not adopting her son. Ralph explained to Drew before that he spoke to their son's biological father and since he wouldn't agree to the adoption, Ralph called it off. 
Drew's confused because the entire book is about Ralph being a stepfather, but Ralph won't even take the step to make their family official. Ralph reassures Drew that he'll be in their son's life no matter what and Drew, once again, holds her tongue. Ralph's publisher is coming to the house, so the two wrap up their conversation as Ralph greets the publisher at the door. The lady seems nice, but her make-up is all wrong! Drew brings out some snacks as she expresses how excited she is for Ralph. Ralph's being secretive about the contents of the book and wanted to go through the process alone. Drew doesn't like this since Ralph's entire book is about her son! Ralph senses this and offers Drew to write the foreword in his upcoming book. Drew says she'll think about it, but it's clear that Drew is very bothered by Ralph's actions.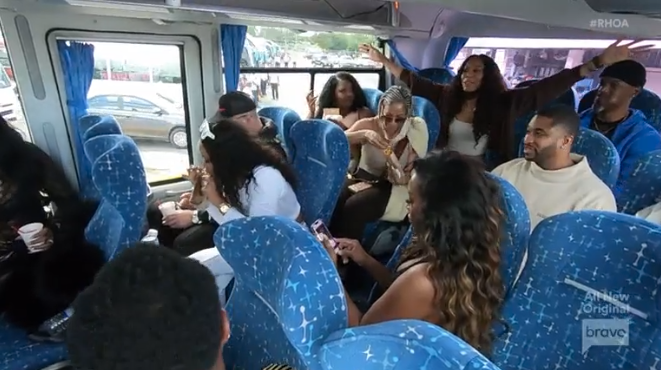 It's the morning of the trip and Sanya has arranged two separate sprinters to collect the couples for the airport. As Sanya and Ross board the sprinter, Ross realizes he left his passport and has to double back. Sanya collects Marlo first and we're introduced to Marlo's plus one, Adrian. Adrian is Marlo's friend and florist, and I wonder if Marlo has any real boyfriends. Kenya, Shereé, and Shereé's plus one, Michele, are on the other sprinter as Kenya explains why she's alone. Her cousin bailed on her, but we all know Kenya won't be alone for long. Kandi and Todd are already at the airport, and luckily, Ross makes it aboard before takeoff. The crew arrives in Jamaica and receives a warm welcome from the locals. 
As everyone gets on another sprinter, Sanya thanks everyone for coming and blasts Kenya for not having a plus one. Everyone introduces themselves and they arrive at the resort with drinks waiting for them. Sanya's excited because she's created specialized gifts for everyone and has a birthday surprise waiting for Kenya in her room. The crew gets in golf carts to head to their room and on the way, Kenya spots a local man and calls him over. The golf cart makes a quick U-turn and Sanya plays the perfect wing woman for Kenya. As Kenya flirts, Kandi becomes hangry and complains about needing food.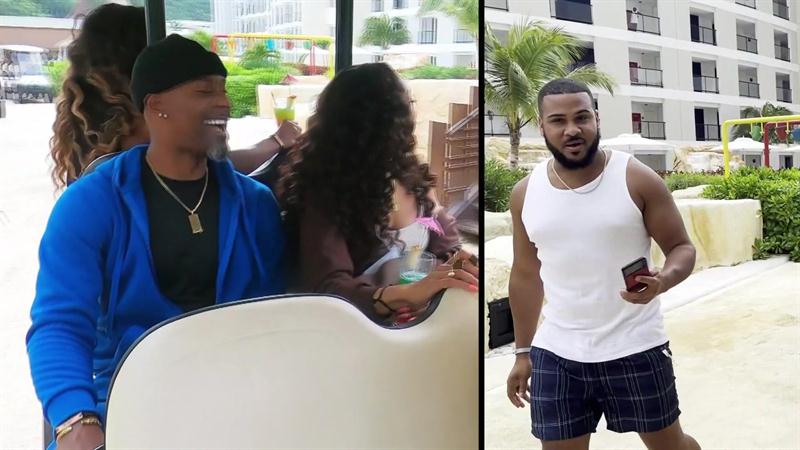 After exchanging numbers, Kenya invites her new friend to dinner and everyone's happy for Kenya besides Marlo. After making it to their suites, the crew begins eating and touring the space. Afterward, everyone heads downstairs and somehow Marlo and Shereé get into a brief argument about bodily functions. As everyone eats, Sanya checks in on her hosting skills as Kenya texts her future potential. As everyone gets acquainted with their rooms, Kenya sees her birthday surprise and loves it. Before dinner, Kenya meets her date, John, in her room to get a feel of him before introducing him to the crew. John compliments Kenya and Kenya warns John about the many questions her friends will ask. 
Sanya and Ross arrive at the steakhouse first and it seems like Sanya's a local celebrity. Ralph and Drew arrive shortly after and compliment Sanya on her room choices. Sanya makes a comment about being forgiving and in her confessional admits to taking things easy on Drew. Ralph talks about some nonsense as the rest of the group arrives. Kenya introduces John to everyone, and Marlo calls him a stray. The group order food and drinks and Monyetta makes a toast. Ralph toasts to Kenya getting her groove back and I wonder how appropriate that statement was. Sanya begins questing John about his age and we find out that John is 37.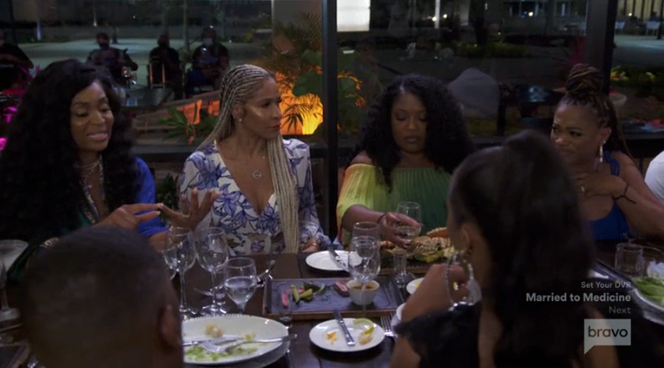 As the group accepts a bottle of wine bought by another table, Sanya attempts to check in with Marlo about her nephews. Marlo brushes Sanya off as Shereé inquires about Ralph's new book. Ralph gives his spiel and begins explaining the issue that he and Drew are having. Drew lets everyone know the situation and Marlo tries to make the conversation about her. Marlo claims to be triggered since she's a former foster child, but Kandi puts Marlo's feet to the fire by bringing up Marlo's nephews. Marlo ignores Kandi at first and continues talking to Drew. Kandi continues and Marlo decides to start slinging mud. Marlo says that Kandi puts Mama Joyce before Todd and things quickly go left. 
Kandi asks Marlo whether her nephews feel a way about being kicked out and Marlo fires back that Todd's being belittled by Mama Joyce. Kandi takes up for Todd, and Marlo continues throwing spaghetti at the wall, hoping it'll stick. Kandi doesn't back down as she calls Marlo out. Marlo tries to say Kandi takes care of Todd and Kenya comments to Shereé about Marlo's unacceptable behavior. Marlo tells Kandi that she isn't a good mother because she works so much, and Kandi reminds Marlo of all the people she's taken care of. Kandi tells Marlo to get a husband and Todd goes in on Marlo for repeating false rumors. Todd reveals that Marlo bought herself into their group and confessed that none of the ladies liked Marlo.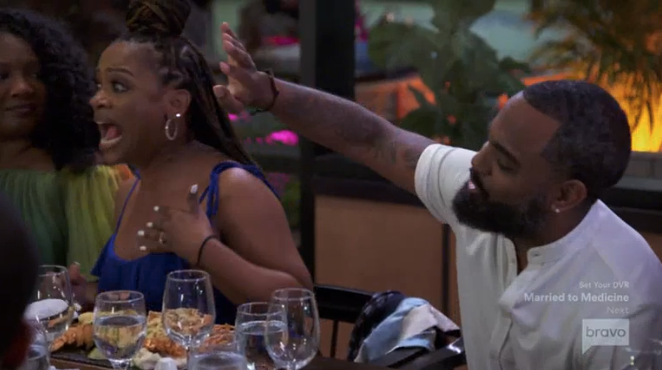 Marlo gets upset and begins spewing things just for attention as the group looks on. Todd calls Marlo a clown and Marlo states that Kandi is only known in ATL. Kandi makes her famous comment that she's worldwide and the crew can't do anything but agree with her. The food finally comes out as Todd clowns Marlo. Sanya's able to calm the table down as Kenya and Kandi apologize to Sanya. Marlo and Kandi continue throwing insults at each other and it looks like this is going to be a long trip. Come back next week to see what else happens on The Real Housewives of Atlanta! 
Stay Connected With All About The Tea: Twitter Ι Instagram Ι YouTube Ι Facebook Ι Send Us Tips
LeAndra Williams is a content contributor at All About The Tea. She's a social worker and (super) mom by day, and a reality T.V. junkie by night.