'RHOA' RECAP: Shereé & Drew Get Into Huge Argument Over Fatum!
Welcome back to the ATL, baby! After being kicked off of Marlo Hampton's trip, the ladies are back in their city to decompress. Marlo's at home talking to her coffee mug, while Drew Sidora and Ralph Pittman chat with Pastor Jeanette in the kitchen. Shereé Whitfield's at home talking to her son, Kairo, about her upcoming line release. At this point, Shereé's in the "making changes on paper" stage and seems to be excited for what's to come. That evening, Kandi Burruss-Tucker and Todd Tucker have a few pizzas on hand for Ace's birthday party. Since Ace's birthday falls in the middle of the week, Kandi wanted to throw Ace a small party now and a huge party this weekend. Drew arrives with her kids and a few of Kandi's cousins for Ace's get-together. 
Kandi and Todd surprise Ace with his guests and little buddy is really happy! Kenya Moore arrives with Brooklyn and the party has begun! Kandi even got a gaming truck for Ace, and the kids are loving it! At Le'Archive, Shereé's meeting up with Marlo to pick out some pieces for Jamaica before Sanya Richards-Ross arrives. Shereé asks Marlo how she's doing, and Marlo responds with the same old stories about her nephews. Marlo tells Shereé that the kids want to come back home but Marlo's not sure if she wants to shorten their 30-day sentence. Sanya shows up and the girls begin drinking. Back at Kandi's, Kenya inquiries about the trespasser at Kandi's house and Todd reassures Kenya that everything's fine. Kenya thinks they should invest in an off-duty police officer, but we all know Kandi likes to save her coins.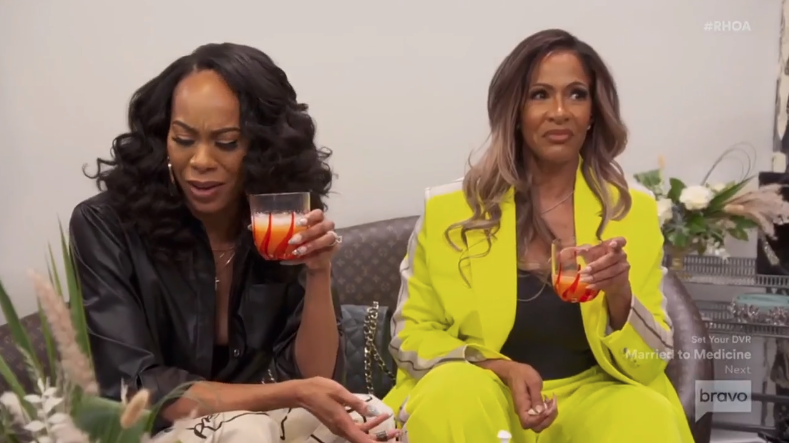 Drew and Kenya agree that they feel more comfortable living in a gated community, but Kandi's place is convenient for the time being. Kenya asks Kandi about her upcoming projects and Kandi's devastated because their play has been shut down! Unfortunately, the pandemic has affected her actors and she had to make the decision to wrap it up. Kandi gets emotional in her confessional talking about making a way for African-Americans on Broadway. It's okay Kandi!  
At Le'Archive, the trio is eating as they discuss the failure of Marlo's trip. Sanya thinks Kenya should've got with the program and Marlo's upset at Kandi again for continuing to rock with Kenya. Back at Kandi's, the ladies begin discussing the Blue Ridge and Kenya thinks the entire trip was bi-polar, LOL. Kenya thinks Marlo has a bone with her and the three begin talking about Drew's props on the trip. Sanya thinks the trip was unbalanced due to the separated groups, but blame Marlo for that! Sanya explains that for Jamaica, she wants the ladies to bring a friend or significant other. Since Shereé, Marlo, and Kenya are single, Sanya decides to FaceTime Kenya so that everyone's on the same page. Sanya invites the ladies to her house on Saturday and begins explaining that she wants Kenya to bring a plus one, and Kenya HANGS UP IN HER FACE! I had to collect myself off the floor because that was funny! Sanya's shocked and disappointed and this gives Marlo more ammo to use against Kenya.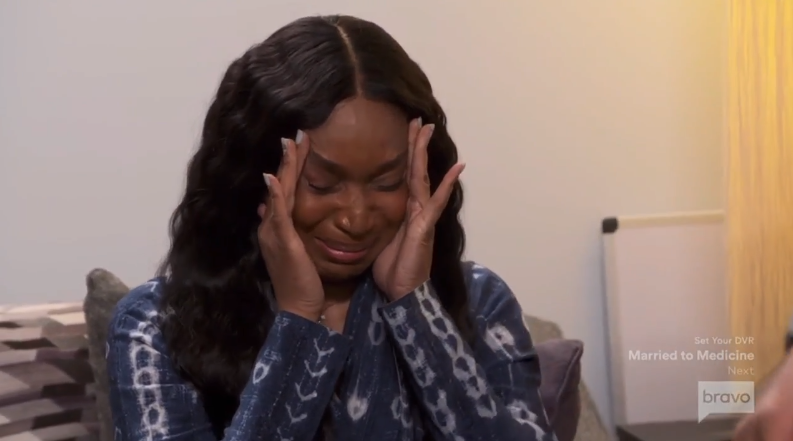 Kandi and Drew understand where Kenya's coming from, and Sanya knows Kenya isn't dating anyone at the moment. Kenya feels that Sanya's trying to single her out and is now considering not going. Sanya plans to have a sidebar with Kenya and the next day we see Marlo meet a parenting coach. Marlo's really taking this rent-a-nephew storyline seriously. After Marlo and the coach pray, Marlo begins fake crying before opening up about her struggles at home. Marlo admits to freaking out and being frustrated with her nephews, but Marlo just has to humble herself. Marlo knows she isn't consistent with parenting and that's why they don't respect her as an authority figure. The parenting coach provides Marlo with some tips moving forward to get her house back in order. Let's see if she actually does anything, chile. 
At Kandi's house, she has all the kids in the house at the same time and soon Kaela and Riley come to chat. Todd and Kandi inquire about school and being in Atlanta for break, and the two young ladies seem to be adjusting well. Todd wonders what liquor they're drinking in NY and Riley says she's sober, LOL. Kandi begins discussing the trust fund and producers are petty by showing us all of Kandi's businesses versus what Todd brings to the table, LOL. Kandi and Todd want to make sure the kids get equal shares of everything they've accumulated, but Todd has some stipulations in store. Todd doesn't want the kids to get a huge lump sum and then waste it all without a plan for the future. Todd wants to spread the funds out, but Riley doesn't agree with that plan.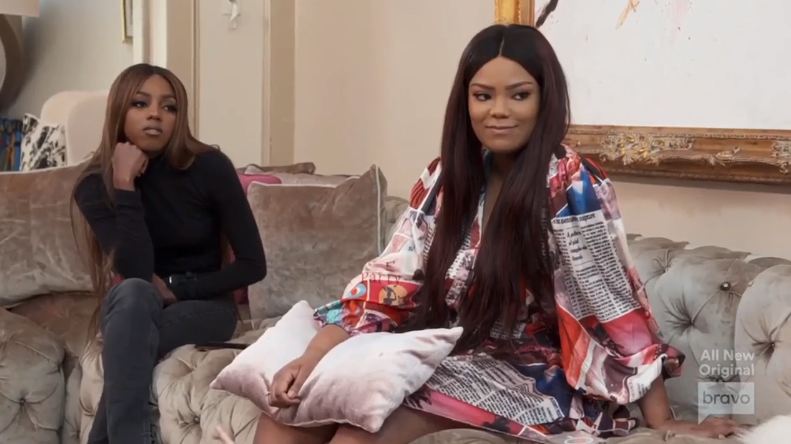 Riley and Kaela agree that Todd and Kandi view their kids' lifestyles differently. Todd thinks Kaela should work for everything she has, while Kandi worked hard so Riley can enjoy the fruits of Kandi's labor. Riley doesn't think Todd would allow her to be a part of the decision-making and Todd just wants the kids to be independent without depending on their funds. Todd gives Kaela tough love and Kaela wants more of dad Todd instead of business Todd. Kandi doesn't know if she trusts Todd enough to make all the decisions and Todd gets offended and leaves as he calls them disrespectful. 
The next day, Sanya's inviting the ladies to celebrate Shereé's birthday while Shereé shops for fabrics. Shereé's looking for fabrics that stretch and wants to make sure everything's in place for her big show. Shereé even has a line for men coming out and it looks like She by Shereé is finally a reality. Kandi's in her office working as she's joined by Todd to discuss the other night. Todd thinks the girls are entitled and Kandi wants Todd to not take things so personally. Todd agrees that he wouldn't be so free with the coins as Kandi is and suggests Kandi put what she wants Riley to have in writing. Kandi's still down about the play shutting down, but another producer reached out to offer Kandi another job for a different play. Todd thinks she should jump on it and Todd respects Kandi's hustle. Kandi appreciates Todd motivating her and Kandi feels she has the perfect partner in this life. Aw!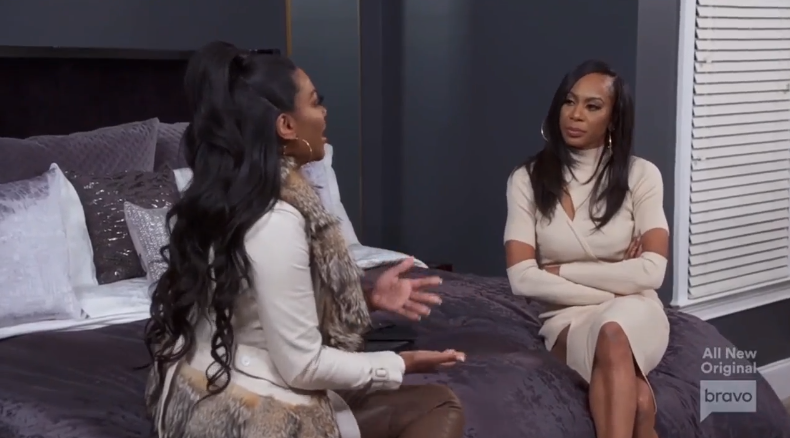 That evening, Sanya's setting up for Shereé's birthday celebration and Sanya's going all out for her new friend. This is the first time the ladies see Sanya's home, and Marlo's the first to arrive. Kandi shows up not too long after and checks in on Marlo as Monyetta shows up. Drew arrives, complaining about the drive as she continues worrying about Fatum Alford. Kenya arrives and actually speaks to Marlo before taking a seat. Kenya loves Sanya's house and Sanya takes Kenya on a brief tour before confronting Kenya about hanging up on her. Both ladies begin laughing, but Sanya tells Kenya not to hang up on her just because she doesn't like what she's saying. Kenya tells Sanya that she didn't appreciate how Sanya made her feel. Kenya explains how she let things slide in her marriage and vowed never to let that happen again. 
The ladies begin to wonder where they are, and Sanya understands that Kenya may receive information differently based on her past experiences. Kenya thinks Sanya's tone was condescending, but Sanya apologizes to Kenya and suggests Kenya bring a girlfriend. The two hug it out and head back to the group. Shereé arrives but the music isn't ready for Shereé's grand entrance. Shereé's surprised and appreciates the love she's receiving. Sanya is struggling as she tries to get her props to work, and the ladies are disappointed in her dry-catered food. Poor Shereé was ready to hit her poses but the photobooth isn't working! So embarrassing! The ladies decide to eat, and Kandi asks Shereé how her line is going as the food is served.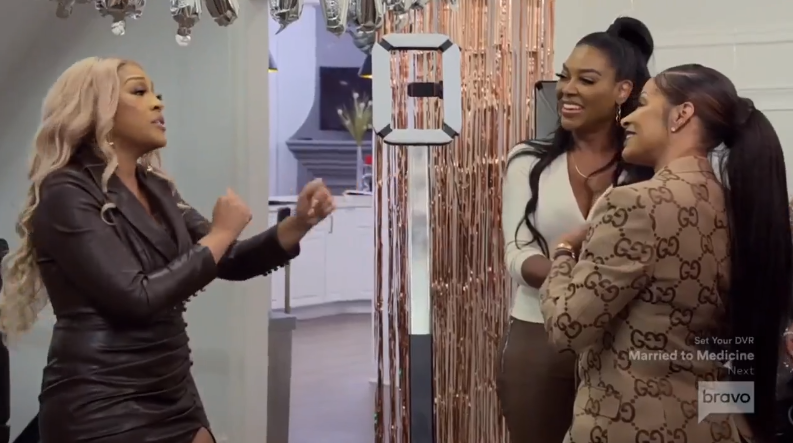 Shereé explains how excited she is, and Kenya busts Sanya out about her dry beef patties. Kandi and Shereé begin discussing Blue Ridge and Drew's doggy bones and before you know it, Shereé and Drew are going at it! Drew claims to stay ready and Shereé disagrees. Drew thinks Shereé throws rocks and hides her hands and Shereé throws the alleged aliases in Drew's face. Kandi and Monyetta are enjoying the scene as Drew throws ageist comments at Shereé. Shereé hopes Drew looks as good as her one day and Drew continues coming for Shereé behind Fatum's involvement. Drew's upset that Shereé brought Fatum around and Shereé begins throwing fake tomatoes at Drew. Looks like these two won't be besties any time soon. Shereé thinks Drew makes everything about her and Shereé's done with Drew. 
The ladies cut the cake for Shereé and the ladies ask Drew to sing to Shereé. Drew sounds good and after cutting the cake, Sanya sits the ladies down to discuss her rules for Jamaica. Sanya wants water-friendly hair, no props, and no recreational activities that lead to jail time. Sanya's on a work trip so she wants everyone on their best behavior. Girl… does she know these ladies? Be sure to come back next week for their trip to Jamaica, on The Real Housewives of Atlanta!
Stay Connected With All About The Tea: Twitter Ι Instagram Ι YouTube Ι Facebook Ι Send Us Tips
LeAndra Williams is a content contributor at All About The Tea. She's a social worker and (super) mom by day, and a reality T.V. junkie by night.