'Married To Medicine' RECAP: The Ladies Ambush Dr. Heavenly With An Intervention!
Welcome back to a brand-new episode of Married to Medicine! The day begins with Anila Sajja chatting with Dr. Kiran Sajja as Dr. Jackie Walters checks in with a patient. Dr. Heavenly Kimes is being noisy with her client as Dr. Simone Whitmore meets Quad Webb for lunch. Simone is surprised that Quad is on time for once, and we get a brief flashback of all the times Quad made the ladies wait. Quad talks to Simone about Quad's mom and nephew moving in and adjusting to the role of an authority figure. Simone recognizes Quad's growth from over the years and enjoys seeing Quad happy. Simone tells Quad about Michael and his new girlfriend Andrea, and Quad has a hard time pronouncing the poor girl's name, LOL.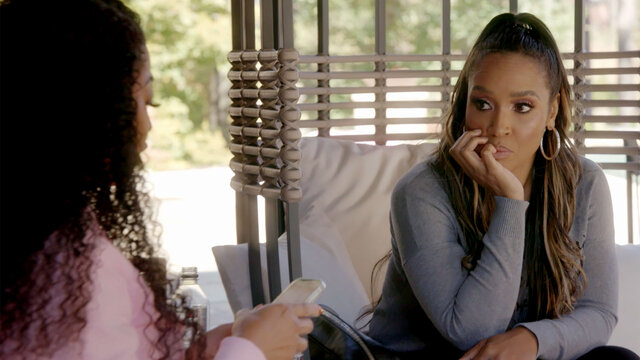 Across town in Toya Bush-Harris's rental, Contessa comes over to visit. Contessa helps Toya separate some tulips as Toya explains making herself smile for the day. Toya's self-care journey is all about Toya, however, Toya wants Eugene Harris to figure out what makes him happy, as well. Eugene wants to accomplish so much, and Toya brings up that Eugene's feelings were hurt by Heavenly's comments online. Contessa doesn't understand why Heavenly keeps trashing everyone. Contessa brings up the idea of having an intervention for Heavenly, and Toya calls Simone to see if she's down with it. Contessa explains to Simone that she wants to be direct with Heavenly, but also loving, to show Heavenly how her actions affect the group.
Simone thinks Heavenly may not give a damn, but Contessa's still determined to get this intervention underway. Dr. Jackie's at her office checking in on a patient that's 37 weeks pregnant. Jackie's patient is ready to give birth but has a few questions about the velamentous cord. The patient's umbilical cord isn't directly in front of the placenta, but Dr. Jackie reminds the patient to advocate for herself by asking questions. Dr. Jackie wants to make sure her patients are alright — it's nice to see a doctor go the extra mile. Anila and Dr. Kiran are sitting the kids down so they can talk to Ms. Gomez. Anila explains that Ms. Gomez has to move back to Houston and today is her last day working for them. The kids are rightfully sad and give Ms. Gomez flowers and lots of hugs! I can tell the kids really love Ms. Gomez but the kids took the news well. Ms. Gomez packs her things and leaves off but not before the kids break down into tears. Aw, poor babies!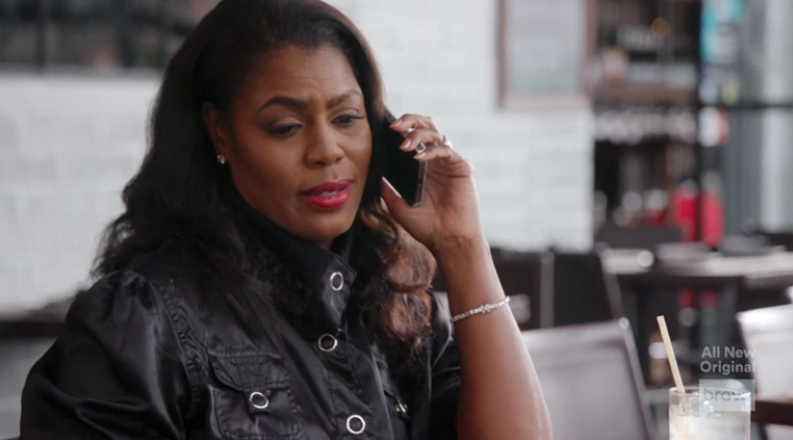 Eugene is at home getting ready to leave for work as Toya joins him in the kitchen. Toya compliments Eugene for recommending The Sleep Number before talking about the kids' homework. Eugene isn't excited to work but is in need of making up his clinical shifts. Toya wants quality time with Eugene, while Eugene feels like he's walking on mud sometimes. The pandemic did a number on Eugene and feels like it's time for a change. Eugene wants to diversify his work portfolio and find a fun outlet to relieve his stress. Across town, Cecil and Simone are meeting a special friend for lunch. Simone and Cecil are writing a book together and want some advice from longtime friend Omarosa to seal the deal. Simone met Omarosa years ago and they have developed a genuine friendship. 
Michael calls Simone in the middle of lunch and Omarosa gladly talks to her nephew as Simone and Cecil laugh in the background. Simone and Cecil chat with Omarosa about Michael's girlfriend and their upcoming book. Simone and Cecil have been married for 26 years and believe they have the skills to help other couples maintain their marriages. They both also come from divorced families and have overcome a lot of obstacles separately and together. Omarosa thinks they have something special on their hands and I can't wait until the book's release! It's Heavenly's Intervention Day and Simone arrives at Contessa's first as Contessa puts on a purple wig for armor.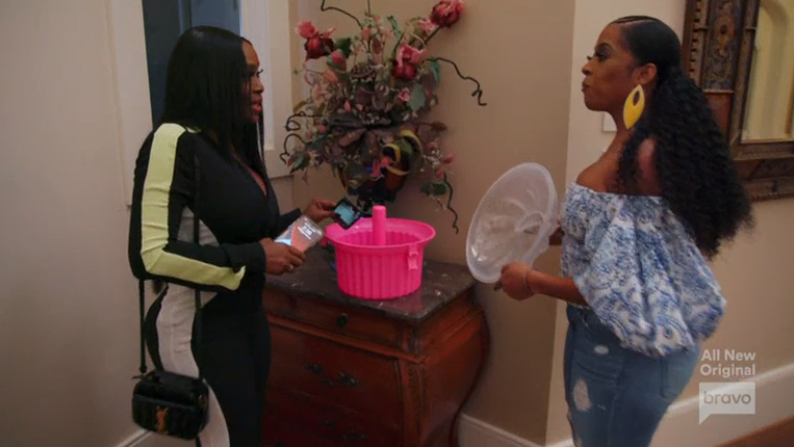 Simone likes Contessa's wig as the two ladies head to the kitchen to prepare for this fiasco. Only Contessa, Toya, and Simone know about Heavenly's intervention, and they want to keep it that way until everyone arrives. Contessa made sure Scott and the kids were out of the house and wants to make everything perfect for her grand scheme. Toya arrives ready for war as Contessa instructs Toya to take everyone's phone on arrival. Toya begins putting the food out as Simone handles the drinks and the intervention is coming together nicely. Contessa wants everyone to tell Heavenly how they feel but Toya's unsure if she trusts Heavenly with her feelings. Toya's expectations for Heavenly are low but she's down for the cause. Anila arrives and thinks it's weird her phone is taken but obliges. 
Quad arrives but refuses to put her phone in the bucket. Quad leaves and Toya allows Quad to go before the rest of the ladies run after her. Quad returns as Jackie arrives and is equally as confused about the phone situation. Jackie leaves as well, but Simone gets Jackie to agree to put Jackie's phone on the counter. The ladies grab the goodies and head down to the basement to set up for Heavenly's intervention. Quad is suspicious and Contessa finally reveals they're having an intervention for Heavenly's channel. Anila voices her concern and admits this entire scene is awkward. Quad calls the group "some low-down people" and Toya resents that. Quad knows that Heavenly's going to be upset but there's nothing she can do now.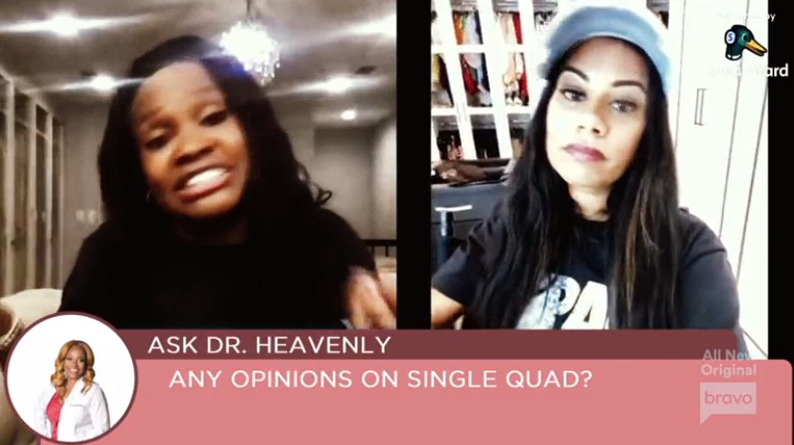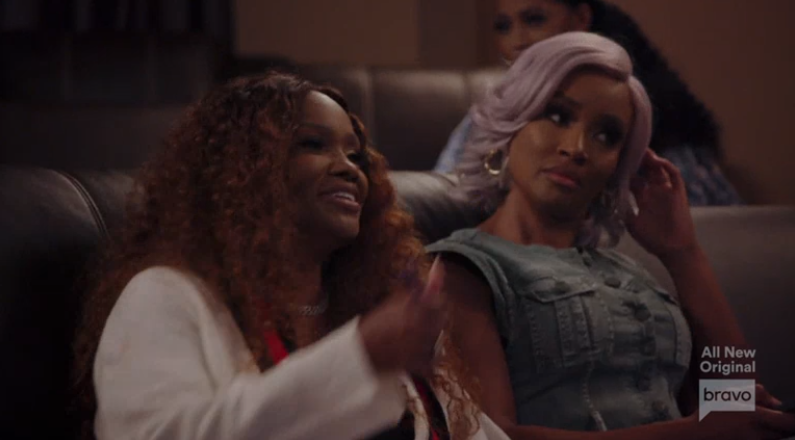 As Toya relates Heavenly's intervention to an ambush, Heavenly lets herself in and walks into the mess! Heavenly greets everyone and sits down clueless as Contessa gives her spiel and begins the "movie." We see Heavenly on her channel as she dogs ALL her friends and Heavenly's cracking up the entire time, chile! Heavenly thinks she gives sound advice and clearly amuses herself, LOL. Contessa is seething as Heavenly continues laughing, and it's clear that Heavenly isn't ashamed of her actions. Once the video ends, Heavenly asks Contessa "that's it?" and gets upset that Contessa waited five months to say something to her. Contessa is confused since Heavenly has been blasting their business for the world to see. Toya laughs at Heavenly's audacity and things begin to go left. 
Heavenly gets up and compliments Contessa on her look. Toya calls Heavenly out for trying to run and Heavenly stops in her tracks. Heavenly doesn't think it's that serious but Contessa's not letting Heavenly go that easy! Contessa wants Heavenly to own up to her words and Heavenly admits she meant everything she said. Toya yells, "You need to stay out of our f***ing marriages!" and proceeds to tell Heavenly how trifling she is! Heavenly tells Toya to be mad at Eugene for saying Toya was the worst decision he ever made! Quad's sipping and watching everything go down as Heavenly gets louder and things get worse. Simone tries to get the group back to the focus of the intervention, but emotions are too high. Heavenly thinks it's funny and Contessa begins to cry before she explodes!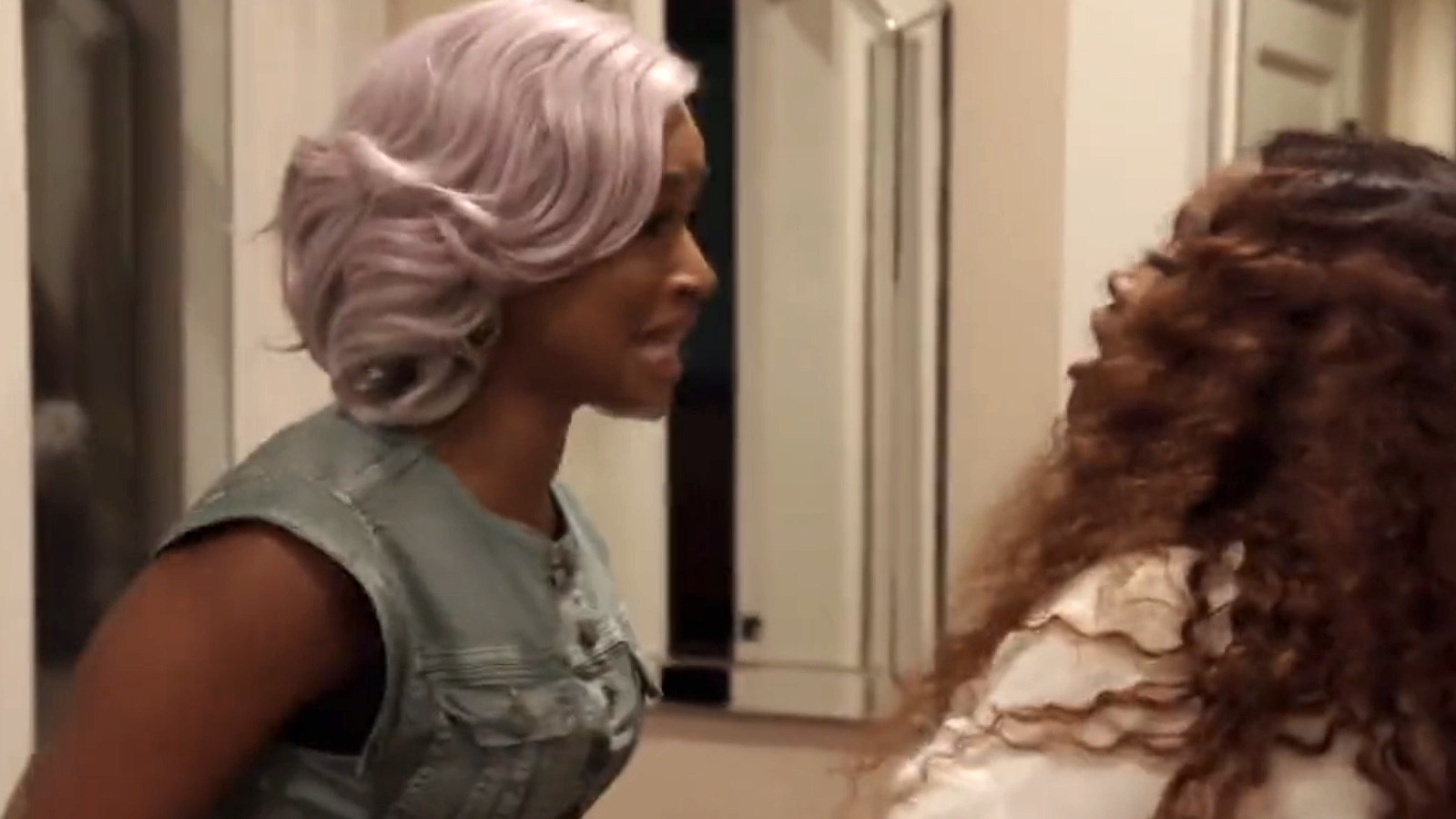 Contessa grabs Heavenly's arm and says, "My marriage isn't funny!" as Heavenly jerks away and storms out the room so the two ladies can talk. Both Contessa and Heavenly begin yelling as Heavenly chest bumps Contessa before trying to hug her. Contessa tells Heavenly to let her go and begins letting it all out! Simone thinks someone should go check on them, but Jackie wants them to handle it on their own. Contessa yells at Heavenly that she never confided in someone about her marriage and vows to never tell Heavenly anything else again! Heavenly goes back into the theater room as Contessa continues yelling at her. Heavenly calls Contessa delusional and Contessa flips Heavenly the bird before walking away. Simone tries to hold Contessa back, but Contessa is strong! 
Simone gets Contessa to calm down in the kids' room as Jackie tries to convince Heavenly to stop slinging negativity. Jackie tells Heavenly to talk to Contessa and Heavenly thinks she's been nothing but a friend to Contessa. Upstairs, Contessa rips off her wig as Heavenly storms out and calls Simone a flip-flopping b*tch! Anila tries to have Heavenly's back, but Toya has no time for Anila purposefully missing the point. Quad and Jackie thinks this was a bad time and Heavenly leaves as the ladies are in disarray. Whew! What a drama-filled night! Be sure to come back next week, to see how these ladies get down on Married to Medicine
Stay Connected With All About The Tea: Twitter Ι Instagram Ι YouTube Ι Facebook Ι Send Us Tips
LeAndra Williams is a content contributor at All About The Tea. She's a social worker and (super) mom by day, and a reality T.V. junkie by night.