'RHOA' RECAP: Marlo Disinvites Kenya AFTER Kenya Crashes The Girls' Trip!
Welcome back to The Real Housewives of Atlanta! We start off with Kenya Moore and Kandi Burruss as they meet up for a cute playdate with Brooklyn and Blaze! After playing, Kenya and Kandi sit down to talk about Shereé Whitfield's slumber party and Kenya's struggle with Kenya Moore Hair Care. Kenya's product is in demand but she's having a hard time meeting the demands. Kandi thinks Kenya needs a good team to help facilitate things and Kandi warns Kenya to not let Marlo Hampton deter her from her future greatness. Kandi's still surprised that Marlo kicked her nephews out and Kenya's over Marlo at this point. The two ladies wrap up their chat and decide to play with the kids.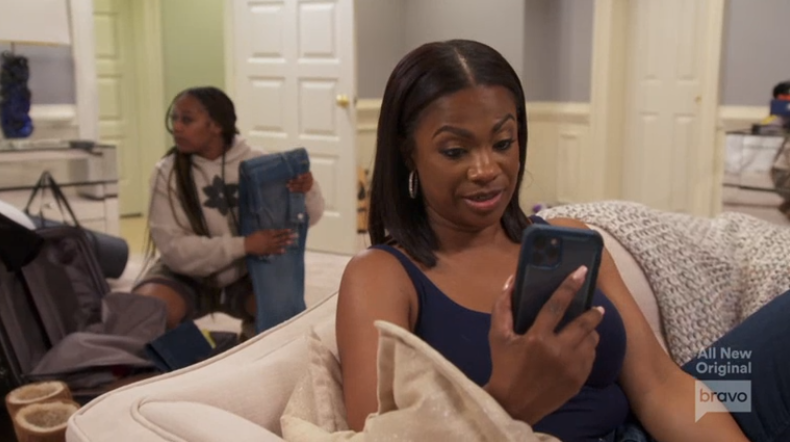 Shereé is chatting with her business associate as she prepares for She by Shereé, while Sanya Richards-Ross chats with her sister. Marlo and her team are helping her pack as Kandi plays with Ace around the house. Kandi's assistant is helping her pack as Kandi complains about needing a swimming suit. Kenya decided not to tag along on Marlo's trip and Kandi lets Marlo know, in an attempt to be a good friend. Kandi lets Marlo know and Marlo doesn't seem to care in the least! Meanwhile, Marlo is at home complaining about her nephews' room and little sister Crystal comes over to visit! Marlo shows Crystal the boys' room and Crystal tries to give Marlo some parenting advice. Crystal wants Marlo to come behind the boys instead of trusting their words. 
Marlo gives the boys whatever they want but they need more structure in the household. For punishment, Marlo's going to turn the boys' phones off and hope they start acting right. Marlo gives us the backstory about Crystal being in foster care and Marlo partially raising Crystal before moving in with their mother. Marlo asks how the boys are doing and Crystal has her hands full, but Marlo isn't in a hurry to take them back, chile. Crystal also told Marlo to watch what she says around the boys, and although their mother's mouth was bad, that's not an excuse to talk to them that way. We'll see if anything changes, SMH!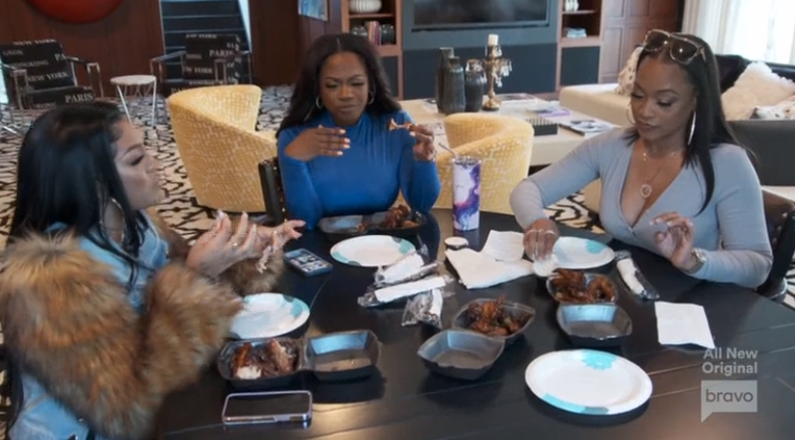 It's the day of the trip and Shereé pulls up to Marlo's place wearing a boot! Apparently, homegirl broke her baby toe, but that won't stop Shereé from attending this trip! Drew Sidora and Monyetta meet up at Kandi's before heading to Marlo's. Marlo sends an Aston Martin to pick the girls up, but they can't eat in the car. Kandi is irritated and immediately gets out to finish her meal inside. In the car, Marlo wonders why she and Kenya can't get along, and I wonder why Marlo and Shereé can eat in their car, but Kandi can't?! Kandi lets Marlo know they're en route and Kandi checks Marlo about the wing situation. After hanging up with Marlo, Kandi tells Monyetta and Drew about Marlo kicking the boys out. Drew thinks Marlo needs to lean on her village, but Marlo doesn't know how to ask for help.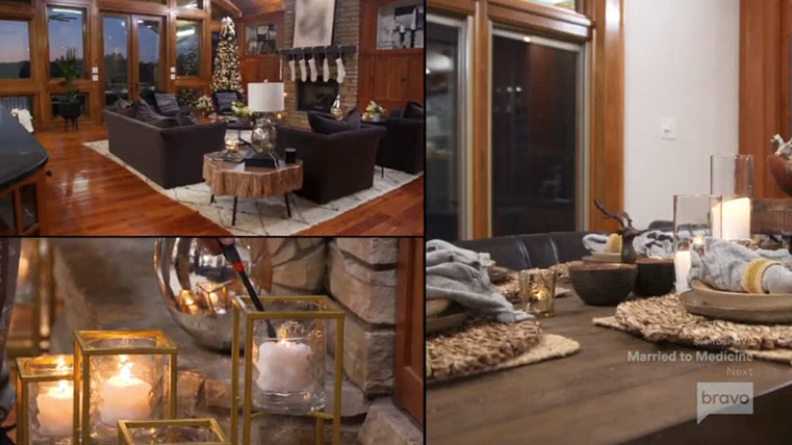 The ladies make it to Blue Ridge, Georgia, and the cabin is gorgeous! Marlo and Shereé take a grand tour as Kandi, Drew, and Monyetta arrive. The ladies love the house and are ready to get the party started! Marlo tells the ladies there are no rules and reveals that Sanya is not coming because she's in Miami for work. We get a brief glimpse of Sanya's new project and Marlo wants to play a candle game so the ladies can pick their rooms. The candles are shady, and Kandi wins the first round as Monyetta wins the second. Drew makes faces at Marlo's shady candles as Shereé wobbles to find her room. Drew finds her room and Marlo gives Drew multiple candles that define her, SMH. It's time for the ladies to change and head down for dinner.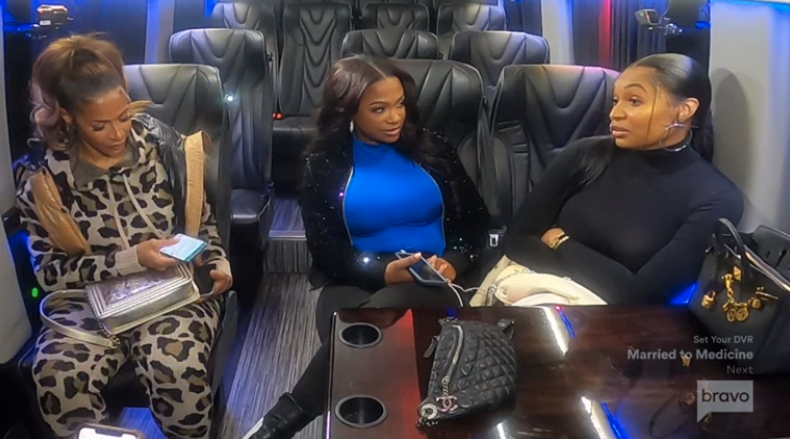 In the sprinter, Marlo tells the ladies that she needs a break and she's not ashamed to say it. Marlo doesn't want to fail, but she's going to leave her nephews with her sister Crystal for 30 days. No one understands Marlo but I'm sure Kenya won't be afraid to tell her the real. The ladies make it to dinner and Marlo had drinks already waiting for them. They joke around with a few of the locals before ordering their meals. Marlo tells Kandi that she wants her to get drunk like Kenya was last week. Drew brings up Sanya and her shady comment to Ralph, as Kenya shows up late to surprise the crew!
Kandi goes out to meet Kenya and Kenya is ready to shake the table! Marlo's face says it all as Kenya takes a seat and the ladies "cheers" with a shot. Marlo is mad that Kandi knew Kenya was coming, but things shift once Kenya reveals that she's not staying at the house with them. Brooklyn is in town and wants to spend more time with her, and the ladies are a bit irritated. Sanya arrives late but right on time for the drama. Drew discusses confronting Sanya right when she comes in and after, Sanya explains her trip and invites the ladies to Jamacia! It's going to be a couples trip and everyone's excited! Marlo gives Kenya a fake "thank you" and starts questioning Kenya about staying at the house. Marlo basically disinvites Kenya from the activities, if she refuses to stay at the house! Lord, this feels like High School, SMH.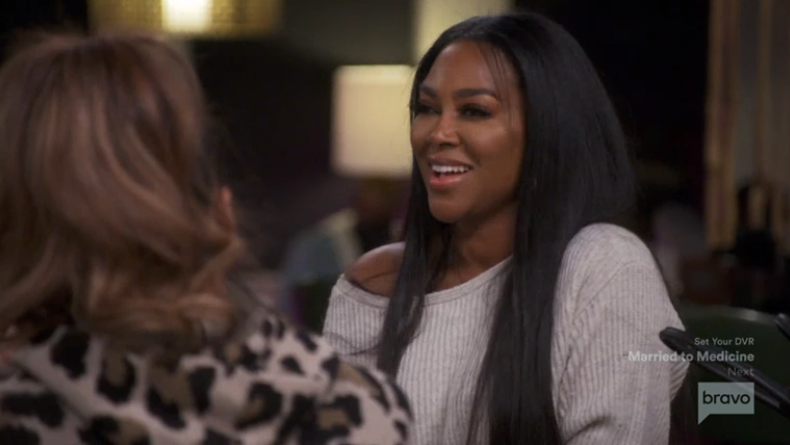 Kenya is trying to keep it cool, but Marlo continues pushing Kenya for no reason! Kenya asks how the other ladies feel and the girls want Kenya to stay at the house. Kenya tries to explain herself and Marlo won't allow Kenya to speak. It's a mess, but Kenya's doing her best to be an adult. Marlo just wants to control Kenya, but Kenya's not deterred. Kenya tells Marlo that she's not a friend and she doesn't know how to be a friend. Kenya thinks Marlo is toxic and doesn't see a way to forgive Marlo this time. Marlo still thinks Kenya was lying about being sick but claims she won't kiss Kenya's a**. Marlo tries to put the blame on Kenya, but Kenya is deflecting all of that BS! The drama is far from over and Marlo disinvites Kenya to all her future activities. Goodness! Come back next week to see what else happens on The Real Housewives of Atlanta! 
Stay Connected With All About The Tea: Twitter Ι Instagram Ι YouTube Ι Facebook Ι Send Us Tips
LeAndra Williams is a content contributor at All About The Tea. She's a social worker and (super) mom by day, and a reality T.V. junkie by night.