'RHOA' RECAP: Shereé's Friend Fatum Exposes Drew & Ralph's Secret Lives!
This week on a new episode of The Real Housewives of Atlanta, Drew Sidora and Ralph Pittman are taking their daughter to school as Kandi Burruss–Tucker gets her kids ready for the day. Shereé Whitfield's a guest on her daughter Tierra's podcast along with friend of the show, Fatum Alford. Tierra starts talking about sex positions and Shereé is so uncomfortable! Fatum begins making a statement about knowing every position, but is interrupted by breaking news about Shereé and Tyrone! The article alleged that the two love birds weren't speaking after Tyrone stood Shereé up in Philly. Shereé's instantly upset and begins airing Tyrone out by saying, "He knew we were being filmed!" and "He wanted to tell his story." The two still haven't spoken and Shereé thinks Tyrone is broke and needs money. Shereé also alleged that Tyrone leaked the photos from Philly to the press for attention. Damn. 
Shereé's done with Tyrone at this point and feels scammed — like Tyrone's other victims! Fatum has tried to introduce Shereé to other men and Tierra reiterates how beautiful and powerful Shereé is. That evening, Marlo Hampton is bossing her nephews around as they surprise her with their cleaning skills. In her confessional, Marlo claims the boys have been acting up since they spoke to their mother. Marlo says they don't clean up nor listen and she's over it! Marlo asks her nephews if they need therapy, and they disagree. One nephew got three referrals in 30 days, while the other told his teacher she doesn't make enough to argue with him. Whew! Marlo's trying to lay the law down with the boys and she's questioning whether she's doing the right thing. The boys agree to do better, and Marlo hopes they'll straighten up.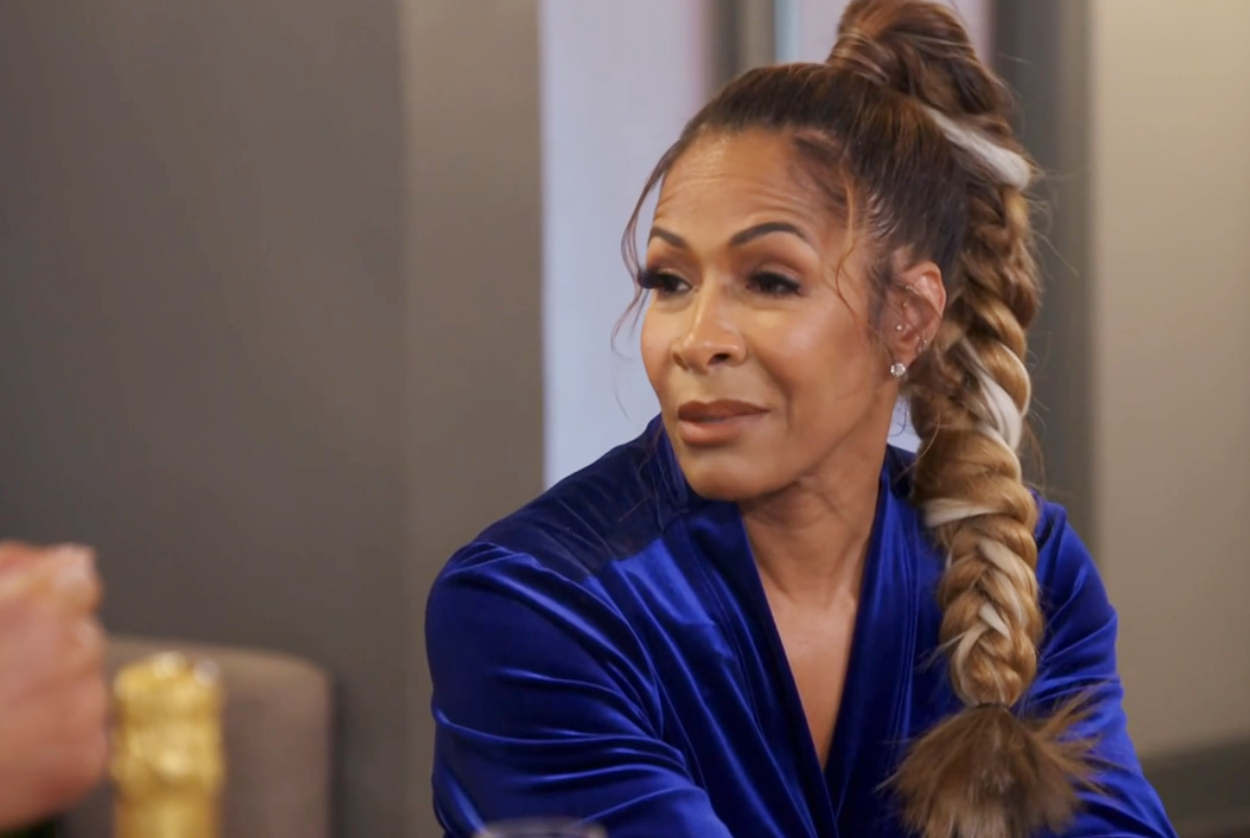 Kenya Moore is prepping in the kitchen as Sanya Richards-Ross stops by to hang out. Both women look beautiful as they greet each other and grab some drinks before sitting in the living room. Kenya asks Sanya how's life going with a full house and Sanya reveals she still can't believe that many people live there. "Sometimes I be having sex with Ross, and I be like, my mom and Dad really downstairs, ain't this some sh**?" SMH. Sanya feels 17 again and Kenya wants to know if they're loud in the bedroom. 
Sanya may complain but is blessed to have a full house and doesn't know how Kenya does everything alone. Kenya didn't plan to be a single mother and before Kenya tears up, Kandi calls and gives details about the recent security breach. Kandi tells the ladies that it was a young man and that he can go to jail if he trespasses again. Kenya shows off her charcuterie board as Kandi expresses her need for a proper spread, LOL. Kandi wraps up with the ladies and Kenya brings up Drew's tumultuous event. Sanya thinks things went from zero to one-hundred real fast and Kenya's still upset at the way Marlo behaved towards her. Kenya doesn't know why Marlo's turning on her or why she doesn't believe Kenya's illness. Kenya's done with Marlo, and it looks like we can finally put this short-term alliance to rest. 
Shereé's at home, plating her ordered-in breakfast, as Fatum stops by. Shereé fixes coffee as Fatum preps the mimosas for a fabulous morning. Once downstairs, Fatum checks in on how Shereé's feeling since they didn't get a chance to talk after Tierra's podcast. Multiple blog/news articles are covering the drama between Tyrone and Shereé; And now,  Shereé questions if Tyrone ever loved her. Shereé feels used, stupid, and that Tyrone robbed her emotionally. Shereé begins to cry as Fatum comforts her heartbroken friend. Shereé breaks down and walks away to collect herself as she lets her feelings out. Shereé's upset that she dated someone beneath her, and Fatum's happy that Shereé sees the light. Seems like Shereé's finding her worth and the two wrap up by toasting to success and happiness.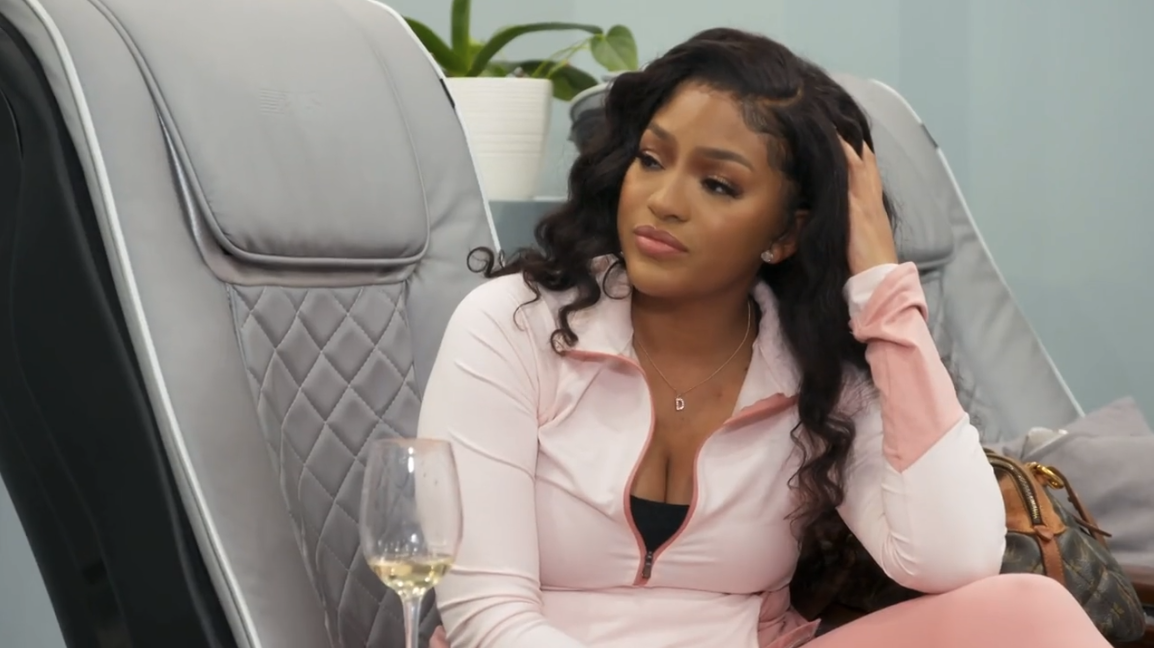 Drew is treating her mother, Pastor Jeanette, to a trip to Tipsy Nail & Salonbar and as the two get comfy, Drew tells her mom about Ralph's new business adventure. Ralph is writing a book about stepparenting and apparently, the assistant with the big booty helped Ralph get the book deal. Drew tells her mother that the assistant began to resent her because Drew felt disrespected by her. Drew reveals that Ralph fired the assistant but failed to mention the inappropriate relationship Ralph had with this woman. Drew is plugging her man's book and I ain't mad at that, but I am mad that Drew isn't honest with her own mother. Drew thinks the book will be good for people with blended families, and Pastor Jeanette wonders if Ralph will adopt Josiah. Both women thought Ralph was going to adopt Josiah after changing his last to Pittman, but Ralph wants to respect Josiah's biological father. 
Pastor Jeanette is being worried about Drew and asked a woman named Prophet June to relay a message to Drew. Chile, this woman done told Drew to watch out and that someone around her with feminine energy is damaging Drew! Lord, what in the Tyler Perry is this?! Now Drew's over here trying to guess who's bringing her down and fails to realize that Ralph is her anchor, SMH. Drew tells her mother about Sanya's conversation with Ralph and that Sanya shaded them in the process of getting advice. In a flashback, we see Sanya tell Ralph that he and Drew pretend to be busy, so Drew is running with that information. Drew feels that Sanya is fake and Pastor Jeanette believes they need to rebuild their sisterhood. She ain't lying.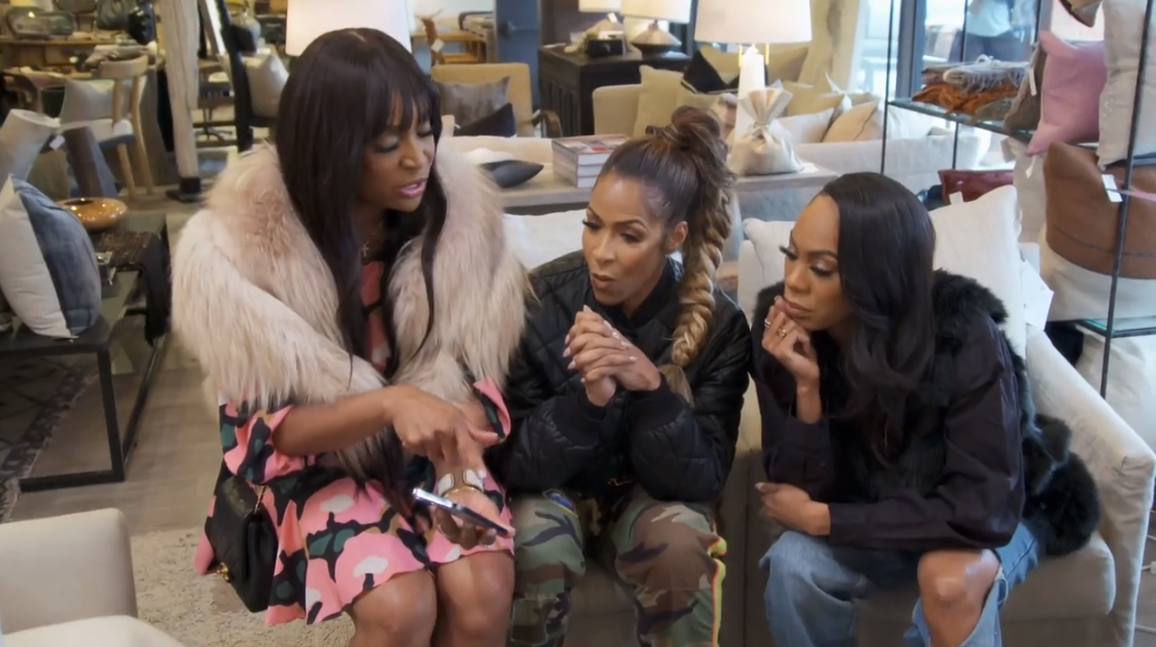 The next day, Marlo invites Shereé and Sanya out to furniture shop at B.D. Jeffries. Marlo's house will be ready in 14 months and she wants to start putting orders in, so everything comes together. The ladies browse as Marlo asks Shereé for advice, and Shereé reveals she spent $40,000 on decor. Sanya may need some advice as well since the ladies still haven't seen the inside of her house, but I digress. Shereé wants to get loose, so she invites the girls over for a pajama party sleepover. Shereé is inviting all the girls and Marlo immediately has an issue. Marlo wants Shereé to tell Kenya not to try her or they're going to "tear up" Chateau Shereé, SMH.
Marlo mentions the fight with Kenya and claims that she was double-teamed because Kenya's so big. Marlo accuses Kenya of taking pills to lose weight and claims Kenya's never acted like that towards her. Lies, but okay. Sanya relates the information from Kenya, saying that Kenya felt blindsided by Marlo's accusation, and Sanya asks Marlo if she can refrain from going below the belt. Of course, Marlo can't, but Marlo at least admits to not knowing how to be the bigger person. Marlo received a referral for Shereé's life coach and admits to seeing him before she reveals she kicked her nephews out of the house. The boys aren't doing laundry right, Marlo's things are missing, and one of them punched a hole in the wall.
Marlo had had it and sent the boys to her little sister Crystal's house. Although Crystal's taking care of four toddlers, Marlo felt that Crystal was better equipped to handle William and Michael. It's only supposed to be for 30 days, but Shereé applauded Marlo's actions (in her confessional). Shereé's never taken a break from her kids but wants Marlo to dig deeper into finding out why kicking the boys out was the only option. Marlo puts all her troubles on her past and Marlo's afraid of failing. Sanya thinks Marlo is doing an excellent job and needs to give herself more credit. Marlo wants the boys to be more appreciative and Sanya wants Marlo to figure out how things will be different when the boys return.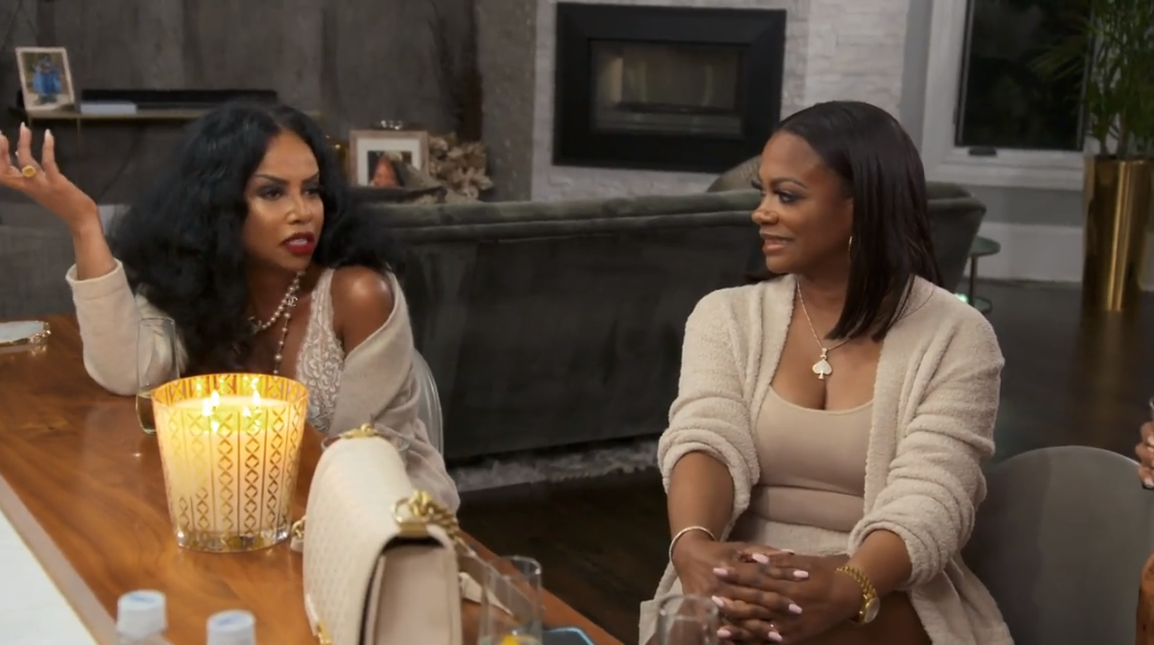 It's party time at Chateau Shereé and the girls are getting ready as Kenya calls Sanya to discuss the party and the shenanigans of last year's mess. Marlo's debating going as Shereé sets up and reveals the nude theme of the evening. Fatum arrives first and lets herself in as Shereé finishes last-minute touches. The ladies arrive looking gorgeous and Fatum shows Kandi an incense that'll remove past lovers' energy. Appetizers come out as Kandi asks if Marlo's coming. Drew received an invitation but Shereé's not sure if she'll make it. Fatum isn't sure about Drew since Fatum feels like Drew attacked her for no reason.
Fatum told a friend this information, who then ran a background check on Drew! Fatum found out that Drew and Ralph have a bunch of aliases, and everyone is shocked! The ladies look at the documents as Monyetta Shaw arrives to get into the mess. Kandi thinks the Pittmans may have bad credit and admits that no one knows what Ralph does for money. Food is served and Drew arrives acting nervous. Shereé notices that Drew is wearing the same robe as her and jokingly tells Drew to take it off. The ladies go downstairs for a live-model painting session and the mood is light for once. As fun is being had, OG Housewife, Lisa Wu, makes an appearance! The models get fully naked as Drew talks to Sanya about the comment Sanya made to Ralph. Sanya doesn't think Ralph was helping by snitching and Drew wants to know exactly what Sanya meant. 
The conversation goes nowhere, as Sanya walks away from Drew and Kenya fills up on the free drinks. Dinner is ready and the ladies are excited to eat and get down to business. Marlo goes to the bathroom to wash her hands and runs into Kandi. Marlo confides in Kandi about the issues with Marlo's sister and Marlo tells Kandi about kicking the boys out. Marlo takes Kandi by the massage table and vents about how hard life is with the boys. Marlo's been drinking more and thinks therapy could help. Kandi tries to hold Marlo accountable, but Marlo begins to break down. Kandi wants Marlo to continue therapy and find a better way to live with the boys. They hug it out and once back at the table dinner is coming out and Kenya thanks Shereé for inviting them.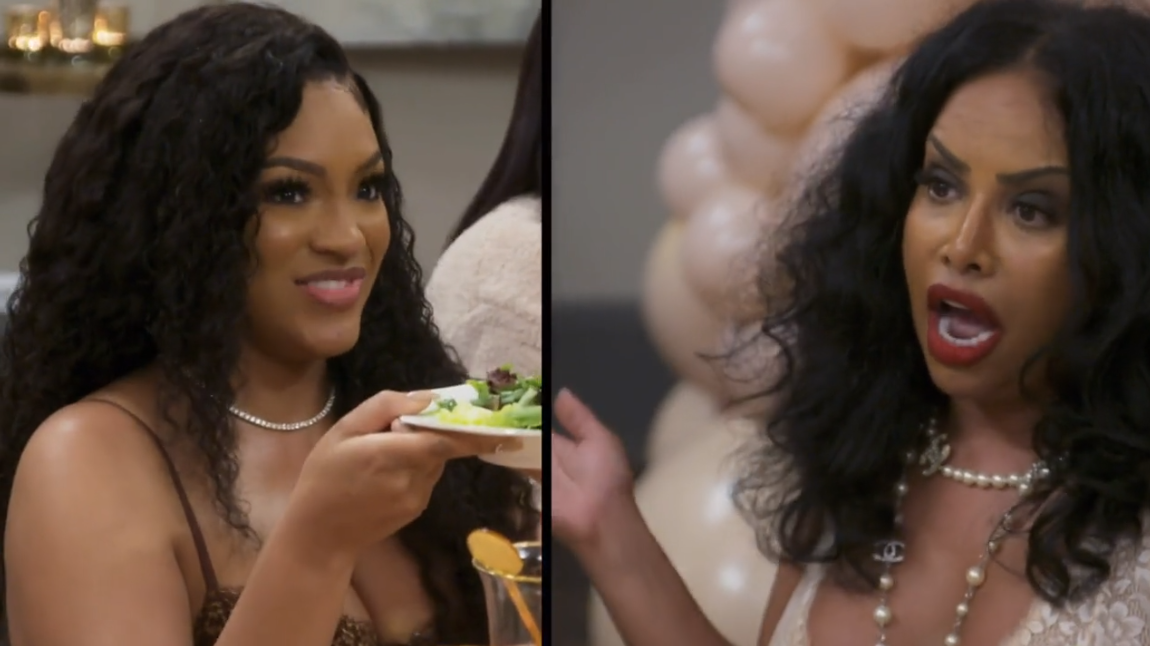 Shereé's ready for the next stage and drunk Kenya wants to play a positive party game. Kandi reveals the conversation she and Marlo just had, and Marlo says she likes everyone. Drew attempts the game but doesn't give what the ladies were looking for. Marlo rolls her eyes at Kenya's positive statement and Drew tries and fails at the game. Kenya wanted Drew to start over, but Drew doesn't know how to give an authentic compliment. Lisa Wu brings up not waiting for an apology and before you know it, Lisa and Sanya are arguing! Afterward, Shereé notices Drew side-eyeing Fatum, and Drew states that she wants an apology from Fatum.
Fatum shuts that down real quick and tells Drew to get over it because she's not apologizing! Kenya tells the table about Fatum being upset and that she ran a background check on Drew and Ralph. Drew accuses Fatum of being a stalker and Kenya reveals it all as Fatum's trying to talk and Drew ask for more salad dressing, LOL. Drew shades Fatum for being drunk and Kenya jokingly falls on the floor. Drew thinks Shereé should check Fatum and Fatum threatens to get more information if Drew keeps messing with her. Kenya is being hilarious and asks Drew who Danielle is. Drew claims that  Danielle is one of her old assistants, and we're all confused at this point. Fatum takes Kandi to get the incense ready and Drew's still mad at Fatum for speaking about Ralph. Kenya throws rose pedals down for Shereé and the ritual begins! Shereé is having a ton of fun and Kenya hops on top of the incense, too! Drew is staying away from the ceremony as the ladies "cheers" and Marlo brings up Kenya's wig.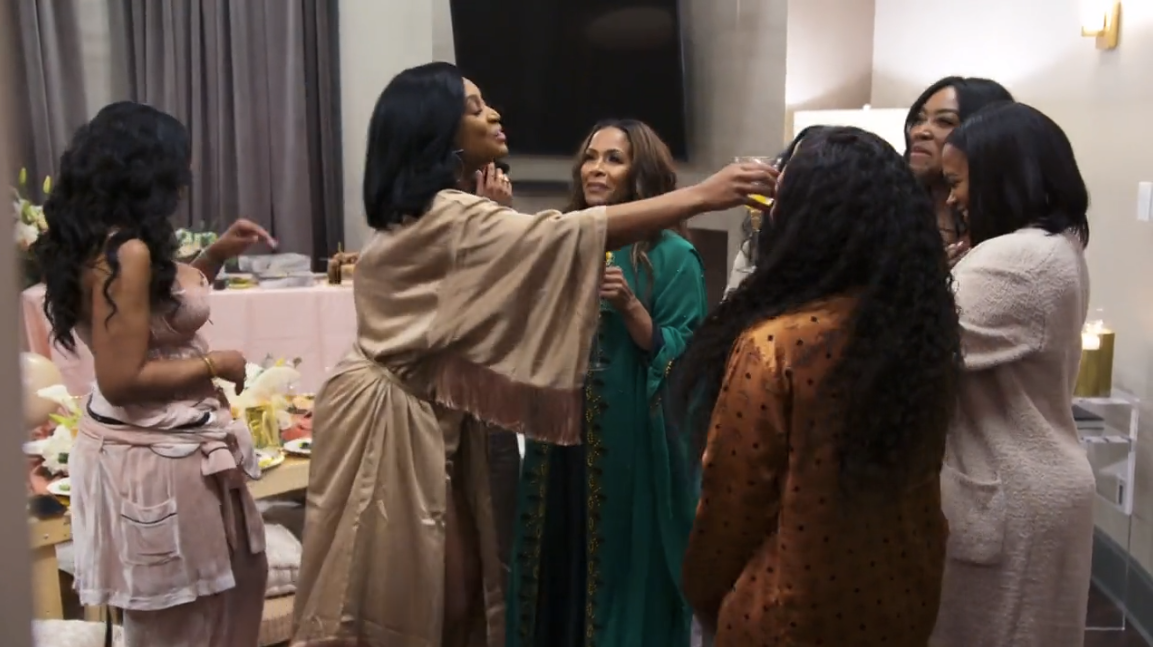 Kenya wonders why Marlo finds the time to speak about her and Marlo says she loves how Kenya's self-esteem has improved. This trick, SMH. Kenya breaks the fourth wall and blows kisses at the camera while Marlo reaches for her lazy Marc reads. The rest of the ladies tell Marlo to calm down, but Marlo won't let it go. Marlo reclaims the spotlight long enough to invite the ladies on a road trip to Blue Ridge Mountain. Kenya's not paying Marlo any mind and Marlo notices and tries to "cheers" with Kenya while breaking a glass in the process. Kandi steps in the middle and tells them to stop as Shereé tries to get a handle on her guests. Kenya's drunk self starts running all over Shereé's house and Marlo looks defeated. We see the mid-season trailer and it looks like things are just heating up down south. Be sure to come back next week to a new episode of The Real Housewives of Atlanta!
Stay Connected With All About The Tea: Twitter Ι Instagram Ι YouTube Ι Facebook Ι Send Us Tips
LeAndra Williams is a content contributor at All About The Tea. She's a social worker and (super) mom by day, and a reality T.V. junkie by night.