'Married To Medicine' RECAP: Dr. Heavenly & Dr. Contessa Reveal Their Months-Long Feud!
The much-anticipated season of Married to Medicine is finally here, chile! Dr. Damon and Dr. Heavenly Kimes are fighting snakes at their lakefront property while Dr. Jackie Walters chats with her staff. Anila Sajja is at home greeting her parents as Jackie and Dr. Simone Whitmore ride home together. Jackie inquires about Simone's office post-pandemic, and things are going well besides the influx of patients coming in. Jackie celebrates being a Black OBGYN and highlights the importance of having Black doctors in the field. Simone is happy her friendship with Jackie has healed and realizes that they both had to put in the work to get back in the right space. Cecil Whitmore and Curtis Walters are checking out a car as their wives pull up. 
Jackie questions Curtis about selling the car and Curtis wants to sell the car to Cecil. Jackie records Simone doing an impromptu shoot to sell the car to anyone, but Cecil and I are rolling! Cecil and Curtis opt to take a walk and going to get "wings." Wings is a code word for the strip club, and we've all heard about Magic City's wings, okay! Jackie and Simone go inside to eat, and Jackie tells Simone about the O-shots she took in Alabama. I don't even have time to explain what it is, just go watch the episode, LOL. Just know it's for pleasure, LOL. At Dr. Heavenly's, Alaura is so beautiful as she discusses her work schedule at Heavenly Beauty. Dr. Heavenly is now the owner of a hair store and wanted to give Alaura a place to learn and expand her skills.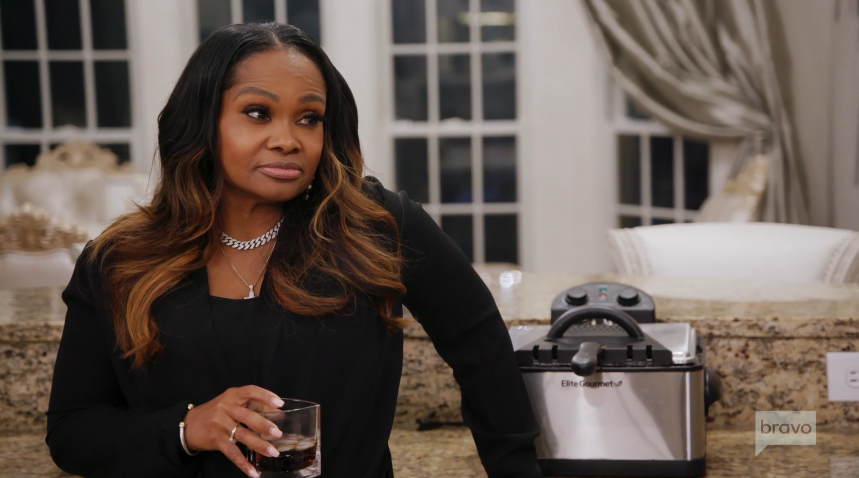 Quad Webb arrives and gets jumped on by Heavenly's dog and Heavenly questions where Dr. Damon is. Damon's supposed to teach Alaura how to drive, but Damon's not responding to Heavenly's text. Quad checks in on how Alaura's doing, and Alaura seems excited about her driving lesson. Quad warns Alaura to be careful with her new Range Rover because Quad's first car was a Toyota Corolla, LOL. Nothing but facts,  LOL. Take care of that car, child. Damon arrives home and Heavenly wants to know why Alaura wants to drive with Damon. It's no surprise that Damon is the quiet to Heavenly's storm, and they leave to begin the driving lesson. 
After pouring themselves a drink, they get right to the tea and Quad asks what's been going on with Dr. Contessa Metcalfe. Heavenly takes a huge gulp of her drink and tells Quad that she hasn't spoken to Contessa in a few months. In her confessional, Heavenly tells us that Contessa ghosted her after the reunion and Heavenly doesn't know why. Heavenly used to talk to Contessa every day and is hurt by Contessa. Heavenly reiterates that she doesn't know what happened, but then producers pause the scene to allow Contessa to defend herself. In the corner of our screens, Contessa says Heavenly talked about Contessa and her husband, Dr. Scott Metcalfe, like dogs on her social media channel! Contessa is not happy about Heavenly implying that she's in an abusive relationship and wonders when the insults end so the friendship can begin.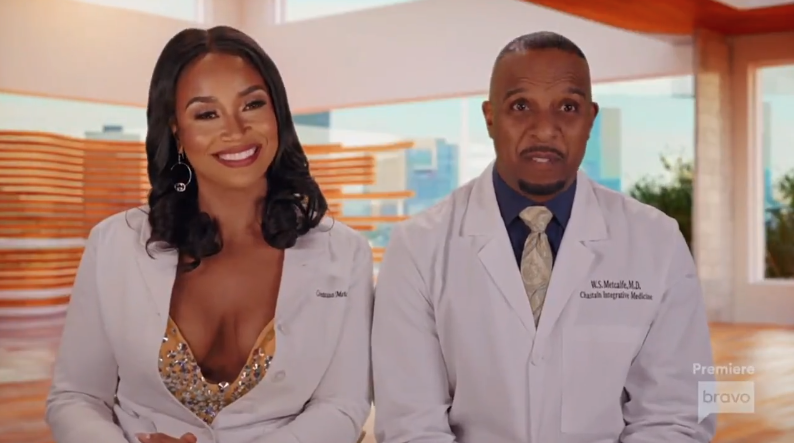 Quad tells Heavenly to be patient with Contessa and Heavenly changes subjects by asking how Quad's home renovations are going. Quad says everything is going well and Heavenly asks if Quad has any "sponsors" to help her with renovation costs. Quad doesn't want to take any money from any men because she doesn't want them to feel like they have any authority in her house. I know that's right, sis! Heavenly tells Quad ain't nothing wrong with taking money and reveals if she was Quad's age, she'd be popping that P all over Atlanta! The next day, Contessa is working out with her trainer, Abdul, and he's getting Contessa in tip-top shape! Abdul instructs Contessa to put on a bikini and heels so he can determine the process that needs to be made. 
Contessa's on a journey to become her best self and admits to thinking her relationship with Scott was hopeless after last year's reunion. Contessa comes out in a nude bathing suit just as the kids arrive from school. Contessa was going to follow through with the divorce, and they even talked to the kids about it. However, before signing the leasing papers to sell their house, Scott finally agreed to go to counseling,  and the rest is history! Contessa is not only getting in shape, but sis is participating in a body building competition! 
Scott appreciates what therapy has done for their marriage and Contessa is excited to get in shape for her competition in three months. Scott says that therapy has reduced their fighting and now, they are both fighting fair. Contessa changes and joins her family in the kitchen with a big ole smile on her face. The kids didn't like seeing their mom with another man and Scott laughs at their outspokenness. Contessa explains to the kids that Abdul is her trainer and brings out her former Miss Missouri Teen USA 2002 ticket stub. Contessa was a finalist and wants her Miss Teen USA body back. Contessa is not ready to mingle just yet, but she's putting herself in the right shape and position to find new love if she has to. The kids worry about Contessa's diet and how it'll affect Halloween. Contessa suggests sending the extra candy to deployed troops, but the kids are NOT with that!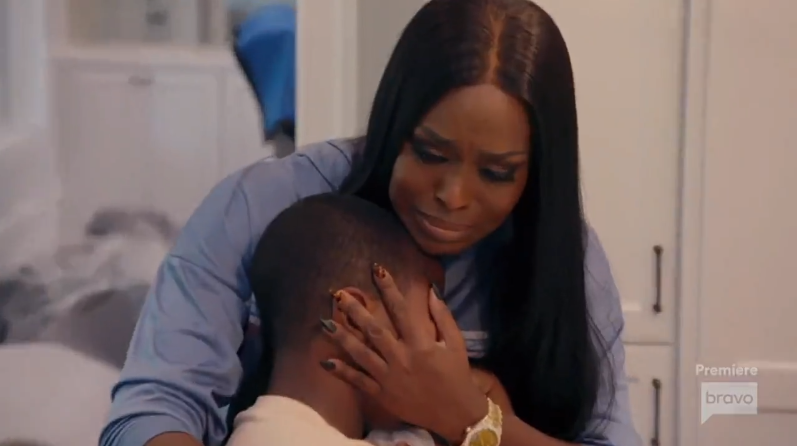 The next day, Quad is feeding her dogs as we're reintroduced to her nephew, Mason! Yall know Quad needed a storyline to stay on this show, but I'm glad we get to see little man again! Mason rudely asks for cereal before Aunty Quad corrects him and has Mason repeat his wants politely. We see Quad's mama (Mary) for the first time as she's also a new addition to Quad's 14,000-sq-ft home! Quad and Mama Mary talk to Mason about staying focused in school and Mason admits to thinking about his dad. Mason, Quad, and Mama Mary begin crying, and Quad reveals that last year, Mason's father, Quad's brother,  died of heart complications at the age of 34. Quad comforts her mother as she tells Mason that it's okay to think of his dad and to learn and balance out his responsibilities in school.
The next day, Anila's preparing for a party! Her family is finally in their new house and are excited to finally celebrate this success! Dr. Kiran Sajja hates the house and has no qualms in expressing his regret, much to Anila's disdain, LOL. They went way over budget, but Anila loves the new house and doesn't regret a thing! Anila's throwing a housewarming party and a house-blessing ceremony with their family. They come down to meet their relatives in beautiful traditional attire and Anila knows how to throw a true party! A cow even shows up to help bless the home and I'm genuinely loving this! The cow ends up pooping in the expensive house and Anila is becoming frustrated. Around the corner, we finally see Toya Bush-Harris in a new rental house.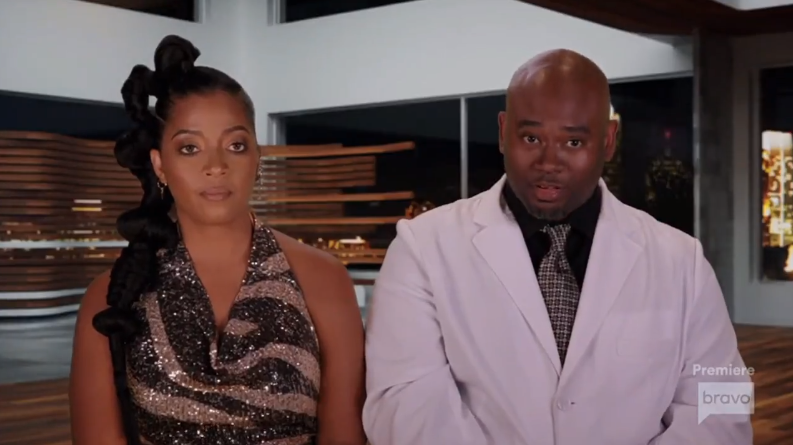 Toya is fussing at her sons about leaving egg on the floor and instructs the other son to bring a book downstairs. These kids are spoiled because instead of going down the steps, little man gets on the elevator chile, LOL. I'm jealous! Toya didn't think the last house was big enough, so she and husband, Eugene Harris, are building a new house with hopes of moving in next year. Eugene arrives home from work and is immediately met by Toya going off on their sons. After a brief back and forth about the elevator, Toya yells at their son and Eugene wonders why Toya yells all the time. Eugene tries to explain how noisy the ER is, but Toya's focused on being a Black family. Eugene needs a reset, and Toya asks if Eugene needs a white woman. Eugene asks if white women are quieter, and I am rolling! 
Toya tells Eugene about Anila's son inviting them over to their housewarming party but complains about Anila staying in the car, LOL. Toya and Anila are cordial after last year's reunion, but it's clear this friendship needs to be resurrected. Eugene thinks Anila's invitation is genuine and thinks they should attend Anila's party. We know Toya ain't missing out on a party, but let's hope they all bring positivity with them. Anila's crew is setting up as Anila gets ready next to Quad. Contessa is at home getting ready and seems nervous to see the rest of the ladies. Contessa hasn't spoken to Quad, Jackie, and Heavenly in months and wonders what the dynamic will be. Heavenly is getting dressed as Simone, Jackie, Curtis, and Cecil ride to Anila's together. Cecil explains the purpose of the Diwali event and Jackie jokes that the group may need a Diwali for themselves.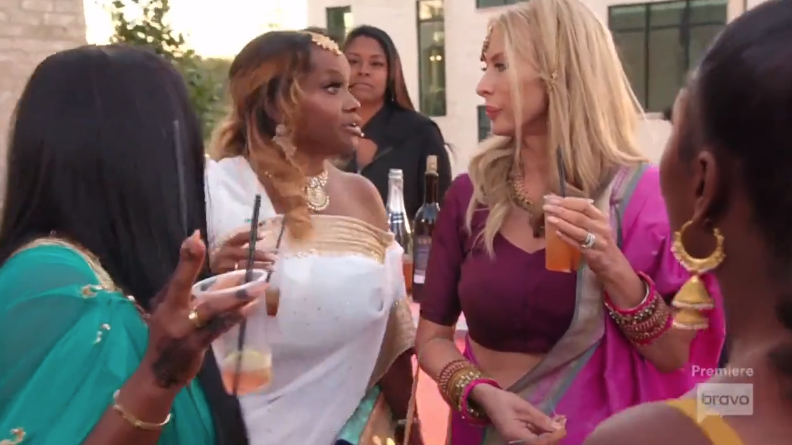 The guests arrive and Anila threw down on this house and party! Heavenly and Damon arrive with a new couple for us to meet and Curtis's silly self messes up Quad's fresh henna tattoo, SMH. Heavenly introduces us to her friend and real estate attorney, Audra Frimpong Curry, and her husband, Dr. Martin Curry; And we see Kari Wells has also arrived! Dr. Heavenly gets her feathers ruffled when she sees some woman all in Dr. Damon's face, LOL. Heavenly doesn't understand why people are always in Damon's face, and I love how territorial she is over Damon, LOL. Kari tells Damon about Heavenly's concern and Damon confesses to being 100% dedicated to Heavenly. The woman eventually compliments Heavenly and Damon, but we all know Heavenly doesn't care, LOL. 
Kari tells Heavenly that she has nothing to worry about and Heavenly tells Kari that if she were her, then she might be worried, LOL. Lord! Heavenly hasn't let go of last year's drama, and I'm excited about this mess! The DJ announces The Sajjas and Kiran is not happy that the DJ forgot his "doctor" title. Dr. Kiran thanks everyone for coming and everyone looks beautiful as they "cheers" to being lit for Diwali. Scott and Contessa arrive late as Simone and Cecil wonder if all the negative spirits are gone. Anila's not impressed with Contessa's outfit and Contessa ignores Heavenly like she's not even there. Toya and Eugene arrive right as Anila gives the tour and Anila is happy Toya's there. Anila's house is beautiful and revealed she furnished most of the house for free!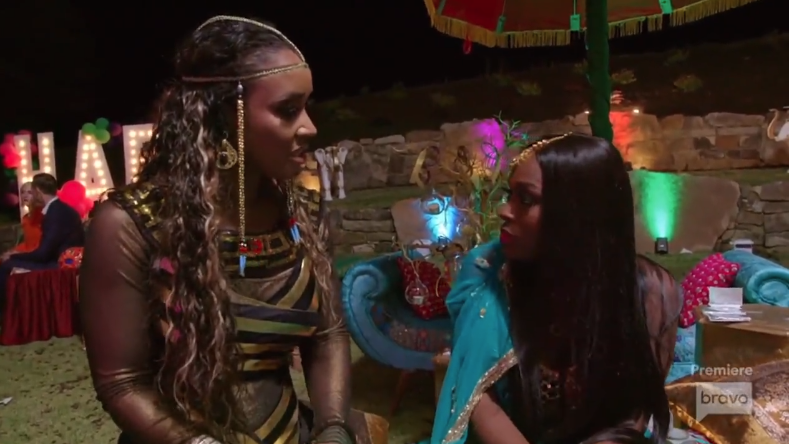 The men go out back for a drink and Dr. Damon introduces Dr. Martin to the rest of the fellas. The men congratulate Dr. Kiran on the new house as Toya looks for Patrón. Dr. Jackie tells Kari to get her hands off the walls, and that's a black mama statement, LOL I love it! Toya compliments Anila on the house as Dr. Damon asks what the fellas have been up to. Cecil acknowledges the smile on Scott's face and Scott tells them how beneficial therapy is. Cecil and Curtis give Scott some advice while shading Damon and Heavenly's "perfect" marriage. Quad wants Contessa to talk to Heavenly, but Contessa is not ready. Contessa tells Quad that Heavenly and her comments hurt Contessa's feelings. Quad understands where Contessa is coming from and tries to call Heavenly over, but Contessa shut it down! 
Quad respects Contessa's wishes, but tells Contessa about Heavenly missing her. Quad wants Contessa to know how hurt Heavenly is, but Contessa doesn't feel bad for keeping her boundaries. Anila changes into a beautiful new dress as Dr. Kiran continues entertaining his guests. Anila comes out and shows everyone her traditional moves and everyone had a great time! The episode ends but believe me, this season is just getting started! I LOVE THIS SHOW! Be sure to come back next week for a brand-new episode of Married to Medicine! 
Stay Connected With All About The Tea: Twitter Ι Instagram Ι YouTube Ι Facebook Ι Send Us Tips
LeAndra Williams is a content contributor at All About The Tea. She's a social worker and (super) mom by day, and a reality T.V. junkie by night.