'RHOA' RECAP: Marlo And Kenya Nearly Get Into Physical Fight!
Welcome back to The Real Housewives of Atlanta! We start off seeing Kenya Moore check in with Brooklyn about her schooling, while Drew Sidora works out at her new facility. Drew chats with her business partner as she coordinates an event to celebrate her biggest losers. Meanwhile, Sanya Richards-Ross is chatting with her sister about an upcoming conversation she wants to have with Aaron Ross. Sanya doesn't want any more kids, but Ross wants a little girl. However, Sanya doesn't feel that Ross was there for her physically or emotionally with Deuce, and doesn't want to put herself back in that tough space. Sanya's a career-driven woman and understands that if she has another child, she would have to scale back some of her ambitions. It's a hard place to be in and I hope Ross understands where Sanya's coming from. 
Shereé Whitfield and Marlo Hampton meet for an infrared therapy session, as Marlo uses every opportunity to shade Kandi Burruss. Marlo and Shereé get situated as Kandi arrives with an attitude in tow. Kandi greets the girls but will not be participating in their sweat session today. Shereé inquires about Kandi's trip to L.A., but Marlo goes right into their issues with Kandi. Shereé feels like things were great when they were "the smalls," but wishes Kandi would've checked up on her. Kandi wanted to wait for Shereé to bring the information about Tyrone to her, but of course, Shereé ain't hearing none of that! Shereé's disappointed in Kandi, and of course, Marlo chimes in and says Shereé just wants Kandi to call her more.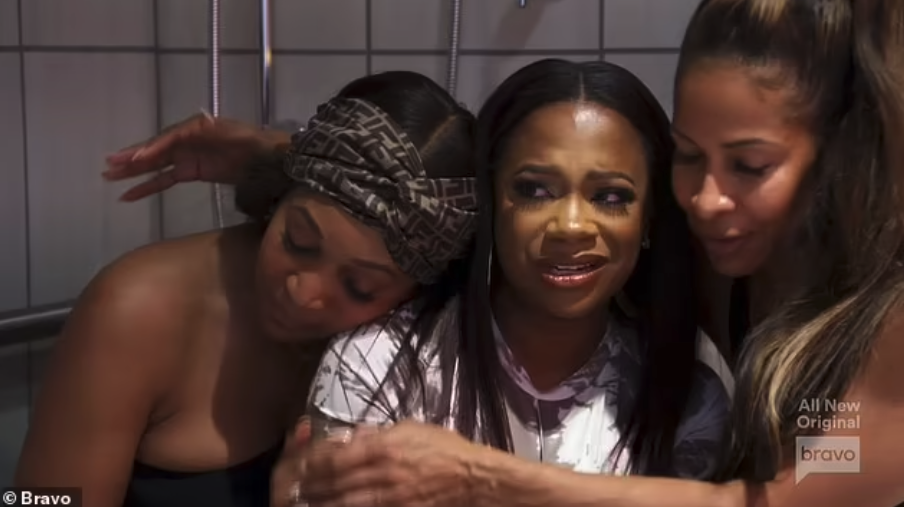 Kandi's finally had enough and asks why they want more from Kandi that they're not willing to give in return? In Kandi's confessional, she wonders why they expect so much from her and I'm right there with her! Marlo starts yelling and bringing up the used clothes Kandi tried to give her foster girls and Kandi shuts that down immediately! "Don't start going back to your childhood on me!" Kandi says as Marlo yells back, "You were raised better than that!" Chile, a whole mess! Marlo comes out of the sauna and sits down to "level" with Kandi, and states in a shame where they are in their relationship. 
Marlo enlightens Kandi on her personal issues with her sister, and Kandi tells Marlo that her family wants more time with her, as well. Instead of empathizing with Kandi, Marlo states that that's something Kandi should work on. Kandi gets frustrated as Shereé and Marlo continue not giving a damn about Kandi. Kandi begins to cry and that's when Marlo's fake a** gets up to hug Kandi before sis starts swinging on 'em! Shereé and Marlo give Kandi a hug and promise to be better. Kandi's annoyed and I don't blame her.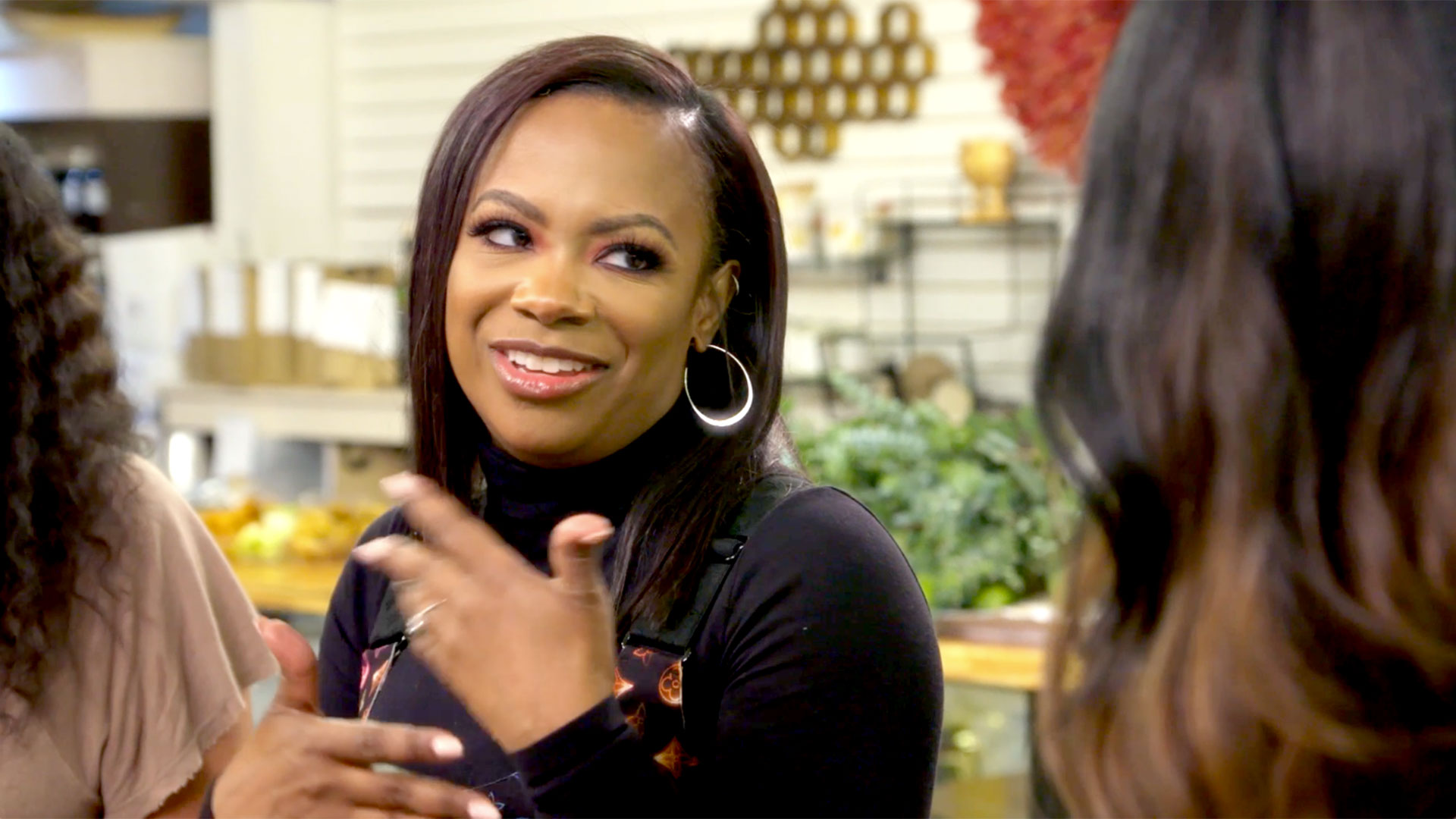 Sanya's at home chatting with Mama Sharon in the kitchen, as she prepares for Aaron's "I don't want another child, but I love you" dinner. Mama Sharon's going to watch Deuce and Sanya's getting some assistance from Mama Sharon as Deuce runs around. Sanya dazzles in a beautiful yellow dress as she greets Aaron for his surprise. Aaron's intrigued as they take a seat and get to grubbing. Sanya mentions the dreaded conversation and explains to Ross that he travels too much for comfort. Aaron wants more support and Sanya begins to cry as she explains her reasons for not wanting another child. Aaron's mind isn't changed, and he doesn't know if he would resent Sanya for not having another child. Whew! Trouble in paradise. 
Shereé's at home talking to her new business manager while going over fabrics. Shereé looks amazing as she taps back into the zone of, She by Shereé. Marlo's at Le'Archive as she teaches her nephews how to clean and keep them busy. Marlo talks to her boys about her first job and how she recently spoke to their older sister. Marlo's nephews seem disinterested in the conversation but save face for the camera's sake. That night, Kandi meets up with Kenya and Monyetta Shaw to make candles and have some girl time. Kenya reveals the malicious venom that spewed from Marlo's mouth. Kenya tells Kandi about Marlo's roast session and being upset that Kandi wanted to donate used clothes to Marlo's charity and how Kandi doesn't know how to be a friend. Kandi explains how she was blindsided by Marlo and Shereé's comments at the sauna and that she does what she can for her friends. Monyetta comes to Kandi's defense and Kandi thinks Marlo is starting a hate campaign against her and she doesn't understand why. After the girls pick the fragrances for their candles, Kenya wonders what's going on with Drew and whether Kandi received the invitation. Kenya invites Monyetta to come along as Monyetta describes her lovely honeymoon.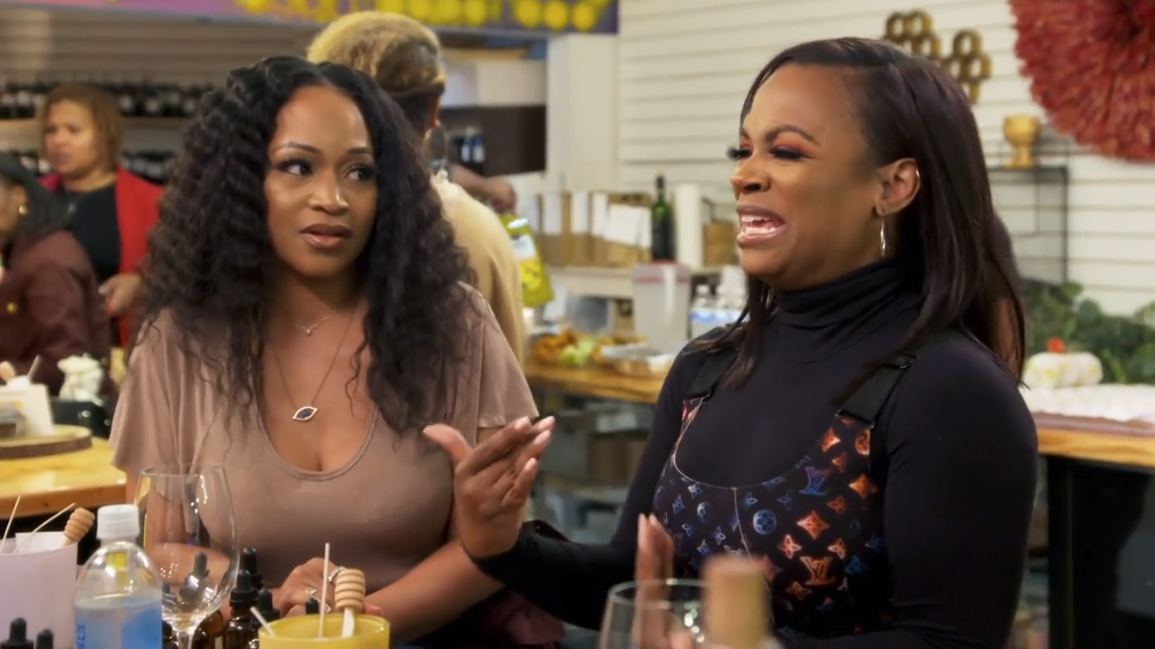 Kandi then asks Monyetta whether she would've had an issue with the vibrating panties. Kenya chimes in and lets Monyetta know that all the men had the power to control each set of panties. Monyetta was on Kandi's side until she got all the facts, but her silence lets me know she's on Kenya's side. Kandi thought it was funny, but Kenya doesn't hold back in telling Kandi she was wrong. Kandi refuses to admit she's wrong and instead brings up the table game from last year when Kenya said Kandi could get it. Kenya starts screaming and at this point, everyone is staring at the commotion. Monyetta plays peacemaker as wine is brought out and the ladies finish their candles with sour looks on their faces. Kenya's not a yes-friend and Kandi appreciates how she and Kenya can have disagreements and move on — instead of vilifying her like Marlo's doing.
It's 'Drop it with Drew' day. Sis is tired of people slamming her Bootcamp/pyramid scheme, so she invited the girls to experience 'Drop it with Drew' themselves. Before the ladies arrive, Drew weighs herself but the scale is lying which forces Drew to weigh herself again on a different scale. Kandi and Monyetta arrive ready to work out but Kandi's suspicious of Drew's facility. Producers show us that Drew's building was up for sale three days ago, which leads me to believe that 'Drop it with Drew' is a rush job, LOL. Something's not adding up. Sanya, Marlo, and Shereé are riding together to Drew's event and Marlo shades Drew for her ill-prepared facility.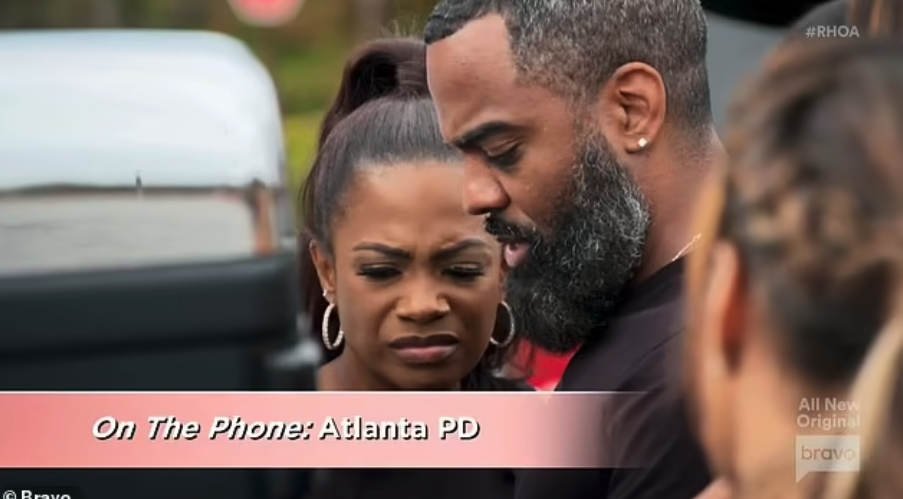 Once they enter, Sanya and Drew hug it out as Marlo walks past Kandi without speaking and Shereé shows off her assets. Kandi compliments Shereé on her yoga mat and prototype leggings as Sanya pulls Ralph Pittman aside for a chat. Sanya wants Ralph's perspective on having another child and Ralph wants Sanya to stop using being busy as an excuse. Sanya wants to continue building their legacy through their businesses and Ralph seems to understand. Marlo and Shereé weigh in as Drew hovers over them. Marlo calls Kandi over and Kandi voices her surprise at Marlo's new communication skills. Marlo plays dumb but Kandi ain't getting off Marlo's neck! Kandi brings up that Marlo's been talking ish about her and Shereé tries to deflect from Marlo's antics by asking where Kenya is. 
Kandi elects to hold off on this conversation to fully support Drew, and the other ladies agree. Drew recognizes her clients who've lost the most so far, then out of nowhere, Todd Tucker gets a call and taps Kandi to leave out with him. Everyone's just as confused as Kandi as she grabs her phone and asks Todd what's wrong. Outside, Todd tells Kandi that a man jumped over their fence and is on their property as Monyetta comes out to check on them. Marlo and Shereé decide to meddle, and the rest of the ladies go outside as Todd speaks to Atlanta PD. Kandi and Todd head home to check on their kids as the rest of the crew continues with their workout. Kenya arrives late as she self-designates herself as the cheerleader for the day.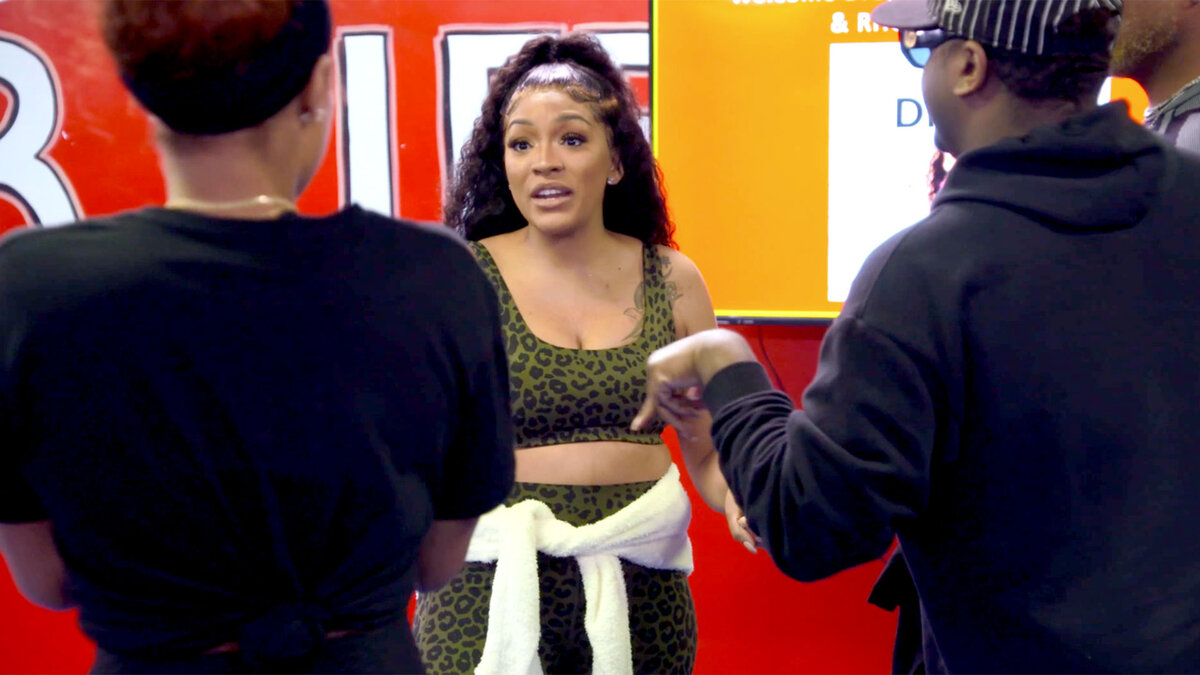 Marlo and Sanya complain about Drew's moves being too advanced and Drew explains the modification process. Sanya grills Drew's business partner, Jackie, and Jackie spills the beans that it's originally her business that Drew's helping her bring attention to. Drew tries to talk over Jackie as Kenya figures out Drew isn't as business savvy as she pretends to be. Drew then throws Shereé under the bus by commenting that some businesses take YEARS to develop! Kenya notices Shereé's apparel and whips it out as Drew continues explaining herself. Monyetta mentions the conversation before Kandi had to leave and Marlo automatically believes Kenya relayed the message wrong. 
Kenya immediately defends herself and points out that Kandi ain't f***ing with Marlo! Marlo pretends to be hurt as the two of them exchange words. Kenya lets Marlo know Kandi's up on game and now knows the type of person Marlo is. Marlo asks Kenya to teach her how to be a friend and proceeds to bring up Marc while insinuating Kenya has a fake booty! Kenya says, "That's the Marlo we know" and "f*** you!" to solidify the end of this limited truce. Marlo begins talking about Kenya's makeup and whether Kenya's had her lips done and Kenya is unbothered! Marlo begins getting in Kenya's face and Monyetta attempts to pull Marlo back before things get buck! Kenya puts her hand in Marlo's face as she gets closer and producers step in. Kenya calls Marlo a "Pitiful little h*" and my boyfriend had to pick me up off the floor!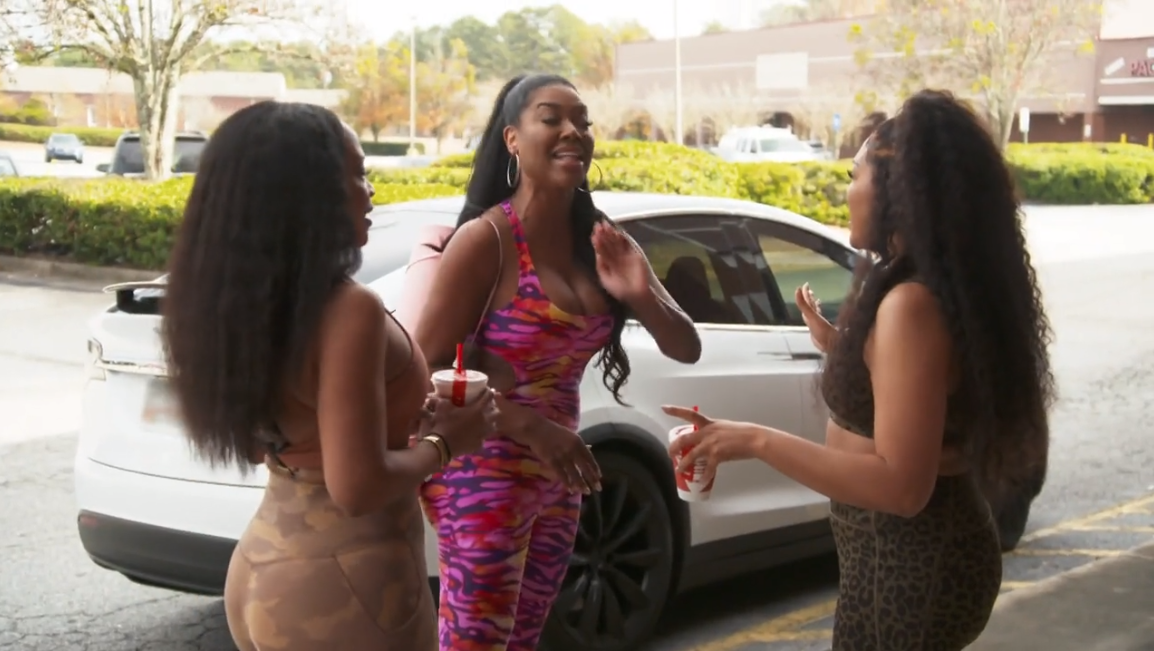 Kenya's taken outside as Marlo follows her against Shereé's wishes. Kenya tells Drew she's not that girl anymore and Marlo continues yelling at Kenya from afar. Shereé gets her mat back from Kenya and Marlo continues lying about what she doesn't do. Kandi checks on the kids and we see the video of the trespasser who claimed to be a songwriter and T.I's son. At the facility, Sanya apologizes to Drew privately and promises to come to Drew directly next time. Sanya tells Drew about Aaron being upset at her and Drew's on Aaron's side. Drew wants Sanya to think about it as Shereé and Marlo wander off to get some BBQ. Goodness, what a mess! Be sure to come back next week to see what else happens on The Real Housewives of Atlanta!
Stay Connected With All About The Tea: Twitter Ι Instagram Ι YouTube Ι Facebook Ι Send Us Tips
LeAndra Williams is a content contributor at All About The Tea. She's a social worker and (super) mom by day, and a reality T.V. junkie by night.