'RHOA' RECAP: Drew And Sanya Nearly Come To Blows During Heated Argument!
Welcome back to a brand-new episode of The Real Housewives of Atlanta! We're still cooking with Sanya Richards-Ross at her Jamaican cooking class when Drew Sidora decides to grace us with her presence. Drew and Sanya greet each other while the rest of the housewives meddle from afar. Drew wants to be a supportive friend and Sanya seems eager to let her. Drew meets Mama Sharon as Sanya sets the table in preparation for dinner. Sanya gifts Marlo Hampton a sneak peek at her Olympic gold medal and everyone seems impressed but Drew. Sanya thanks everyone for coming and chooses this time to have a conversation with Drew. Drew is still confused and brings up that her MUA touched up Sanya for free and that Sanya could've spoken to Drew then.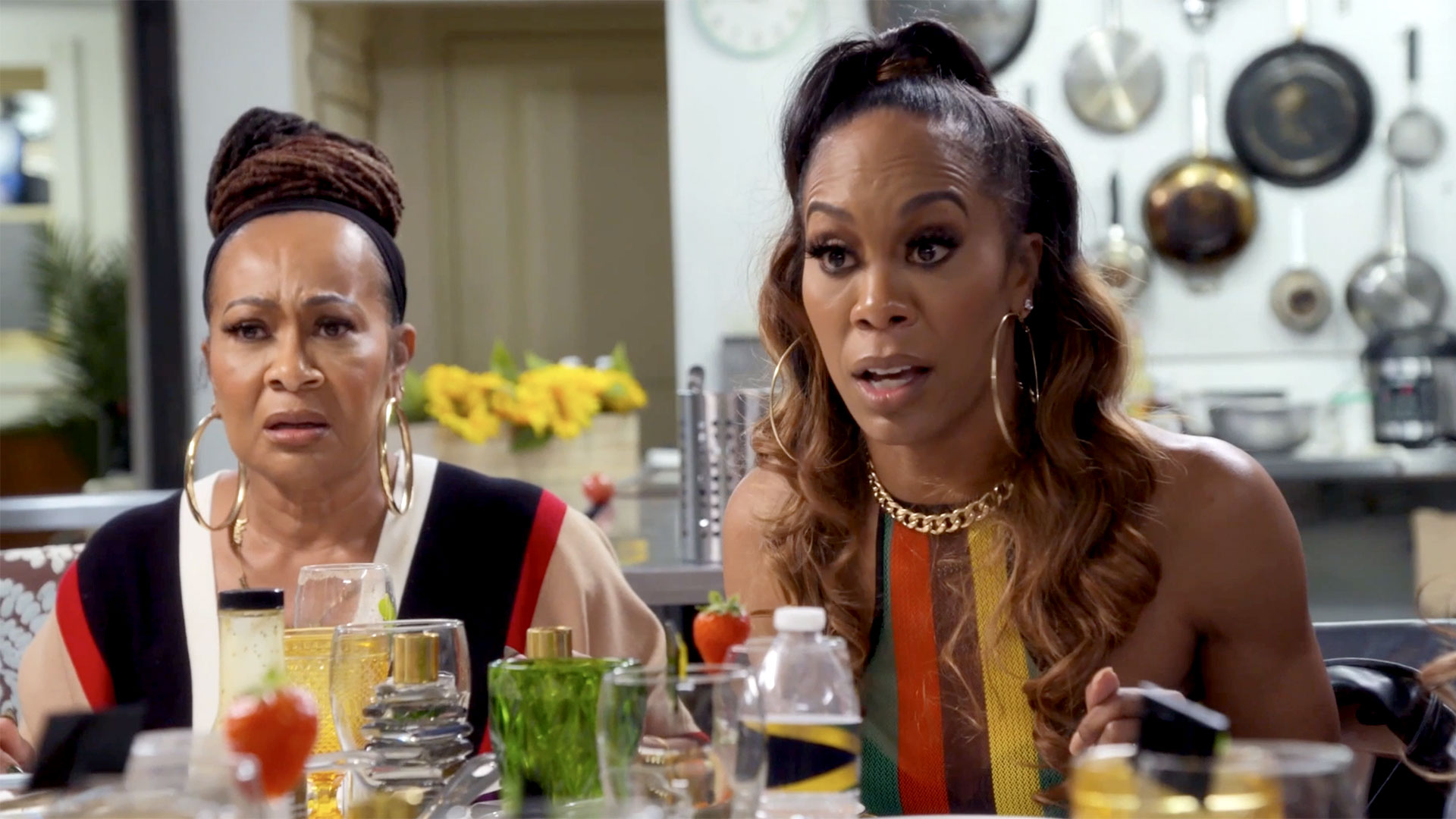 The conversation then shifts to whether Sanya paid the MUA or not and whether Drew sent Sanya the contact information to pay said MUA. Sanya begins to get riled up while the mamas shake their heads at the insignificance of it all. Sanya is upset by the way Drew moves, and Drew's hung up on Sanya blasting her in front of the group. Drew's feelings were hurt by Sanya's disinvitation to Sanya's photoshoot and Sanya doesn't like how Drew fixes her face. Mama Sharon joins in and tells Drew to stop purposefully agitating Sanya! Drew throws out her opinion about Sanya's clout chasing and the room goes up! Sanya isn't playing that as she throws the "Olympic gold medalist" card and shuts it down! The ladies love it as they cheer for Sanya's moment as Drew attempts to continue the conversation. 
Drew changes tactics and forces Kenya Moore to talk to Kandi Burruss about her inappropriate gifts in New York. Kandi's mad that Kenya told Drew instead of her, and Kenya's stuck on the men controlling multiple pairs of panties. Mama Joyce chimes in on Kandi's behalf and reminds the ladies that everyone's grown. Kandi becomes defensive and brings up Kenya's movie roles from back in the day and Kenya's taking it in stride. Kandi's doubling down on her naughty game and Kenya's not backing down from her standpoint. Nothing is resolved as Sanya wraps her event up and thanks the ladies for coming.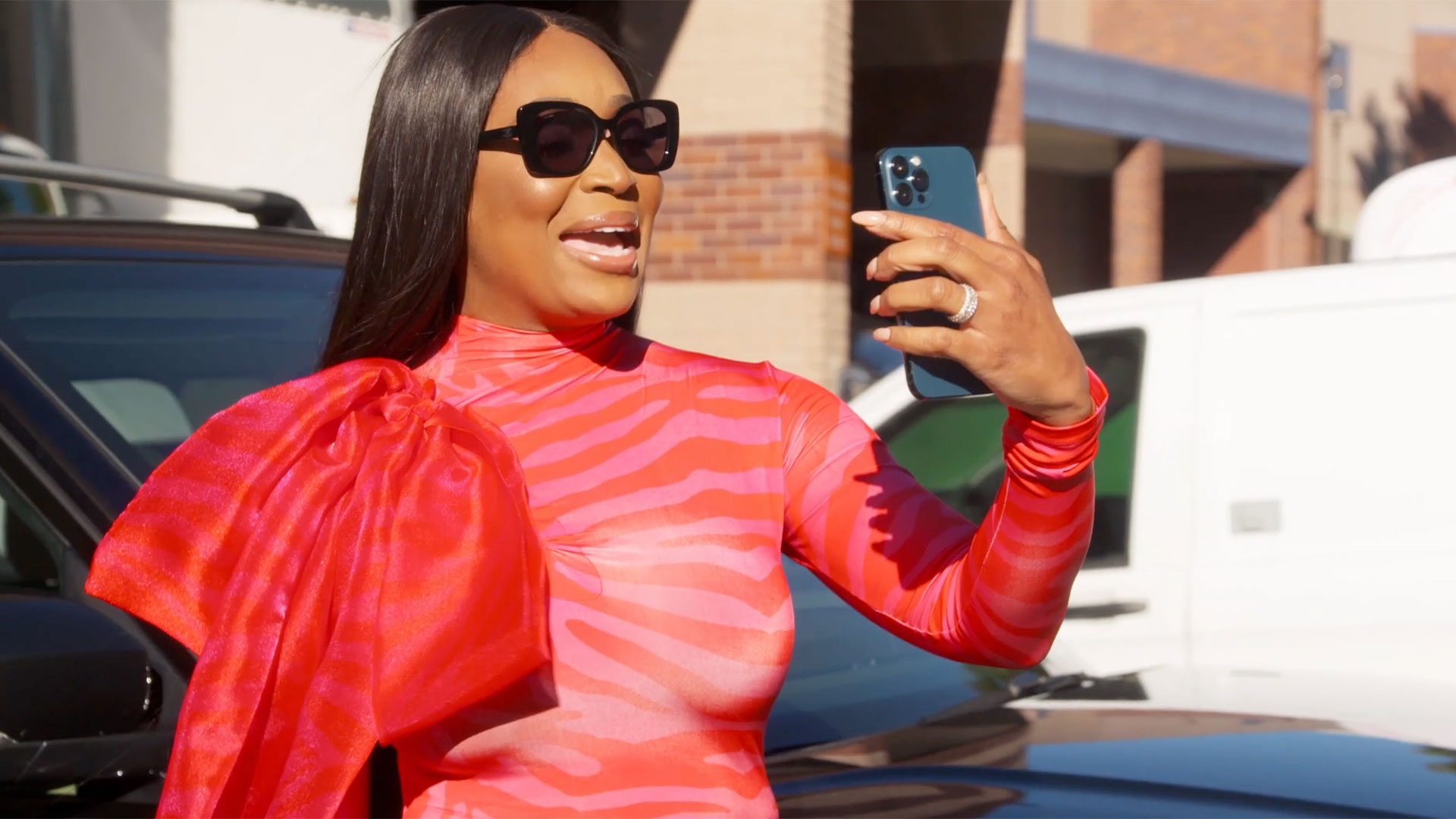 The next day, Marlo is working at The Ultimate Women's Expo to inspire others and promote her Glam It Up non-profit. Marlo is in her element as she speaks about her time in foster care and creating space for healing. Sanya is speaking to her family about the cooking class and the chaos of it all as Marlo FaceTimes Drew to catch her up on what she missed at dinner. Drew thinks Sanya's betting on the wrong team and Marlo's just there to instigate. Sanya's irritated at Drew's clout chasing comment and Sanya labels herself as the clout, LOL. Sanya's sister shades Drew about her time on 'The Game' as Marlo continues her smear campaign against Kandi and vows to confront her. Shereé Whitfield's meeting with her life coach, Jack Daniels (not the alcohol), to get her mind and spirit right.
After getting some tea, Shereé's life coach ushers her to the couch to get down to business. Shereé is still recovering from Tyrone's misdeeds and Jack wants Shereé to elaborate on what's causing her emotional pain. Shereé reiterated her terrible time in Philly and Jack thinks Tyrone only sees Shereé as a fantasy. Shereé feels stupid and naive for believing Tyrone, but when Jack asks if she's done with Tyrone, Shereé doesn't answer. Jack wants Shereé to back away from Tyrone and pour that energy into things that Shereé loves. Shereé decides to put her focus back into She by Sheree and instantly looks hopeful for the future. Jack tells Shereé not to date any more men from jail, and thankfully, Shereé agrees. Kandi and Todd are cleaning up their guest house as Kandi ponders the idea of donating goods to Marlo's non-profit. The couple goes through the clothes as Kandi reminds Todd that she's going out of town for business.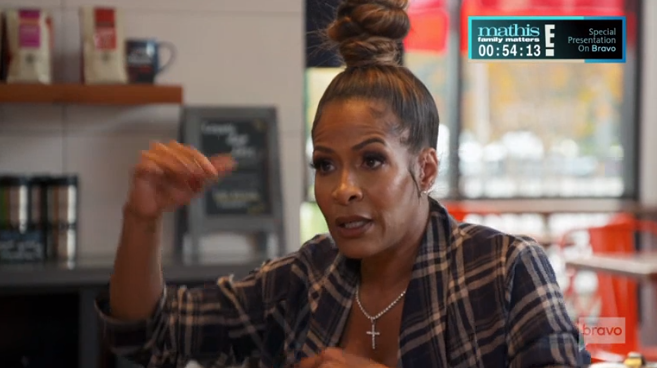 Todd's hung up on Kandi's upcoming sex scene and Kandi isn't paying Todd any attention. Kandi calls Marlo to come to pick up the goods and Marlo educates Kandi on hand-me-downs in the foster care system. Marlo doesn't give her girls used clothes and I can respect it. Todd understands where Marlo is coming from, but Kandi's upset at Marlo's audacity to be picky, LOL. The next day, Shereé meets Kenya at the Just Love Coffee Café to talk out their issues. Kenya arrives just as Shereé's food is ready and Kenya dives into the stress of her business. Due to Kenya's personal life, her business has suffered; And if Kenya doesn't turn it around, she could lose everything. Shereé relates to Kenya due to her troubled business and has issues finding a dedicated team she can trust. 
Once the business talk is complete, Kenya reveals the real reason for their meeting today. Kenya doesn't appreciate Marlo questioning her health or insinuating that she's a liar. Kenya thinks Marlo is being a double agent as Shereé sits back and listens. Shereé thought Drew did more than drop some groceries off, but Kenya shut that down! Shereé thanks Kenya for the clarification and Kenya doesn't understand why Marlo's turning against her. Shereé wants the girls to be more supportive of each other and Kenya suggests having a girls' lunch to smooth things out. The next day, Kenya sends out a group text inviting the ladies out to support Shereé and everyone's down for the cause.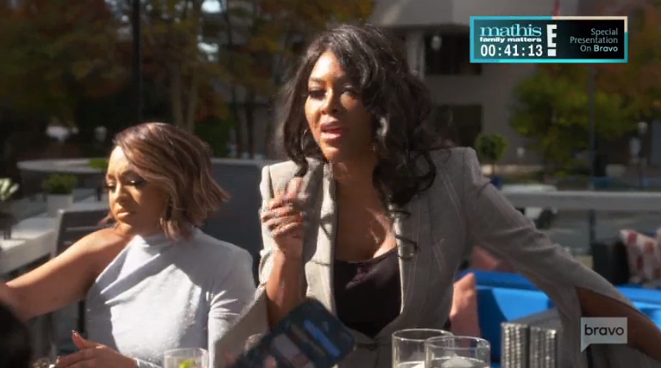 Kandi's in Los Angeles rehearsing as Marlo attempts to cook a pot roast. Drew meets Kenya at Five Church in Midtown and puts her order in as Sanya arrives. The ladies hug and fake smile as they wait for the rest of the ladies. Marlo arrives and discloses that her sister is incarcerated. Marlo's sister has mental health issues, and thankfully, the judge agrees to in-patient therapy to help her. However, Marlo's sister is refusing therapy and decided to take her case to trial. Marlo is going to see if her nephews can speak to their mother and convince her to get the help she needs. 
Kenya and Shereé arrive as Marlo wraps up and greets the ladies before ordering. The ladies compliment Shereé and make a toast as Kandi's on set in LA. Marlo shares with the table how Kandi tried to give her foster girls hand-me-downs and Kenya's shocked by Marlo's reaction. Kenya grew up on hand-me-downs, but Marlo doesn't want to do that to her girls. Kenya thinks it's wrong to put worth on clothes and Marlo brings up being bullied as a child. Kenya's not letting Marlo live and brings up the fact that everyone's been bullied before. Kenya doesn't appreciate Marlo vilifying Kandi for not giving the way Marlo expected. Kenya checks Marlo on her behavior from the party and tells Marlo that she's not a good friend. The ladies let the two hash it out as they sit in silence as Kenya and Marlo continue going at it.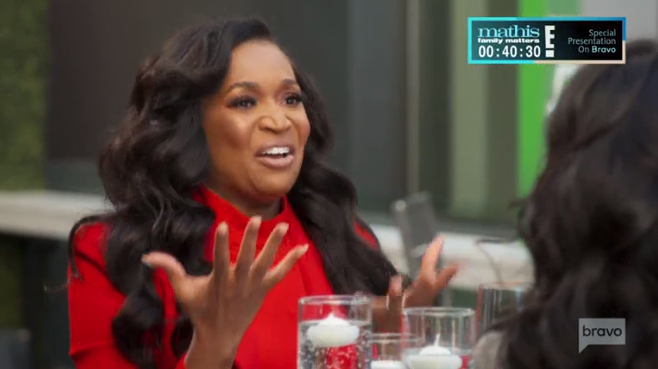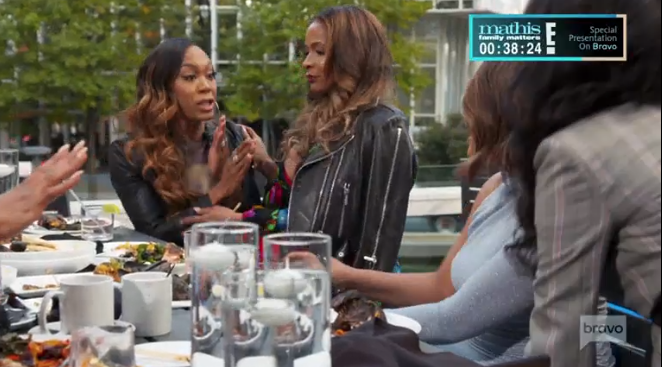 Kenya tells Marlo that she talks behind people's back and Marlo thinks Kenya wants her to kiss her a**. Kenya tells Marlo her comprehension is off and Marlo attacks Kenya's wig. The conversation shifts to Kandi and that Shereé doesn't feel Kandi's been a friend lately. Shereé thinks Kandi should've been there for her and Sanya apologizes to Shereé before bringing up the dinner. Sanya feels bad for not inviting the ladies to her photoshoot and wants to make it up to them. Sanya invites everyone but Drew to another event and Drew's thrown off. Sanya gets frustrated and tells Drew that she's driving her crazy! Drew calls Sanya unstable as Kenya pulls Drew's chair back to separate them. Sanya calls Drew phony as Drew leaves and Kenya goes to check on her. Kenya tells Drew that she cut Sanya off and Drew thought she was being a good listener, SMH. The ladies leave as Marlo and her nephews prepare to video call her sister. The call doesn't go well but Marlo hugs her nephews and continues loving on them during this time. Whew! What an episode! Come back next week to see what else unfolds on The Real Housewives of Atlanta!
Stay Connected With All About The Tea: Twitter Ι Instagram Ι YouTube Ι Facebook Ι Send Us Tips
LeAndra Williams is a content contributor at All About The Tea. She's a social worker and (super) mom by day, and a reality T.V. junkie by night.