'RHOA' RECAP: Marlo Calls Kenya & Kandi H*es, Says Kandi's Kitty Wasn't Good That's Why She Dates Under Her Tax Bracket!
Welcome back to the Dirty South! We're back with a brand-new episode of The Real Housewives of Atlanta! Kandi Burruss-Tucker is at home teaching Ace how to speak Chinese, while Sanya Richards-Ross catches up with Aaron Ross as Ducey's on one thousand. Kenya Moore is chatting with Marlo Hampton about Shereé Whitfield's disastrous time in Philadelphia. Kenya and Marlo recognize that Shereé may need a pick-me-up and decide to surprise Shereé at Marlo's place. Shereé is home sorting laundry when her daughter, Tierra, comes in to help and to check up on her mama. Tierra asks Shereé how she's doing, and Shereé is taking it day by day. Shereé's rightfully upset for being stood up, but what's even worse is that Tyrone's trifling self didn't even call her until the next day! He didn't apologize but instead pretended like nothing happened. 
Although Tyrone has attempted to reach Shereé, she does not want to talk to him right now. Shereé feels humiliated and doesn't want to leave the house, but when Tierra suggests getting back out there, Shereé's not sure if she wants to give up on Tyrone. I understand investing your time into someone but come on Shereé! That man doesn't deserve her! Tierra's unsure of her mama's decision to give Tyrone another shot, but Tierra made it clear that Tyrone needs to come with it. Let's hope for the best. Meanwhile, Kenya meets up with Drew Sidora for lunch and the two look to be on better terms. Kenya has a small cough from Brooklyn but she's making time to catch up with her new friend. Kenya realizes that she and Drew have a lot in common, especially regarding their marriages.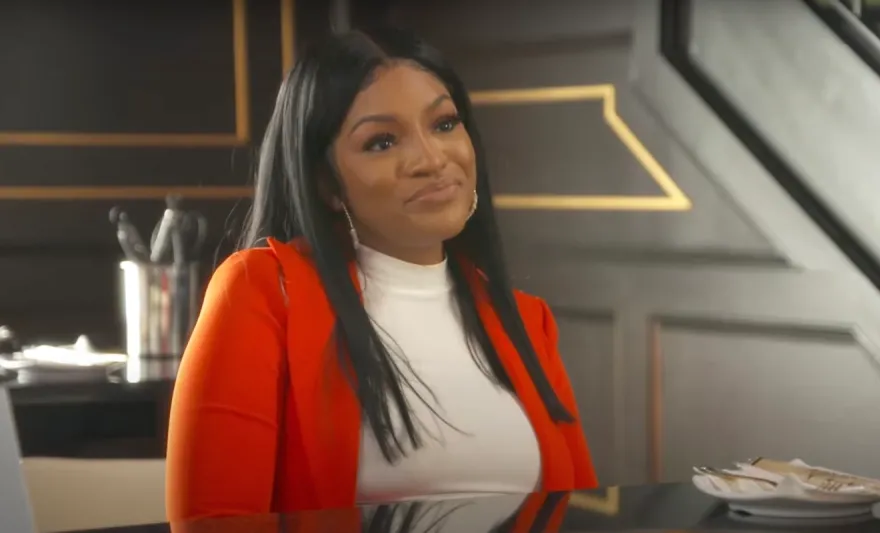 After the ladies order themselves a peach martini and their food, it's time to get down to the mess. Kenya opts to pay, and we get a quick flashback of last year's drama around splitting checks. Drew asks Kenya what she's been up to, and Kenya tells Drew that she and Brooklyn stayed a couple more days in New York so Brooklyn can spend time with Marc Daly. The drinks come out and the two cheers and revert the conversation back to the trip. Drew thanks Kenya for speaking up for her with Ralph, but sis needs to find her own voice. 
Kenya wants to make sure she doesn't overstep, and Drew admits that she needs to hold Ralph accountable. Kenya's still salty she couldn't bring a date to New York, and Kenya wasn't fond of Kandi's sex toys. Kenya didn't want to vibrate with other men around and before long, Sanya's name is brought up. Drew feels sideswiped by Sanya and thinks the trip should've been focused on supporting Kandi. Drew doesn't see a real issue with Sanya, and Kenya spills the bills about Sanya's shade towards "Drop it with Drew." Drew thinks Sanya doesn't have a mind of her own and Kenya tells Drew about Sanya's upcoming photoshoot. Drew was also invited to this shoot, but Sanya decided not to mix business with mess and disinvited Drew! Drew doesn't know what to make of Sanya's text and doesn't feel like Sanya's being a friend to her.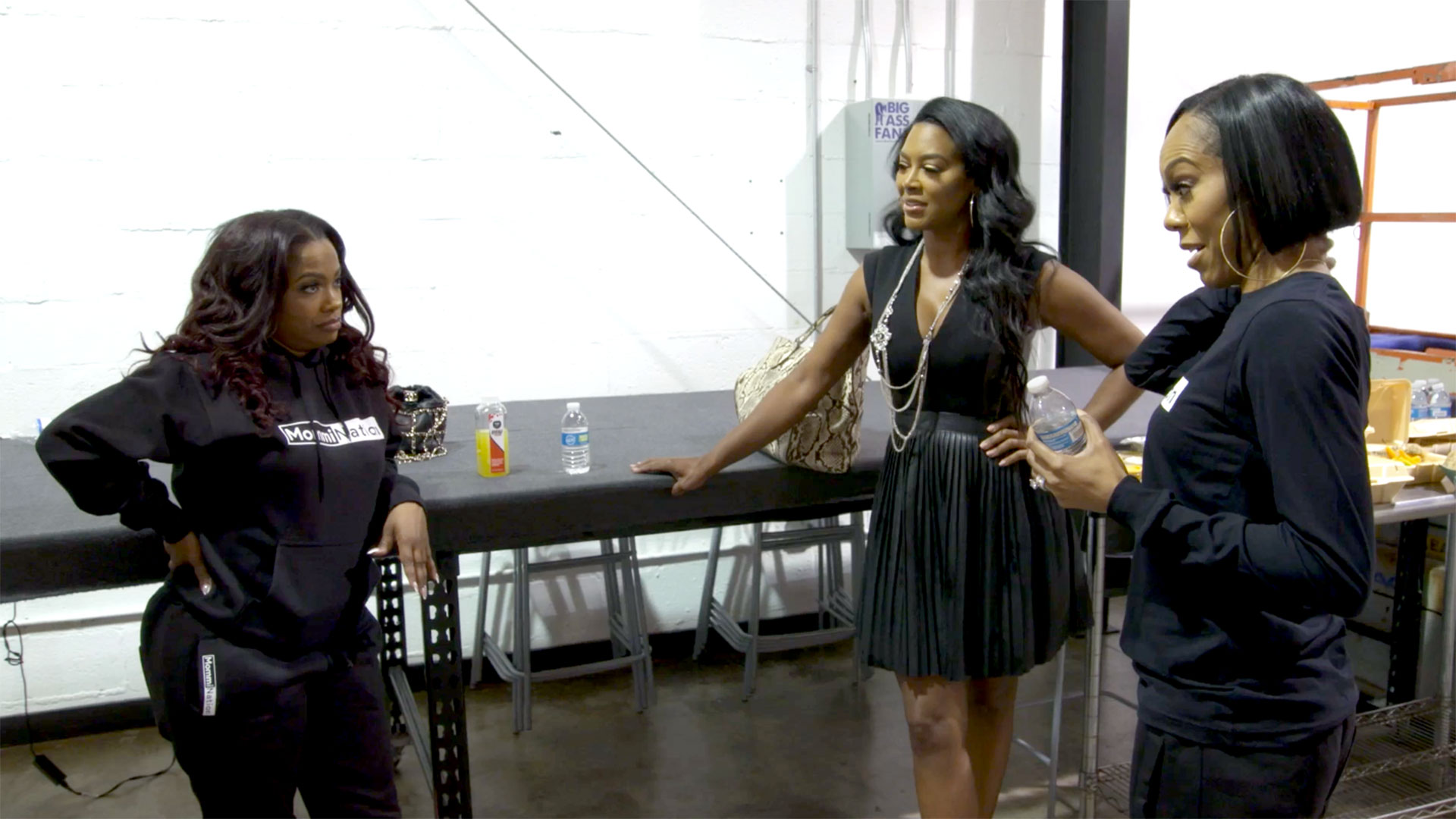 Before the ladies wrap up their outing, Drew asks Kenya to unblock her from social media chile, SMH. Kenya said she doesn't know how to unblock Drew, but we all know she's waiting to see if this friendship will last. It's Sanya's shoot day and Sanya's at the studio getting things ready as Kandi arrives. Kandi meets the crew as Sanya educates us on Mommie Nation's goal in supporting Black mothers. Sanya created the support system she wishes she had as a new mom, and now they're releasing new merch for their community. Kandi asks whose all coming, and Sanya tells her that Kenya is coming in place of Drew. Sanya gives Kandi the rundown of the situation and Kandi's shocked! Kenya arrives and Sanya lets everyone know what's going to happen, and Kenya is surprised she's going to model. Sanya forgot to tell Kenya but Kenya's a good sport and decides to roll with it. 
Sanya explains her collection and reveals they will be modeling for the Black Friday sale, and this doesn't sit right with Kandi. Kandi likes Sanya and tells Kenya to be nice and keep the show going. The ladies get dressed and take some amazing photos in Sanya's merchandise. After the shoot is complete, Kandi wants to know why Sanya chose Kandi and Kenya for this photoshoot and didn't invite the rest of the girls. Sanya admits to feeling more connected with Kenya and Kandi in New York, but Sanya has a plan to get back on Drew's good side. Sanya plans to throw a cooking event so the ladies can get a taste of her culture and meet her mom. Kandi wants to see where Sanya lives but she shuts that down since Sanya's furniture hasn't arrived yet. Instead, Sanya's renting out a space for the ladies. Sanya admits to liking Drew and Kenya slides in Drew's comment about Sanya not having a mind of her own.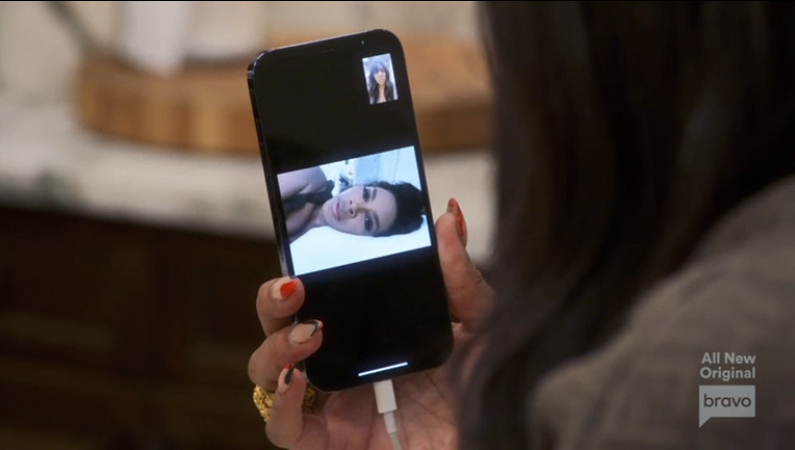 Sanya wants to create the right environment to talk things out and Mama Joyce's invited to come as well. Kenya lets Kandi and Sanya know about Shereé getting stood up and tells the ladies that there are pictures online of Shereé crying. Kandi's surprised Shereé was crying and thinks Tyrone must be staying with another woman. Kenya tells them that she and Marlo planned something special for the single ladies and Sanya wants them to pose one more time before leaving. Marlo's surprising Shereé with an in-home shopping experience and has comfort food on standby. Kenya's bringing desserts, drinks, and a massage therapist, but all Marlo can think about is if Shereé would do the same for her. Marlo calls Kenya to see where she is and Kenya's sick laying in bed. Kenya explains to Marlo that she already had a slight cold that gotten worse after Sanya's photoshoot. 
Marlo's not even listening and thinks Kenya's lying because she has a face full of makeup. Kenya's sending Drew in her place and Marlo continues to think Kenya's lying. Sanya and her mother go to the grocery store to pick up items for their event. After selecting a few items Sanya tells her mother the guest list for the event before diving into her issues with Drew. Sanya reiterates what Kenya said and her mother doesn't like hearing these things one bit. Sanya tells her mama that she's been playing nice but they're about to see the real Sanya come out! 
Drew shows up to Marlo's with groceries in hand but won't be staying long since she has to get her kids from school. Marlo lets Drew know she doesn't believe Kenya's sick and spills the tea about Sanya's photoshoot. Drew then tells Marlo about Sanya disinviting her and, of course, Marlo thinks Sanya invited Kenya and Kandi because of their Instagram followers, SMH. Drew thinks Sanya is flip-flopping, and back at the market, Sanya tells her mom about Drew declining Sanya's invite to the cookout. Sanya thinks Drew's creating more drama and I agree. Drew thinks Sanya is fake, and Marlo suggests Drew show up and be on her best behavior. Sanya's mama states Drew doesn't want "none of this" as Marlo finishes setting up for Shereé's surprise.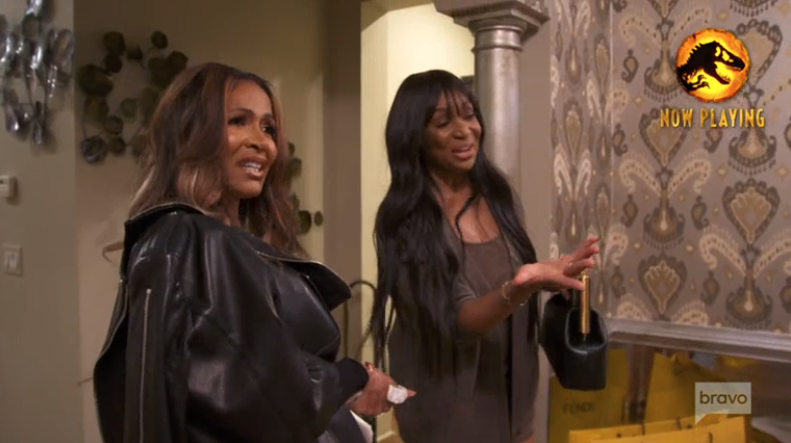 Shereé's eating chips in her PJs while laying low from the public. Shereé's trying to process everything as she calls out to her dog to no avail. Marlo calls Shereé and tells her to get in the car. Shereé's blindfolded as she's led to Marlo's house and once she arrives, Shereé is touched by Marlo's (fake) thoughtfulness. Shereé loves Fendi but thought Marlo was gifting these things; Instead, Shereé spent a good coin on those items. Shereé sees the cake, that Marlo misspelled, and Marlo tells Shereé her suspicions about Kenya's illness. Marlo begins insulting Shereé as she's trying to make her feel better, while calling Philadelphia dirty in the same breath. Marlo tells Shereé to block Tyrone's number and that she deserves more. Shereé's not sure if she's ready to walk away and starts crying once she see's the pictures online. 
Marlo consoles Shereé as she cries and it's such a heartbreaking moment. Shereé wipes her tears away as she gets ready for her foot massage. It's the day of Sanya's cooking event and Sanya looks gorgeous as she sets up the venue. Shereé arrives first and meets Mama Sharon as Kenya comes in right after. Marlo stumbles herself in as Kandi and Mama Joyce arrive, and it's time to party! Drew's not coming and Sanya's not going to beg her. Sanya gifts the ladies' aprons as Mama Sharon begins the cooking lesson. We learn about ripe plantains and Marlo's unclothe is revealed as she makes a crude comment. Kenya coughs in the corner as Shereé and Marlo roll their eyes at her. Kandi doesn't want to get sick either but at least has the courtesy to mumble under her breath.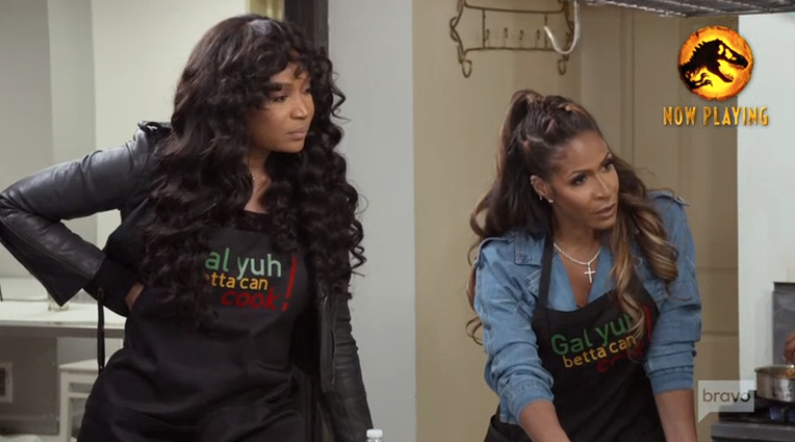 Marlo busts Kandi out and uses this moment to start drama. Marlo wants to share with the ladies about Tyrone, but when Kenya reveals she already told Kandi and Sanya, Shereé becomes agitated. Shereé's mad that Kandi didn't contact her, and Kandi's thrown off by Shereé's attitude. Kenya's trying to explain but Marlo isn't listening nor giving Kenya the benefit of doubt. Kenya states that she had a full face because she was planning to come and, of course, Marlo doesn't believe her. Kenya loses her cool briefly and reminds Marlo that listening is key in communication, LOL. Mama Joyce interrupts the argument and Shereé throws shade at Kandi for having a baby daddy in jail and Marlo commented that none of them are ever there for Shereé. 
Sheree asks who was all invited to the photoshoot and Sanya admits she wasn't trying to offend anyone. Out of nowhere, Marlo states that Kandi isn't the type of person she should befriend and Kandi's letting Marlo have her moment while paying her dust. Marlo takes Shereé outside to talk sh*t and says Sanya's all up Kandi's a** and that Kandi's a h*e. Shereé agreed as Marlo calls Kenya a video h*e. As they go back inside, Drew shows up and it's to be continued. Whew, the south is getting HOT! Make sure to come back next week for a new episode of The Real Housewives of Atlanta! 
Stay Connected With All About The Tea: Twitter Ι Instagram Ι YouTube Ι Facebook Ι Send Us Tips
LeAndra Williams is a content contributor at All About The Tea. She's a social worker and (super) mom by day, and a reality T.V. junkie by night.