A Bachelorette Bash Divides Cast On 'Real Housewives Of Dubai' Premiere!
The Real Housewives of Dubai debuted Wednesday night, and fans met  Bravo's newest cast of women—Nina Ali, Chanel Ayan, Caroline Brooks, Dr. Sara Al Madani, Lesa Milan, and Ladies of London alum, Caroline Stanbury. The City of Gold is the backdrop for the first international "Housewives" franchise, and the premiere episode did not disappoint.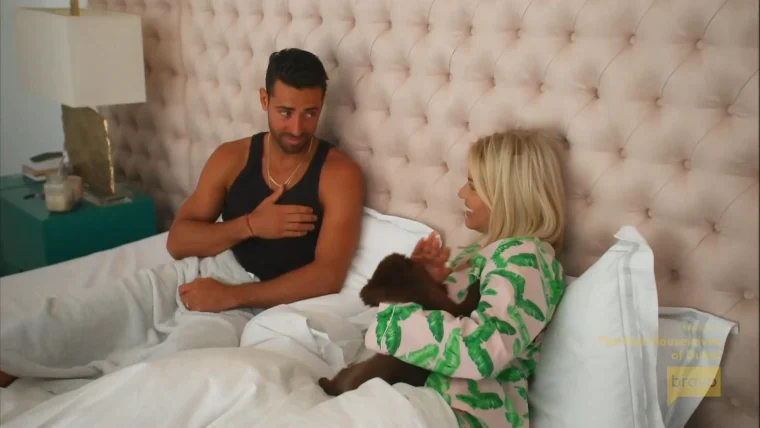 Fans were first introduced to Caroline Stanbury, 46, who made her debut in bed with her then-fiancé, now-husband, Sergio Carrallo, 27. The couple discussed her upcoming "hen party" aka bachelorette party. 
The mom of three quipped in a confessional spot—"I've got handbags older than Sergio."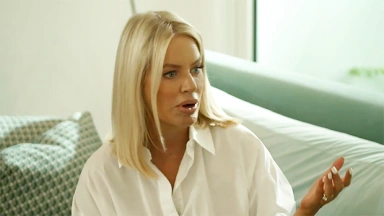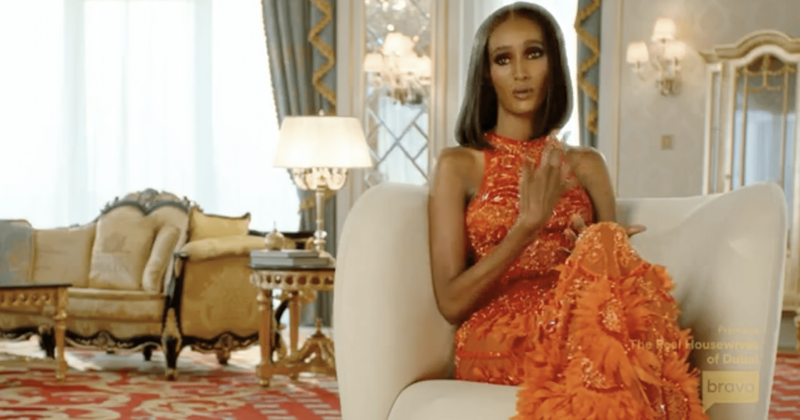 Next, we joined fast friends, Chanel, a businesswoman, and Lesa, a mom of three, sharing a typical "Housewives" lunch. The giggle-fest was interrupted by a phone call from Caroline Brooks, who chatted with Lesa about Caroline's upcoming party. Chanel did not make the guest list, despite socializing in the same circle of friends. "Our energy did not match," Chanel said. She dissed Caroline's relationship and called her upcoming nuptials a "contract wedding." Caroline pointed out that the bride-to-be only invited those most important to her, a list that did not include Chanel. 
The bachelorette bash is held on a private yacht, and the women enjoyed lots of champagne and risqué party games. Sergio joined the naughty fun, but Chanel and Sara's absences did not go unnoticed. The other ladies talked about Chanel being left out and Lesa and Nina admitted that they would've liked to have seen everyone included.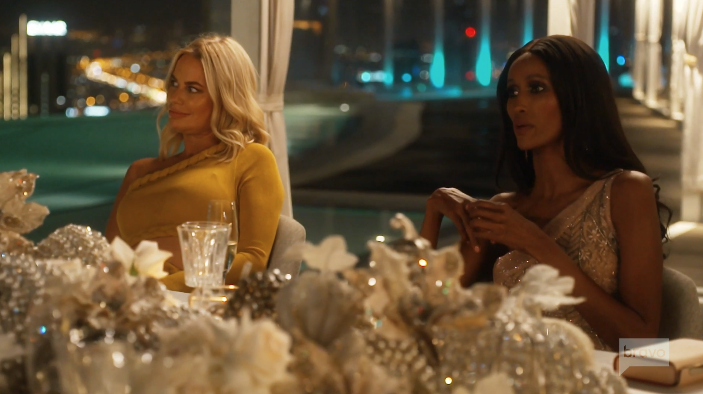 A high drama dinner party, hosted by Nina, played out later in the episode. The ladies gathered over crystals and sage, hoping to clear the negative vibes and start over fresh, but Caroline axing Chanel from her party soon became a hot topic. Chanel made her entrance and addressed her co-star as "Stanbury." Caroline, who was bugged by Chanel's greeting, almost dodged drama by encouraging the ladies to conjure up personalized stripper names. It wasn't long before the conversation turned to the bachelorette party. 
"Why are we talking about something I wasn't part of?" Chanel asked.  
Caroline Stanbury declared—"I can't bear this woman."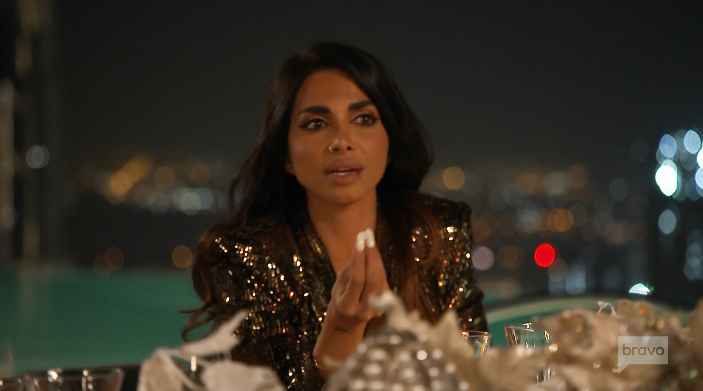 Sara tried to get through to Chanel and encouraged her to be happy for Caroline. Chanel, who didn't buy what Sara was selling, turned her attention to Caroline Brooks, who previously pointed out that the bride only invited the most important people in her life. Chanel perceived the assessment as an insult, but Caroline Brooks laughed off the comment.  Caroline Stanbury denied ever making the remark.
The episode ended with Nina shutting down the drama with more calming sage. 
The Real Housewives of Dubai airs Wednesdays at 9 pm, ET, on Bravo.
Nancy Zhāng is an Entertainment Blogger for All About The Tea. Nancy covers hot topics, recaps and celeb news. She loves to multi-task as a writer and a private chef. She received a B.S. in Mass Communications from LSU. Nancy's married and the proud mom of 2 German Shepherds.